This Asparagus Quiche is a light and delicious brunch recipe. Full of simple, yet fullfilling flavors, this will be a hit with guests.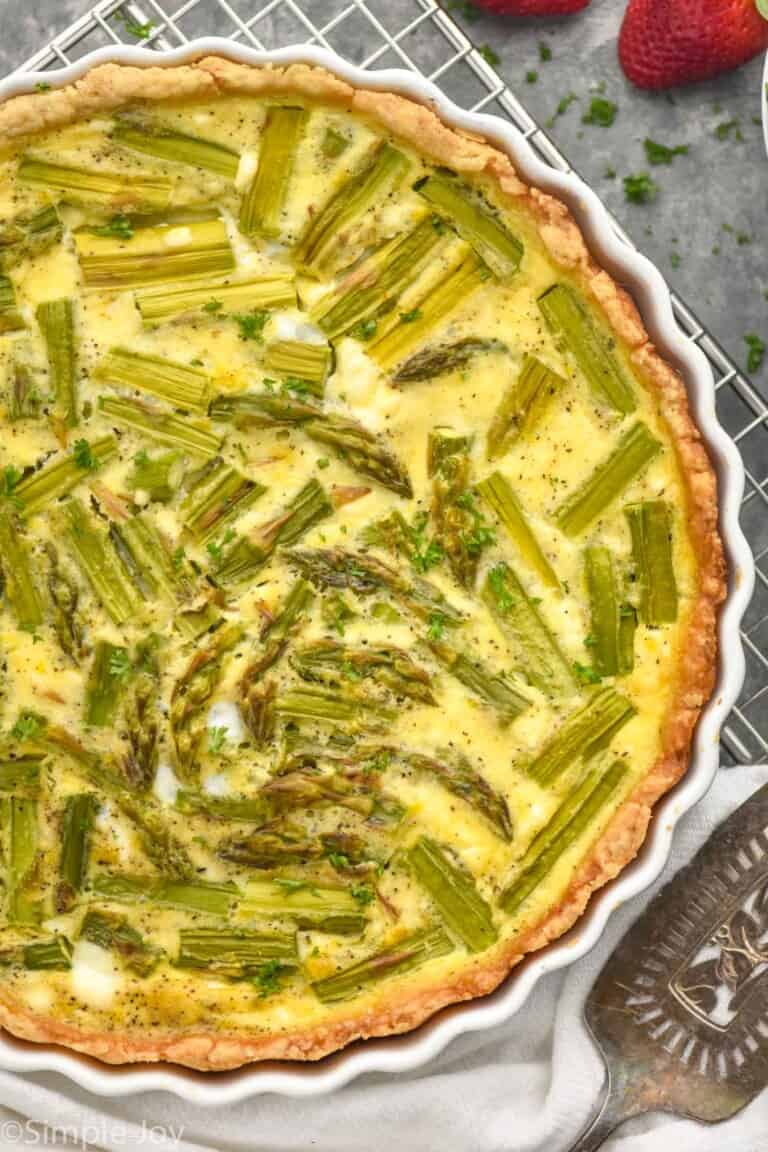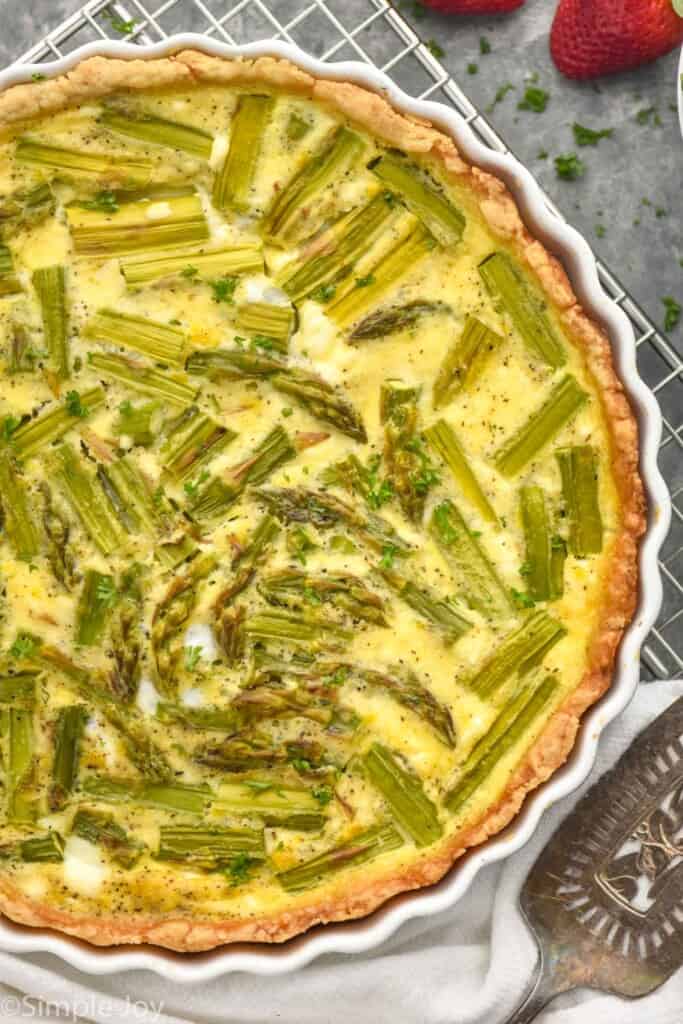 With Easter and Mother's Day right around the corner, I've been working on brunch recipes for you. There is something in general about spring that makes me want to have people over and serve them a giant egg bake and fresh fruit.
This Asparagus Quiche is the perfect spring brunch recipe. Made with fresh asparagus, goat cheese, other simple ingredients, and my amazing pie crust, it all comes together in the most beautiful way.
How to Make Asparagus Quiche
Roll and refrigerate crust: We are going to roll out the crust into the pie pan, and then refrigerate it for 30 minutes. Doing this prevents it from shrinking during baking.
Prebake the crust: The crust of this recipe needs more time than the egg filling, so we are going to pre bake it. Cover the crust with aluminum foil and fill it with pie weights or loose change. Bake for 25 minutes.
Make the filling: Whisk together the eggs, milk, seasonings, goat cheese, and asparagus.
Bake: Pour the egg filling into the hot crust and bake for 45 minutes.
Let rest: Let the quiche set for an hour before slicing and serving.
Homemade vs. Store-bought Pie Crust
I am head over heels in love with the crust for this quiche recipe. It is this fool proof pie crust, and it really does work every single time in the most flakey delicious way. It can be made the night before and I even have instructions in my detailed post about how to freeze it.
That being said, if you are crunched for time, take the short cut and use the store bought. Still chill it in the pie pan after rolling it out to prevent it from shrinking during baking.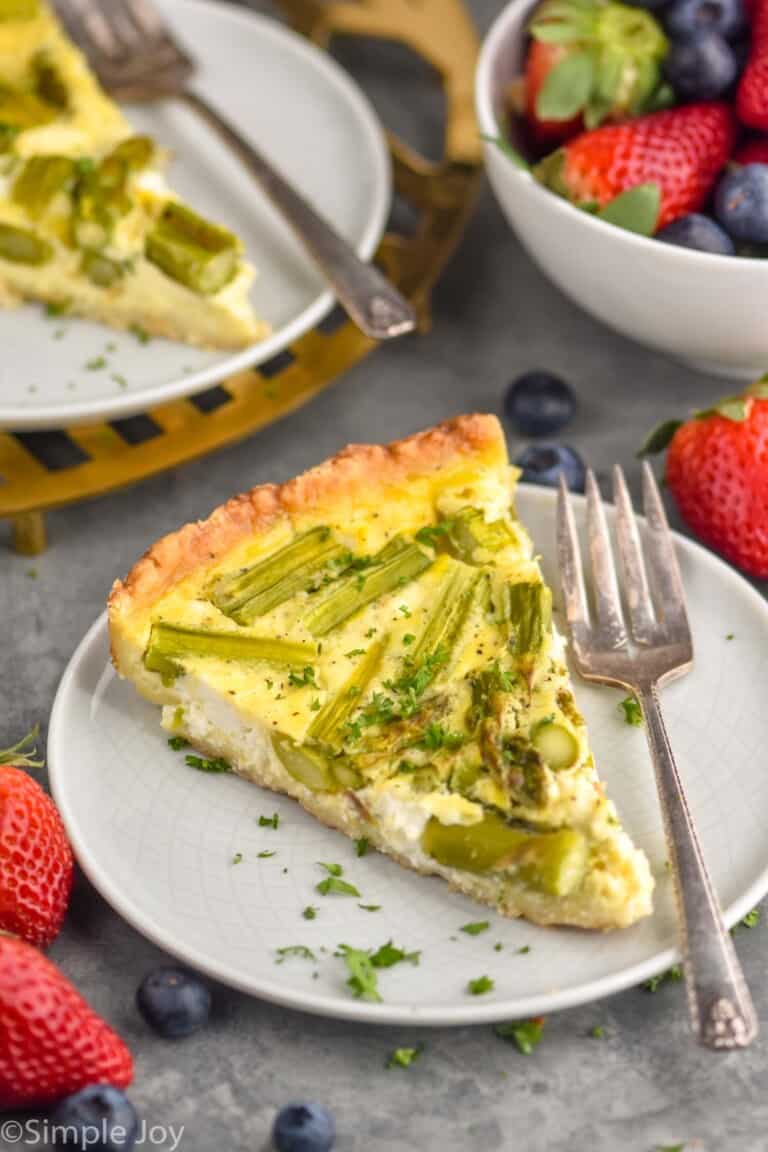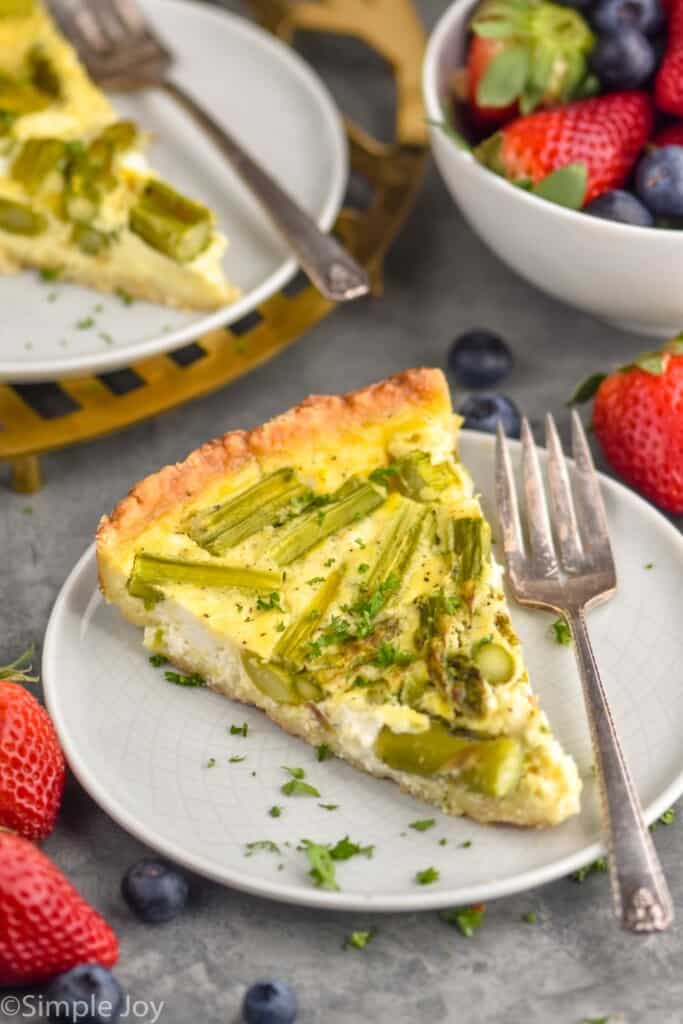 How to Cut Aspargus
I have detailed pictures for cutting asparagus in my Baked Asparagus recipe. In that post you will also read about how to pick ripe asparagus at the store and how to store it in your refrigerator.
Asparagus loves to tell you exactly where it's rough bottom begins. You can snap the bottom, and it will break off naturally where the rough bottom begins. Do this with one piece and you can then line up the rest of the asparagus and cut off the rest of the rough bottoms.
Goat Cheese
If you aren't a fan of goat cheese, swap it out for feta or Swiss cheese. Both would be delicious in this recipe.
Adding in Ham
If you are making this asparagus quiche around the holidays, you might have some leftover ham. You could add in 1/2 cup of cubed ham for a delicious addition. Cooked bacon would also be delicious in this.
Storing and Reheating Leftover Quiche
Asparagus quiche should be completely cooled before storing. If it is still warm, storing it will cause the crust to become soggy. Once cooled, cover and store in the refrigerator for 3 to 5 days.
To reheat the whole quiche: Place it on the middle rack of a 325 degree oven for 20 minutes.
To reheat individual pieces: Reheat in a 375 degree oven for 10 minutes.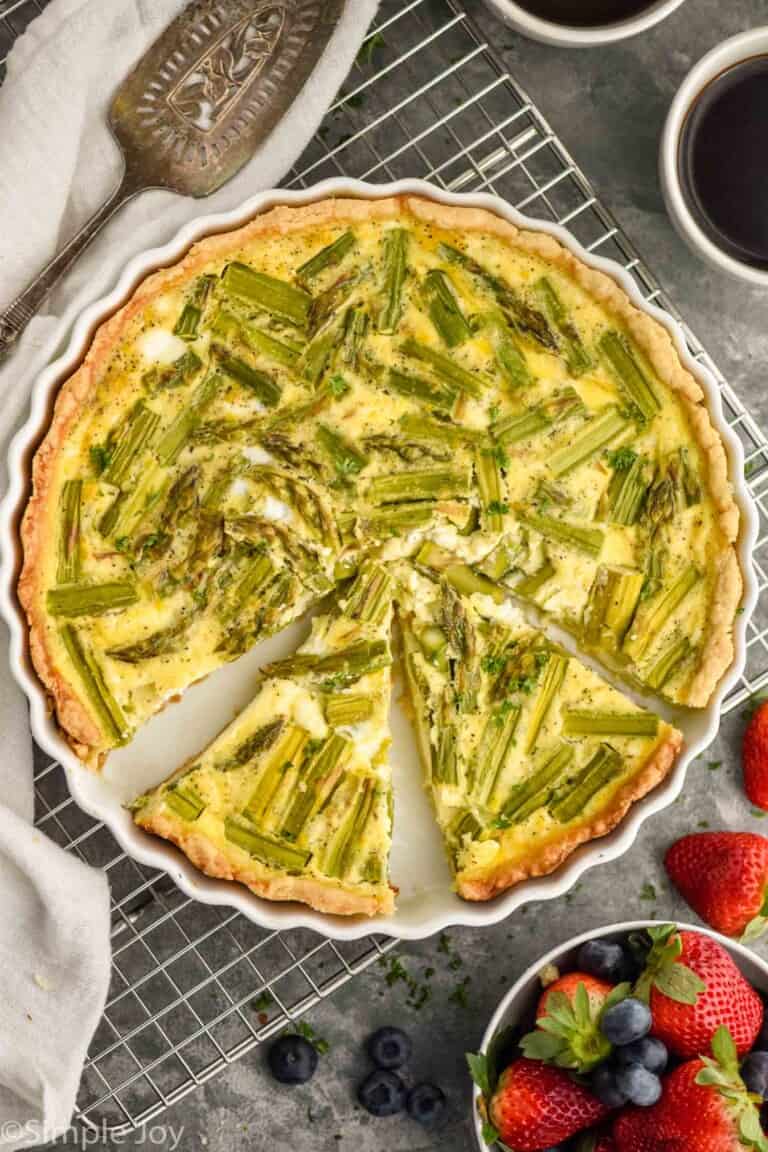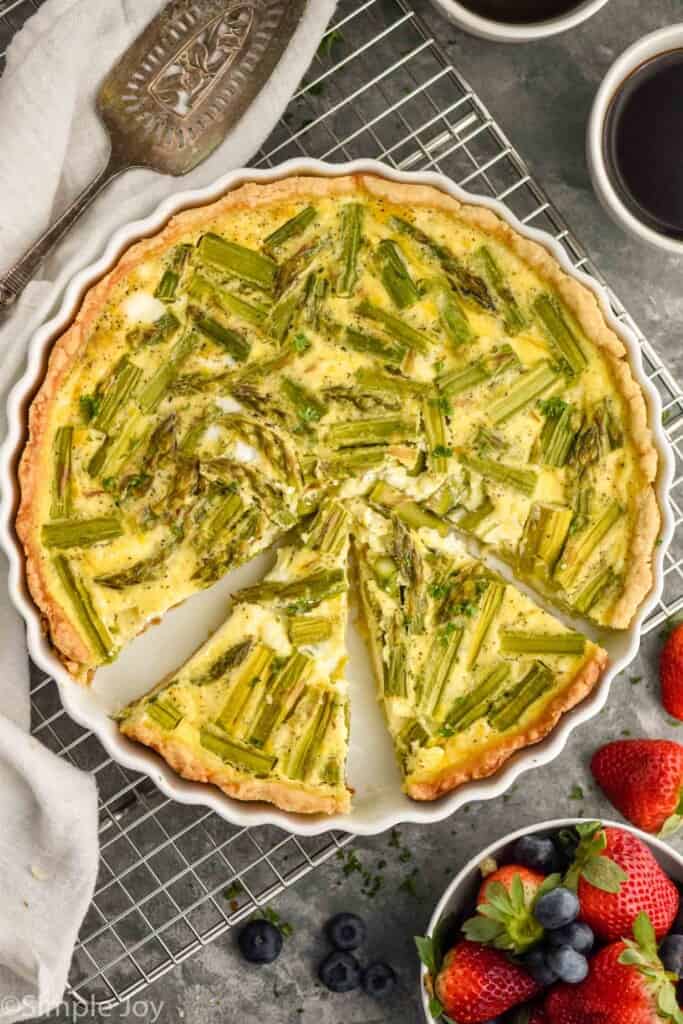 Other Great Brunch Recipes
If you make this asparagus quiche recipe or any of my other recipes, please leave me a comment and let me know what you think!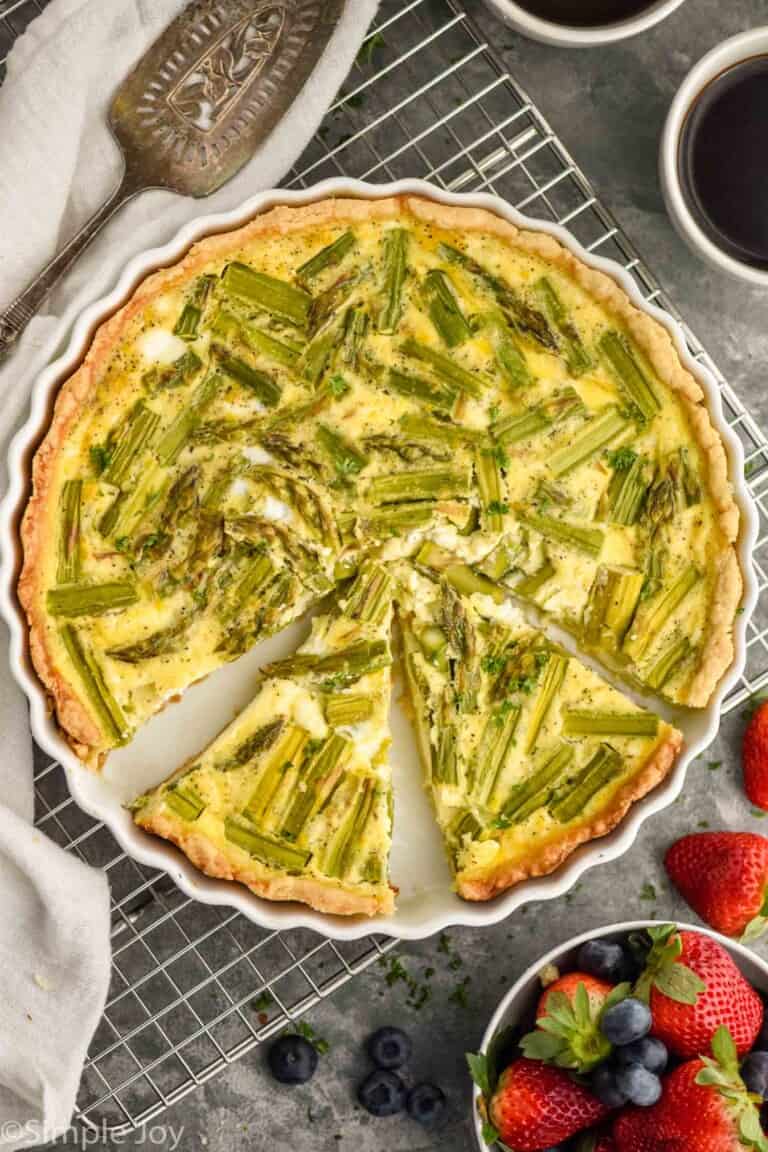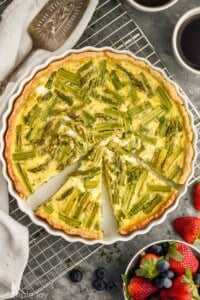 Asparagus Quiche Recipe
This Asparagus Quiche is a light and delicious brunch recipe. Full of simple, yet fullfilling flavors, this will be a hit with guests.
Ingredients
pie crust

(store bought or homemade)

5

large eggs

2

cups

milk

I used 1%, but you could use skim as well

1/2

teaspoon

salt

1/2

teaspoon

onion powder

1/2

teaspoon

garlic powder

1/4

teaspoon

black pepper

4

ounces

goat cheese

1

pound

asparagus

trimmed and cut into 1 inch pieces
Instructions
Roll out the pie crust and put in a deep 9 inch pie pan, wrap with saran wrap and put in refrigerator for 30 minutes. Preheat the oven to 400 degrees.

Take out the pie crust, take off the plastic wrap. Line the pie crust with two sheets of aluminum foil. On top of the aluminum foil, place pie weights or loose coins. Bake the pie crust for 25 minutes. Lower the oven temperature to 350 degrees.

In a large bowl whisk together the eggs, milk, salt, onion powder, garlic powder, and pepper until there are no streaks of eggs left.  Stir in the goat cheese and asparagus.

Remove the foil and loose change from the pie crust.  While it is still warm, pour the filling into the pie crust, until it is just full (you might have a little filling left).  Place on a baking sheet and bake for 45 minutes or until a knife inserted in the quiche comes out clean.  The center will be set but soft.

Let the quiche set for at least an hour before slicing.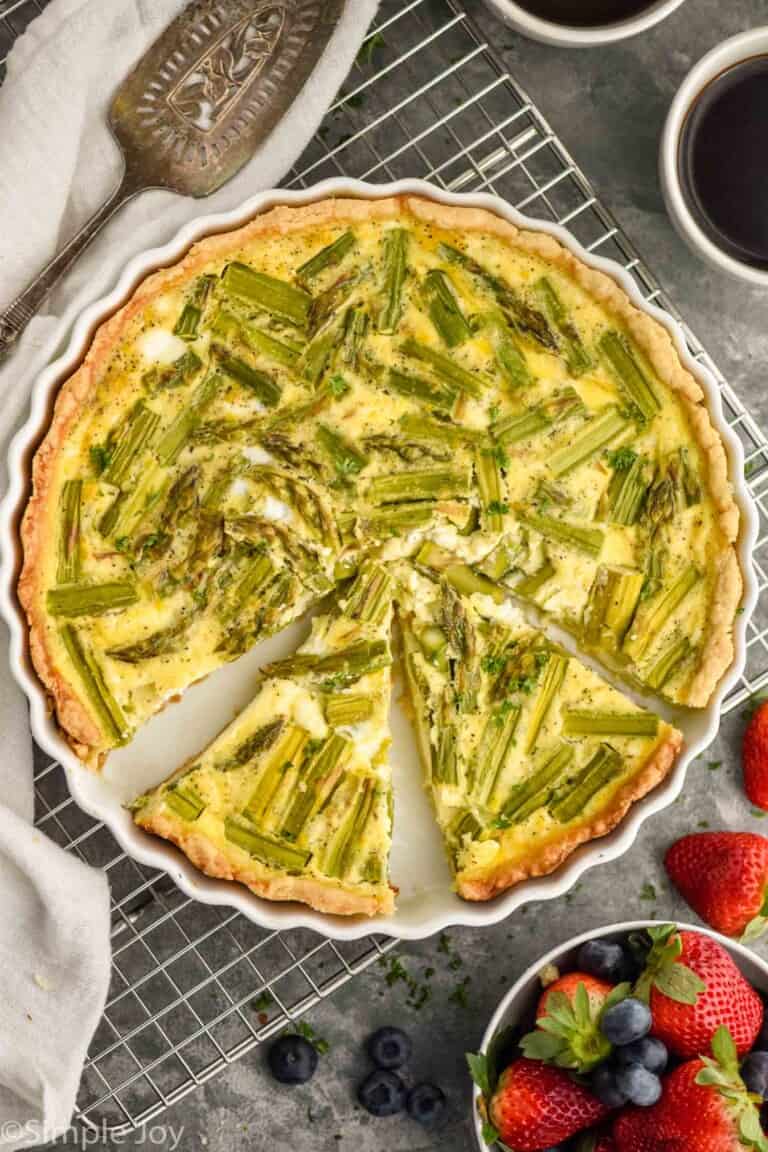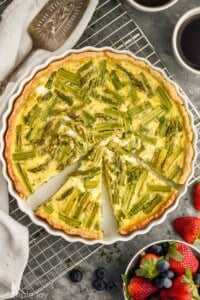 did you make this
Asparagus Quiche Recipe
you might also like . . .