Croissant Bread Pudding is your new favorite recipe for brunch or dessert. This recipe works as a fancy breakfast or as a dessert, and everyone will fall in love with it.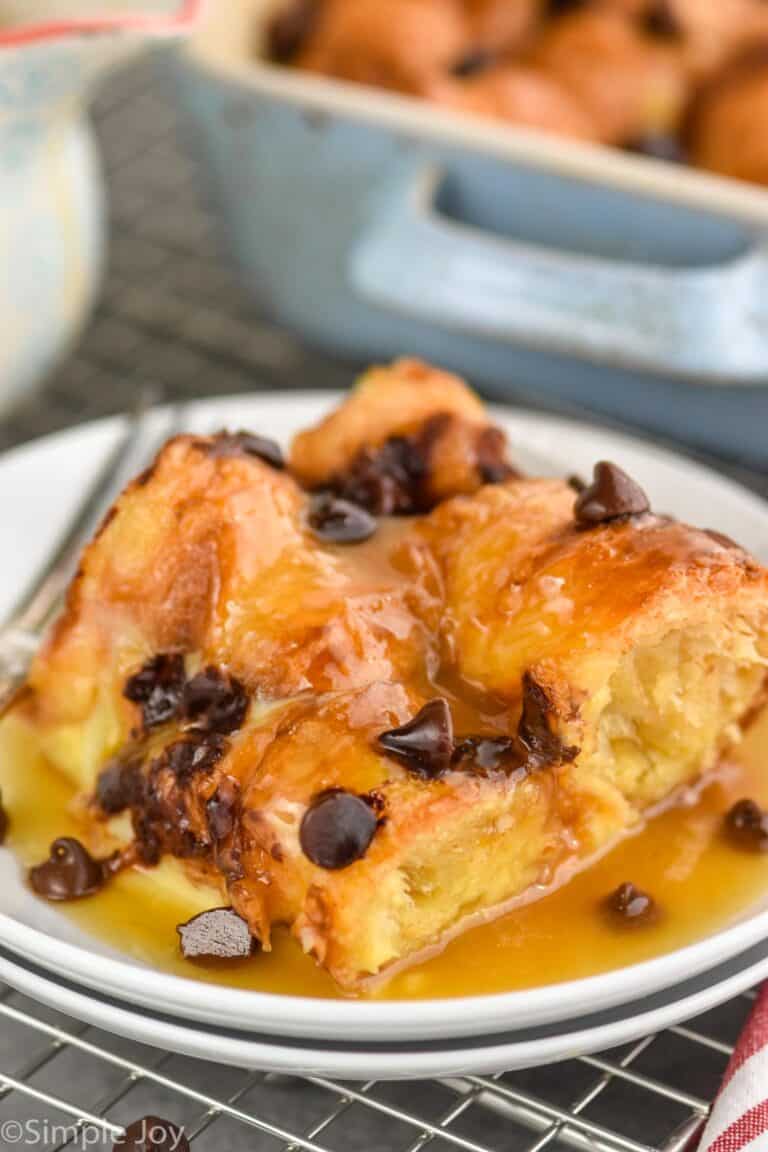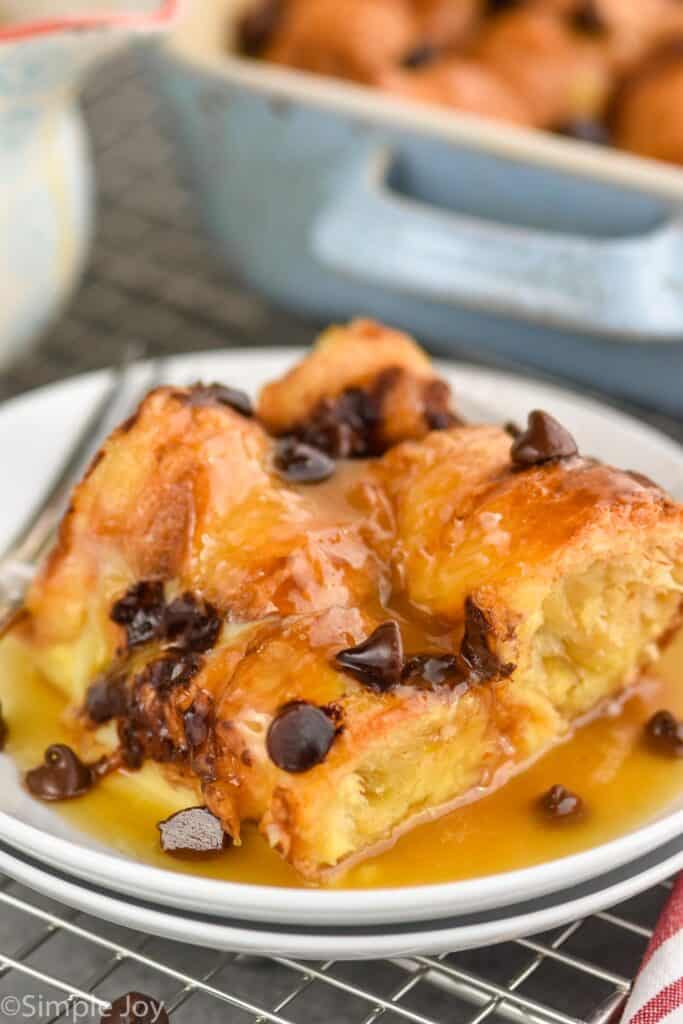 Bread Pudding is my absolute weakness. I am not someone who is a huge dessert person, and it's easy for me to pick a plate of fries than a piece of chocolate cake.
But Bread Pudding, oh my sweet Bread Pudding. I will always make room for you.
This Croissant Bread Pudding takes delicious flakey croissants and turns them into the most perfect dessert ever. Then we top it with an amazing brown sugar sauce that will make your heart swoon.
This Croissant Bread Pudding recipe is perfect for a Christmas dinner dessert, but is totally acceptable to serve as brunch as well. I know you will fall in love with it.
How to Make Croissant Bread Pudding
If you've never made bread pudding before, you will delight in how easy it is. Be sure to check out the recipe card below for exact ingredient measurements but here's all you need to do:
Make Simple Custard: First, whisk together eggs, milk, sugar and vanilla in a bowl.
Layer Croissants: Next, add some dry croissants into a greased baking dish.
Pour custard, cover and refrigerate: Then, pour the egg mixture over the top, cover and refrigerate overnight.
Bake: The next morning, sprinkle with chocolate chips, and bake the bread pudding uncovered for about 40 minutes.
Make Sauce: Make the luscious sauce (more on that below) and pour over the baked bread pudding. SO YUMMY!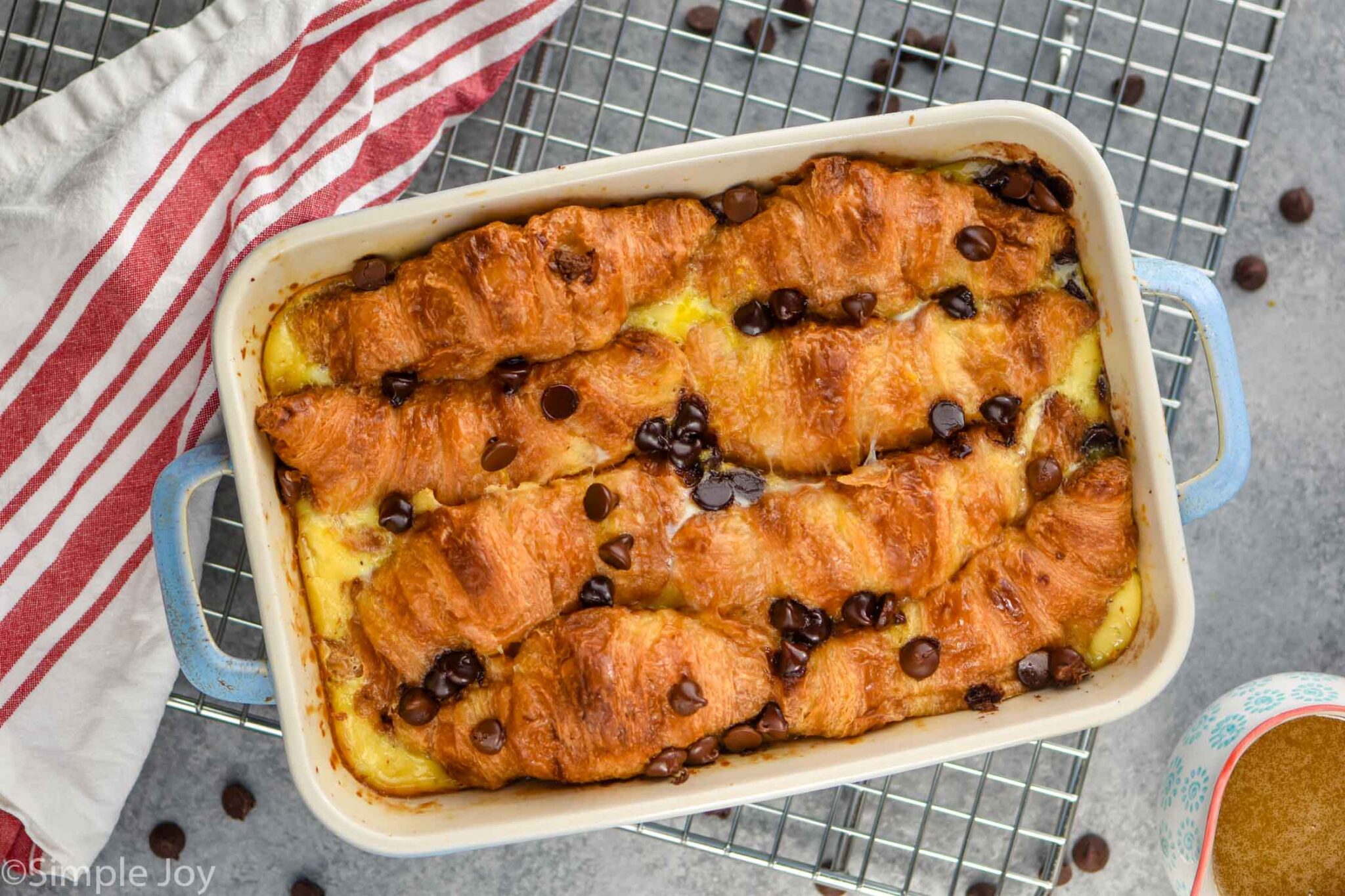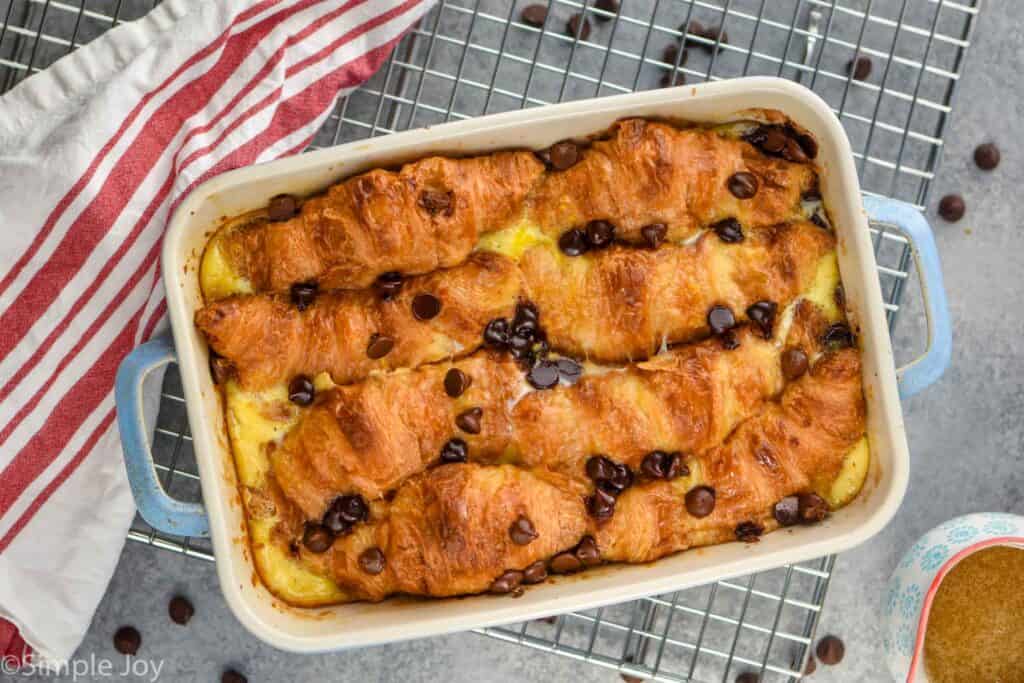 Why do the Croissants Need to be Dry?
Dry croissants will absorb all that delicious milk and egg mixture much better than fresh or soft croissants will. Let them sit out for a couple of hours or overnight before adding them to this recipe.
Soaking Overnight
Taking the time to allow the croissants soak in the rich egg mixture overnight is worth it, trust me. The croissants really soak up the sweet custard, giving the whole dish more flavor than if you make it the day of. And it won't be soggy at all!
In fact, the flaky, layered texture of the croissants remains in tact, with a sweet flavor that just melts in your mouth. That's what makes it a perfect breakfast! Do the work the night before, then you have a delectable breakfast worthy of Christmas morning.
What is Half and Half?
Whenever I use half and half in a recipe I get asked what it is, as it is largely a United States only ingredient. Half and half is simply half heavy cream and half whole milk.
For this recipe, you could simply eliminate half and half and instead use 1 cup whole milk and 1 cup heavy cream.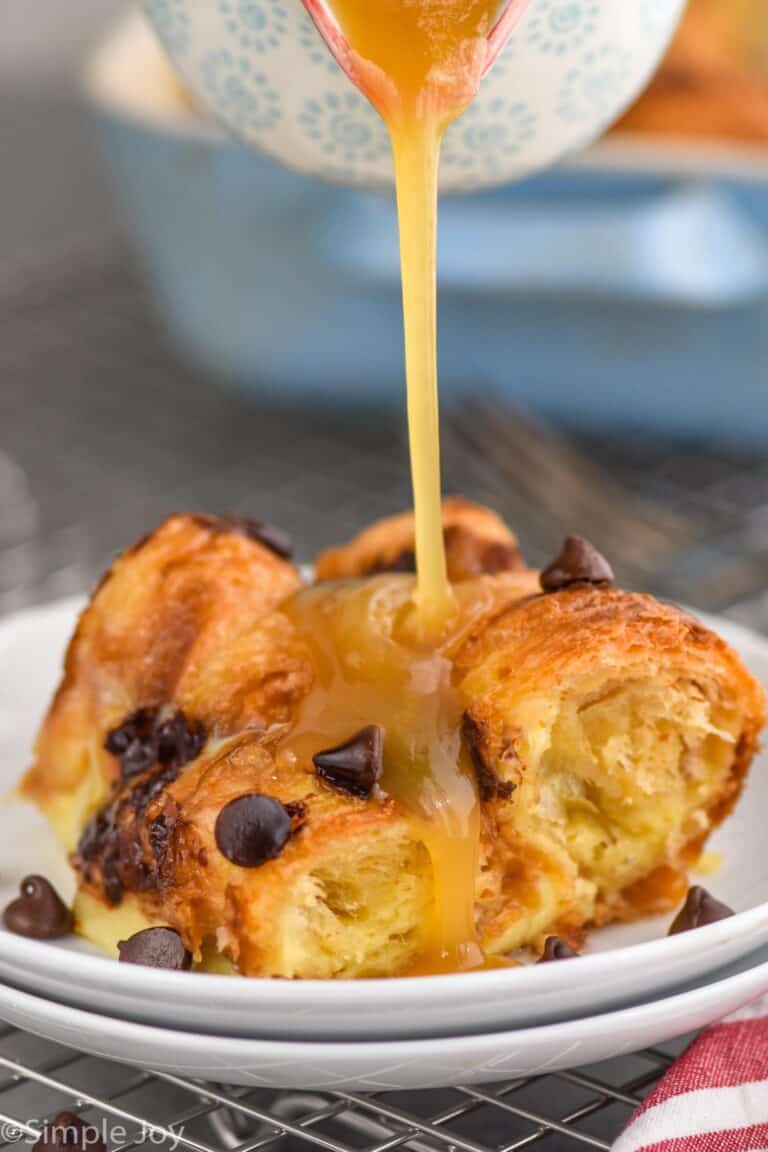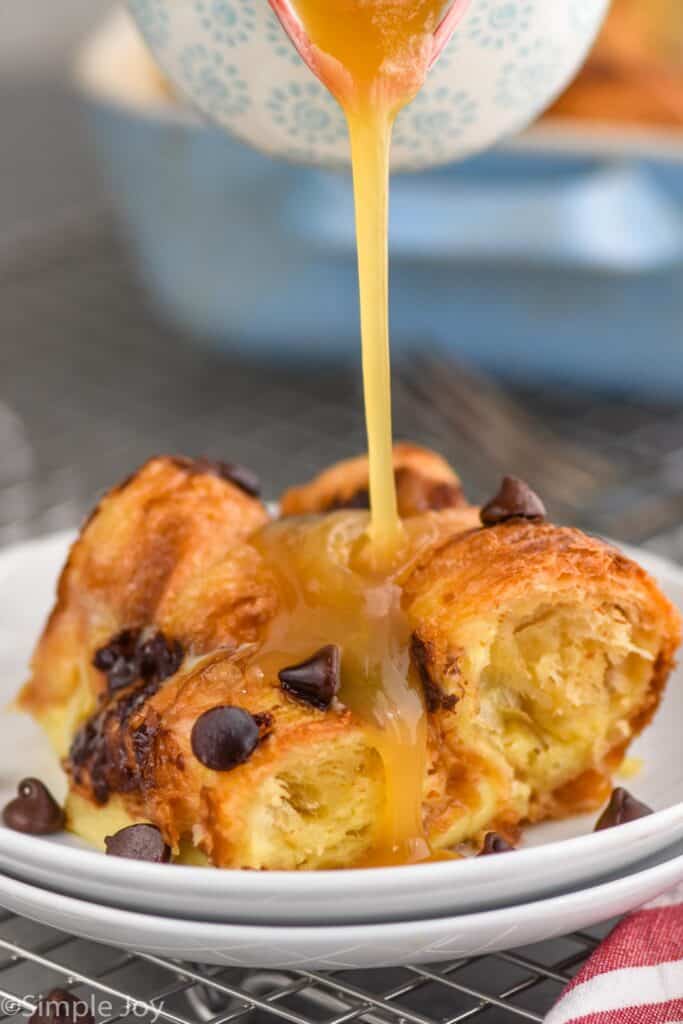 The Sauce
You can make this croissant bread pudding without the sauce because it tastes terrific on its own. But if you really want to take an elegant brunch or dessert to the next level, this creamy, rich sauce comes together in just a couple of minutes. Here's all you need:
Melted butter
Heavy cream
Brown sugar
Vanilla
Whisk it all together in a sauce pan until the sugar is dissolved. Then bring to a boil and simmer for about five minutes until it's thickened. Pour over the baked bread pudding and serve immediately.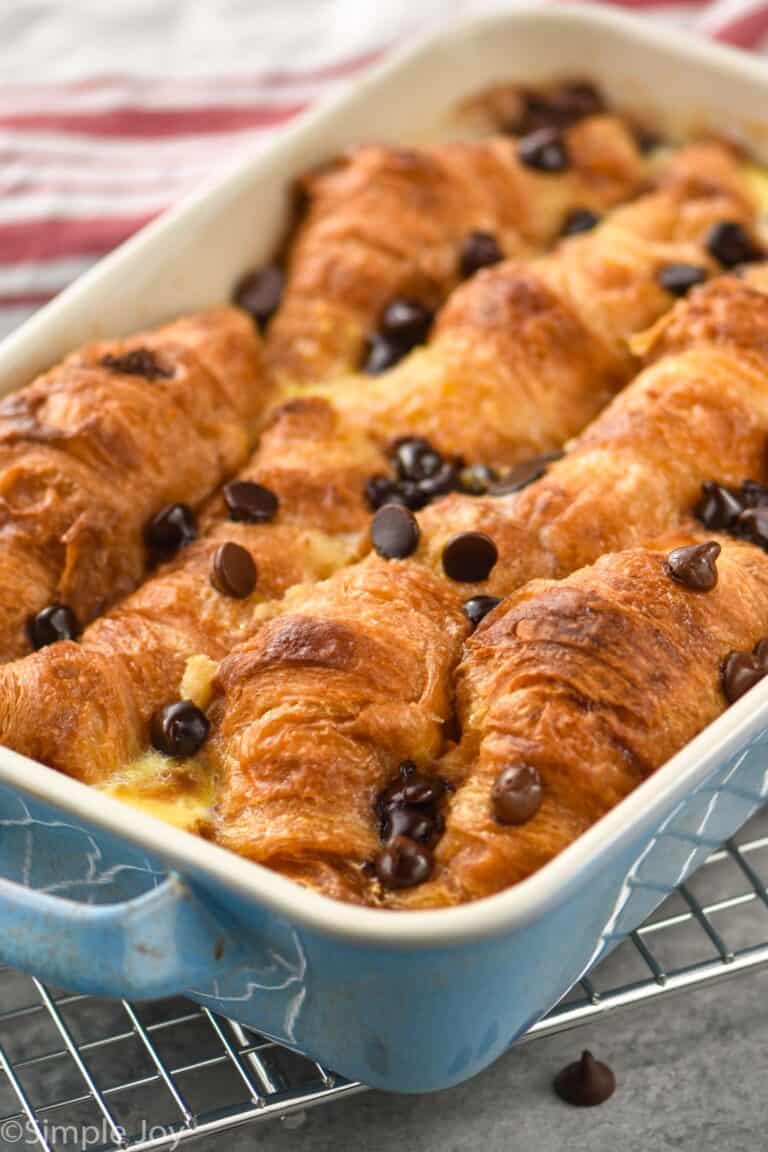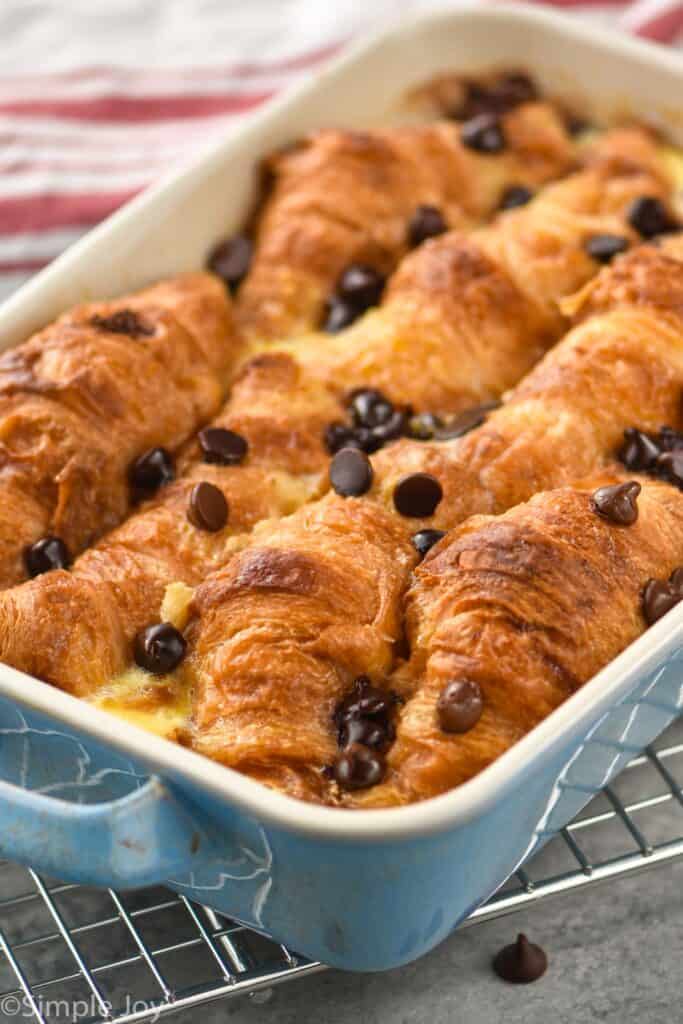 Variations
The beauty of this croissant bread pudding recipe is how versatile it is! You can change it up a million different ways for all kinds of different flavors. Not a fan of chocolate chips? Try some of these other delicious toppings:
Raisins or other dried fruit
Cranberries and orange zest
White chocolate or butterscotch chips
Bourbon and orange zest
Blueberries or raspberries
Chopped almonds, pecans or walnuts
Cinnamon and sugar
And if you have more croissants than you need for this recipe, use some to make this amazing Croissant French Toast.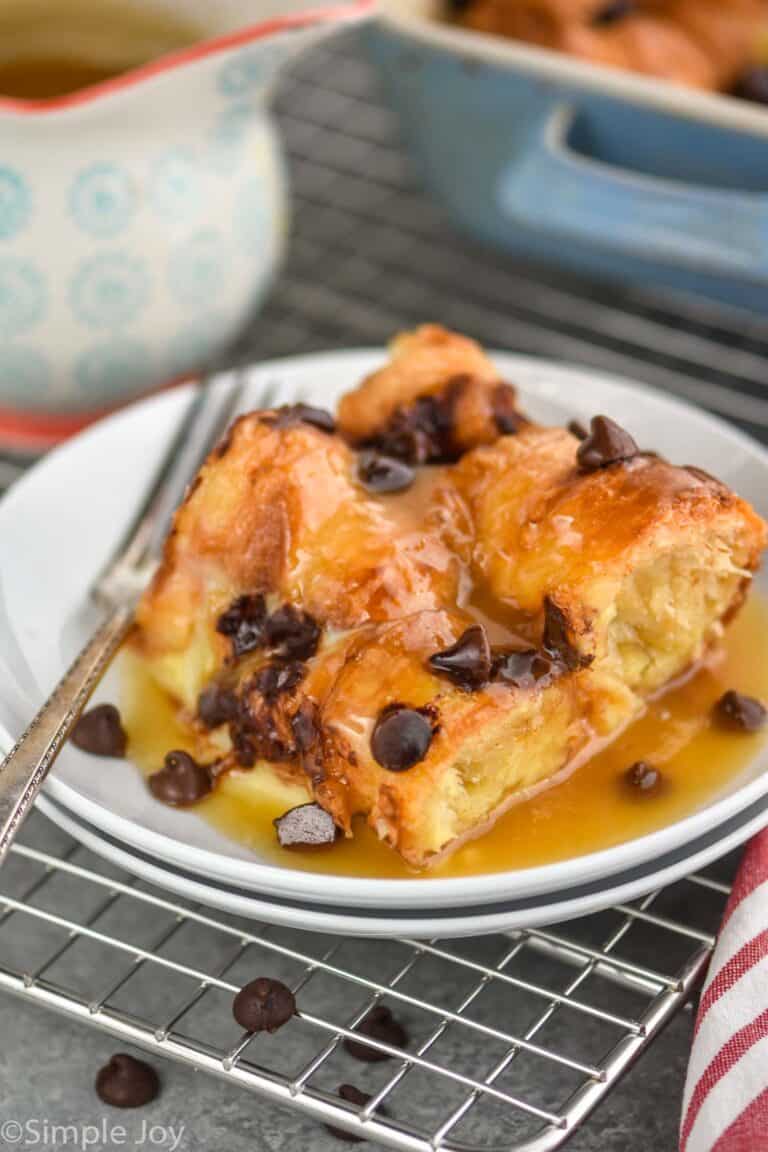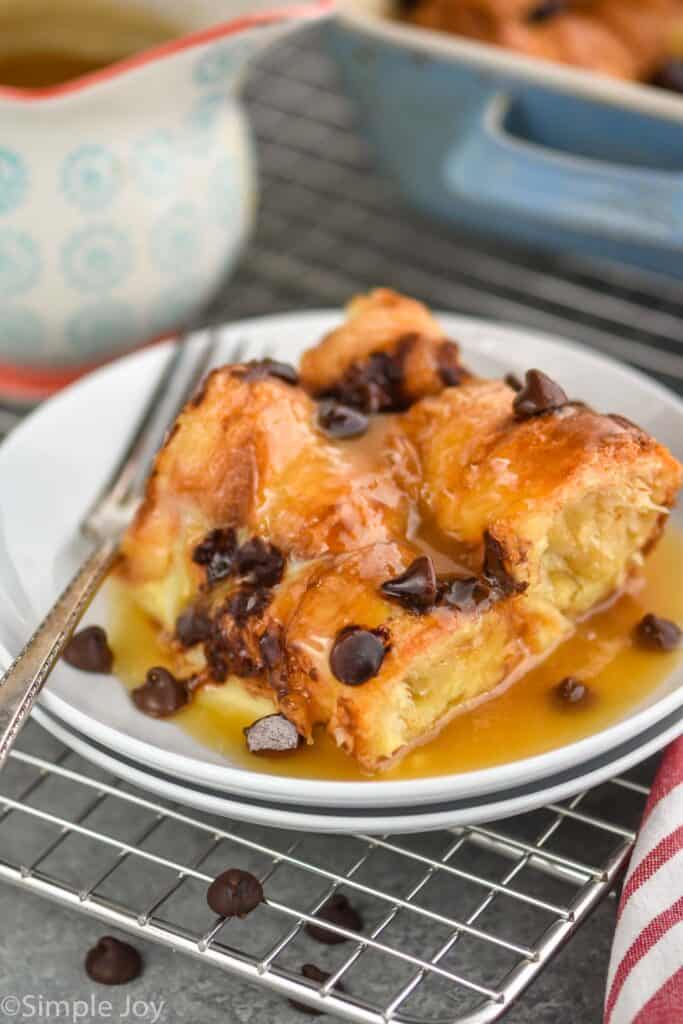 I can't wait to hear what you think of this croissant bread pudding recipe. I love getting your feedback, so please leave me a comment below if you try any variations. Please leave me any questions that you have as well. I hope you enjoy this indulgent dish as part of your next brunch. Enjoy!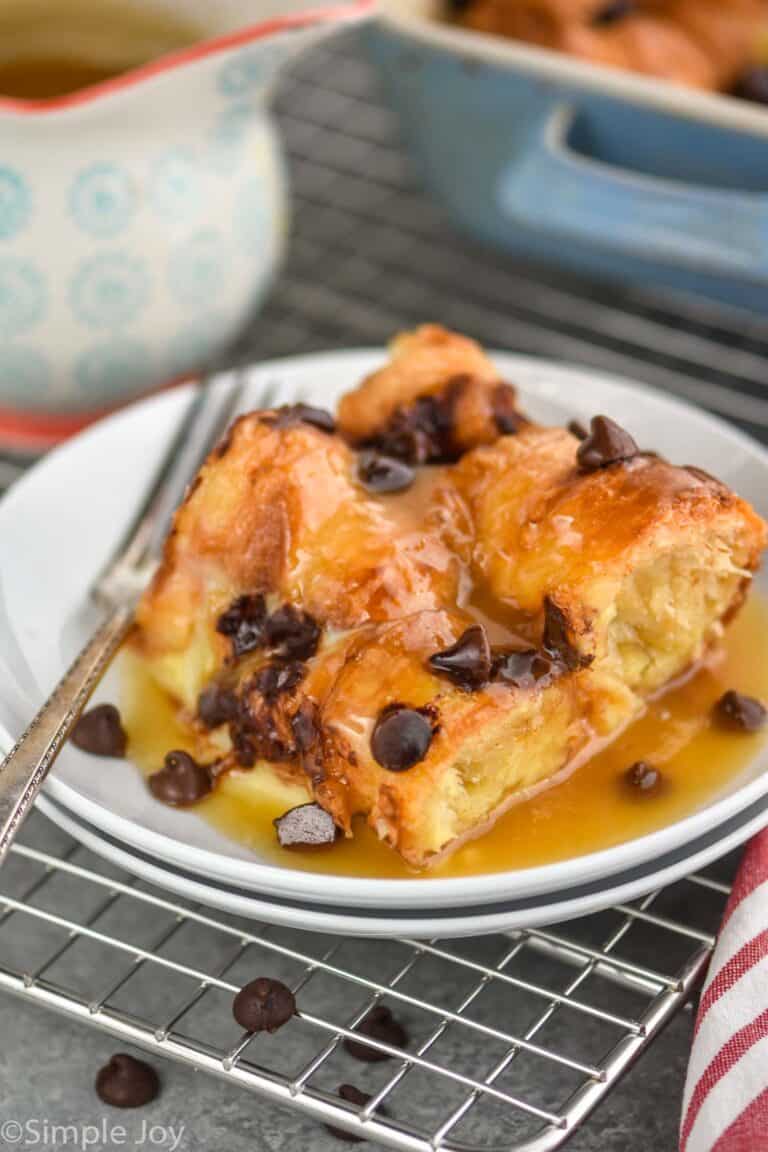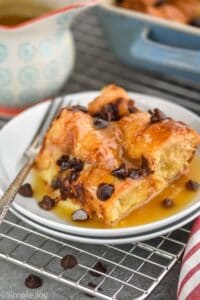 Croissant Bread Pudding
Croissant Bread Pudding is your new favorite recipe for brunch or dessert. This recipe works as a fancy breakfast or as a dessert, and everyone will fall in love with it.
Ingredients
6

croissants

10 ounces, dried

4

large eggs

2

cups

half and half

(read what half in half is and how to replace it here)

1

cup

sugar

2

teaspoons

vanilla extract

1/2

cup

chocolate chips
For the Sauce
8

ounces

unsalted butter

1

cup

heavy cream

1

cup

brown sugar
Instructions
Spray a 2 quart baking dish with cooking spray and set aside.

In a large bowl combine the eggs, milk, sugar, and vanilla extract. Whisk until all the eggs are fully broken down and the mixture is smooth.

Place the croissants in the prepared baking dish. Pour the egg mixture over. Top with chocolate chips. Cover and refrigerate overnight.

Preheat the oven to 350 degrees.

Bake for 40 to 45 minutes uncovered or until the edges of the bread pudding begin to pull away from the sides of the baking dish.

While the bread pudding is cooking, make the sauce. Melt the butter in a small sauce pan, then whisk in the heavy cream, brown sugar, and vanilla. Whisk until the sugar has completely dissolved. Bring to a boil, and simmer for 5 to 7 minutes or until it has thickened, stirring occasionally. Pour liberally over baked bread pudding.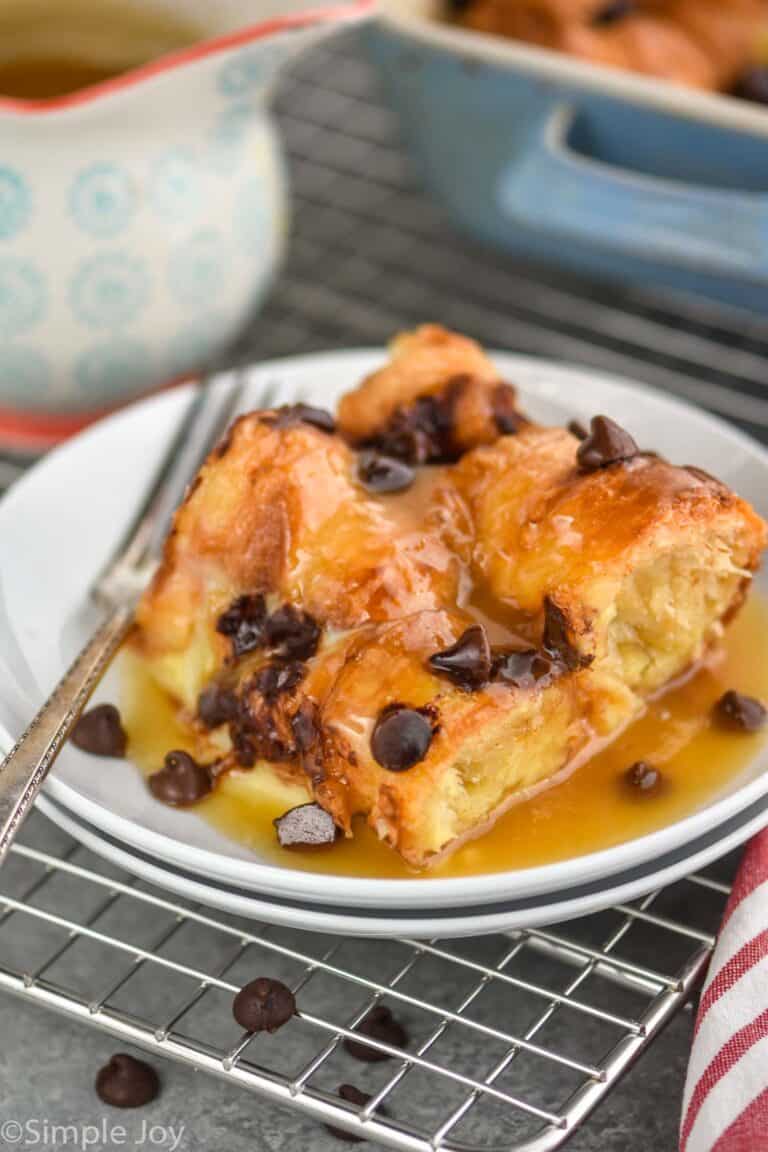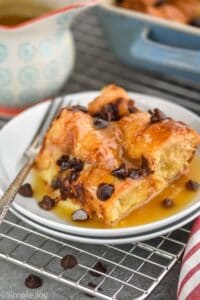 did you make this
Croissant Bread Pudding