Gender Reveal Cake Balls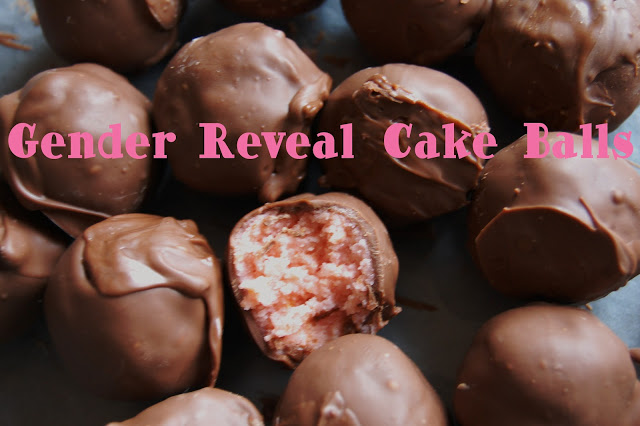 It was just about this time last year that we had our 20 week anatomy scan with Quinn. And this is how she was looking on the outside.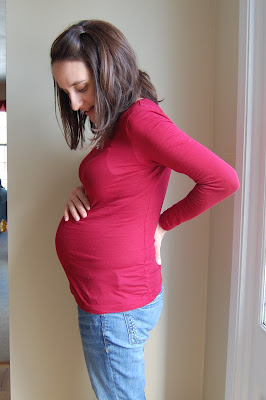 (I look like a pregnant 12 year old . . . )
We were about to get a look at her on the inside! Nathan and I were a huge jumble of emotions. Everyone had been making their guesses as to if we were having a boy or a girl, very normal stuff for this stage of a pregnancy. But . . . this wasn't just any ordinary pregnancy. It was coming on the heals of losing Elliot. At the time of my ultrasound, it had been almost exactly six months since saying goodbye to our little boy. Everything was still so raw. We were SO excited to be pregnant with this new Sweet Pea Number Three, as the baby had come to be known. At the same time, we were so scared.
The 20 week anatomy scan was a huge bench mark for us. We would get to see the baby's anatomy and make sure that some of the basic most fundamental parts of the development were going well. I remember I was on some baby boards online, and I wanted to scream each time I read a woman refer to the ultrasound as a "gender scan." While that can be a really fun part of the ultrasound, it is most certainly not the purpose, and we knew that as well as almost anyone.
So we had some really mixed feelings about finding out the sex of our baby. Whether it was a girl or a boy, the sex was going to both make us SO happy and SO sad. If it was a boy, it would be so difficult, because we lost our last little boy. On the other hand, we wanted Gavin to have a little brother. We had grown so attached to that idea while pregnant with Elliot. If the baby was a girl, it would be sad and happy for the exact opposite reasons. We debated finding out. We debated finding out and then keeping it a secret from everyone. Even up to the day before the ultrasound we didn't know what we were going to do. And because of this no one knew when our ultrasound was. We just didn't want people calling us that day asking what we were having because if we chose to find out, we had no idea how we would feel about it. When loved ones asked when it was, we were very vague and told them some time at the end of March. We reminded those who speculated what we were having that it really didn't matter, as long as the baby was healthy. This was my third pregnancy, and never did I feel that so strongly.
Once we decided to find out the baby's sex, I had another interesting idea. I decided to let Nathan find out first and asked him to do something special to tell me. Being a stay at home mom, I get to deal with a lot of the headaches, but I also get the joy of seeing most of the firsts! I was there for Gavin's first steps, but Nathan was at work. I was there the first time Gavin crawled backwards and jammed himself under his crib, but Nathan was at work. I was there the first time Gavin did the sign language sign for dog while looking at Bella, but Nathan was at work. So I thought that maybe Nathan would like to have this first.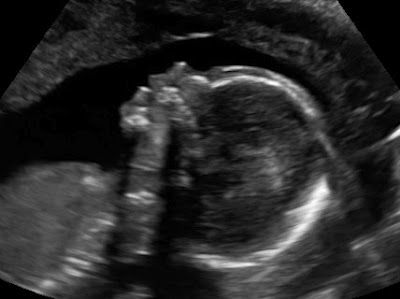 The day of the ultrasound we saw our beautiful little baby looking very healthy. We didn't feel like we were out of the woods, since we didn't learn about Elliot's very rare condition until he was 36 weeks, but we did feel a little better. (If you are pregnant and reading this, please know that Elliot's condition is so very very rare. Each year, less than 100 babies are born with it worldwide.)
We had the ultrasound tech warn us each time she went near "that" area (again, this was our third, we had a pretty good sense of what we were looking for). And we had her make a disc for us of photos, one of them being a shot of "that" area. (Ironically, this was the very same ultrasound tech to figure out what was wrong with Elliot. This was wonderful, because she was all sorts of patient and kind to us. Plus we thought she was really smart and we really trusted her.) We also had her write down the baby's sex on a little piece of paper and we asked her how sure she was, "99.9%," she said.
Little did I know, Nathan looked at the piece of paper almost immediately. Yet we went to Target, looked around, and drove home having an innocent conversation making some last guesses. And that punk knew the whole time!! When we got home, Nathan asked me if I was ready to know. At this point I nearly screamed, "YES!!!" He then faked going into another room to look at the piece of paper. After that he went into the basement and came back up carrying a blue gift bag. It was a boy. He handed me the bag, and I reached in to pull out two very cute little pink outfits! It was a girl!
I won't tell you all the things that ran through my head because it's very personal (I'm clearly a very private person) and also because it doesn't really matter. Holding my little Quinn now, I can't even imagine her being anything but my beautiful little baby girl, my beautiful little Quinn.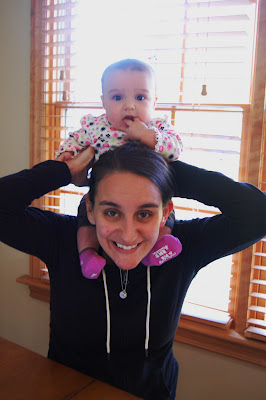 We knew that keeping the baby's sex a secret would be impossible. Especially since once I found out, I developed an addiction for buying little girl clothes. But we also didn't want to tell people face to face, on the off chance that they had a really strong reaction – we wanted people to focus on our baby's health. So with that, the Gender Reveal Cake Balls were born. I wrote up a poem, baked a pink cake, and sent off the little sweets to our family, so they could bite in and find out.
Here's the poem (the family member who regularly blows secrets has been blurred out).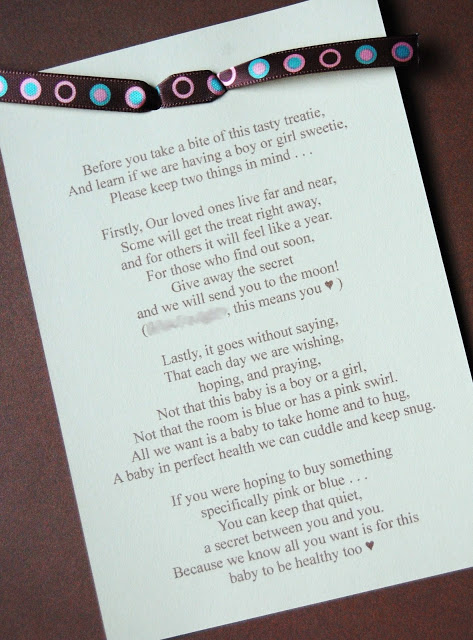 And here are the Gender Reveal Cake Balls.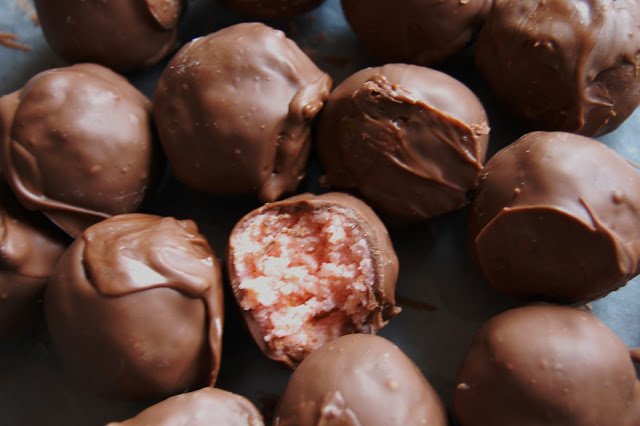 Gender Reveal Cake Balls
Mix up some cake batter (or a box mix) and add a fair amount of red or blue food coloring to make the cake pink or blue. I don't really think I added enough, I would have liked it to be a little more pink. Keep in mind that you are likely adding white frosting, which will tone down the color. Of course you could dye the frosting too.
Make the cake balls using the wonderful Bakerella's instructions.
Write a clever little poem, feel free to steal mine.
Ship them off to friends and family. Make sure that you send off enough for each person to have at least one, or more. The biggest complaint I got was that I didn't send enough!! (To be fair, most families got enough for two per person . . . )