Shelf Stable milk has gotten a bad reputation, but it is totally safe for my family and yours and I'm going to tell you all the reasons why we loving using it. It is also perfect in this ham and cheese quiche recipe!
This delicious Ham and Cheese Quiche mixes up fast and has so little hands on time! Make it for a delicious weeknight dinner, or a big Sunday morning brunch! Serve it with some of the best buttermilk pancakes and berry cobbler french toast!
I know some people are nervous when it comes to shelf stable milk but for years, I have loved including Horizon Organic's shelf stable milk boxes in my kids' lunch boxes as a special treat. A few years ago, I included them with these super fun Printable Halloween Lunch Box Jokes. Their shelf stable milk boxes have always been seen by our kids as a special treat, and I love that we can just store them in our pantry. And now Horizon is selling them in quart size boxes, so I can always keep milk on hand!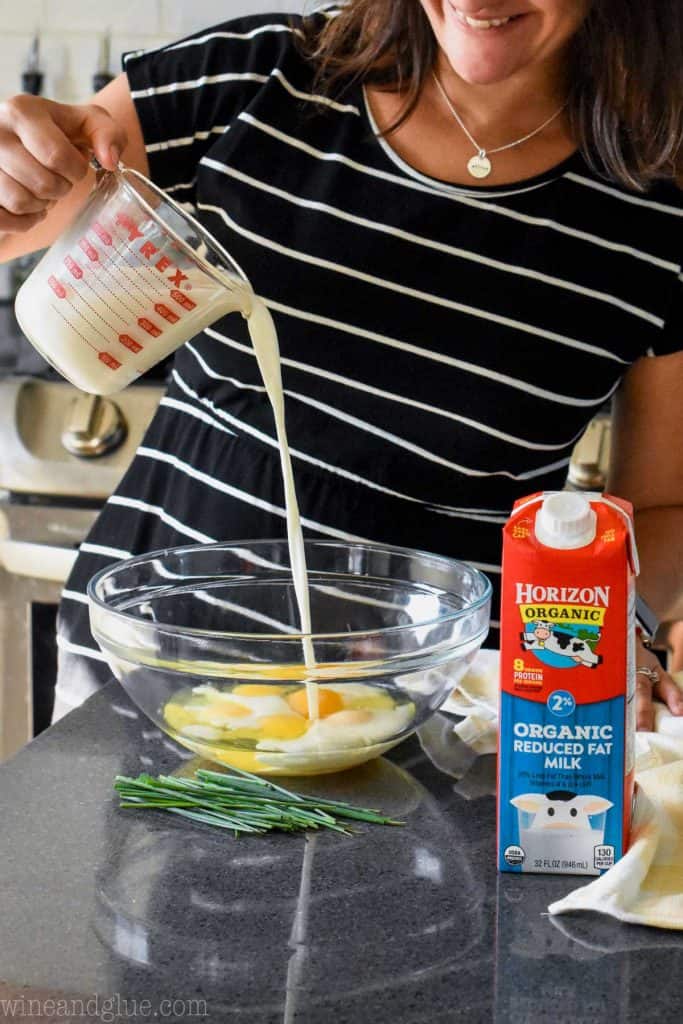 I am proud to be working with Horizon Organic to bring you this amazing quiche recipe. There are a lot of misconceptions about shelf stable milk, but our family has been using Horizon products for years and we love that their shelf stable milk is now available in quart size!
Why Shelf Stable (UHT) Milk Shouldn't Scare You
Horizon Organic uses a process of ultra high temperature pasteurization, killing much more bacteria, which allows their milk to be shelf stable for extended periods of time. This is referred to as uht milk.
All of Horizon's pasteurization practices are regulated by the United States Department of Agriculture.
Horizon Organic also uses special aseptic packaging that keeps their shelf stable milk, shelf stable. Once opened the milk needs to be refrigerated, but sealed and in it's special packaging, it is good in your pantry for weeks.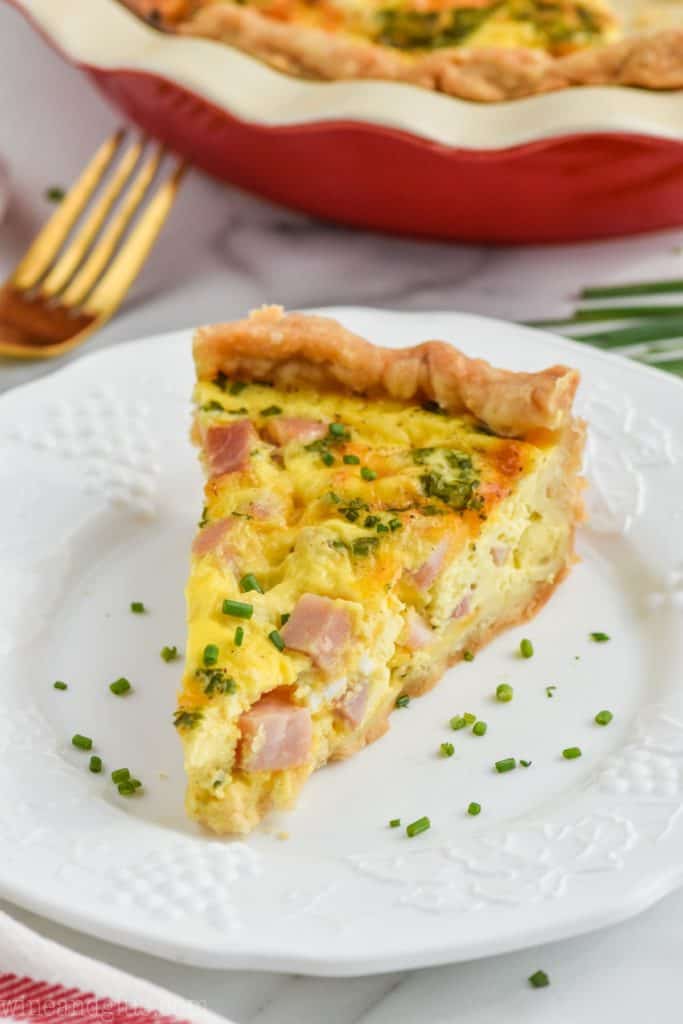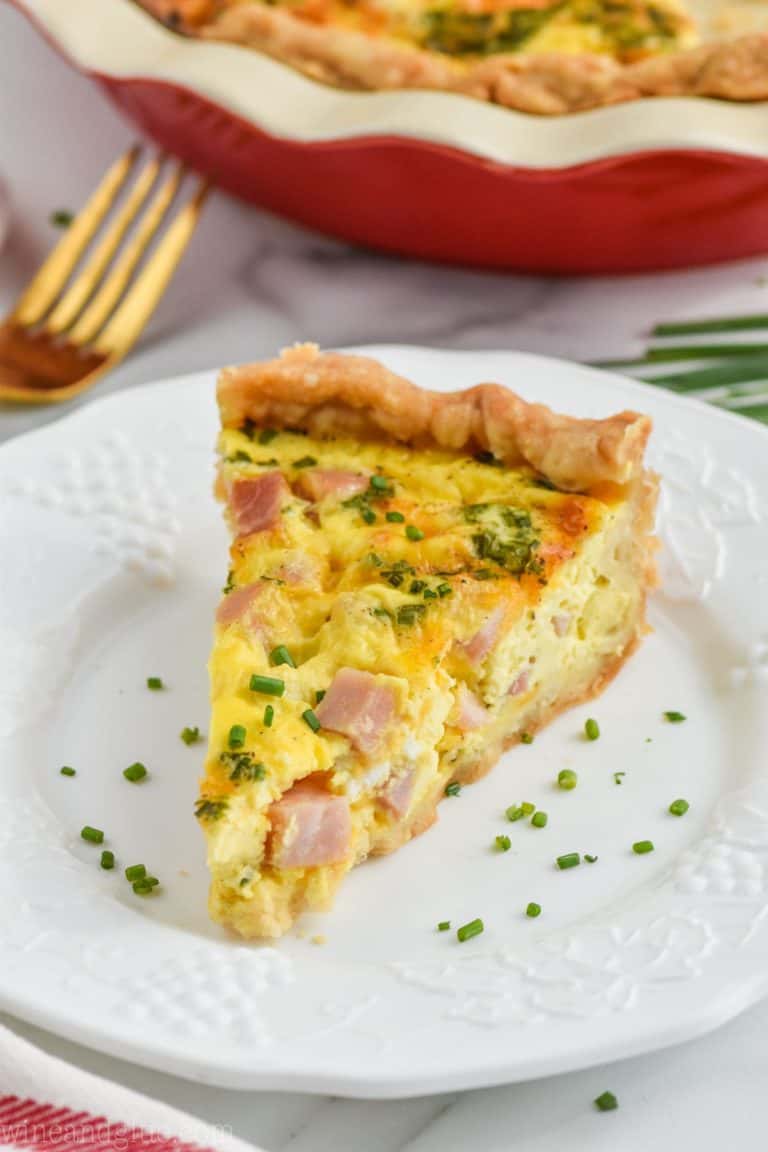 WHY OUR FAMILY USES SHELF STABLE MILK
There are so many reasons why we love Horizon, but one of the big reasons is their delicious shelf stable milk!
Horizon's individual shelf stable milk is so convenient. I can bring the single serve cartons along when we head out the door for the day without having to worry about refrigerating it!
It makes a perfect snack for days we are out and about. With 8 grams of protein, it is a snack that is going to keep my kids from getting hangry in the middle of our fun!
The quart sized shelf stable milk is great to keep on hand in the pantry! With three hungry kids, we are always fighting for fridge space, and we are always going through milk. Being able to keep a few boxes of milk in the pantry is so handy!
Horizon's shelf stable milk is so perfect in my recipes, and I feel great about cooking with it for my family! It was perfect in this Ham and Cheese Quiche Recipe! This ham and cheese quiche is delicious, and is so easy to throw together. It would be great for a family brunch, but would also be great to pull out of the refrigerator for an easy weeknight meal. Prep it the night before and then just grab it out of the fridge before dinner the next day. It is delicious warm or cold!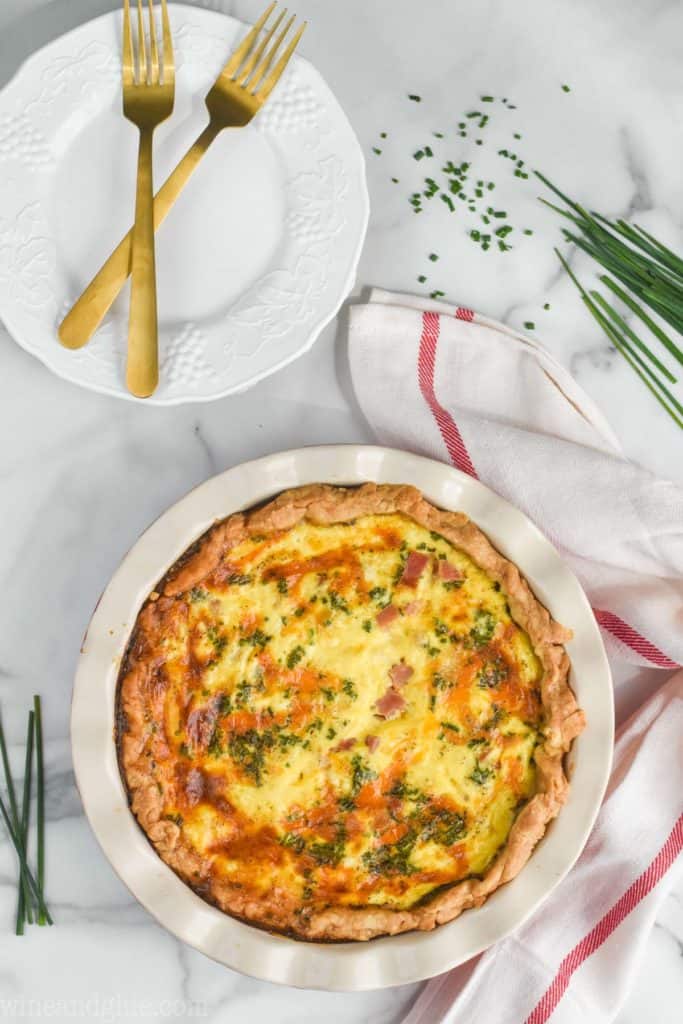 It's back to school season!! That means so many different things in my house. It means family meetings so we can talk about busy schedules and getting everyone on the same page. It means planning delicious easy weeknight meals like this ham and cheese quiche recipe. And it means packing lunches that make me feel good as a mom and that my kids will love!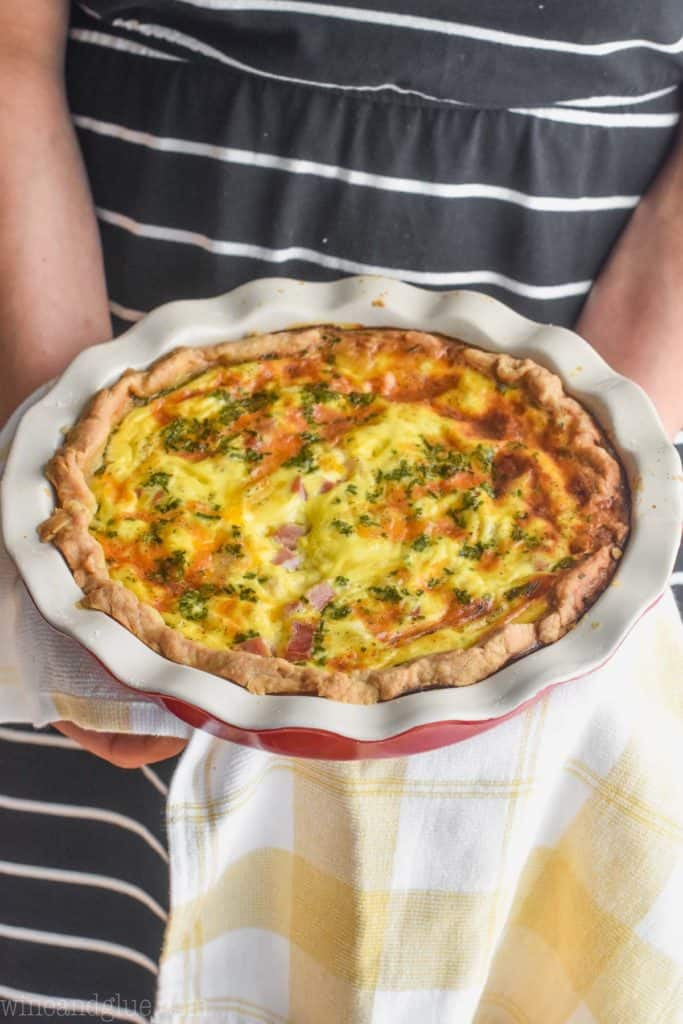 TIPS AND TRICKS FOR THIS HAM AND CHEESE QUICHE RECIPE
You can use a pre-made pie crust for this recipe, but I really love how my fool proof pie crust recipe tastes!
Before I threw my pie crust in the oven, I refrigerated it a little first in the pan. Roll it out, put it in the pan, flute the edges, and wrap it in saran wrap. This keeps it from shrinking while it bakes and helps hold all of the yummy filling.
Pre bake the pie crust before you fill it by covering it aluminum foil and holding it down with pie weights or loose change. Again this keeps it from shrinking and the foil keeps the crust from burning.
If you bake this quiche recipe on a baking sheet, you don't have to worry about it over flowing and making a mess in your oven.
Wait an hour before slicing your quiche so that it holds it's shape. This makes it a great recipe to make the night before and pull out right before dinner.
OTHER GREAT BREAKFAST RECIPES THAT DOUBLE AS DINNER
For even more information about shelf stable milk and great recipes using it, be sure to follow Horizon Organic on Facebook, Twitter, Instagram, and Pinterest.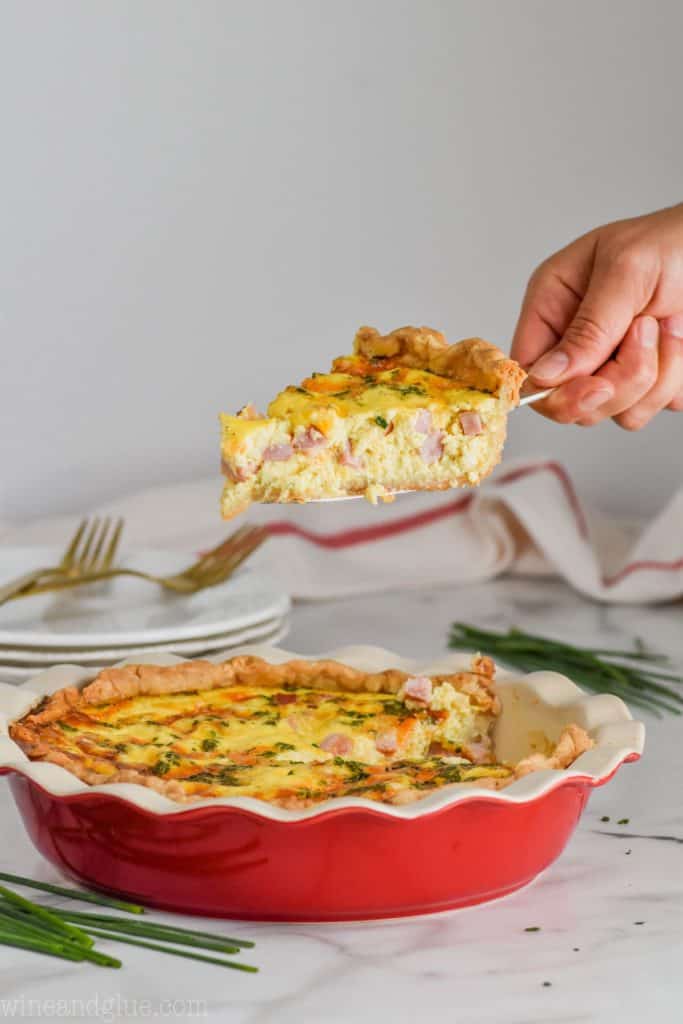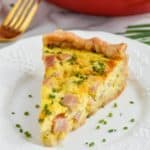 Print Recipe
Ham and Cheese Quiche Recipe
Ingredients
pie crust

(store bought or homemade)

5

Horizon Organic Eggs

2

cups

Horizon Organic Shelf Stable Milk

1/4

teaspoon

salt

1/4

teaspoon

black pepper

1

cup

Horizon Organic Shredded Cheddar cheese

1

tablespoon

organic chives

minced

12

ounces

organic ham

cubed
Instructions
Roll out the pie crust and put in a deep 9 inch pie pan, wrap with saran wrap and put in refrigerator for 30 minutes. Preheat the oven to 400 degrees.

Take out the pie crust, take off the plastic wrap. Line the pie crust with two sheets of aluminum foil. On top of the aluminum foil, place pie weights or loose coins. Bake the pie crust for 25 minutes. Lower the oven temperature to 350 degrees.

In a large boil whisk together the eggs, milk, salt, and pepper until there are no streaks of eggs left. Stir in the chives, ham, and cheese.

Remove the foil and loose change from the pie crust. While it is still warm, pour the filling into the pie crust, until it is just full (you might have a little filling left). Place on a baking sheet and bake for 70 minutes or until a knife inserted in the quiche comes out clean. The center will be set but soft.

Let the quiche set for at least an hour before slicing.
Other great breakfast recipes that you can use shelf stable milk for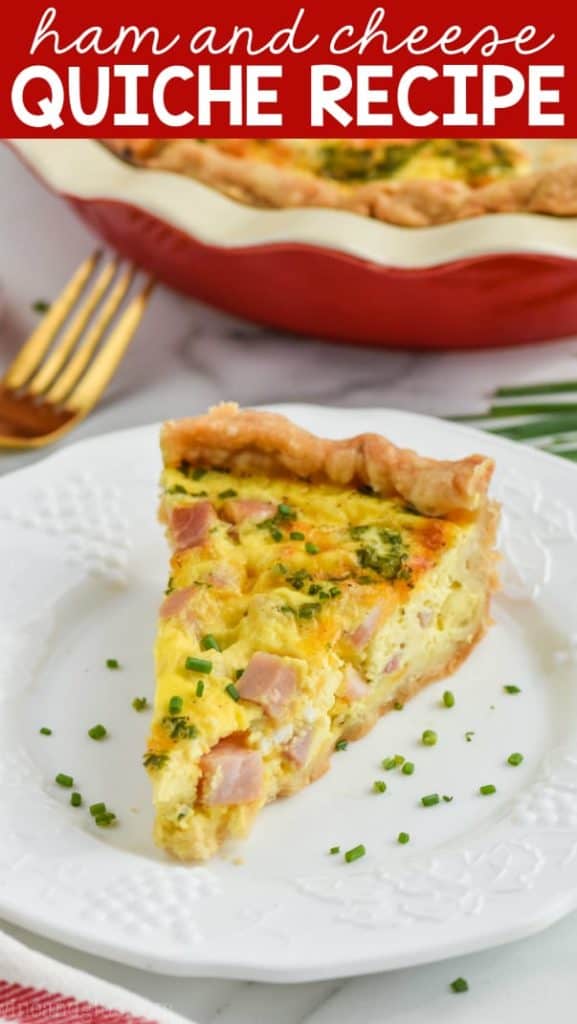 This is a sponsored conversation written by me on behalf of Horizon Organic. The opinions and text are all mine. [TAPINFLUENCE AGREEMENT: https://www.tapinfluence.com/tapinfluence-master-influencer-agreement/]