This delicious Ham and Cheese Quiche mixes up fast and has so little hands on time! Make it for a delicious weeknight dinner, or a big Sunday morning brunch!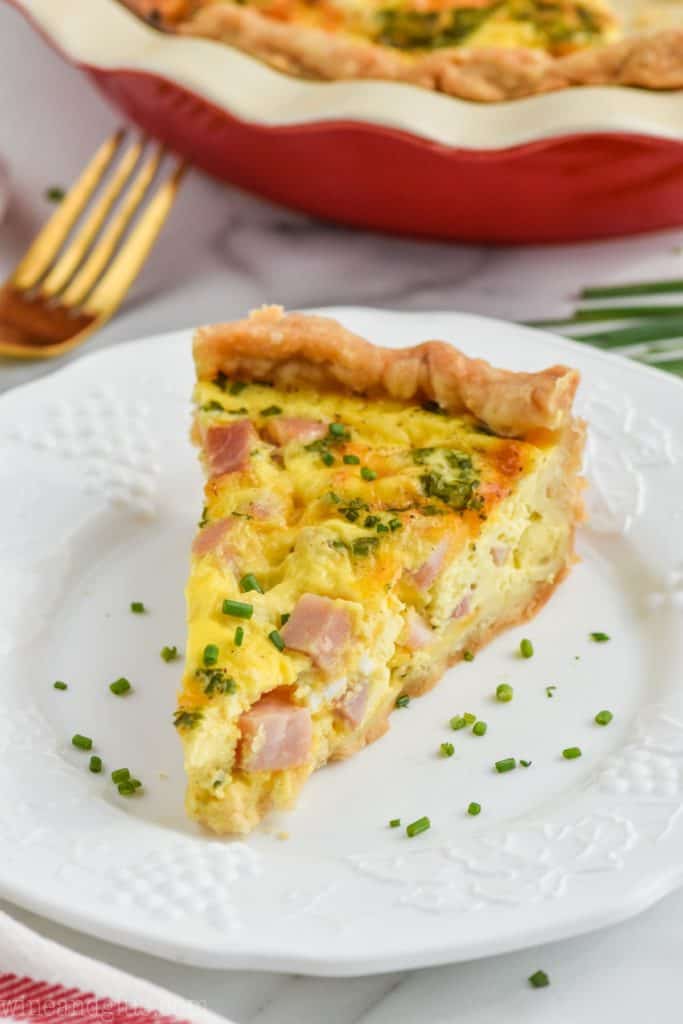 Every Christmas morning we spend the morning lazily opening gifts while snacking on Eggnog Mini Muffins and fancy coffee drinks for me. It is a dreamy hour or two that I treasure. It's full of giggles and happiness, and everything I hoped for when I dreamed of having a family. I am lucky, indeed.
And then we move on to having a fun brunch. I love brunch dishes. In our house they tend to be more fancy than a typical weekend breakfast. That being said, I love having recipes that can prep the night before and be tossed in the oven the morning of Christmas. This recipe is perfect for that.
This ham and cheese quiche is delicious, and is so easy to throw together. It would be great for a holiday brunch, but would also be great to pull out of the refrigerator for an easy weeknight meal. Prep it the night before and then just grab it out of the fridge before dinner the next day. It is delicious warm or cold!
How to Make Ham and Cheese Quiche
A homemade quiche doesn't have to be something that you slave over. It is a delicious breakfast recipe that comes together in just a few easy steps.
Make the Crust: We love using our homemade pie crust recipe for this. That does require making it the day before. If a store-bought crust is more your speed, do that!
Prebake Crust: Whatever crust you decide to use, you will need to bake it a little before adding the filling. Cover the crust in foil and then pie weights or coins to prevent air bubbles while baking.
Make the filling: This is simply whisking together a few ingredients.
Add the filling: Pour the filling into the warm crust.
Bake: Finish it all off by baking in the oven and then letting it sit for 1 hour before slicing.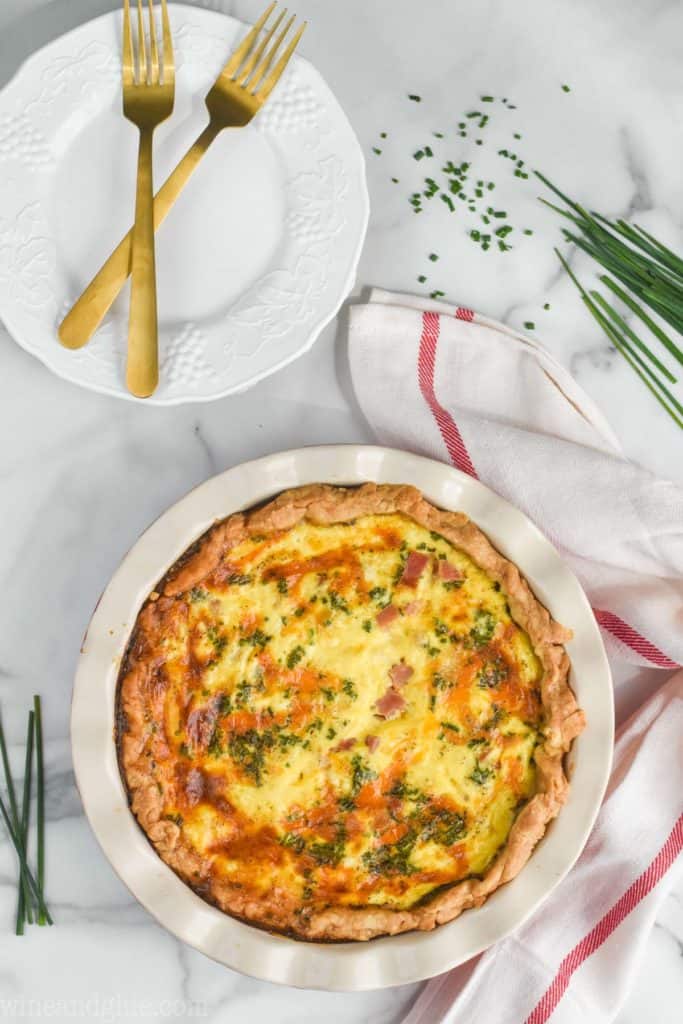 Let's Talk Pie Crust
I was a pie crust hater until I came upon this fool proof pie crust recipe (you can see it linked in step one above). It really is food proof and it will easily become your favorite recipe. I highly recommend that you try this recipe with that crust.
But, do not skip over this great Ham and Cheese Quiche because a homemade crust intimidates you. If that is the case, simply buy a premed crust and enjoy life.
Leftover Ham
This is the perfect recipe to use left over ham, especially after Christmas and Easter. If you want to make this recipe and don't have leftovers on hand, simply buy a ham steak.
Other great recipes for leftover ham: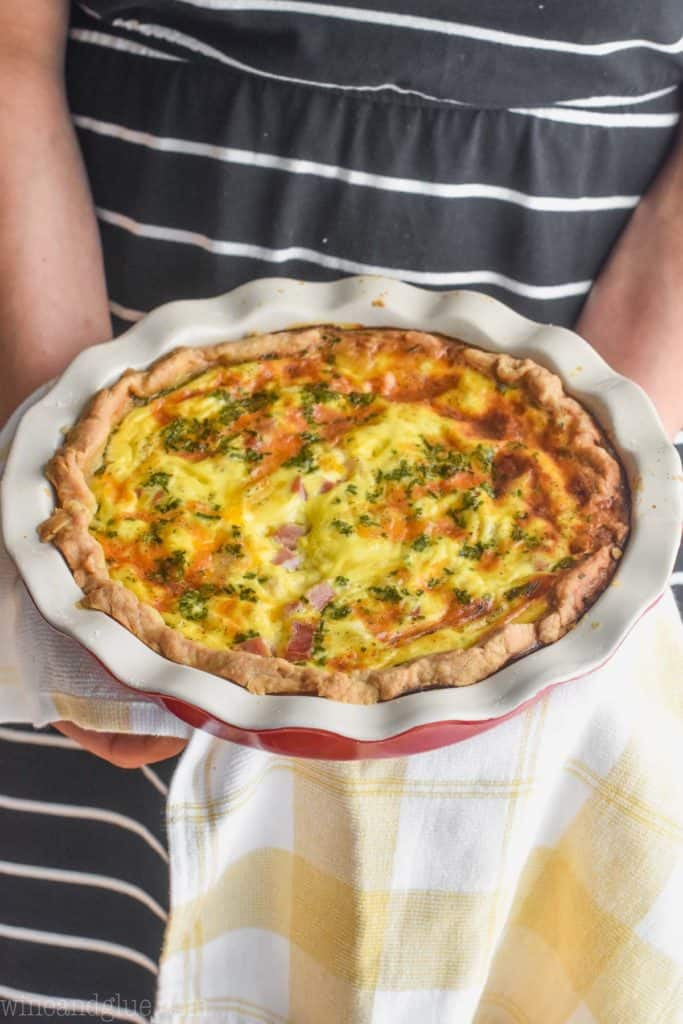 Tips and Tricks
Refrigerate the pie crust: An optional step, but if you refrigerate the pie crust after rolling it out but before pre baking it it will help keep it from shrinking while baking. This means that your delicious filling stays in the pan.
Pre bake the pie crust: As mentioned above, covering the crust with aluminum foil before adding the weights keeps the crust from shrinking and also prevents burning while pre-baking.
Use a Baking Sheet: If you bake this quiche recipe on a baking sheet, you don't have to worry about it over flowing and making a mess in your oven.
Wait an hour before slicing: Doing this helps your quiche holds it's shape. This makes it a great recipe to make the night before and pull out right before dinner.
Reheating Cooked Quiche
If you do decide to make this the day before but want it warm when serving, follow these steps.
Take the quiche out of the refrigerator and leave on the counter for 20 minutes.
Preheat your oven to 350 degrees.
Cover the quiche with aluminum foil.
Bake for 15 to 20 minutes.
Crustless Quiche
If you love quiches but don't feel like fussing with a crust, you can make a crustless quiche. Here are two recipes I truly love.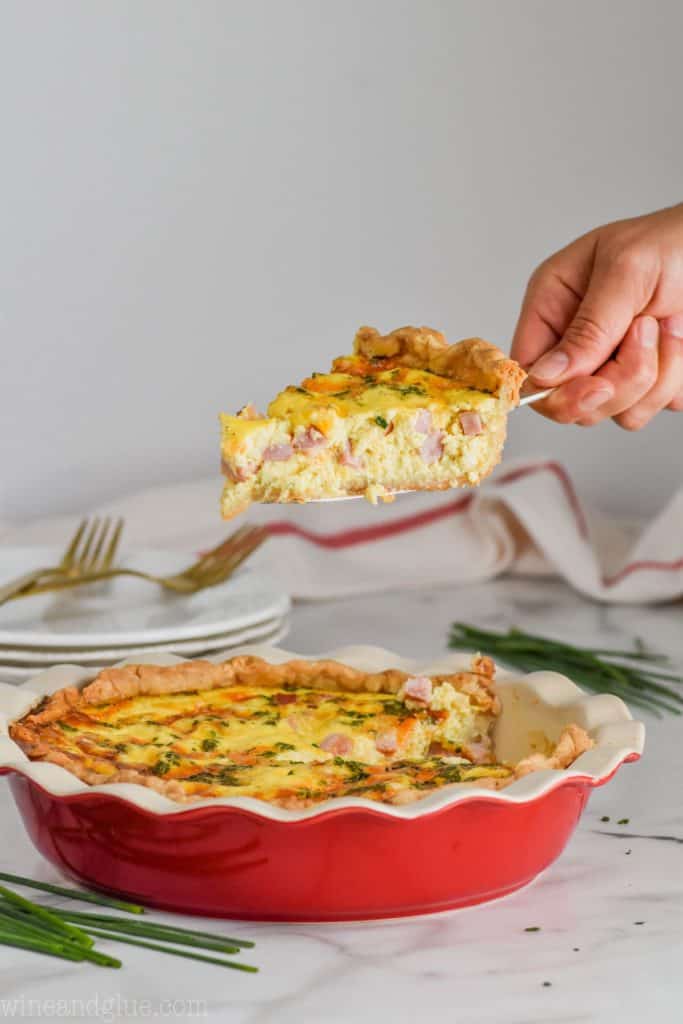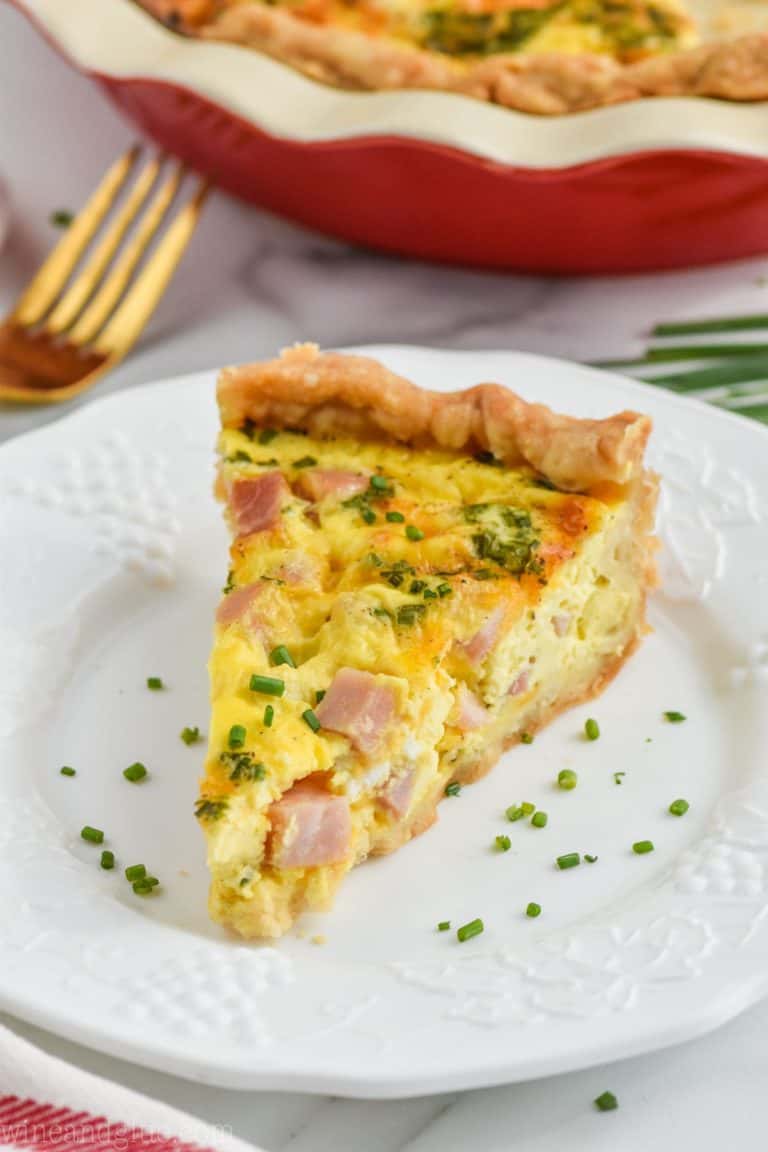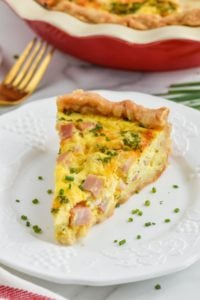 Ham and Cheese Quiche Recipe
This delicious Ham and Cheese Quiche mixes up fast and has so little hands on time!  Make it for a delicious weeknight dinner, or a big Sunday morning brunch!
Ingredients
pie crust

(store bought or homemade)

5

large eggs

2

cups

milk

I used 1%, but you could use skim as well

1/4

teaspoon

salt

1/4

teaspoon

black pepper

1

cup

shredded cheddar cheese

1

tablespoon

chives

minced

12

ounces

ham

cubed
Instructions
Roll out the pie crust and put in a deep 9 inch pie pan, wrap with saran wrap and put in refrigerator for 30 minutes. Preheat the oven to 400 degrees.

Take out the pie crust, take off the plastic wrap. Line the pie crust with two sheets of aluminum foil. On top of the aluminum foil, place pie weights or loose coins. Bake the pie crust for 25 minutes. Lower the oven temperature to 350 degrees.

In a large bowl whisk together the eggs, milk, salt, and pepper until there are no streaks of eggs left.  Stir in the chives, ham, and cheese.

Remove the foil and loose change from the pie crust. While it is still warm, pour the filling into the pie crust, until it is just full (you might have a little filling left). Place on a baking sheet and bake for 70 minutes or until a knife inserted in the quiche comes out clean. The center will be set but soft.

Let the quiche set for at least an hour before slicing.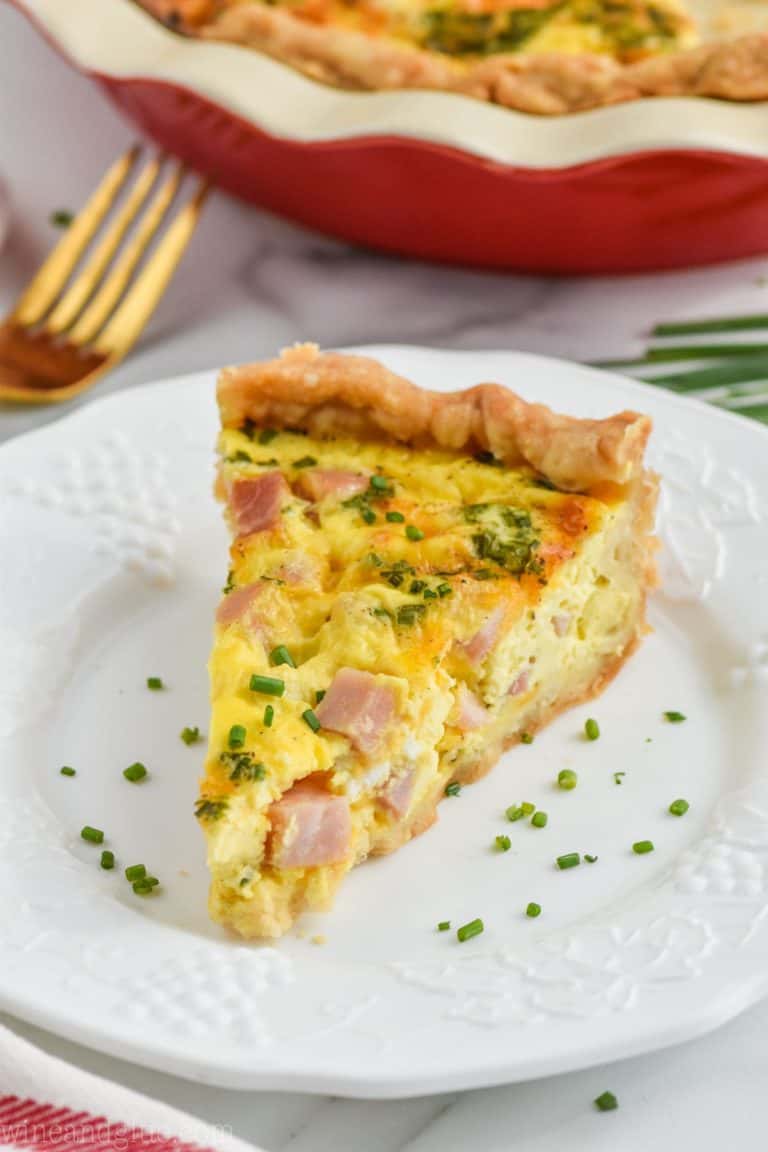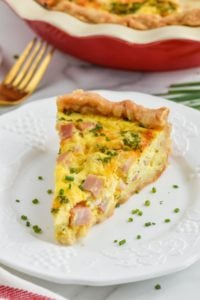 did you make this
Ham and Cheese Quiche Recipe