This Espresso Martini is the perfect combo of Kahlua, vodka, and espresso. Easy to make and even easier to drink, this is a great way to celebrate ladies' night in.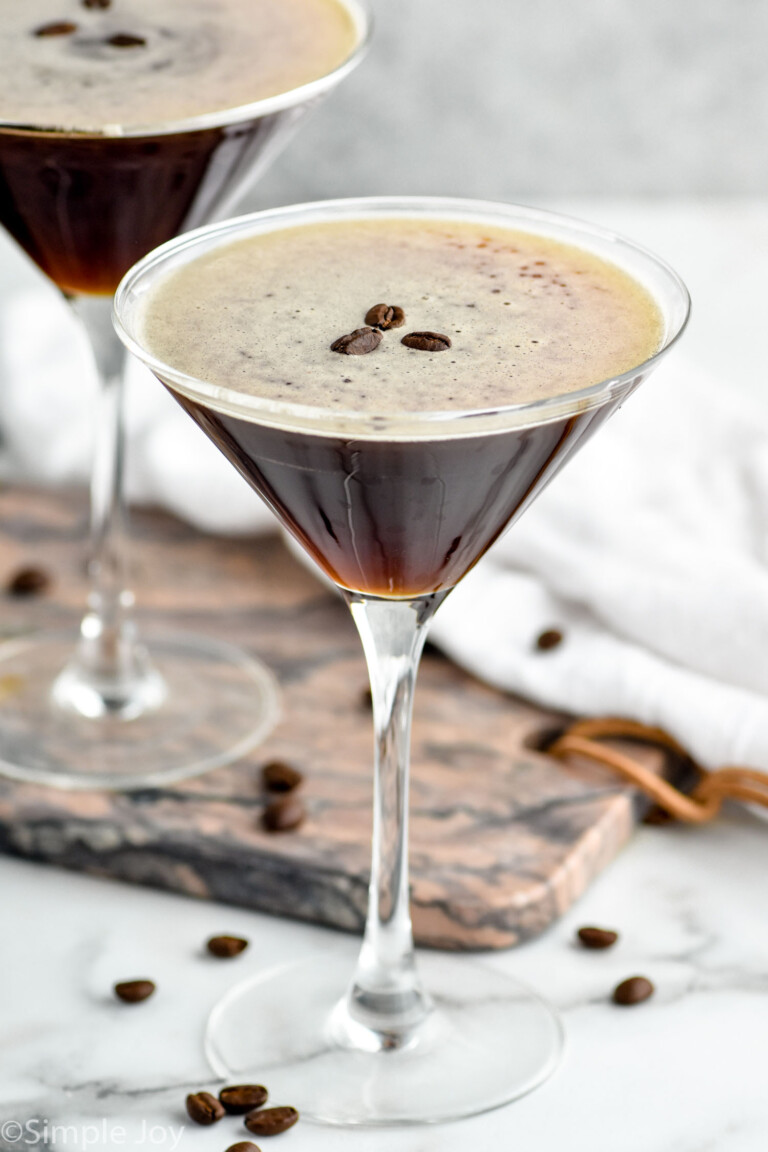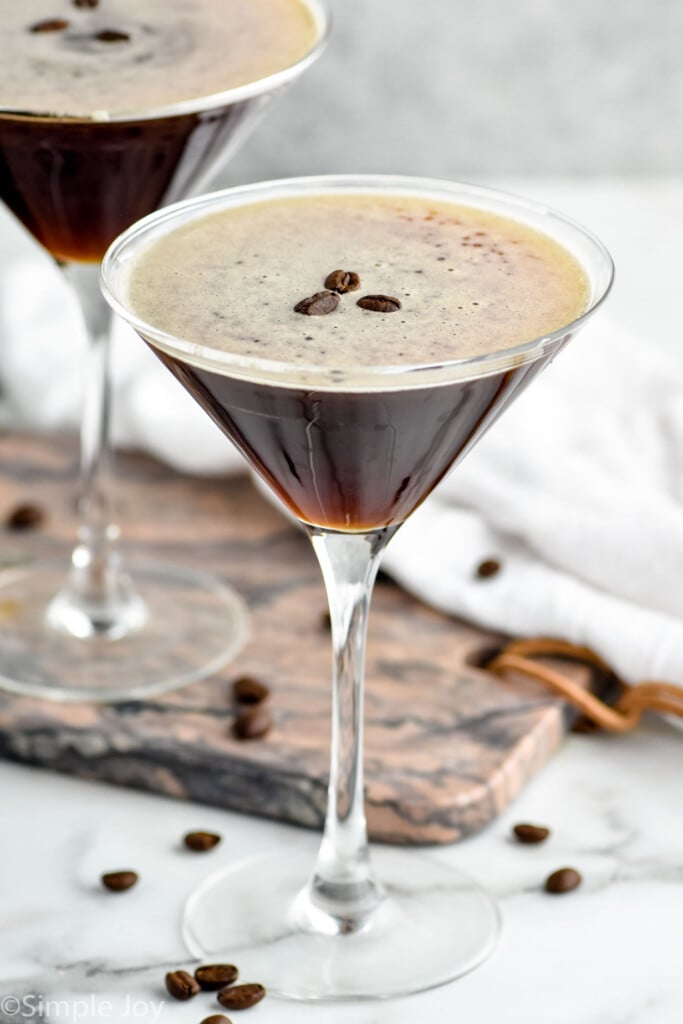 There is something about being out with friends, especially when I'm traveling with them, that makes me want to have a martini. Our rare get togethers need to be celebrated, and a martini often feels like the perfect way.
If you are celebrating something special – perhaps a getaway with some great friends – and need a drink to commemorate it, make these amazing Espresso Martinis. They are so easy to make, require just three ingredients, and are absolutely delicious. Even non coffee lovers will love this great martini.
Espresso Martini Ingredients
Espresso Martini ingredients are so simple, you may already have them in your kitchen. Here is a bit about what you will need and my recommendations.
Espresso: For a slightly less strong coffee flavor, use freshly brewed coffee or cold brew coffee.
Coffee Liqueur: Kahlua is a popular coffee-flavored liqueur that works great here.
Vodka: For a vodka-forward drink like any vodka martini, it's crucial to use a good quality vodka that you enjoy the flavor of. Fortunately, good vodka can be found at all price points. The best quality vodkas for the price are Grey Goose and Belvediere. For a budget-friendly vodka, we recommend using Tito's.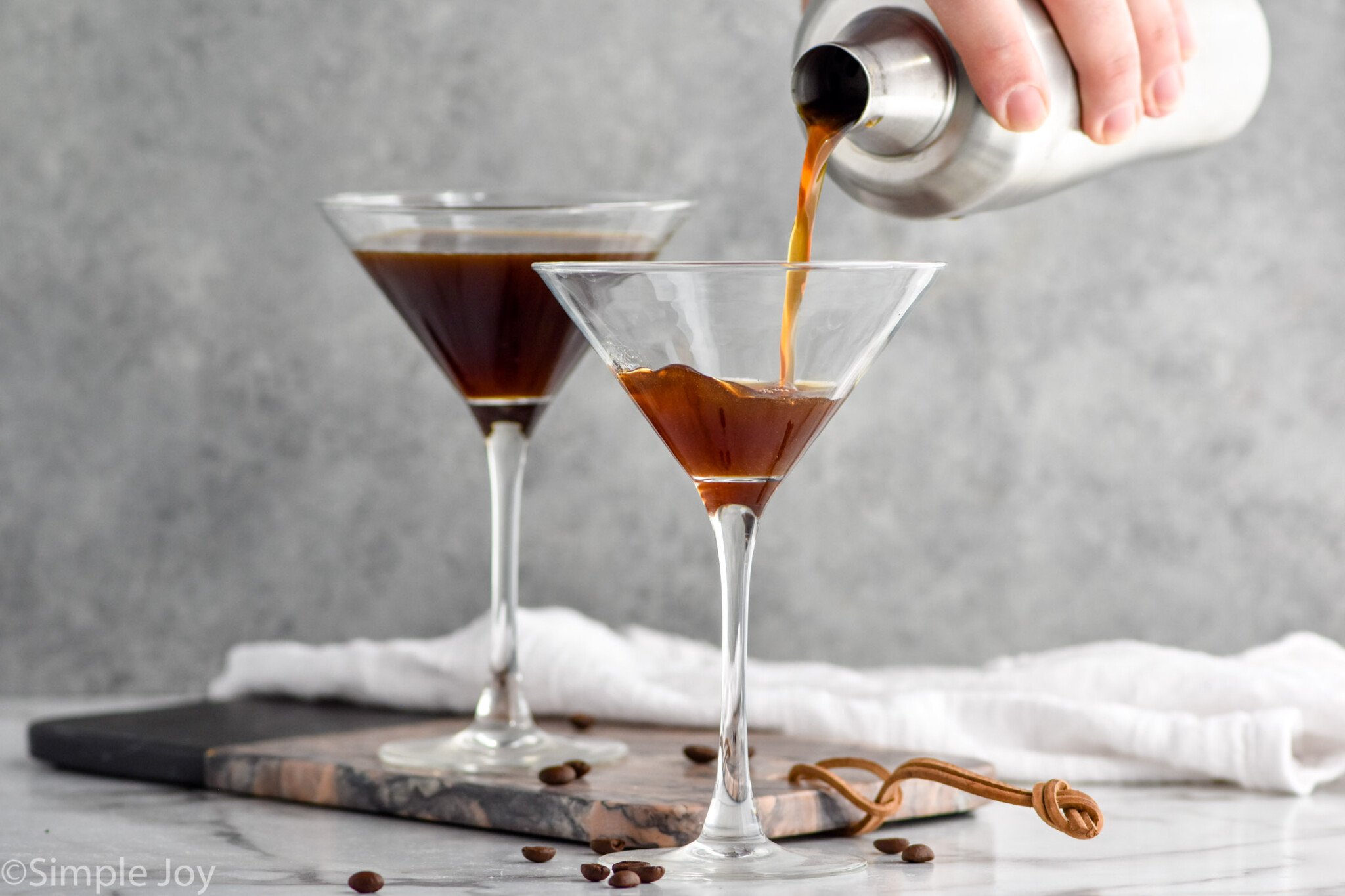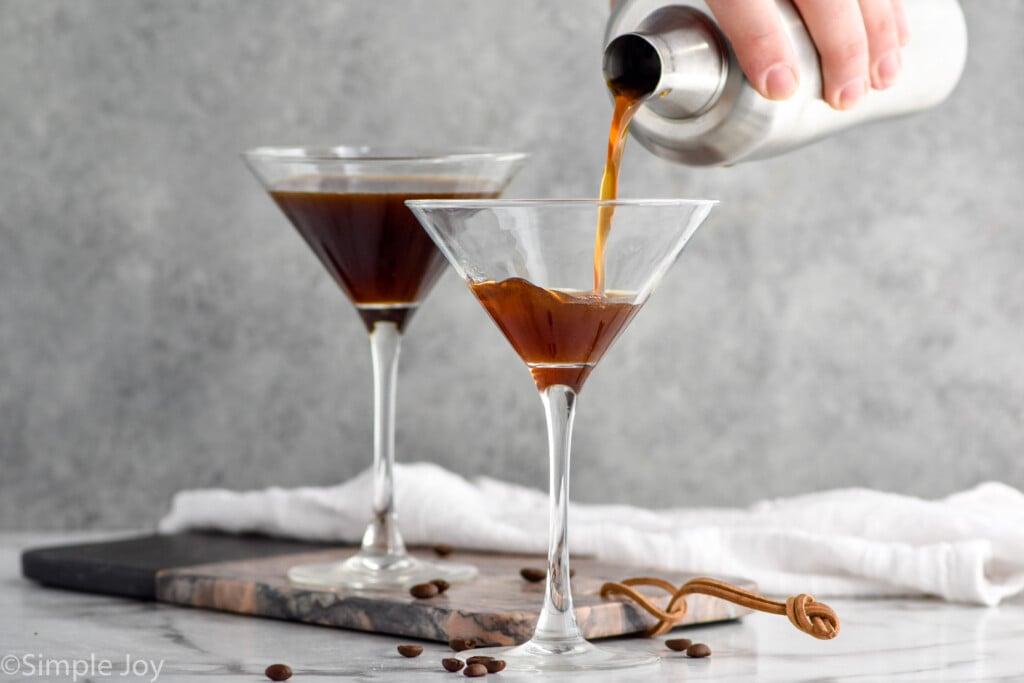 How to Make an Espresso Martini
This espresso martini recipe comes together in just a few simple steps and results in a delicious cocktail. For the full recipe including all measurements, scroll to the recipe card at the bottom of the page.
Make espresso. The espresso can be hot or cold. See our pro tip below!
Combine ingredients in a cocktail shaker. Add lots of ice followed by your vodka, Kahlua, and espresso.
Shake and quickly strain. The more you shake it, the more frothy the martini will be. When the ingredients are very cold and well combined, strain quickly into a chilled martini glass to get most of the foam into your drink.
Pro Tip!
I love keeping a batch of cold brew coffee on hand, even during the winter. Not only is it great in the mornings or as an afternoon pick-me-up, it makes the best Espresso Martini recipe. Since it is already chilled, it will keep the temperature of the cocktail just right.
Cold Brew Coffee
Cold Brew Coffee is the perfect easy treat to make at home. Skip the coffee shop and save some cash with this easy recipe.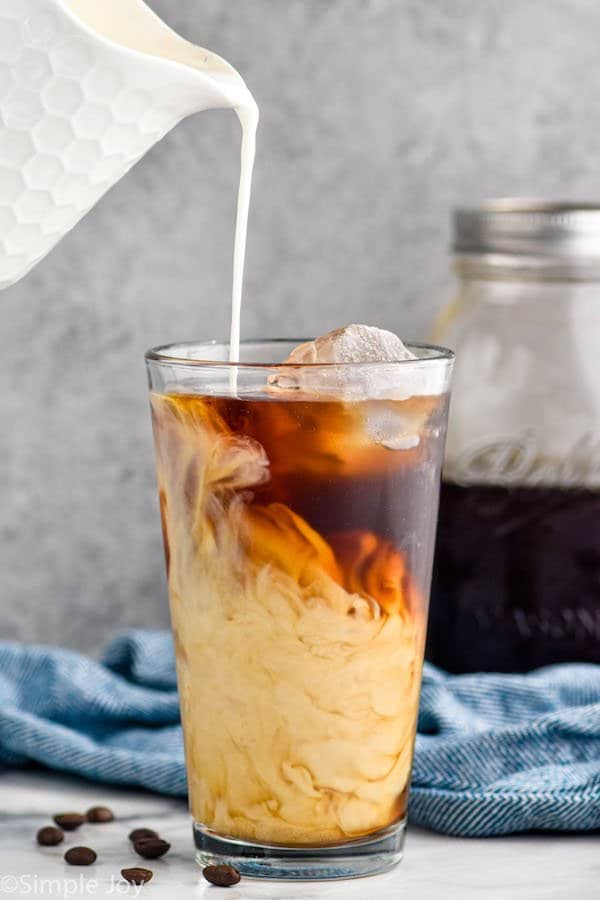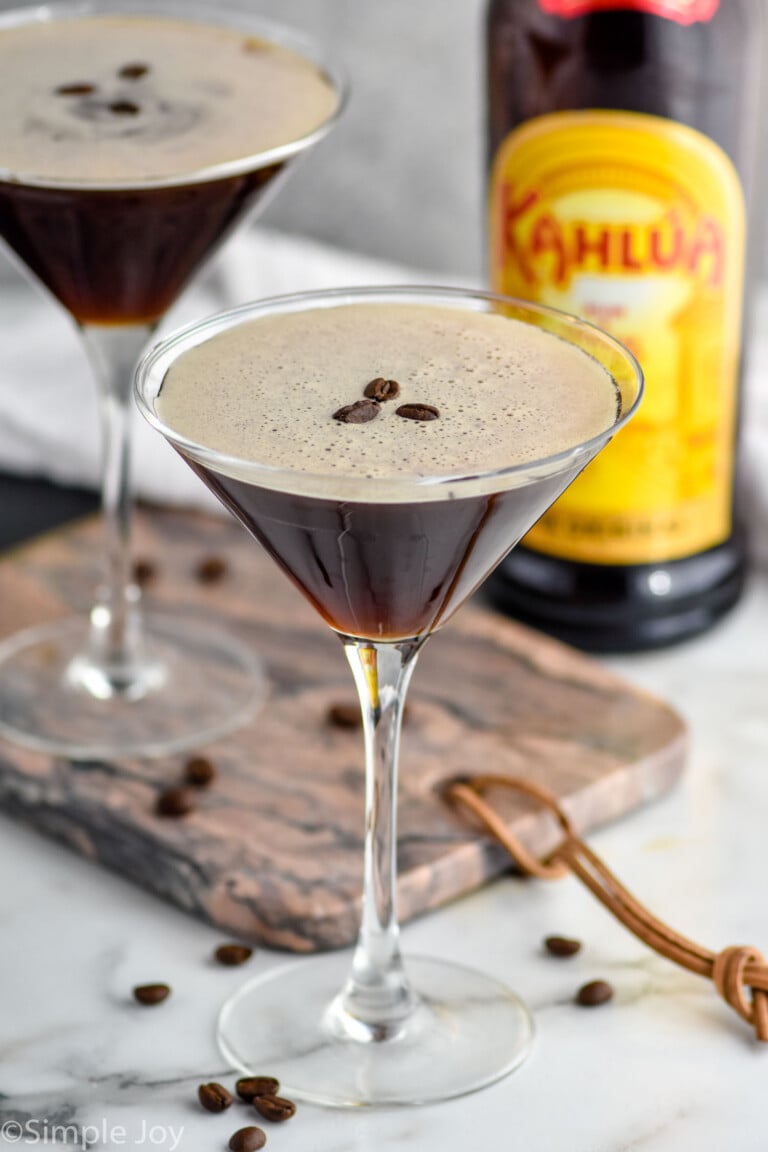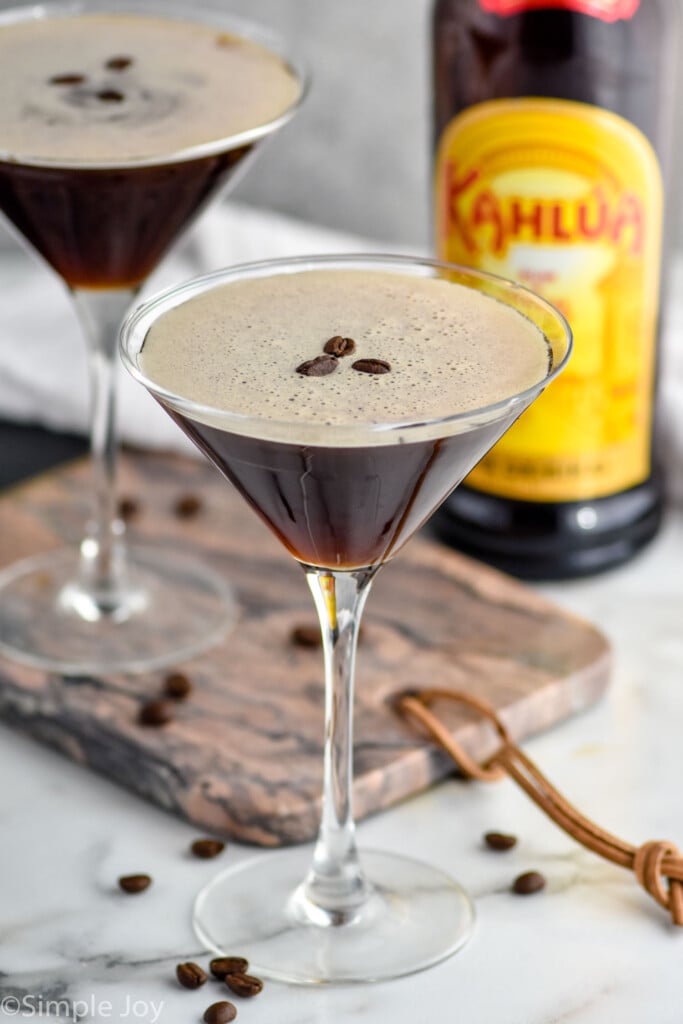 Making Espresso Martinis Decaf
Want to enjoy an Espresso Martini in the evening but worried about the caffeine? Make them decaf! Use a decaf espresso in your cocktail to get the coffee taste without the caffeine.
Tips and Tricks
Use cold or chilled espresso. Keep it on hand will save you a step when you are ready to make cocktails.
Avoid using instant coffee. The flavor won't be quite as good as freshly pulled espresso shots or coffee.
Shake really well and pour fast. The frothy texture is part of what makes Espresso Martinis so delightful. To make your Espresso Martini frothy, shake it really well in the cocktail shaker and pour it quickly into the martini glass. While you can have your ingredients prepared and ready ahead of time, it's best to shake and pour the cocktail right before serving.
Add a garnish. Top your martini with a few coffee beans for a simple garnish.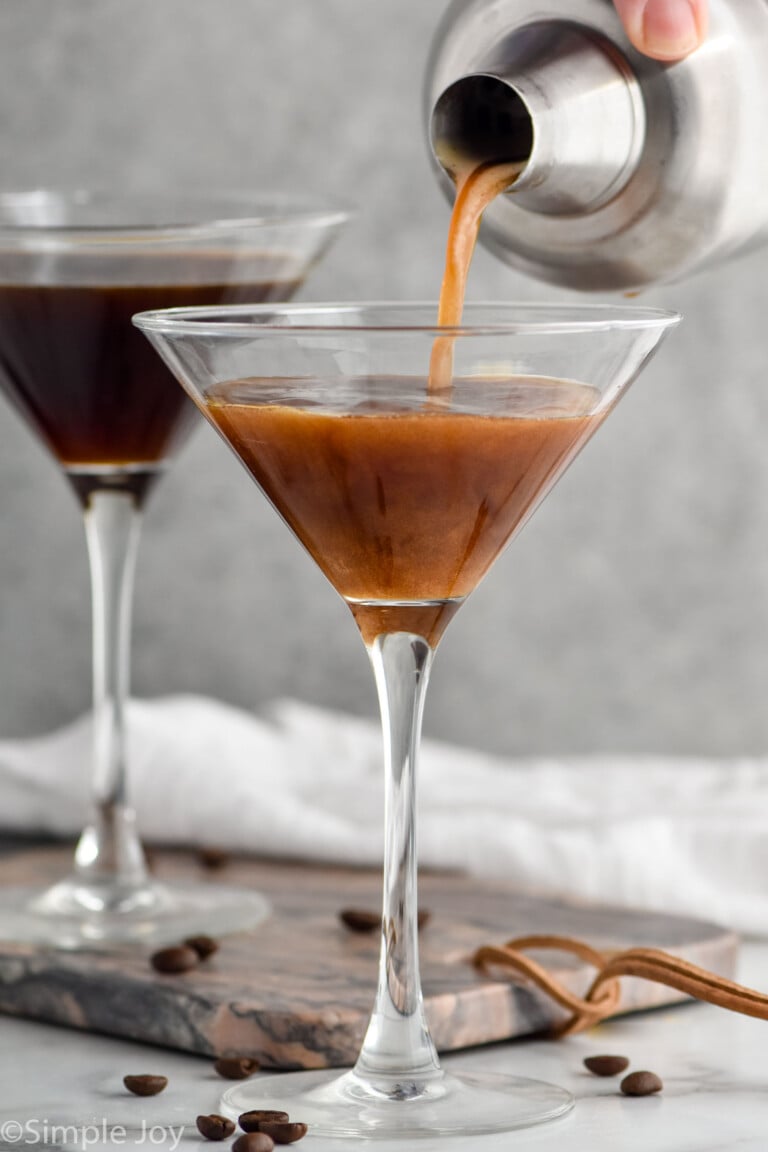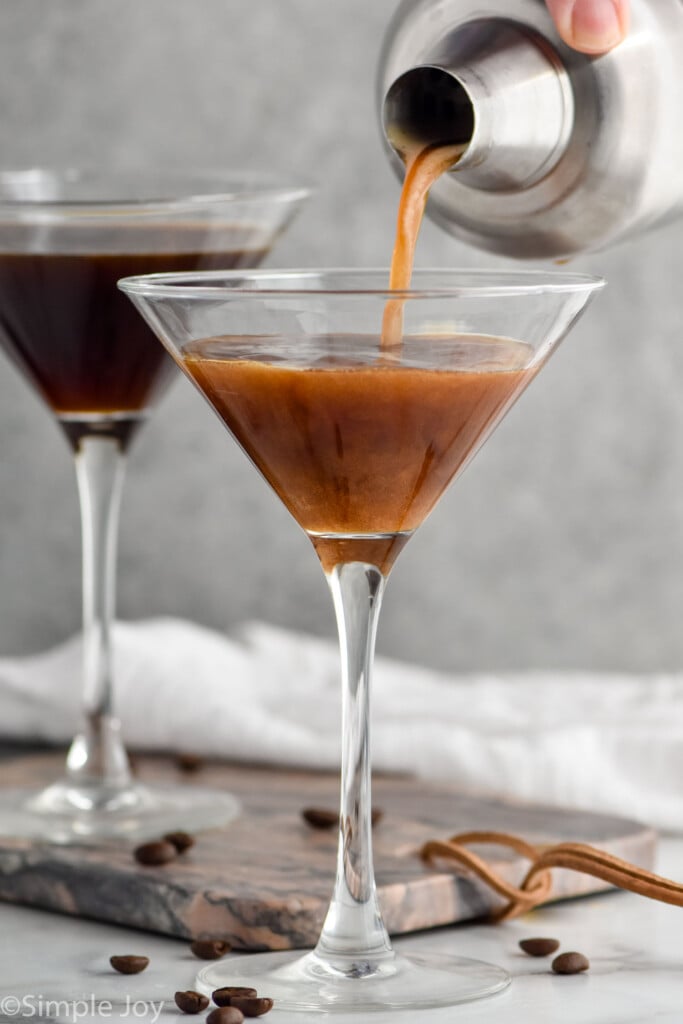 Make a Baileys Espresso Martini
For a sweet twist, make your Espresso Martini with Baileys! Simply swap out the coffee liqueur for two ounces of Baileys Irish Cream for a cocktail that is sweeter and slightly creamy.
FAQ
How much caffeine is in espresso?
There are 64 mg of caffeine in one shot of espresso.
What liquor is best for an espresso martini?
Vodka. With its clean flavor, a good quality, unflavored vodka best compliments the espresso and coffee liqueur.
Is Baileys or Kahlua better for espresso martinis?
In most espresso martini recipes, Kahlua is the liqueur used which results in a rich coffee flavor and frothy texture. Baileys will result in a creamier cocktail with a weaker coffee flavor.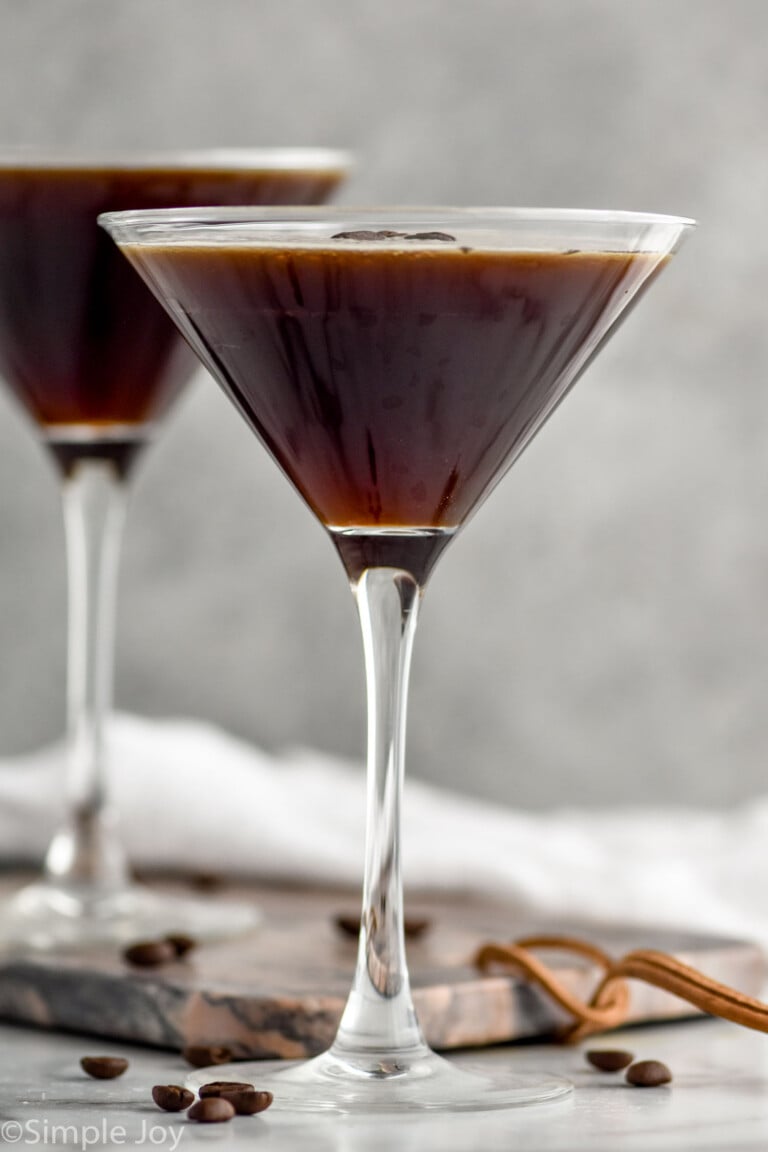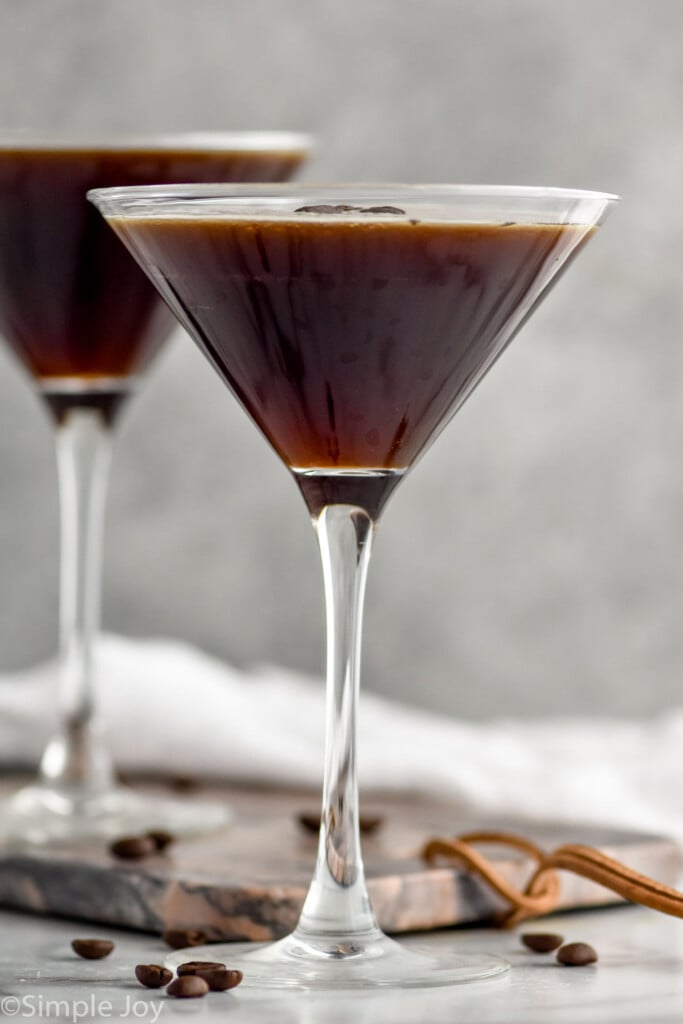 Other Delicious Martini Recipes
If you try this Espresso Martini recipe or any of my others, leave a comment and let me know what you think. I love hearing from you!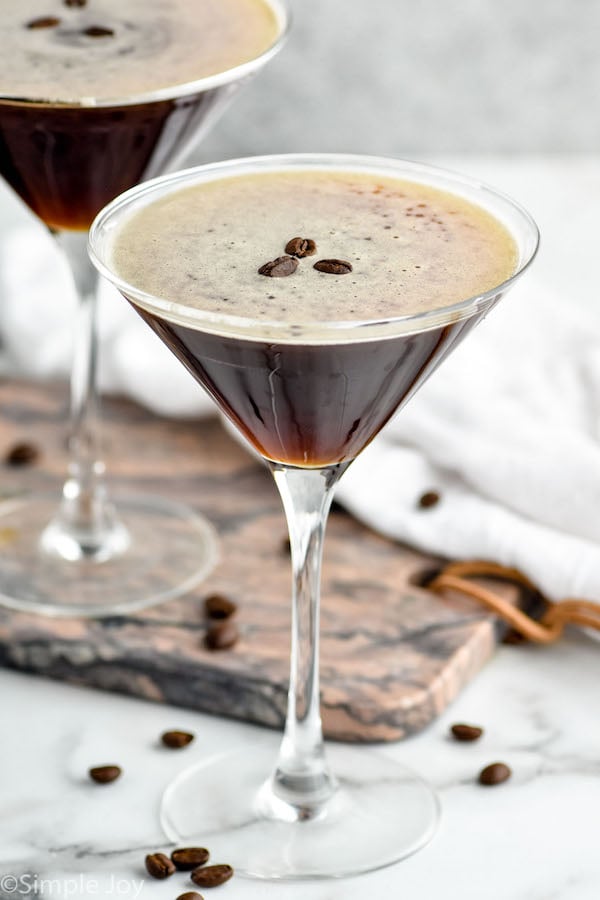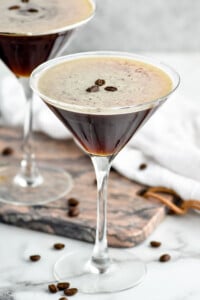 Espresso Martini
Ingredients
2

ounces

vodka

2

ounces

coffee liqueur

(such as Kahlua)

2

ounces

espresso
Instructions
Make some espresso. You can also use freshly brewed coffee for a slightly less strong coffee flavor.

Add ice to a shaker. Then add in the vodka, coffee liqueur, and espresso.

Shake vigorously for 10 to 20 seconds. The longer you shake, the more frothy the top of the martini will be.

Strain into a martini glass quickly to ensure the foam comes out and into your drink.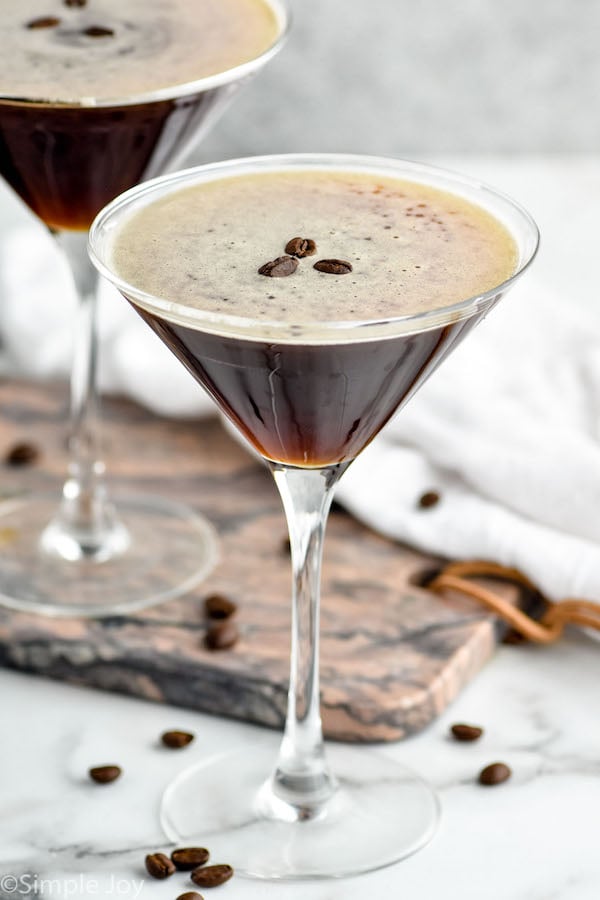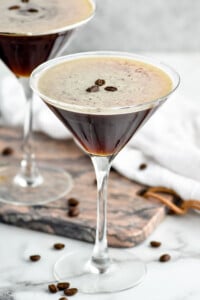 did you make this
Espresso Martini