This Lemon Chicken Orzo Soup is a delicious meal in a bowl. The light lemon flavor pairs perfectly with the ingredients to create a comforting and filling soup you will fall in love with.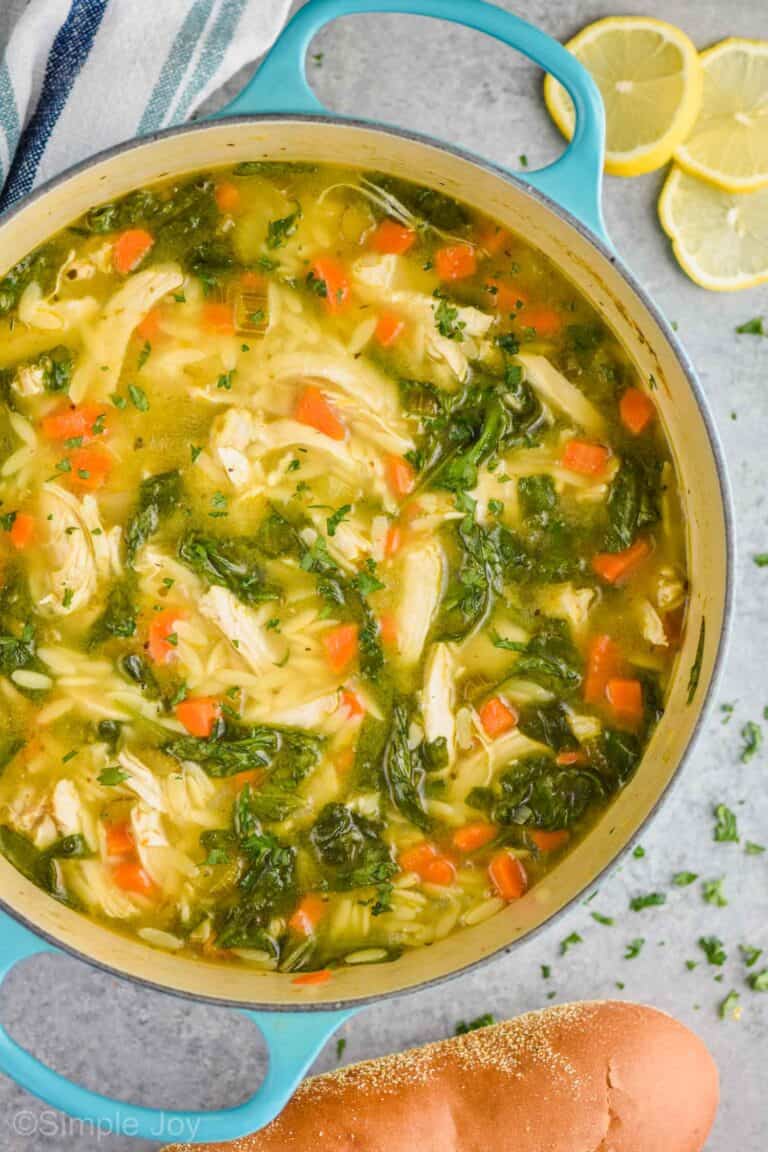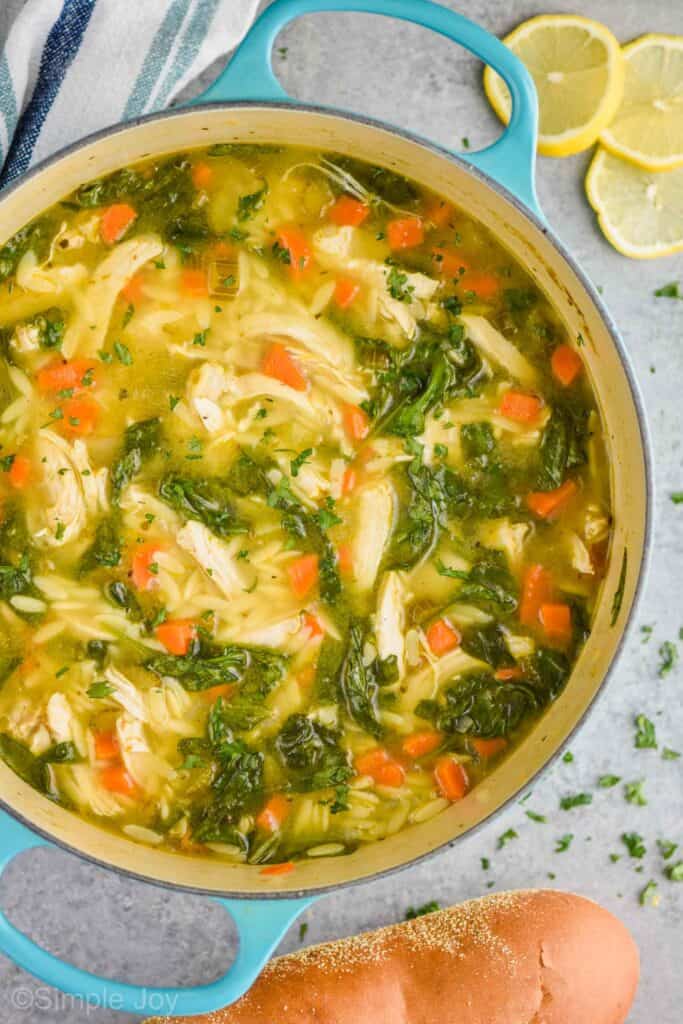 If you have been following along for a bit, you probably know that I am in love with soup. In fact, when I plan my editorial calendar in the fall and winter, I have to be on the lookout for soup recipes that are too close together.
I know not everyone has the love for soup that I have. I could (and do!) eat it all year long.
In my house, I'm steadily programing my kids to be soup lovers too. Like a secret mission. To me, there is something so homey and loving about my family huddling around the kitchen table on a cool evening, a steaming bowl of soup in front of each of us.
This Lemon Chicken Orzo Soup fits the bill for comforting soup. It checks all the boxes for me with it's protein, veggies, pasta, and great flavor combination. Grab a crusty baguette, make this soup, and become a convert like me.
Reader Review
Made it today and thought I would have leftovers…didn't happen… it was so good and different than anyone expected. Thank you!
How to Make Lemon Chicken Orzo Soup
Sauté the vegetables. In a heavy bottomed pot, heat olive oil and then saute the celery, onion, and carrots with the garlic and herbs until the vegetables are soft.
Deglaze the pan. Using white wine, deglaze the pan, scraping up all the brown bits from sautéing the vegetables.
Cook the chicken. Add chicken stock, bay leaves, and chicken. Bring the soup to a boil and then reduce it to a simmer. Cook it until the chicken registers 165 degrees.
Cook the orzo. Remove the chicken from the soup, and add the orzo, cooking it to the length of time indicated on the box.
Finish the soup off. Return the chicken to the pot, stir in the spinach, and add the lemon and lemon zest.
Lemon Chicken Orzo Soup Ingredients
The ingredients for this soup are simple enough, but when combined they have the best flavor.
Chicken: We are using boneless skinless chicken breasts in this recipe, though you could always use chicken thighs and follow the method used in my Chicken Noodle Soup.
Orzo: This small pasta is perfect in this recipe, but you can swap it out for whole wheat orzo or another small pasta like ditalini.
Fresh Lemon: While fresh lemon may sound odd in a soup, it gives it this bright and fresh flavor I think you will really love.
Spinach: The addition of spinach in this soup helps to make it a really nutritious dinner.
Carrots, celery, & onion: This trio of vegetables works together perfectly in this soup as it does in so many recipes.
Garlic: The fresh garlic in this recipe is subtle enough that it doesn't over power, but rather lends another layer of flavor.
Thyme, oregano, & bay leaves: These simple herbs pair beautifully in this soup, though you could certainly experiment and try others.
Chicken Stock: This is what gives the soup it's back bone. I recommend using a low sodium chicken stock so you have better control over the salt content.
White Wine: I love the layer of flavor that white wine brings to this recipe, read more on this below.
Salt & Pepper: I have listed the amount of salt and pepper that I thought was necessary for this recipe, but you can always start with less and add more to taste at the end of a recipe.
Using White Wine
The wine in this recipe adds on another layer of flavor that I think is really wonderful. It's a hidden note in the background that you won't be able to put your finger on, but you will love.
I recommend using a Pinot Grigio or a Sauvignon Blanc. Pick a wine that you would drink, and pass on the cooking wines. There is no need to break the bank on this; it will be hard to tell the difference between an inexpensive bottle in this recipe and an expensive one.
If your family doesn't drink wine often, I suggest buying a pack of four mini bottles to make this recipe. That way you don't need to crack open a whole bottle just for one recipe, and you will have three more bottles for other recipes that use white wine – like my Beef and Noodles or my Linguine and Clams.
Alternatively, you can skip the wine in this recipe, and just replace it with more chicken stock. It won't be the same exact flavor but it will be delicious.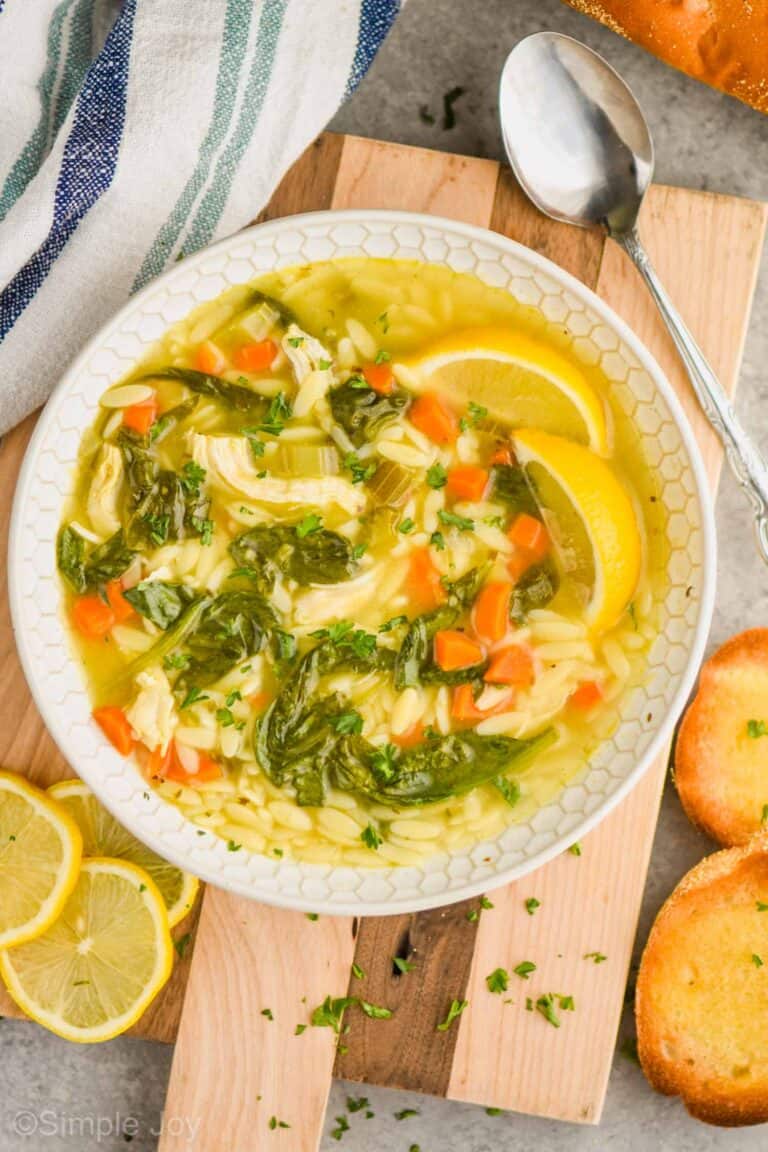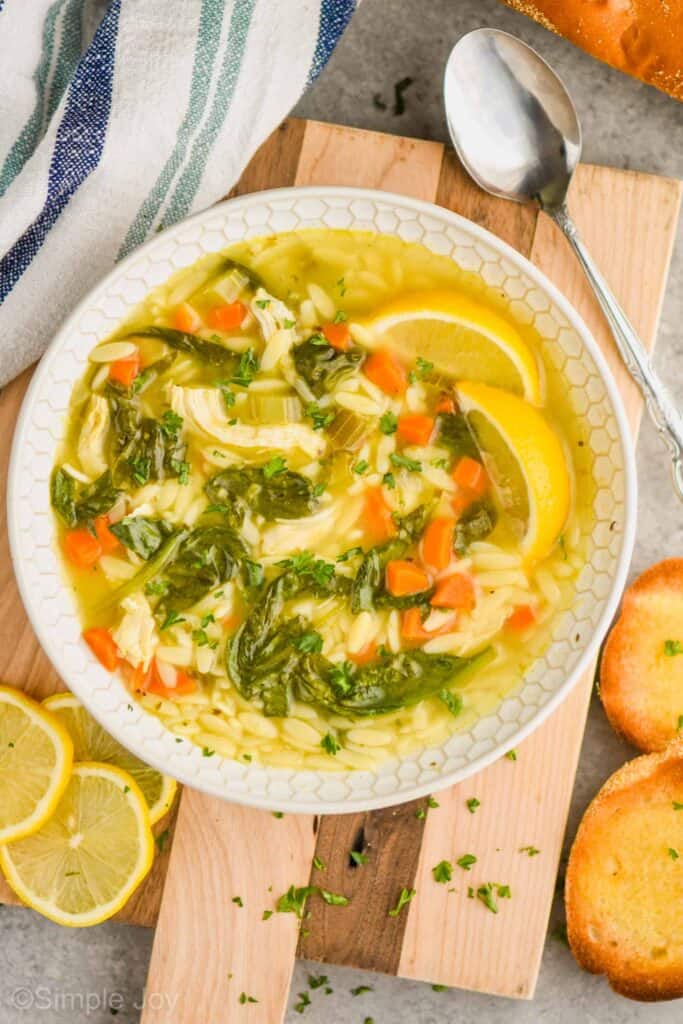 Cooking the Chicken
It does, however, add a chunk of time to this recipe. If you wanted to cut the time on this, purchase cooked chicken and use about 3 cups. Additionally, you will want to cut the liquid in this recipe by about 2 cups, since you will be cutting out that 20 minutes of simmering time.
Lemon Flavor
As you can guess from the name of this soup, it has a great lemon flavor to it. You can't miss the lemon flavor in this recipe, it is bold. That being said, if you aren't a lemon lover, I would suggest you add about half the amount of lemon to start.
Start with 1/4 cup lemon juice and 1 teaspoon lemon zest. Taste your soup and add more from there.
Making Ahead of Time
If you make this recipe ahead of time, stop at step 3. When you are ready to serve the soup, bring it to a boil, cook the orzo, and then add in the lemon and spinach.
The orzo in this soup is amazing, but in left overs it does absorb quite a bit of liquid. You will enjoy it more if you add it to the soup right before eating.
Alternatively, if you know there is going to be left overs to this soup, cook the orzo separately. You can add it to the soup as you eat it.
FAQ
Can I use whole wheat orzo?
Yes! That will work fine in this!
Can I freeze this soup?
f you are planning on making and freezing this soup, I suggest that you leave the orzo out. Cook it separately and add it to the soup once you thaw and reheat it.
Can I omit the spinach?
This soup is very delicious without the spinach, so you could skip it all together. Or you could replace it with kale, turnip greens, or by adding an extra carrot and more celery or some zucchini.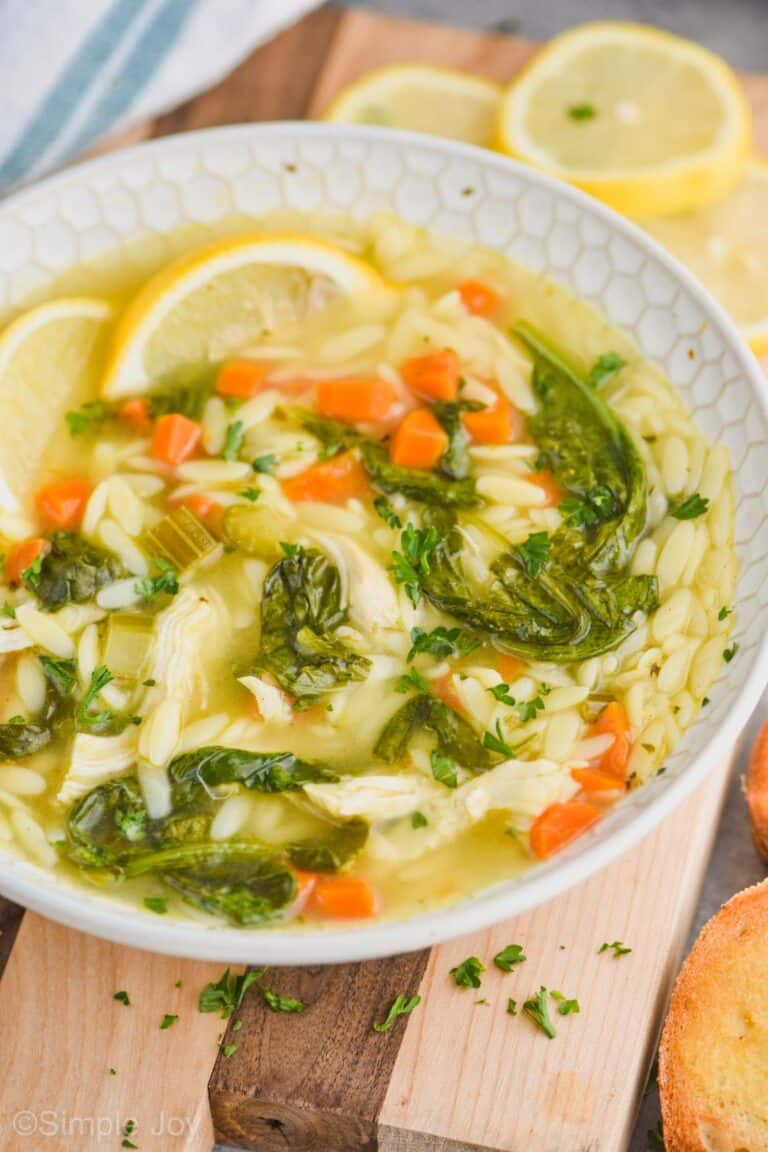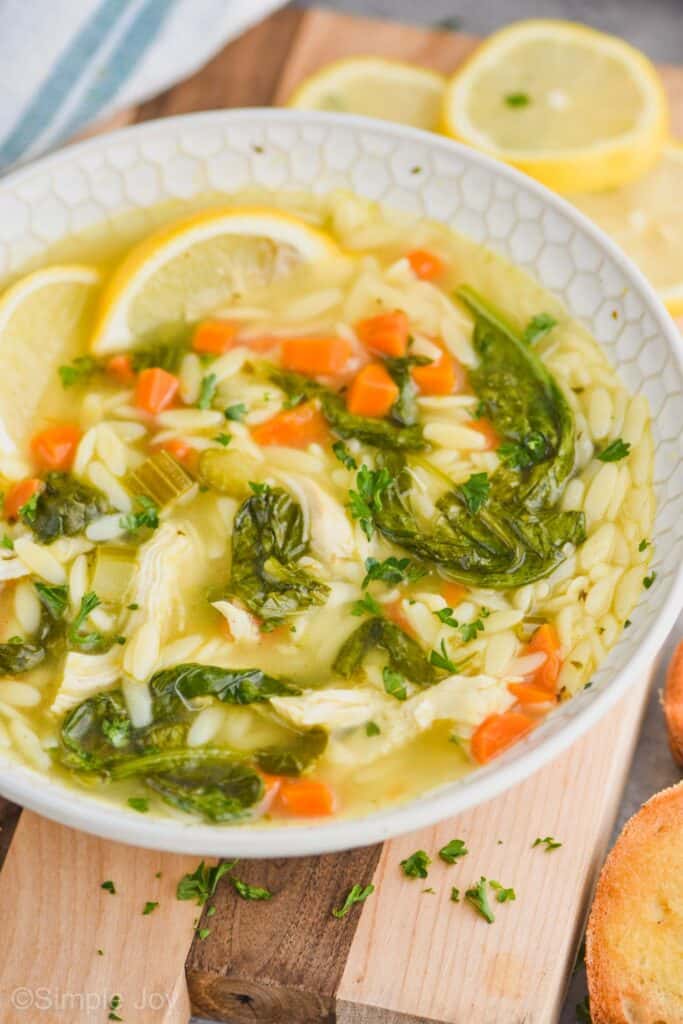 Other Great Soup Recipes
Did I make you a soup lover like me with this recipe?! YES! Mission complete. Here are a few more you will love:
If you make his Lemon Chicken Orzo Soup recipe or any of my other recipes leave me a comment and let me know what you think!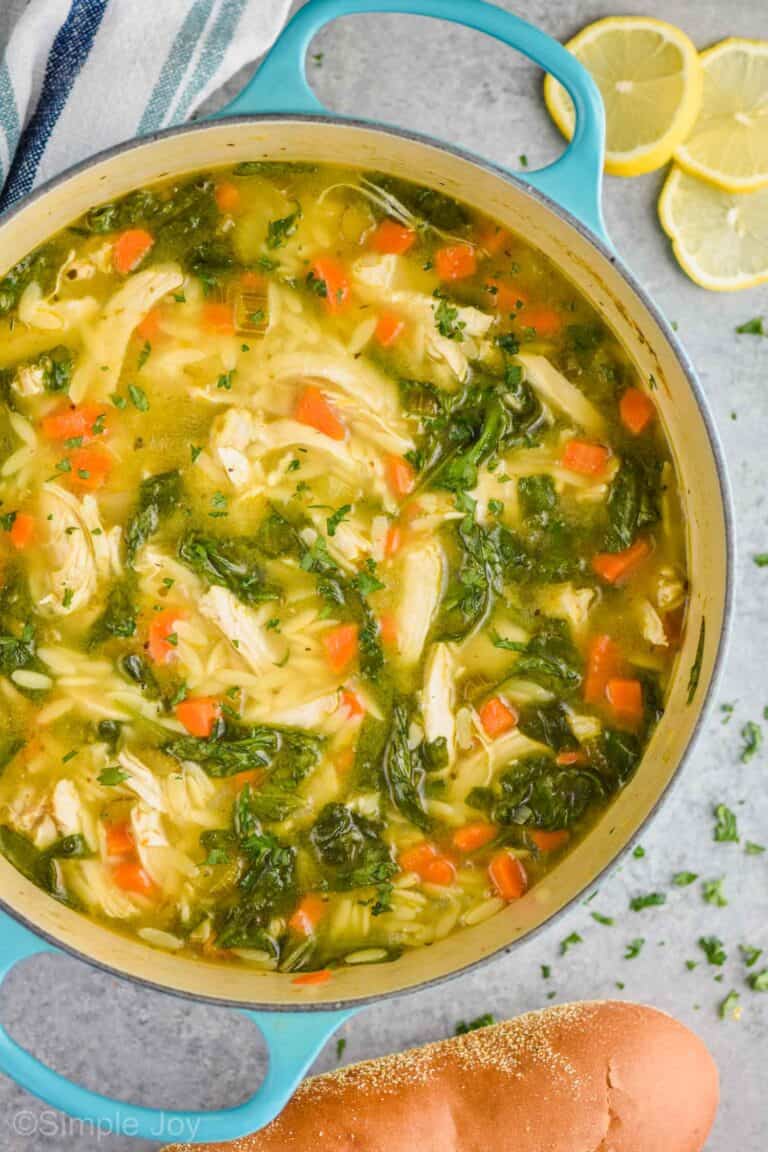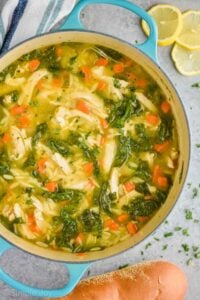 Lemon Chicken Orzo Soup
This Lemon Chicken Orzo Soup is a delicious meal in a bowl. The light lemon flavor pairs perfectly with the ingredients to create a comforting and filling soup you will fall in love with.
Ingredients
2

tablespoons

olive oil

3

carrots

peeled and diced

3

ribs celery

diced

1

medium yellow onion

diced

2

cloves garlic

minced

1

teaspoon

dried thyme

1

teaspoon

dried oregano

1 1/2

teaspoon

kosher salt

1/4

teaspoon

black pepper

1

bay

leaf

64

ounces

chicken stock

1

cup

dry white wine

(read more about using white wine in this recipe here)

1

pound

chicken breast

uncooked

8

ounces

orzo pasta

uncooked

1/2

cup

lemon juice

2

teaspoons

lemon zest

6

ounces

baby spinach
Instructions
In a heavy bottomed dutch oven (or large soup pot), heat the olive oil over medium heat. Add in the carrtos, celery, onion, and garlic. Stir to combine. Add the thyme, oregano, salt, and pepper. Cook for 5 to 7 minutes until the vegetables are tender the onions are translucent.

Add the white wine, scraping up any brown bits from the bottom. Add in the chicken stock and bring to a boil. Add the bay leaf and the chicken, and reduce the heat a little so it is a strong simmer. Cook until the chicken registers 165 degrees on an instant read thermometer, about 20 to 25 minutes.

Remove the cooked chicken from the stock, and set aside. Bring the liquid back to a boil and then add the orzo. Cook for the length of time indicated on the box. If it is a range (i.e. 8 to 10 minutes) pick the lower end of the range (i.e. 8 minutes).

Shred the chicken and return it to the pot when the orzo is done. Reduce the heat to low and add the lemon juice, lemon zest, and baby spinach.
Serving:
2
cups
Calories:
448
kcal
(22%)
Carbohydrates:
38
g
(13%)
Protein:
39
g
(78%)
Fat:
18
g
(28%)
Saturated Fat:
2
g
(13%)
Polyunsaturated Fat:
1
g
Monounsaturated Fat:
3
g
Sodium:
430
mg
(19%)
Potassium:
513
mg
(15%)
Fiber:
6
g
(25%)
Sugar:
6
g
(7%)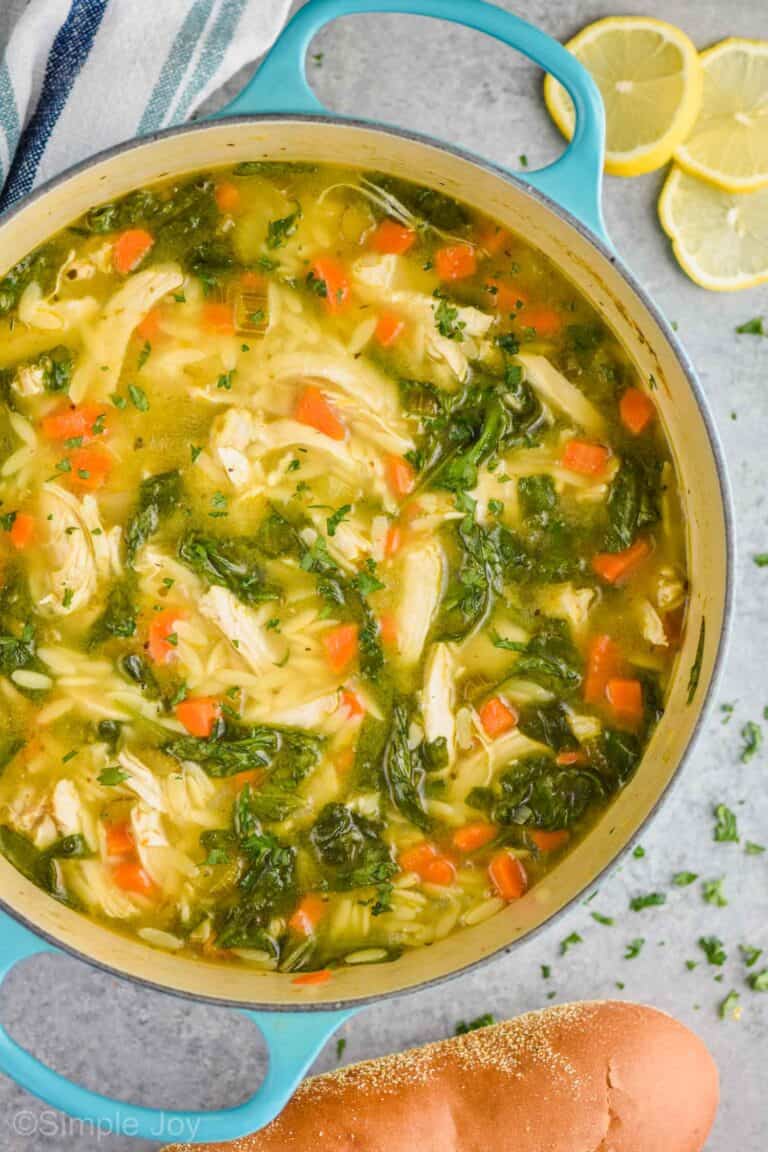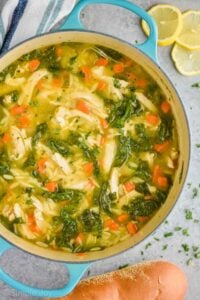 did you make this
Lemon Chicken Orzo Soup