Make this Copycat Taco Bell Chicken Quesadilla recipe right in the comfort of your own home. It is so easy to throw together and makes a perfect and easy weeknight dinner. I like my chicken quesadillas with some guacamole on top and chips and corn salsa on the side. Oh! And a margarita too. Obviously.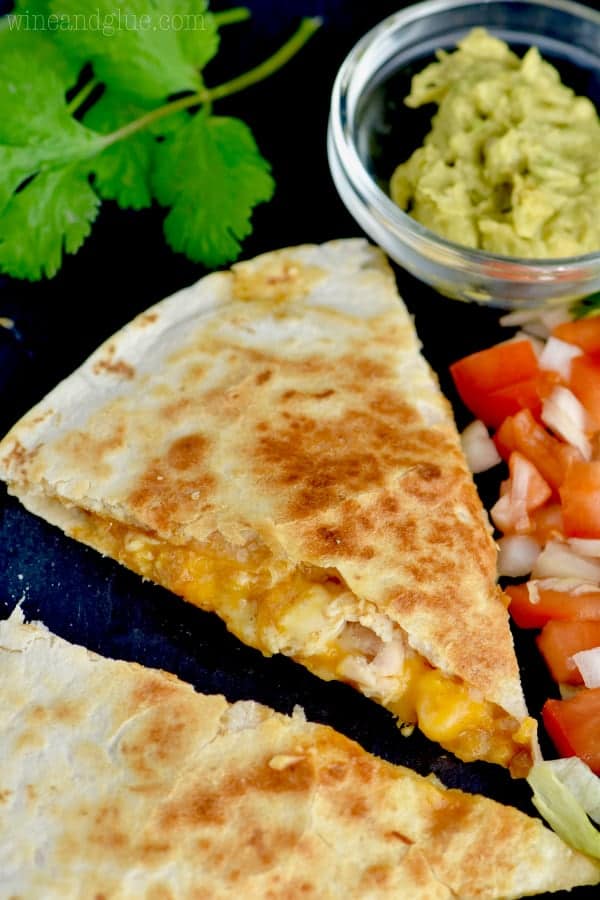 Two weekends ago Nathan and I had the most amazing date night. We often get a babysitter with absolutely nothing planned. And then around 5 pm we start to ask each other what it is we want to do on our date night. Two weekends ago, we were actually in the car pulling out of our driveway asking each other what we should go do.
We didn't have a clue.
And we were both super tired.
And hungry.
It made me nervous that date night was going to be a total bust.
We ended up at this restaurant that we have gone to way too many times, sitting at the bar. We ordered drinks and a big pot of mussels and fries. (Literally everyone who knows us knows exactly where we were based on that last sentence. ???? )
And it was amazing!
I think my favorite date nights ever involve us sitting next to each other all cozy at the bar of some restaurant getting drinks and appetizers. We get to share the food, which is fun, and we are so physically close to each other that it's just so cozy. We usually strike up a funny conversation with the bartender and spend more time laughing in one evening than we have all week.
.After that we went to another restaurant, got more seats at the bar, and ordered more food. It was seriously one of the best date nights we've had in a really long time.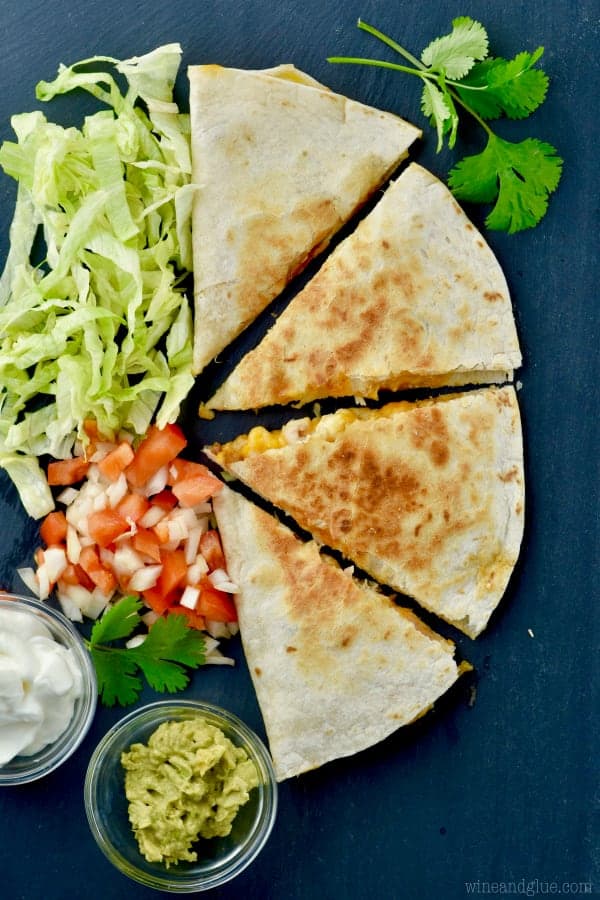 At the second restaurant (did you not know that all great date nights include at least two restaurants?), Nathan got a delicious quesadilla. But you guys, can I be honest? My husband probably likes quesadillas from Taco Bell better than the ones at the nice restaurant we were sitting in. They are seriously one of his favorite fast food options. But they are *so easy* to make from home!
HOW TO MAKE A TACO BELL CHICKEN QUESADILLA AT HOME
The absolute key to the great Taco Bell Chicken Quesadilla is the sauce! Because their quesadillas are so much more than just throwing cheese in a tortilla shell and throwing it into a pan! The sauce comes together with some mayonnaise, diced jalapeños, and spices!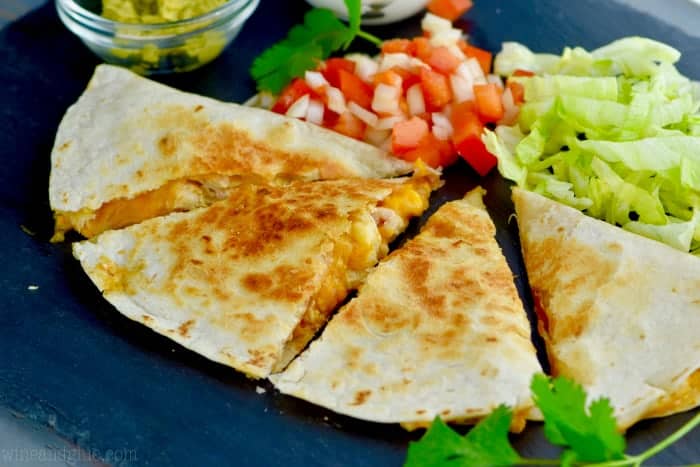 TIPS FOR MAKING THE PERFECT COPYCAT TACO BELL CHICKEN QUESADILLA
You definitely want to buy good cheese if you are going to make a great chicken quesadilla. I know it is tempting to buy a big bag of shredded cheese, but don't do it! Buy a block of cheese (I like a nice marbled Colby Jack), and shred some right before you make your quesadilla. It makes it melt so much better.
Cook your quesadilla in a skillet you can cover with a lid. You want to cook it over low heat and cover it between flipping it.
The chicken quesadilla you see above is enough for two people. It's a big guy! (And that's what I'm basing the recipe and nutritional information on.) But I totally won't judge you if you need that whole quesadilla and a giant jalapeño margarita.
Enjoy and happy dating, friends!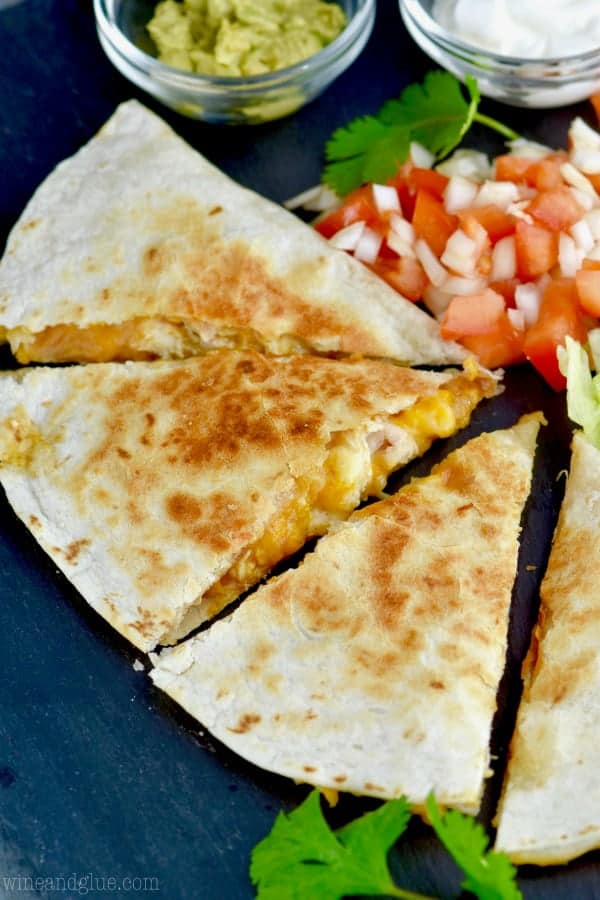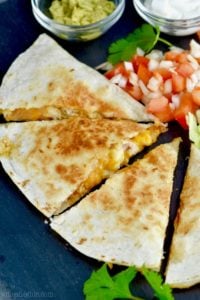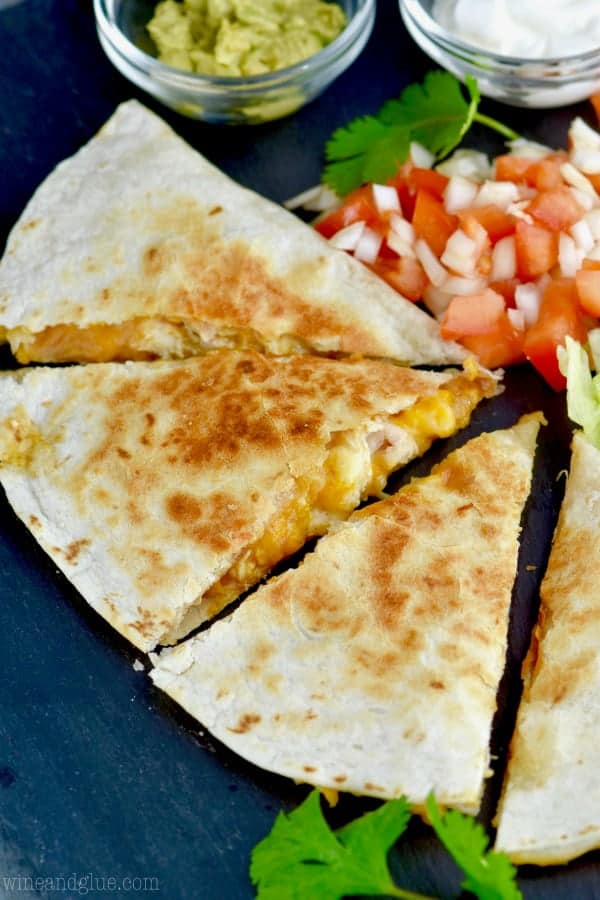 Taco Bell Chicken Quesadilla
Make this Copycat Taco Bell Chicken Quesadilla recipe right in the comfort of your own home. It is so easy to throw together and makes a perfect and easy weeknight dinner.
Ingredients
2

10 inch

flour tortillas

2

cups

shredded Colby-Jack cheese

1

cup

shredded rotisserie chicken
Quesadilla Sauce
1/4

cup

mayonaise

see note

2

tsps

minced pickled jalapeños

2

tsps

pickled jalapeño juice

3/4

tsp

sugar

1/2

tsp

cumin

1/2

tsp

paprika

1/8

tsp

cayenne pepper

1/8

tsp

garlic powder
Instructions
Place a large skillet that you can fit with a lid over very low heat.

In a small bowl whisk together the ingredients for the sauce.

Divide the sauce in two and spread over each of the tortillas.

Working with one tortilla at a time, spray the skillet with a very small amount of cooking spray. Place the tortilla (that has been prepared with the sauce) in the skillet. Add half the cheese and half the chicken and fold it over on itself.

Let it cook for about four minutes or until the shell begins to turn golden brown. Cover while it is cooking. Flip it over, recover, and cook for another four minutes. Repeat with the other prepared tortilla.

Slice with a pizza cutter and enjoy.
Notes
I used light mayonnaise. It saves on the calories and doesn't change the taste.
Calories:
417
kcal
(21%)
Protein:
24.9
g
(50%)
Fat:
25.5
g
(39%)
Saturated Fat:
11.7
g
(73%)
Polyunsaturated Fat:
2
g
Monounsaturated Fat:
0.5
g
Cholesterol:
82.5
mg
(28%)
Sodium:
910.9
mg
(40%)
Potassium:
15.6
mg
Fiber:
1.4
g
(6%)
Sugar:
1.8
g
(2%)
Vitamin A:
440
IU
(9%)
Vitamin C:
0.9
mg
(1%)
Calcium:
366
mg
(37%)
Iron:
1.4
mg
(8%)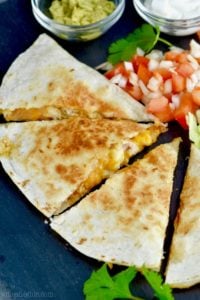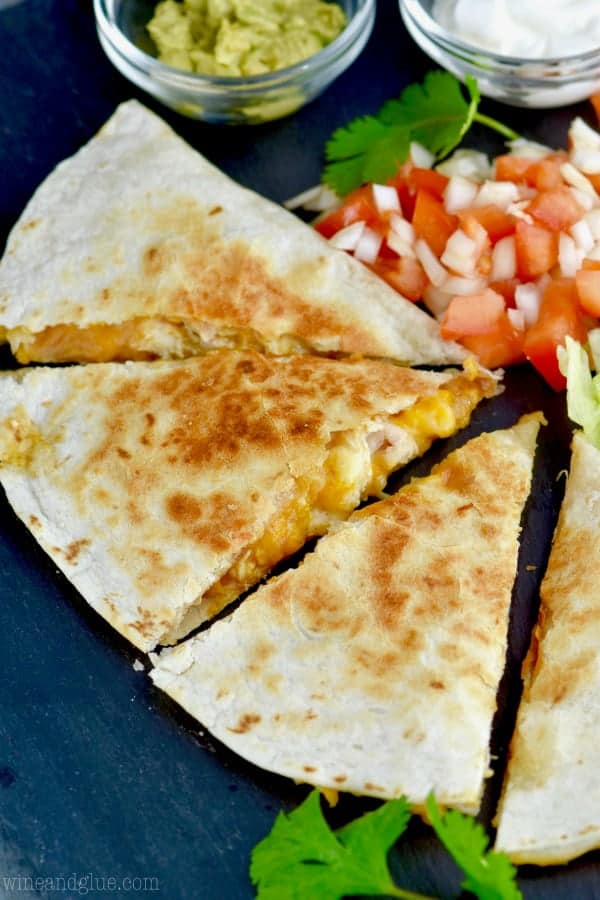 did you make this
Taco Bell Chicken Quesadilla
Other fast easy dinners you might love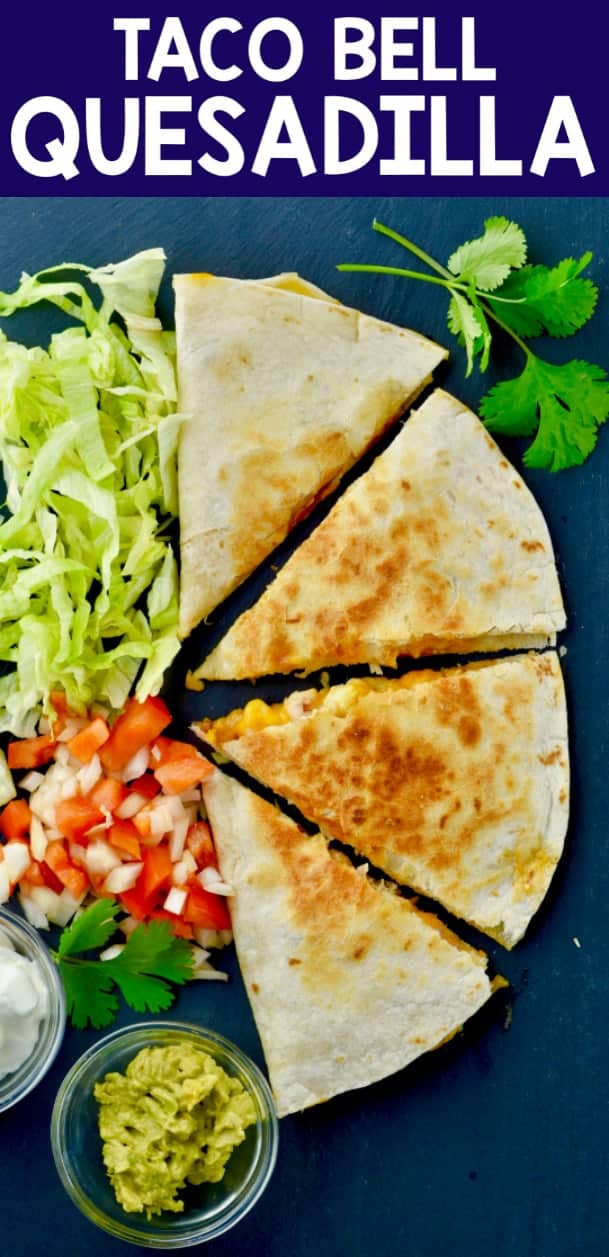 SaveSave