A Manhattan is a classic cocktail that every whiskey lover needs to know how to make. This Manhattan drink recipe is only three ingredients – perfect for the at home bar tender!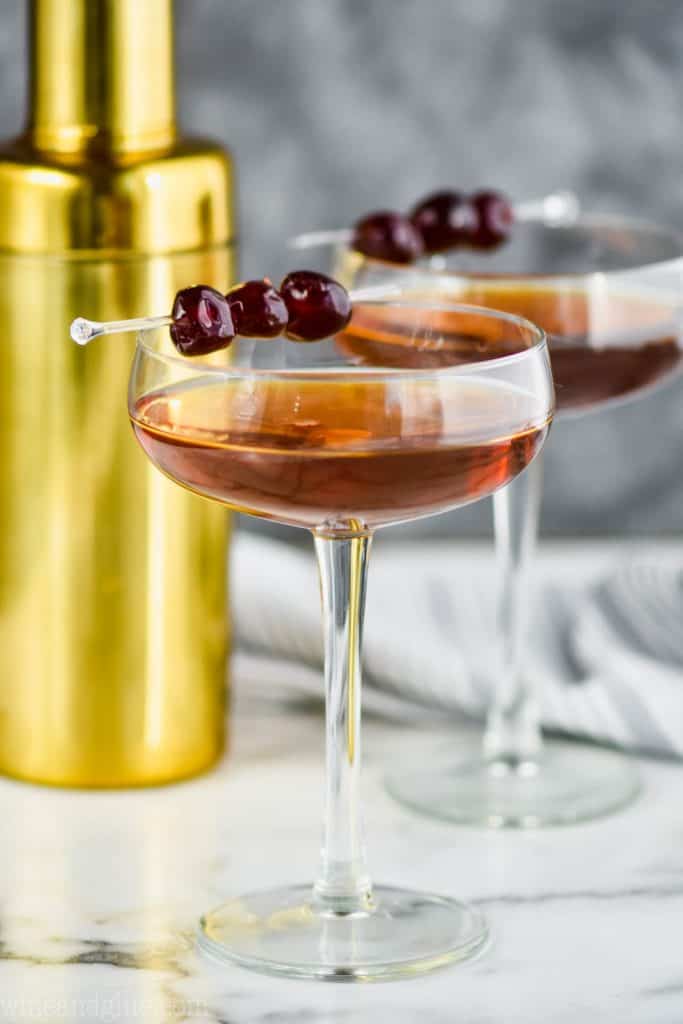 Twelve years ago today, I gave my mom a hug and told her I loved her for the last time. I remember at the time, knowing how sick she was, thinking that she and I hadn't said that out loud to each other nearly enough.
But maybe there is never enough when you are losing someone you love.
My mom passed away two days later. When I found out, I was nursing my newborn son who was a few hours old. What a gift to be in that special sacred space at the time.
I still can't think about these two moments without crying.
If you are in the thick of grief this holiday season, or if it has been twelve years (18 years, 35 years, etc.) and you are still easily brought to tears, please know that I get it. This year I did a lot of thinking about grief, and one thing I realized that helped me a lot is this: Grief is the counterpart to great love.
Knowing that doesn't always help . . . but sometimes it does.
My mom loved a good Manhattan. She wasn't much of a drinker, but I still remember my grandfather making them for her. I still remember finding a half drank Manhattan in our freezer. (She wasn't one to waste either.)
She likely would roll her eyes at these deep words of love for her in a post about a Manhattan drink, but she's also not here to stop me, so there's that.
Laughing is also good medicine for the grieving.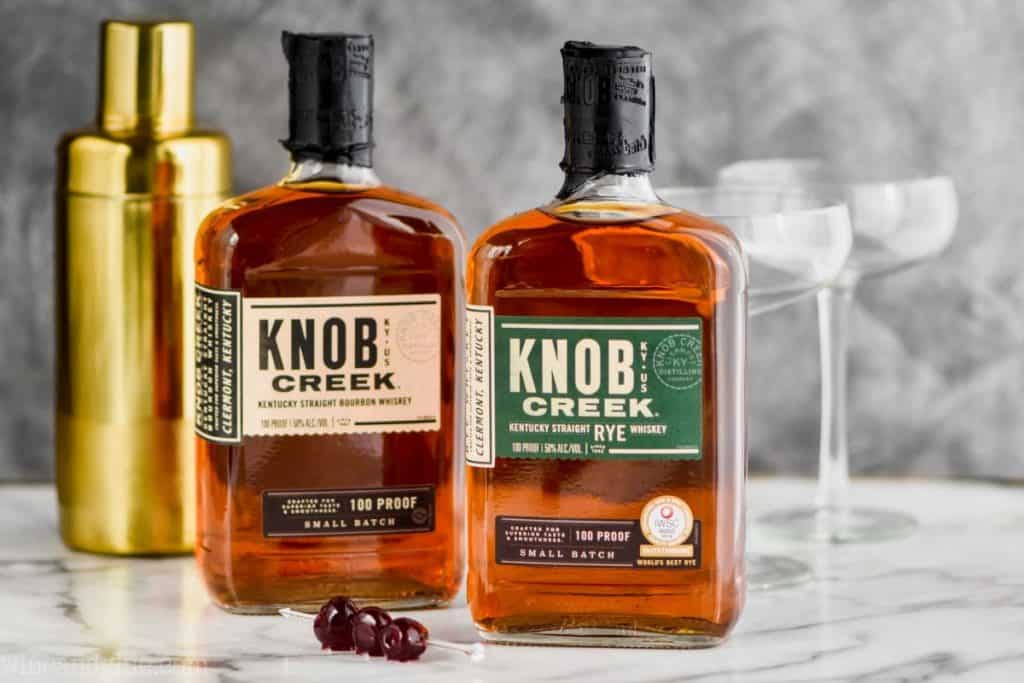 INGREDIENTS FOR A MANHATTAN DRINK
This classic whiskey cocktail is made with just three simple ingredients and then garnished with cherries.
Start with either Bourbon or Rye Whiskey. The classic version uses rye.
Next you need Vermouth. It is said that this is the first cocktail ever created to use Vermouth, even before the martini. Typically Sweet Vermouth is used, but you can also make a Manhattan with Dry Vermouth.
Finally you need bitters. Bitters is an alcoholic spirit that has been infused with botanicals like herbs, roots, and fruit. (Don't tell anyone that my grandpa made me Shirley Temples with Bitters in it while he mixed Manhattans for him and my mom.)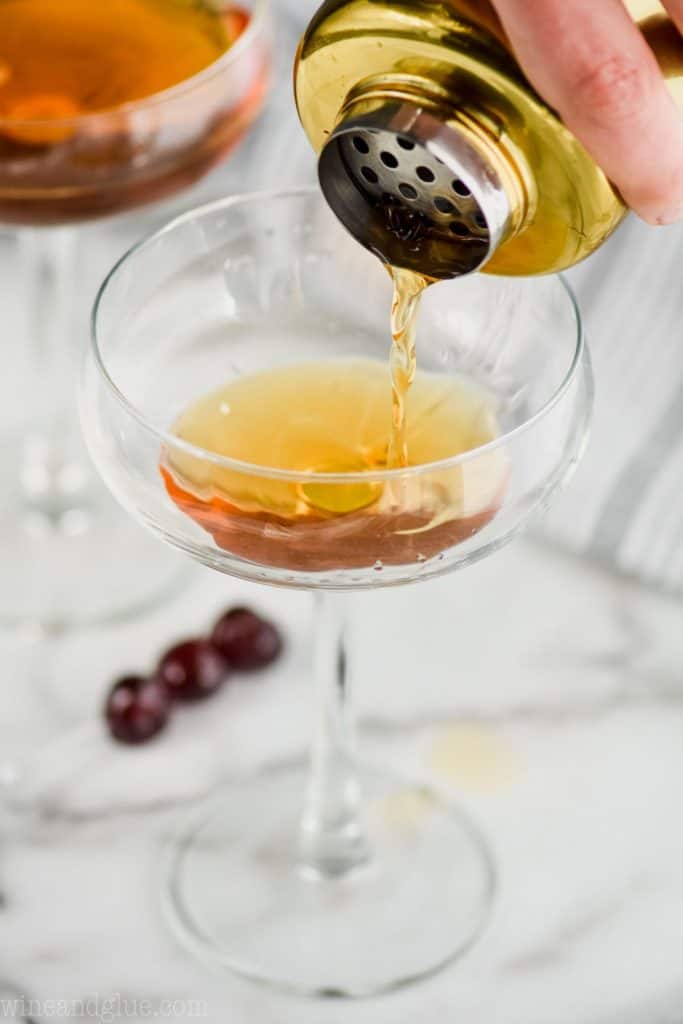 HOW TO MAKE A MANHATTAN COCKTAIL
The classic Manhattan combines Rye Whiskey, Sweet Vermouth, and bitters with ice in a cocktail shaker.
It is then stirred and strained into a glass and garnished with cherries.
WHAT GLASS TO SERVE A MANHATTAN IN
Traditionally, a Manhattan is served in a coupe glass, usually shorter than the ones you see here.
These are champagne coupes that I got at IKEA. I used them because I'm obsessed with how pretty they are in pictures. (See them in my White Christmas Martini post.)
You can also serve this great cocktail in a low ball glass on the rocks.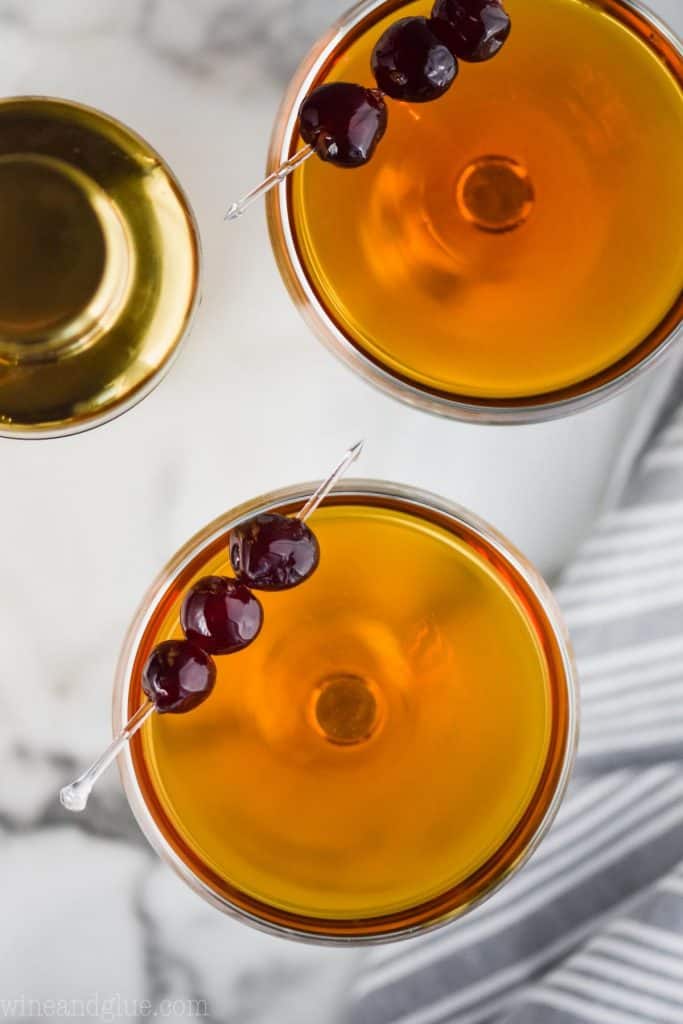 OTHER CLASSIC COCKTAILS
If you can't get enough of classic cocktails, here are a few more that I love.
This Whiskey Sour is another great whiskey cocktail that you will dig.
If you still need more to use up your whiskey bottle, try my Old Fashioned.
My Vodka Gimlet is Nathan's favorite.
This Dirty Martini is one of my personal favorites.
If you make my Manhattan drink recipe or any of these cocktails, drop me a comment and let me know!
And if you are still navigating grief, you can let me know. I can't make it better, but I can relate to what you are going through. (Pssst, this Crustless Vegetable Quiche has a lot more of my thoughts on grief.)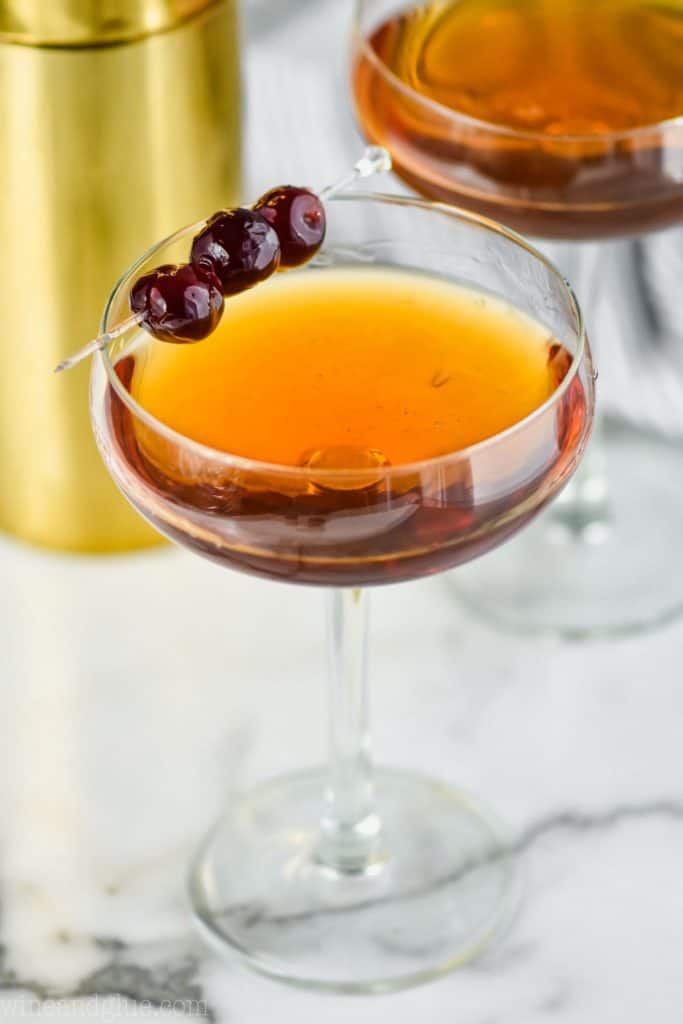 Follow me on social for more recipe ideas & inspiration!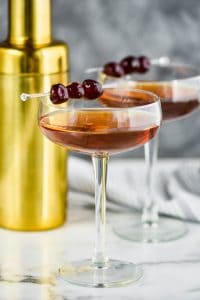 Manhattan Drink Recipe
A Manhattan is a classic cocktail that every whiskey lover needs to know how to make. This Manhattan drink recipe is only three ingredients – perfect for the at home bar tender!
Ingredients
2

ounces

Rye Whiskey

1

ounce

Sweet Vermouth

chilled

2

dashes

bitters

1

cherry for garnish
Instructions
Add the ingredients to a cocktail shaker or mixing glass. Add ice and stir to combine.

Strain into a coupe glass and garnish with a cherry.
Serving:
1
cocktail
Calories:
186
kcal
(9%)
Carbohydrates:
5
g
(2%)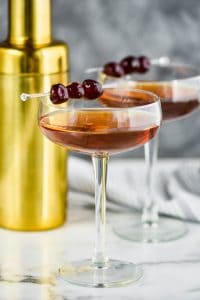 did you make this
Manhattan Drink Recipe