This Old Fashioned Cocktail recipe is a classic you must try. A Wisconsin staple, an Old Fashioned Recipe is essential for any at home bar tender.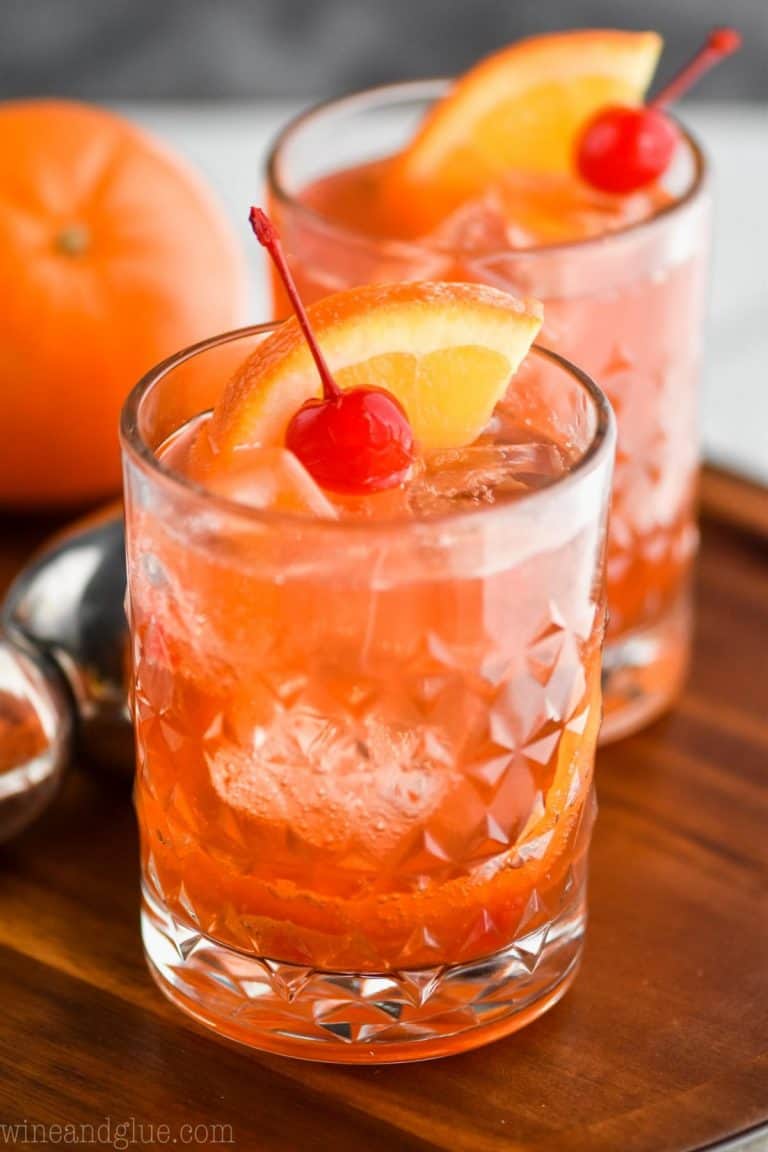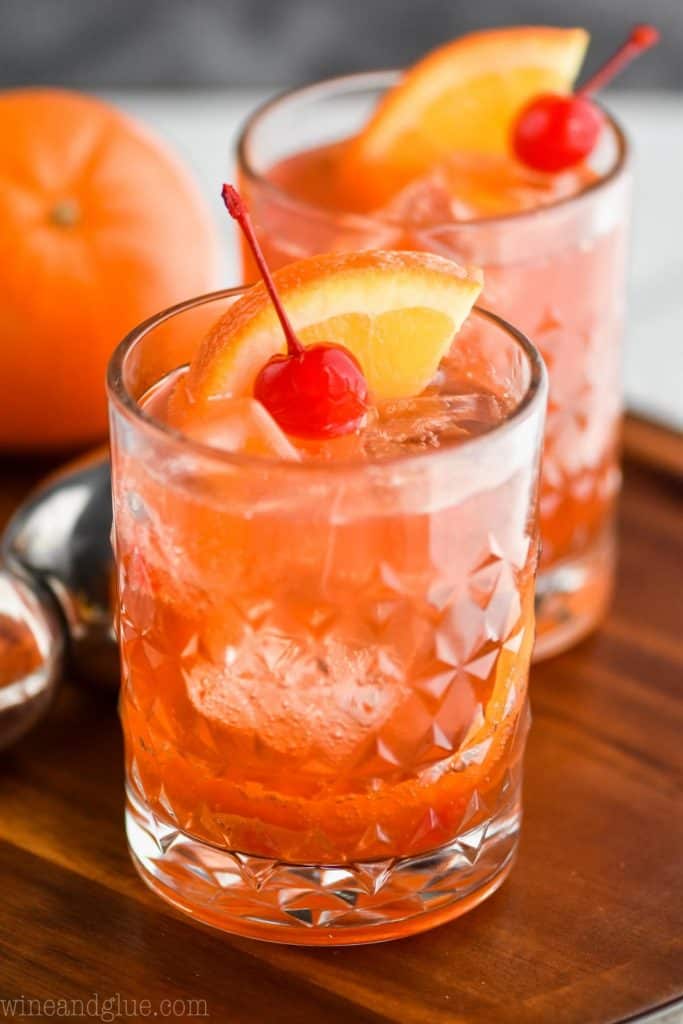 My wonderful husband is one of six boys (God bless his mother), and now with each one of those boys having started their own families there are 15 grandkids!
Every year we go away to celebrate Christmas at a waterpark resort. While we are there, my wonderful brother-in-law makes me the best Old Fashioned recipe. Let me tell you: This cocktail is the perfect way to survive a weekend of water park.
The Old Fashioned is a Wisconsin classic. You can go into just about any bar in Milwaukee and Madison and find hipster versions of this delicious cocktail on the menu. They are great, but the original will always be my go to.
Old Fashioned Ingredients
You only need a few ingredients to make this wonderful cocktail the classic way:
Bourbon Whiskey (more on this in a moment)
Fresh Orange Peel
Fresh Lemon Peel
Cherries
Sugar Cube
Bitters
Club Soda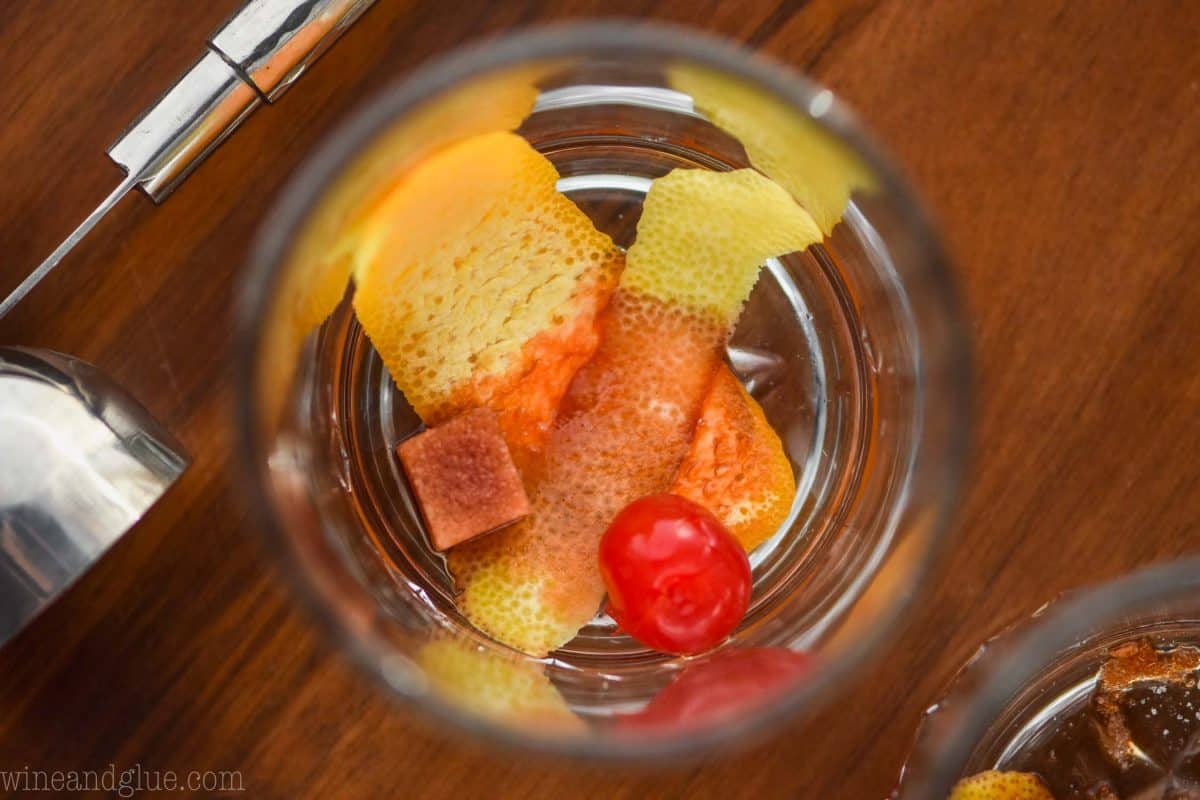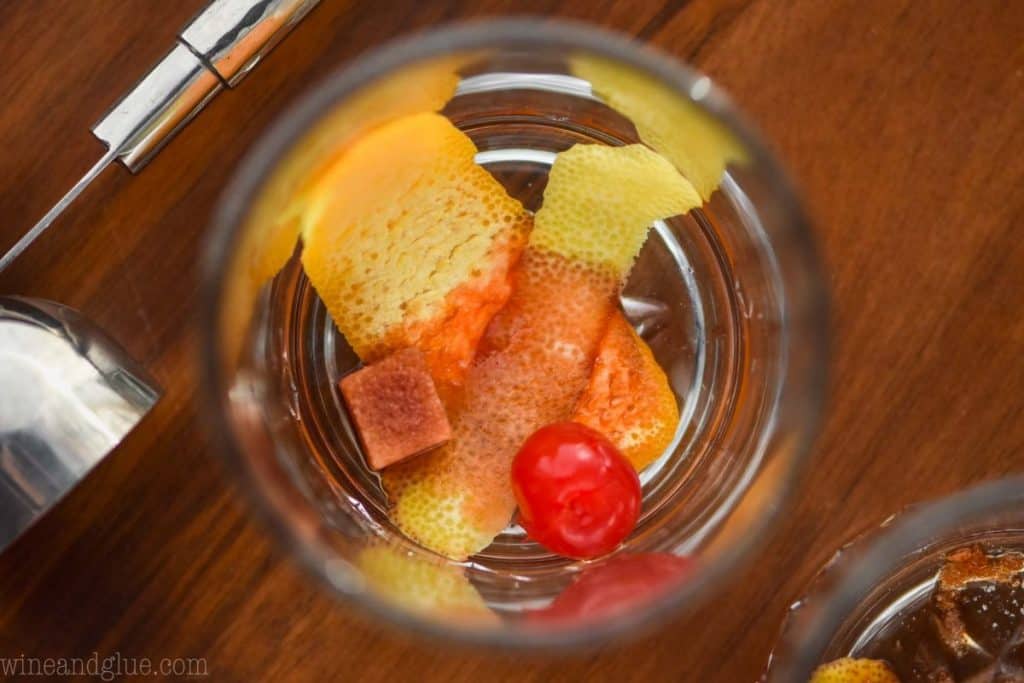 How to Make an Old Fashioned
Making this classic Old Fashioned cocktail recipe is really simple but will make you seem like a master mixologist.
To a short tumbler (often called Old Fashioned glasses for this reason), add an orange peel, a lemon peel, a sugar cube, and a maraschino cherry.
Soak the sugar cube in bitters.
Muddle the soaked cube with the fruit.
Add in the whiskey. Stir to combine.
Add a giant ice cube and serve OR add in some ice and some club soda.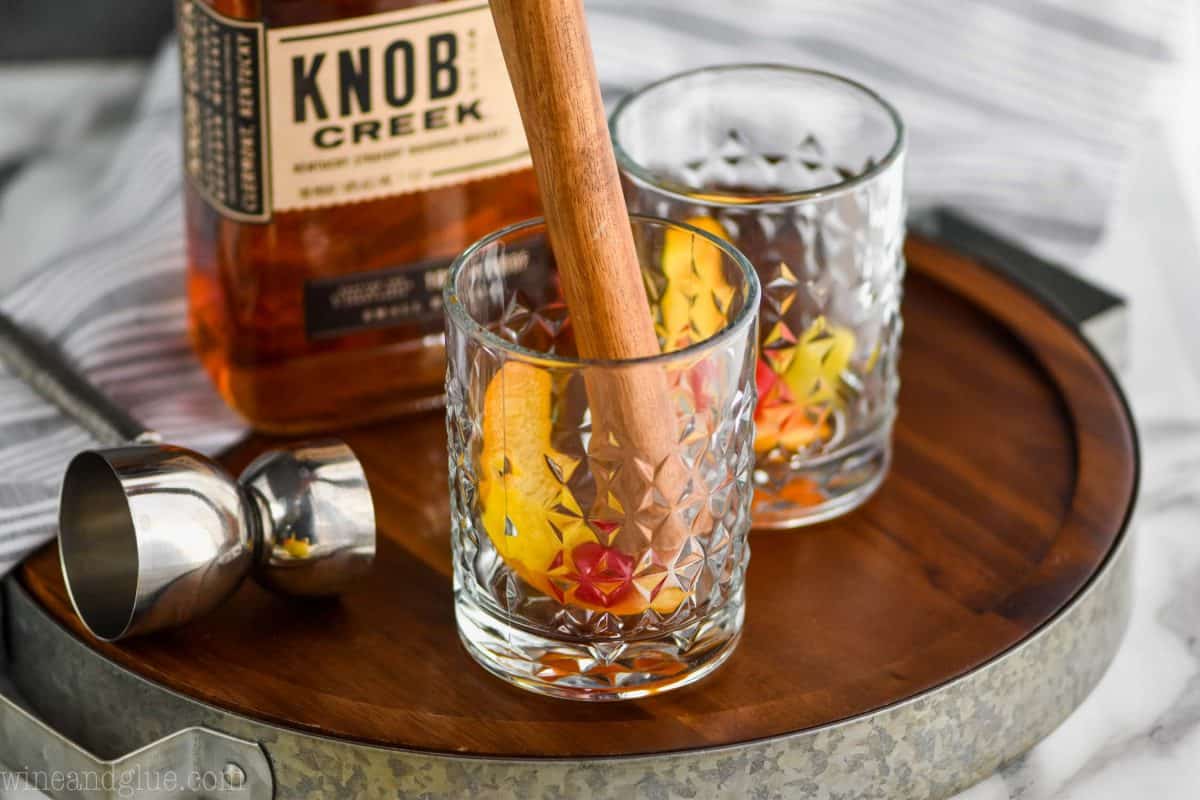 What Type of Sugar to Use
Classically, an Old Fashioned is made with a sugar cube. They are about $1.30 for a box of them and you can find them in the baking aisle.
But if you have everything else to make this drink recipe and can't wait for the next grocery run, use 2 teaspoons of granulated sugar or 1 teaspoon of simple syrup.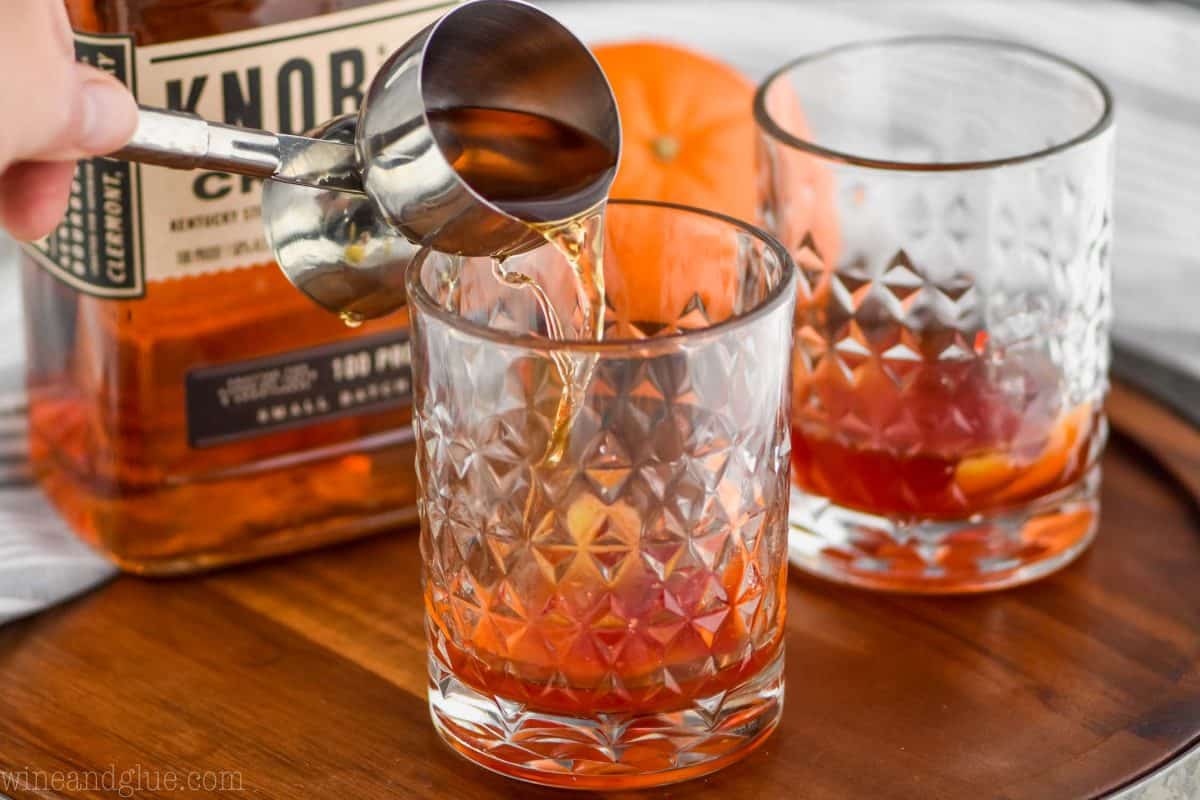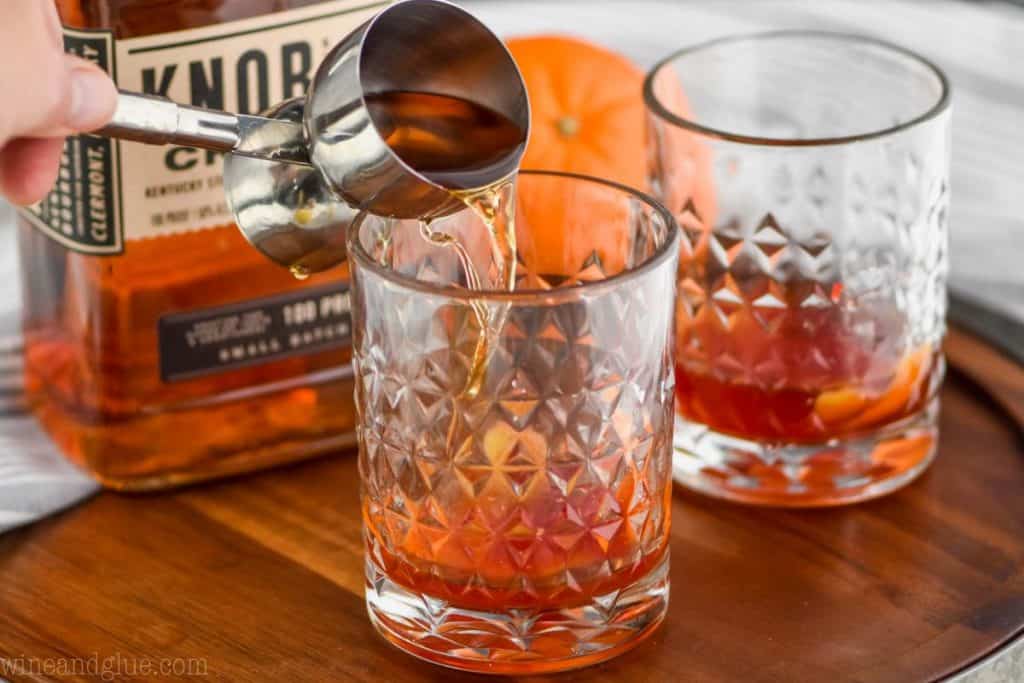 Brandy, Whiskey, or Gin?
Now throw everything I just told you out the window, because we are in Wisconsin. Or I am. You are just along for the ride.
If you walk into a Wisconsin bar and order an Old Fashioned, they will ask you if you want Bourbon or Brandy. The next question will be sweet or sour.
The Brandy Old Fashioned has become its own thing in Wisconsin. Some even call it our unofficial cocktail. And the way we do it here, is with Brandy and either a lemon lime soda to make it sweet or a sour soda (like Squirt) to make it sour.
If we are going to twist it up even more, you can swap out the Brandy or Whiskey for Gin. I'm never opposed to using Gin in my cocktails (my Gin Moscow Mule is a perfect example.)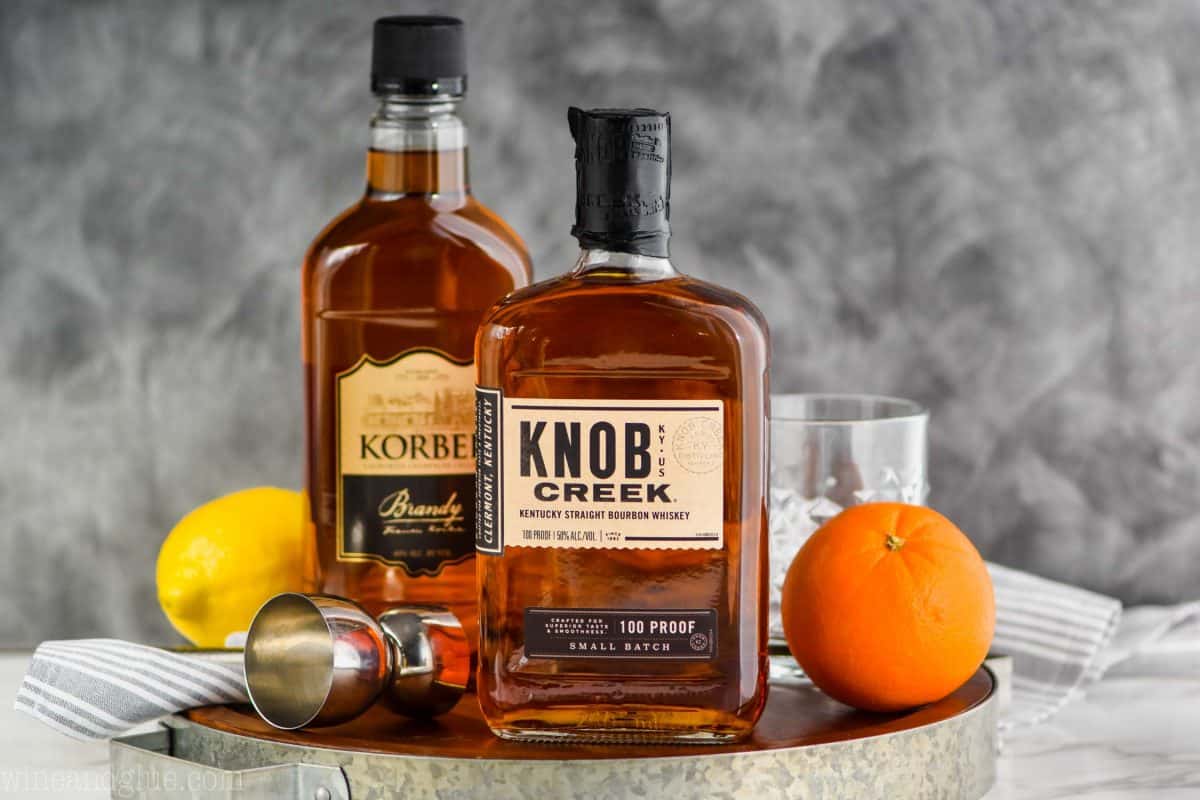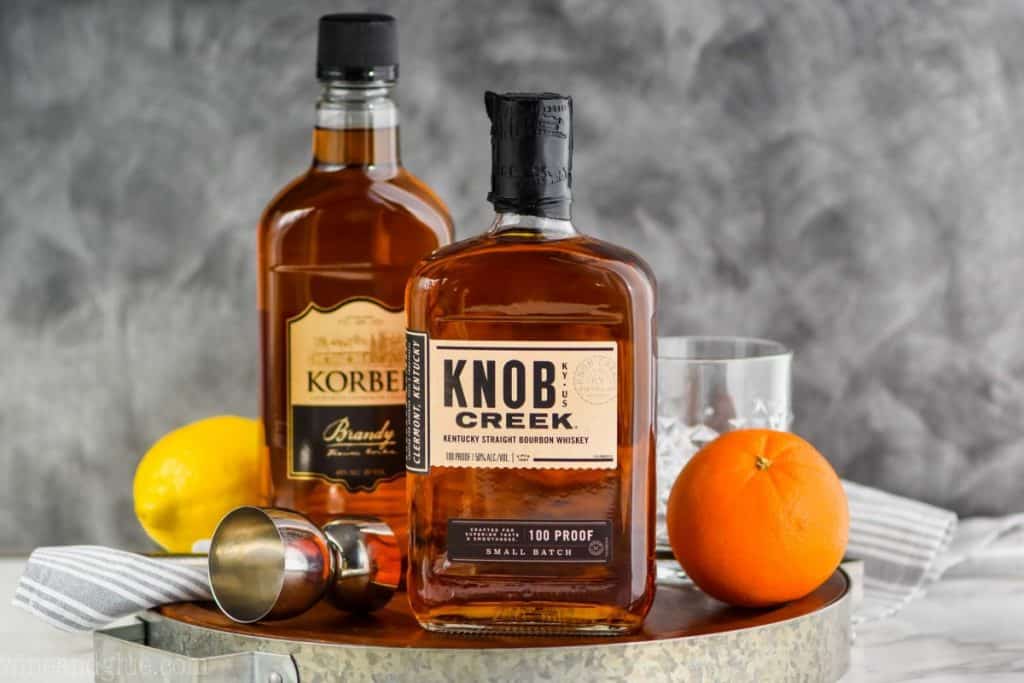 Adding Soda or Club Soda
A purist will tell you that you shouldn't add club soda to your Old Fashioned drink. A purist will cry at the mention of soda.
That said, you do you, friends. I love mine with some soda. The purist version will definitely put hair on your chest though. If you are into that.
What Type of Ice Cube to Use
I love a big fat ice cube in my whiskey cocktails. You can see mine here in this Orange Whiskey Cocktail. (These are the trays to make that.) If you are going with the original Bourbon Old Fashioned, that is what I would recommend.
If you are going the Wisconsin route, then add a lot of smaller cubes.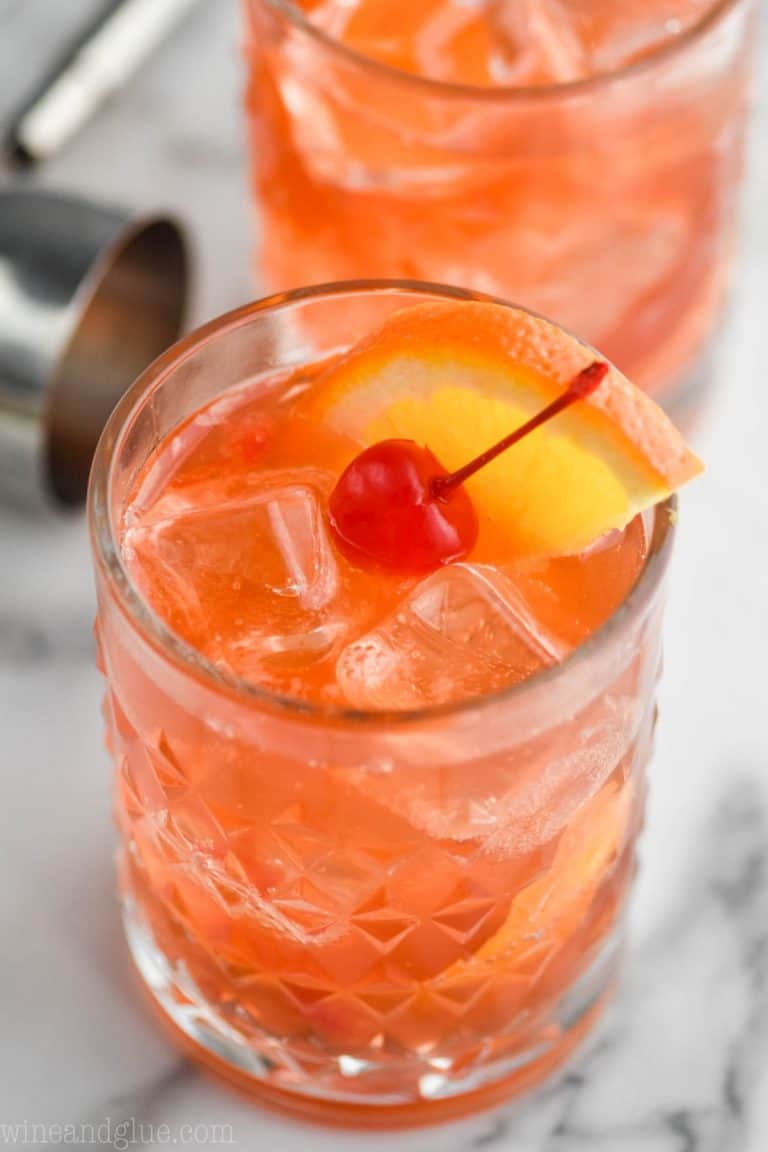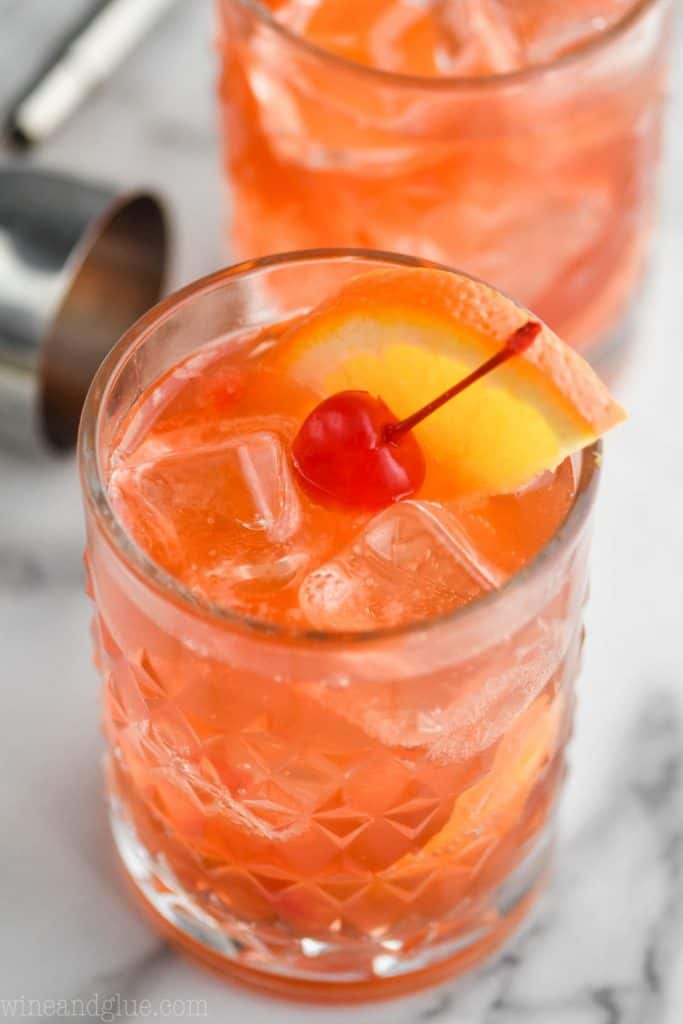 How to Garnish an Old Fashioned
Typically an Old Fashioned is garnished with an orange wedge and a cherry. It makes them just as pretty as my Amaretto Sour.
Other Great Whiskey Cocktails
Since we are talking an Old Fashioned Whiskey here, I thought I would give you some of my other favorite whiskey cocktails. Guys, I love a good whiskey cocktail.
This Whiskey and Wine Cocktail is unique, delicious, and wonderful.
If I'm really feeling my whiskey, I make a Manhattan Cocktail.
This Gold Rush Cocktail is lesser known but so delicious.
If you make this Old Fashioned recipe or any of my other cocktails, leave me a comment and let me know what you think!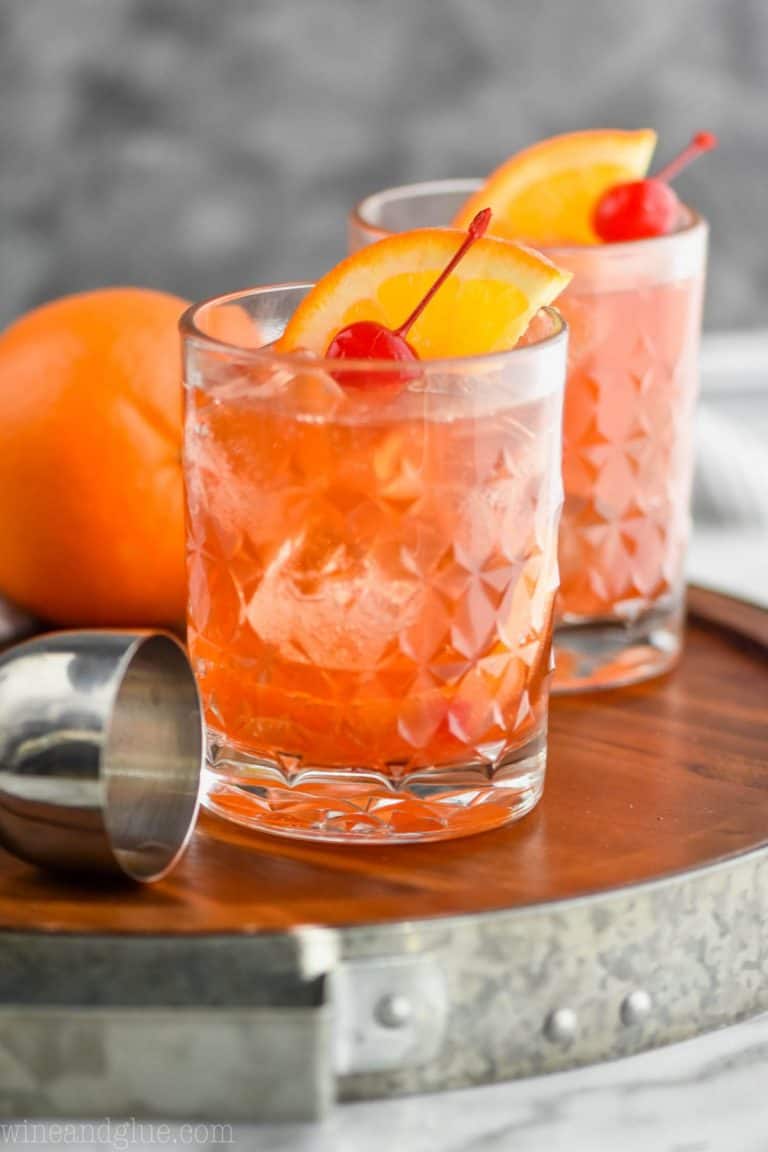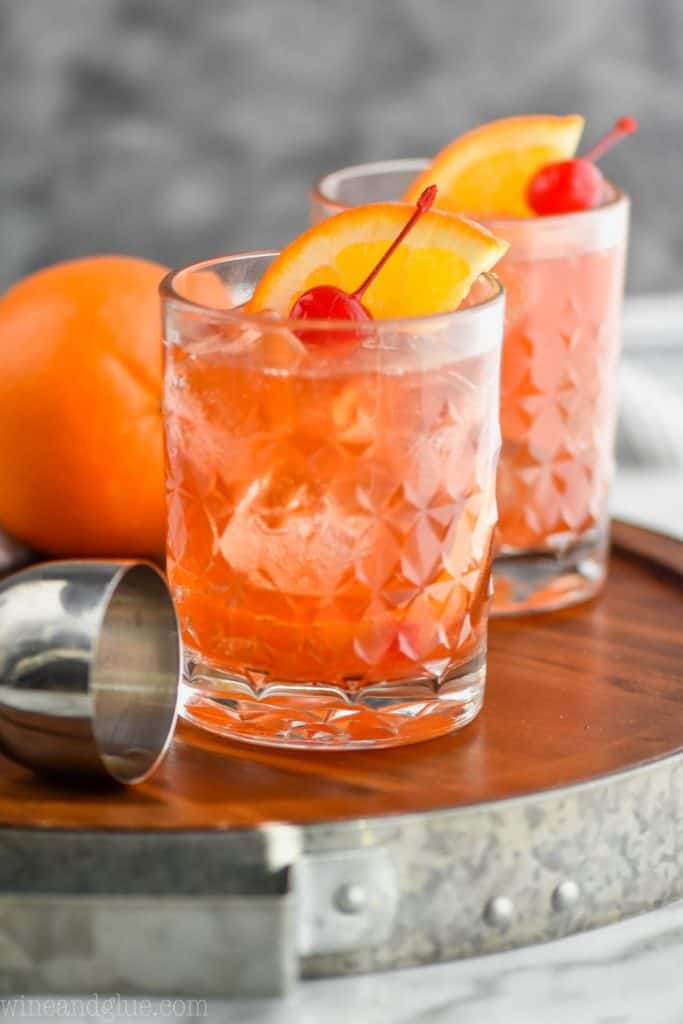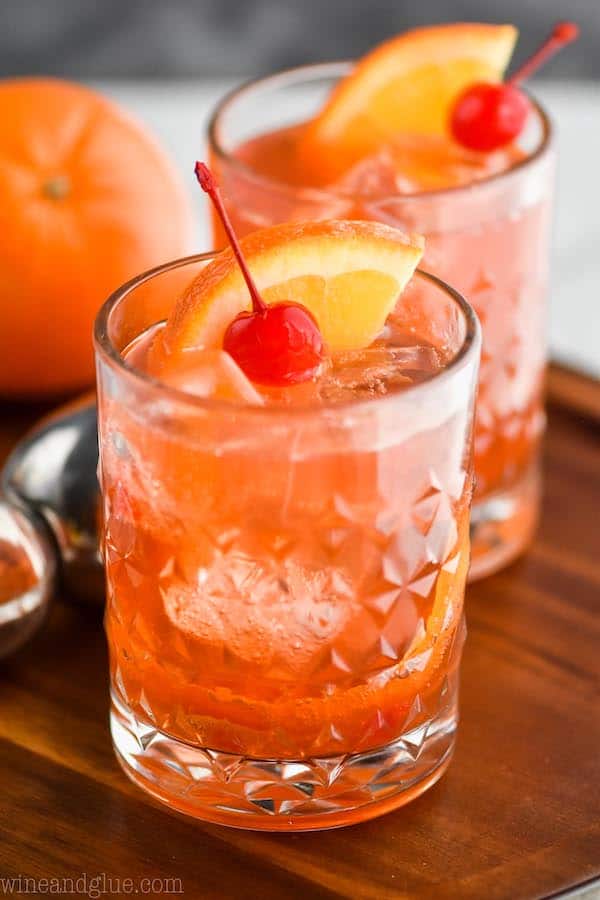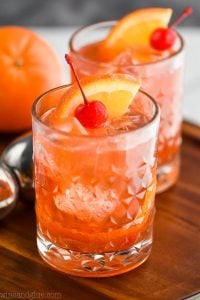 Old Fashioned
This Old Fashioned Cocktail recipe is a classic you must try. A Wisconsin staple, an Old Fashioned Recipe is essential for any at home bar tender.
Ingredients
1

sugar cube

1

strip

lemon peel

1

strip

orange peel

1

maraschino cherry

3

dashes

Angostura bitters

2 1/2

ounces

bourbon whiskey

(or brandy or gin)

2

ounces

club soda

(or lemon lime soda or sour soda)

cherry and orange wedge to garnish
Instructions
In the bottom of a short tumbler, add the orange peel, lemon peel, cherry and sugar cube.

Soak the sugar cube with the bitters. Muddle everything together.

Pour in bourbon, add ice, and stir to combine.

Optional: Top with club soda.
Notes
As noted in the post, a Wisconsin Old Fashioned uses Brandy in the place of Bourbon and either sweet soda (like 7 Up or Sprite) or sour soda (like Squirt) in place of the club soda.
Please note that the nutritional information is based on the classic version with Bourbon and no club soda or soda.
Serving:
1
cocktail
Calories:
215
kcal
(11%)
Carbohydrates:
6
g
(2%)
Sodium:
14
mg
(1%)
Potassium:
19
mg
(1%)
Fiber:
1
g
(4%)
Sugar:
4
g
(4%)
Vitamin A:
1
IU
Vitamin C:
17
mg
(21%)
Calcium:
1
mg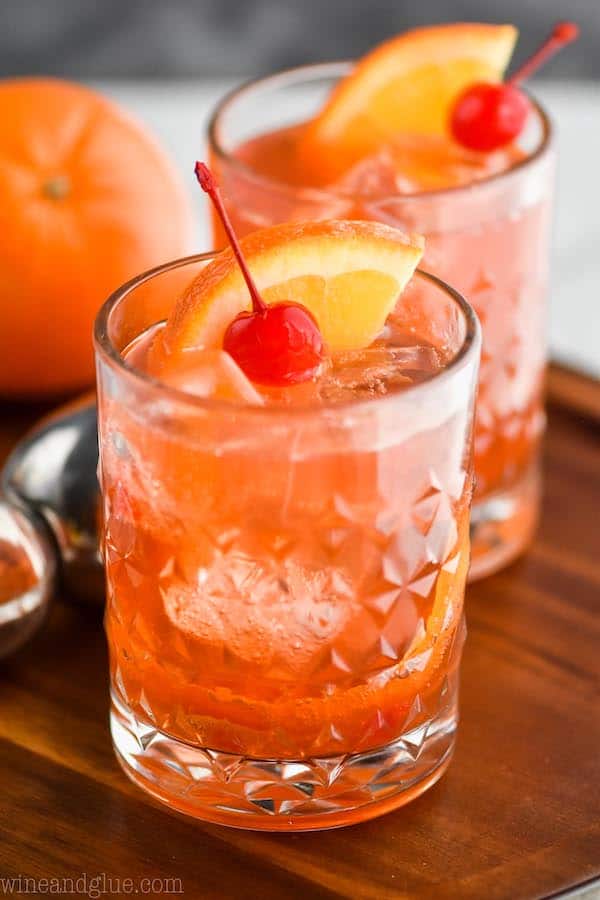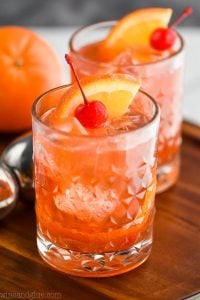 did you make this
Old Fashioned