Strawberry Shortcake Poke Cake in Mason Jars! Doesn't get cuter or tastier!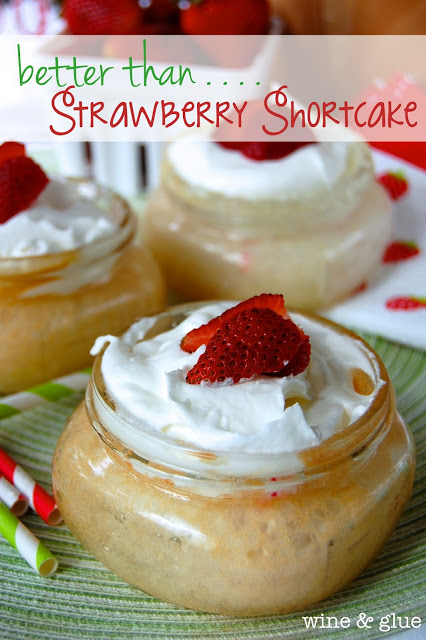 Do you ever look in the mirror with absolute shock and horror at the image looking back at you?
Okay, I'm not talking giant zits and bad hair days. I'm talking age. My mom used to say this all the time. She told me that when she closed her eyes, she felt like she was about fifteen, and then she would look in the mirror and wonder who that old woman staring back at her was.
I didn't really understand that at the time, but I'm starting to. Only it's more when I look at my kids. I feel like I'm about twelve, and we all know that twelve year olds just shouldn't be raising toddlers. I look at Gavin, who just learned to ride his bike without training wheels and is very quickly learning how to read, and wonder how I could be old enough to have a five year old!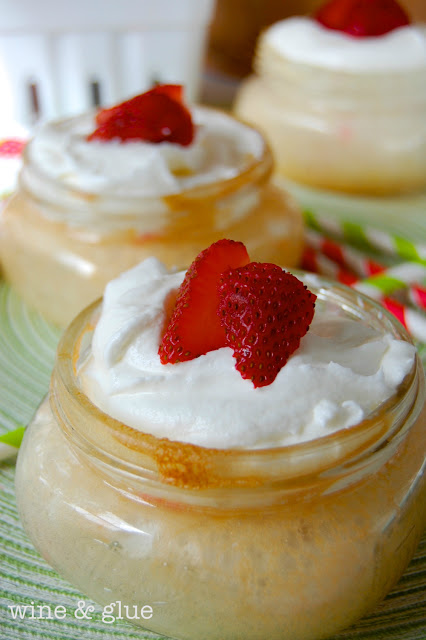 It made me think about running through sprinklers, playing Ghosts in the Graveyard, and going to the community pool. Chasing candy at the parade, running with sparklers, and biking with streamers on my handle bars. Jelly shoes, baby pools, slip and slides, squirt guns. Road trips where I got stuck in the "bad" seat, hot nights with no air conditioning, and fireworks.
Summer as a kid is pretty much the greatest thing ever. And my childhood summers seem so close, and then I look at my kids, realize I'm a mom, and wonder where the time went.
I think one of the amazing things about being a mom though? You get to do it all again! I'm a little too old to do the Slip & Slide (seriously, Nathan did it last year, and he was sore for like a month), and I would get some dirty looks if I outran a kid at a parade for a piece of candy . . .
But I get to watch the joy and wonder of summer through my own kids!
These Strawberry Shortcake Mason Jar Poke Cakes are like summer in a jar! They are super easy to make, and they could not be cuter. Plus, you really could make a batch and have a jar a night for a week. Like perfectly portioned little desserts, because as Hayley pointed out, even if I still feel like a kid, I sure as heck can't eat like one anymore.
Strawberry Shortcake Mason Jar Poke Cakes
8 oz mason jars (how many you make is up to you . . . this recipe could probably make over 20)
one box angle food cake mix and the supplies need to make it
one can sweetened condensed milk
one packet of Duncan Hines Frosting Creations, Strawberry Shortcake
cool whip
strawberries for topping
Mix up the Angel Food Cake Mix like you are going to make the cake. Put about 1/3 of a cup in each 8 oz mason jar. Put them on a baking sheet and pop them into a 350 degree oven for about 20 minutes. Keep an eye on them, each oven is different, and you don't want them to overcook. They are done when the tops are slightly golden and they are springy to the touch.
While your cakes are baking (you may need to do them in batches depending on how many you do), whisk together your Sweetened Condensed Milk and your Duncan Hines Flavor Packet.
After your cakes are done, let them rest about five minutes, then poke four holes in each one (I used the end of a chop stick), pour 1 TBSP of your mixture in each cake, making sure a little goes in each hole.
Cover the cakes with their lids and let them refrigerate over night.
When you are ready to serve, top them with whip topping and a few slices of strawberries.