S'mores Fudge with a graham cracker crust and delicious marshmallow fudge topping sandwiching delicious chocolate fudge! If fudge is your thing, this is an
easy fudge recipe
that everyone will love. If you are looking for another great s'mores recipe, make sure to try my
S'mores Bark
.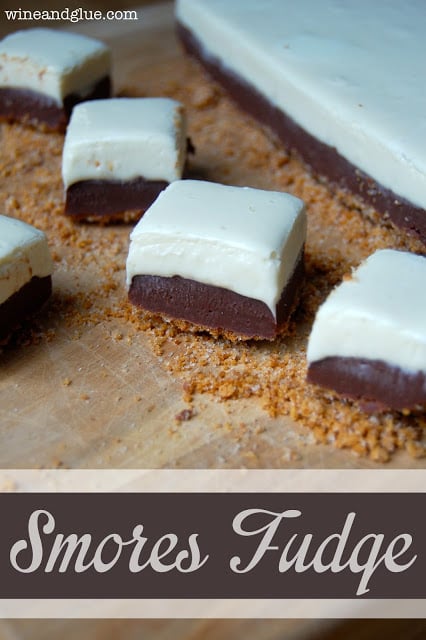 The other day Nathan and I were watching a show in bed late at night.
It was intensely suspensful. One of the main characters, a young girl, that we've grown kind of attached to, was kidnapped. She was trying to get away, and she was running through a building looking for a way out.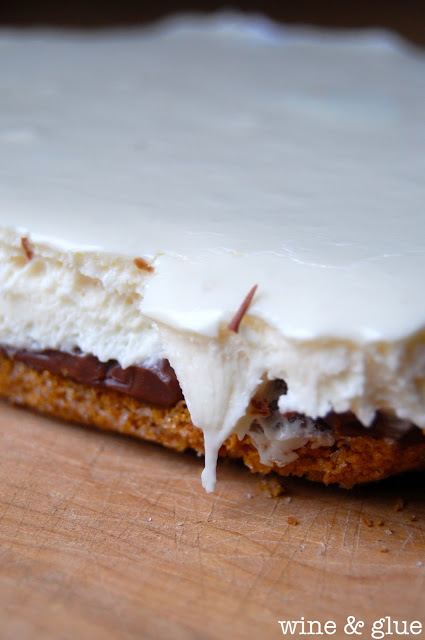 At this point I have buried my head in Nathan's arm pit so he can protect me. All the while, I'm asking him what is going on. A little counterproductive, I know. He isn't doing a really great job giving me the play by play, so I peak out.
I see her run out a door and end up on a roof top, looking from side to side trying to get her bearings. She sees the Eifle tower, which is super weird, because we thought she was in NYC.
She starts to lean over the edge of the railing looking to the street below and screaming for help when two giant arms reach from behind her and cover up her mouth and drag her away!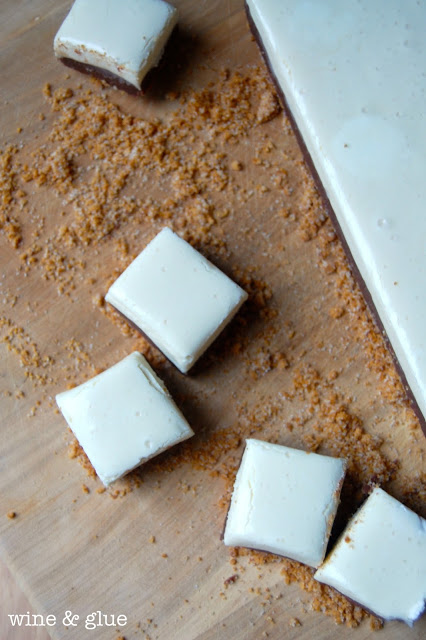 As if that weren't startling enough, I hear a SUPER LOUD scream in my house that nearly scares me to death.
The TV screen goes black and it is the end of the episode.
Nathan looks at me in horror and says, "I can't believe you just screamed so loud! You are going to wake up the kids!"
Ummmm . . . what?
Sure, Nathan. If it makes you feel better we can say that it was me who screamed super loud like a little girl and nearly woke up the kids.
HOW TO MAKE S'MORES FUDGE
Perfect for ghost stories around a fire pit or making amends with your husband for telling his secrets to the internet, let me introduce you to S'mores Fudge!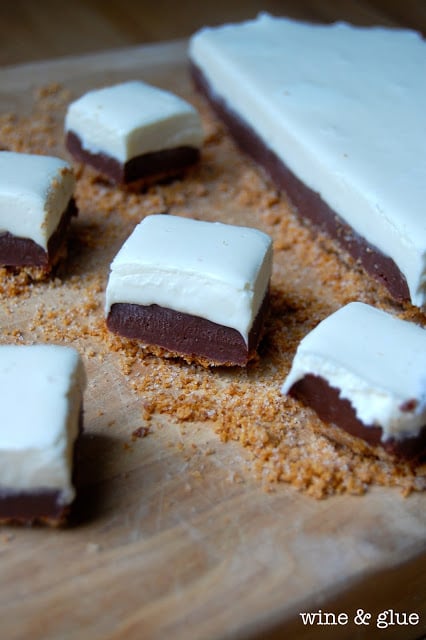 With a yummy graham cracker crust and a top layer of fudge made with marshamallow fluff, it absolutely tastes like a S'more, but with the richness of fudge.
Nathan took the first batch that I made of this to work with him, and it was devoured.
Want to see my favorite way to eat it?
You turn a piece of the fudge over into the crumbs, like so.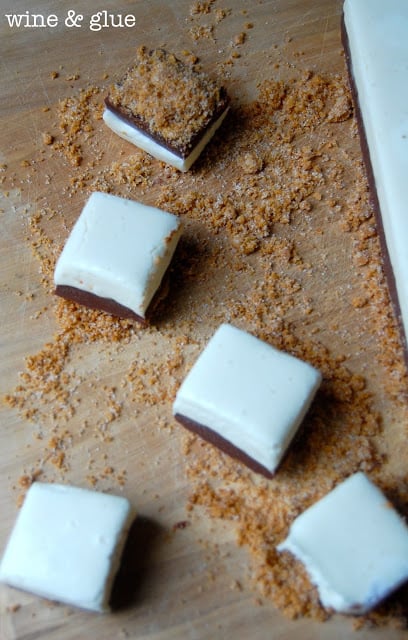 Getting graham cracker on the top and the bottom.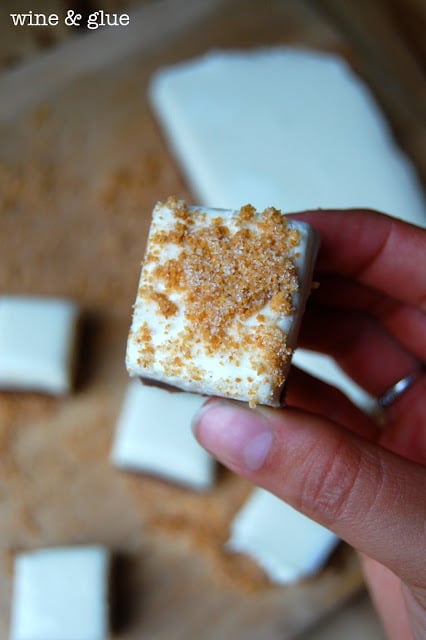 Mmmmm, super delicious!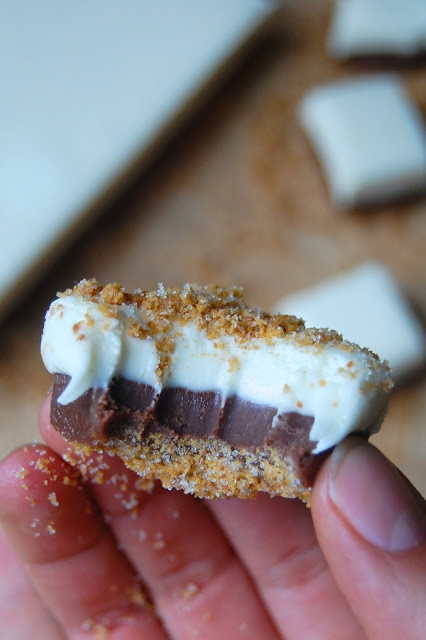 S'MORES FUDGE TIPS
One note about this recipe. Measuring marshmallow fluff is like trying to photograph an
ice cream pie on an 81 degree day
, messy and super frustrating. So just do your best. You can use anywhere from 1/2 cup to 1 cup. Less than 1/2 a cup and you won't get that marshmallow flavor. Once you get closer to a full cup, it will make for some pretty mushy and melty fudge.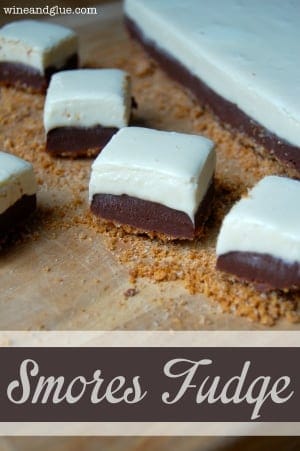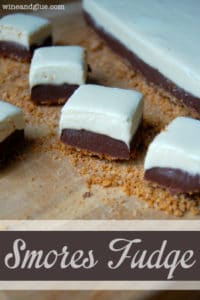 S'mores Fudge
S'mores Fudge with a graham cracker crust and delicious marshmallow fudge topping sandwiching delicious chocolate fudge! If fudge is your thing, this is an easy fudge recipe that everyone will love.
Ingredients
Graham Cracker Crust
4

sheets of graham crackers

1/4

cup

of sugar

1 1/2

TBSPs

melted butter
Chocolate Fudge Layer
1 1/2

cups

milk chocolate chocolate chips

1/2

tsp

vanilla extract

1/2

can of sweetened condensed milk
Marshmallow Layer
1

cup

white chocolate chips

1/2

cup

marshmallow fluff

1/2

can sweetened condensed milk
Instructions
Preheat the oven to 375 degrees and line an 8 by 8 square pan with aluminum foil, enough so that some of the foil hangs over the edge of the pan.

Crush the graham crackers (I used the bottom of a wide glass cup in a glass bowl and it worked perfectly) and mix in the melted butter and sugar. Pour into the aluminum foil lined pan and push down with a glass cup to make an even layer. Bake for 15 minutes or until the edges are golden brown.

Melt the chocolate in small sauce pan over medium low heat and add half a can of sweetened condensed milk (you can just eyeball it) and the vanilla. Once it is smooth, pour immediately over the graham cracker crust.

Melt the white chocolate chips in a small sauce pan over medium low heat and then add in the marshmallow fluff and the rest of the sweetened condensed milk. Stir until it is smooth and consistent. Immediately pour over the chocolate layer.

Refrigerate overnight. The next day pull the fudge out of the pan using the aluminum foil. Gently remove the foil and carefully cut into squares. Store in the refrigerator if you don't eat it all right off the cutting board.
Calories:
175
kcal
(9%)
Carbohydrates:
25
g
(8%)
Protein:
2
g
(4%)
Fat:
9
g
(14%)
Saturated Fat:
6
g
(38%)
Cholesterol:
4
mg
(1%)
Sodium:
45
mg
(2%)
Potassium:
59
mg
(2%)
Sugar:
16
g
(18%)
Vitamin A:
50
IU
(1%)
Calcium:
40
mg
(4%)
Iron:
0.9
mg
(5%)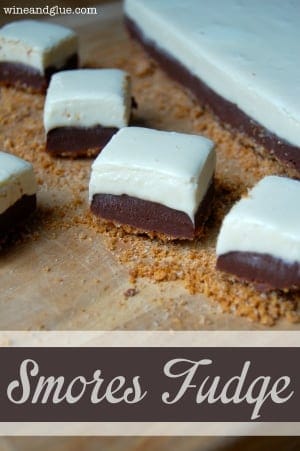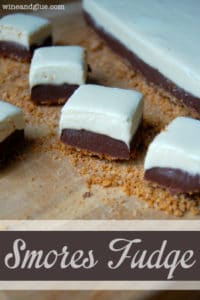 did you make this
S'mores Fudge

SaveSave
SaveSave
SaveSave