This Molasses Cookie recipe are soft and chewy with the perfect combination of spices. They are a must make holiday cookie that everyone will love.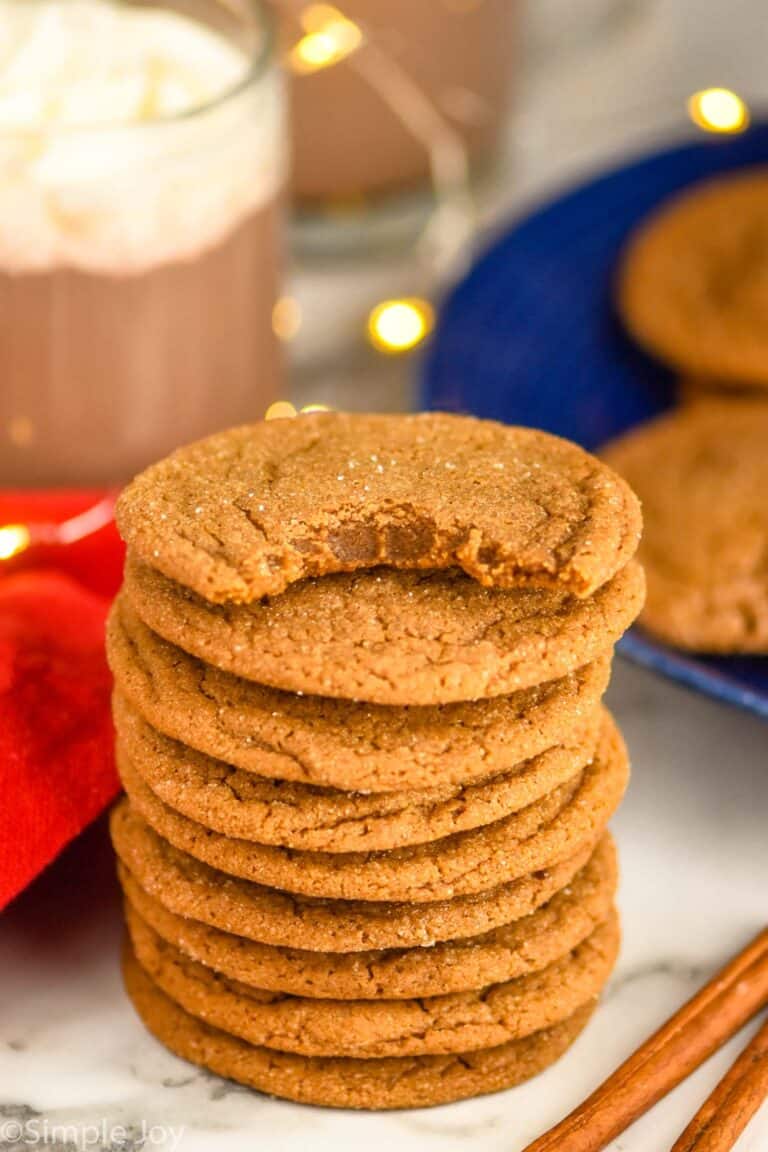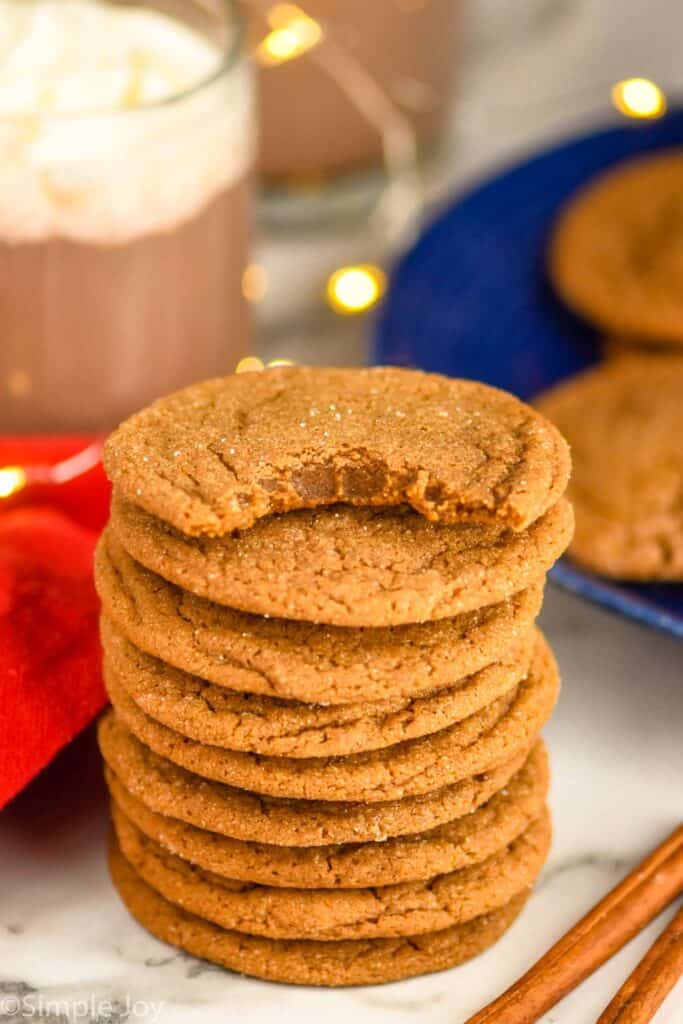 These amazing Molasses Cookies are crisp no the outside and delightfully soft and chewy on the inside. They have the perfect combination of spices. Not only that, but they come together quickly and are perfect for making for me or Santa.
How to Make Molasses Cookies
Check out the recipe card below for exact measurements and instructions, but these cookies come together in just a few simple steps:
Preheat Oven: Preheat your to 350 degrees and then line your cookie sheet with parchment paper.
Melt Butter: Melt some unsalted butter in the microwave and then set it aside to cool while you mix the other ingredients.
Combine Dry Ingredients: In a separate bowl mix together flour (see instructions below on how to measure flour),baking soda, cinnamon, ground cloves, ginger and salt. Make sure to whisk thoroughly so all the spices are evenly distributed.
Mix Wet Ingredients: In a standing mixer, blend melted butter with the sugar until nice and smooth. Then, add the egg and rich molasses and blend well.
Add Flour Mixture: Mix the dry ingredients together until everything is just combined.
Roll in Sugar: Drop a small scoop of cookie dough into a bowl with granulated sugar and roll in a ball.
Bake: These rich, delicious cookies will be done in about 8-10 minutes. Serve warm or store them in an airtight container for up to two weeks. They're also delicious when frozen!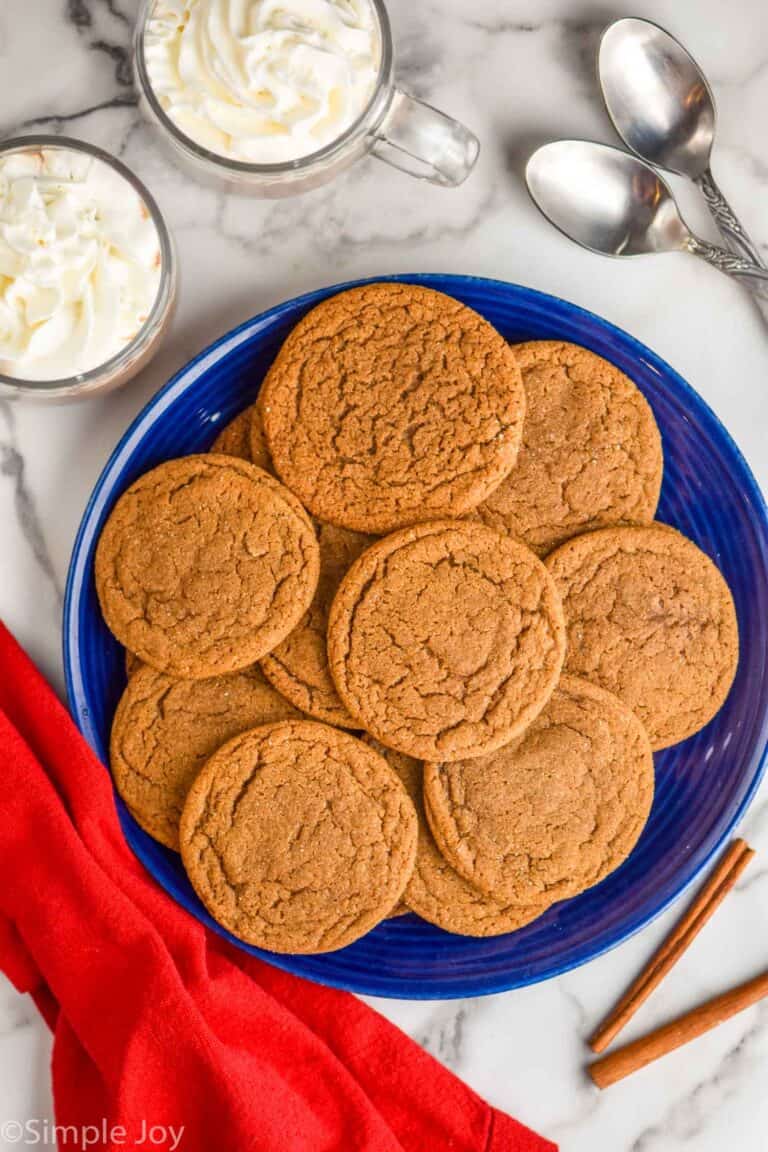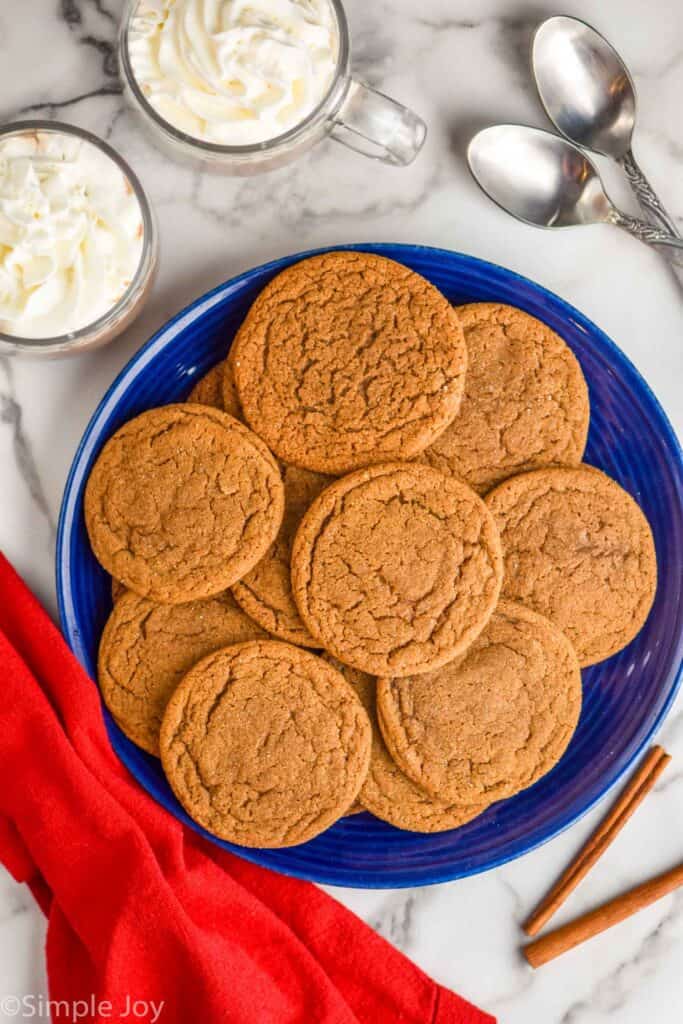 Substitutes for Molasses
I highly recommend that you use molasses for this molasses cookie recipe. It is part of what brings the signature flavor and texture to these great cookies. That being said, if you are in a pinch you can replace the molasses with
1/4 cup maple syrup
1/4 cup honey
How to Measure Flour
All purpose flour is one of the most universal ingredients but it can ruin your recipe if it is not measured properly. Following these steps will help ensure that you have the correct amount:
Use a dry measuring cup meant for flour and other dry ingredients.
Lightly spoon the flour into your measuring cup.
Use a straight edge utensil or the back of a knife to level off the top of the measuring cup.
Following these steps will keep you from getting too much flour in your cookies, cakes, and breads.
Tips and Tricks for this Molasses Cookie Recipe
Once you sink your teeth into one of these sweet, spicy molasses cookies, you will reach for them again and again! To get that perfectly crisp sugary outside, chewy inside, follow these tips and tricks:
Allow butter to cool slightly: There is a reason that melting the butter is the first thing we do. If we don't allow it to cool slightly, the piping hot butter can cook the egg and no one wants pieces of scrambled eggs in their cookies.
Measure your flour correctly: Nothing ruins a cookie faster than too much or not enough flour. Please see the section above for how to measure your flour properly.
Use active baking soda: Baking is chemistry, so you need ingredients that are still active. Test your baking soda by dropping it in a little vinegar. If it doesn't react right away, toss it and buy a new box.
Freezing Molasses Cookie Recipe
These cookies freeze really well. They can be frozen both before and after baking.
Freeze before baking. Roll the dough into balls. Place the dough balls on a wax lined baking sheet. Place in the freezer for two hours. Transfer to an air tight container and store in the freezer for up to 3 months.
When you are ready to bake them, preheat your oven to 350 degrees. Place the frozen dough balls (however many you want to make) on a baking sheet and bake for 10 to 12 minutes.
Freeze after baking. Allow the cookies to cool completely. Freeze in an airtight container for up to three months.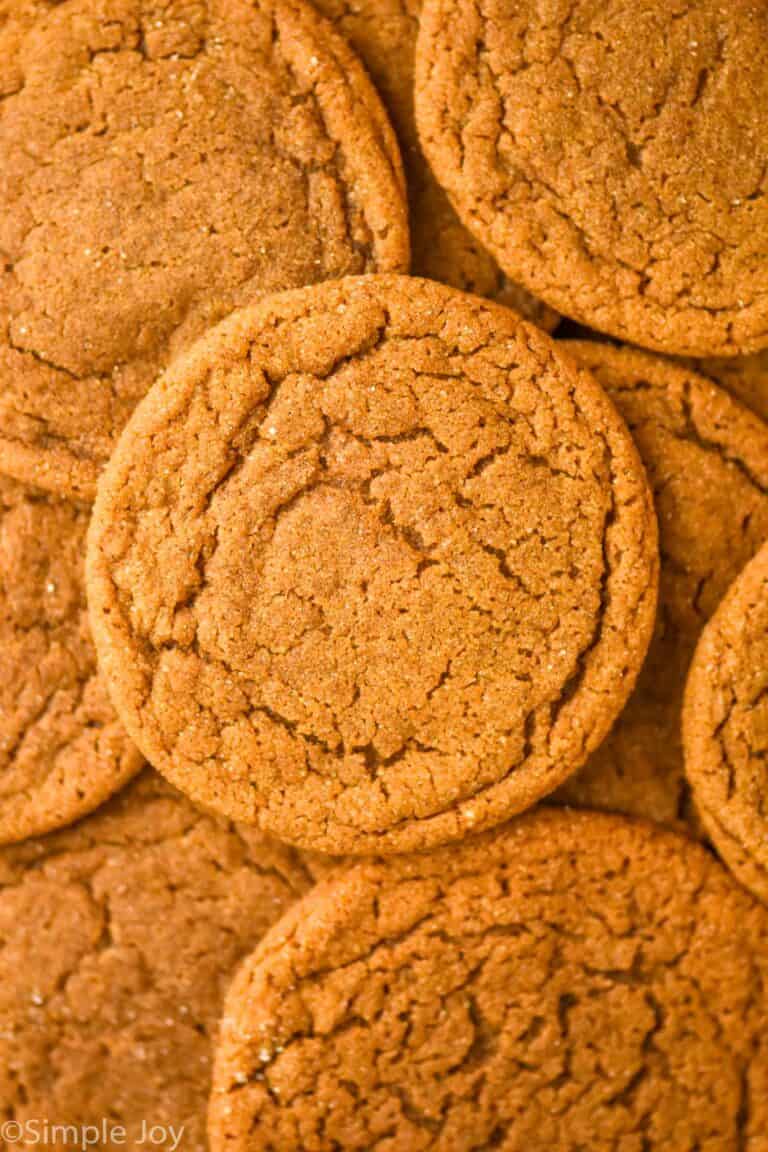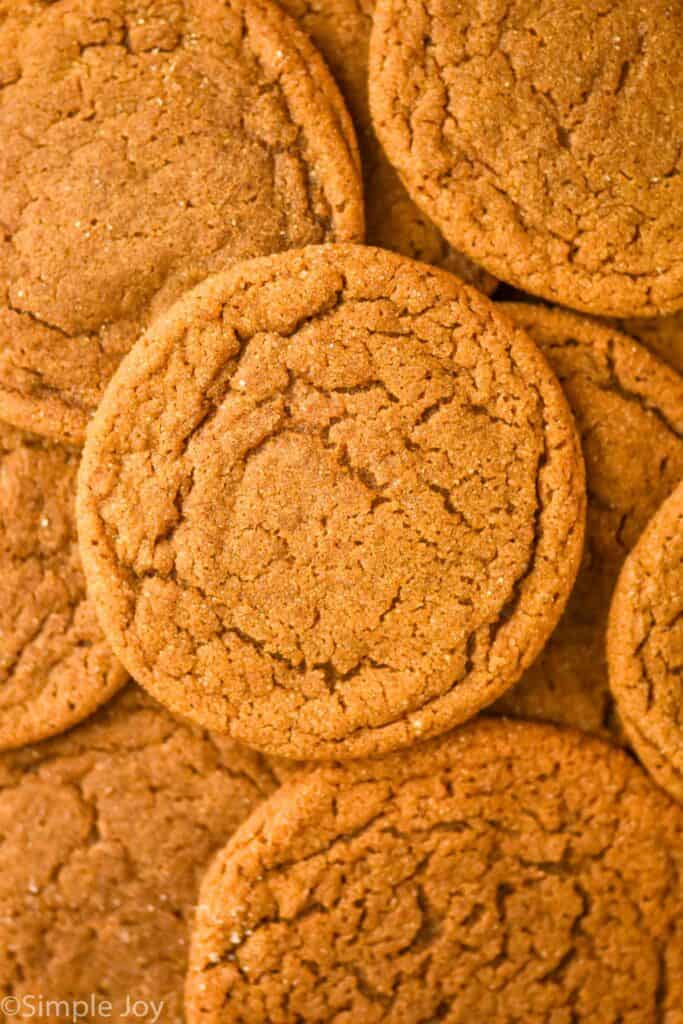 Other Holiday Cookies
If you are like me, baking makes your heart happy around the holidays. Here are some other recipes that I think you will enjoy.
Gingerbread House: This is another great recipe to use that molasses. I have the recipe for the house, a template so you are able to cut out the pieces, and the best gingerbread house icing to hold it all together.
Soft Cut Out Sugar Cookies: This was the recipe my mom used with me as a kid, and now I'm using it with my kids. For giggles, you can see us making cookies together with this recipe here.
Peanut Butter Blossoms: My husband grew up eating these cookies around the holidays, and I love making them for him now.
If you make these Molasses Cookies or any of my other holiday recipes, please leave me a comment and let me know what you think. It is an honor to be part of your holiday season in even just a small way.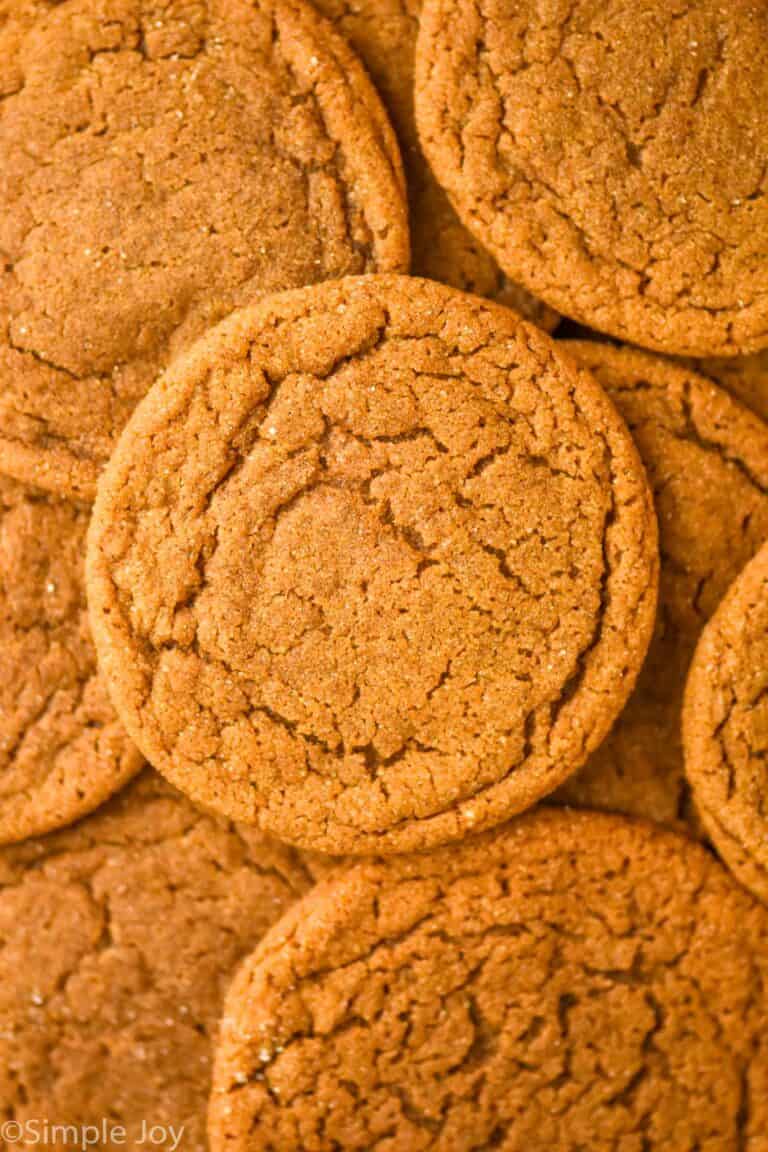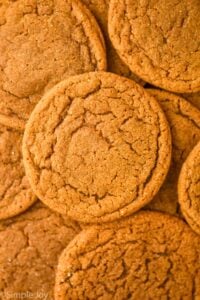 Molasses Cookie Recipe
This Molasses Cookie recipe are soft and chewy with the perfect combination of spices. They are a must make holiday cookie that everyone will love.
Ingredients
12

tablespoons

unsalted butter

melted

2

cups

flour

see note in the post about measuring flour

2

teaspoons

baking soda

1

teaspoon

cinnamon

1/2

teaspoon

ground cloves

1/2

teaspoon

ginger

1/4

teaspoon

salt

1

cup

granulated white sugar

plus more for rolling

1

egg

1/4

cup

molasses
Instructions
Preheat your oven to 350 degrees. Line rimmed baking sheet with parchment paper and set aside.

Melt the butter, and set aside to cool.

In a large bowl whisk together the flour, baking soda, cinnamon, ground cloves, ginger, and salt. Make sure that you whisk throughly so that the spices are well distributed throughtout the flour.

In a large bowl with a hand mixer or in a large standing mixer, beat together the melted butter and sugar until smooth, about two minutes. Add in the egg and beat until fully combined. Add in the molasses and beat until smooth.

Add the flour mixture. Beat on low just long enough to slightly incorporate the flour mixture. The goal here is to beat the flour in for as little time as possible. Beat until it is just begining to combine so that you can turn your mixer on high to finish the incorporating without flour flyging everywhere. You may need to scrape down the sides of the mixer once or twice so the dough is fully combined.

Scoop the cookies out using a 1 1/2 tablespoon cookie scoop. The dough will be sticky. Drop the dough balls into granulated sugar, roll into a bowl and place 3 inches apart on the parchment lined baking sheet. The cookies will spread to be 4 inches in diamater, so make sure to give them room. Bake for 8 to 10 minutes.

Remove from the oven. Allow to cool for 2 minutes on the baking sheet before transfering to a wire rack to cool completely. Once cooled, enjoy immediately or store in an airtight container for up to 2 weeks.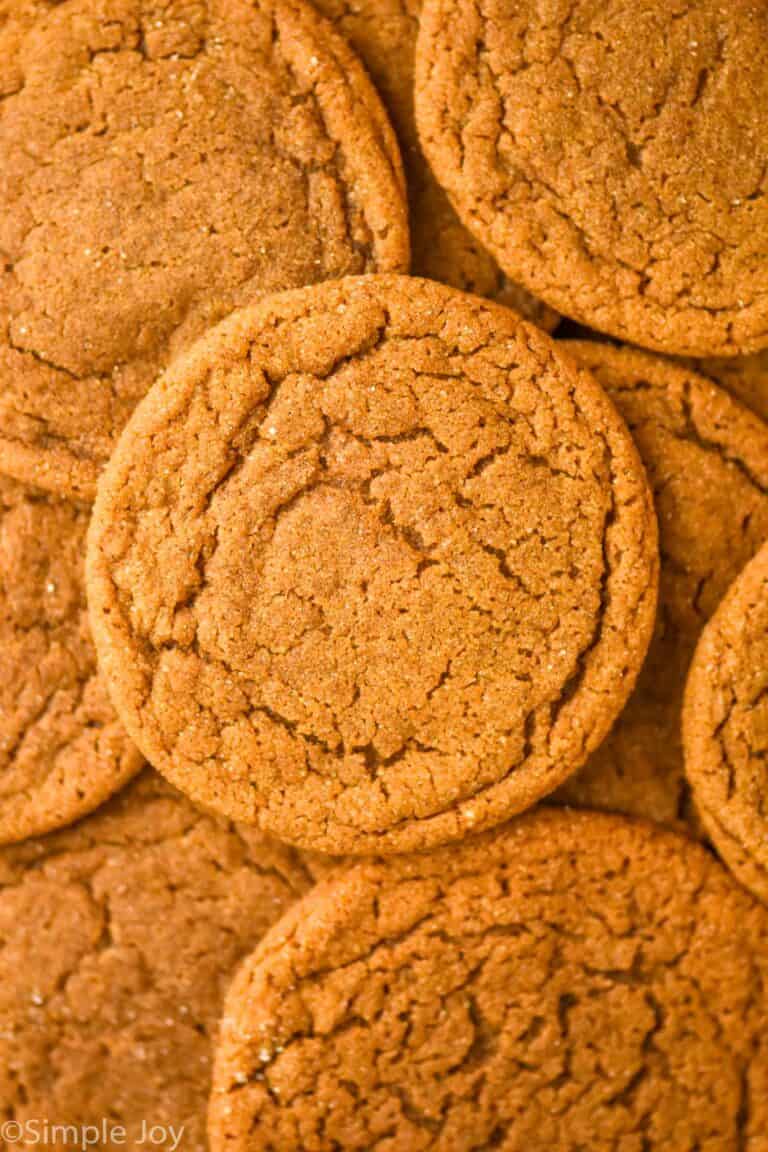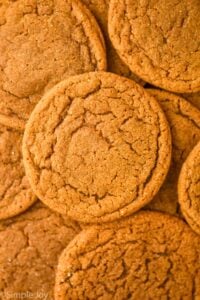 did you make this
Molasses Cookie Recipe