These Peanut Butter Chocolate Chip Cookies have a slightly crisp exterior and a deliciously buttery soft middle, completely with chocolate chips and peanut butter flavor! The ULTIMATE cookie.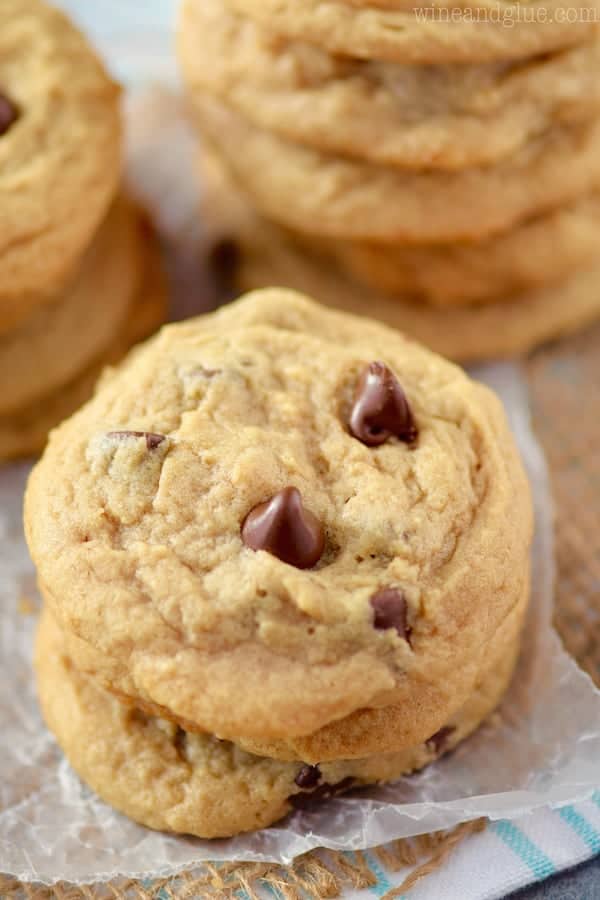 I really had the best of intentions with starting this New Year. The day the kids went back to school after Christmas break, I was up at 5 am working out, getting dressed like a real grown up, and doing a little work before making them a well rounded breakfast. Then cleaned the kitchen, did loads upon loads of laundry.
A New Year, a new more organized, on top of everything conquering the world me. #realisticexpectations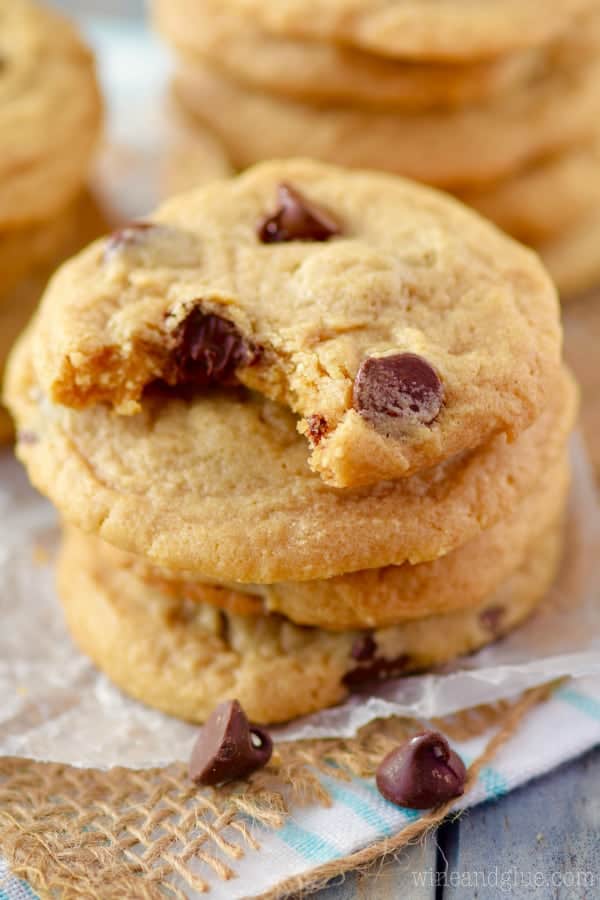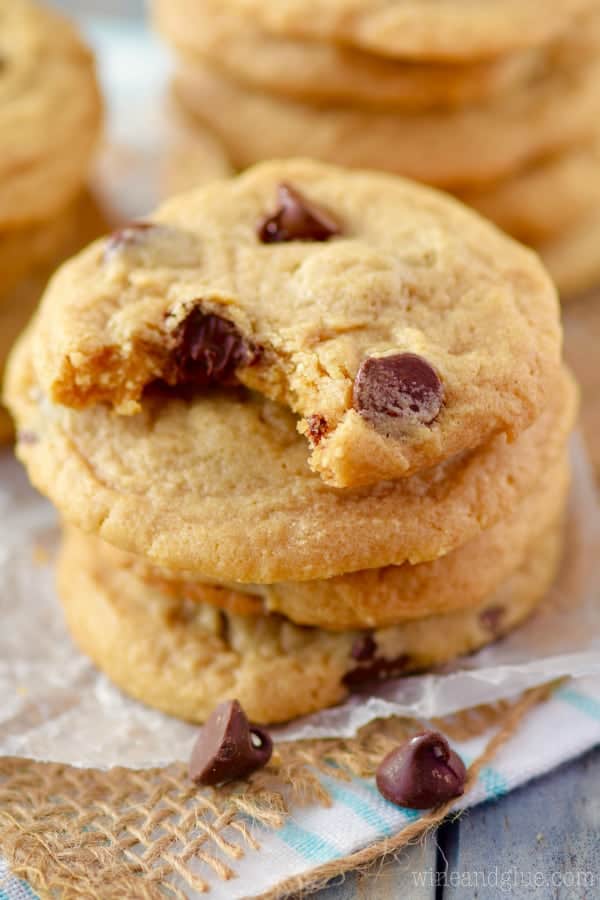 And then 4 pm hit.
I won't go into details as this is a post about cookies. (AMAZING cookies)  But let's just say that a demon from hell was summoned to my home in the form of a violent stomach flu that as of this morning has taken hold of each and every member of my family.
So far January is kicking my ass.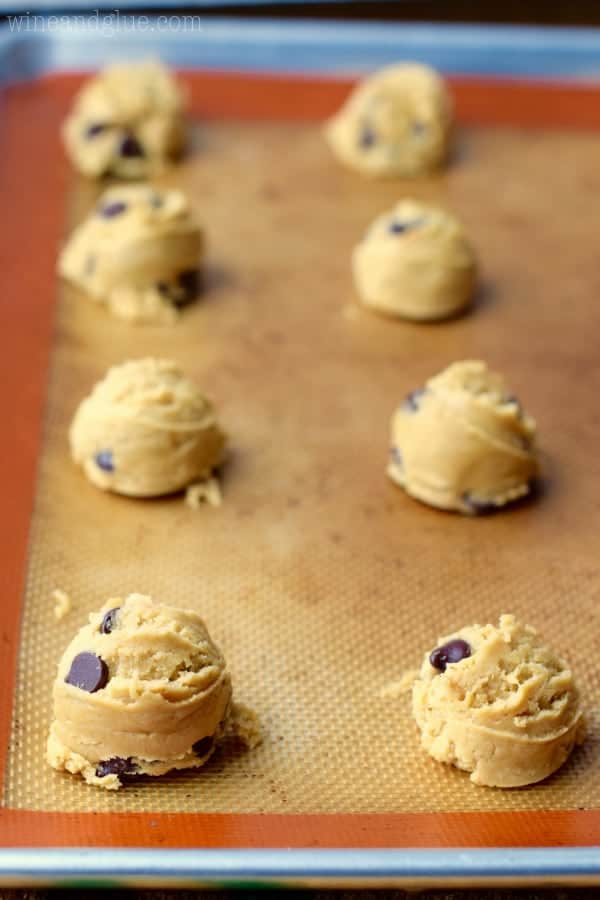 And I refuse to say it's 2016 that's kicking my ass. Let's just say it's January. Because there are only 20 days left.
The one good thing that has come out of January is these cookies. In an effort to ignore the demon from hell, I made these cookies. The first batch was good, but not quite as buttery soft in them middle as I wanted. But the second batch was PERFECTION.
They are just slightly crisp on the outside, but buttery and delicious on the inside. Kind of exactly how I love my cookies. And they are peanut butter and chocolate together, which is just maybe the most perfect flavor combination in all of history.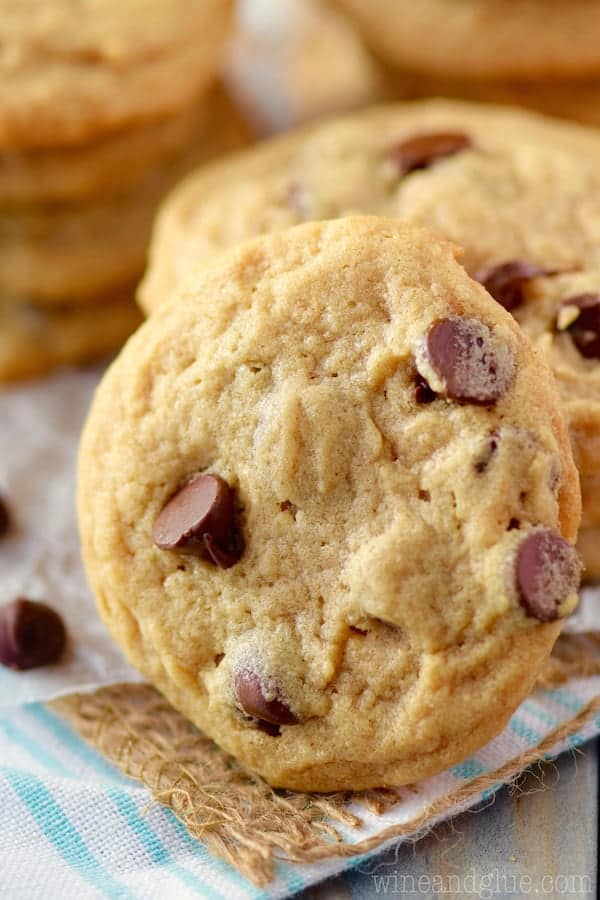 TIPS AND TRICKS FOR MAKING THE BEST COOKIES!
Your butter has to be room temperature. You should be able to push your finger into it and make a small dent but not go all the way through. Want to make that go faster? Cut your butter up into 1 inch pieces and leave it on the counter for a half hour.
Your eggs also need to be room temperature. Want that to go faster? Fill a bowl with luke warm water and leave them in there for a few minutes.
It's really important to measure your flour correctly. Scoop the flour into the measuring cup and level it off. If you scoop right out of your flour container using your measuring cup, you will end up with significantly more flour.
Make sure you cream your butter and sugar together for at least three minutes. It needs to not just be mixed, it needs to be light and fluffy. The sugar actually beats air into the butter and that's key in baking.
Your pans can't be hot. If you are baking in batches and need to use your baking pans more than once, you need to make sure that they have cooled before you put more dough on them. You can make this happen fast by just running them under cold water and drying them off. Speaking of pans, I love these! And I love using these with them (pictured above).
This isn't essential, but I find that using a scoop helps to keep all your cookies the same size, for consistent baking and it also makes the process of getting the cookies into ball form so much faster! I love this scoop.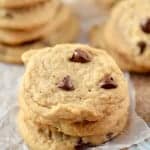 Print Recipe
Peanut Butter Chocolate Chip Cookies
Ingredients
2

cups

all purpose flour

1/2

tsp

baking soda

1/2

tsp

baking powder

1/4

tsp

salt

1

cup

butter

room temperature

1

cup

brown sugar

1/2

cup

granulated sugar

1

cup

creamy peanut butter

2

eggs

room temperature

2

tsps

vanilla extract

1

cup

chocolate chips

I used milk chocolate chips
Instructions
In a large bowl, mix together the flour, baking soda, baking powder, and salt.

In a large stand mixer, cream together the butter and sugars until light and fluffy, about three minutes. Then beat in the peanut butter until combined, scrapping down the sides as needed. Beat in the eggs one at a time, and then beat in the vanilla.

With the mixer on low, slowly add the flour until just combined.

Scrape down the sides of the mixer and then using a spatula gently fold in the chocolate chips.

Chill the dough for a half hour in the refrigerator.

Using a

medium scoop

make 1 inch balls out of the dough (about 1 1/2 TBSPs worth) and space them out 2 inches apart on the baking sheet.

Bake for 12 minutes or until the edges of the cookies are just golden brown. Leave on the baking sheet for three minutes after baking and then transfer to cooling rack to cool completely before storing in an air tight container for up to four days.
Want more peanut butter and chocolate?
Chocolate Peanut Butter Brookie Pie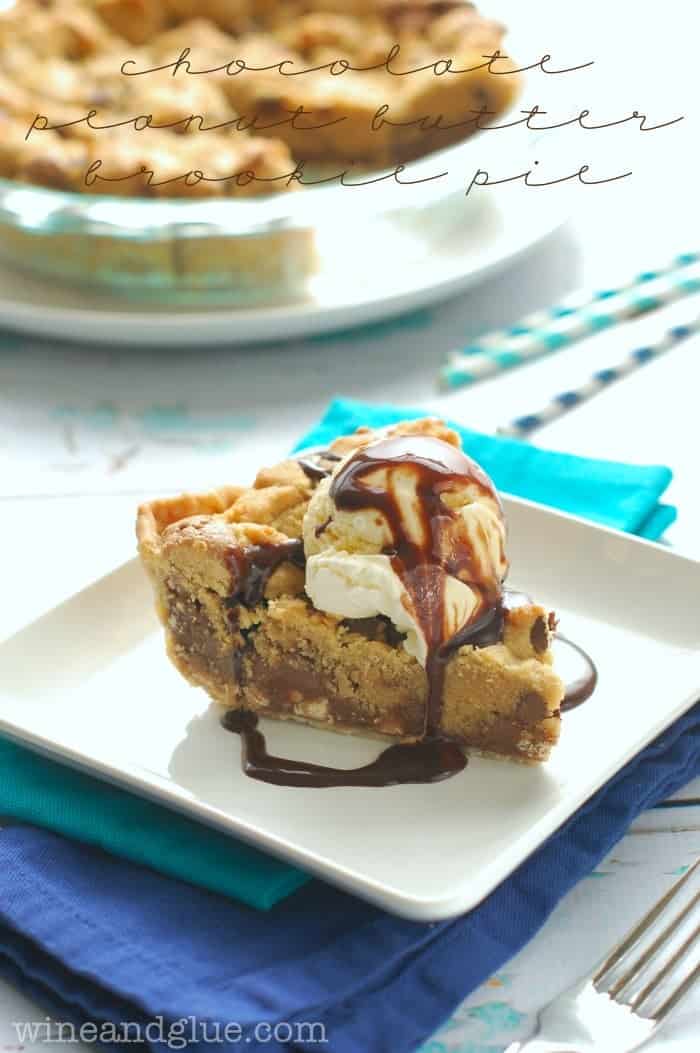 Loaded Reese's Peanut Butter Cup Bark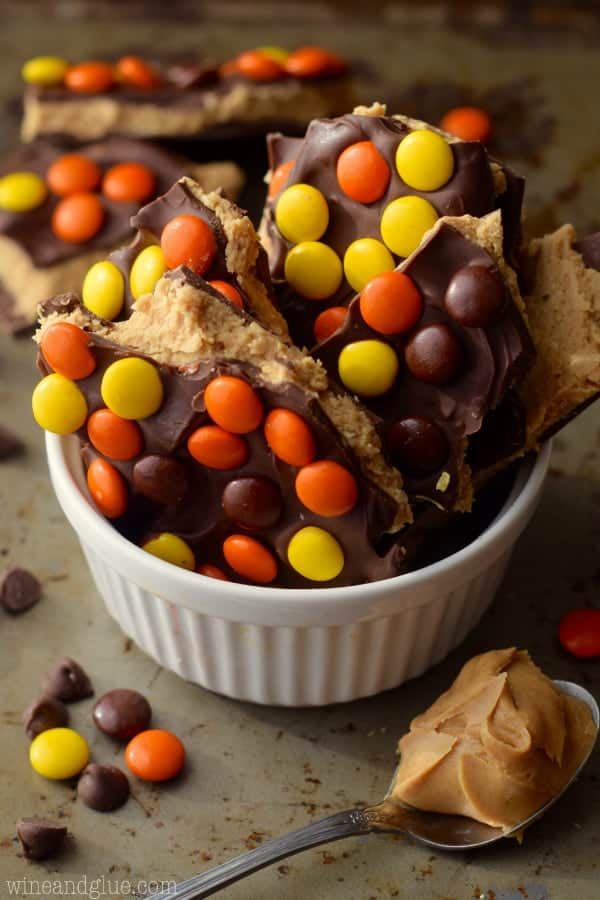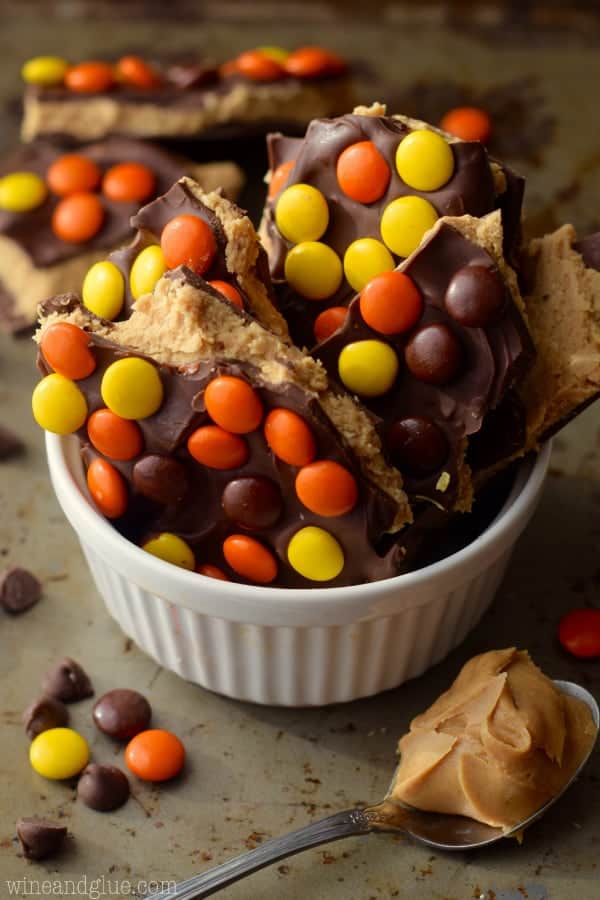 Fudgy Peanut Butter Hand Pies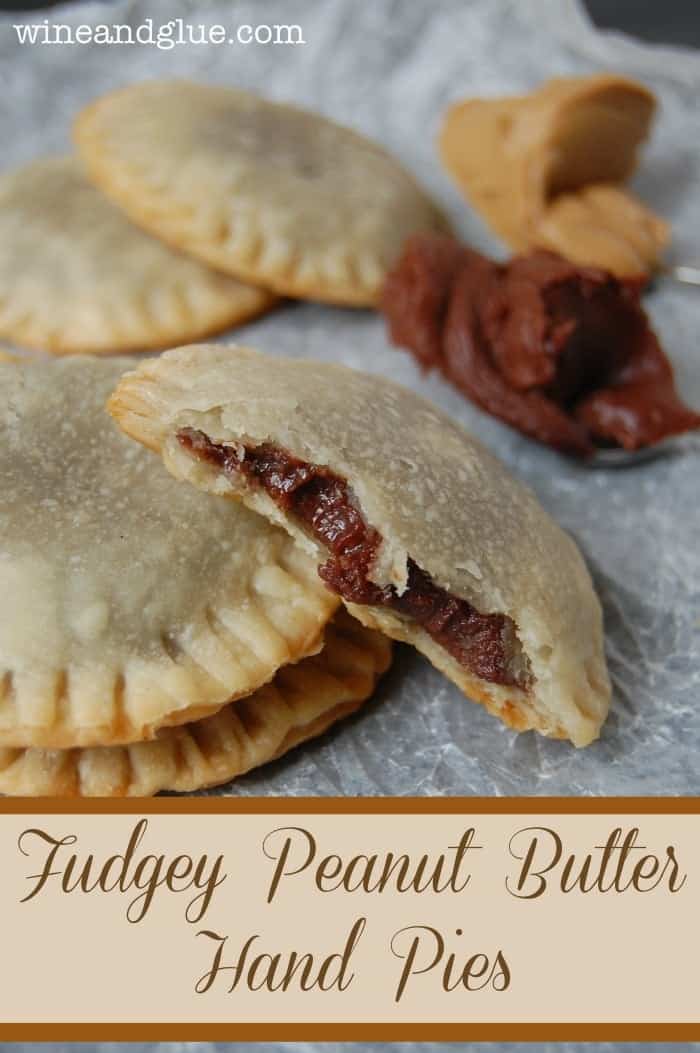 This post contains affiliate links, if you click on them and then make a purchase, I make a small amount of money at no additional cost to you. Thank you in advance for supporting Wine & Glue.