No Bake Funfetti Cheesecake Cups! What's better than a no bake dessert? One that tastes like cake batter!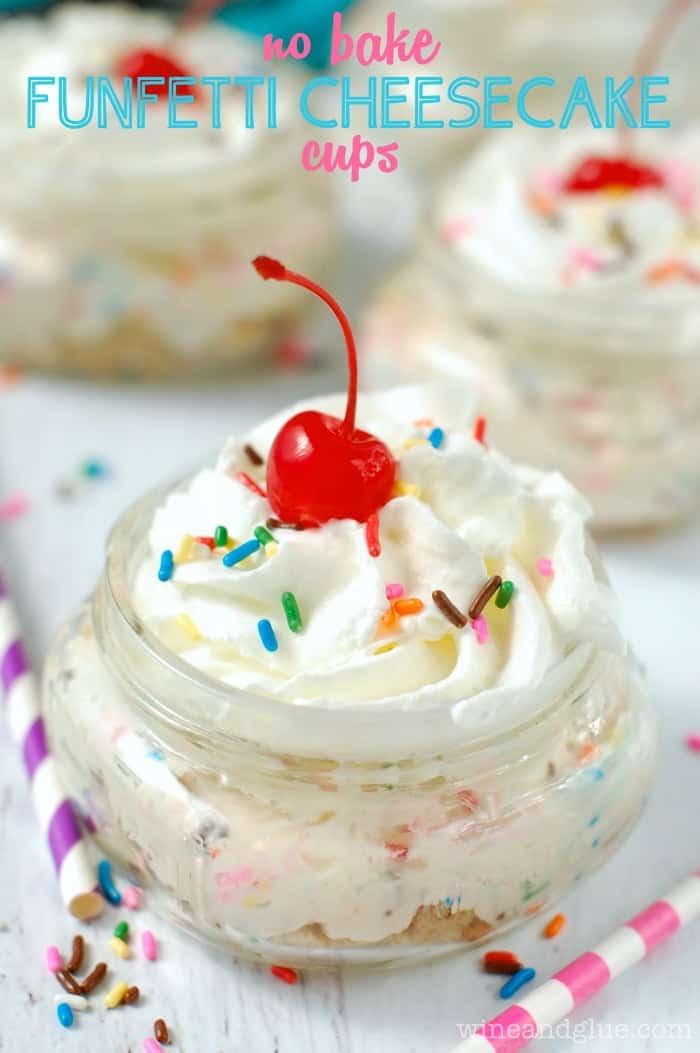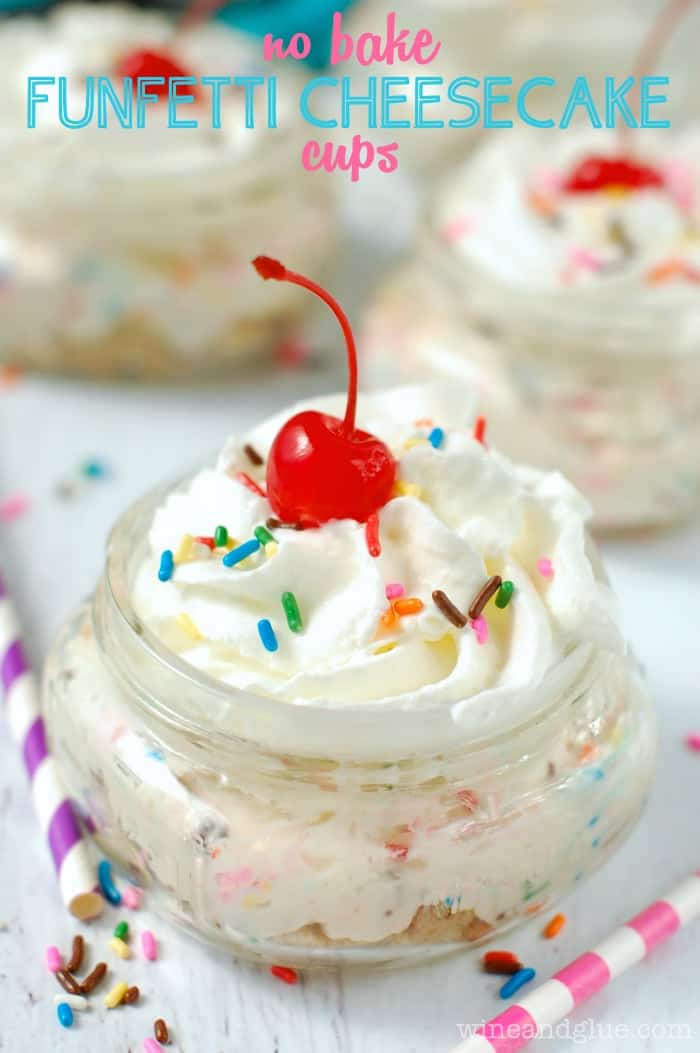 So my kids are being insanely sweet to me lately.
They are extremely protective and nurturing and loving.
It's weird.
Especially Gavin. He's constantly suggesting that maybe I shouldn't be doing something and I should just wait for dad to get home. Like the other day when I was carrying the pieces to our patio table up from the basement so I could sit outside and get work done while the kids played . . . I got reprimanded. By my six year old.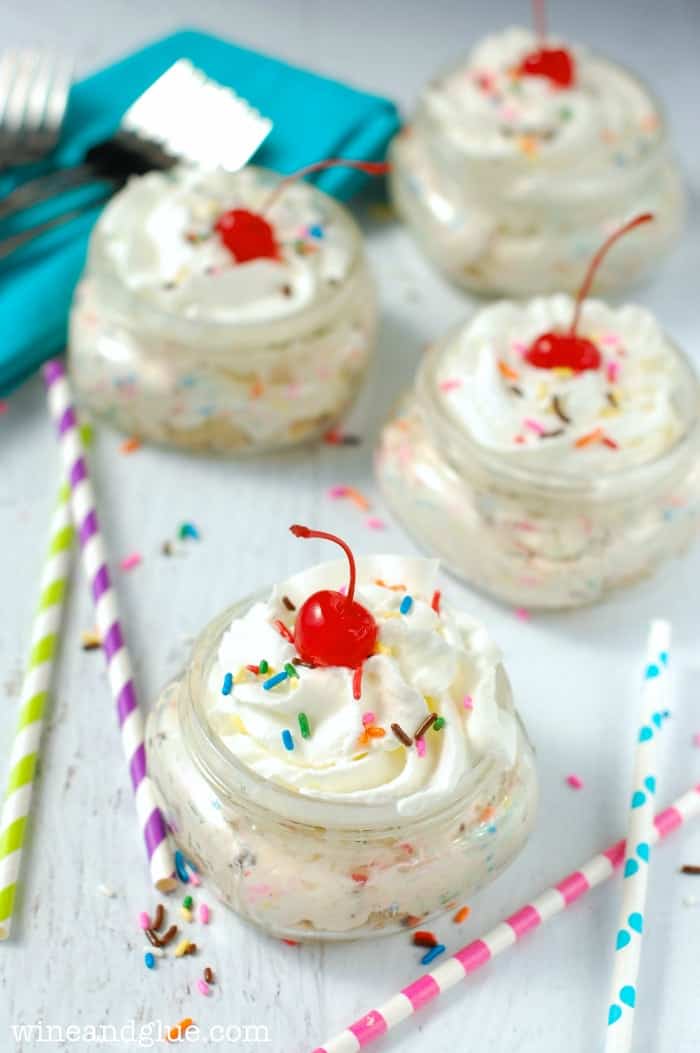 Or a week or two ago when I was putting together shelves in the nursery. Gavin and Quinn we're in Gavin's room playing and I turned the shelf, bumping it into the crib. I went, "UGH!" and Gavin yelled, "MOM!! WHAT HAPPENED??? ARE YOU OKAY???" And then he suggested that maybe I should be letting dad put the shelves together.
It's really sweet.
Quinn too. I said, "Shoot!" the other morning about something ridiculous, like having to add more water to my Keurig rather than just immediately getting my coffee and Quinn said, "What's wrong, Mom???" I told her nothing was wrong and she said, "But you said Shoot!" :)
They are awesome kids.
But. And this is a really big but. I'm totally questioning what's going to happen in like two weeks when the baby's here. I am hoping and wishing and praying that their protective feelings of me will get transferred over to the baby, but who knows. Either way, I'm enjoying being pampered by the kids :)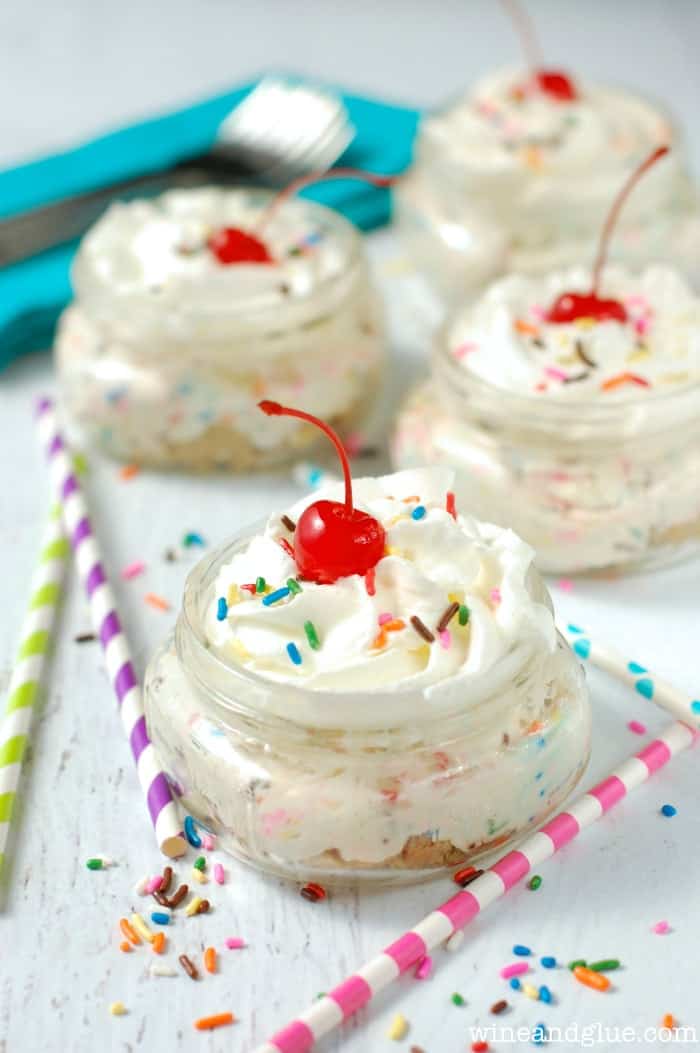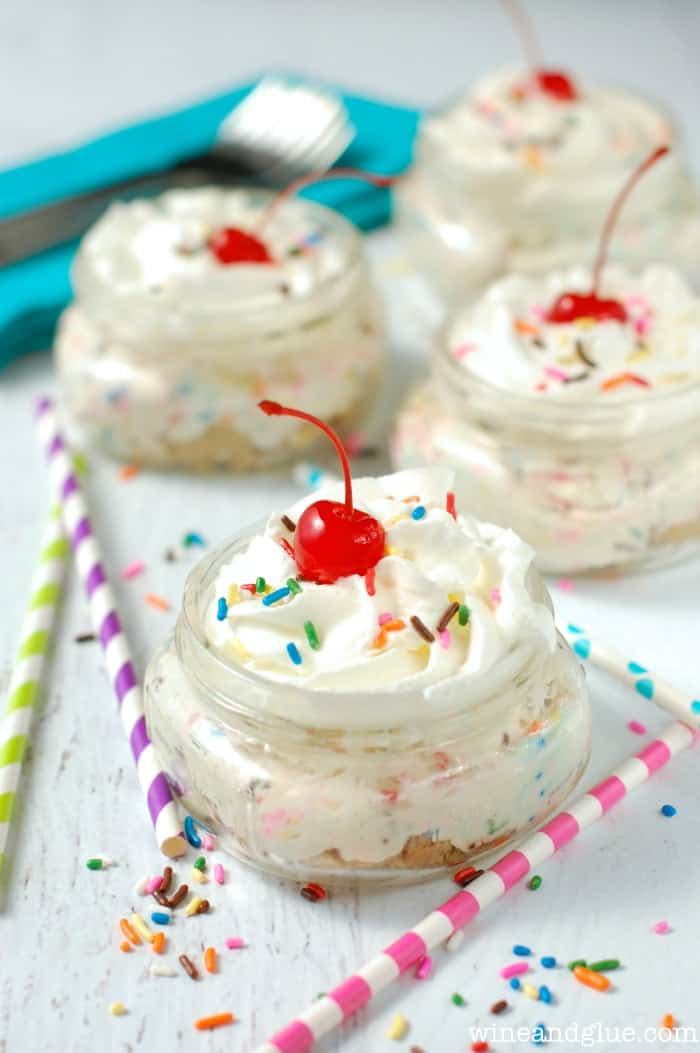 Let's talk about these No Bake Funfetti Cheesecake Cups. They were originally a pie. A big delicious, want to plant your face in it pie. But! When I went to cut it, I couldn't get a pretty slice! It was an epic #foodbloggerproblem. (Maybe not epic. I'm a little dramatic.) So . . . . I moved all the ingredients into these awesome little 8 oz mason jars. They are desperately delicious. I ate all of them. And then I was mad there wasn't more. And then I thought about how giant I am getting during this pregnancy. And then I decided that that's Future Lisa's problem. :)
Anyway. Make them it in a pie pan and suffer through delicious though not gorgeous pieces, or make them in cute little mason jars. The choice is yours.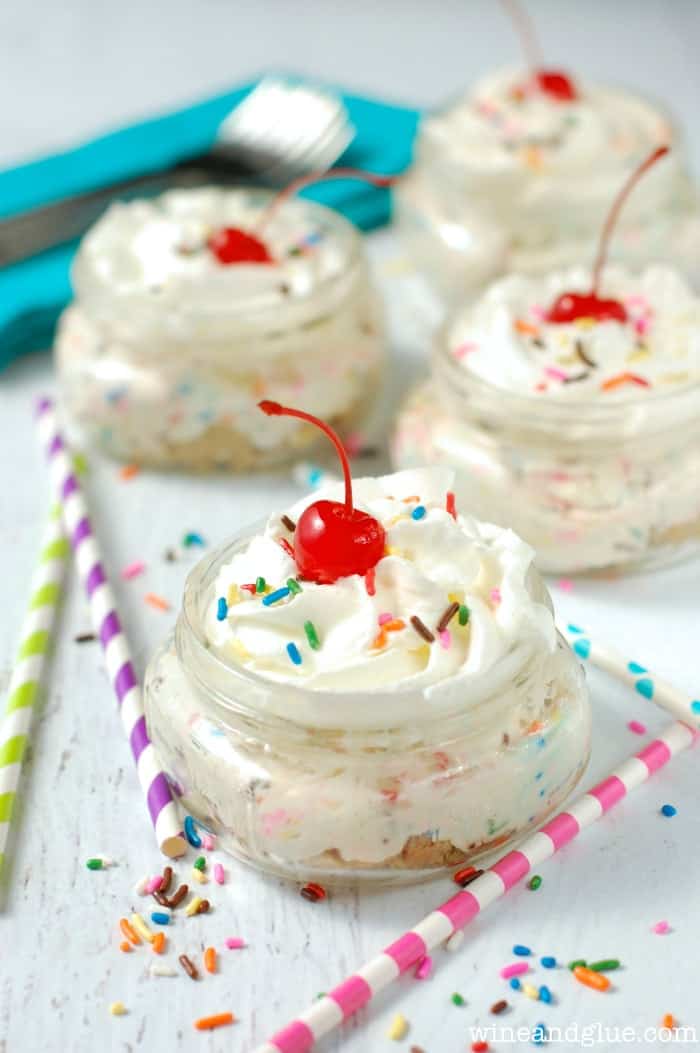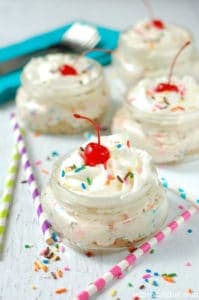 No Bake Funfetti Cheesecake Cups
Ingredients
2/3

package of birthday cake oreos

2

T

melted butter

8

oz

cream cheese at room temperature

8

oz

container whipped topping

I used Cool Whip Lite

1/2

tsp

vanilla extract

5

T

milk

1

cup

cake mix

1/2

cup

sprinkles
Instructions
Crush the Oreos and combine them with the melted butter. Divide them among 8 8 oz wide mouth mason jars. (Or press into a 9 inch deep dish pie pan.)

Whip together the cream cheese, whipped topping, vanilla, cake mix, and milk. I first used the paddle attachment and then the whisk attachment to make it nice and smooth.

Gently stir in the funfetti.

Divide equally between the mason jars. (Or fill your pie.)

Refrigerate four hours or overnight.

Top with whip cream, cherries, and more sprinkles.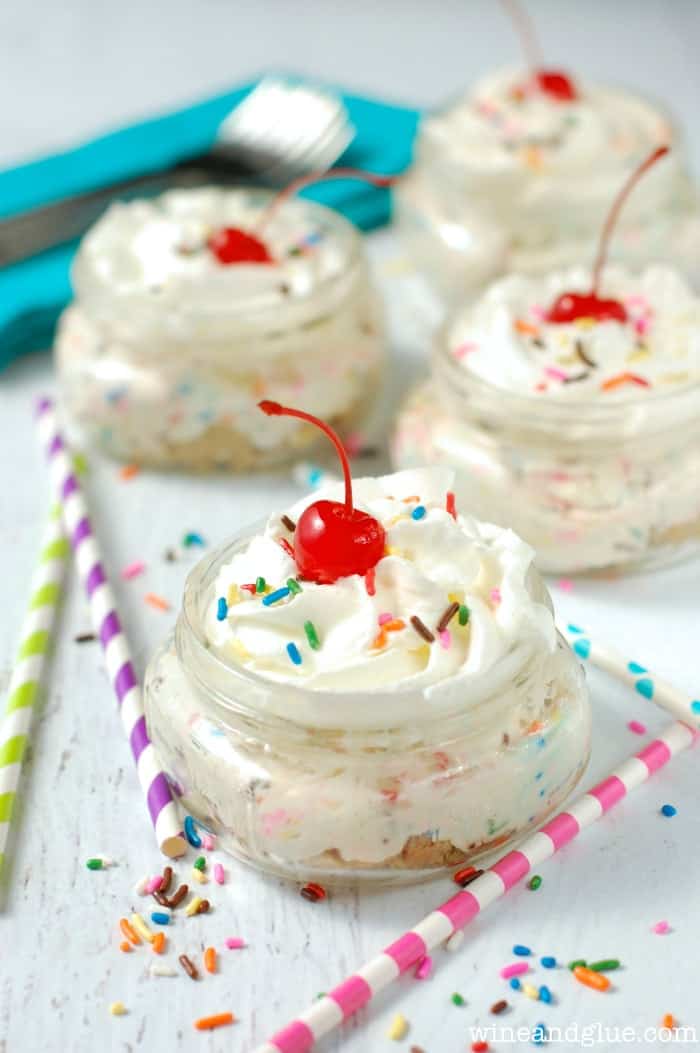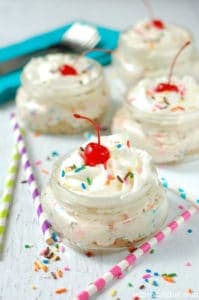 did you make this
No Bake Funfetti Cheesecake Cups
You might also like
No Bake Cookie Dough Cheesecake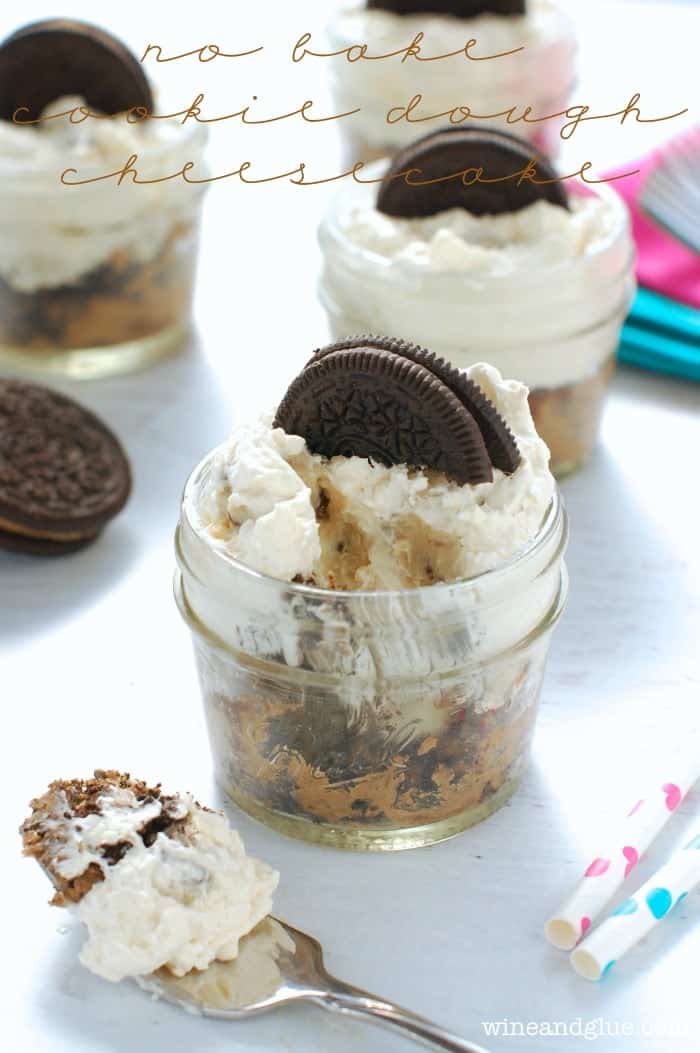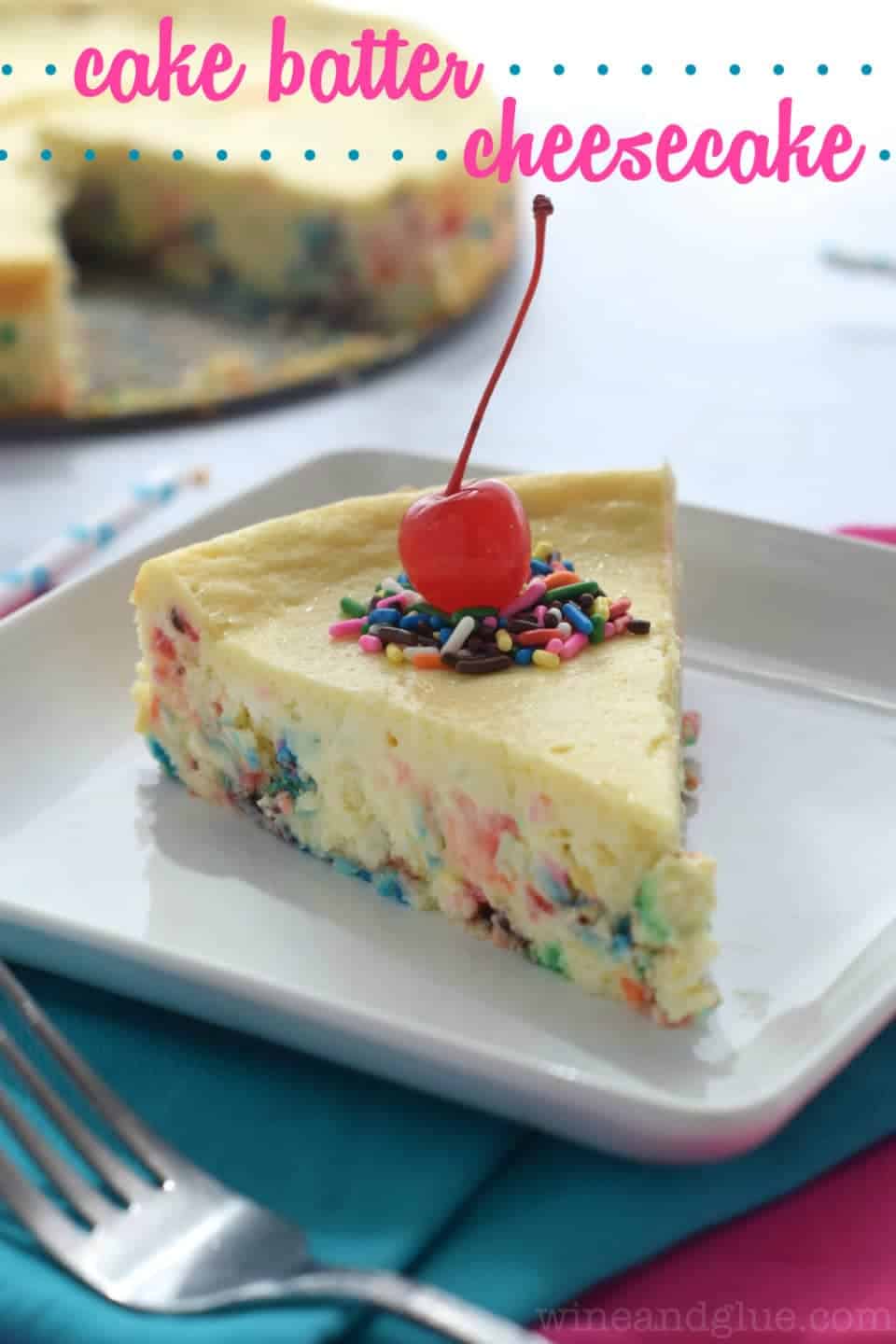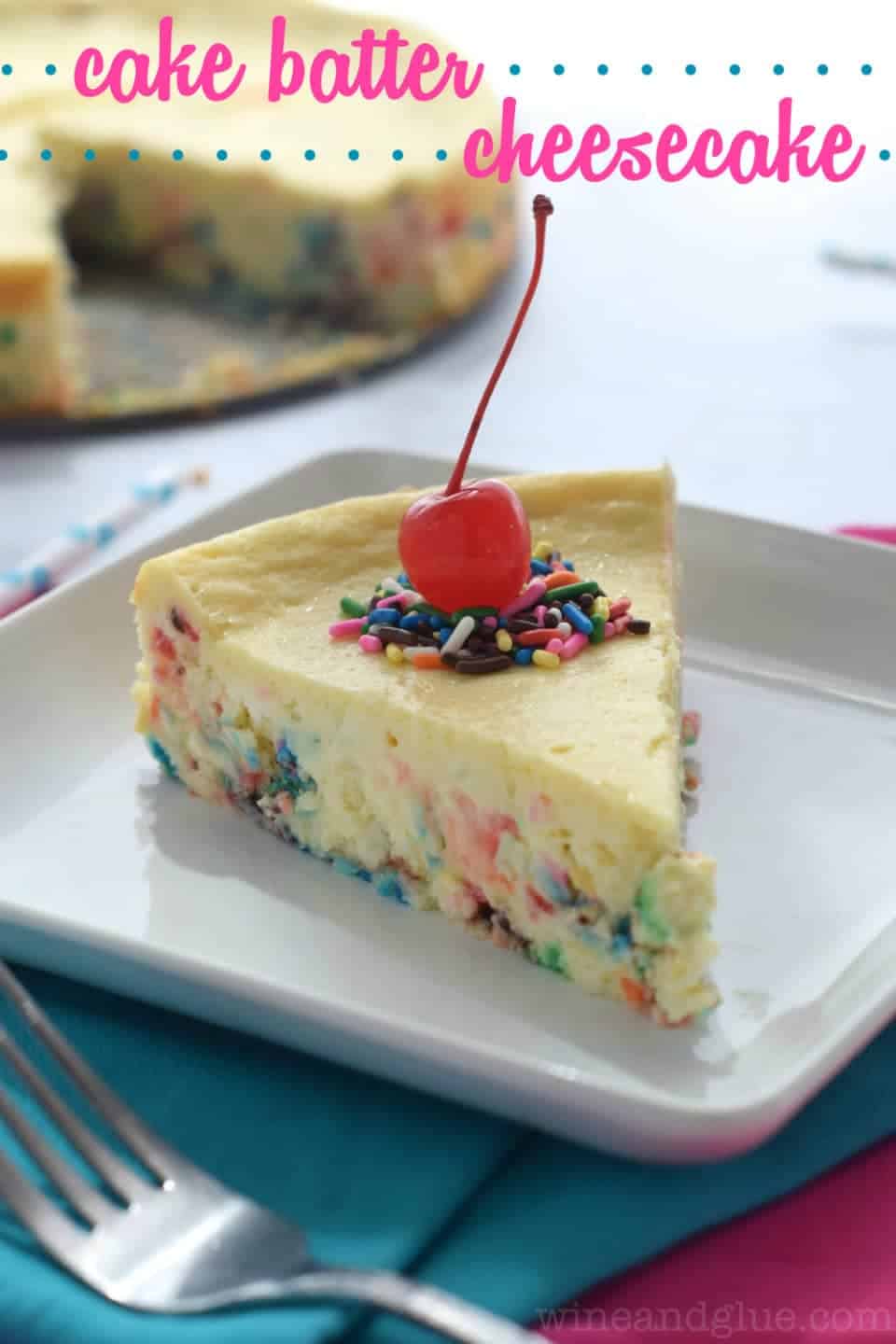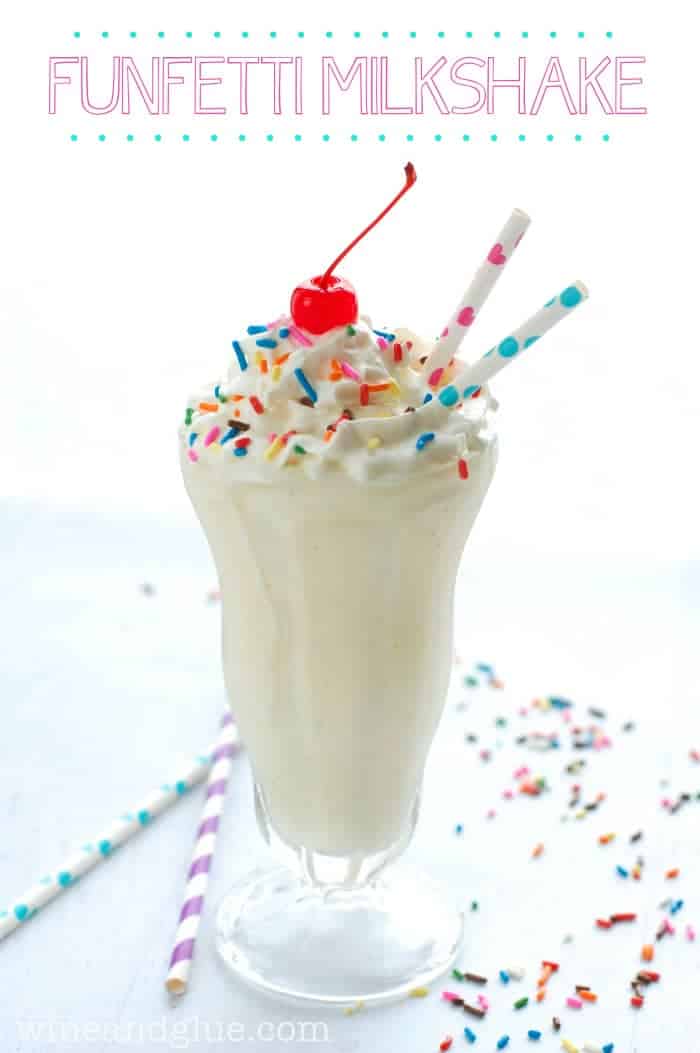 This post may contain affiliate links which won't change your price but will share some commission.