Ombre Mint Poke Cake | Ombre green and flavored with delicious mint!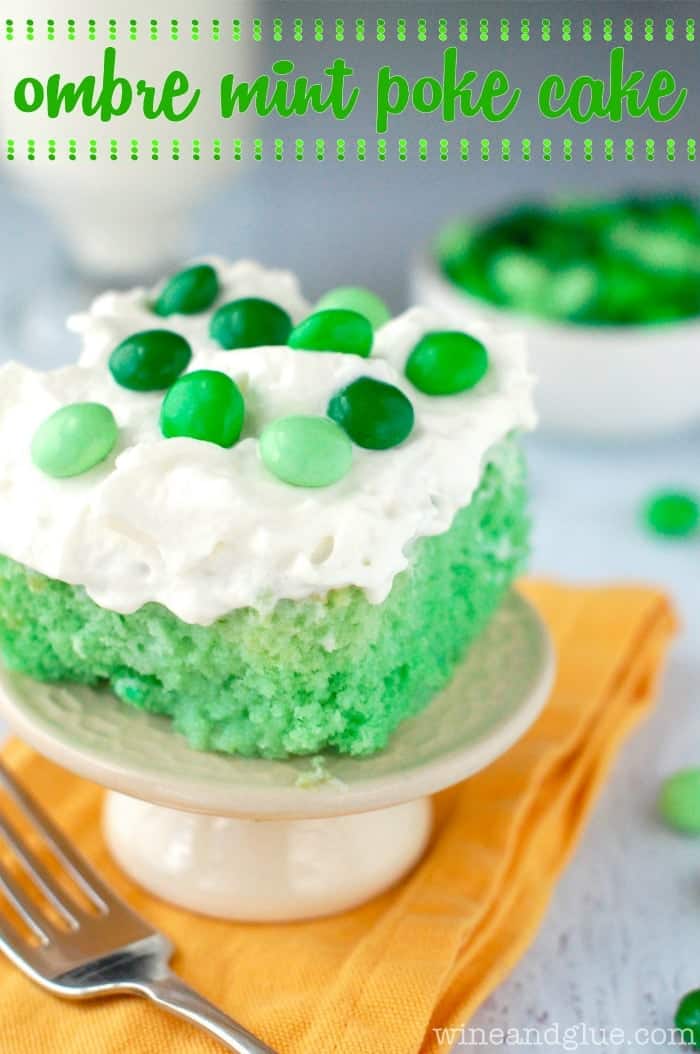 Life as a blogger can be really funny sometimes. Especially when you are doing it as a source of income.
While wanting to stay true to yourself and posting/talking about things that are meaningful to you, you also really want . . . things to do well!
And the thing is, you never know what is going to be popular! These Cinnamon Roll Cheesecake Cookies were on my camera for almost a month before I posted them because I didn't have anything else to put up. And they got pinned and shared like crazy!! Don't get me wrong, they are super delicious, I just didn't feel like they were a genius recipe or anything . . .
And then something you think is SO good and obviously everyone else will love too . . . flops. Like my Orange Nutella Chess Pie? OMG. That is the best damn pie I have ever eaten. And it did okay, but nothing compared to the deliciousness inside that pie crust. And seriously, I did think that was a genius recipe.
One recipe that I never dreamed of doing as well as it did was my Candy Corn Poke Cake. It was the number one post viewed in 2013 on Wine & Glue by a looooooong shot, and that is really saying something, considering I posted it at the very very end of August. So it was only really relevant for two months last year.
So this poke cake is my homage to the Candy Corn Poke Cake. My silly attempt to recreate some of the magic from that orange, yellow, and white wonder.
It's not quite as ombre as I wanted it to be. Next time I make it, I will up the food coloring in the bottom and middle layers a bit. But it is delicious! It's just the right amount of mint, and I love the minty M&M's on top. Plus, for a pretty dessert, it's not really hard at all. I totally made it while making dinner for the fam.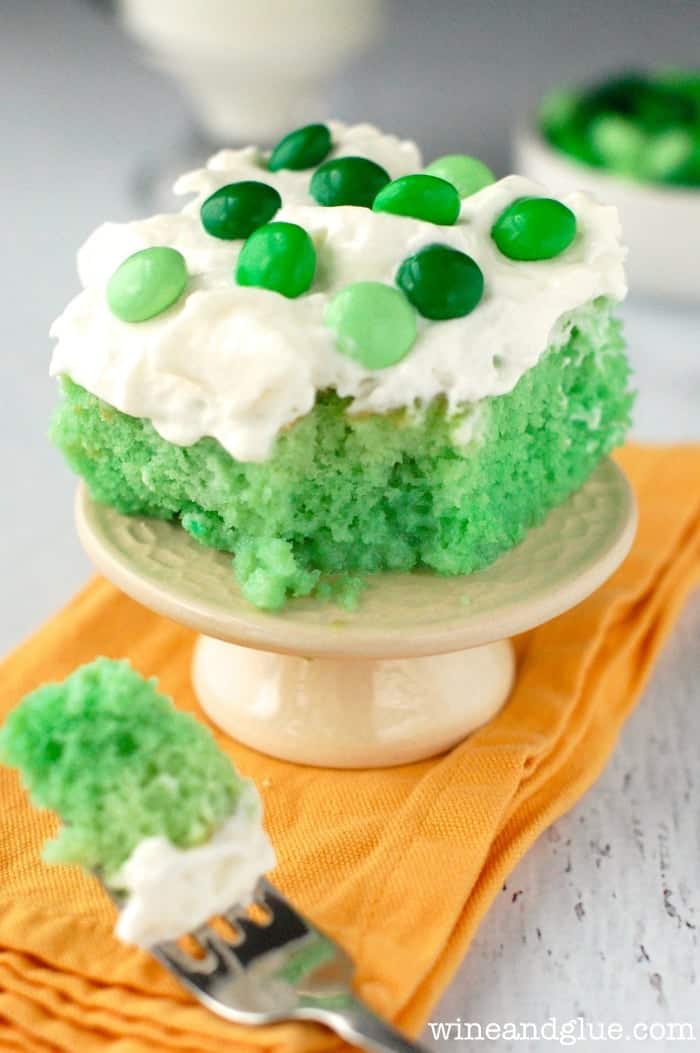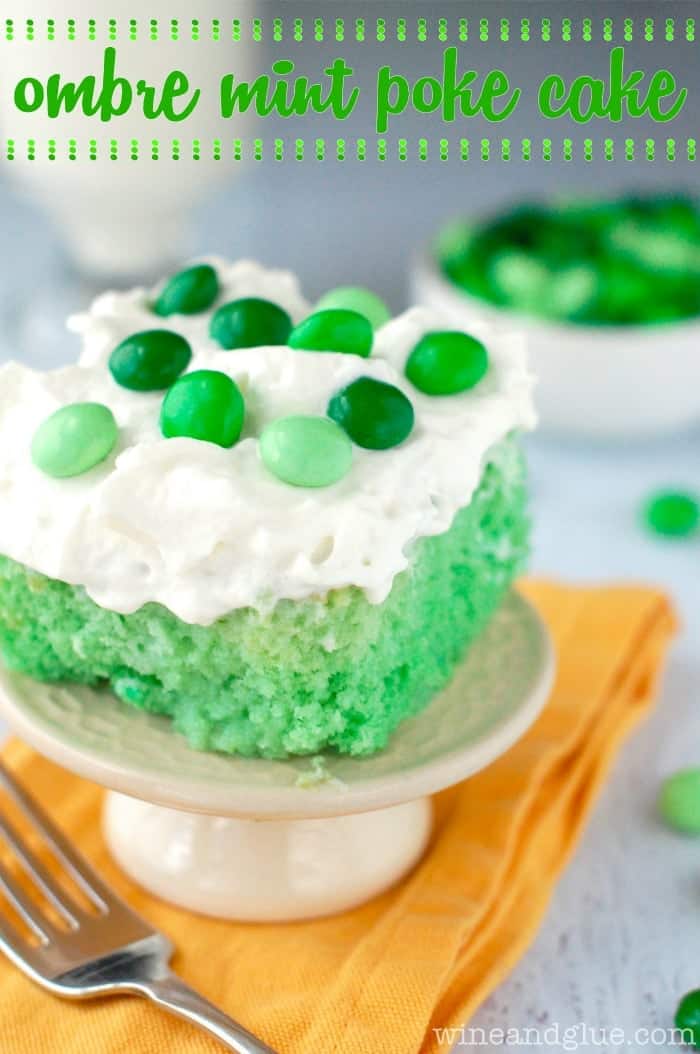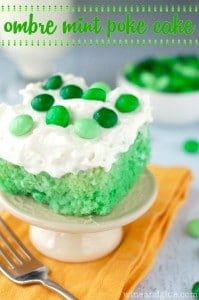 Ombre Mint Poke Cake
Ingredients
One box vanilla cake mix

and the ingredients to make it (I used Betty Crocker Super Moist Vanilla)

1/2

tsp

mint extract

green food coloring

14

oz

sweetened condensed milk

cool whip for topping

Mint M&Ms
Instructions
Mix the cake mix following the instructions on the box. Then add the mint.

Divide the cake mix equally between three bowls. Stir in 12 drops of green coloring to the first bowl, 6 drops to the second bowl, and 3 drops to the last bowl.

Spray the bottom of a 9 by 13 inch baking dish with cooking spray. Spread the darkest bowl of cake mix over the bottom. Put it in the freezer for 20 minutes.

Very carefully spread the second darkest layer over the first. Put it back in the freezer for 20 minutes.

Finally, spread the lightest layer of green very gently over the first two. Preheat your oven according to the box instructions. Set the pan on the top of the preheating oven for about 15 minutes. This will help bring all the layers to the same temperature so that they bake evenly.

Bake according to the instructions on the box.

Remove from the oven, wait about 10 minutes, and then poke holes throughout the top of the cake with the end of a wooden spoon. Pour the sweetened condensed milk over the cake, making sure some gets in each hole. Refrigerate overnight.

Top with cool whip and M&Ms and serve.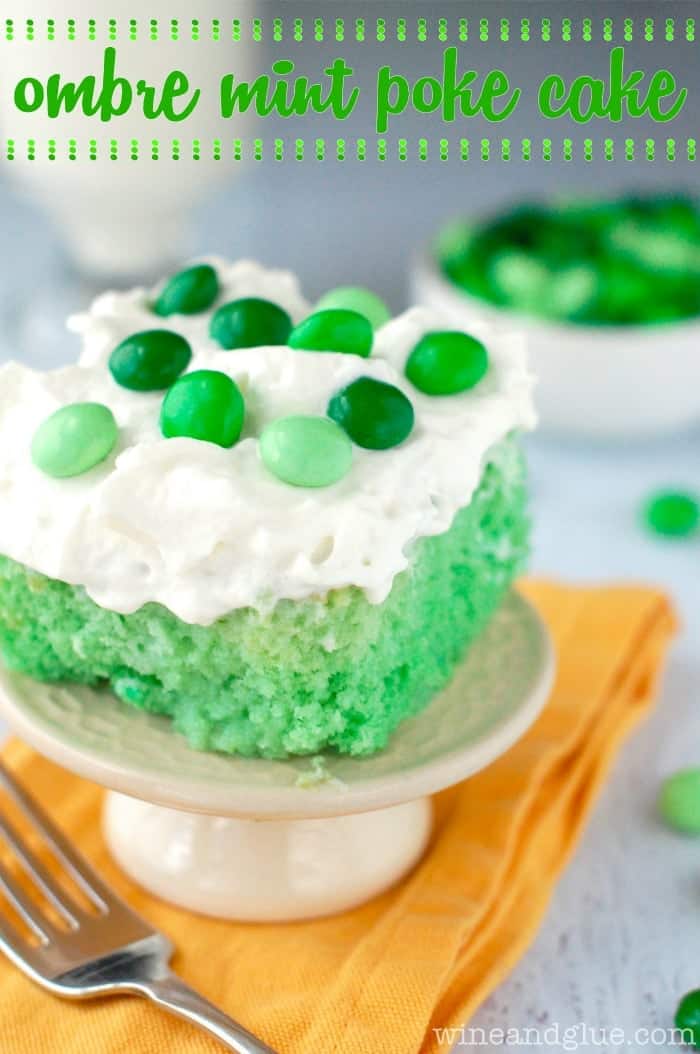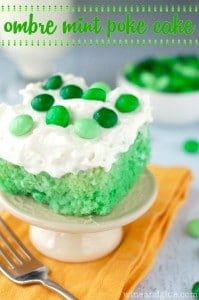 did you make this
Ombre Mint Poke Cake
St. Patty's Poke Cakes from friends
Rainbow Poke Cake from The Domestic Rebel
Better Than Thin Mints Grasshopper Poke Cake from Something Swanky
Chocolate Mint Poke Cake from Crazy for Crust
You might also like: