This Pork Lo Mein recipe is one of our favorites! The perfect sauce coats delicious noodles, vegetables, and the most tender pork.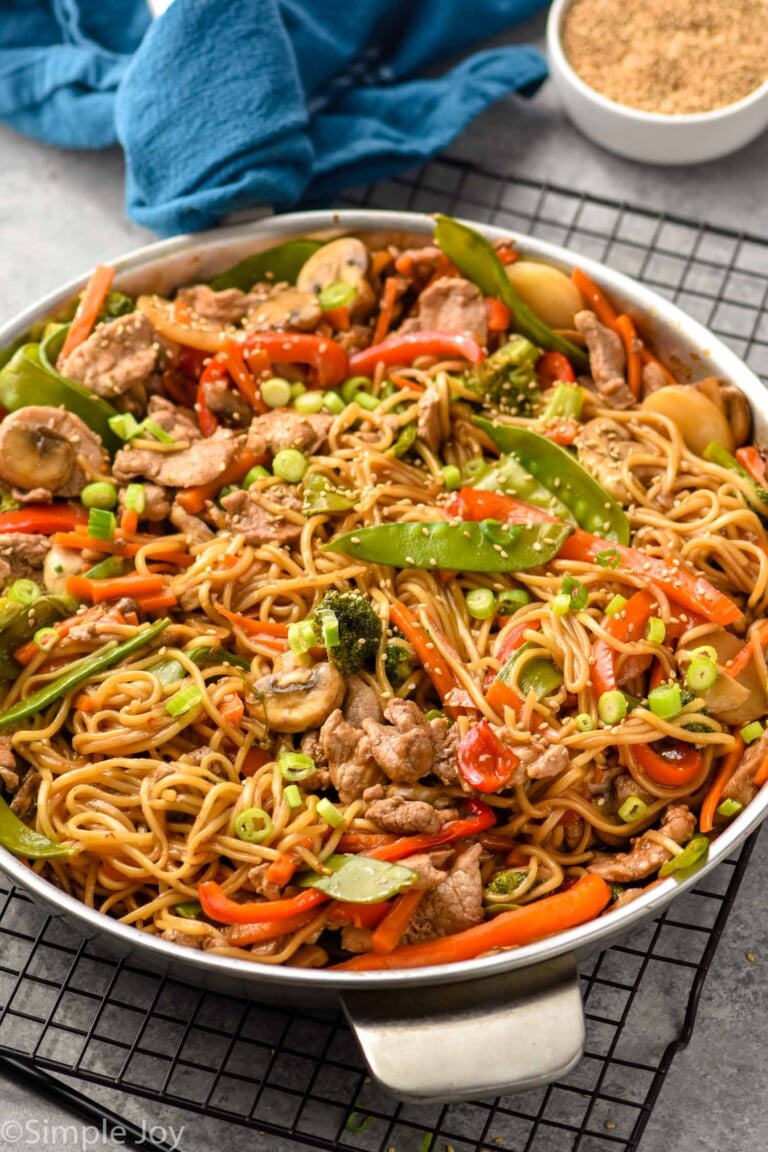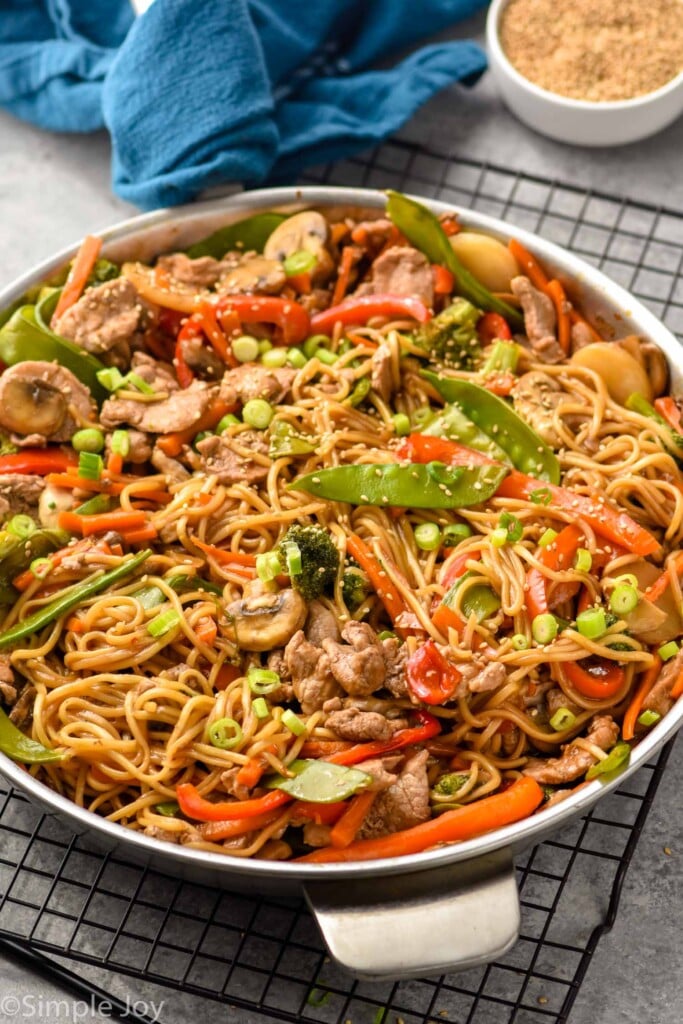 Since I made Pork Stir Fry over the summer, I have been a little obsessed with using pork tenderloin in all of our stir fries. It is very similar to chicken breasts nutritionally, but it cooks so fast and is so incredibly moist and tender.
This Pork Lo Mein recipe is a simple spin on my Chicken Lo Mein but with perfectly juicy pork tenderloin. Though my family definitely gravitates more towards chicken over pork, we were happily surprised to find that we enjoyed this version even more. The pork works so well in this dish and stays so tender.
Reader Review
This was so easy and delicious! The whole family loved it. You can pretty much add any veggies you want. The sauce was spot on.
What is Lo Mein
Lo Mein is a dish that originates from China and has a noodle base. It has been very Americanized. The Americanized version combines stir fried noodles, meat, and vegetables, and is the spin that we are doing in this recipe.
How to Make Pork Lo Mein
This is just a brief overview so you can see how simple this dish is. As with all my recipes, for the full list of ingredients and detailed instructions, please scroll to the bottom of the post.
Make the lo mein noodles. These will boil while you work on the rest of the recipe but will be done cooking before you are ready for them. Add a little sesame oil to the drained noodles for both flavor and to prevent them from clumping together.
Make the sauce. We are making a really simple, yet delicious, sauce. Read below for more details on the ingredients.
Sauté the pork. It's important not to overcook it in this step, it really only needs a minute or two, and then will finish cooking as the rest of the dish does.
Sauté the vegetables. Add all of the chopped vegetables to the skillet and cook for about 5 to 7 minutes.
Finish off the dish. Now add the sauce and the noodles and let the sauce thicken while everything combines.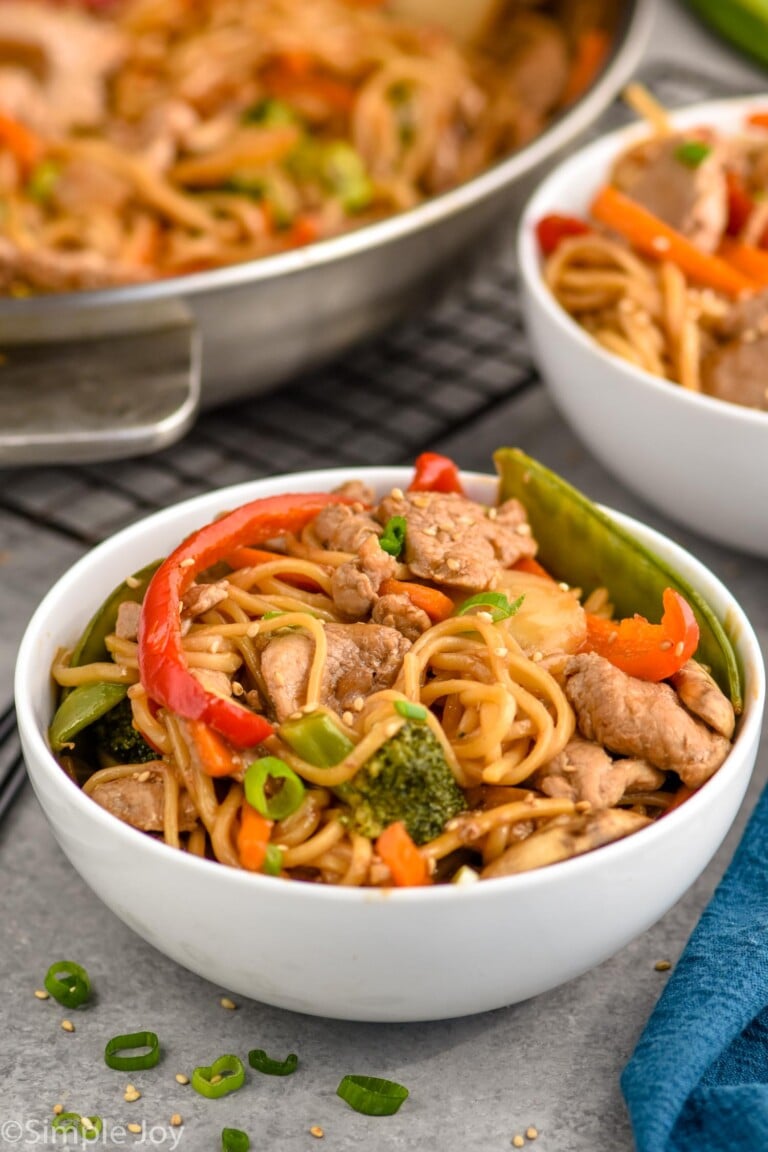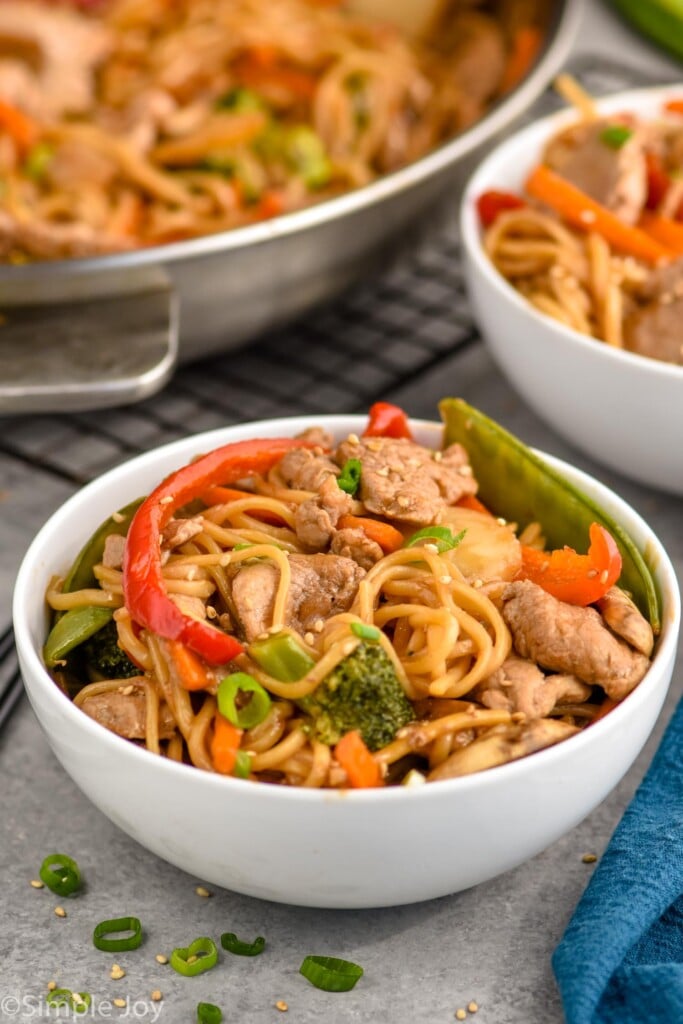 Lo Mein Sauce
Our lo mein sauce is very simple to make. It contains some ingredients that you may not keep on hand, but I'm going to urge you to change that. There are many great dishes these ingredients can be used, and I'll share a few with you here.
Reduced Sodium Soy Sauce: You definitely want to look for that green label and get the lower sodium version, the regular will be too salty. If you can't find low sodium, you can use half regular and half water.
Brown Sugar: This combines so beautifully with the other ingredients and gives the dish a lot of flavor without making it sweet.
Oyster Sauce: This flavorful sauce found in a lot of Asian dishes is made from oysters. If you are allergic to shellfish, you should consider using hoisin sauce in its place. It will bring a slightly different flavor but will work well here.
Chili Sauce: This is the brand of chili sauce that I use. It can be found in the international food aisle of most US grocery stores. It does bring a little heat to the party, which is why we give a range of how much to use here. That being said, my kids hate spice and do just fine with 1 tablespoon used in the sauce.
Corn Starch: The corn starch in this recipe will thicken up the sauce perfectly. Make sure that it is blended into the sauce well before you add the sauce to the skillet.
What Cut of Pork to Use
When you are shopping for this lo mein recipe, you will want to make sure that you grab a pork tenderloin. Pork tenderloin is the most tender cut of meat from a pig. When sliced very thin, as we are doing in this recipe, it makes for very tender pieces of meat in a stir fry.
This cut of meat is also a great healthy choice! While a little lower in protein than chicken breasts, it also has a lower calorie and fat count. I wouldn't recommend making this dish with a different cut of pork.
Cooking Temperature of Pork
As I mentioned above, we are only going to cook the pork for a minute or two before adding the other ingredients. Because we are cutting the meat thin, it will cook relatively quickly. Additionally, it will continue to cook with the rest of the ingredients as the recipe goes on. If you cook it for too long at the beginning it will be overcooked by the time the recipe is done.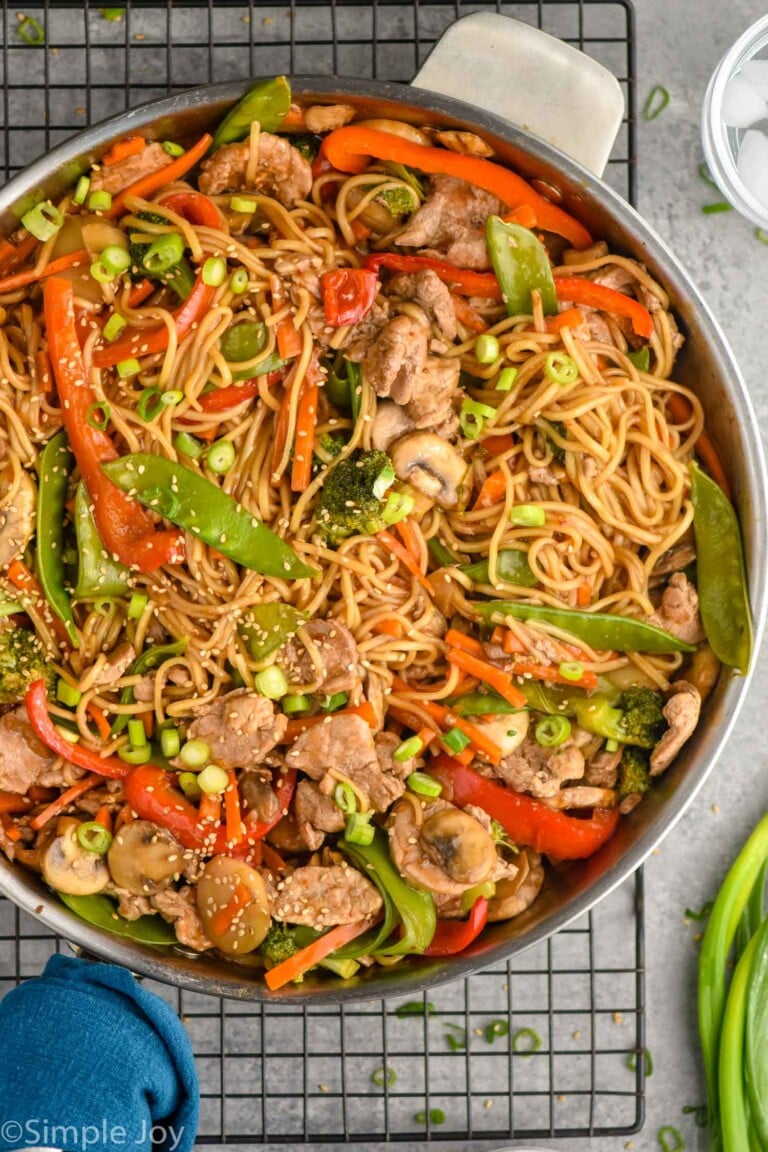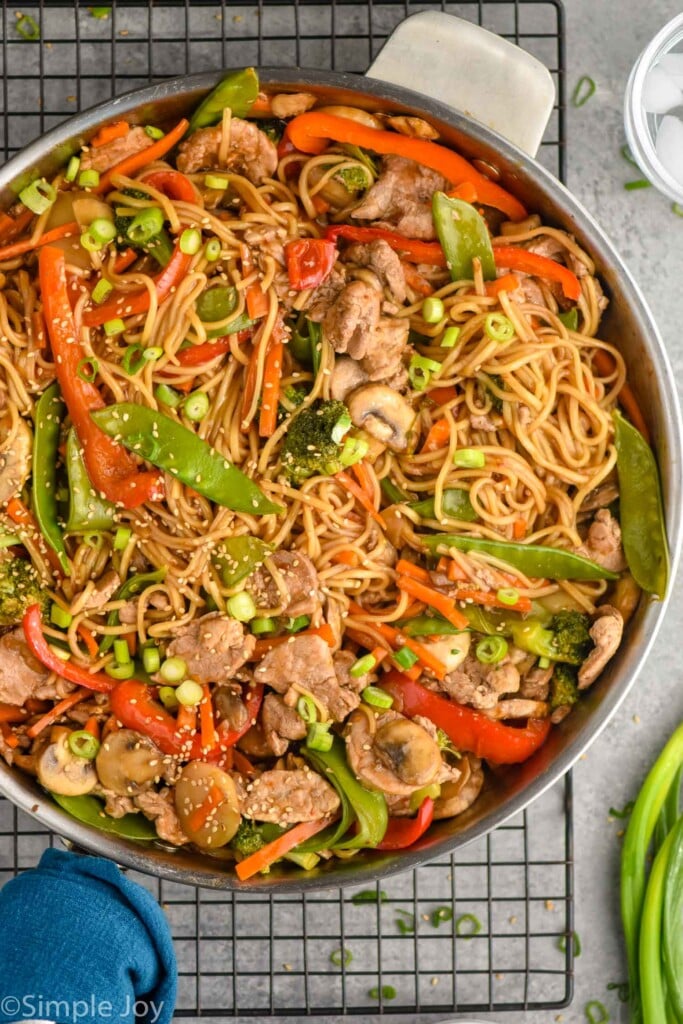 Lo Mein Noodles
Traditionally lo mein is made with egg noodles. When you go shopping in the U.S. you will find a myriad of boxes labeled "lo mein noodles," and often they are all very different from each other.
As mentioned above, this is an Americanized version so I am going to urge you to use what you can find. If you can't find anything labeled "lo mein" you can absolutely make this with pasta.
Storing and Reheating Leftovers
Leftovers can be stored in an air tight container in the refrigerator for four to five days. As with any leftovers, use your best discretion.
When you want to reheat these amazing pork lo mein leftovers, simply add them to a skillet and reheat over low heat. Always only reheat the portion of food you plan on eating as food shouldn't be reheated more than once. Stir the leftovers often as you reheat them. If it is beginning to dry out too much, add a tablespoon or two of water.
FAQ
Can you make lo mein gluten free?
Yes! You will need to replace the soy sauce and lo mein noodles with gluten free versions. Double check your oyster sauce to ensure it doesn't have soy sauce or other gluten containing ingredients.
Can lo mein be frozen?
I do not recommend freezing this dish. With the fully cooked noodles, I worry that they will become mushy once defrosted and reheated.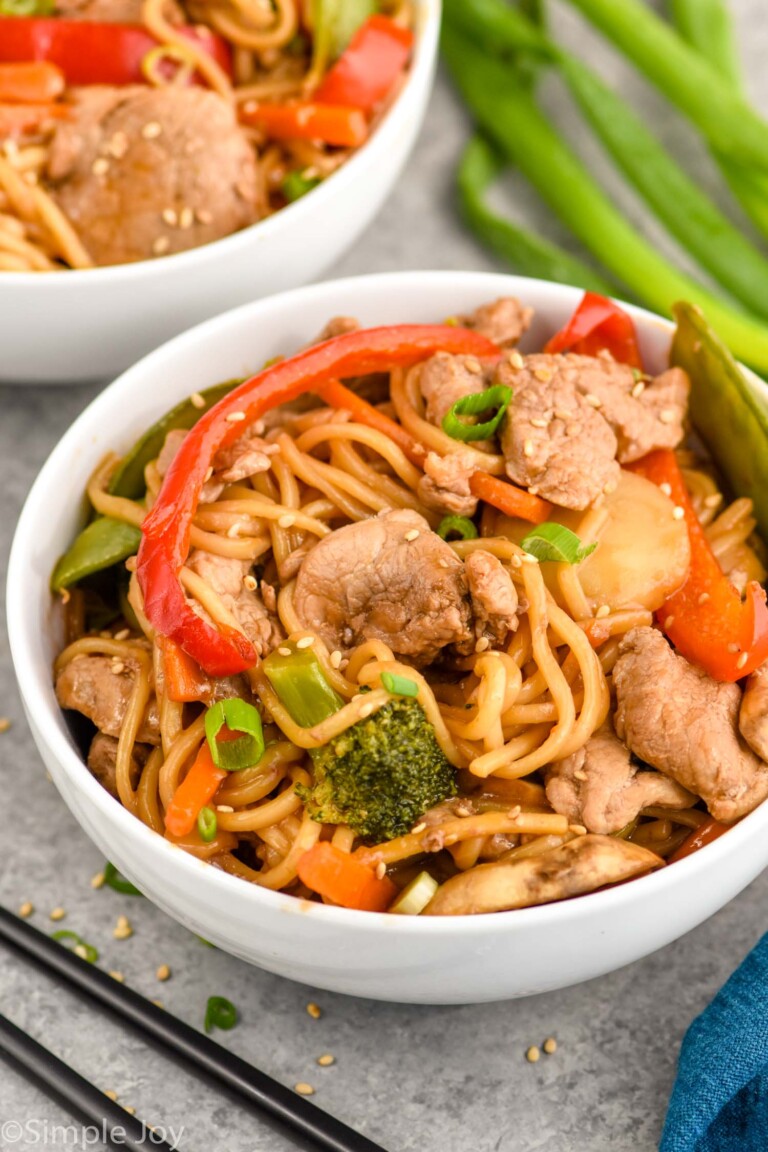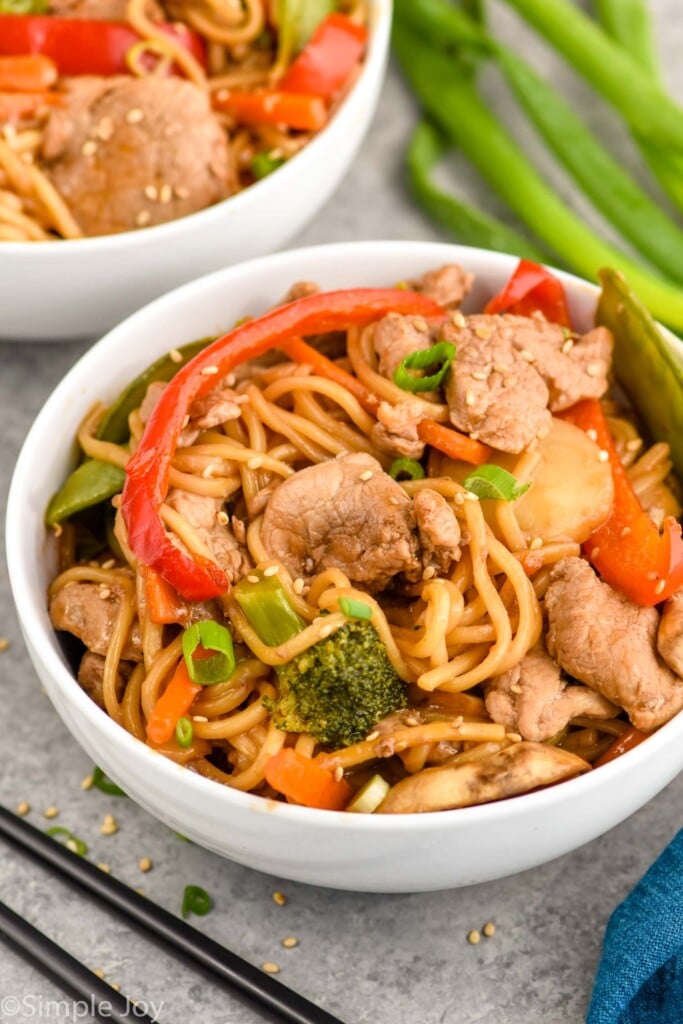 Other Pork Tenderloin Recipes
If you are looking for other ways to use this great cut of meat, try some of the following:
If you make my Pork Lo Mein recipe or any of my other recipes, leave me a comment and let me know what you think!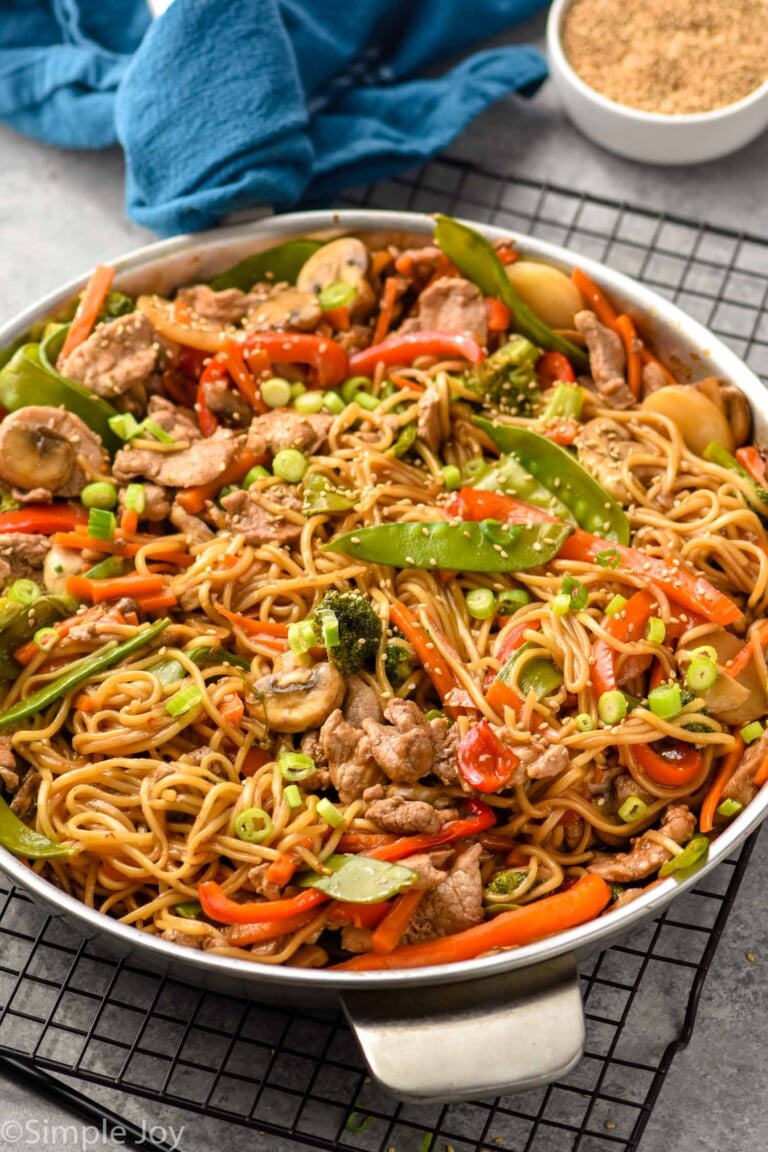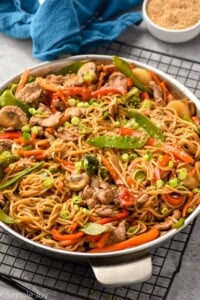 Pork Lo Mein
This Pork Lo Mein recipe is one of our favorites! The perfect sauce coats delicious noodles, vegetables, and the most tender pork.
Ingredients
1 1/2

pounds

pork tenderloin

cut thin

3

tablespoons

sesame oil

1/3

cup

reduced sodium soy sauce

1/4

cup

brown sugar

2

tablespoons

oyster sauce

1 – 2

tablespoons

chile sauce

(depending on how spicy you want it)

2

teaspoons

corn starch

8

ounces

lo mein noodles

1

red bell pepper

sliced into thin strips

8

ounces

white mushrooms

sliced

2

carrots

cut into matchstick pieces

2

cups

broccoli florets

1

cup

snow peas

8

ounces

water chestnuts

drained

scallions

diced for garnish

sesame seeds

for garnish
Instructions
Heat a large pot of water until it comes to a roaring boil. Season with salt. Cook the noodles according to package instructions. Drain the noodles, drizzle with 1 teaspoon sesame oil, and cover to keep warm.

In a small bowl, whisk together 1/3 cup reduced sodium soy sauce, 1/4 cup brown sugar, 2 tablespoons oyster sauce, 1-2 tablespoons chile sauce, and 2 teaspoons cornstarch. Set aside.

Heat 3 tablespoons of sesame oil in a large skilet. Add the pork and cook for 1 to 2 minutes – no need for it to cook all the way through.

Add the vegetables and cook, stirring occasionally, until tender, about 5 to 7 minutes, covered. Add the sauce, water chestnuts, and noodles to the skillet and stir to combine. Cook for an additional minute or two to allow the flavors to combine.
Serving:
1.8
cups
Calories:
453
kcal
(23%)
Carbohydrates:
55
g
(18%)
Protein:
32
g
(64%)
Fat:
12
g
(18%)
Saturated Fat:
2
g
(13%)
Polyunsaturated Fat:
4
g
Monounsaturated Fat:
4
g
Trans Fat:
0.04
g
Cholesterol:
74
mg
(25%)
Sodium:
1300
mg
(57%)
Potassium:
936
mg
(27%)
Fiber:
5
g
(21%)
Sugar:
16
g
(18%)
Vitamin A:
4387
IU
(88%)
Vitamin C:
65
mg
(79%)
Calcium:
53
mg
(5%)
Iron:
3
mg
(17%)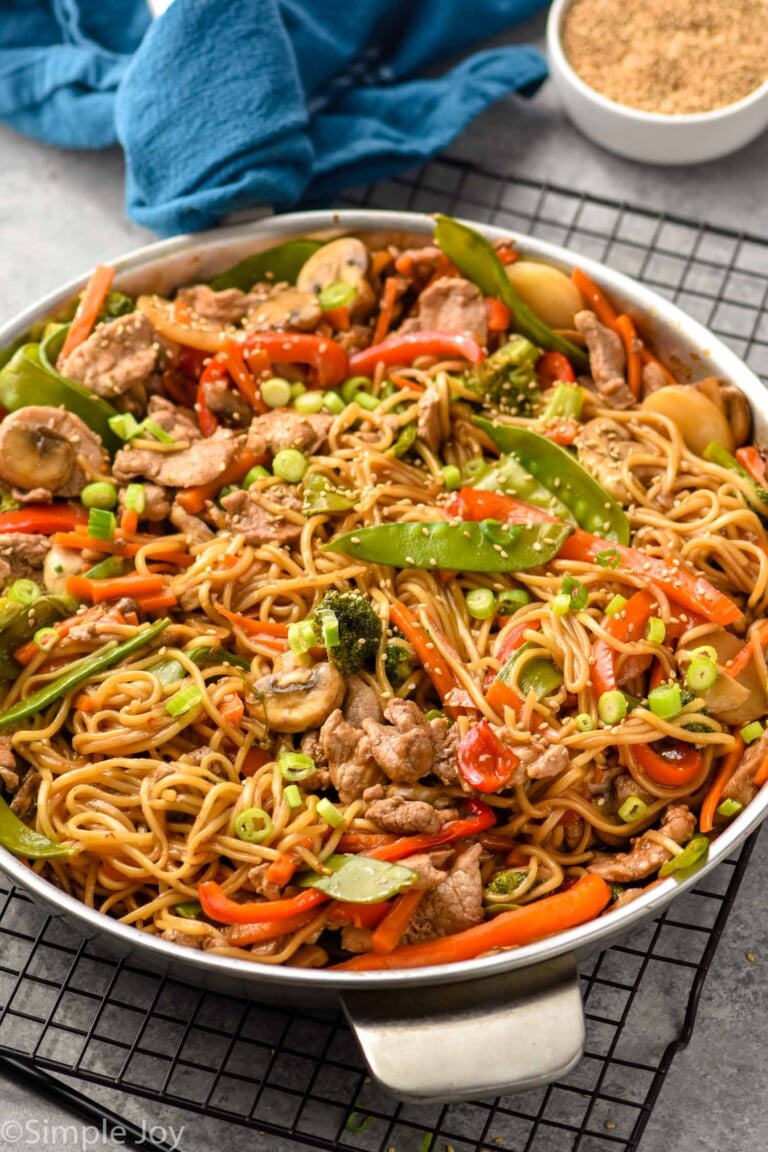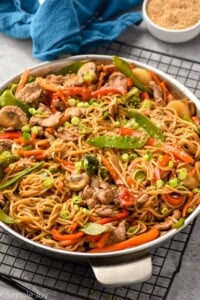 did you make this
Pork Lo Mein