Marinated Pork Tenderloin is the perfect easy way to make a dinner that will impress. This pork recipe is full of delicious flavor and so easy to make.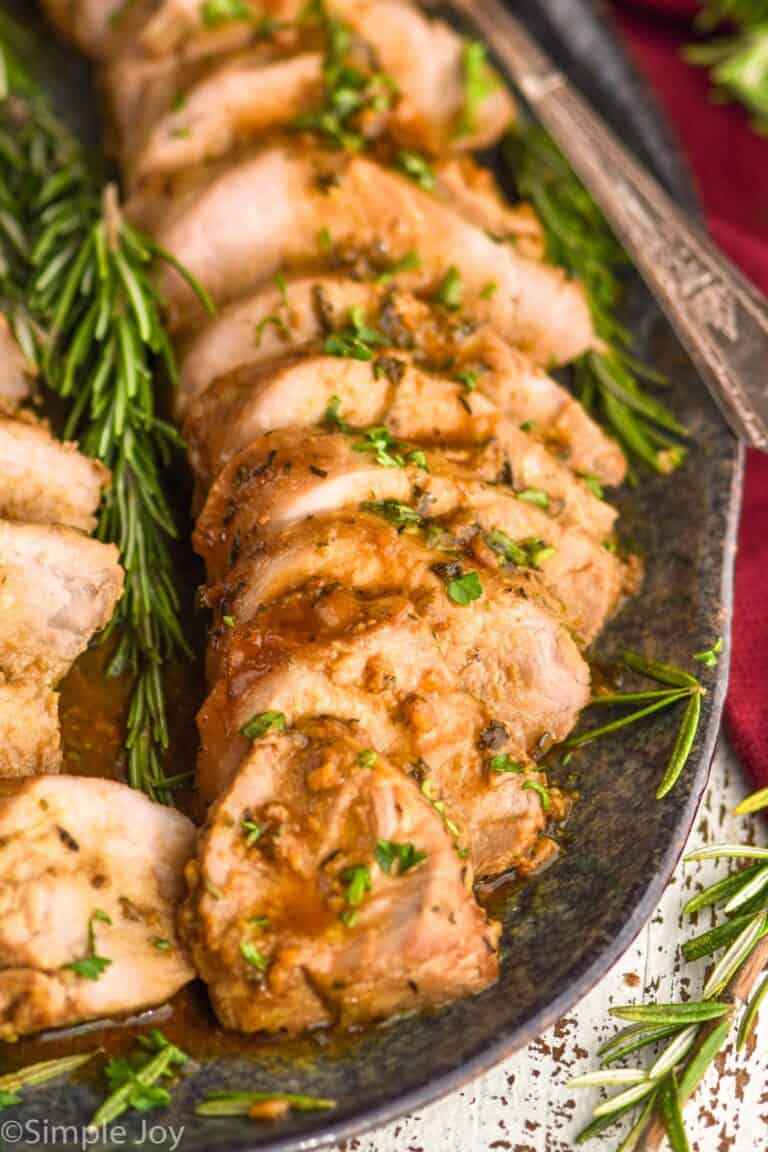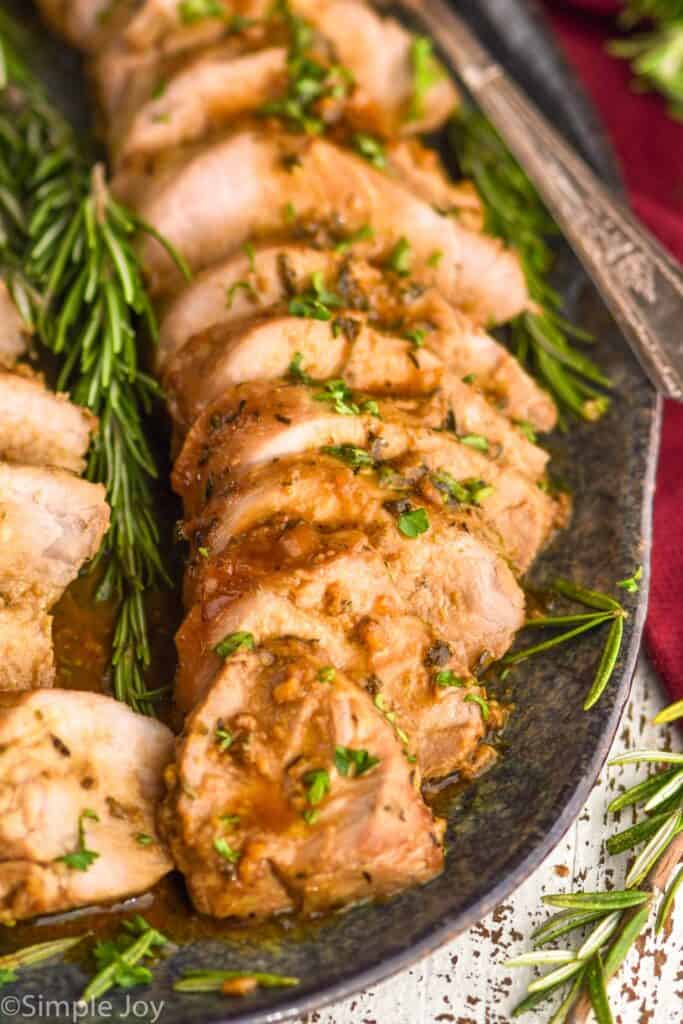 I was talking to a friend the other day about how challenging this holiday season is. We were both talking about how overwhelmed we are. We did this in the context of letting each other off the hook for holiday cards and Christmas gifts that might not make it this year.
So if you need someone to let you off the hook this year, let that person be me. If you aren't sending out cards this year, that is okay. If you are cutting way back on sending out gifts to friends (or cutting it completely) that's all good. If you are scaling back your holiday plans and meals, I think this is the year to do it.
This Pork Tenderloin Marinade is the perfect recipe for scaling back around the holidays. It is incredibly simple to make. Yet, at the same time, it creates the most delicious pieces of pork. It is a recipe that you can make for the holidays or just hold on to for an easy weeknight meal.
Reader Review
This dish is excellent. This is the 2nd time this week I'm serving it.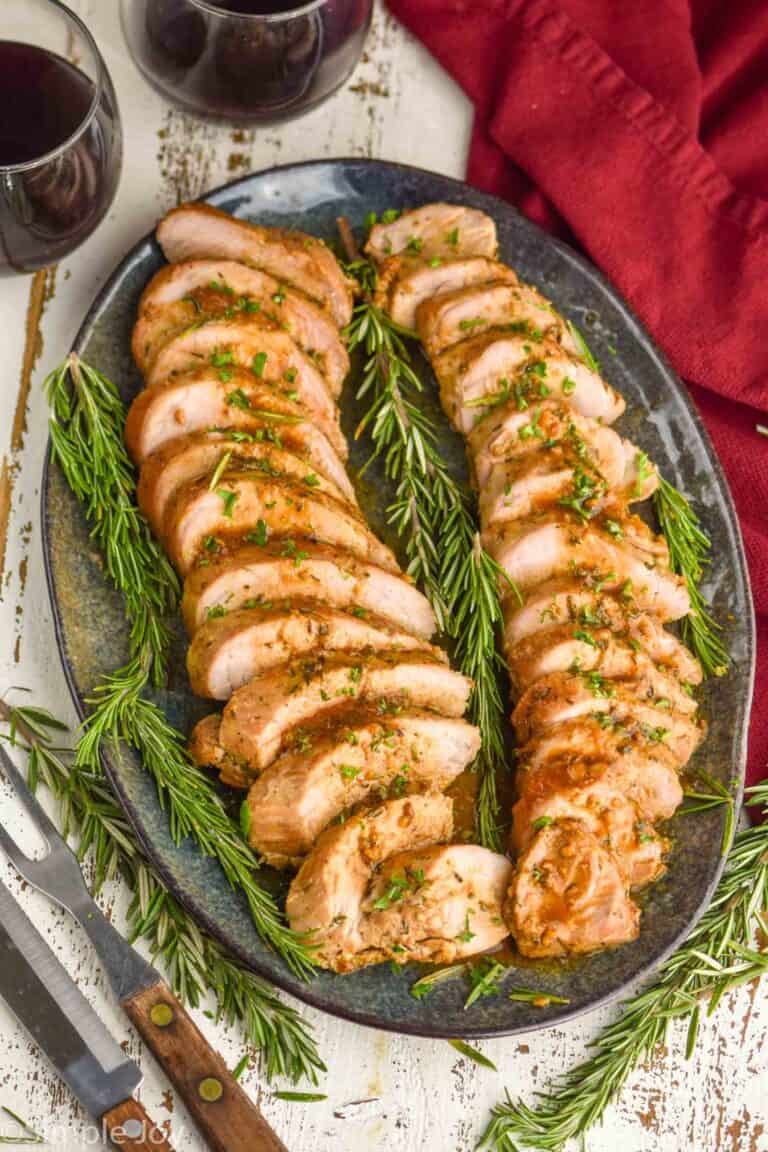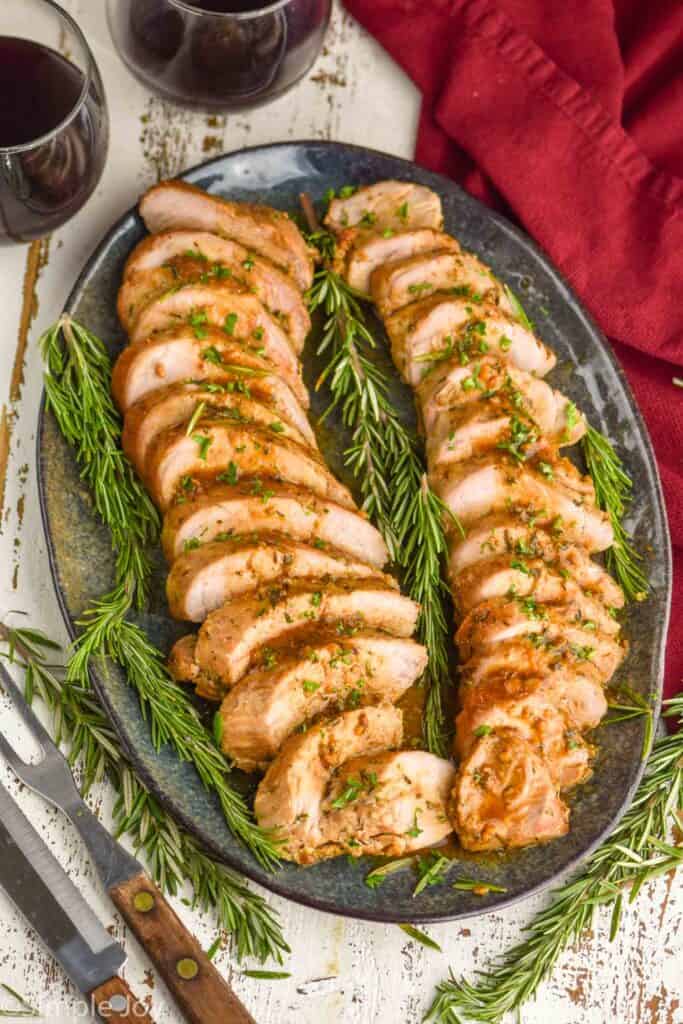 How to Cook Pork Tenderloin
There are multiple ways to cook a perfectly juicy, flavorful pork tenderloin. Figure out what works best for your timeframe and your kitchen and go with it! Here are some tips:
Make a delicious Marinade: A moist, delicious tenderloin begins and end with a flavorful marinade. Our recipe is perfect for its simplicity and flavor.
Refrigerate Meat During Marinating: Make sure to give your tenderloin plenty of time in the marinade before cooking. Cover and refrigerate for at least 1 hour or overnight.
Oven Baking: I love roasting a pork tenderloin in the oven. It comes out tender and juicy and the whole thing is done in under an hour.
Crock Pot: Pork tenderloin becomes fall apart and juicy in the slow cooker. You can add all of the marinate ingredients and let it simmer all day. Yum!
Instant Pot: If you've used an instant pot, you know how easy it is to turn out a perfect tenderloin roast in no time!
Grilled Pork Tenderloin: If you love the smoky flavor of pork, a grill is the perfect place to cook your tenderloin! It takes a little longer (about an hour and a half) but the flavors are incredible!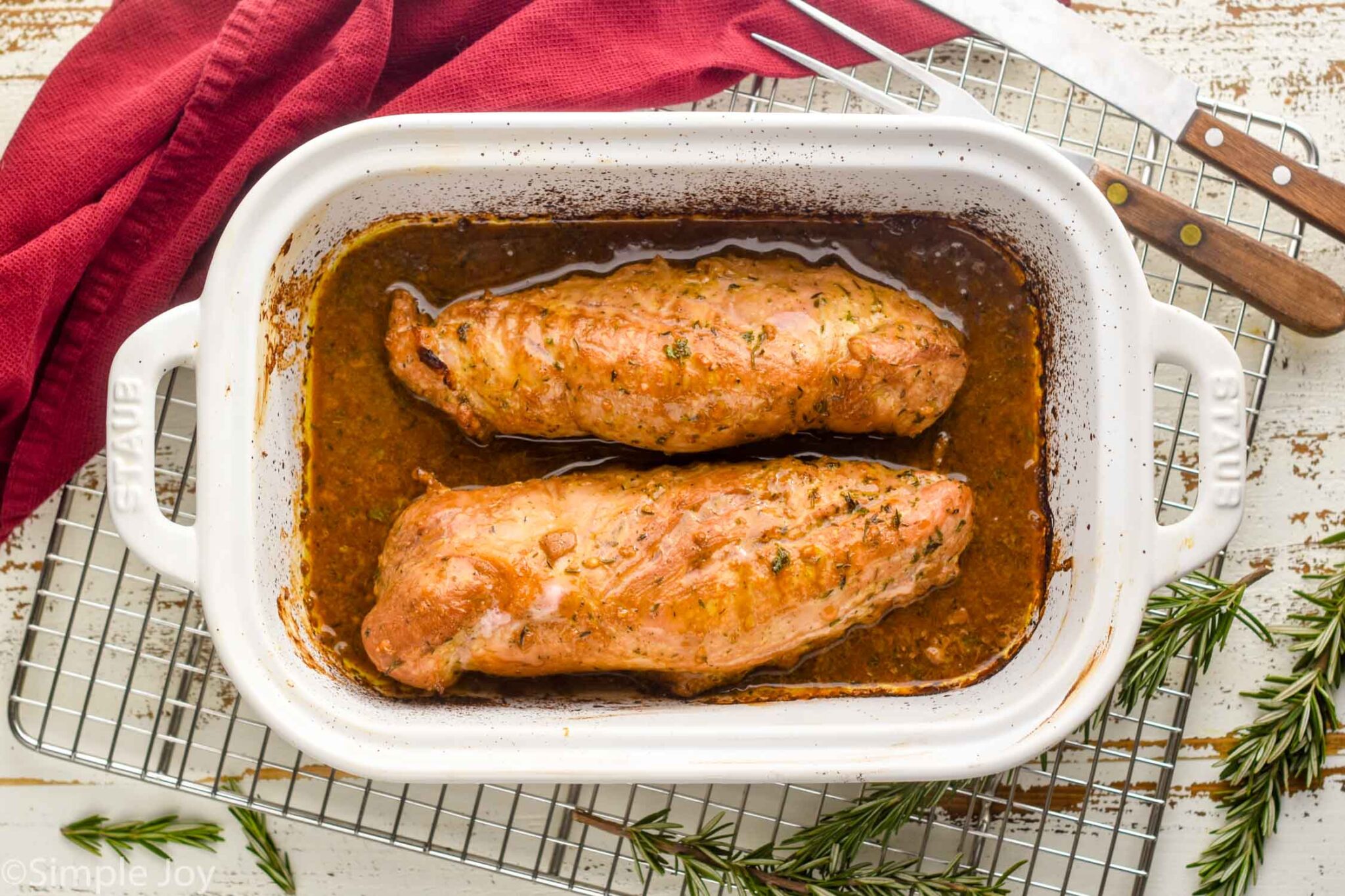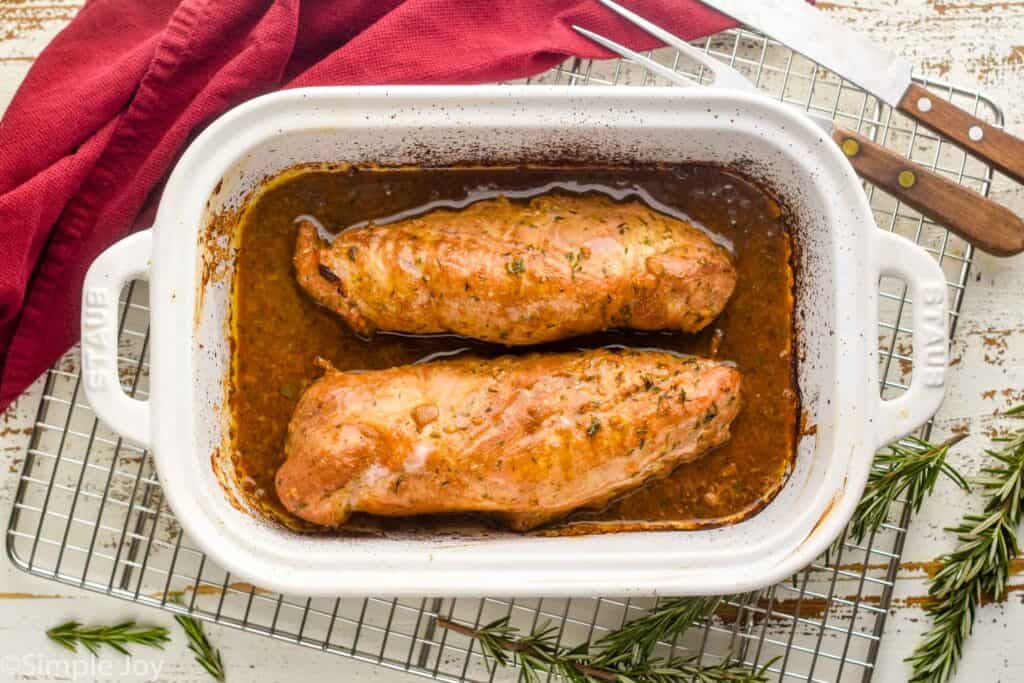 Pork Tenderloin Marinade
All you need for this incredibly flavorful marinade are a few pantry staples. It's such a simple recipe but packs huge flavor. And the ingredients are easy to keep on hand.
Olive Oil: Every marinade needs some fat in it to help the meat keep its moisture and helps blend all the other flavors together.
Soy Sauce: The popular condiment brings out meat's natural flavors and also acts as a tenderizer. It pairs so nicely with the rest of these ingredients, too.
Mustard: Besides the tart flavor in this marinade, mustard also helps tenderize the meat. It's delicious! Yellow mustard works great or you can add Dijon or spicy brown mustard too.
Honey: When the acid of the soy sauce blends with the sweet honey it helps keep all those delicious juices in the meat. Plus it tastes so good!
Garlic: Mince a few cloves of garlic for optimum flavor. You can also use a spoonful of pre-minced garlic, found in jars at the grocery store.
Parsley, Thyme, Rosemary: These dried spices blend well together. Parsley is a subtle and mild flavor that goes so well with the piney and fragrant rosemary and the sharp, slightly minty flavor of thyme.
Pepper: Use some freshly ground black pepper for extra flavor.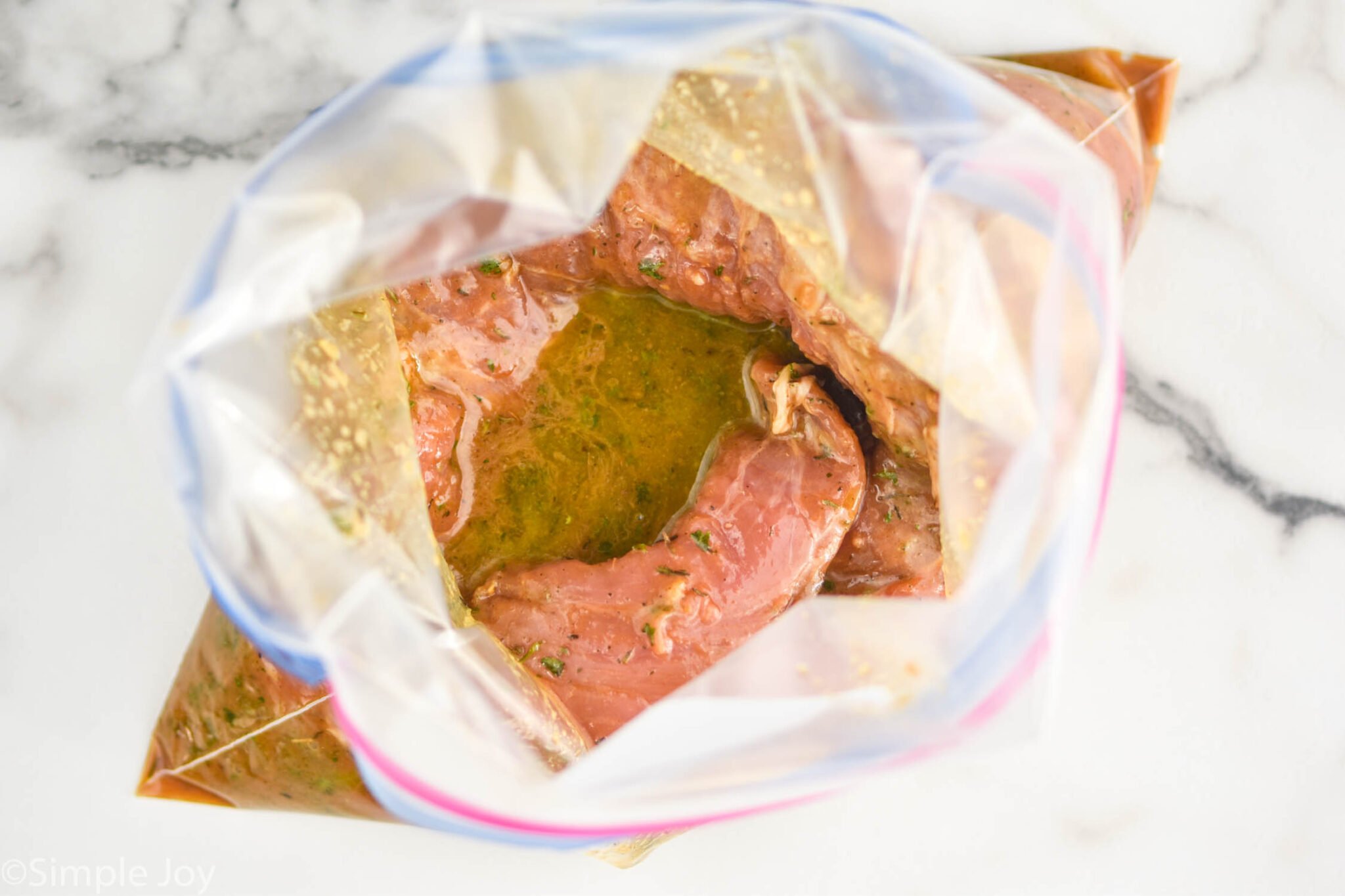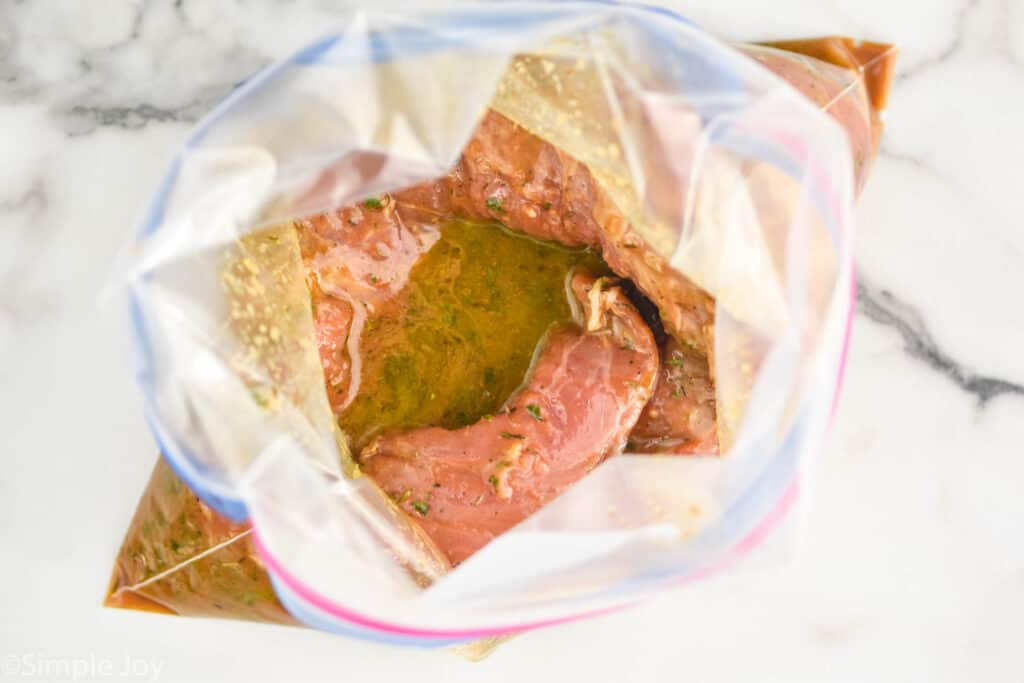 Difference Between Pork Tenderloin and Pork Loin
So how do you know if you're picking the right pork? A pork tenderloin is long, narrow and most importantly boneless. A pork loin is much wider and flatter than a tenderloin, and can be either boneless or bone-in.
For this recipe we are looking for pork tenderloin. It is often sold in two pieces together. That works great here.
Internal Temperature of Pork Loin
Cook your pork tenderloin until it reaches an internal temperature of 145 degrees. Because size and thickness of tenderloins vary so much, it is best to use an instant read thermometer.
Let the pork rest for three minutes after taking it out of the oven before slicing into it. Note that it will likely have a pink appearance to it, and that is fine. It does not mean that it is undercooked.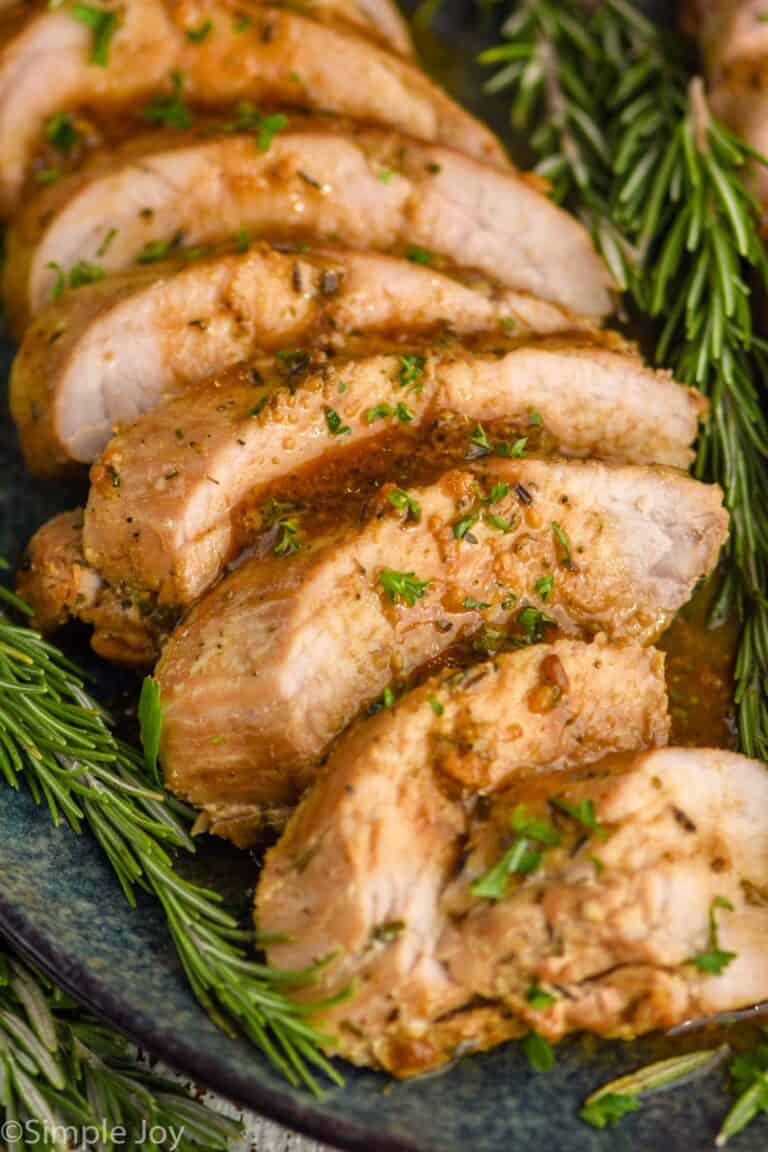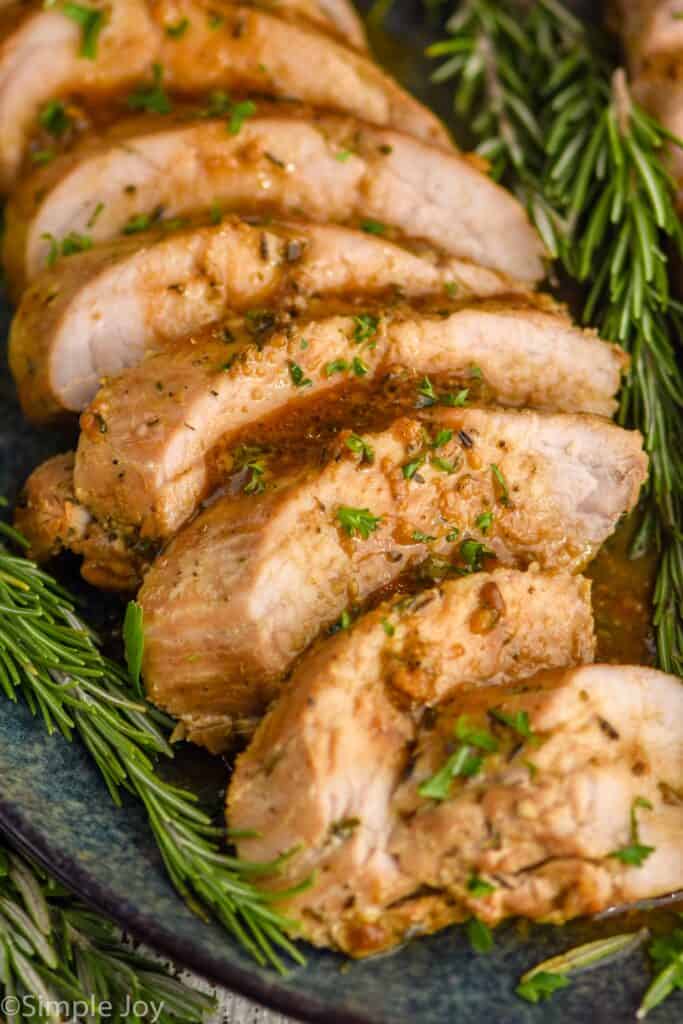 What to Serve with Pork Tenderloin
Once you have your beautiful, fragrant and flavorful pork tenderloin at the center of your table, you need some succulent sides to serve! Here are some of my favorite side dishes to go along with this delicious pork:
Three Ingredient Mashed Potatoes Fluffy mashed potatoes pair perfectly with tender pork. These are so easy to make and are packed with flavor.
Roasted Green Beans You can roast these green beans in minutes while your pork tenderloin rests and they add some vibrant color and delicious flavor to the meal.
Apple Pecan Salad Crunchy, tart apples and sweet pecans add such a nice texture to any meal. Apples pair really well with pork, too, so it's a delicious flavor combination!
Dinner Rolls No holiday meal is complete without fluffy, buttery dinner rolls, and this recipe is so easy! You'll find yourself making them all the time!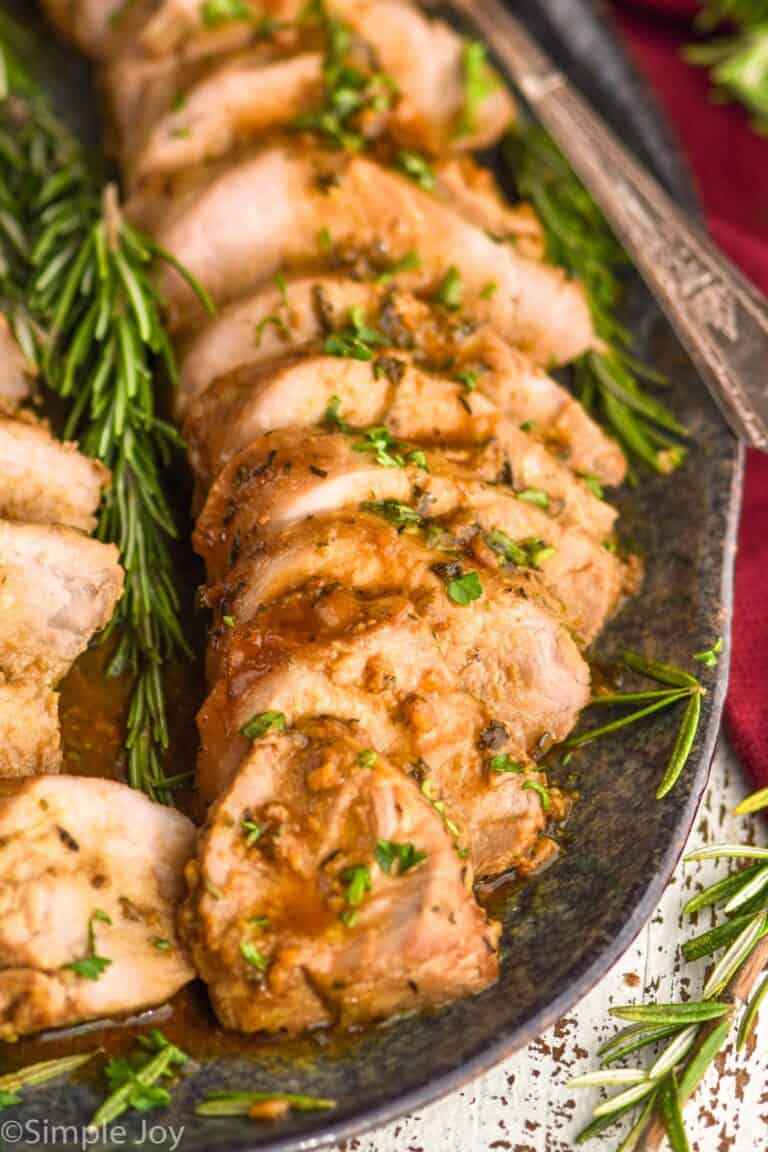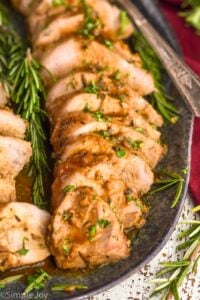 Marinated Pork Tenderloin
Marinated Pork Tenderloin is the perfect easy way to make a dinner that will impress. This pork recipe is full of delicious flavor and so easy to make.
Ingredients
Pork Tenderloin Marinade
1/3

cup

olive oil

1/4

cup

low sodium soy sauce

2

tablespoons

mustard

2

tablespoons

honey

3

garlic cloves

minced

1

teaspoon

dried parsley

1/2

teaspoon

dried thyme

1/2

teaspoon

dried rosemary

1/4

teaspoon

black pepper
Instructions
Make the marinade by combinging all of the ingredients in a small bowl.

Put the pork in a sealable container. Pour the marinade over the pork tenderloin. Place the container in the refrigerator for 20 minutes or up to 24 hours.

Prheat the oven to 400 degrees. Place the pork in an baking dish. Pour the mariande over the top.

Bake for 15 minutes. Lower the oven to 350 degrees and bake for 30 minutes or until the pork registers 145 degrees.
Calories:
288
kcal
(14%)
Carbohydrates:
5
g
(2%)
Protein:
41
g
(82%)
Saturated Fat:
3
g
(19%)
Polyunsaturated Fat:
1
g
Monounsaturated Fat:
6
g
Cholesterol:
110
mg
(37%)
Sodium:
993
mg
(43%)
Potassium:
646
mg
(18%)
Sugar:
3
g
(3%)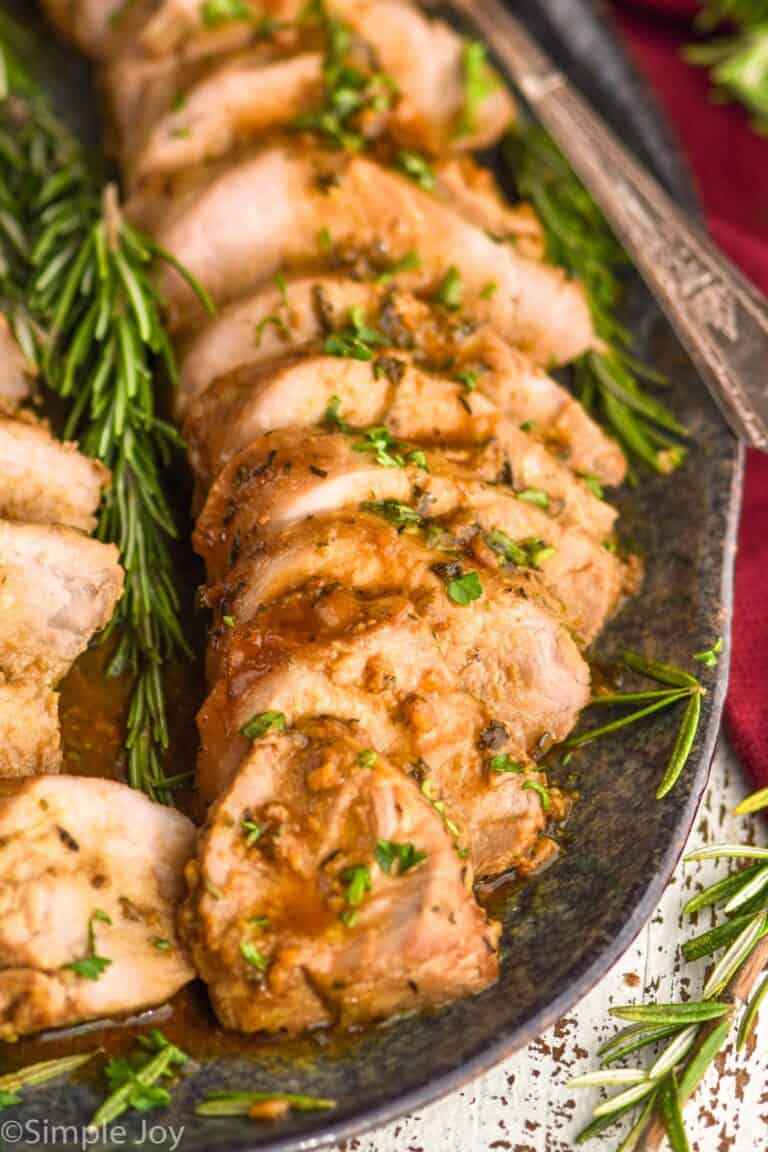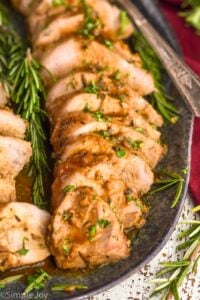 did you make this
Marinated Pork Tenderloin