Pumpkin Curry Soup with home made Rosemary Croutons that is so warm and delicious! Perfect for fall!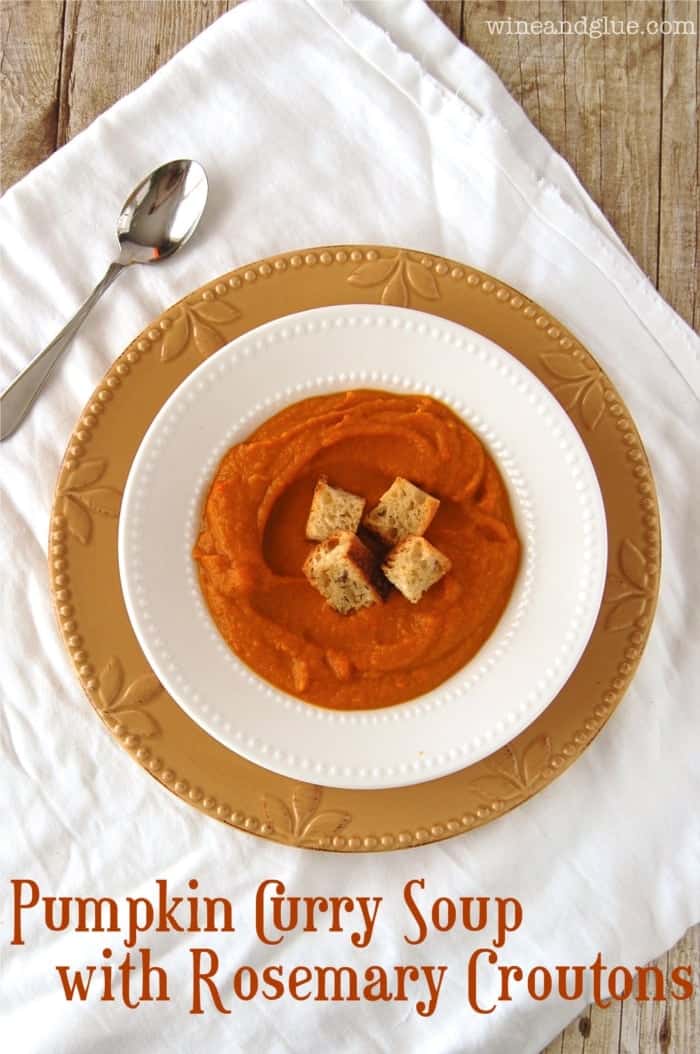 One of the things my husband always talks about most nostalgically from his childhood is baking with his mom. Which has always left me super impressed with my mother in law. Nathan is one of six. One of six boys. So the idea that his mom had time to do much of anything, let alone bake and work, is beyond me.
Anyway, Nathan always talks about how much he loved baking with his mom. How much he enjoyed making pies and cookies and pastries. Doesn't it just make you want to grab your kid, throw an apron on them and pray that the following cups of flour, sugar, and chocolate chips translate into happy memories?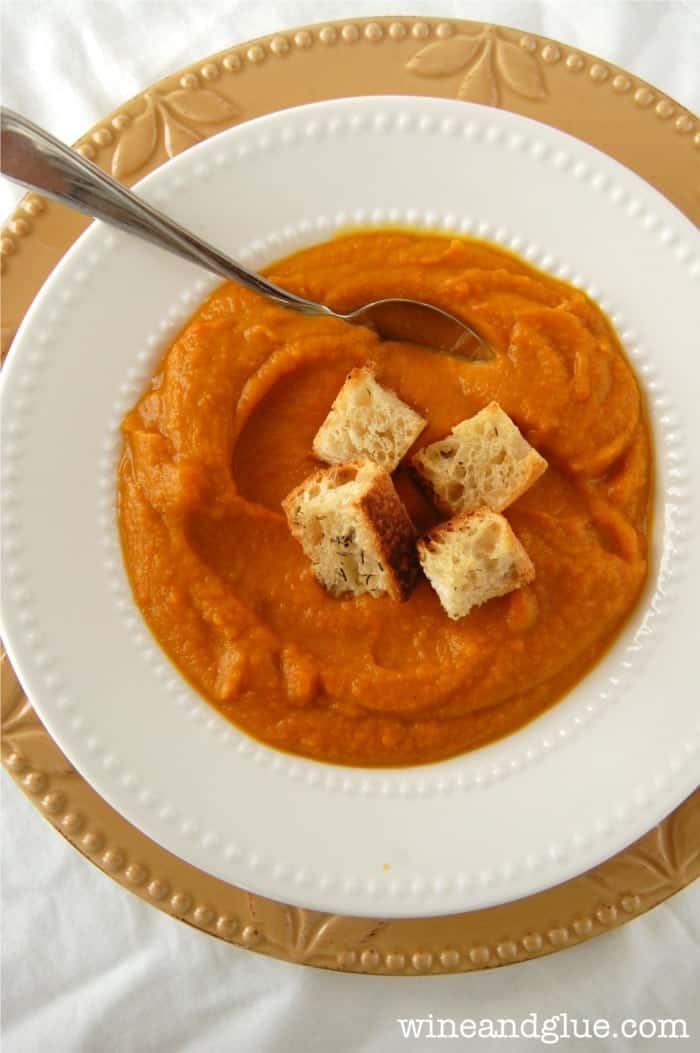 I remember talking to my mother in law about this and she mentioned a time when she made a pumpkin pie from scratch with her kids. Her memories of it seemed slightly less nostalgic, but that had nothing to do with the kids in the kitchen and everything to do with the hassle that the pumpkin caused. And I certainly can't blame her, anytime I make a pumpkin pie, it comes straight from the can.
For this soup though, I thought I would take the same type of approach you take when you cook with a squash. The pumpkin takes a while to cook up in the oven, but you can certainly do that the day before.
This soup has a great kick to it, but if spiciness isn't your thing, you will want to reduce the amount of curry powder you put in. This is such a warm and delicious soup that is perfect for fall!
The croutons I can't take credit for at all, they are something that my friend Cathy up with and introduced me to when she brought lunch over to my house (I know, super awesome, right?). They are the absolute perfect way to use up a loaf of bread.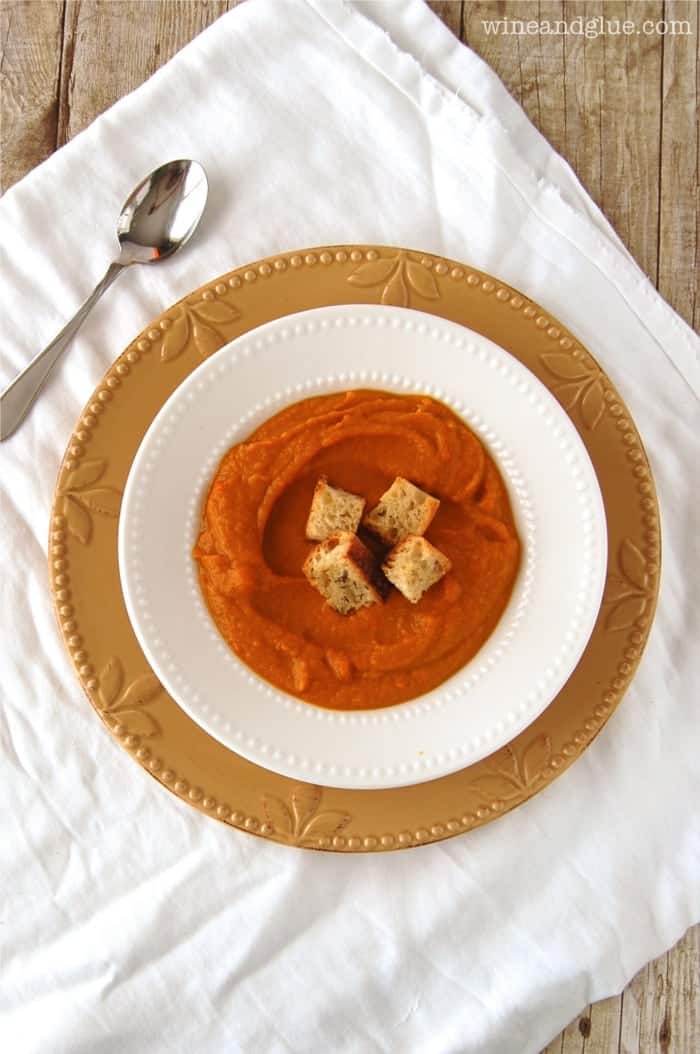 Pumpkin Curry Soup
1 small baking pumpkin
2 TBSP butter
1 pound of carrots, peeled and cut into circles
1 yellow onion, diced
1 – 1 1/2 TBSP curry powder (the more you add the more spicy it will be)
1/2 tsp ground ginger
1/2 tsp ground coriander
salt and pepper to taste
2 cups of chicken stock
Preheat your oven to 350 degrees. Cut the pumpkin in half, remove the seeds, and place each side flesh side down on a parchment (or aluminum foil or silpat) lined baking sheet. Bake 50 minutes or until you are able to easily slide a skewer in and out of the pumpkin. After the pumpkin has cooked, scoop out the pumpkin and set aside.
Melt the butter in a large soup pot over medium heat. Add the carrots and onions and sauté until the onions are nearly translucent and the carrots have softened, about 10 minutes.
Add the pumpkin and stir into the cooking veggies.
Add the curry powder, ginger, and coriander and sauté for an additional minute or two.
Stir in the chicken stock, scraping up the browned bits from the bottom of the pan. Bring the stock to a boil and then reduce to the heat to low, cover, and let simmer for 30 minutes.
At the end of the 30 minutes, remove the soup from the heat, and using an immersion blender (or working in batches using a blender or food processor) to blend the soup until smooth.
Top with Rosemary Croutons (recipe below)
Rosemary Croutons
4 cups of cubed day old bread
1/2 TBSP of Rosemary (or Thyme on a combination of both)
Cooking spray
Preheat your oven to 350 degrees.
Place the bread in a single layer on a parchment (or silpat) lined baking sheet. Spray the bread with cooking spray. Sprinkle with rosemary (or thyme or a combination of both). Toss the bread to combine, spray again and put in the oven.
Bake until the bread turns golden at the edges, tossing after about 5 minutes. The whole cooking time will range from 10 to 15 minutes depending on how dry the bread is.
Looking for another savory pumpkin recipe?
Creamy Pumpkin Goat Cheese Risotto