Air Fryer Chicken Breasts are so fast to make, done in about 15 minutes, and they come out perfectly juicy every time.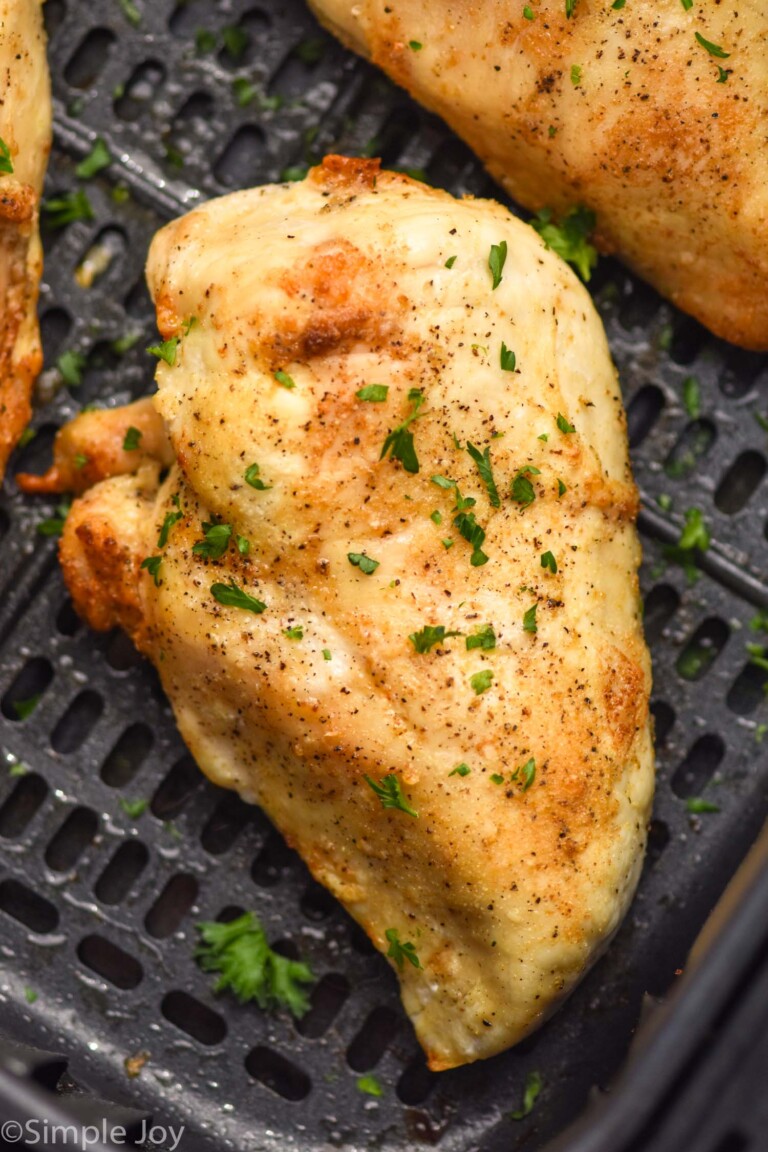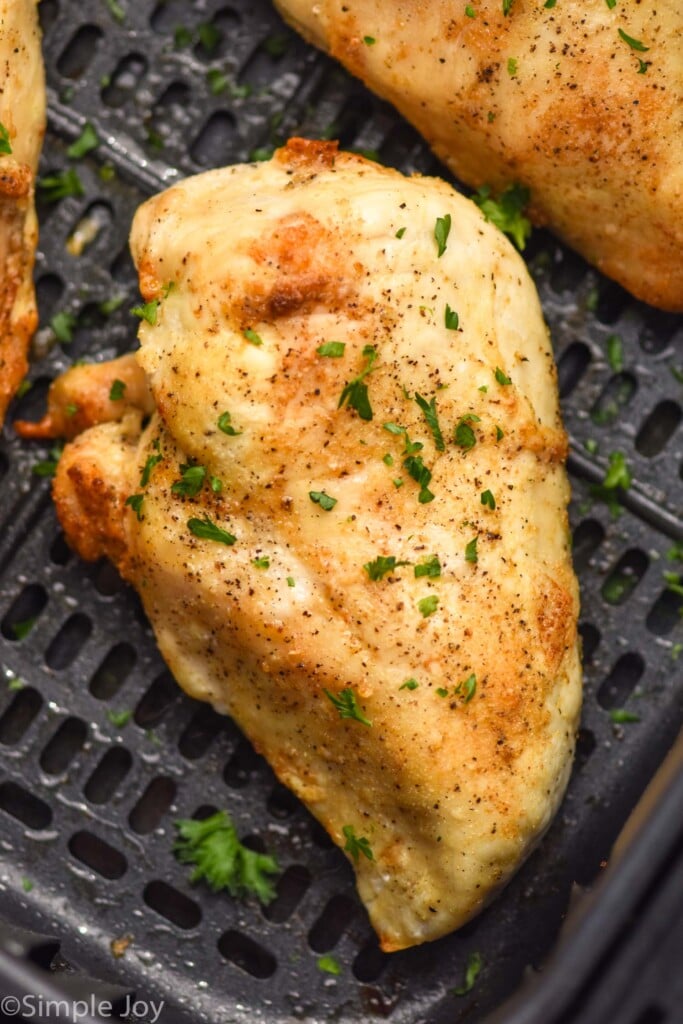 One of my new favorite easy lunches is this air fryer chicken breast recipe. It comes together in just 20 minutes, and the chicken is moist and flavorful. I love that chicken breasts in the air fryer are both simple and delicious with the added bonus of being a pretty healthy meal. I especially love that I can add a vegetable to the air fryer and be left with a satisfying lunch that keeps me full all the way to dinner.
How to Cook Chicken Breasts in the Air Fryer
Preheat the air fryer. Turn on your air fryer and preheat it at 400 degrees while you are preparing the chicken breasts.
Note the weight of the chicken. This will determine how long to cook the chicken breasts if you don't have an instant read thermometer.
Season the chicken. Using some olive oil and some salt, pepper, garlic powder, and onion powder, rub the oil on each side of the breast and then season with the spices.
Cook the chicken. Place the prepared chicken in the warmed air fryer. Cook for the time noted below based on weight. Or, insert an instant read thermometer that is oven safe and wait until the chicken reaches 160 degrees.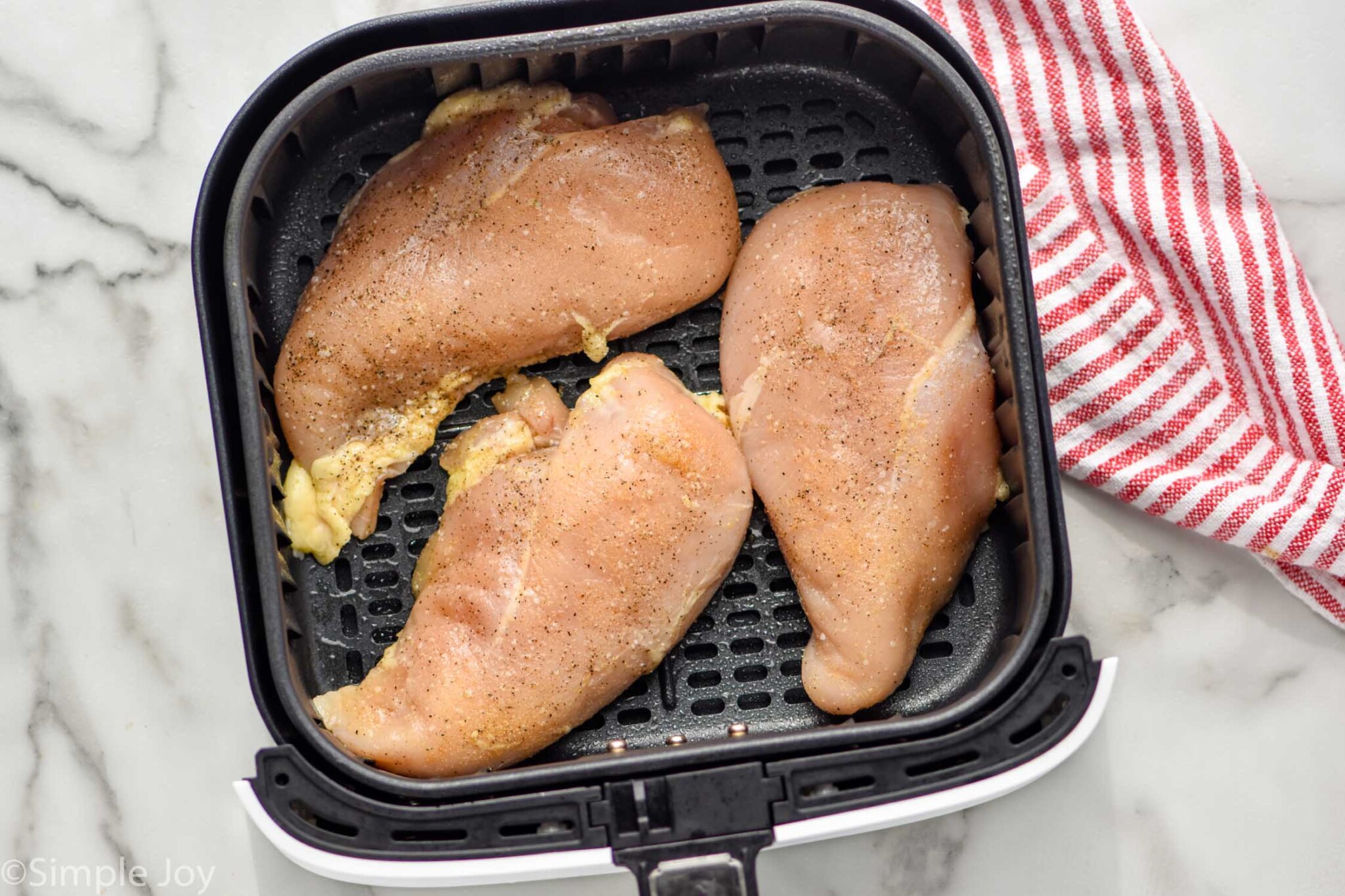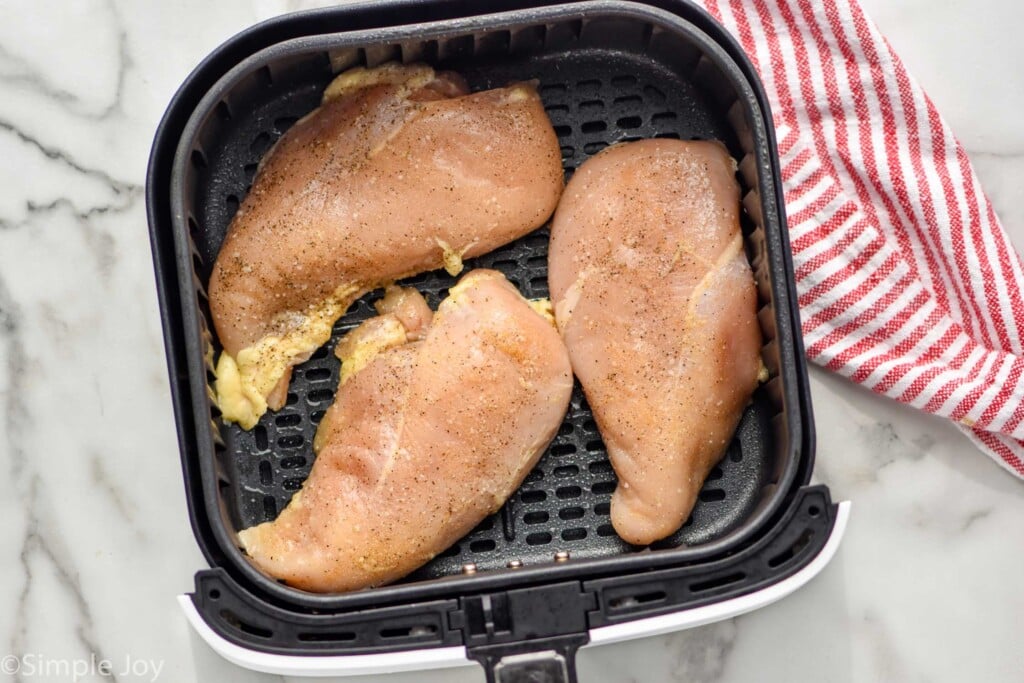 How Long to Cook Chicken Breast in Air Fryer
Chicken breasts come in many different sizes these days, which is what will impact how long it needs to cook in the air fryer. We experimented with a few different sizes and found that these times work great for the following weights.
9 ounce chicken breasts should cook for 15 minutes
6 ounce chicken breasts should cook for 12 minutes
3 ounce chicken breasts should cook for 9 minutes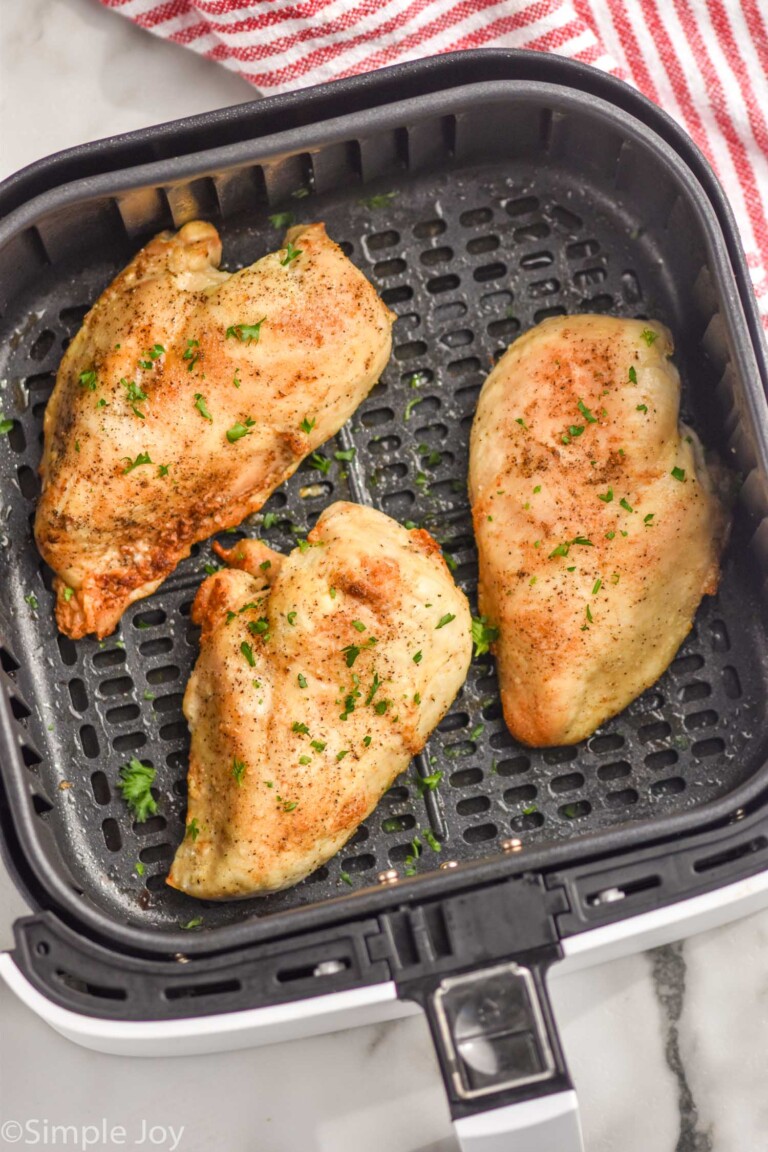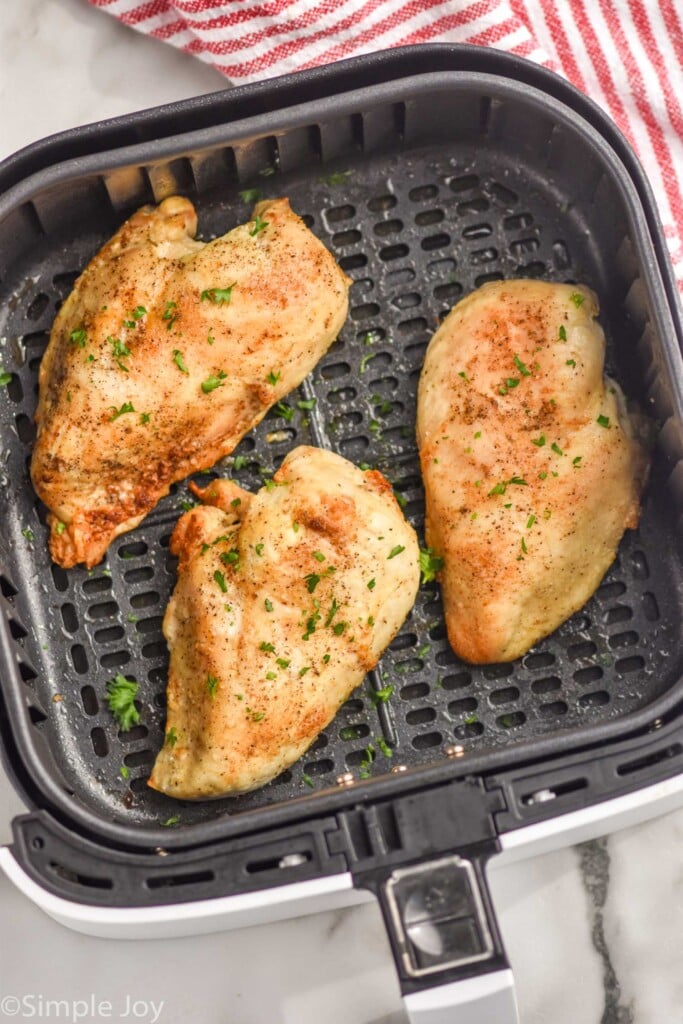 Cooking Multiple Chicken Breasts
You will notice that this recipe will work for as many chicken breasts will fit in your air fryer without over crowding them. When I am cooking chicken of different weight, I like to insert the thermometer in the smallest breast. When that chicken breasts reaches 160 degrees, I pull it out of the air fryer, tent it with foil, and then continue cooking the bigger chicken breasts.
Carry Over Cooking
You will notice that we are pulling the chicken out of the air fryer at 160 degrees rather than 165 degrees. The reason for this is that there is some carry over cooking that happens after the chicken is taken out of the hot air fryer.
In other words, the chicken will continue cooking after you take it out, reaching the full 165 degrees in a few minutes after cooking. Taking it out a little early allows it to maintain some of it's moisture while still keeping it safe for eating.
Air Fryer Chicken Breasts with Vegetables
This is a great recipe to make with vegetables. I love combining this recipe with my air fryer asparagus recipe. Because the two recipes have different cooking times, just add the vegetables once the chicken has been cooking for a little while.
For example, if my chicken needs 15 minutes to cook, I will add the asparagus after about 7 minutes, as it only needs 8 minutes to cook. Pause the air fryer in the middle of cooking, remove the partially cooked chicken, add the asparagus, and then put the chicken back in on top of the vegetables. Continue cooking and when everything is done the vegetables will be both cooked and seasoned from the chicken.
Air Fryer Asparagus
Air Fryer Asparagus is a fast, healthy, side dish recipe that comes together in just 10 minutes. This is the perfect vegetable to serve with just about any meat dish.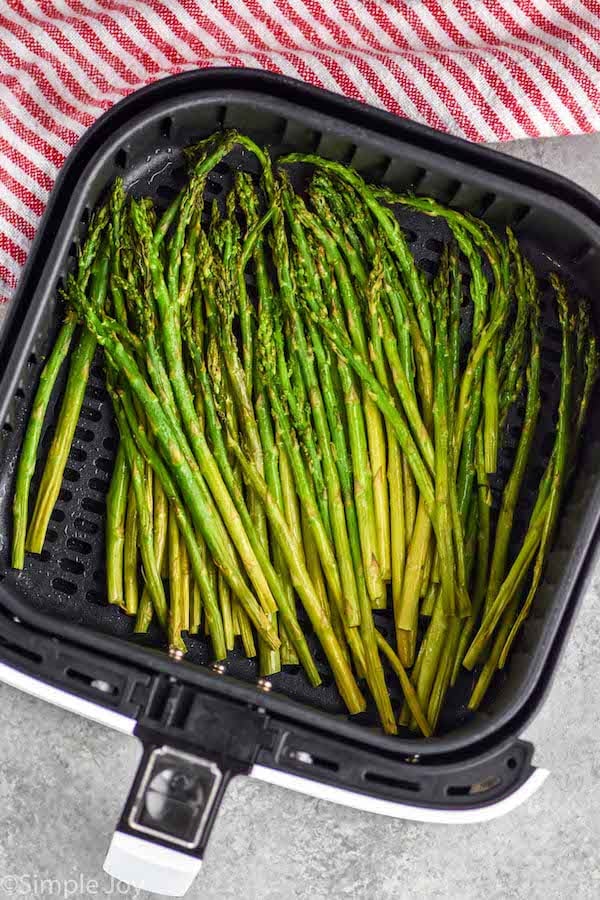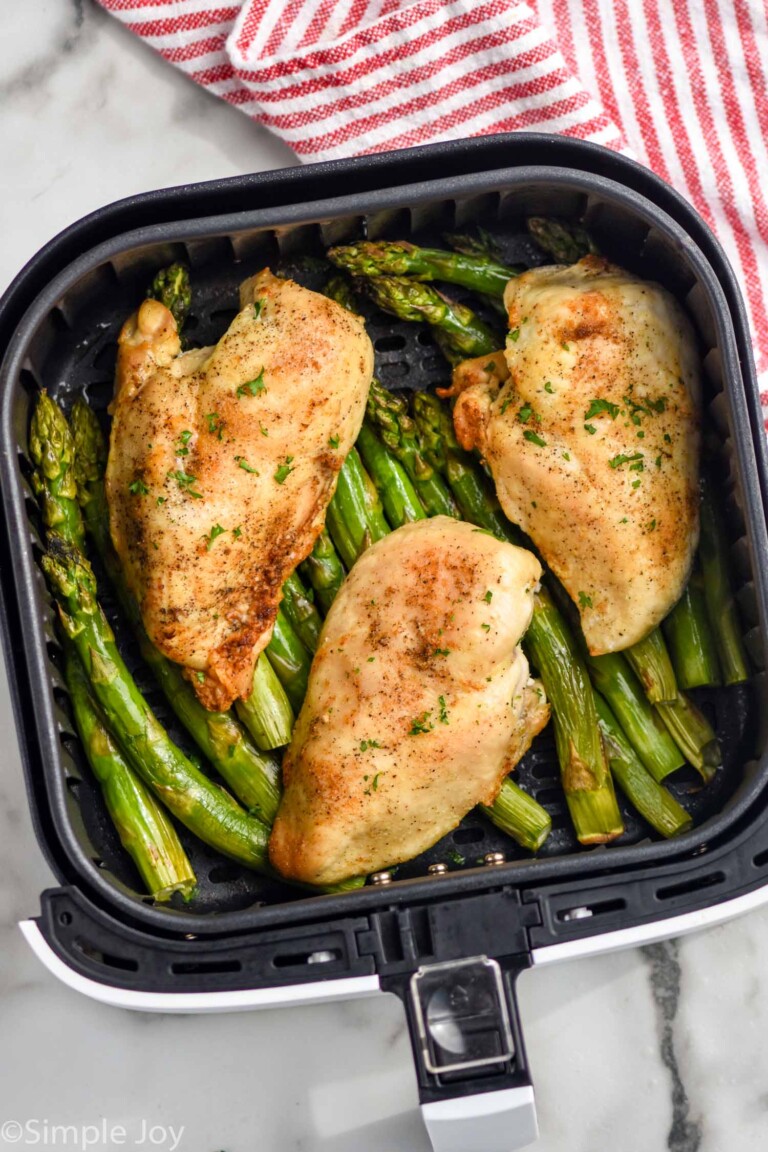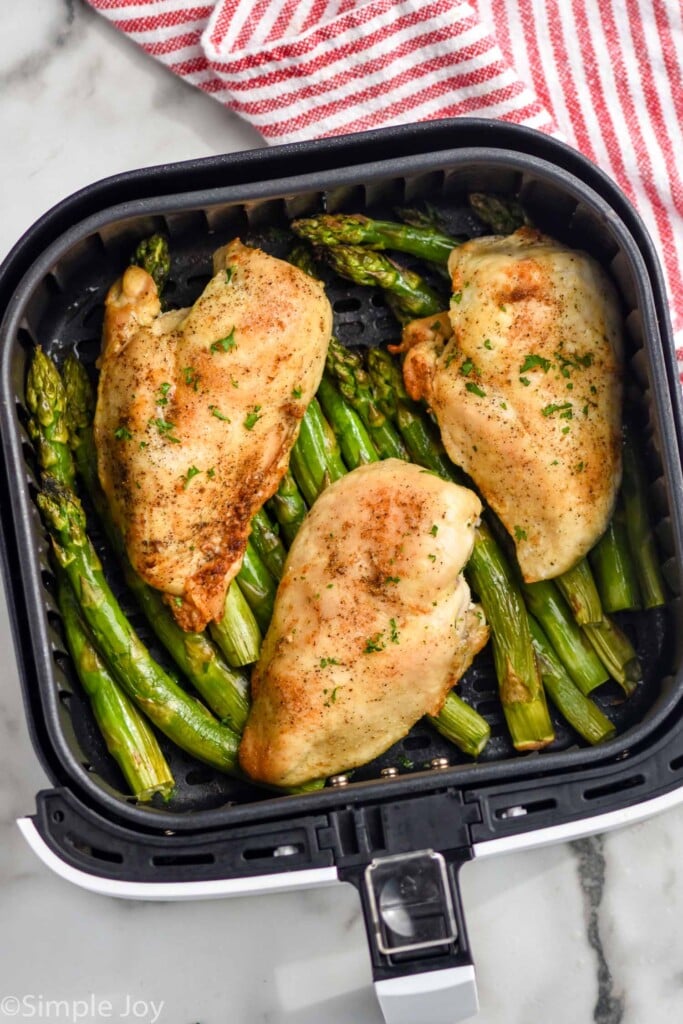 My Favorite Air Fryer
After trying a few air fryers, I can tell you that this one is by far my favorite. It preheats quickly and cooks very evenly. Additionally, it has a large cooking basket, making it easy to fit as many as four chicken breasts in it cooking together comfortably.
TOP PICK
Cosori Air Fryer
This Cosori Air Fryer is what you see pictured here, and is my favorite! The basket can hold so much and cooks things perfectly.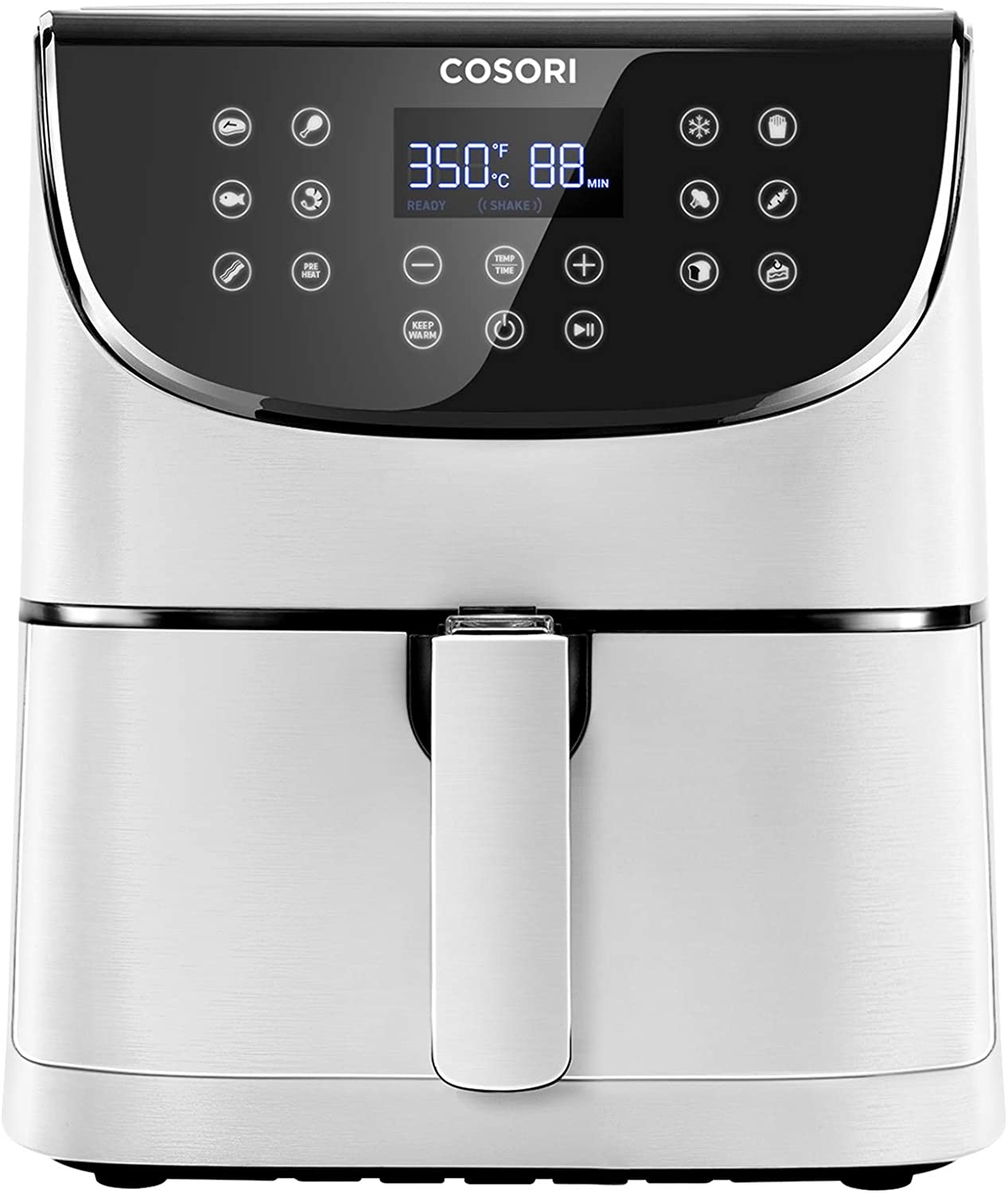 Leftovers
You can store leftovers of this chicken recipe in your refrigerator for up to three days. The cold chicken is delicious on salads. Please always use your best discretion when it comes to leftovers.
If you want to reheat it, you can do so in your air fryer, noting that it is not as moist as it is when freshly cooked. When reheating, I only cook it until it reaches an internal temperature of about 140 degrees. This allows it warm up without losing all it's moisture.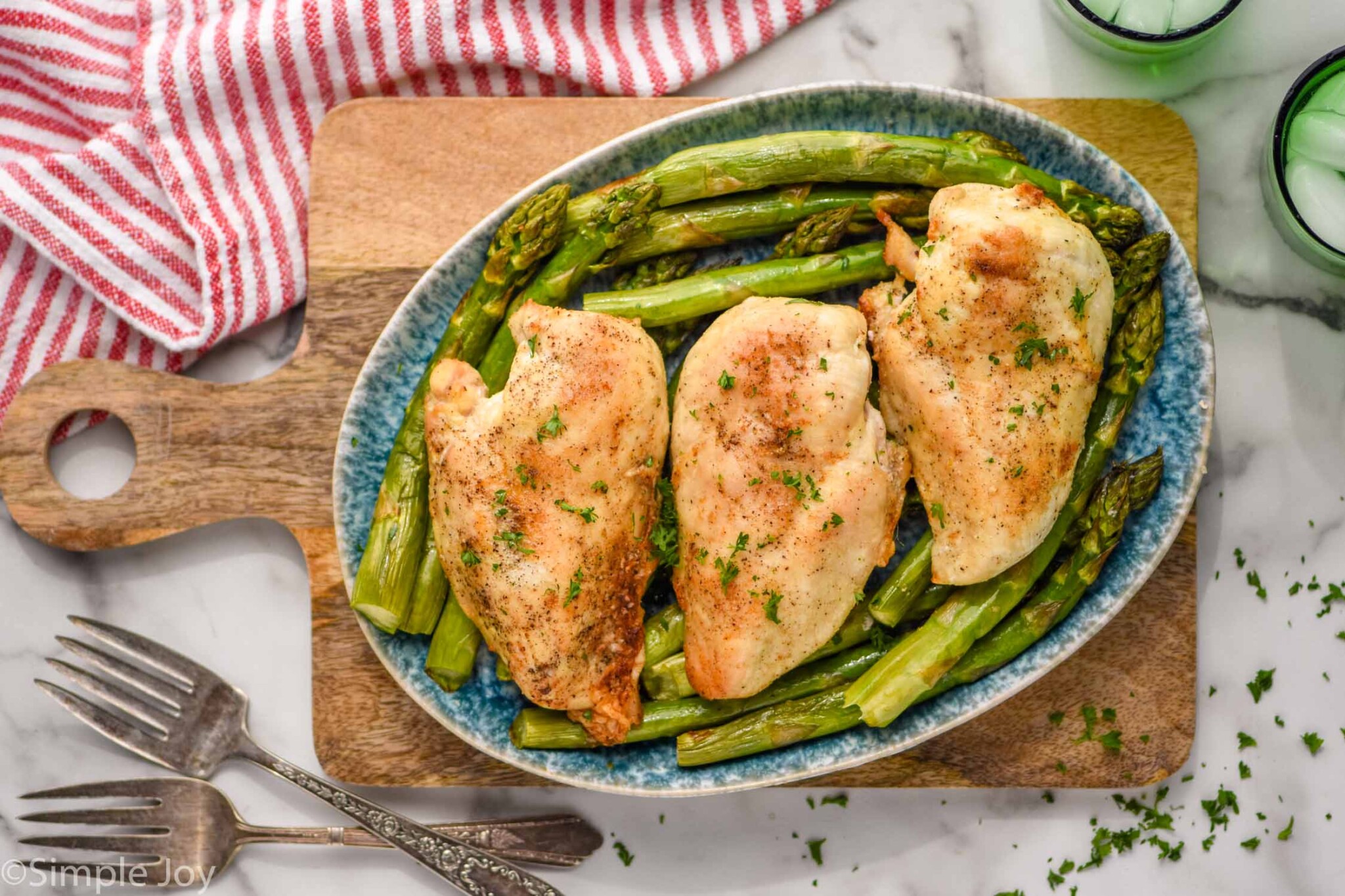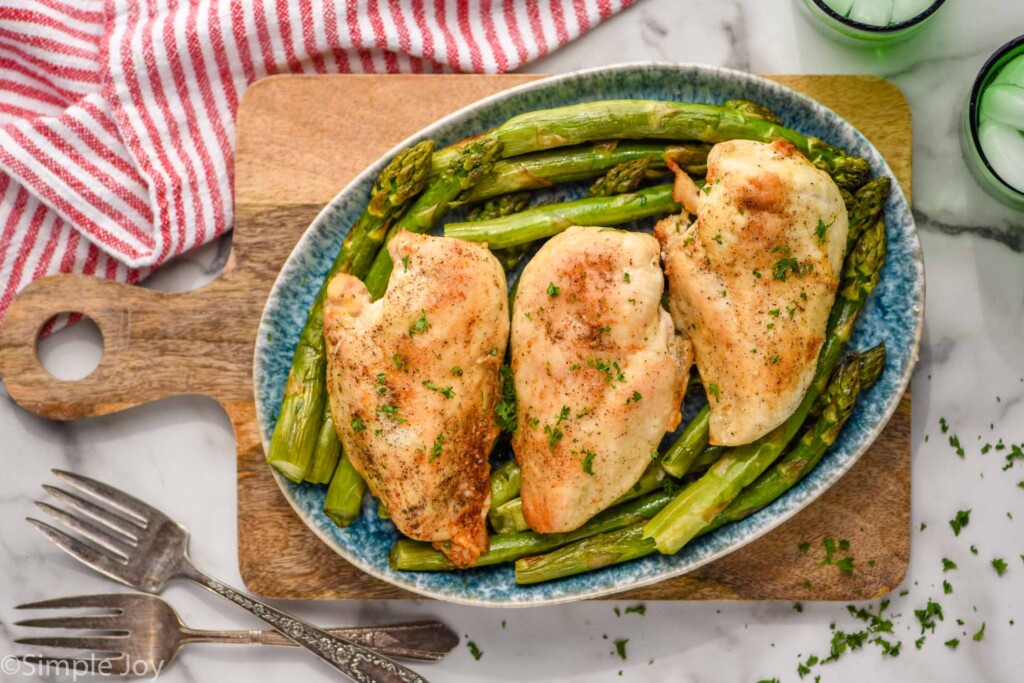 Variations of Air Fryer Chicken Breasts
I love the simple seasonings in this recipe, but if you wanted to mix it up a little, you could try some other seasoning mixes. You will only need a teaspoon or so of the following mixes for each chicken breast.
FAQ
Can you cook more than one chicken breast at a time in the air fryer?
Yes! You can cook as many as you would like, provided that they aren't touching each other. 
What air fryer to you recommend?
This is my favorite air fryer. In a section above I give a deeper dive into why I love it.
What instant read thermometer do you recommend?
I love this instant read thermometer because it allows you to leave the probe in the meat while it is in the oven/air fryer.
Can you reheat chicken in the air fryer?
Yes, though it isn't quite as good as it is the first time it is cooked. Please see my instructions above regarding reheating. 
Is air fryer chicken breast healthy?
Relatively speaking, yes, this is a pretty healthy recipe. We are using minimal oil, and a little bit of seasoning on a lean protein.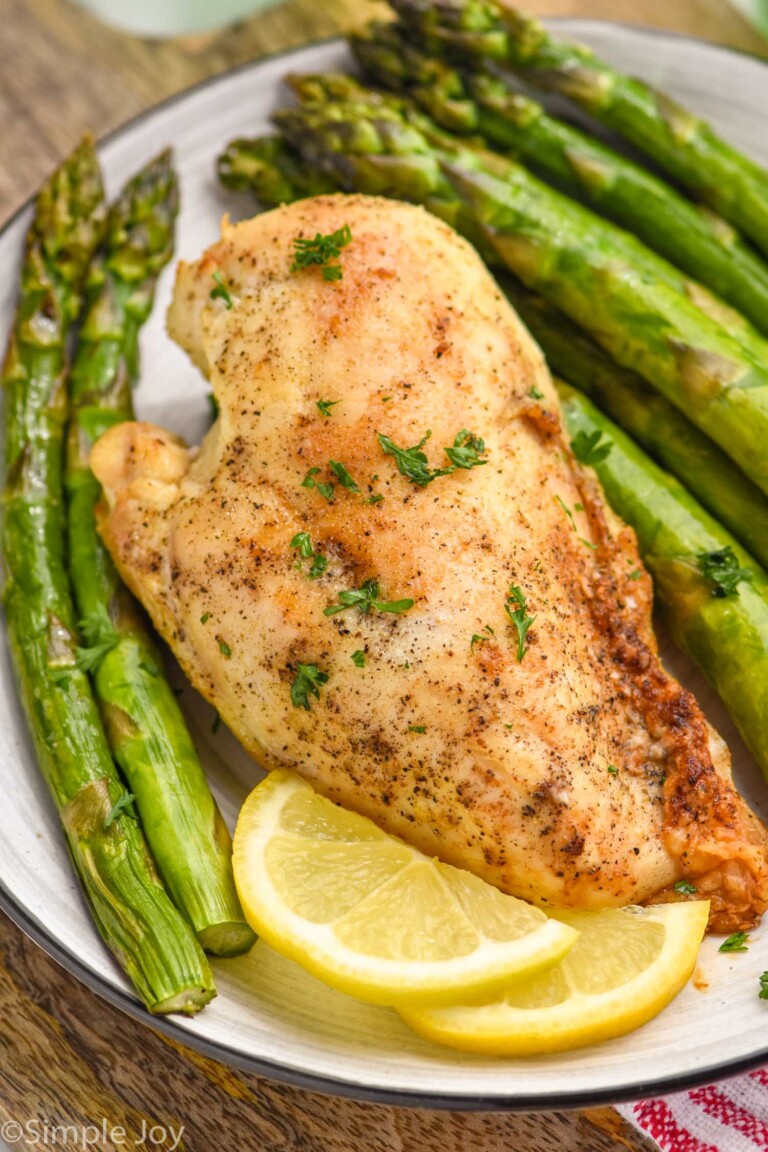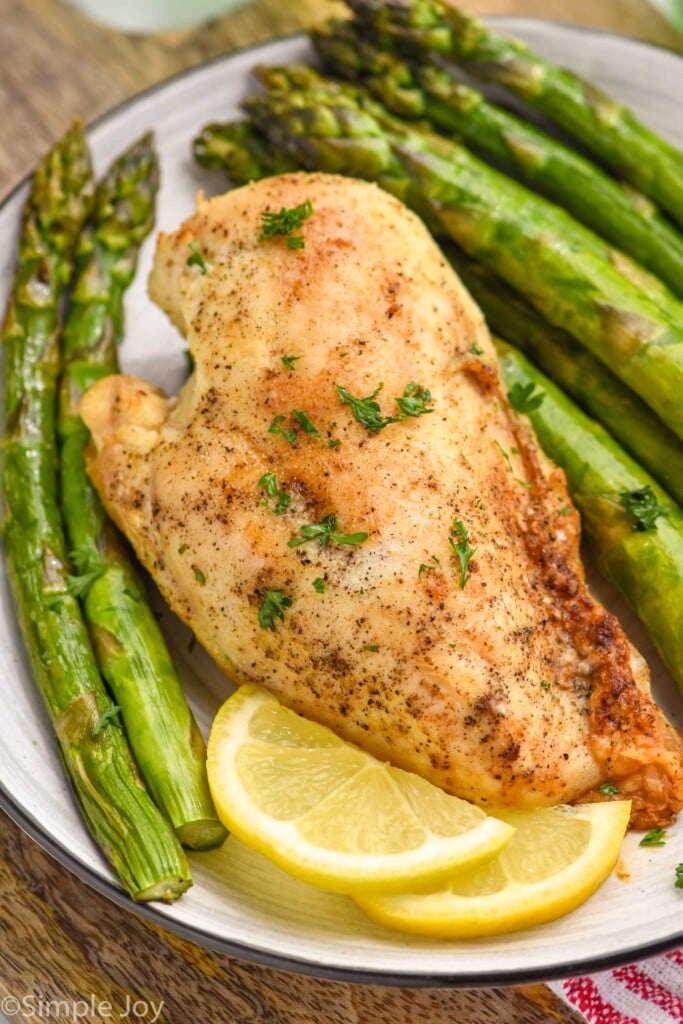 What to Serve with Air Fryer Chicken Breasts
As noted above, I love adding a veggie to this to round out the meal. But if you are making dinner for your family, you might want to consider a few different sides.
If you make these chicken breasts in the air fryer, or any of my other recipes, please leave me a comment and let me know what you think. I love hearing from you and hearing how my recipes have worked their way into your family's life.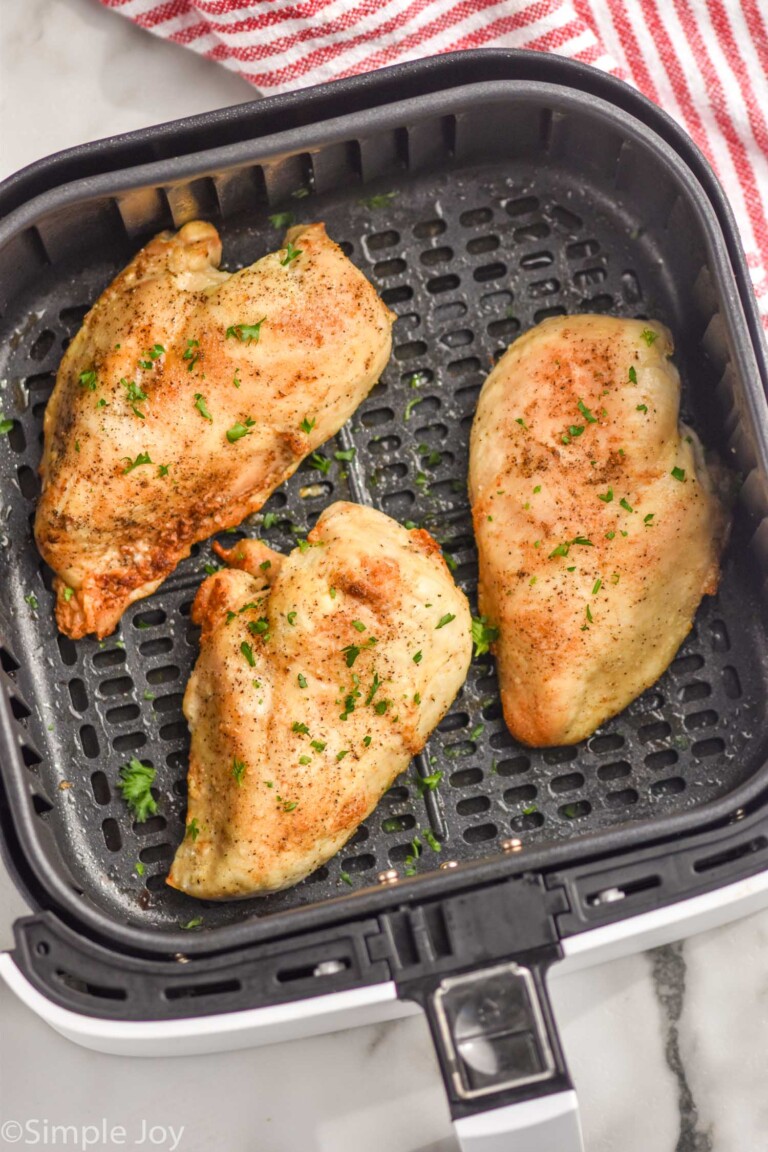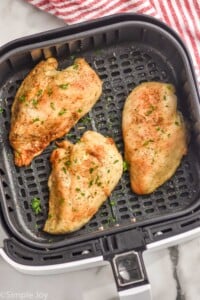 Air Fryer Chicken Breasts
Air Fryer Chicken Breasts are so fast to make, done in about 15 minutes, and they come out perfectly juicy every time.
Ingredients
1

chicken breast

1

teaspoon

olive oil

1/4

teaspoon

kosher salt

(if you only have table salt, cut this in half)

1/8

teaspoon

garlic powder

1/8

teaspoon

onion powder

dash of black pepper
Instructions
Preheat your air fryer to 400 degrees.

While the air fryer is preheating, coat the chicken in olive oil on both sides. Then season it with the salt, garlic powder, onion powder, and a dash of black pepper.

Place it in the preheated air fryer, set the air fryer to 350, and cook for 15 minutes, flipping it half way through cooking or until he thickest part of the chicken reaches 160 degrees (a 9 ounce chicken breast will take approximately 15 minutes and a 6 ounce chicken breast will take approximately 12 minutes).

Remove the chicken from the air fryer, tent with foil, and let it rest for 5 minutes. During this time there will be some carry over cooking and the chicken will reach 165 degrees. (Read more about carry over cooking here.)

Please see notes in the post about different cooking times for different sized chicken breats and information on cooking more than one chicken breast at a time.
Notes
Please note that the nutritional information is based on a 9 ounce chicken breast.
Serving:
1
serving
Calories:
328
kcal
(16%)
Carbohydrates:
1
g
Protein:
54
g
(108%)
Fat:
11
g
(17%)
Saturated Fat:
2
g
(13%)
Polyunsaturated Fat:
1
g
Monounsaturated Fat:
5
g
Trans Fat:
1
g
Cholesterol:
163
mg
(54%)
Sodium:
878
mg
(38%)
Potassium:
951
mg
(27%)
Fiber:
1
g
(4%)
Sugar:
1
g
(1%)
Vitamin A:
77
IU
(2%)
Vitamin C:
3
mg
(4%)
Calcium:
14
mg
(1%)
Iron:
1
mg
(6%)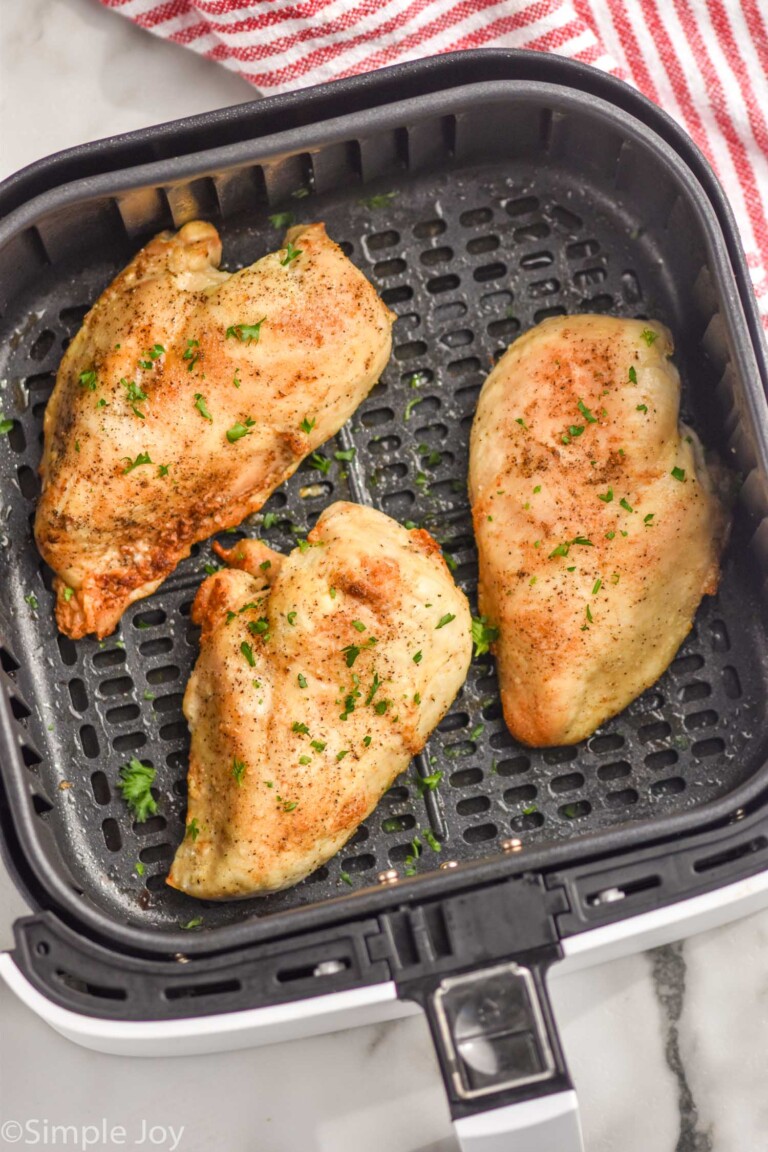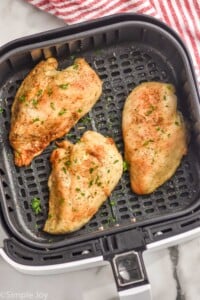 did you make this
Air Fryer Chicken Breasts