Homemade Croutons are so easy to make. They come together with just four ingredients in under 20 minutes, and are amazing on salads and soups.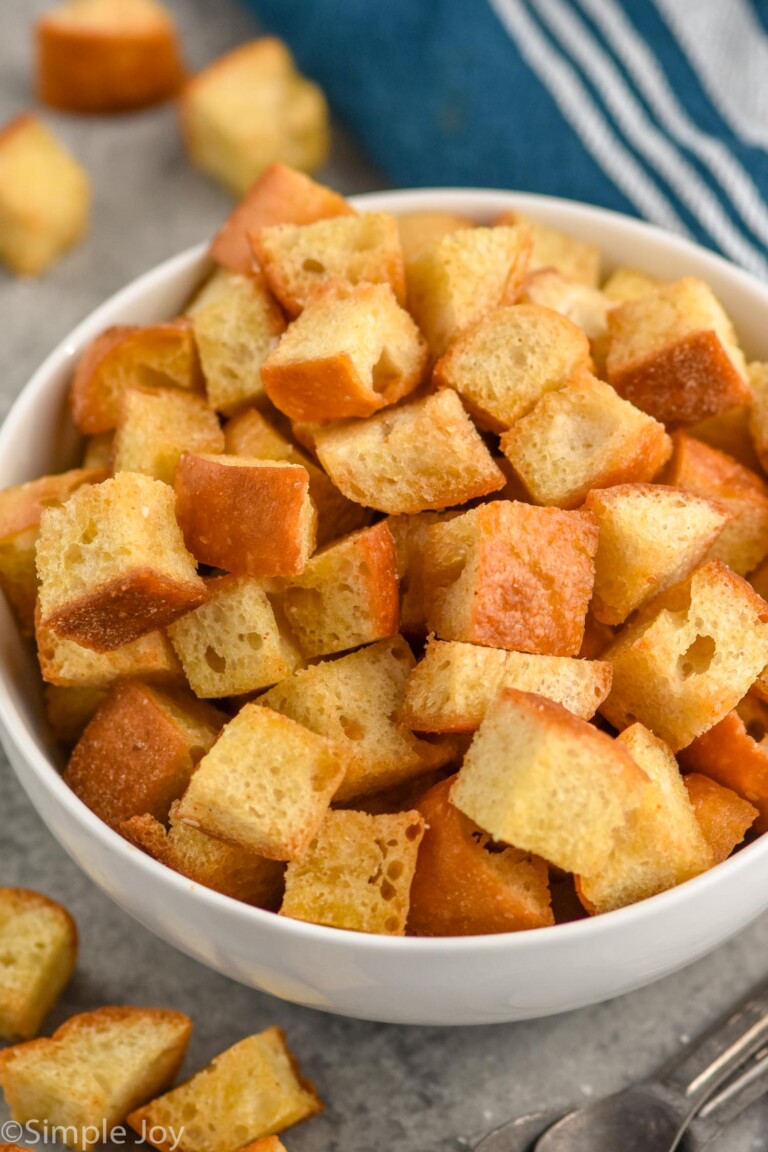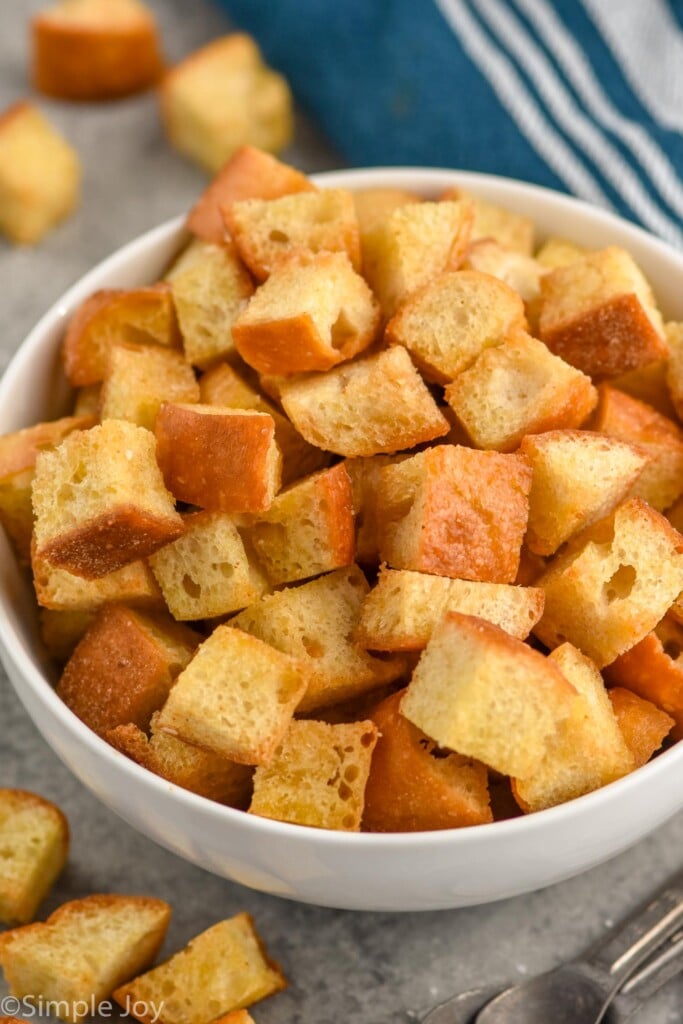 A few years ago when I was making my mom's Spinach Bacon Salad, I realized that it really should have its own homemade crouton recipe as part of it. I went to the store, grabbed a French baguette. Tossed with just al little olive oil and some seasonings, I was shocked at the difference between the store-bought croutons and this absolutely simple recipe.
I never looked back.
Since then I haven't bought a bag of croutons. The simplicity of making of them at home can't be over-stated. And neither can the difference. This is such a quick and easy recipe and definitely worth your time. Use them on salads on in soups and be so happy with all of your life choices.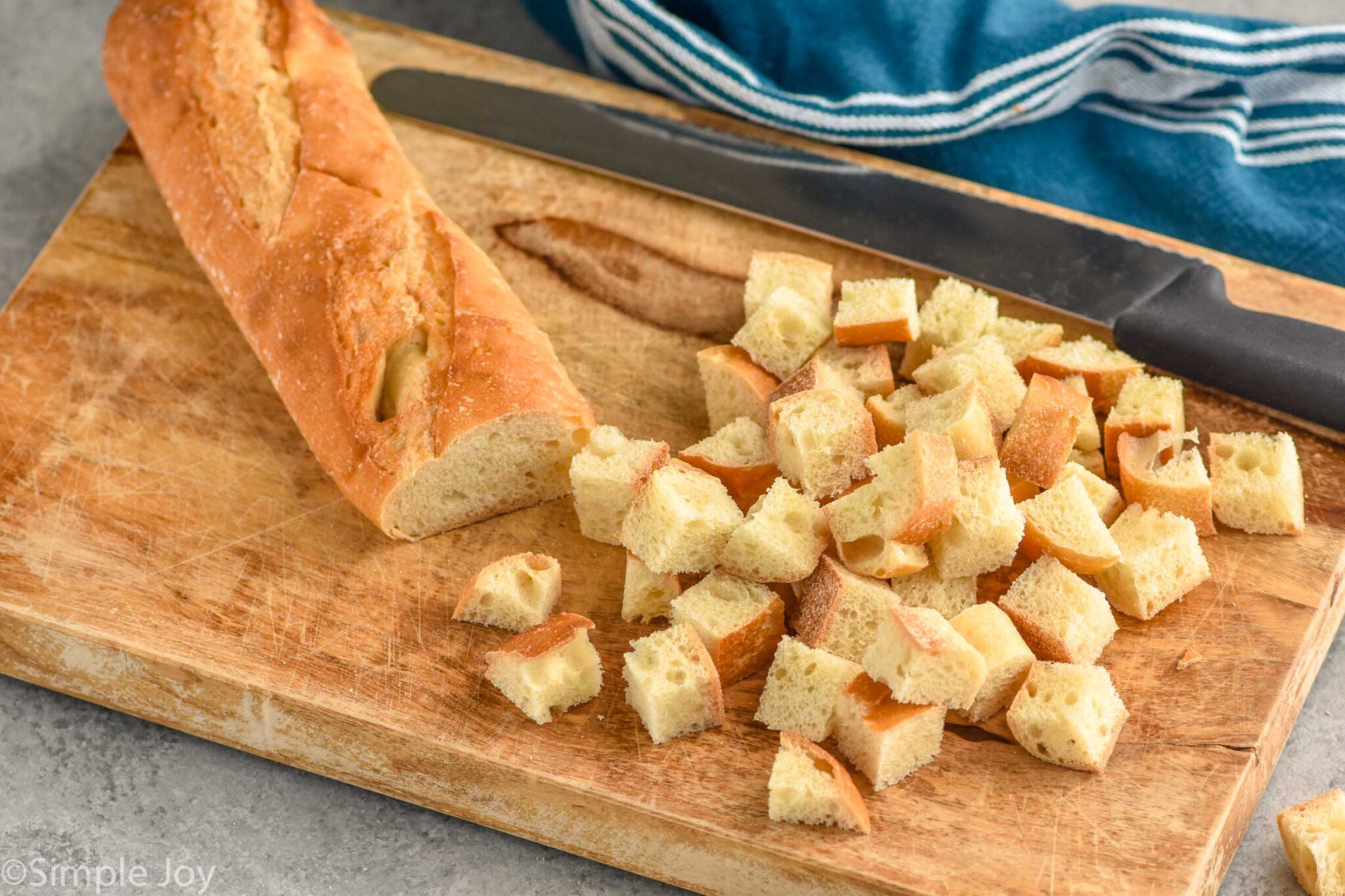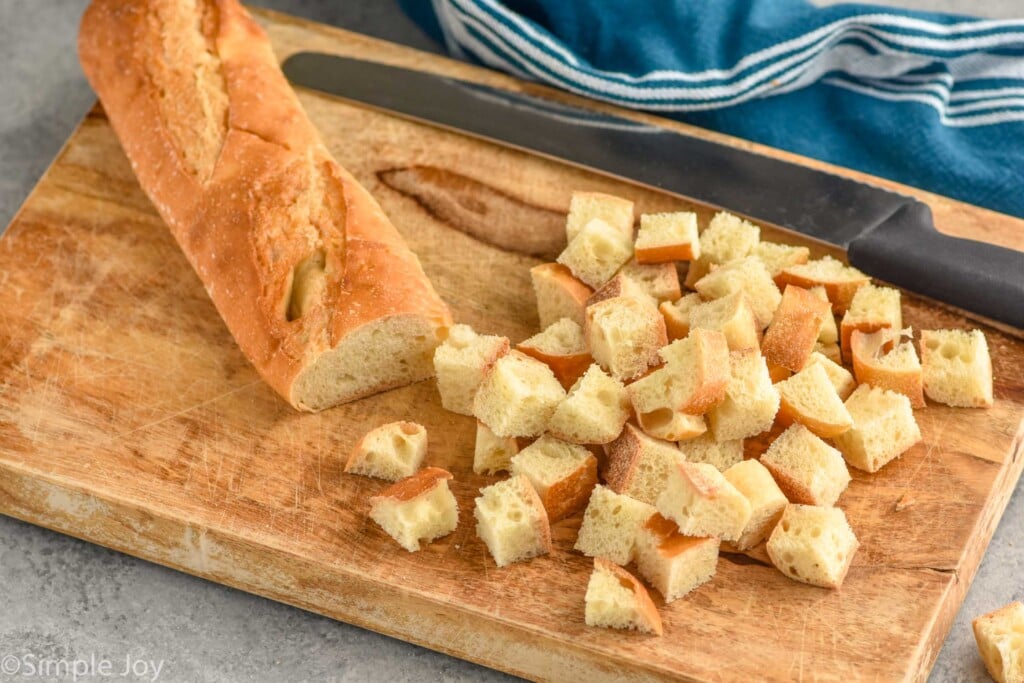 How to Make Croutons
This is a brief overview of how to make this fantastic recipe. For the full recipe with all of the instructions, please see the recipe card at the bottom of the post.
Cut up the bread. You can use any kind of bread to make croutons, but I prefer to use a French baguette. I buy a 10 ounce loaf, and use about half of it.
Toss the bread with oil and seasoning. I like to do this in a big mixing bowl. I also do this in stages where I add a little oil and seasonings, toss it all, and then add more.
Bake the bread. Place the bread in a single layer on a parchment lined baking sheet. Toss the croutons half way through baking.
Use the croutons immediately. Or you can store them in an air tight container for up to a week.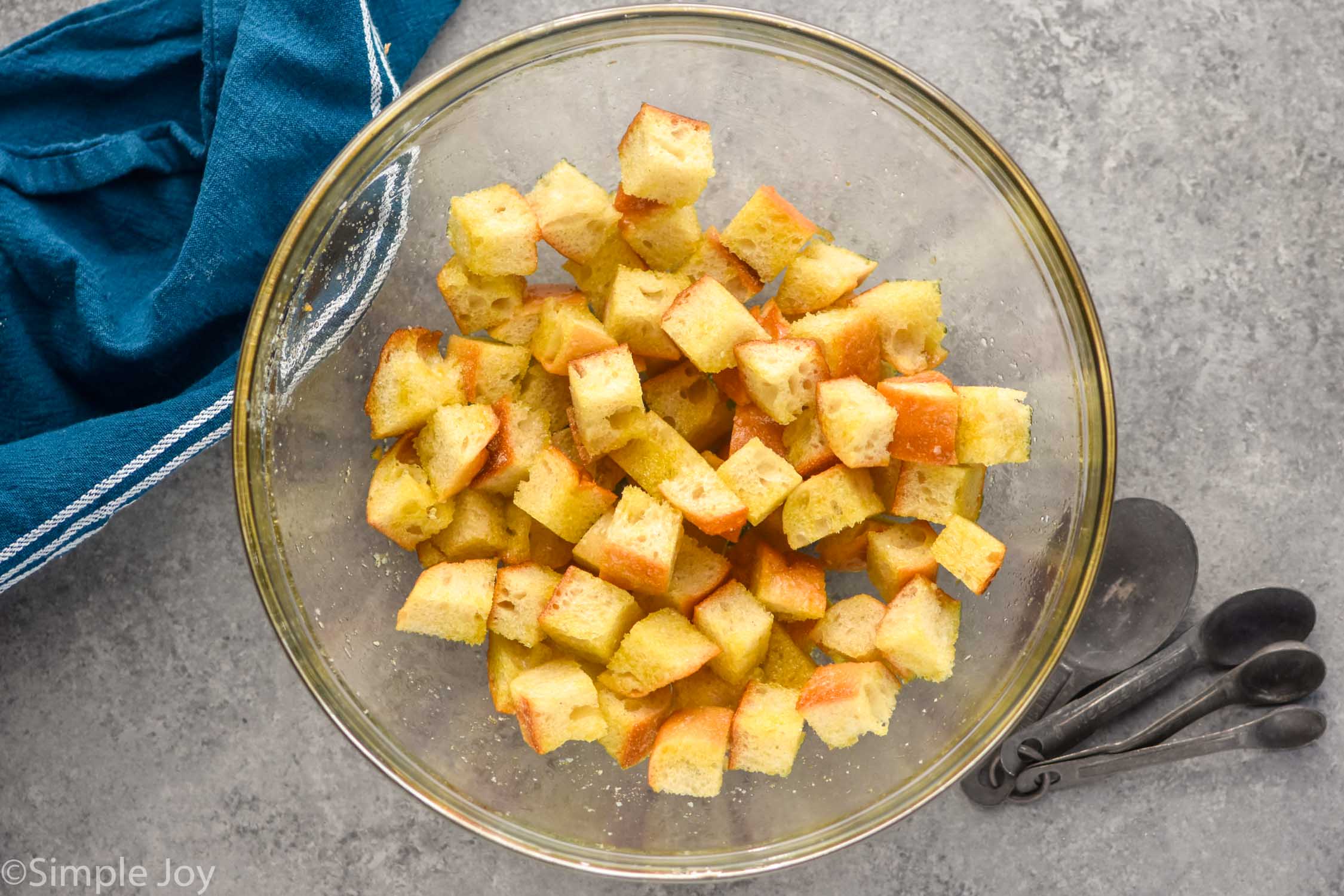 Why Make Your Own Croutons
You know by now how much I like making ingredients for other recipes from scratch. Just take a look at my salad dressings, seasoning mixes, and sauces.
Making your own ingredients allows you to control exactly what is in them. You can make seasoning mixes more spicy, salad dressings less salty, and customize it to exactly your taste buds.
These Homemade Croutons are no different. While it is so tempting to just grab a bag of croutons from the store, making them is worth it. It takes very little time and the difference in taste is astounding.
Best Bread for Croutons
As mentioned above, you can use any kind of bread to make croutons. In general, I would say that you want to pick a bread that can be cut easily into one inch cubes. Beyond that, just pick something that you enjoy. I like using a French baguette because it is easy to cut up and holds up well to tossing. But I've even made croutons out of my Cornbread recipe.
Cornbread Croutons
Cornbread Croutons are the perfect addition to any fall salad. Grab my amazing Cornbread recipe and save the leftovers for these amazing croutons.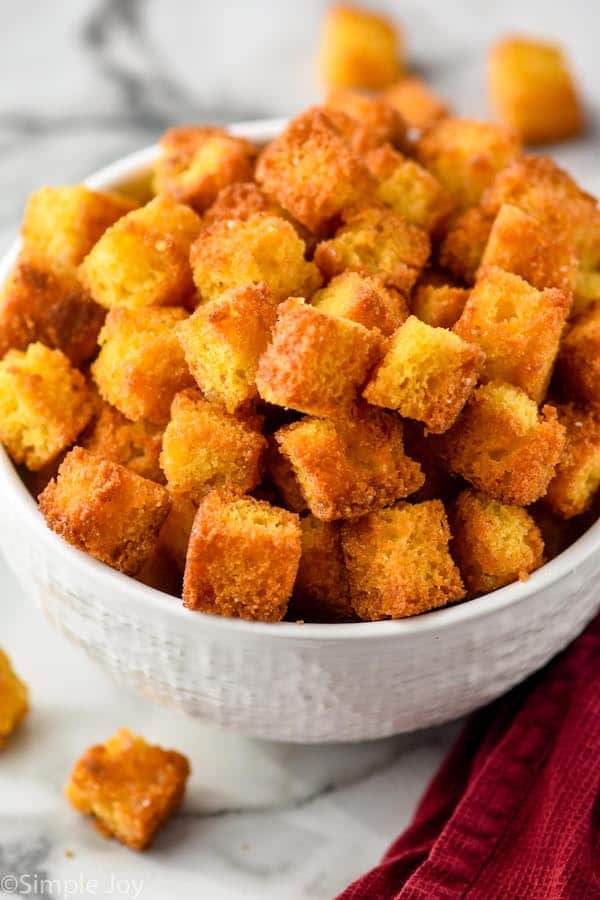 Seasoning Homemade Croutons
Croutons are very easy to make and take just a few ingredients. Because they are so simple, they are very easy to customize and make any flavor you like! Here are a few great seasoning choices. I would consider starting with just 1 or 2 teaspoons and going from there.
dried parsley
dried rosemary
dried thyme
dried oregano
grated parmesan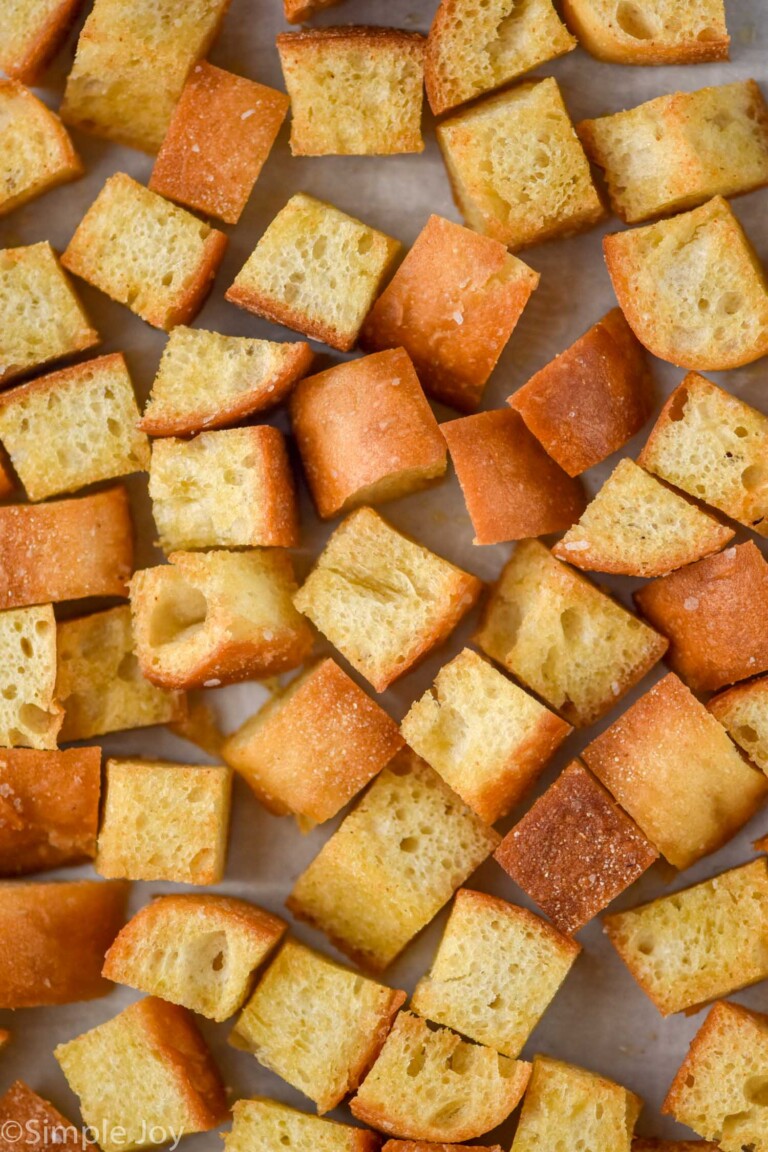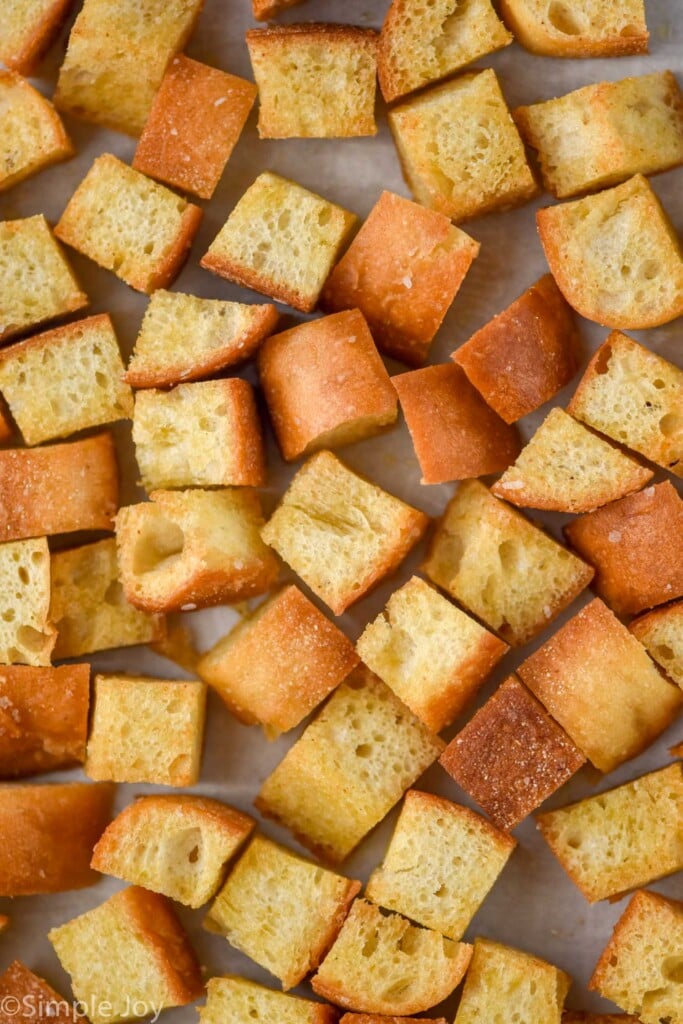 Best Baking Sheets
Baking sheets can make a real difference in how a recipe turns out. You want a baking sheet that conducts heat in the right way so that you don't end up with an under cooked or burnt recipe. I love these baking sheets from Nordic Ware. They are work horses and cook things perfectly every time.
TOP PICK
Rimmed Baking Sheets
These baking sheets are my absolutely favorite. They hold up for years, and they bake everything perfectly. They are always my top pick.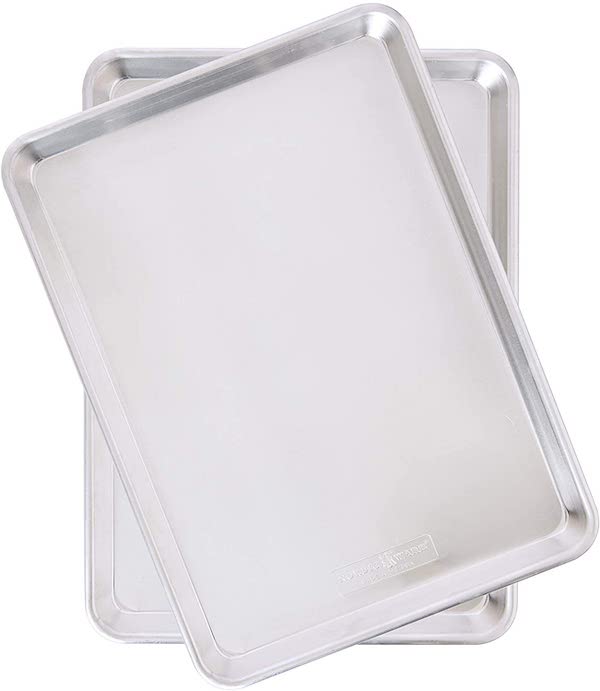 Making Croutons on the Stovetop
If you don't feel like turning on your oven, you can easily make them on the stove top. Combine the ingredients as stated. Then place a large skillet over medium heat. Add the bread and oil mixture, and toast, tossing often for about 10 minutes or until all of the croutons have browned.
How to Use Croutons
I love using these on homemade salads and on soup. These homemade croutons are especially delicious on my Caesar Salad and my Tomato Bisque.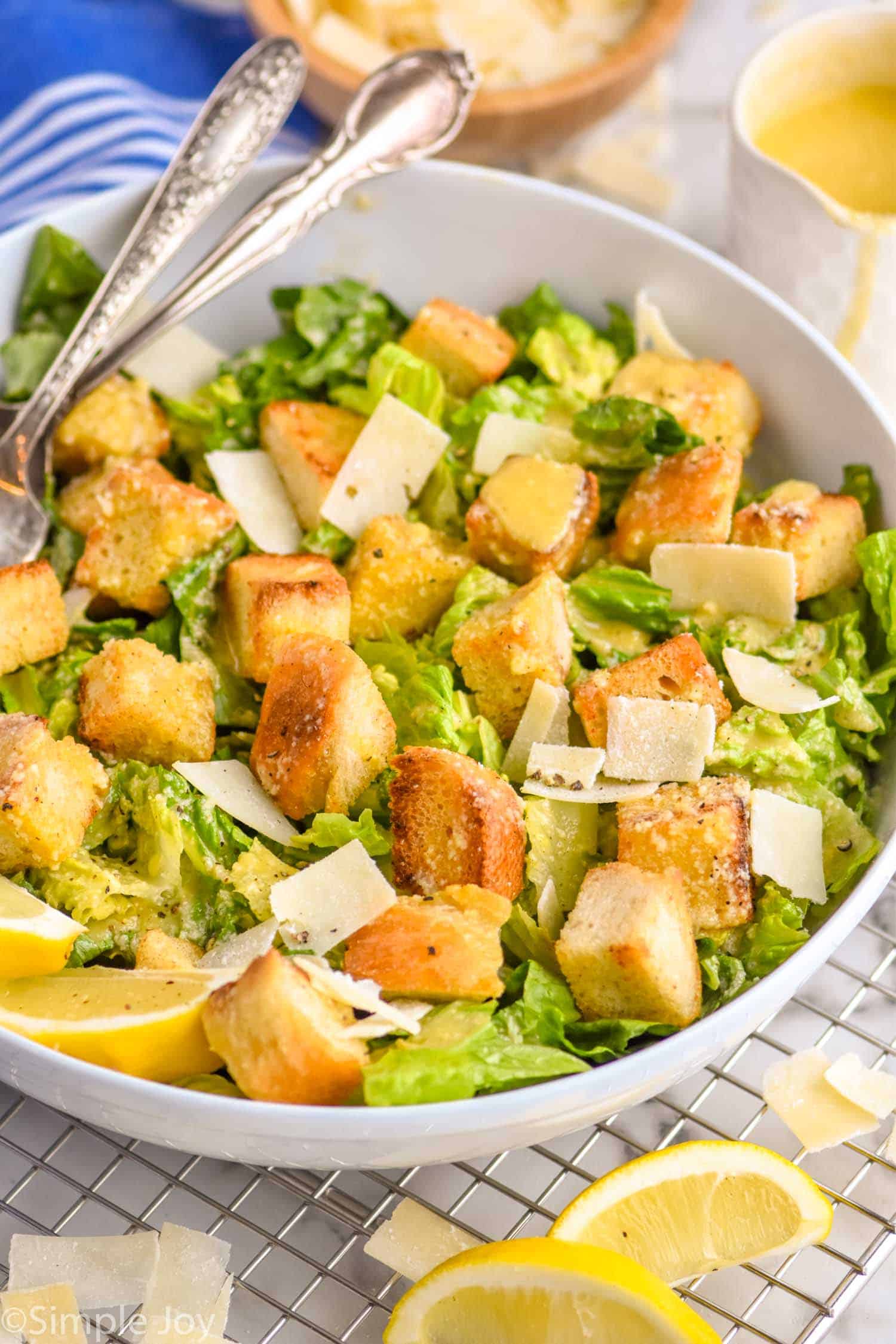 Storing Homemade Croutons
Though you are drying out the bread in this recipe, you still want to make sure that you store them in an airtight container. Without that, they will start to develop a bit of a stale taste to them.
Store this delicious crouton recipe in an airtight container for up to one week. You may find after a week that they are still delicious, but likely you will enjoy them most within the first week.
You can also toss these in the freezer and store them there in an airtight container for up to three months. When ready to eat, simply let them thaw on the counter top for about thirty minutes.
FAQ
Can croutons be made gluten free?
Absolutely! Grab a loaf of gluten free bread and cut it into one inch cubes to make this great recipe.
Can this recipe be doubled?
You bet! Just make sure that you still have a single layer on your baking sheet.
Are croutons vegan?
Yes! This crouton recipe is vegan.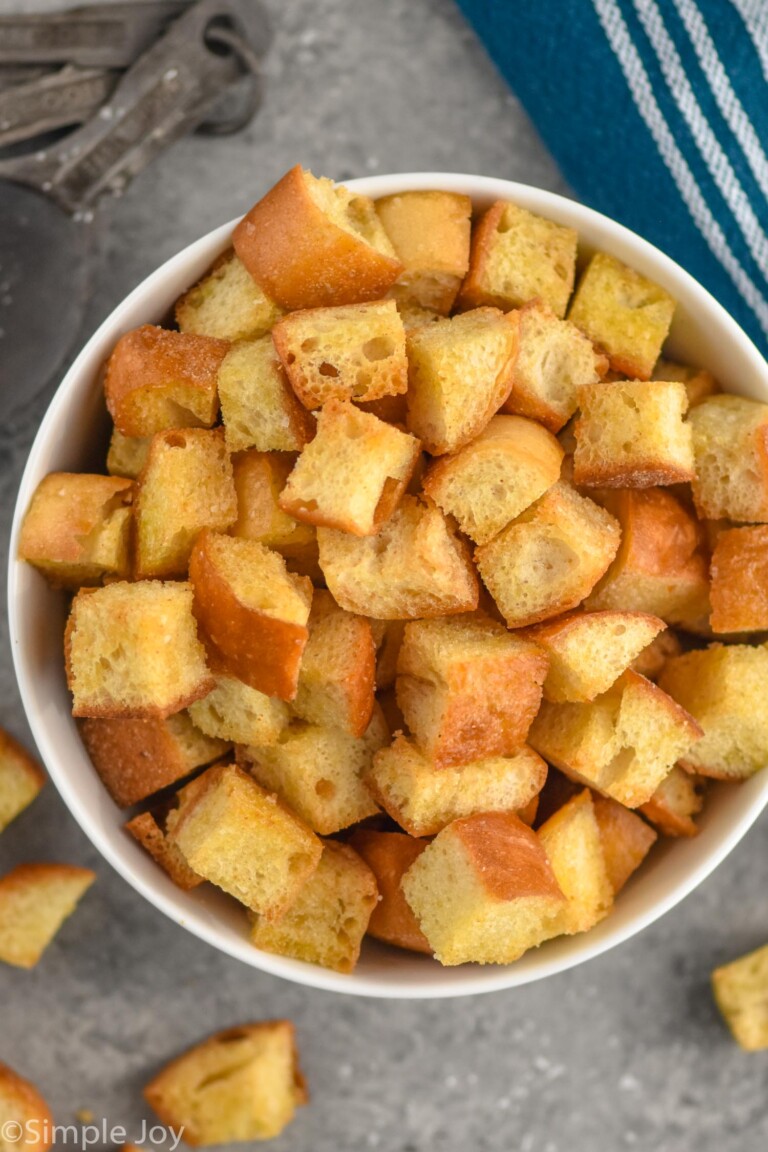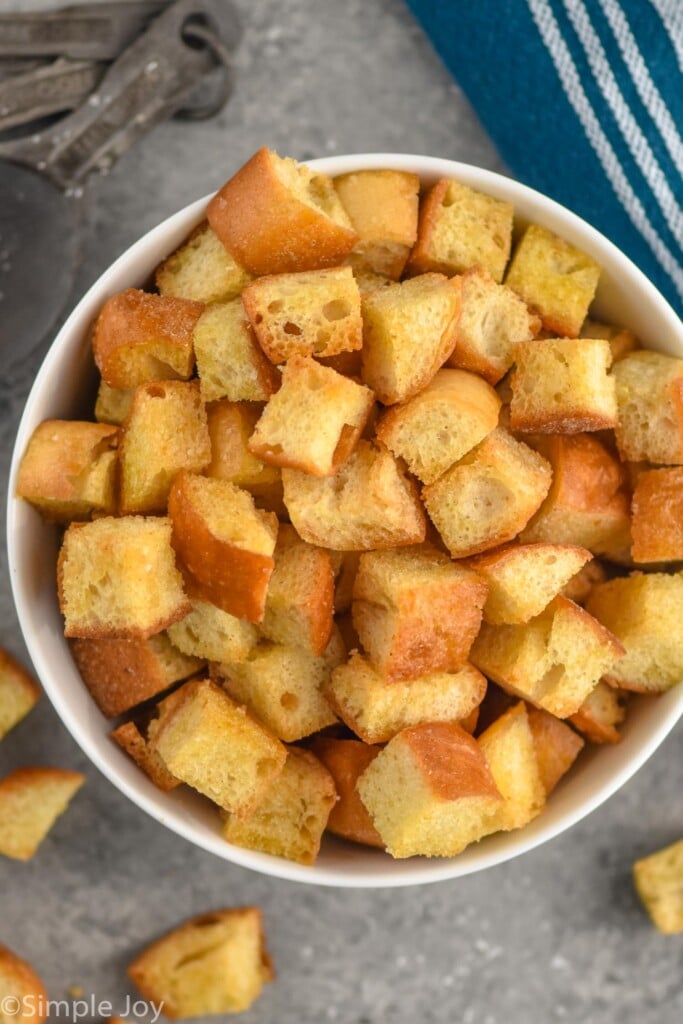 Other Great Homemade Recipes
Here are a few of my very favorite condiments to make from scratch.
If you make this great croutons recipe, please leave me a comment and let me know what you think. I love hearing from you!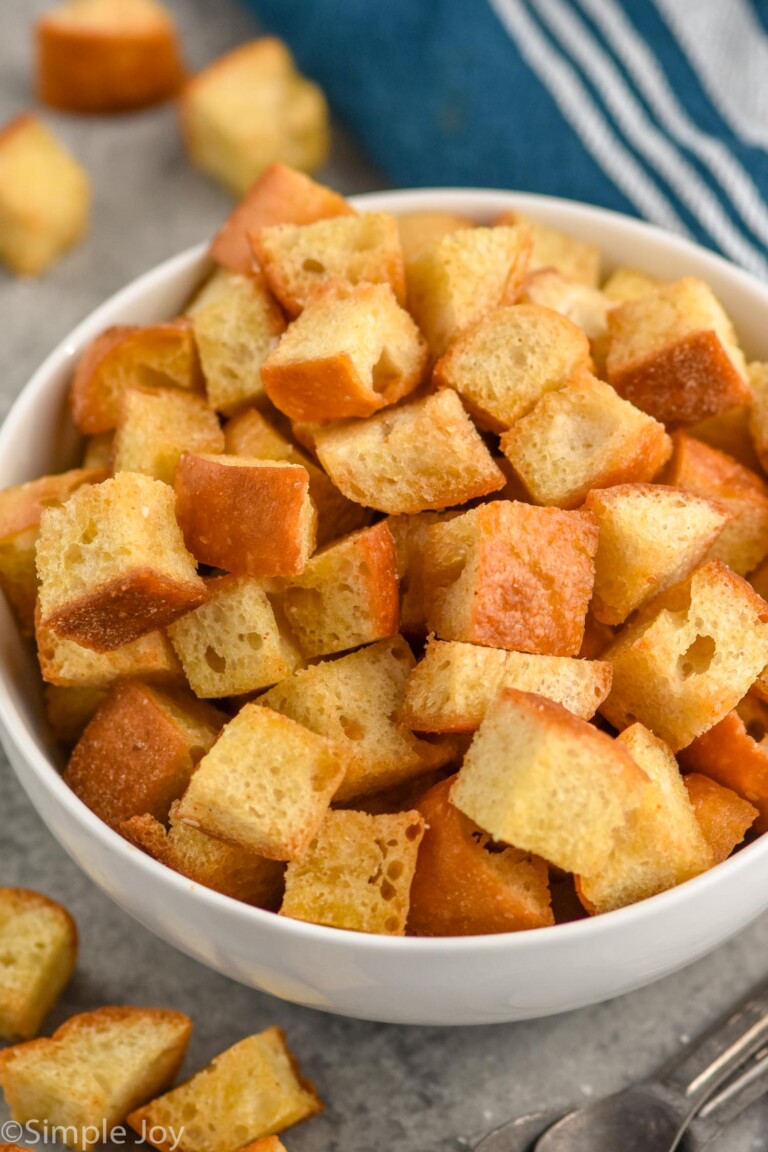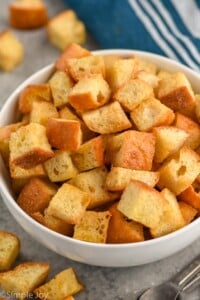 Homemade Croutons Recipe
This Homemade Croutons Recipe, made from fresh bread, is delicious and easy to customize to your favorite flavors!
Ingredients
4

cups

cubed French bread

cut into one inch cubes (181 grams)

1/4

cup

extra virgin olive oil

(59.14 ml)

1/2

teaspoon

garlic powder

1/2

teaspoon

kosher salt

(If you use tables salt, cut this amount in half)
Instructions
Preheat the oven to 350 degrees Fahrenheit. Line a rimmed baking sheet with parchment paper and set aside.

In a large bowl, combine all of the ingredients and toss until the bread is well coated. It often works best to add a little oil and seasonings, toss the mixture, and then add the rest.

4 cups cubed French bread,

1/4 cup extra virgin olive oil,

1/2 teaspoon garlic powder,

1/2 teaspoon kosher salt

Pour the coated pieces of bread onto the prepared baking sheet. Bake for 12 to 15 minutes, tossing them once during baking and rotating the sheet once. Bake until golden brown.

Allow to cool a little and then use right away on salad or soups. Store leftovers in an airtight container for up to one week.
Serving:
0.25
cup
Calories:
255
kcal
(13%)
Carbohydrates:
41
g
(14%)
Protein:
9
g
(18%)
Fat:
6
g
(9%)
Saturated Fat:
1
g
(6%)
Polyunsaturated Fat:
1
g
Monounsaturated Fat:
4
g
Sodium:
572
mg
(25%)
Potassium:
94
mg
(3%)
Fiber:
2
g
(8%)
Sugar:
4
g
(4%)
Vitamin C:
0.002
mg
Calcium:
41
mg
(4%)
Iron:
3
mg
(17%)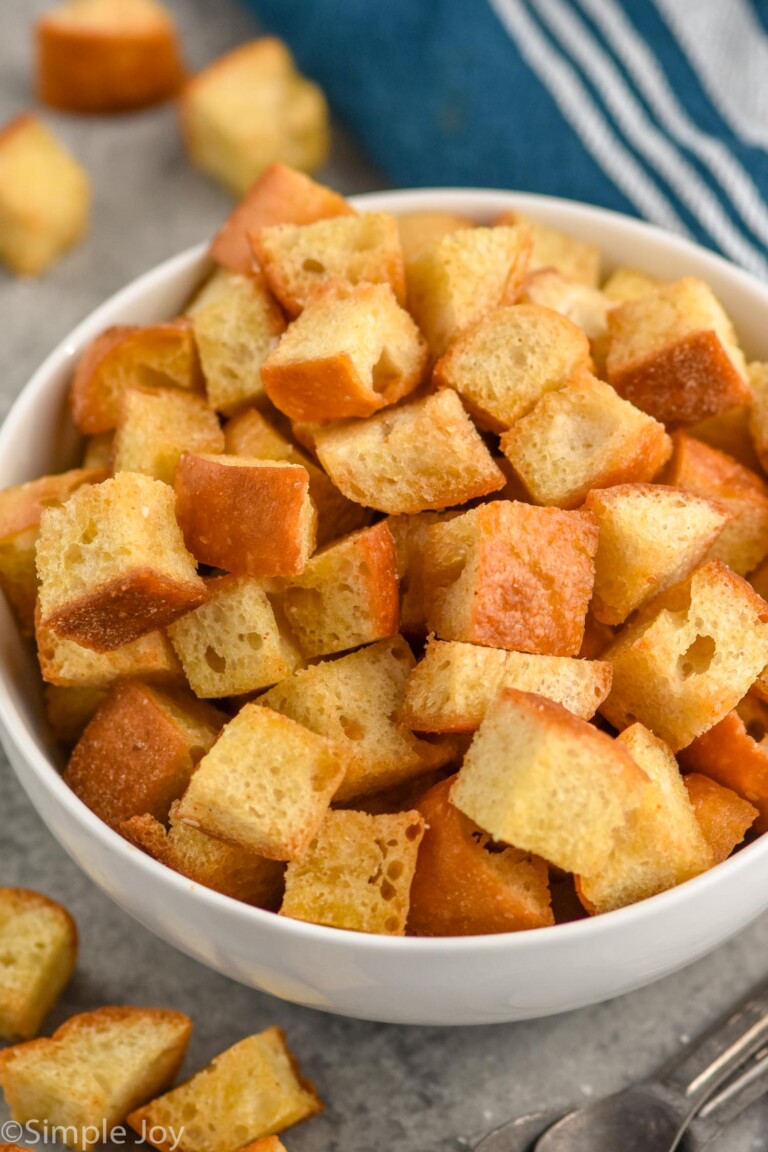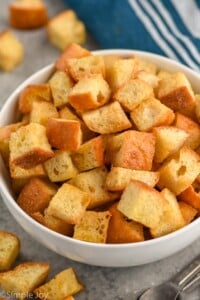 did you make this
Homemade Croutons Recipe