Air Fryer Potato Wedges come together with three ingredients and will cook up fast. These make the perfect easy side dish that the whole family will love!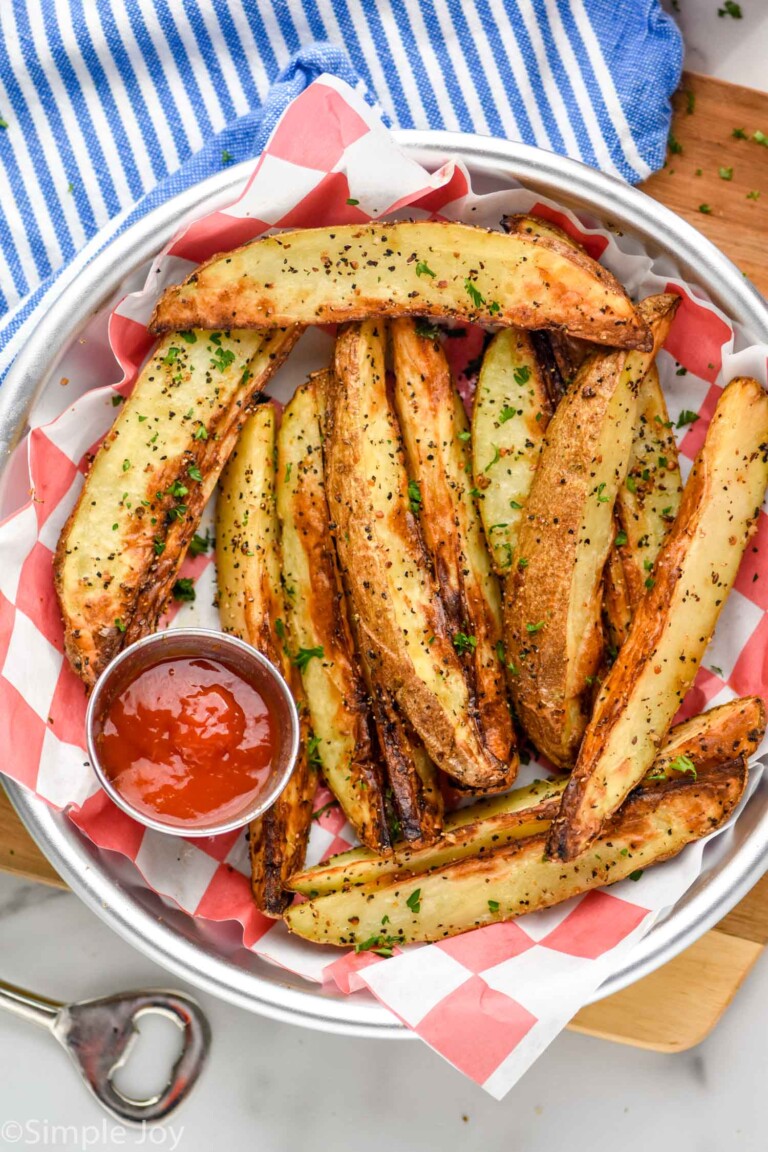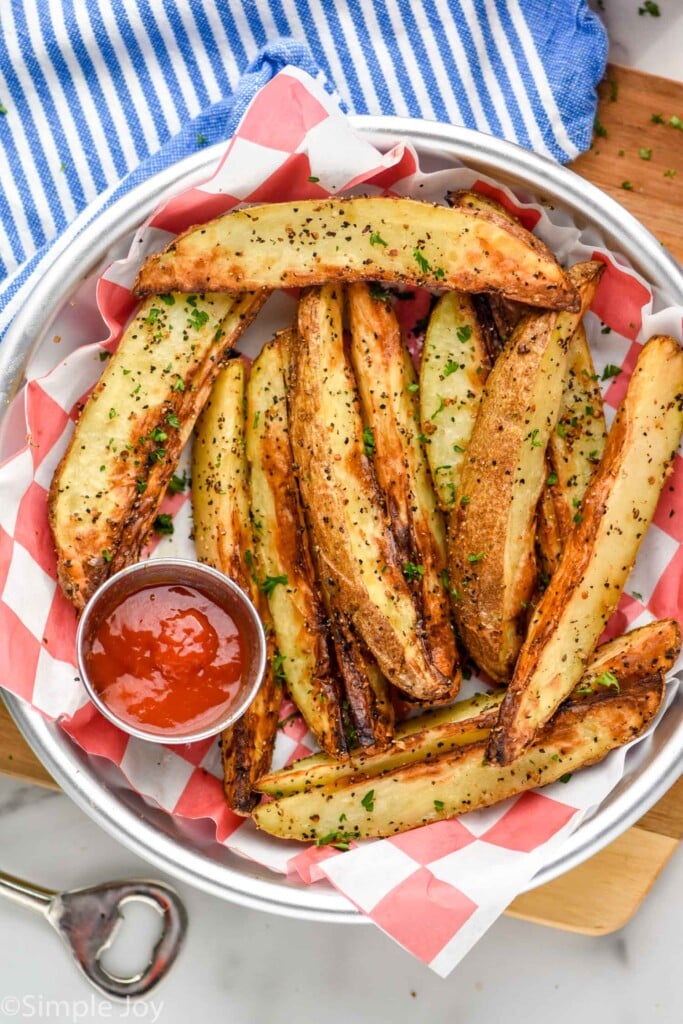 Busy nights in our house are the norm these days. I know that we aren't unique in that way, and with busy nights comes a need to get dinner on the table fast. If you have a hungry growing brood like I do, side dishes are key to stretching out dinner recipes.
These Air Fryer Potato wedges are the perfect fast, easy side dish to stretch out dinner. These come together with only three ingredients and crisp up perfectly in your air fryer in about 15 to 20 minutes. These would be perfect with so many of our slow cooker dinners, making chaotic weeknights just a little easier for everyone.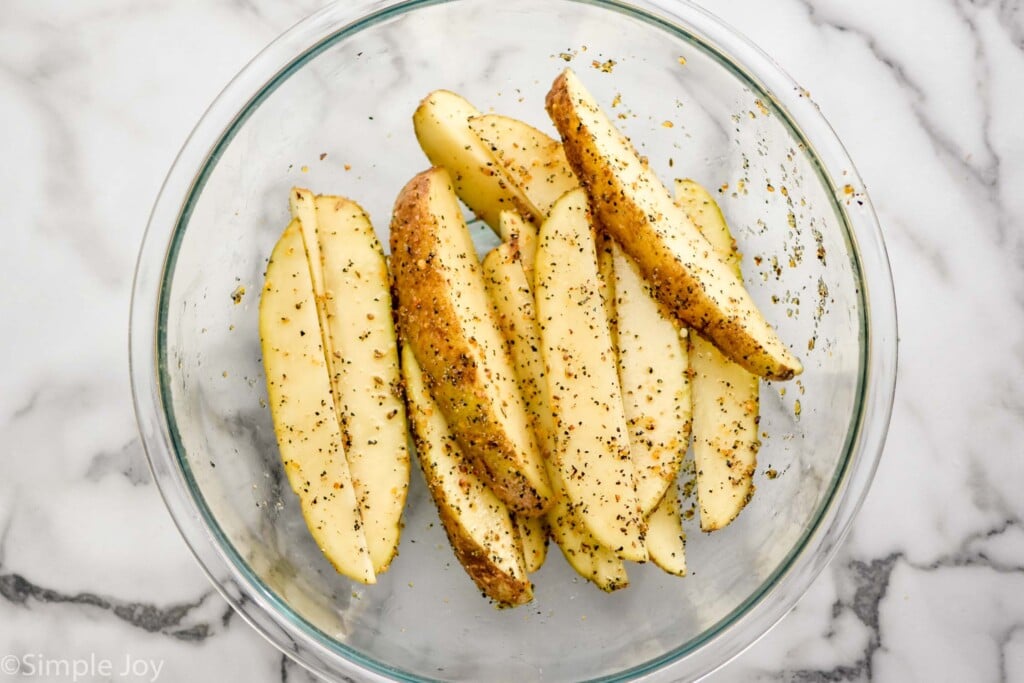 How to Make Potato Wedges in the Air Fryer
Here is a brief summary of just how easy it is to air fry potato wedges. No need to mess with hot oil, making these homemade potato wedges couldn't be easier or more delicious. For the full recipe and measurements, see the recipe card at the bottom of the post.
Preheat the air fryer. This helps give the wedges a nice crisp outside.
Prepare the potatoes. While your air fryer is warming up, scrub your potatoes and slice them thinly. See more on how to cut potato wedges below.
Season the potatoes. Combine the potatoes, oil, and grill seasoning in a large bowl. Make sure the potatoes are fully coated.
Cook. Put the potatoes in the basket of the air fryer. Cook for 15 to 20 minutes or until the potatoes reach your desired level of doneness.
Best Potatoes for Potato Wedges
I recommend using Russet potatoes for both baked and air fried potato wedges. They are high in starch and low in moisture, making them ideal for frying and baking compared to other types of potatoes. If you are living in the UK, the closest potato to the russet is a white potato. I would recommend trying that for this recipe.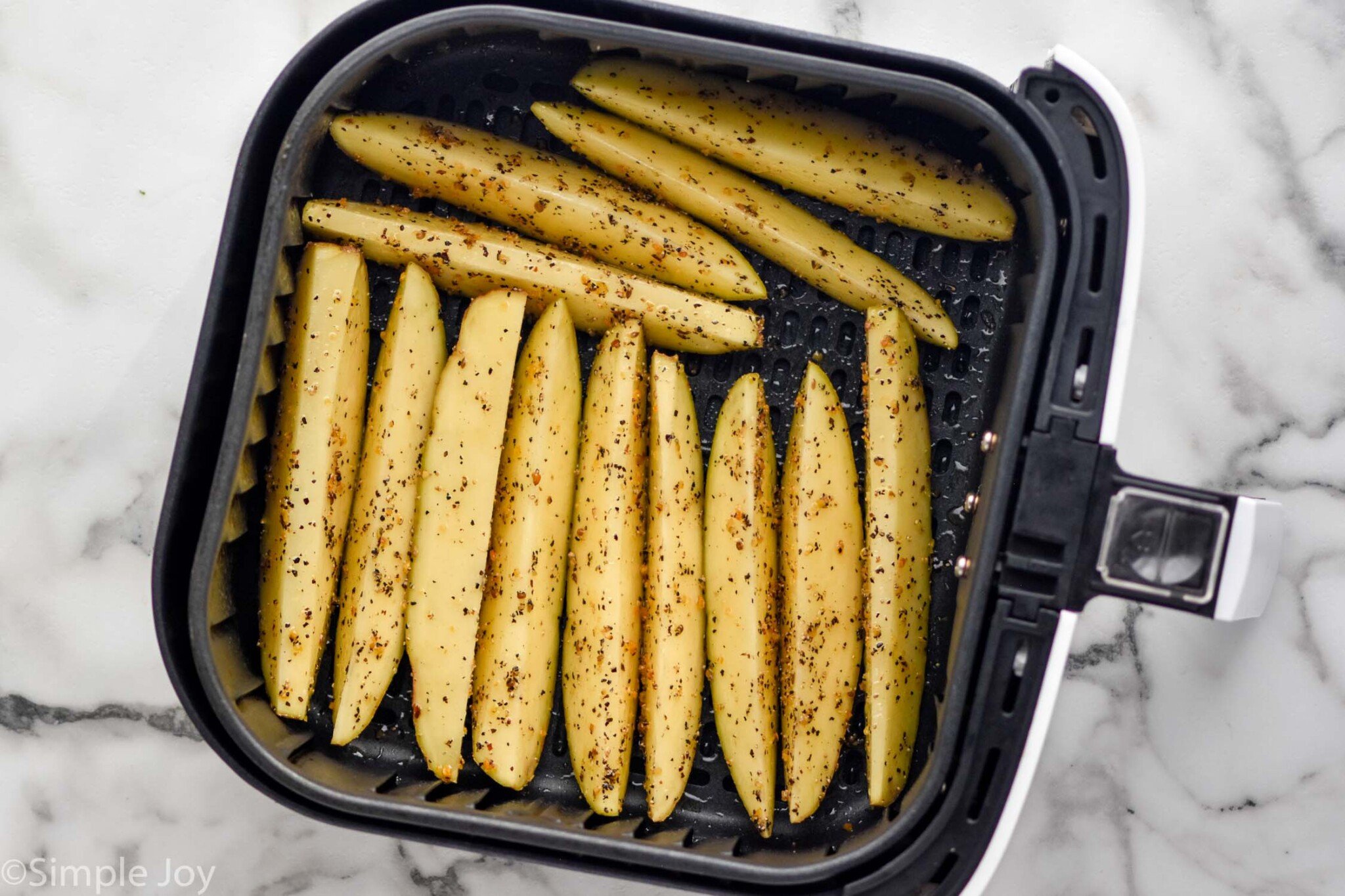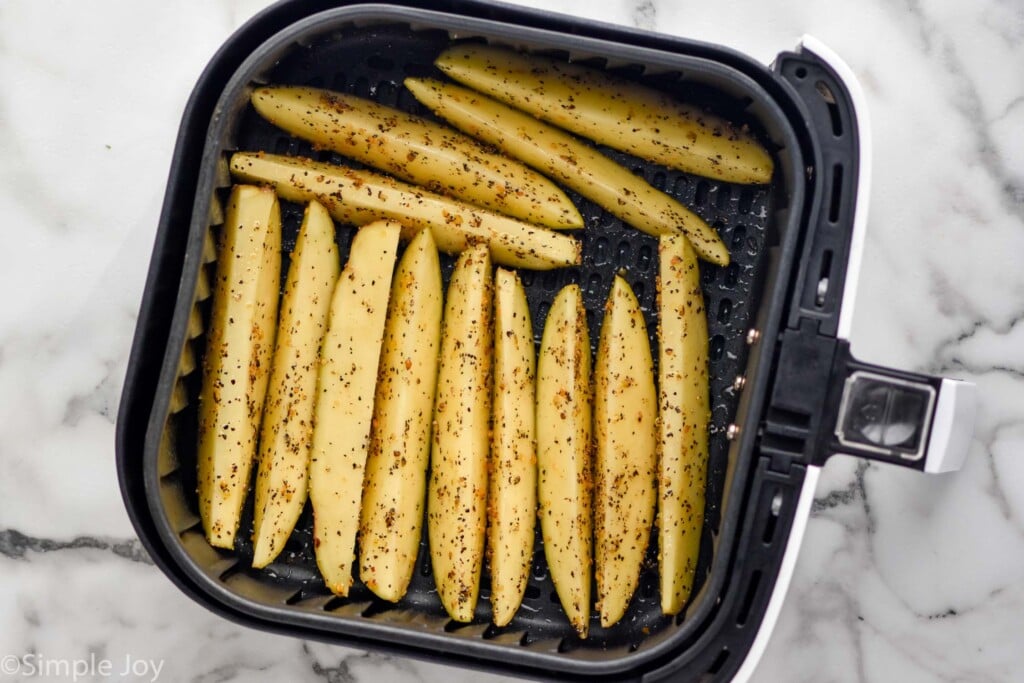 How to Cut Potato Wedges
The two keys to this recipe turning out right are preheating your air fryer and cutting thin enough wedges of potato so they cook well. You can get a good seven to eight slices out of each potato which results in potato wedges that are totally soft in the middle with a nice crispiness on the edges.
You want to cut each potato in half lengthwise. Place the cut side down and cut in half again. Then cut each fourth in half as well.
Seasonings for Potato Wedges
I make this great recipe with some homemade grill seasoning. It's amazing on this recipe. We've also used steak seasoning on this, both homemade steak seasoning and store bought, and it is fantastic. Listed below are some outside the box ideas for how you could flavor these. And you can see all our mixes here: Seasoning Mixes.
Grill Seasoning
This blend of seasonings is delicious in so many different recipes, from vegetables to steak. It is perfect in this homemade potato wedges recipe!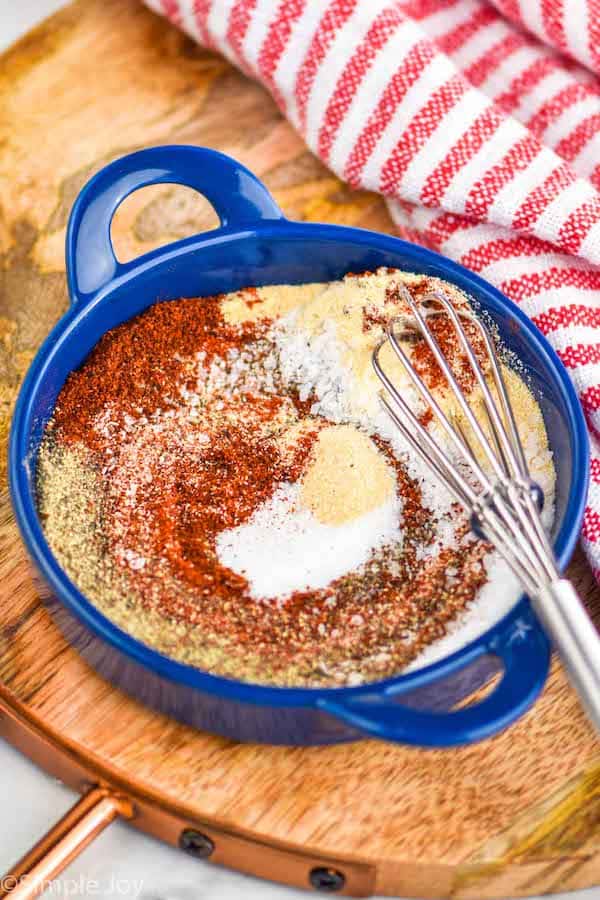 Best Air Fryer
If you are looking for the perfect air fryer, I love the Corosi you see pictured here. The basket is big enough that you can load almost this entire recipe in one layer, just adding a few potato wedges in a second layer.
This guy works in so many great recipes. You can see all of them here: Air Fryer Recipes.
TOP PICK
My Favorite Air Fryer
I love this air fryer! It is a work horse and gets the job done week after week.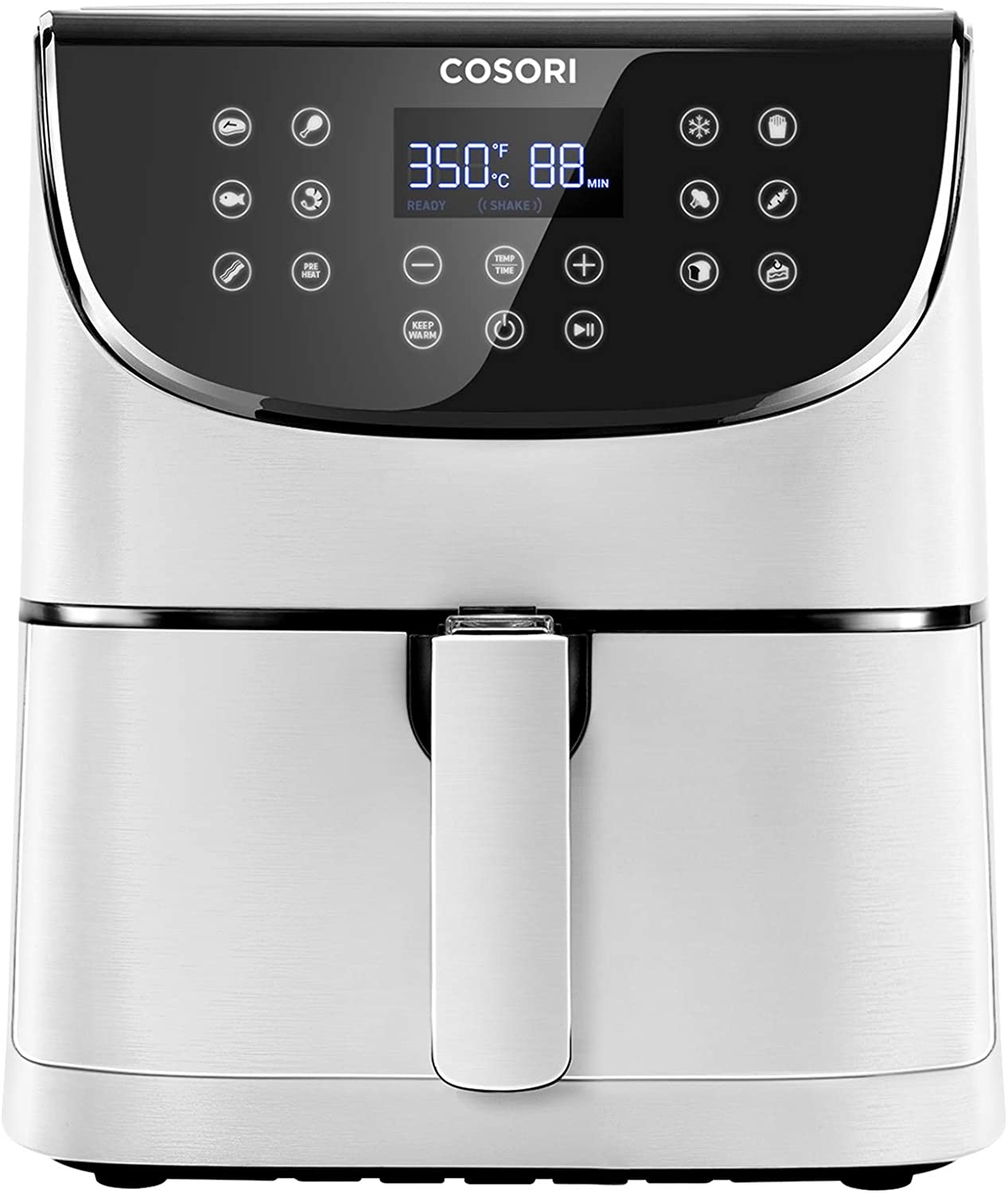 Dipping Sauces for Potato Wedges
My kiddos like these dipped in ketchup, except my little one, who is like me. She and I are both obsessed with Ranch and love my Homemade Ranch Dressing for dipping these. Here are a few great choices.
Baked Potato Wedges
Homemade potato wedges can also be made in the oven. This may be a better option if you are making a lot of them since more can be cooked at once. Featuring the same grill seasoning, check out my baked potato wedges recipe.
Baked Potato Wedges
These potato wedges made in the oven are only three ingredients and require only 10 minutes of hands-on time.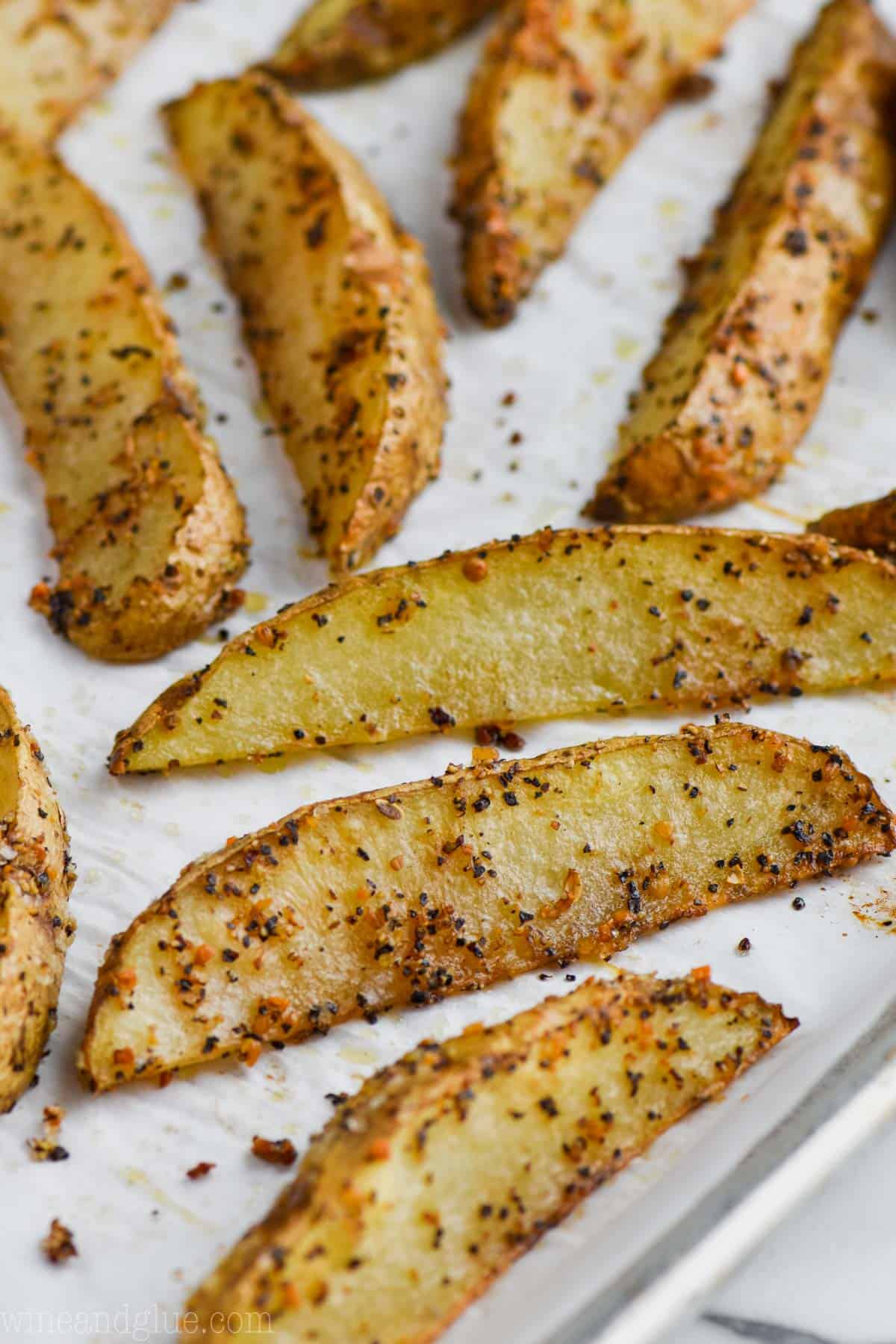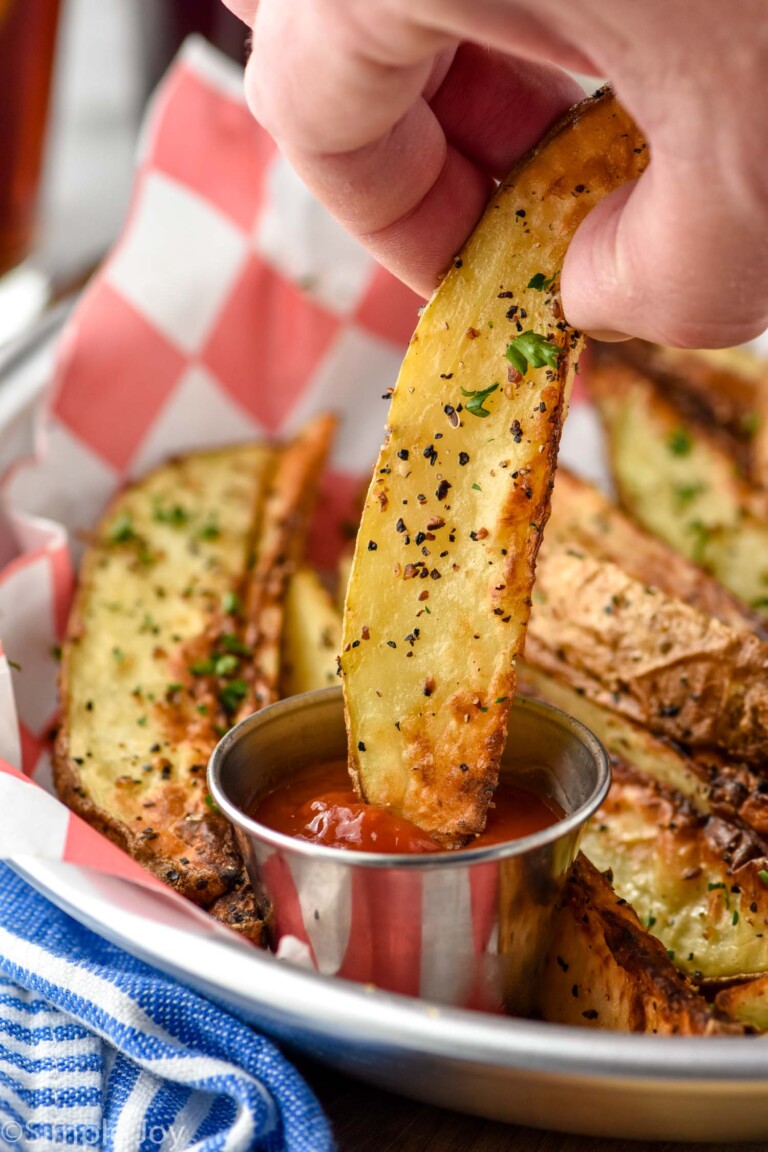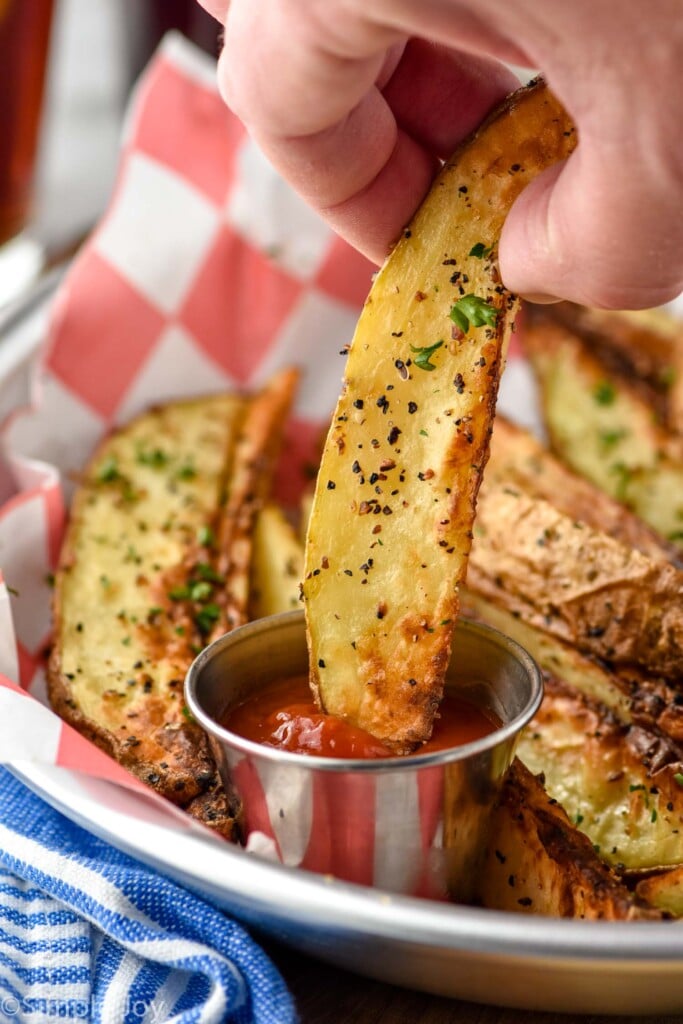 FAQ
Do I need to peel the potatoes?
Nope! You can leave the skins on. Just clean them well to remove any dirt and residue.
How long do I cook potato wedges in the air fryer?
If you cut them thinly, they will take about 12 minutes, flipping the potatoes halfway through.
Are potato wedges gluten free?
Yes! They are made with just potatoes, oil, and seasoning, none of which contain gluten. When you make them homemade, you can be sure there is no cross-contamination with oil that has been used to fry food containing gluten like at a restaurant.
Freezing and Storing
Store your easy potato wedges in an airtight container in the refrigerator for up to three days. These don't freeze well after they are cooked but can be frozen before they are cooked. To prevent them from sticking together, freeze the prepared wedges on a baking sheet in a single layer.
Once frozen, transfer them to a freezer bag or freezer-safe container and store them in the freezer for up to three months. To cook them, add them to your preheated air fryer. Add five minutes to the suggested baking time when cooking from frozen.
Reheating Air Fryer Potato Wedges
To reheat your air fried potato wedges, place them in a preheated air fryer for about six minutes, tossing halfway through.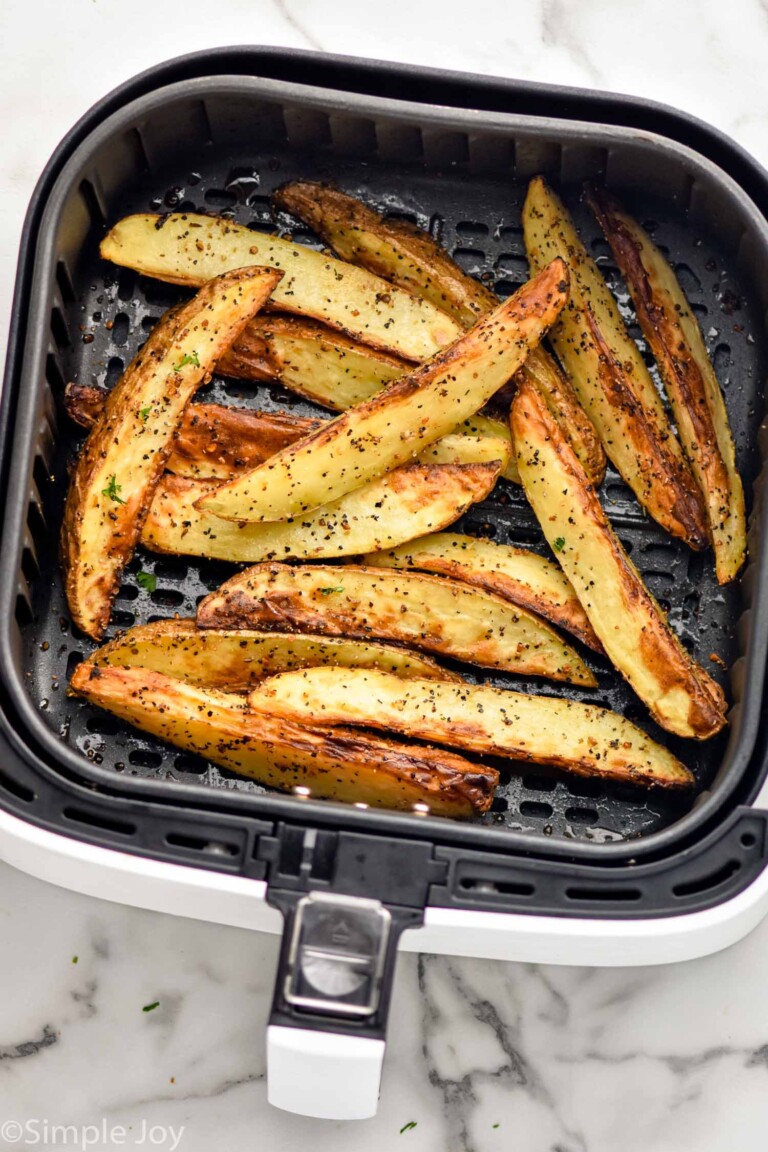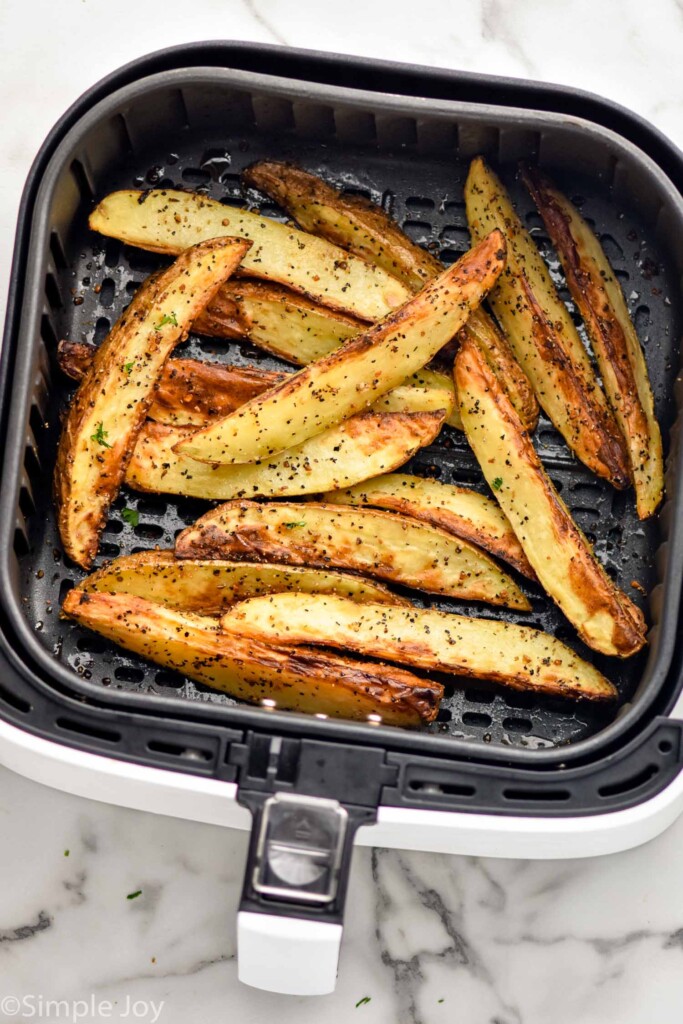 What to Serve with Potato Wedges
This is perfect as the side dish to so many recipes. Since your air fryer is doing the work, it frees up your oven and stove top to make any of these great main dishes.
If you try this air fryer potato wedge recipe or any of my others, I'd love to hear what you think! Please leave a comment.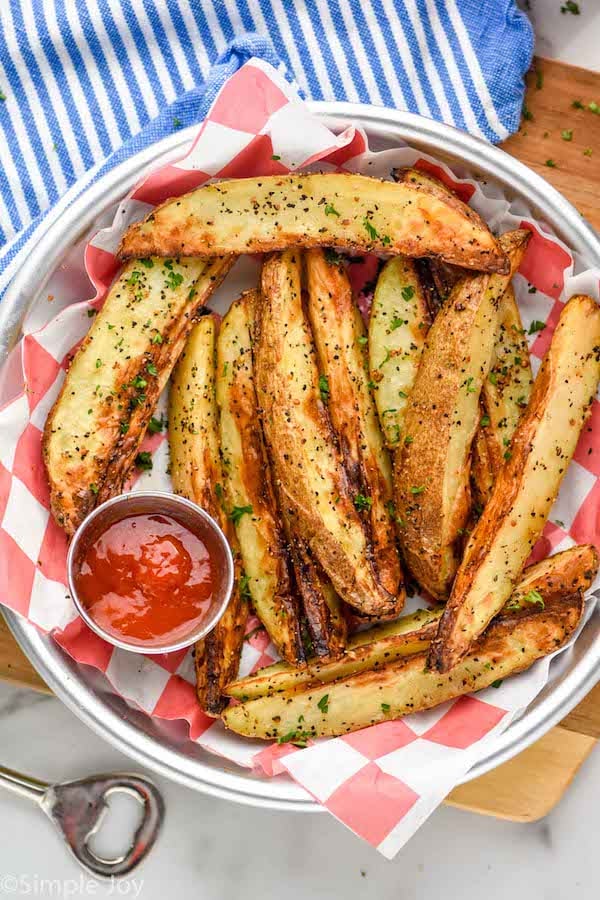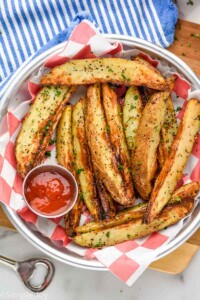 Air Fryer Potato Wedges
Air Fryer Potato Wedges come together with three ingredients and will cook up fast. These make the perfect easy side dish that the whole family will love!
Ingredients
2

large russet potatoes

cut thin (about 7 to 8 slices per potato)

2

tablespoons

grill seasoning

2

tablespoons

olive oil
Instructions
In a large bowl, mix together the potatoes, olive oil, and grill seasoning so that the potatoes are well coated.

Put the potatoes in the basket of the air fryer in as much of a single layer as possible. Cook the wedges for 15 to 20 minutes or until your desired level of doneness.
Serving:
4
potato wedges
Calories:
152
kcal
(8%)
Carbohydrates:
21
g
(7%)
Protein:
2
g
(4%)
Fat:
7
g
(11%)
Saturated Fat:
1
g
(6%)
Polyunsaturated Fat:
1
g
Monounsaturated Fat:
5
g
Sodium:
6
mg
Potassium:
458
mg
(13%)
Fiber:
2
g
(8%)
Sugar:
1
g
(1%)
Vitamin A:
54
IU
(1%)
Vitamin C:
6
mg
(7%)
Calcium:
34
mg
(3%)
Iron:
2
mg
(11%)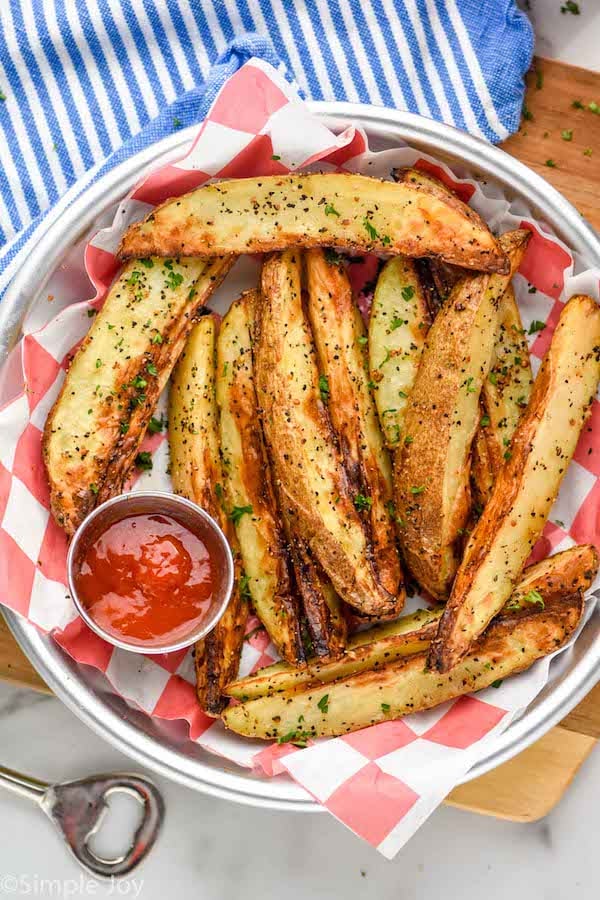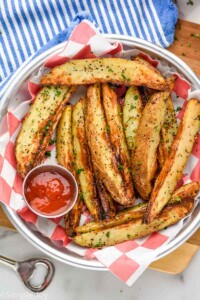 did you make this
Air Fryer Potato Wedges