This Sheet Pan Vegetables and Lemon Pepper Baked Cod Recipe is such an easy delicious meal that is done in under 30 minutes! This lemon baked cod with butter is such a simple recipe that still is full of flavor! If you are looking for another great fish recipe, try this Spanish fish! It is a delicious baked cod recipe If you need another great sheet pan meal, make sure to try these sheet pan fajitas. Finally, if you want another lighter dinner, try these healthy meatballs!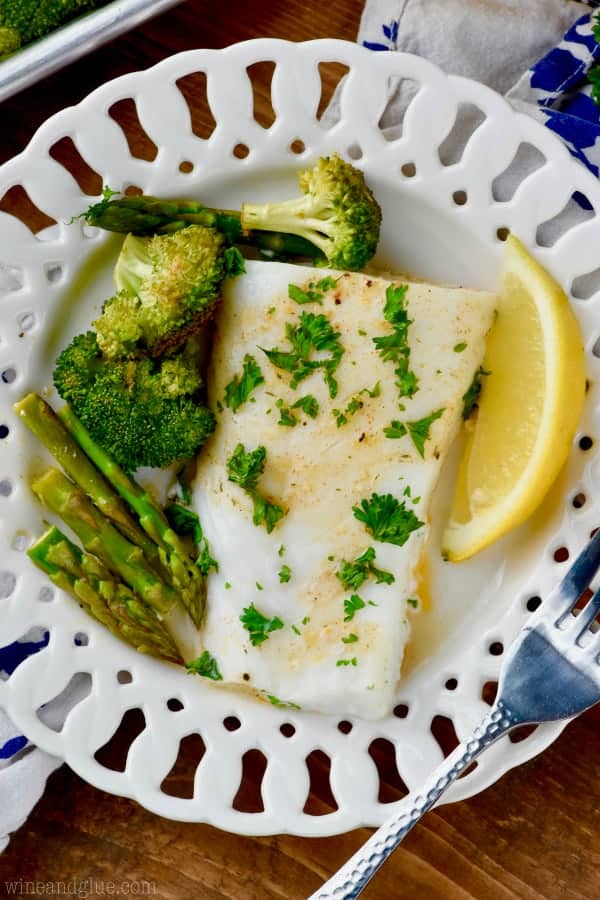 T-minus 20 some odd days before I have to be in a swim suit in public for spring break . . . . guys, that thought crossed my mind as I was drifting off to sleep last night and all of the sudden I was WIDE awake.
And what is funny is that I keep going back and forth on it (it being whether or not I need to hard core diet and lose a solid 10 to 15 pounds). One minute I'm all, "Okay. I really need to buckle down." The next minute I pass our Girl Scout Cookie stash and think, "I mean, I've had four kids . . . I should be proud of my mom bod."
Pass by a mirror, "I mean . . . I still have time to lose some of the weight."
Give the 47th timeout of the day, "But . . . wine."
If there was ever a struggle that was real, friends, this is it.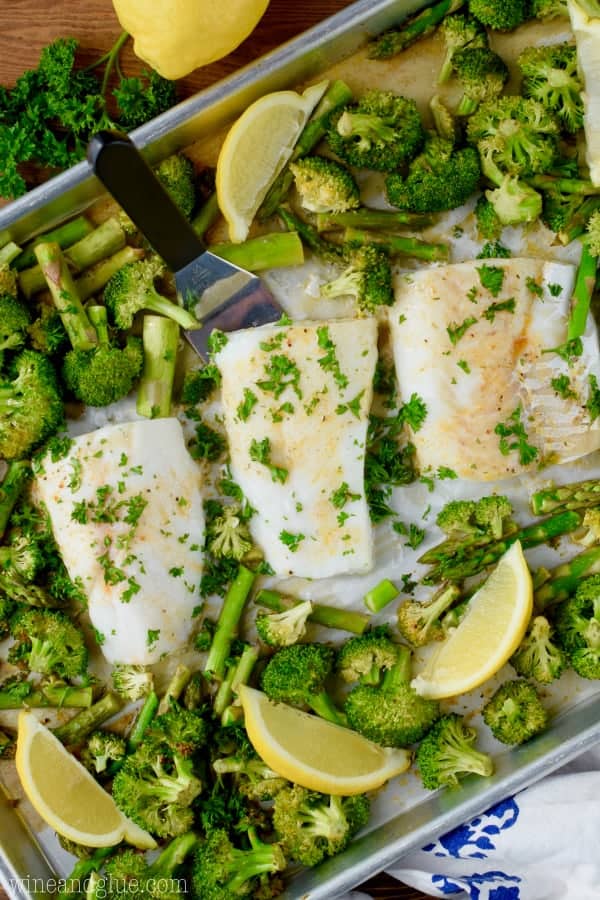 Guess what helps in the weight loss efforts?
I'll give you a hint . . . it isn't making videos of Easter Egg Cookie Dough Truffles and Easter Egg Fudge! Updating pictures of Mint Chocolate Brownies isn't really ideal either . . .
THE BEST EASY BAKED COD RECIPE
But! You know what's good . . . super easy, super light, super delicious sheet pan meals! Now to be fair, this sheet pan meal has 4 tablespoons of melted butter. But! It also has baked cod, which is a lean protein, and is loaded with vegetables. And it has a lemon pepper taste that you really can't beat. But better than all of that, this meal comes together in a FLASH.
HOW TO BAKE COD
I used some pre cut broccoli, and so really all I had to do was mix up lemon juice, butter, spices, slice up some asparagus, dice a little parsley, and toss it in the oven. It bakes up perfectly in about 14 minutes, and the left overs are good! I made this when the light was right in my house but the family wasn't there to eat dinner, so to reheat it I put it in a vegetable steamer (one serving at a time) for a few minutes over some boiling water and it was perfect.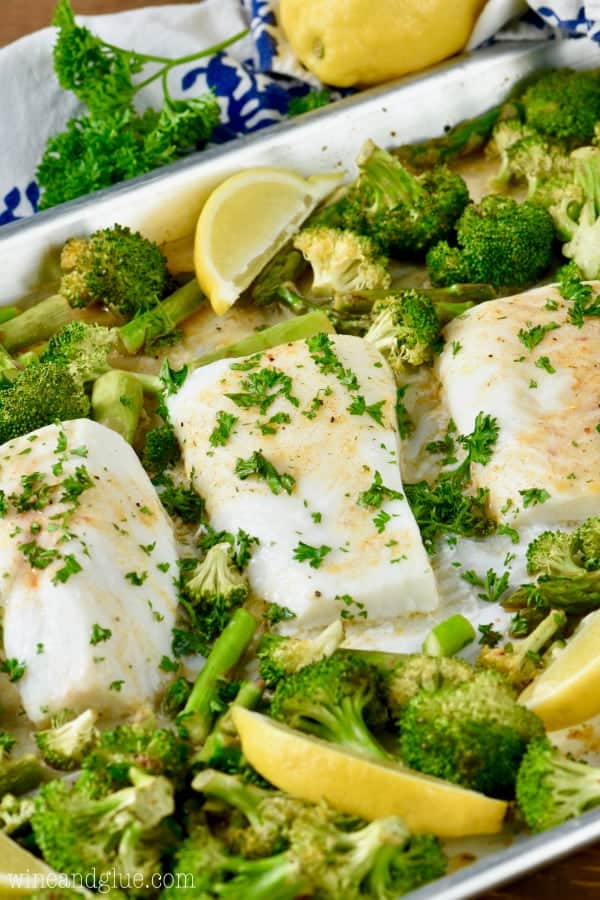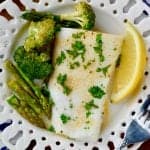 Print Recipe
Sheet Pan Lemon Pepper Baked Cod and Vegetables
This Sheet Pan Lemon Pepper Baked Cod and Vegetables is such an easy delicious meal that is done in under 30 minutes!
Ingredients
4

TBSPs

lemon juice

4

TBSPs

butter

melted

1

tsp

salt

1/2

tsp

paprika

1/2

tsp

lemon pepper seasoning

1/4

cup

minced parsley

12

oz

chopped broccoli

about 3 cups

8

oz

chopped asparagus

about 1 bunch

1

pound

cod filets

not frozen, see note
Instructions
Preheat your oven to 400 degrees. Line a baking sheet with parchment paper.

Mix together the lemon juice, butter, salt, paprika, and lemon pepper.

Place cod in the middle of the parchment paper. Surround with the chopped asparagus and broccoli. Pour the butter and lemon juice mixture over the top. Top with chopped parsley.

Bake for 13 to 15 minutes or until the cod is no longer translucent, be cautious not to bake too long as the fish will dry out.
Notes
It is best to thaw frozen cod in the refrigerator overnight.
Nutrition
Calories:
335
kcal
|
Carbohydrates:
9
g
|
Protein:
45
g
|
Fat:
13
g
|
Saturated Fat:
8
g
|
Polyunsaturated Fat:
1
g
|
Monounsaturated Fat:
3
g
|
Cholesterol:
130
mg
|
Sodium:
454
mg
|
Potassium:
1269
mg
|
Fiber:
3
g
|
Sugar:
2
g
|
Vitamin A:
1850
IU
|
Vitamin C:
127.1
mg
|
Calcium:
90
mg
|
Iron:
2
mg

SaveSave
SaveSave