This Skillet Brownie for Two comes together fast in just one bowl and is perfect for a date night or even an after dinner dessert for a family of four!

I'm so happy to be partnering with Breyers and sharing this easy dessert that is the perfect compliment to their Breyers Gelato Indulgences.
I vividly remember bringing Gavin to the pediatrician for the first time when he was just two days old. Like I can remember what I was wearing, which room we were seen in, where I was sitting in the office . . . everything. And I also remember the pediatrician giving us a long list of do's and do not's. Do wake him up to feed him every three hours. Don't take him on an airplane before two months. You know, basics.
But I also vividly remember her telling us that we really needed to make sure to schedule one date night every month.
I think I must have looked at her like she was a crazy person. My mom had just died. I had just had ANOTHER HUMAN BEING come out of my body like that was something normal to do. She was serious? We are talking about date nights?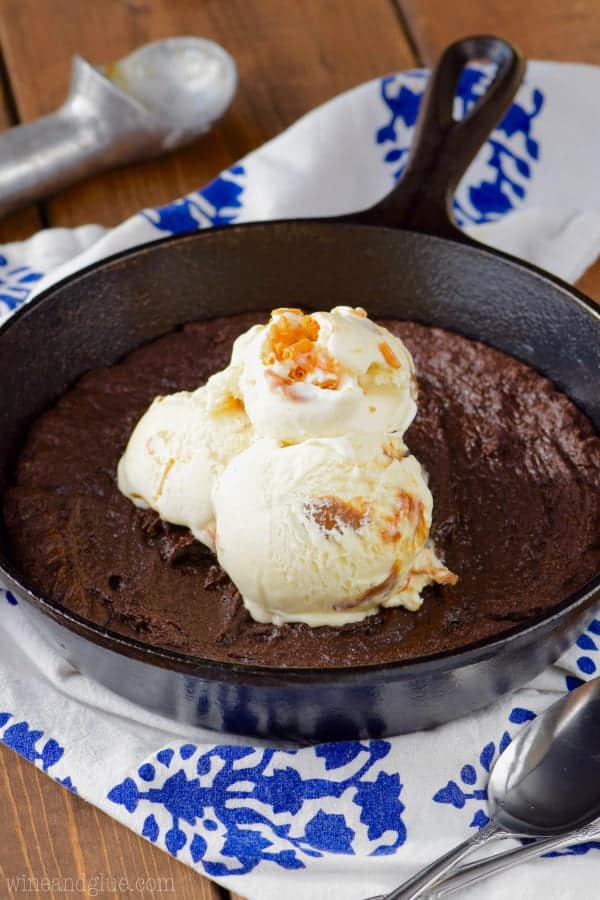 Next week it will be nine years since we sat in that office, and I'm wishing I could go back and tell that 20 something Lisa that yes, the doctor is serious. I would give her a hug and tell her it's all going to be okay, but she really does have to make her marriage a priority. I'm not suggesting in any way that I haven't. I have. I mean I REALLY have. But in a lot of ways only as a matter of survival. After losing my mom and Elliot, it became pretty clear that if I didn't have Nathan in my life, I would lose it. And keeping Nathan in my life after everything that happened was going to take some serious work.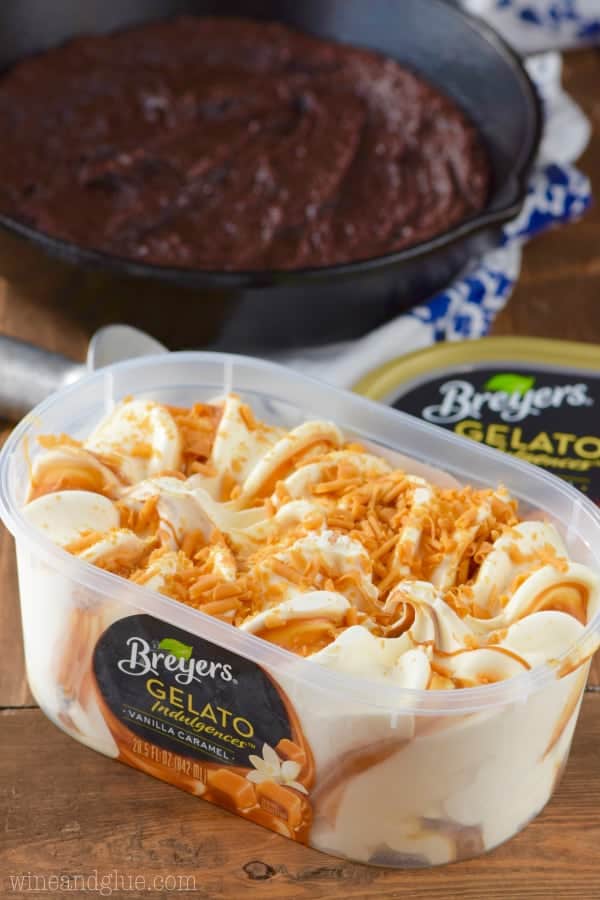 Guys. Date nights don't happen once a month. I mean, we try reeeeeaaaaaallly hard to do it. But it's not always easy with busy schedules, three kids, and an absence of an endless pool of reliable babysitters. And that's with not even having babies anymore!
Over the last nine years, we've really had to make an effort at making date nights happen even when we can't go out. They aren't always as exciting as going out, but they always do the same thing for our marriage: remind us why we wanted to hitch our cars to each other's trains for the rest of time.
But the date night in does have to be special. No computers, no phones, and if we watch tv together it has to be like one show that we both really like and we pause 18 times to talk about. And it always has to have delicious food. This Skillet Brownie for Two is peeeeeeeerfect for a date night in. And I'm not going to lie. It's a big brownie, so it would also work if you are having a double date night in and having some friends over. It comes together fast in just one bowl and then just 18 minutes in the oven.
And then. AND THEN!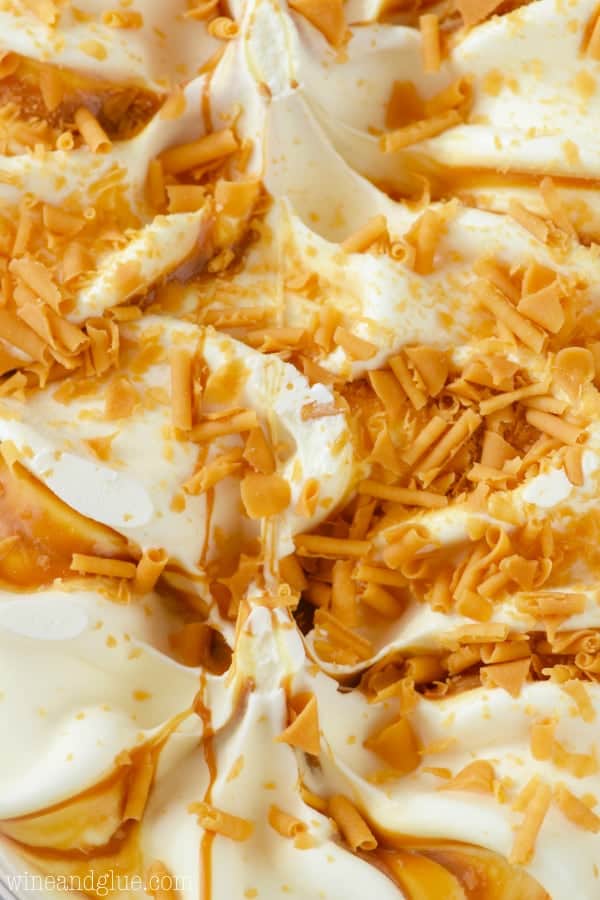 Then you top it with the most delicious topping ever. You throw some of this amazing Breyers Gelato Indulgences on it. It is the most amazing trio of textures: the amazing creamy gelato, a delicious sauce, and luxurious toppings. You can see all three in the photo above.
I grabbed their Vanilla Caramel, because caramel is the way to my husband's heart. Come to think of it gelato is also the way to his heart. When we were in Italy on our honeymoon, he had gelato every single day. So I love that I can just pick some up here and bring a little of our honeymoon to our date nights now that we are old and married. ;)
The Breyers Gelato Indulgences compliments this brownie perfectly, and is perfect for a date night in. The brownie is amazingly rich, and the gelato is the perfect creamy compliment to break up some of it's intensity.
Or if you are Nahtan, you skip the brownie all together and just have the Vanilla Caramel Gelato. Seriously, he must have asked me 18 times if I was done with this post yet so he could eat the other container of gelato just waiting in the freezer. It's that irresistible.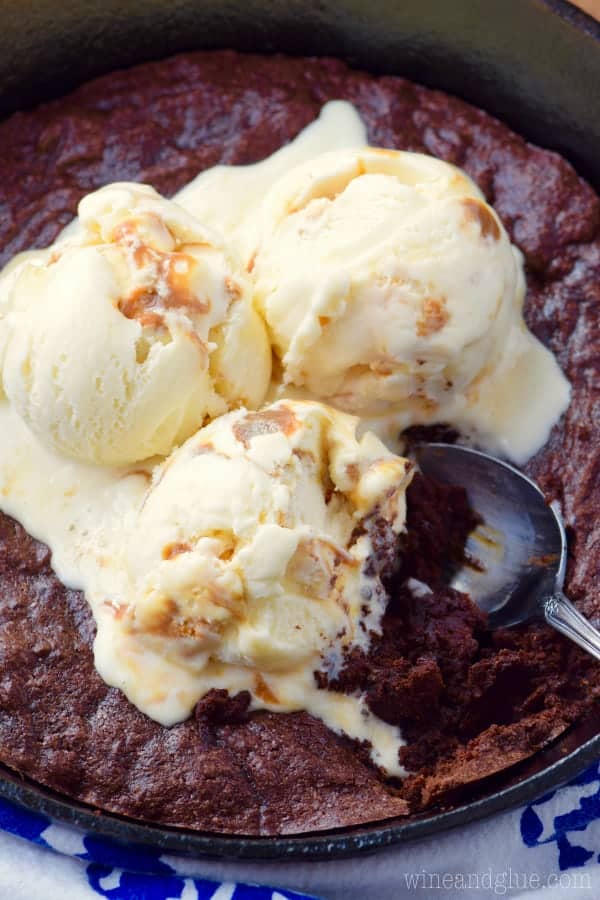 To see all of the amazing flavors of Breyers Gelato Indulgences, be sure to follow them on Facebook, Twitter, and Pinterest.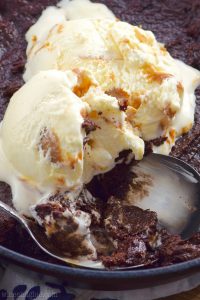 Skillet Brownie For Two
Ingredients
1

egg

whisked until bubbles form

2/3

cup

flour

spooned and leveled

2/3

cup

granulated sugar

1/8

tsp

salt

1/4

cup

cocoa powder

4

TBSPs

unsalted butter

melted

2

TBSPs

hot water

1/4

cup

milk chocolate chocolate chips
Instructions
Preheat your oven to 350 degrees.

In a medium bowl, whisk your egg until bubbles begin to form, about one minute.

Add in the other ingredients and stir to combine. The batter will be very thick.

Grease an 8 inch cast iron skillet with butter. Pour in the batter and bake for 18 minutes or until the edges begin to pull away from the side of the pan and a toothpick in the center comes out with crumbs and not liquid batter. Be careful not to over bake.

Serve with Breyers Gelato Indulgences.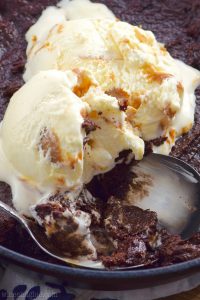 did you make this
Skillet Brownie For Two

This is a sponsored conversation written by me on behalf of Unilever Ice Cream. The opinions and text are all mine.