French Fries are so easy to make homemade and are a little better for you when you make them in the oven. With my tips and tricks, they will come out perfectly crisp every time.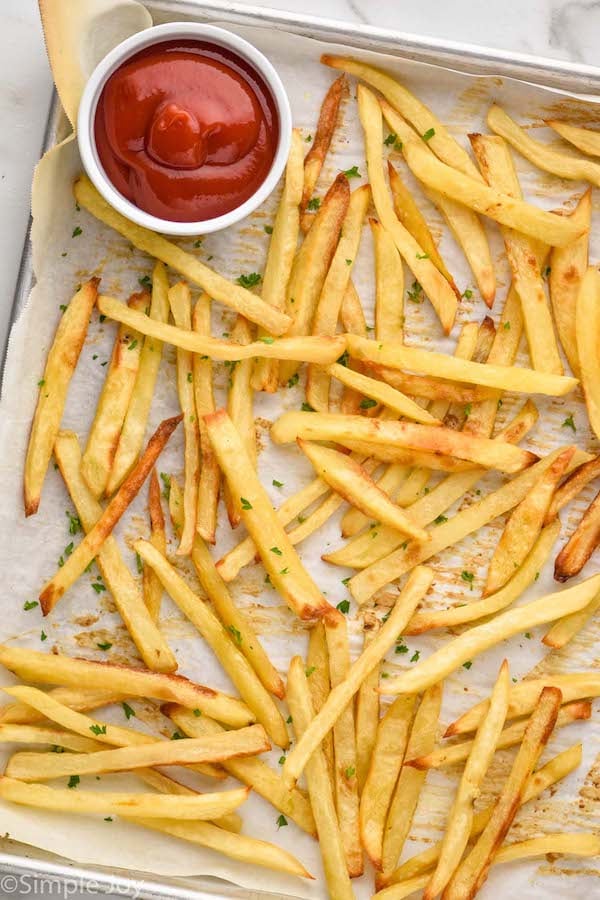 If my kiddos and I have one weakness it would be French Fries. My middle kid in particular would happily have only fries for a meal. While that isn't the healthiest choice, I can absolutely get behind a side of baked fries next to my Chicken Nuggets or our Hamburgers.
Baked French Fries skip the frying in oil, and opt for the oven instead. We have a few little tips and tricks that still keep the fries crisp like they just came out of the deep fryer.
How to Make Homemade French Fries
Here is a brief summary of just how easy it is to make baked french fries. No need to mess with hot oil, making these homemade french fries in the oven couldn't be easier or more delicious. For the full recipe and measurements, see the recipe card at the bottom of the post.
Prepare potatoes. Cut the potatoes into fry shape. Soak the cut potatoes in hot water. This removes the starch from the potatoes which will help achieve a crispier outside.
Pat dry. This is an important step. Pat the potatoes very dry to ensure they produce crisp fries.
Season the fries. Toss the fries with olive oil and salt to evenly coat them.
Bake. Place the prepped fries on a baking sheet and bake, flipping the fries and rotating the baking sheet halfway through baking.
What Kind of Potatoes to Use
I recommend using Russet potatoes for easy french fries. They are high in starch and low in moisture, making them ideal for frying and baking compared to other types of potatoes.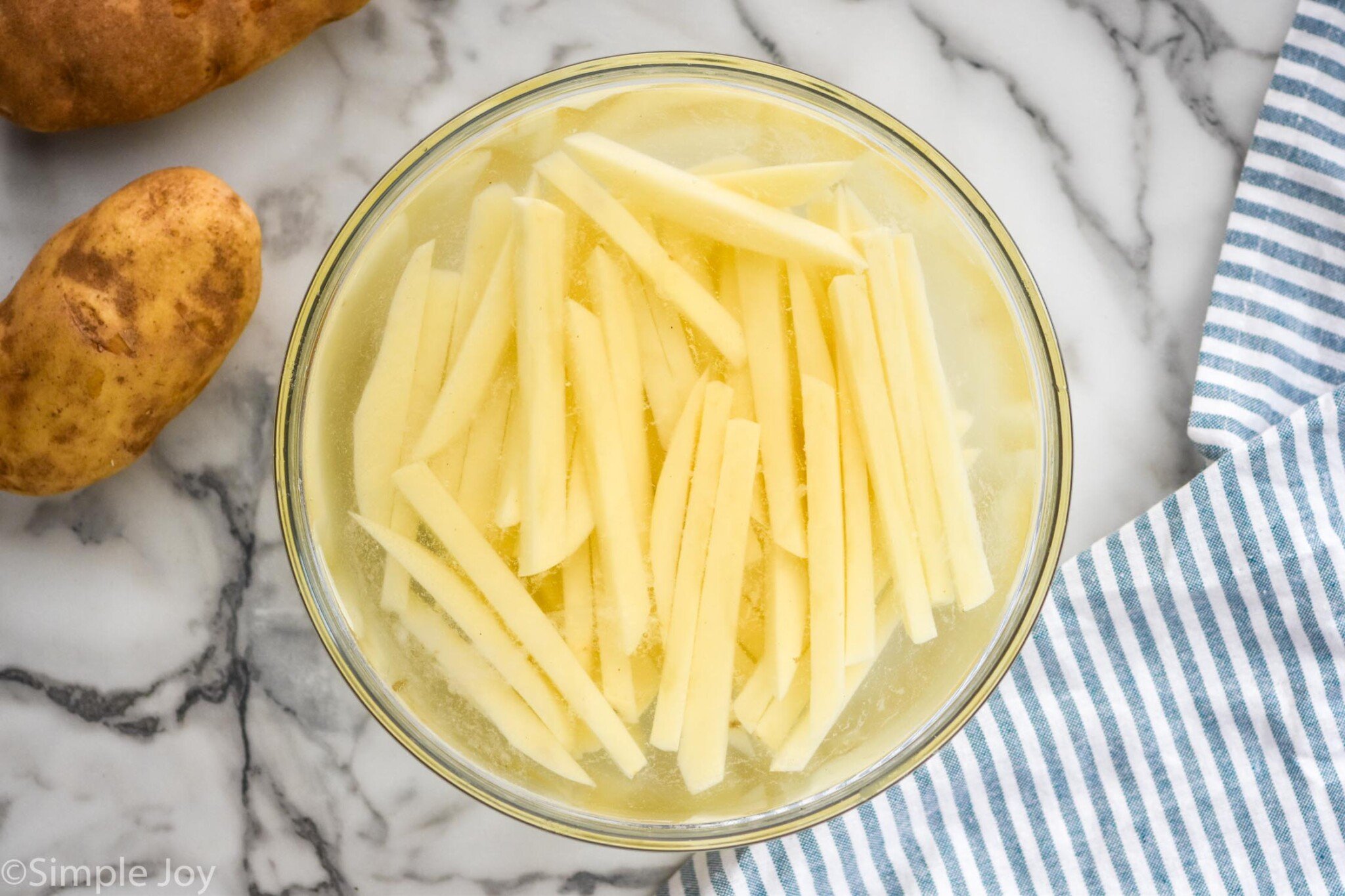 How to Cut Potatoes into Fries
To cut your potatoes into fries, start by peeling them. I like my fries without skins, but if you don't have a preference or if you like the texture the peel adds, skip this step. Then cut each potato into 1/2 inch slices, and each slice into 1/2 inch fries.
Try to keep your fries consistent in size so that the cooking time is adequate for the whole batch and prevent the smaller fries from burning.
Tips and Variations
Baking in a very hot oven is very important to make sure the fries are crispy. We are baking these fries at a nice 425 degrees. You need this high oven temperature to get the exterior we are looking for.
Mix up the seasonings. Try a little cayenne pepper, sweet paprika, or my Cajun Seasoning.
Have fun with the dipping sauces. Ketchup is always a perfect pair with fries, but these are also delicious with Chick Fil A Sauce.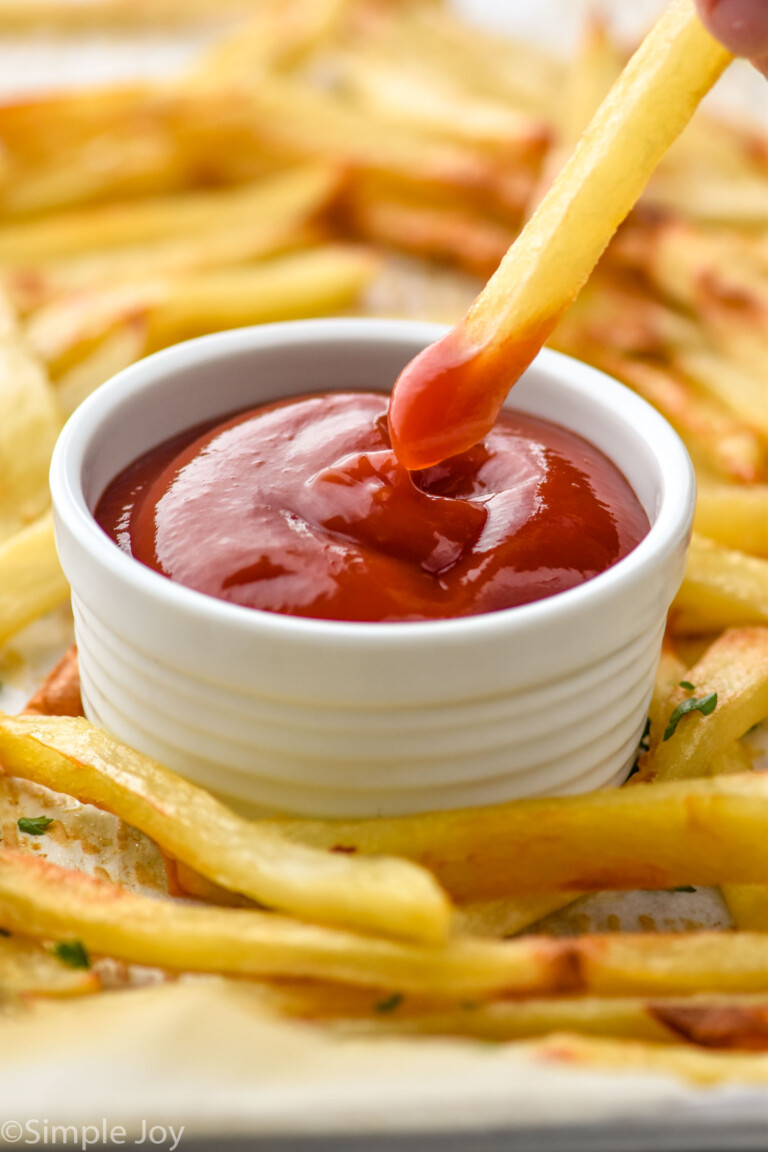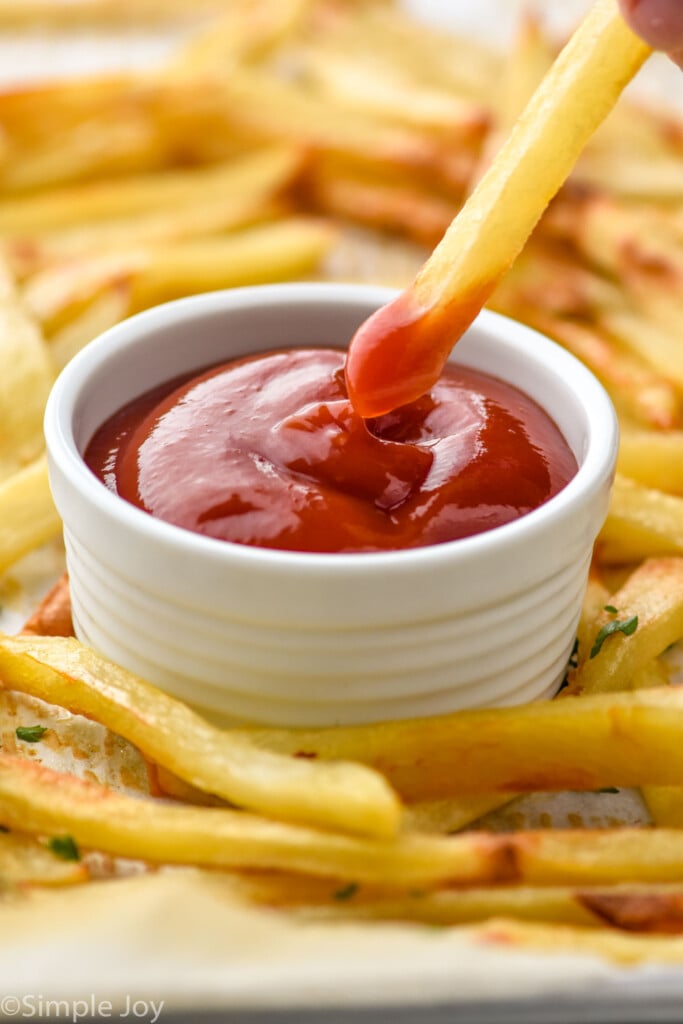 How to Make French Fries in Air Fryer
Making air fryer french fries is another way to get crispy fries every time without heating up your oven. Here are the simple steps for making homemade french fries in air fryer:
Preheat your air fryer to 400 degrees and lightly spray it with cooking spray.
Prepare your potatoes the same way you do in this recipe (cut, soak and pat dry).
Coat them with olive oil.
Add about half of them to the air fryer so they have about a single layer in the fryer. Sprinkle with 1 teaspoon of kosher salt.
Cook for 20 minutes, removing the basket halfway through and shaking it. The fewer number of fries you have in there the easier it is for them to crisp up, so be sure to not overcrowd it.
Repeat with rest of the fries.
Freezing and Storing
Store your easy french fries in an airtight container for up to three days. These don't freeze well after they are baked but can be frozen before they are cooked. To prevent them from sticking together, freeze the prepared fries on a baking sheet and store them in a freezer bag or freezer-safe container. Add five minutes to the suggested baking time when cooking from frozen.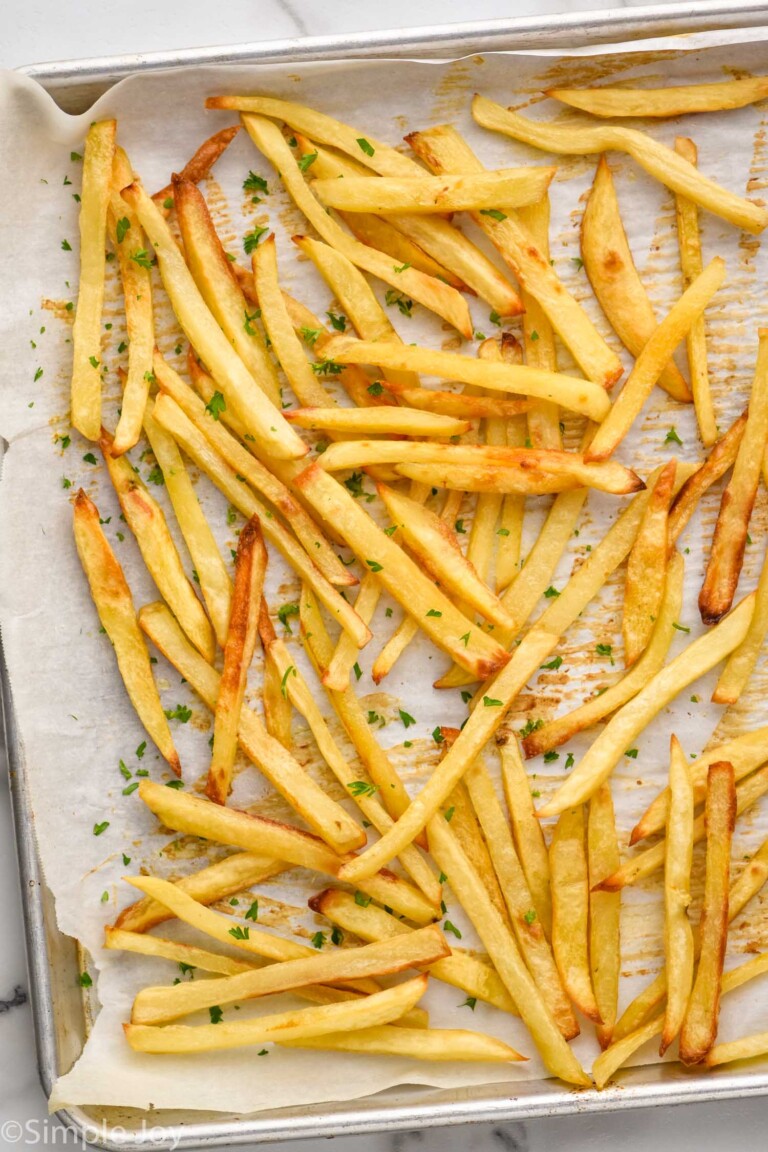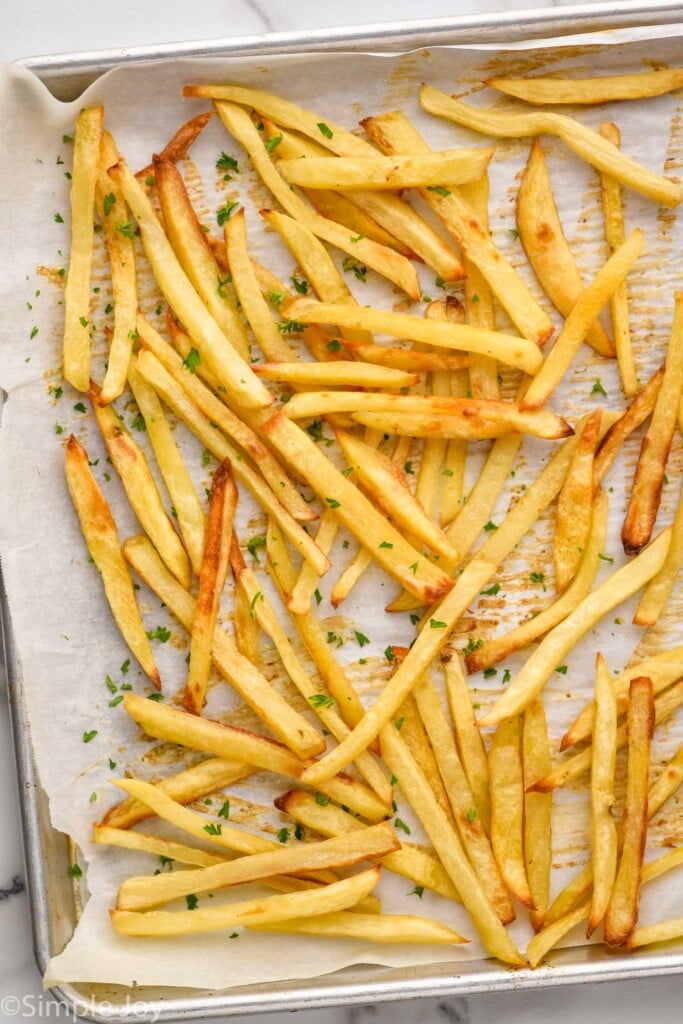 How to Reheat French Fries
Reheat these fries by baking them in a hot oven at 425 degrees Fahrenheit for 5-10 minutes until they are heated through.
FAQ
Are french fries gluten free?
Yes! The simple ingredients for french fries are potatoes, oil, and salt with are all gluten-free. Since this french fries recipe bakes the potatoes rather than frying them, there isn't a risk of cross-contamination with the oil in contact with foods containing gluten like at restaurants.
Why soak potatoes for french fries?
Soaking them removes excess potato starch which helps to make sure the fries are nice and crispy.
What to Serve with Homemade French Fries
These easy french fries are great with so many things, especially any sort of sandwich or burger. If you are looking to mix it up, try these Sweet Potato Fries or Baked Zucchini Fries. Here are a few of my family's favorites:
Try this recipe or any of my others and leave a comment to tell me what you think. I love hearing from you!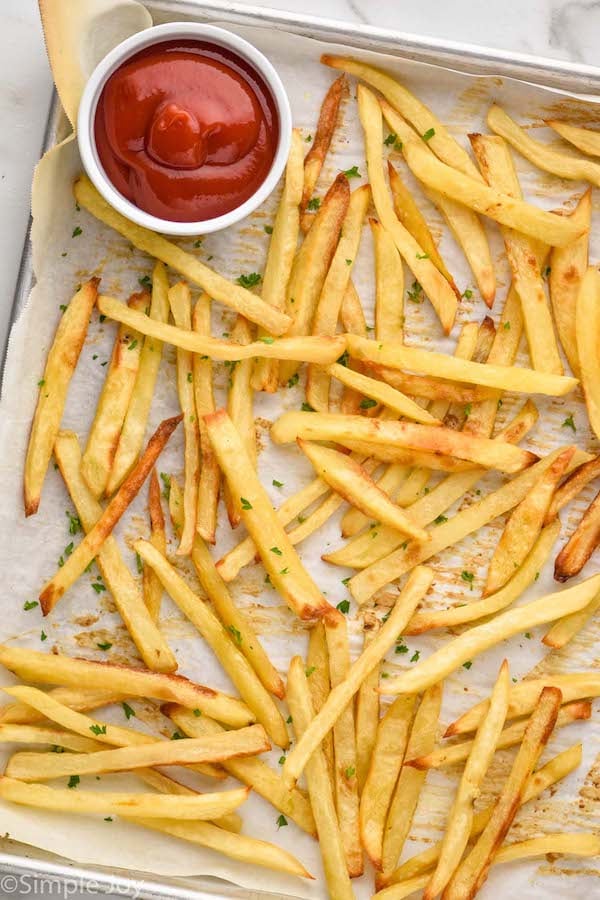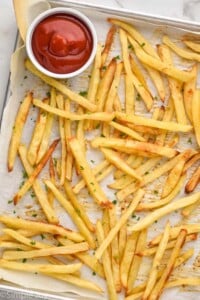 Easy French Fries
Ingredients
3

large russet potatoes

peeled and cut into 1/4 to 1/2 inch fries (about 1 to 1.5 pounds)

1/4

cup

olive oil

1

tablespoon

kosher salt
Instructions
Place the cut potatoes in a bowl of hot water and soak for 10 minutes. Drain, pat dry (see note in post), and set aside.

Preheat your oven to 425 degrees Fahrenheit.

In a large bowl, combine the potatoes, olive oil, and salt. Toss well to ensure the fries are coated evenly.

Pour the prepared potatoes onto a rimmed baking sheet. Bake for 23 minutes, and then flip the potatoes and rotate the pan. Bake for an additional 20 to 30 minutes, checking to make sure they do not burn.

Remove from the oven, allow to cool a little, and then serve with ketchup.
Calories:
246
kcal
(12%)
Carbohydrates:
29
g
(10%)
Protein:
3
g
(6%)
Fat:
14
g
(22%)
Saturated Fat:
2
g
(13%)
Polyunsaturated Fat:
1
g
Monounsaturated Fat:
10
g
Sodium:
1752
mg
(76%)
Potassium:
667
mg
(19%)
Fiber:
2
g
(8%)
Sugar:
1
g
(1%)
Vitamin A:
2
IU
Vitamin C:
9
mg
(11%)
Calcium:
22
mg
(2%)
Iron:
1
mg
(6%)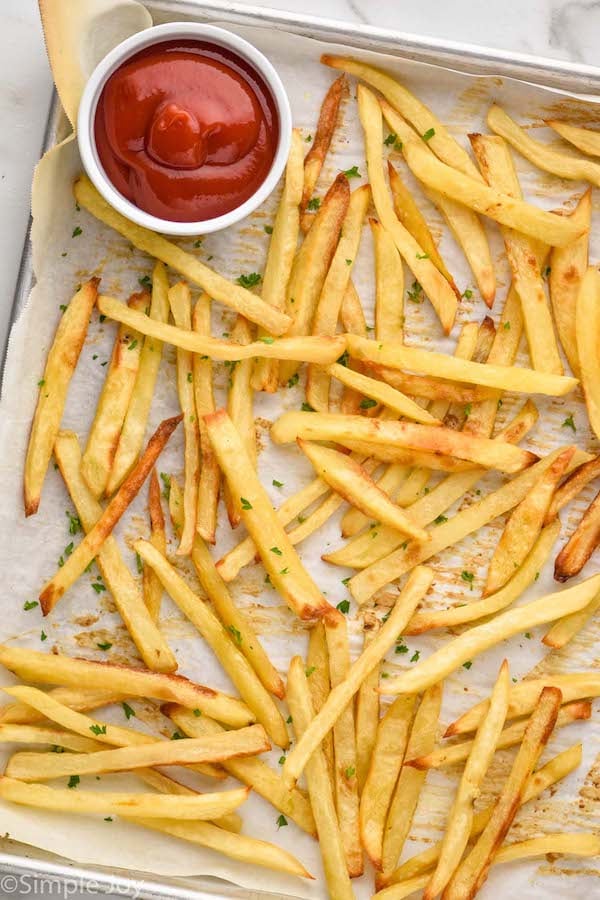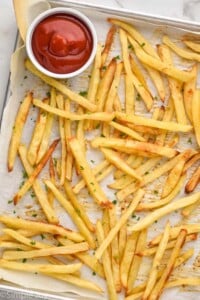 did you make this
Easy French Fries