These baked Sweet Potato Fries are actually crunchy on the outside while still being soft on the inside. They are absolutely delicious!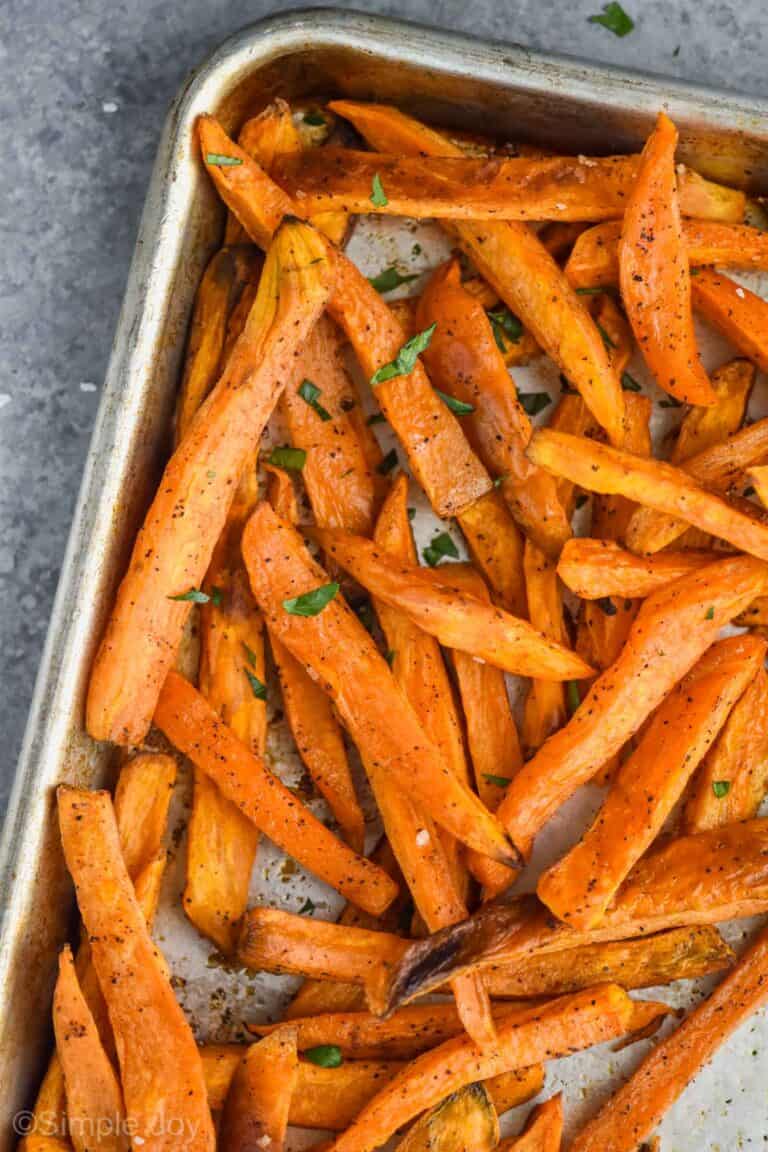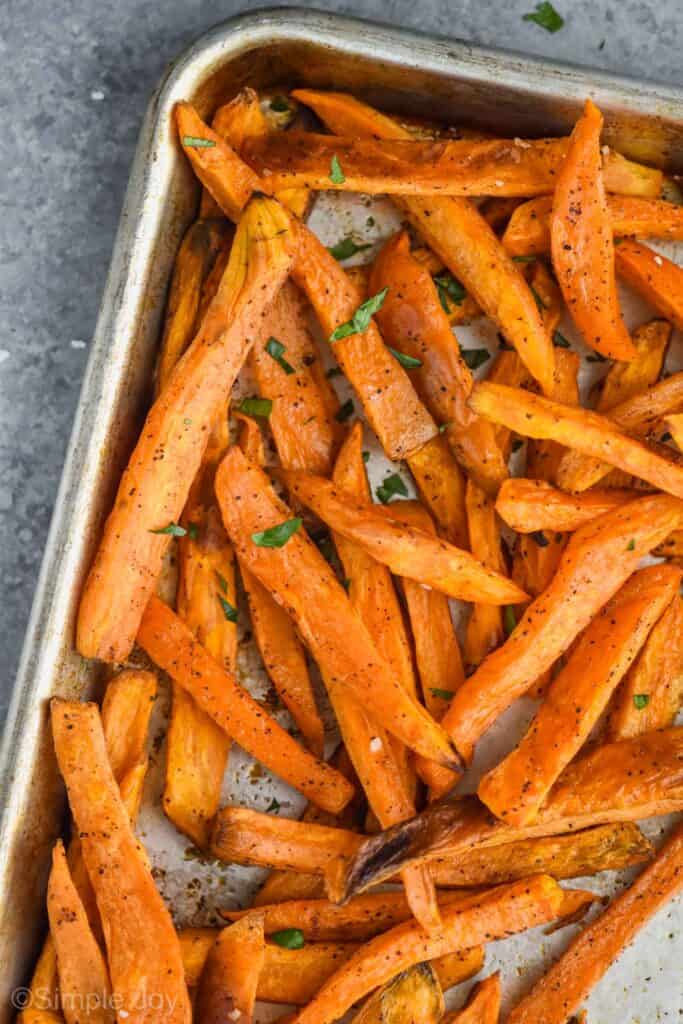 There is something about Sweet Potato Fries that is the ultimate comfort food for me. If comfort foods are supposed to nourish your soul and make you happy . . . I mean, this is it, my friends.
I have made this recipe about a billion times, first to perfect it, and then to accompany another set of photos for a different recipe . . . and then just because I can't get enough. Each and every time I have to remind myself that it's probably not great to eat the whole batch myself. And each and every time I fail.
These Baked Sweet Potato Fries are exactly what you want them to be. They are easy to make, crispy on the outside, and soft and tender on the inside. All of that and they have the best flavor. You and your family will love them.
If you love the idea of crispy baked fries at home, but you are more of a traditional fries person, try my Easy French Fries.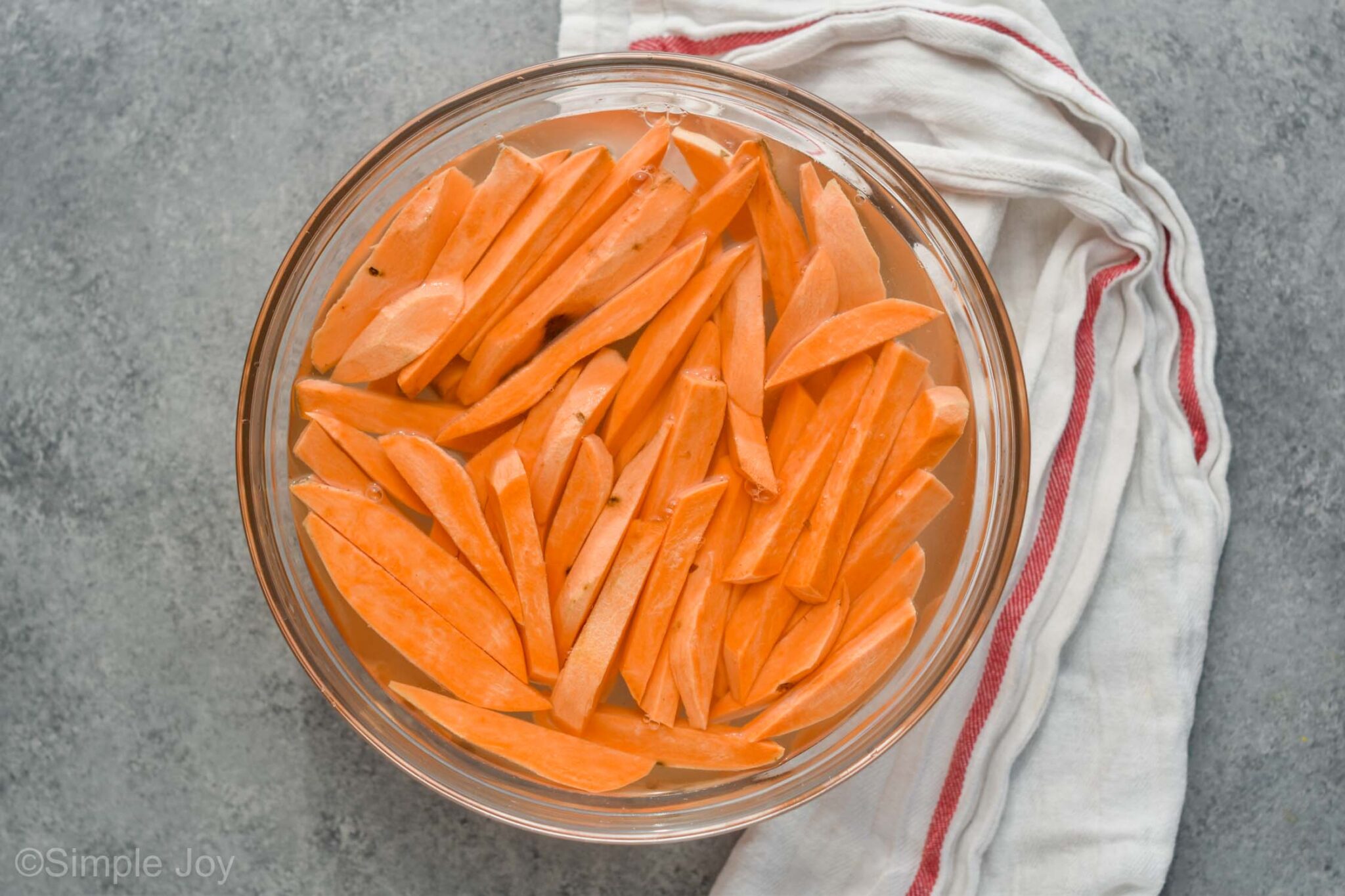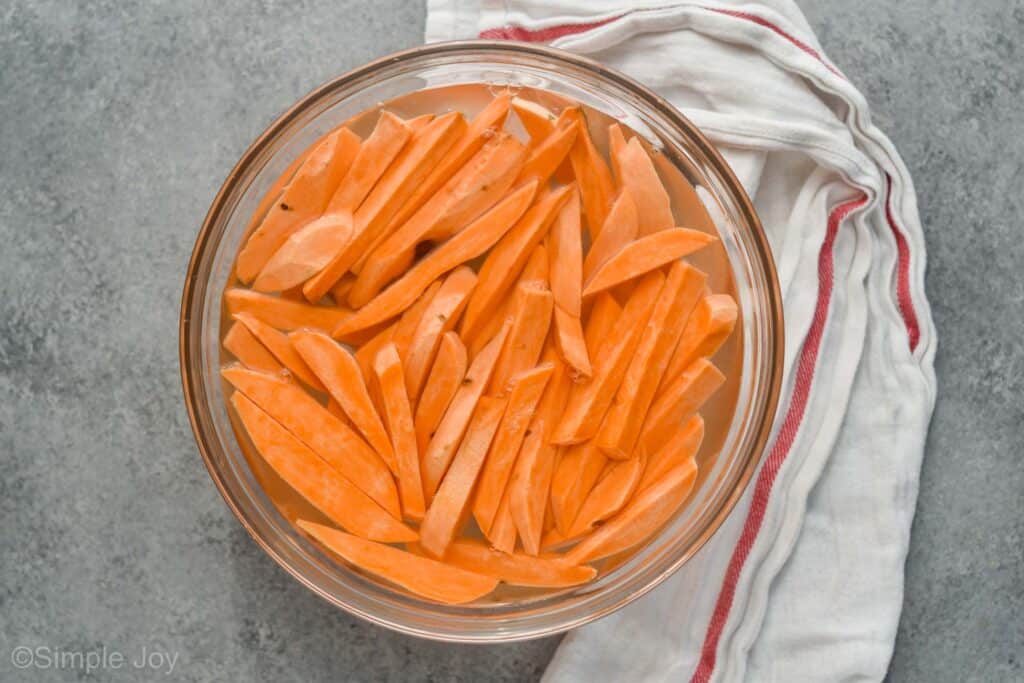 How to Make Crunchy Sweet Potato Fries
There are a few key steps that I want to highlight to make sure you get the consistency you are looking for in these baked fries.
Start by soaking the fries in hot water. This helps remove the starch from the potatoes and you end up with a crispier exterior.
Dry the fries very very well after soaking. If you skip this step you won't get a crisp fry.
Toss the sweet potatoes with enough oil.
Toss the sweet potatoes and rotate the pan half way through baking.
Cutting Sweet Potatoes
To cut your sweet potatoes into fries, start by peeling them. This isn't actually necessary, it's just a texture thing. I prefer fries without skins.
Now cut off the very ends of the sweet potatoes.
Cut the sweet potatoes into 1/2 inch slices and then cut each slice into a 1/2 inch fry.
Do your best to keep the fries consistent in size. This will prevent the smaller fries from burning.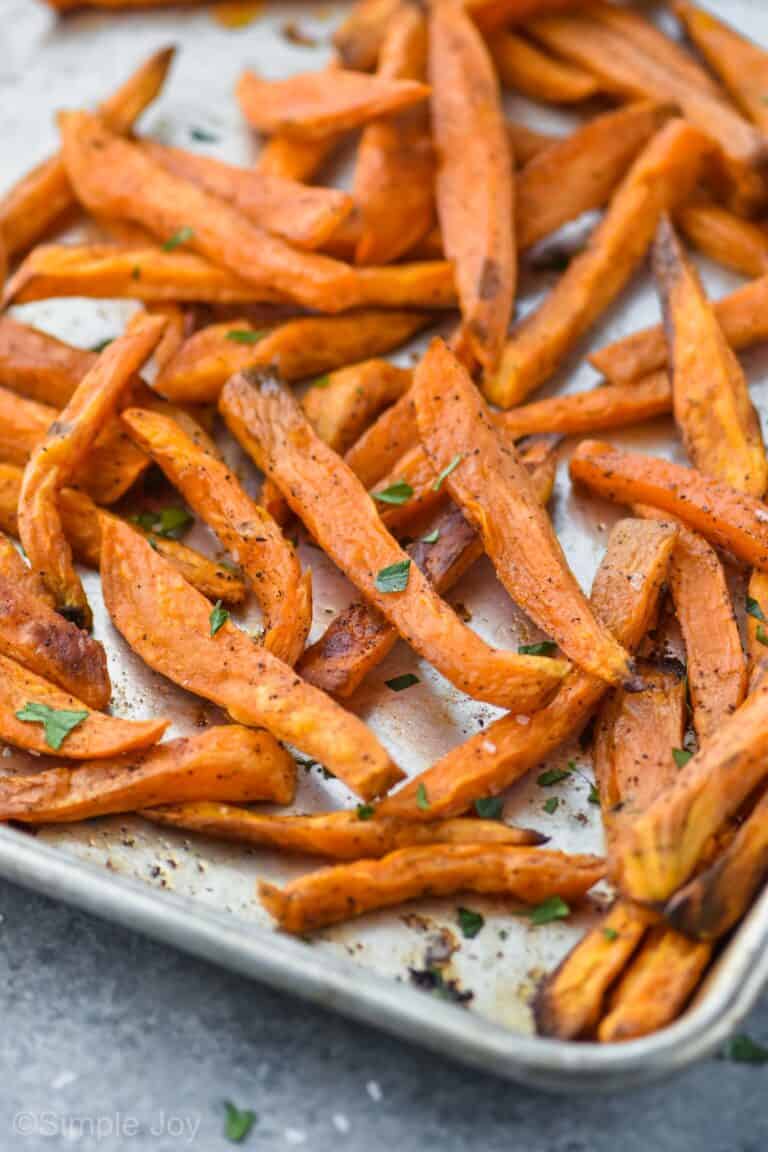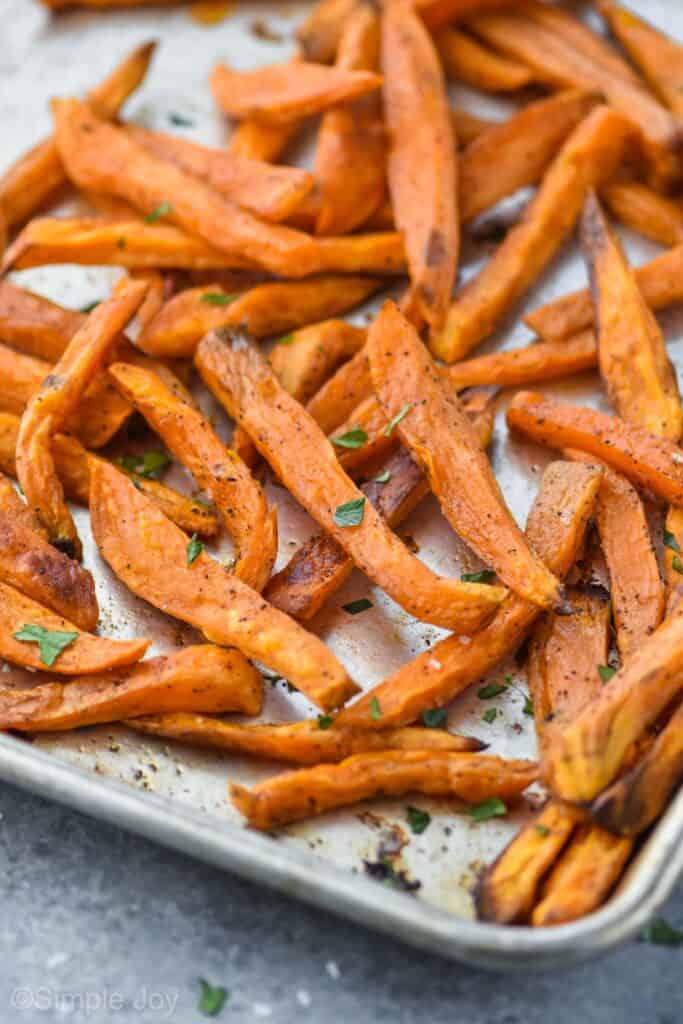 Oven Temperature
We are baking these sweet potato fries at a nice 425 degrees. You need this high of oven temperature to get the exterior we are looking for.
Some recipes suggest that you preheat the baking sheet with the oven before cooking. I don't think this is a necessary step. It doesn't change the crispiness of the exterior more than soaking the fries does.
It also is a great way to burn your wrists if you are clumsy like me.
Seasonings
I kept the seasonings of this recipe really simple. We are using three plus oil.
Kosher Salt
Ground Black Pepper
Cayenne Pepper
In my humble opinion, the cayenne pepper is a must. It is what takes these over the top. It makes them delicious without being spicy. But, if you are worried it will be too much for your family, leave it off.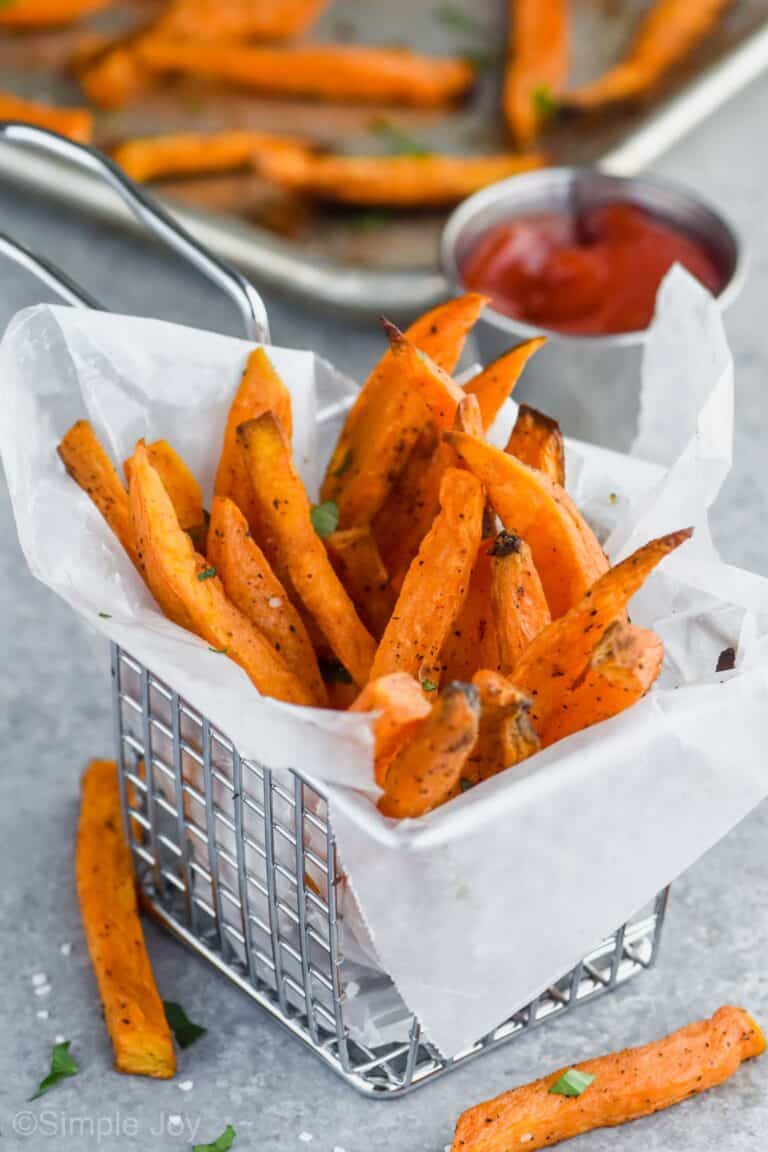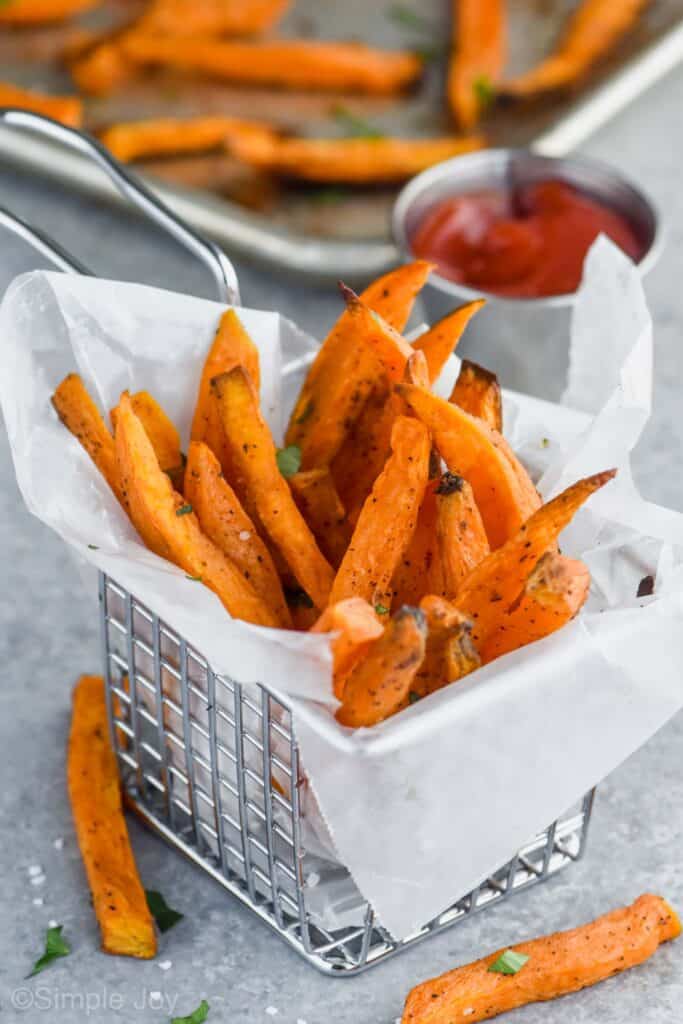 What to Serve Sweet Potato Fries With
As I said, these are right up there on my final meal list, so I think they go with just about anything. But here are a few things that I like them with best:
If you make these crispy sweet potato fries or any of my other recipes, please leave me a comment and let me know what you think!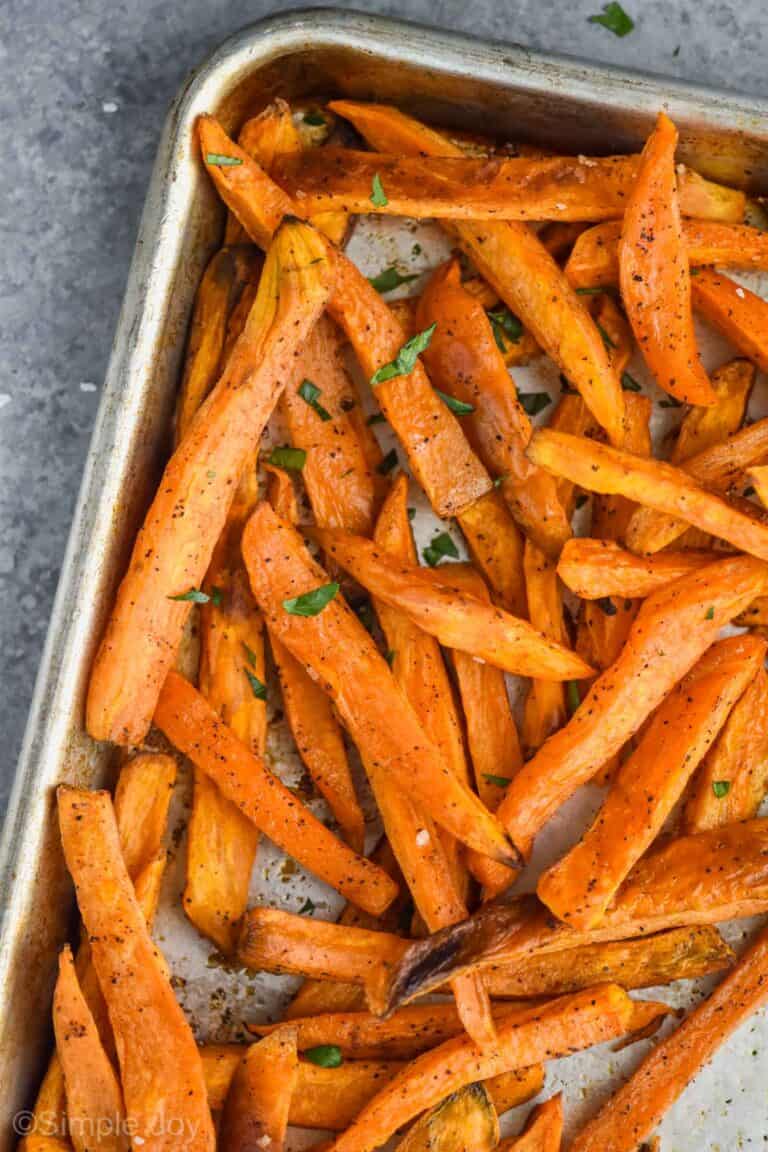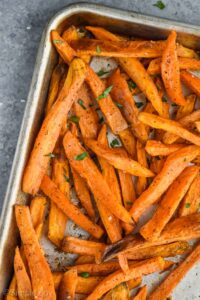 Sweet Potato Fries
These baked Sweet Potato Fries are actually crunchy on the outside while still being soft on the inside. They are absolutely delicious!
Ingredients
3

large sweet potatoes

peeled and cut into 1/4 to 1/2 inch fries (about 1 to 1.5 pounds)

1/4

cup

olive oil

1

tablespoon

kosher salt

1/2

teaspoon

black pepper

1/4

teaspoon

cayenne pepper

(optional)
Instructions
Place the cut sweet potatoes in a bowl of hot water and soak for 10 minutes. Drain, pat dry (see note in post), and set aside.

Preheat your oven to 425 degrees.

In a small bowl mix together the salt, pepper, and cayenne pepper.

In a large bowl, combine the sweet potatoes, olive oil, and spices. Toss well to ensure the fries are coated evenly.

Pour the sweet potatoes onto a rimmed baking sheet. Bake for 23 minutes, flip the sweet potatoes and rotate the pan. Bake for an additioanl 15 to 25 minutes, checking to make sure they do not burn.

Remove from the oven, allow to cool a little and then serve with ketchup.
Calories:
226
kcal
(11%)
Carbohydrates:
25
g
(8%)
Protein:
1
g
(2%)
Fat:
14
g
(22%)
Saturated Fat:
2
g
(13%)
Polyunsaturated Fat:
1
g
Monounsaturated Fat:
10
g
Sodium:
840
mg
(37%)
Potassium:
11
mg
Fiber:
3
g
(13%)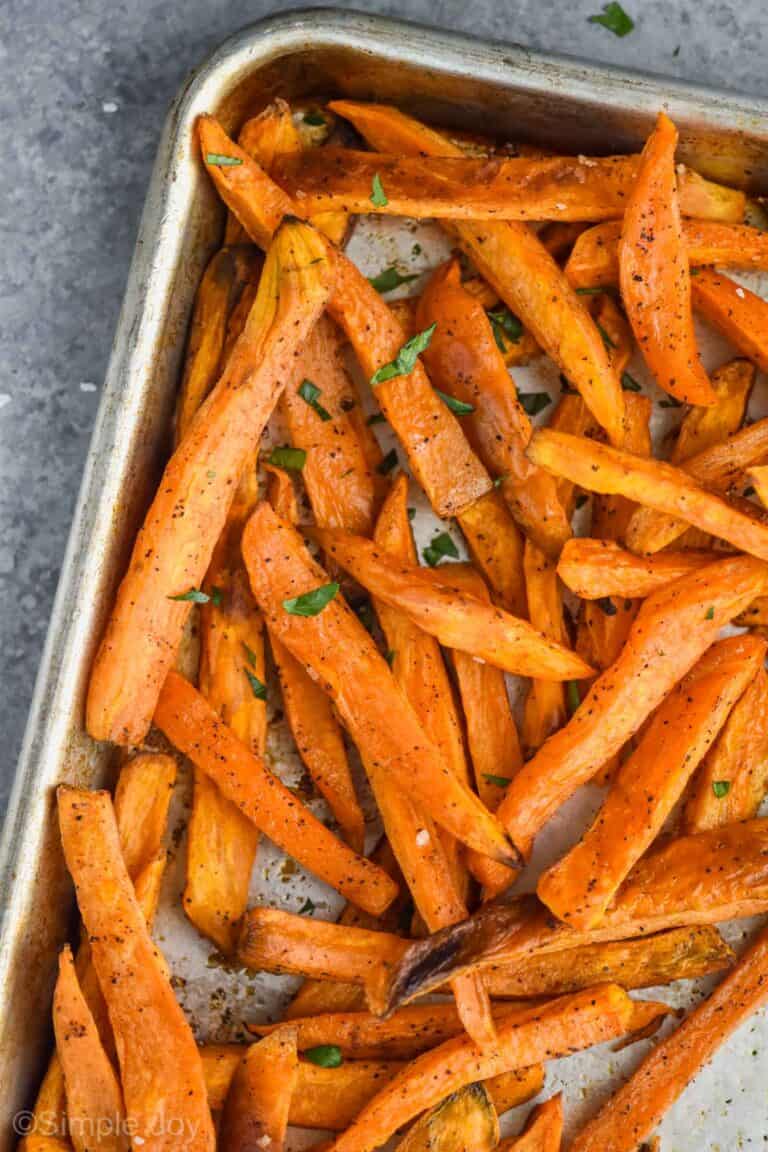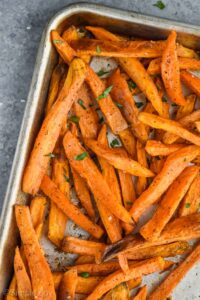 did you make this
Sweet Potato Fries