This Crockpot Whole Chicken has 10 minutes of hands on time, and your whole dinner is done in the slow cooker for an easy weeknight meal!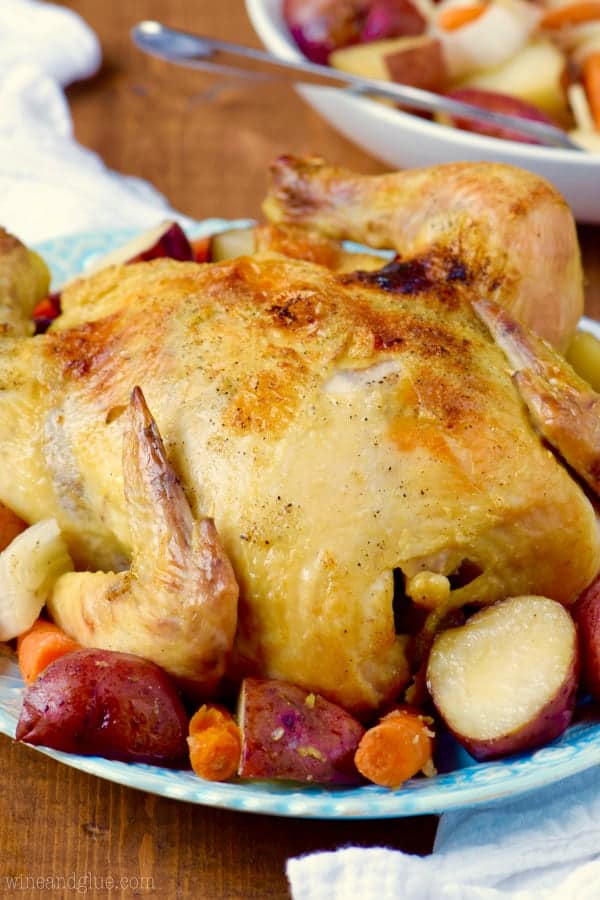 This Slow Cooker Whole Chicken is tender, juicy, easy to make and looks like you spent hours making dinner! It simmers all day in the Crock Pot, along with tender veggies, making your house smell scrumptious. The best part is, it only takes about 20 minutes to prep and then the slow cooker does all the work! It's genius.
REAL FOOD SLOW COOKER SUPPERS
This Slow Cooker Whole Chicken recipe comes to you today from my friend, Samantha Skaggs, amazing blogger over at Five Heart Home. She wrote a gorgeous cookbook called Real Food Slow Cooker Suppers. I was honored to test some of her recipes for her while she was writing it, including this savory slow cooker whole chicken. All of her recipes are absolutely delicious! So if you're looking for really simple, yummy meals to make in your Crock Pot, I urge you to get her cookbook. And in the meantime, let me tell you all about this easy whole chicken recipe in the slow cooker.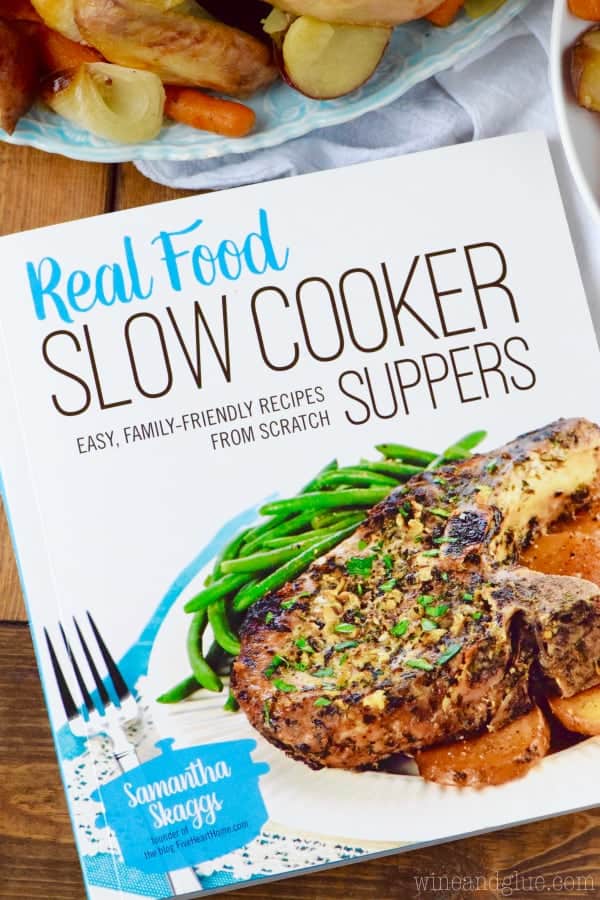 TIPS FOR COOKING A WHOLE CHICKEN IN THE CROCK POT
Choose the right size of chicken: A four to five pound whole chicken is perfect because it'll fit into most standard Crock pots and cook in just about four to six hours.
Remove the bag and giblets before prepping: I cannot tell you how many times friends of mine (who shall remain nameless) have left in the giblet bag in their Thanksgiving turkeys. So just a friendly reminder to get that stuff out of there before you go any further. 
Give the chicken a butter rub: Mix some softened butter with seasonings and rub it underneath the skin. This gives the chicken so much flavor, moisture and will help give it gorgeous color.
Use simple seasonings: I love this chicken recipe because it calls for everyday pantry ingredients like garlic powder, onion powder, salt and pepper. This allows the flavor of the chicken to really shine, and not be covered up by too many spices. 
Add veggies: This is a one pot meal! Add carrots, red potatoes, onion and garlic to cook right alongside the chicken. All the flavors simmer together and when all is said and done, you have a complete dinner on the table with minimal effort! 
Broil to a golden brown: To give your chicken that beautiful roasted color, pop it under the broiler in the oven for about five to ten minutes. Make sure to watch it closely, as it will brown up quickly.
Let it rest: Tent the whole chicken under aluminum foil and let it rest for about ten minutes before slicing and serving. This allows the juices to redistribute throughout the meat after cooking.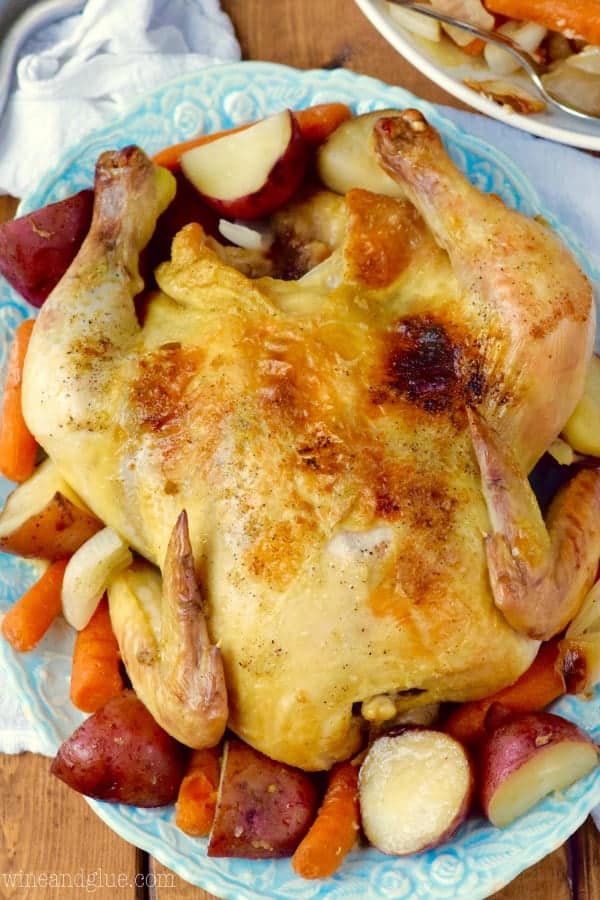 RECIPES THAT USE SLOW COOKER WHOLE CHICKEN
Got leftovers? No problem! This delicious chicken can be shredded on salads, in soups and used in a million different recipes. Don't buy greasy rotisserie chickens at the grocery store anymore; just make one of these and it'll keep nicely in the fridge for about four days. Try using it in some of these amazing chicken recipes: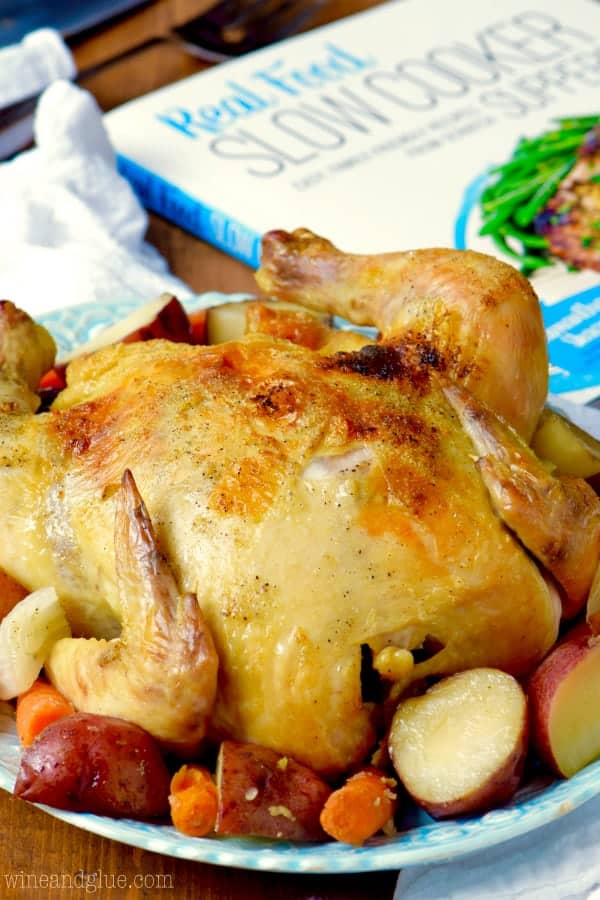 You guys. Quinn had four servings. She is the pickiest eater that ever lived. FOUR SERVINGS. She even ate some of mine. This meal is a hit for the whole family! Go follow Samantha's blog, go buy her book, and let me know what some of your favorite recipes are! I look forward to reading your comments below. Enjoy!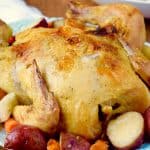 Print Recipe
Slow Cooker Whole Chicken
This Slow Cooker Whole Chicken preps quickly and your entire dinner ready in the slow cooker. Perfect for a busy weeknight!
Ingredients
2

tsps

kosher salt

2

tsps

garlic powder

1

tsp

onion powder

1/2

tsp

pepper

1

pound

about 5 medium red potatoes cut into one inch pieces

1 1/2

cups

baby carrots

1

medium yellow onion

cut into one inch pieces

6

cloves

of garlic

divided

4

TBSPs

unsalted butter

room temperature

4 to 5

pound

roasting chicken

bag and giblets removed
Instructions
Mix together the salt, garlic powder, onion powder, and pepper in a small bowl.

Spray your

slow cooker

with cooking spray. Combine the veggies in the base of your slow cooker and sprinkle with 1/2 a TBSP of the mixed spices. Add 3 of the garlic cloves, minced.

In a small bowl, combine the room temperature butter, the remainder of the spices, and the remaining 3 cloves of minced garlic.

Spread the butter mixture underneath the chicken's skin.

Place the prepared chicken over the vegetables and sprinkle with freshly ground black pepper. Cover and cook on low for 4 to 6 hours or until an insta read thermometer registers 165 degrees and the juices don't run pink.

Prepare a baking sheet with tin foil, and turn your broiler on low. Put the chicken on the baking sheet and broil until the skin browns, watching carefully, about 5 to 10 minutes. Remove the chicken, tent it with tin foil, and allow to rest for 10 minutes before slicing and serving.

If your chicken is done closer to four hours, the vegetables might not be done yet. When you remove the chicken from the slow cooker, turn it up to high, cover it and continue cooking the veggies until the chicken is done broiling and resting.
Nutrition
Serving:
6
g
|
Calories:
878
kcal
|
Carbohydrates:
21
g
|
Protein:
66
g
|
Fat:
59
g
|
Saturated Fat:
18
g
|
Cholesterol:
320
mg
|
Sodium:
617
mg
|
Potassium:
477
mg
|
Fiber:
2
g
|
Sugar:
2
g
|
Vitamin A:
57
IU
|
Vitamin C:
45
mg
|
Calcium:
13
mg
|
Iron:
28
mg
This post contains affiliate links, if you click on them and then make a purchase, I make a small amount of money at no additional cost to you. Thank you in advance for supporting Wine & Glue.