Crock Pot Pork Chops are such an easy and delicious dinner. This low-carb dinner has only 10 minutes of hands-on time and your slow cooker does the rest!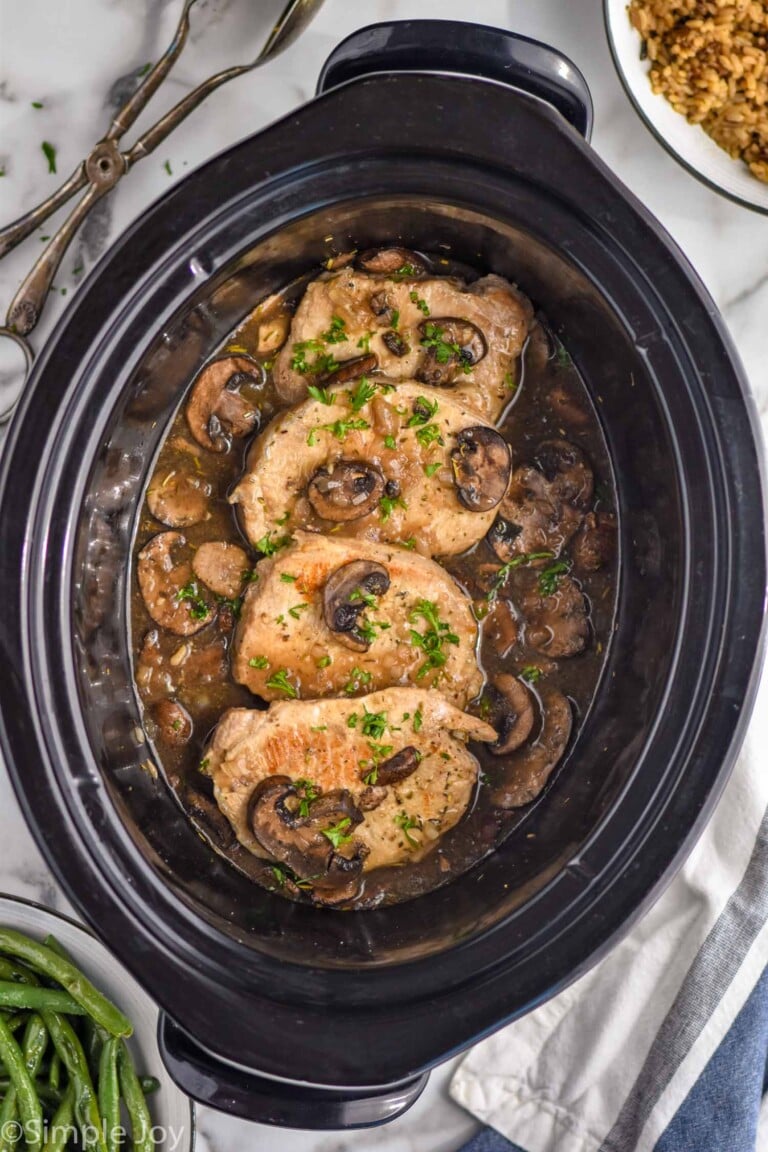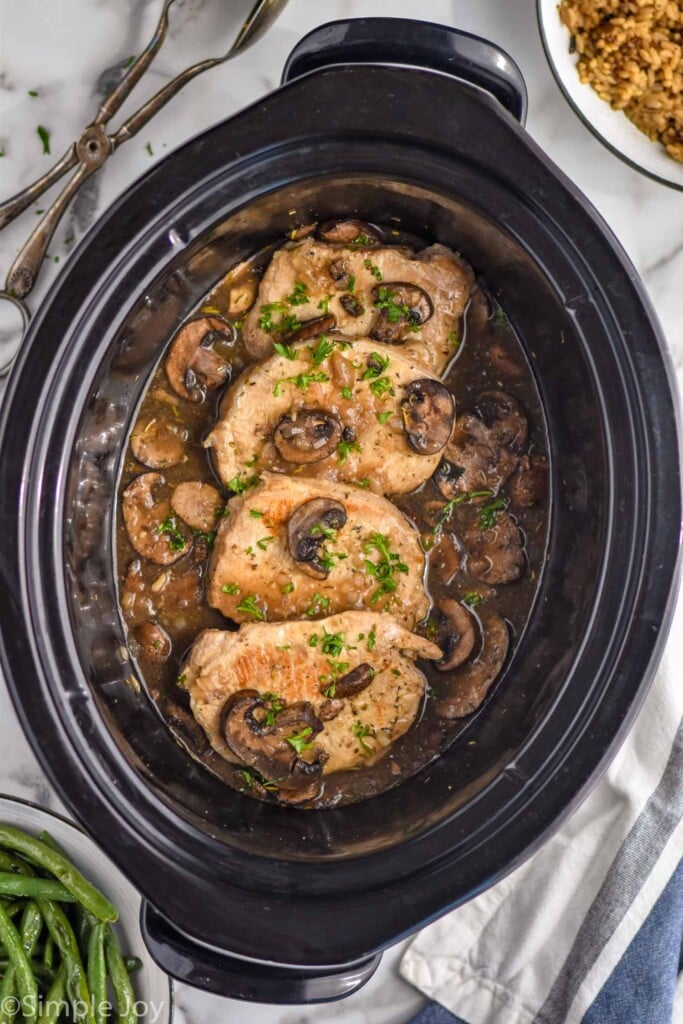 One type of recipe that readers can never seem to get enough of is slow cooker dinners. And I absolutely get it. They make life so much easier when you are dealing with a busy family schedule.
As my own family settles into our fall schedule I'm a little overwhelmed with how many practices, games, meets, and meetings there are. And we haven't even started tackling homework yet!
If you are in a similar boat, you will love the simplicity of these Crock Pot Pork Chops and Gravy. They require very little hands-on time and in the end, you have a delicious low-carb dinner with a rich flavorful gravy.
How to Cook Pork Chops in the Crock Pot
This is a brief overview to show you how easy this recipe is. For the full recipe with all of the instructions and measurements, please see the recipe card at the bottom of the post.
Buy thick pork chops. A key to this recipe is getting pork chops that are thick enough that they won't overcook and dry out in your slow cooker. I recommend buying boneless pork chops that are at least 1 inch thick.
Sear the pork chops. Heat oil in a heavy-bottomed skillet. Season the pork chops with salt and pepper on both sides. Sear the chops for about 2 minutes on each side. This step isn't strictly necessary, but it does add an extra layer of flavor to the dish and only takes about five minutes.
Put the recipe together in the slow cooker. Mix together the beef stock, seasonings, and diced onion. Then add the pork chops, and finally pour the mushrooms on top.
Cook on low for 1 to 2 hours. If you buy thick-cut pork chops, it will take about 1 1/2 hours for them to cook. I highly recommend using an instant-read thermometer that can be left in one of the chops so you can take them out of the slow cooker when they reach 135 degrees Fahrenheit.
Finish off the gravy. We are going to thicken the sauce for this recipe by making a slurry out of corn starch and water. Once added to the sauce and the slow cooker is turned on high, it will take about 5 minutes for it to thicken up. Then serve it over the pork chops and enjoy!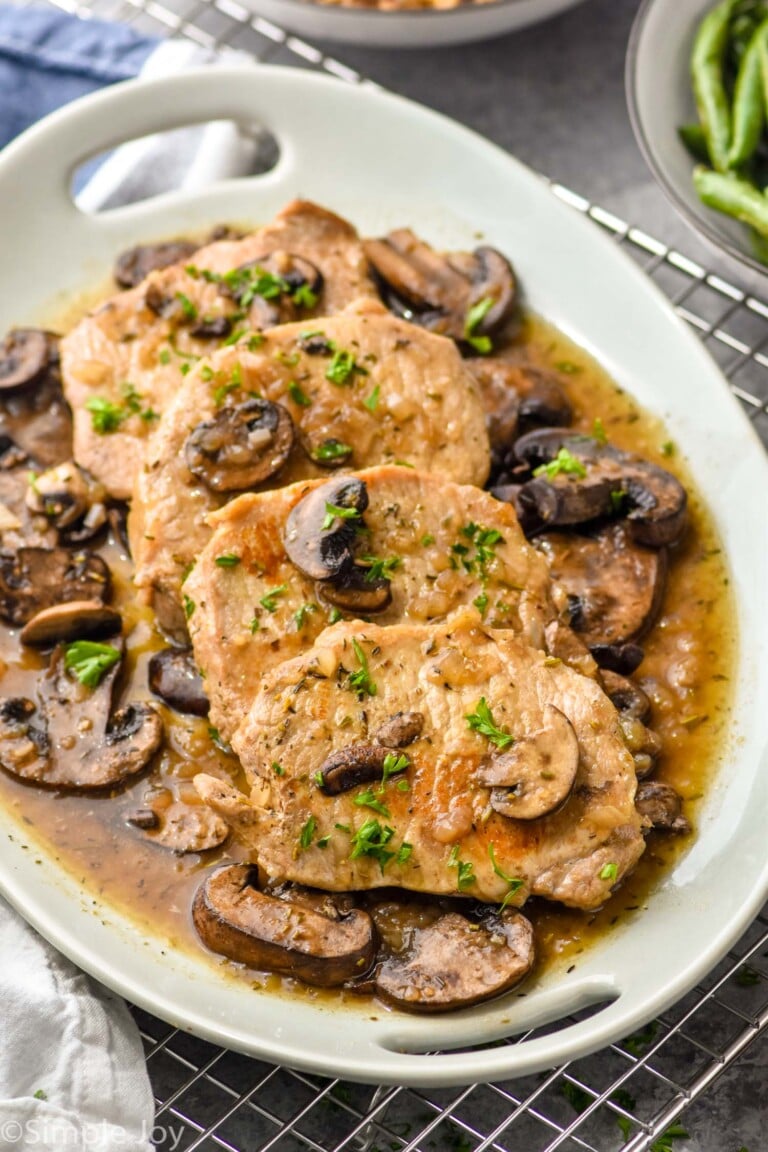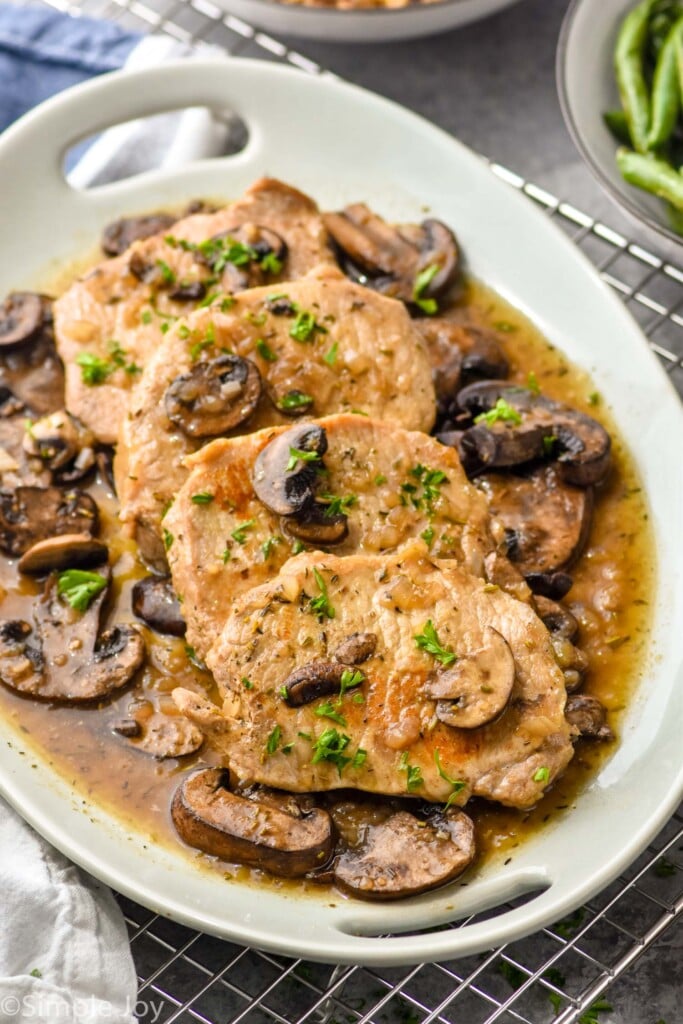 Browning Meat for a Slow Cooking
When I first started really learning how to cook, I was adamantly against browning my meat before putting it in the slow cooker. It felt like an extra step that was truly just a pain.
Now when people ask me if they really need to brown meat before adding it to the slow cooker my answer is: No, but I would.
The reason for this answer is that skipping the browning will not break a dish. Contrary to popular belief, this step doesn't "seal in" moisture. It just adds extra flavor to the dish that you can't get another way.
TOP PICK
Best Slow Cooker
I absolutely love this slow cooker. It has a low and high setting, the ability to lock if you need to transport it, and it cooks things perfectly.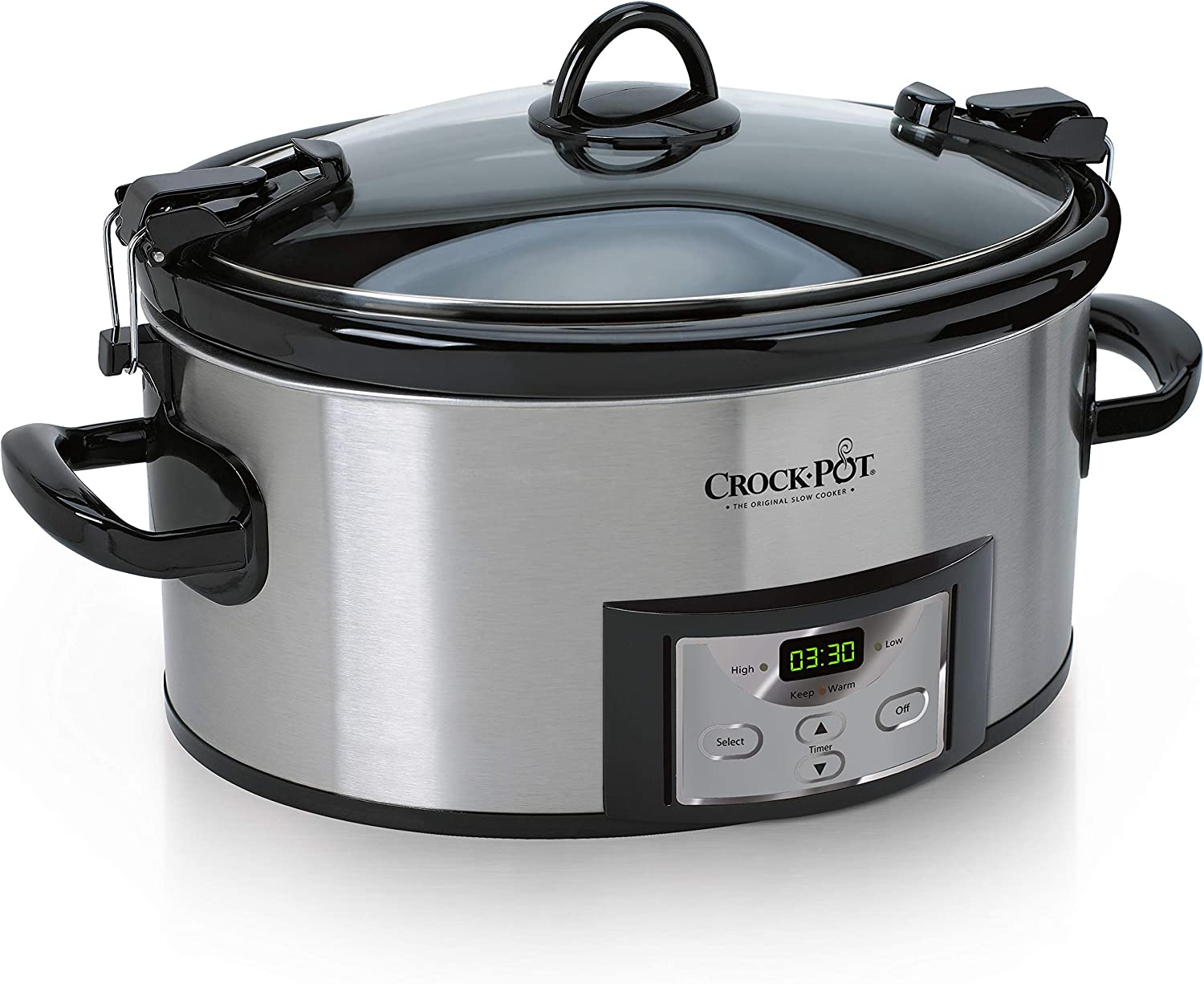 Making a Slurry for Slow Cooker Recipes
One thing a lot of people don't love about slow cooker recipes is how thin the sauces can be at the end of the cooking. Sometimes I deal with that issue by making a roux on the stovetop and adding it to the recipe, like in my Crockpot Broccoli Cheese Soup. I tried this in one of the testing rounds of this recipe and did not like the final result or the time it added.
Adding a slurry to a slow cooker recipe is a great way to quickly thicken the sauce. To make a slurry, simply mix together some corn starch and warm water (not boiling). Mix it together until it is smooth. Stir it into the liquid in the crock pot and allow the sauce to thicken.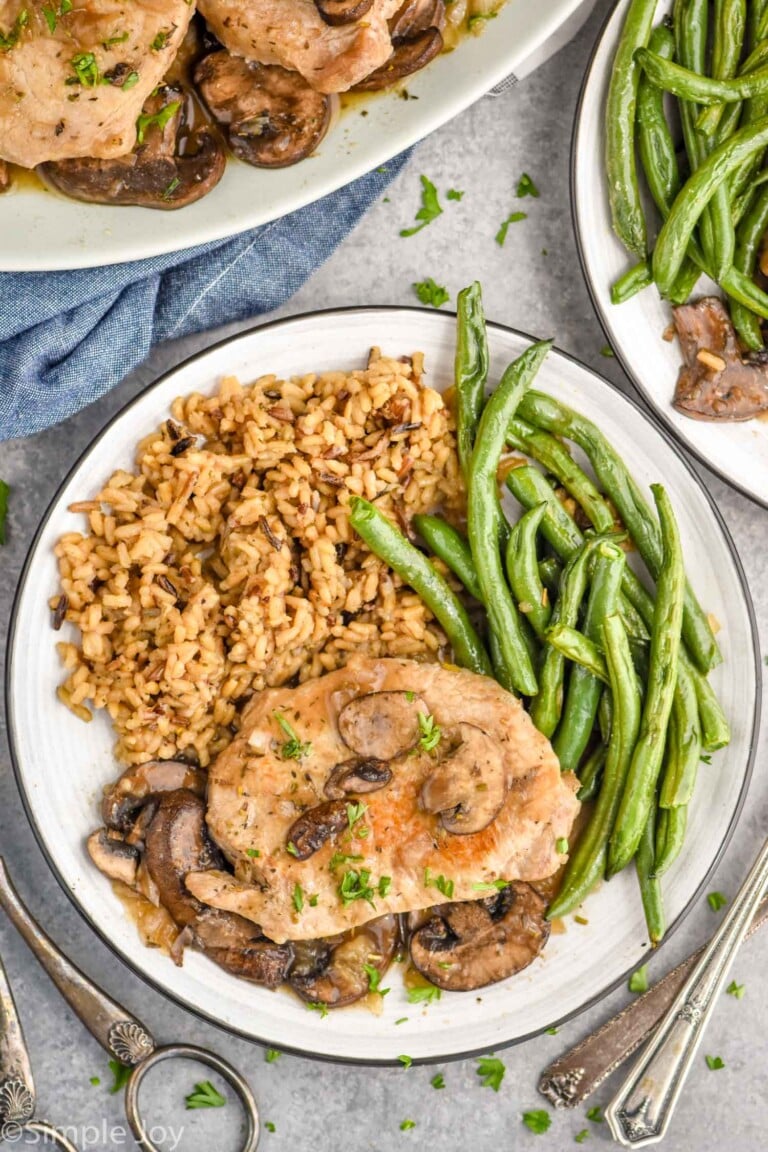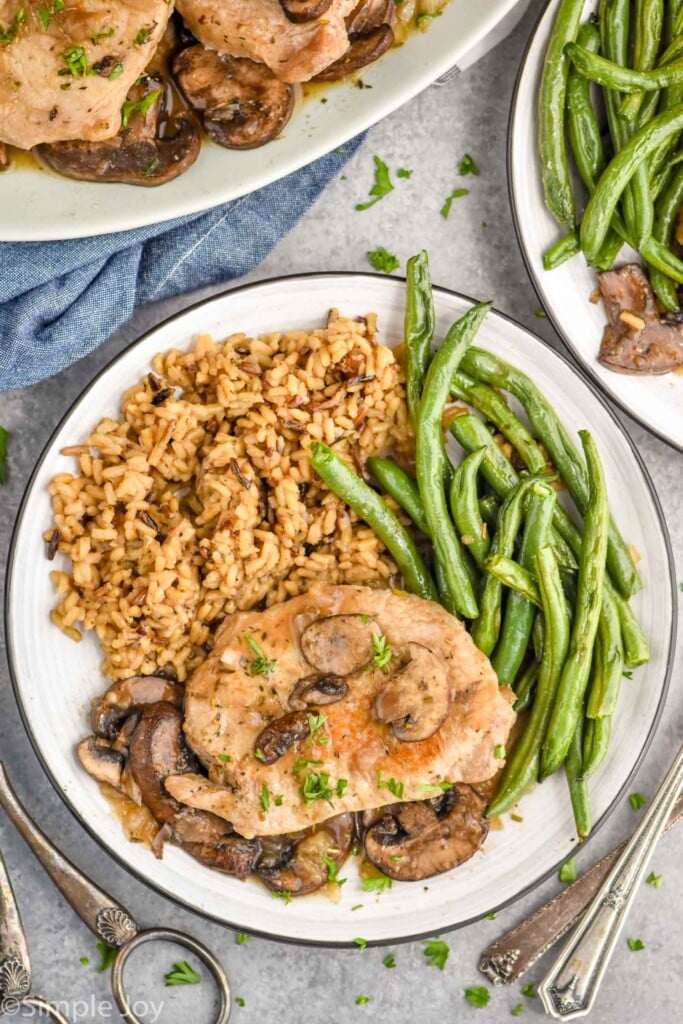 Carry Over Cooking
When meat is removed from the heat, whether that is a slow cooker, the oven, or the stovetop, it continues to cook and the internal temperature continues to rise. This is called carry over cooking and it lasts between 5 and 10 minutes after the meat is taken off the heat.
Because pork tastes so much better when it is a solid 145 degrees Fahrenheit, I highly recommend that you remove pork from the heat when it reaches 135 degrees Fahrenheit. In this recipe, we then tent it with foil and let it rest while we make the slurry in the slow cooker. While it raises, it will reach 145 degrees and be perfectly tender when you eat it.
Seasoning Recipes to Taste
At the end of many recipes, it says to "season to taste." But what does that really mean?
Did you know that a little bit of salt can make or break a recipe? It's true. In my experience, sometimes adding just a pinch of kosher salt at the end of a recipe can make a ho hum recipe, fantastic.
Because different products contain different amounts of salt, like beef stock for example, it can be hard for me to tell you exactly how much salt will take a recipe from ho hum to fantastic. This is why using your own intuition and taste is so important. In general, I will under salt a recipe in the instructions and then rely on you to add more at the end as needed.
This is a recipe where this step is really important. This recipe is purposefully under salted. So at the end, taste the gravy, and if it doesn't knock your socks off, add just a pinch of kosher salt and a little pepper. Taste it again and add a little more if necessary. I would encourage you to add about 1/8 of a teaspoon of salt at a time until you get the taste you are looking for.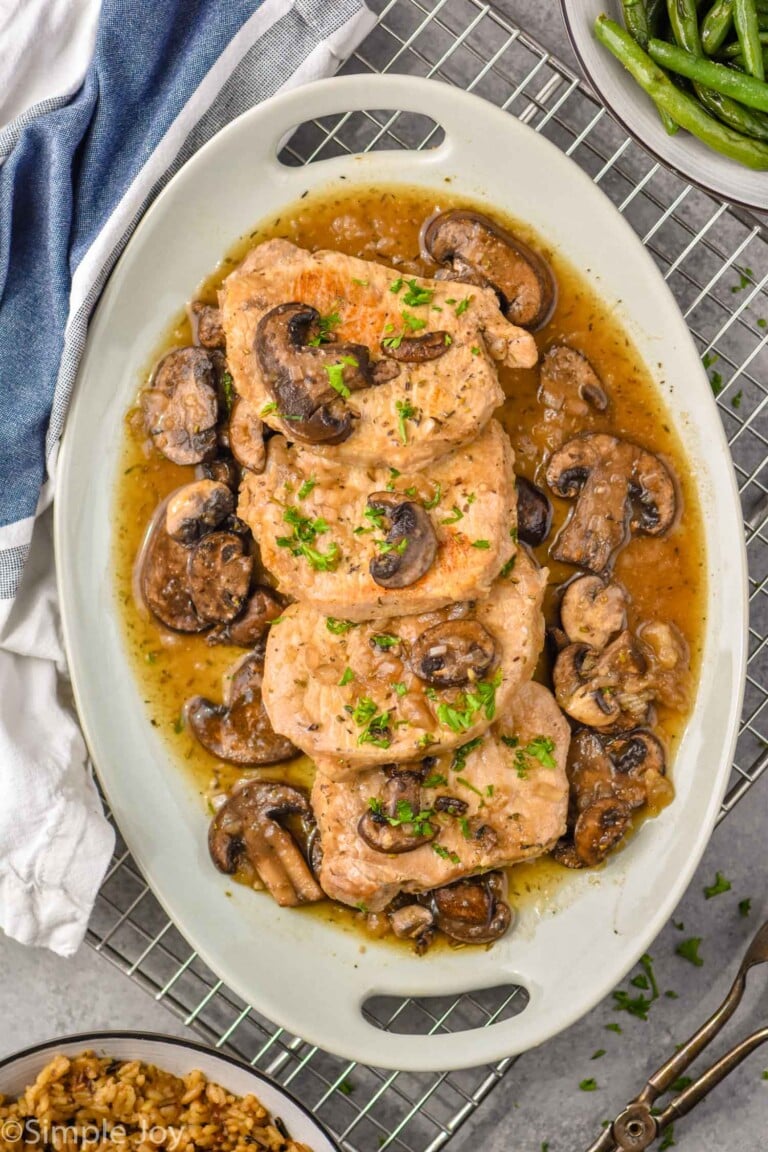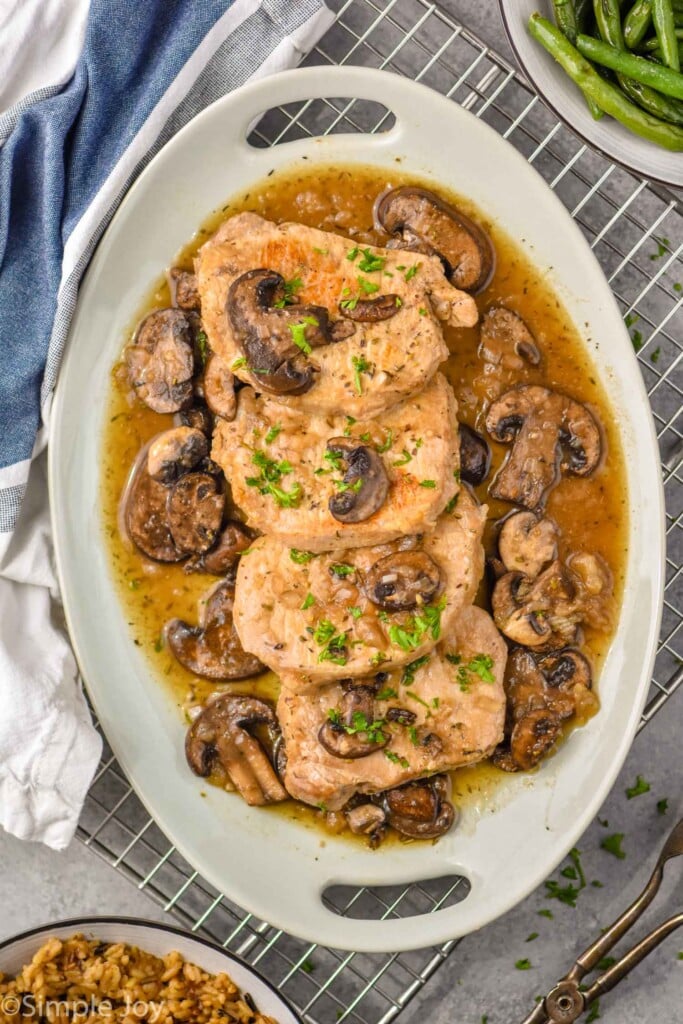 FAQ
How long do you cook pork chops in the crock pot?
This depends on how thick the chops are. If they are 1 to 1 1/2 inch thick, as recommended in this recipe, they will cook in about 1 1/2 hours on low.
How do you keep pork chops from drying out in a crock pot?
The key is to not overcook them. Even thick-cut pork chops only need about 1 1/2 hours on low. For best results, use an instant read thermometer, take the pork chops out when they reach 135 degrees and allow for some carry over cooking.
Should pork chops be browned before cooking in the crock pot?
This is a matter of personal taste. Browning always adds a little more flavor to a dish, but a dish can still be very enjoyable without first browning.
What temperature should pork cook to?
Pork should be cooked to an internal temperature of 145 degrees Fahrenheit. In this recipe, we are taking the pork off the heat at 135 degrees and allowing carry over cooking to finish it off.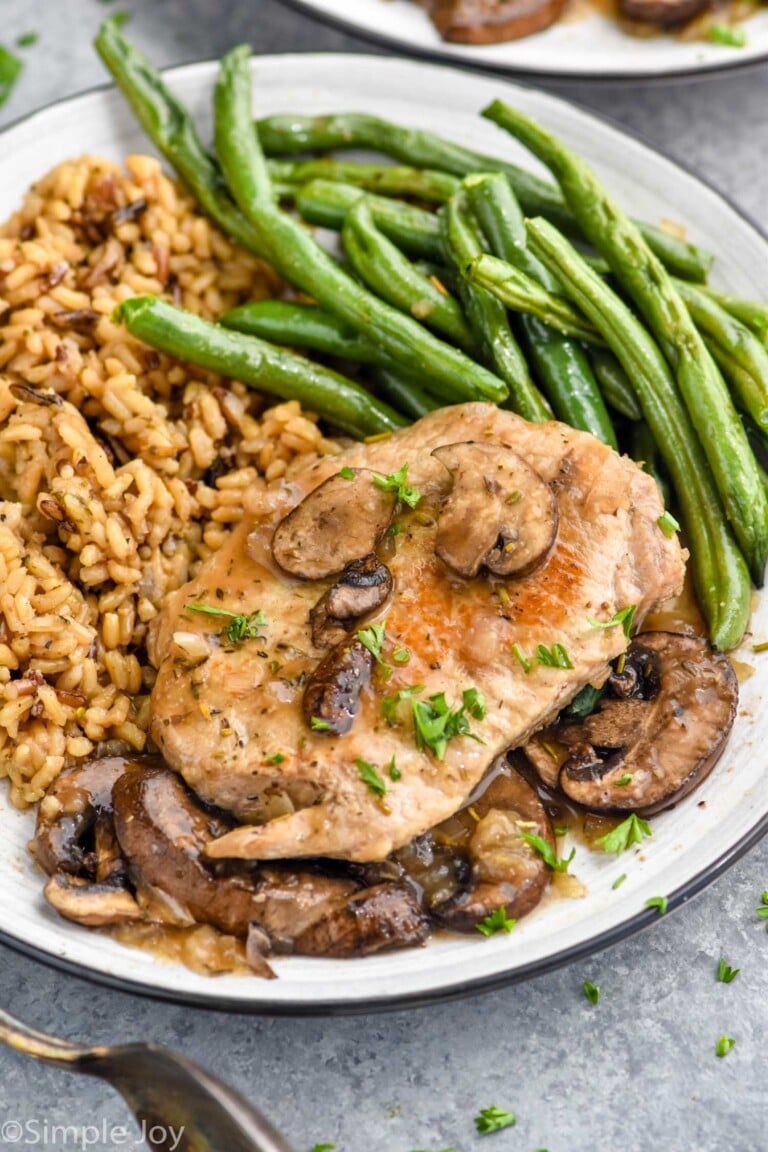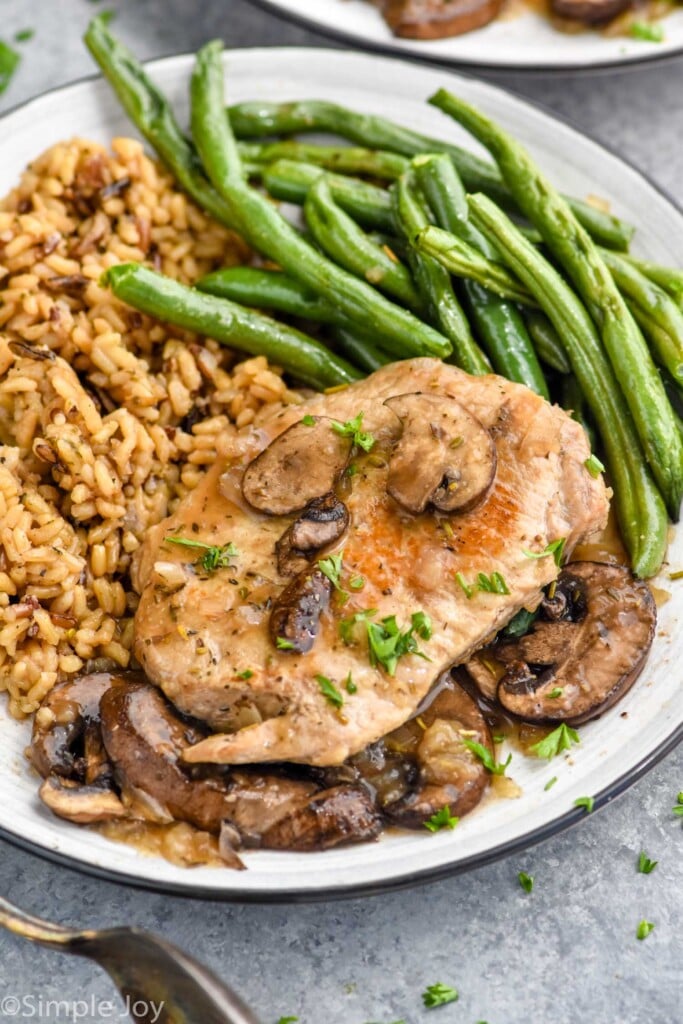 What to Serve with Crock Pot Pork Chops
There are so many great ways to eat this recipe, though on its own is great too. If you are looking to keep this recipe low-carb, here are a couple of options I really love.
If you make these slow cooker pork chops or any of my other recipes, please leave me a comment and let me know what you think.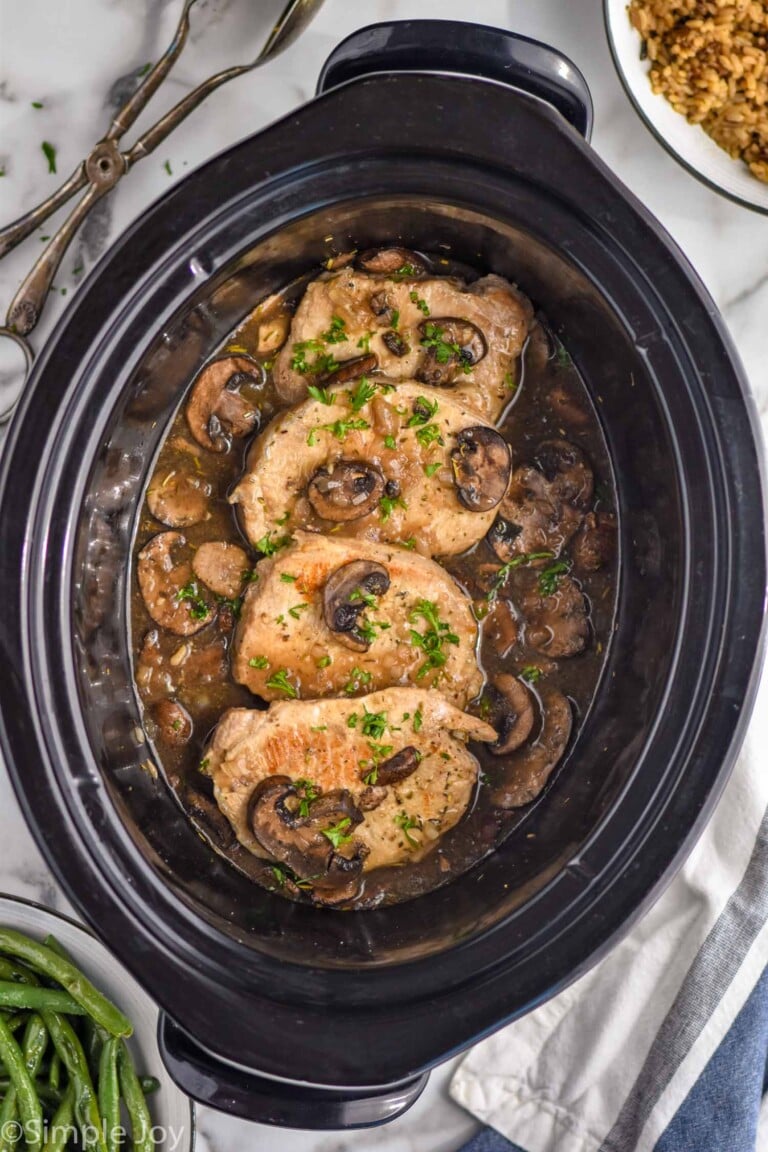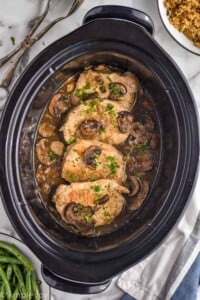 Crock Pot Pork Chops
Crock Pot Pork Chops are such an easy and delicious dinner. This low carb dinner has only 10 minutes hands on time and your slow cooker does the rest!
Ingredients
1

tablespoon

olive oil

kosher salt and black pepper

1

pound

thick cut boneless pork chops

(look for chops that 1 to 1 1/2 inch thick)

1

cup

beef stock

1/2

teaspoon

kosher salt

(if using table salt, start with less)

1/2

teaspoon

dried thyme

1/2

teaspoon

dried rosemary

1/4

teaspoon

black pepper

2

garlic cloves

1

small yellow onion

diced fine

8

ounces

mushrooms

sliced

2

tablespoons

corn starch
Instructions
In a heavy bottomed skillet, heat the olive oil over medium-high heat. Season the pork chops with salt and pepper. Sear for about 2 minutes on each side. Remove the pork chops and discard the oil.

Spray the bottom of a crockpot with cooking spray. Add the beef stock, salt, thyme, rosemary, black pepper, garlic, and diced onion. Add the seared pork chops. Top with the mushrooms.

At the end of the cooking time, remove the pork chops and tent with foil. Turn the slow cooker to high.

In a small bowl whisk together 2 tablespoon corn starch and 2 tablespoons hot water to create a slurry. When it it is smooth, stir it into the liquid in the crockpot. Let the gravy cook for 5 minutes.

Serve the pork chops topped with gravy and enjoy!
Serving:
1
pork chop with gravy
Calories:
261
kcal
(13%)
Carbohydrates:
10
g
(3%)
Protein:
28
g
(56%)
Fat:
12
g
(18%)
Saturated Fat:
3
g
(19%)
Polyunsaturated Fat:
2
g
Monounsaturated Fat:
6
g
Trans Fat:
0.1
g
Cholesterol:
76
mg
(25%)
Sodium:
478
mg
(21%)
Potassium:
816
mg
(23%)
Fiber:
2
g
(8%)
Sugar:
2
g
(2%)
Vitamin A:
11
IU
Vitamin C:
3
mg
(4%)
Calcium:
50
mg
(5%)
Iron:
8
mg
(44%)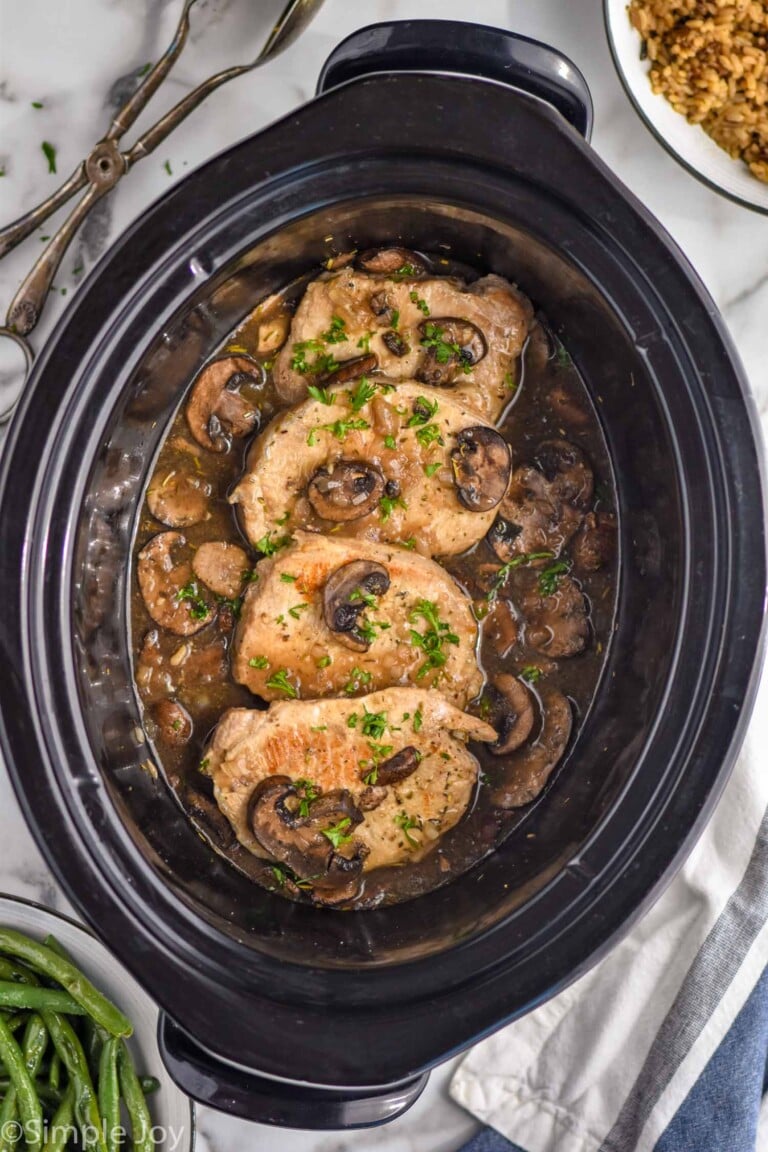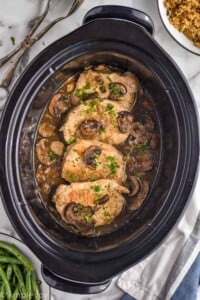 did you make this
Crock Pot Pork Chops