These Sour Cream Chicken Enchiladas are good to the very last drop of sauce on your plate. Your family will love this amazing and delicious dish!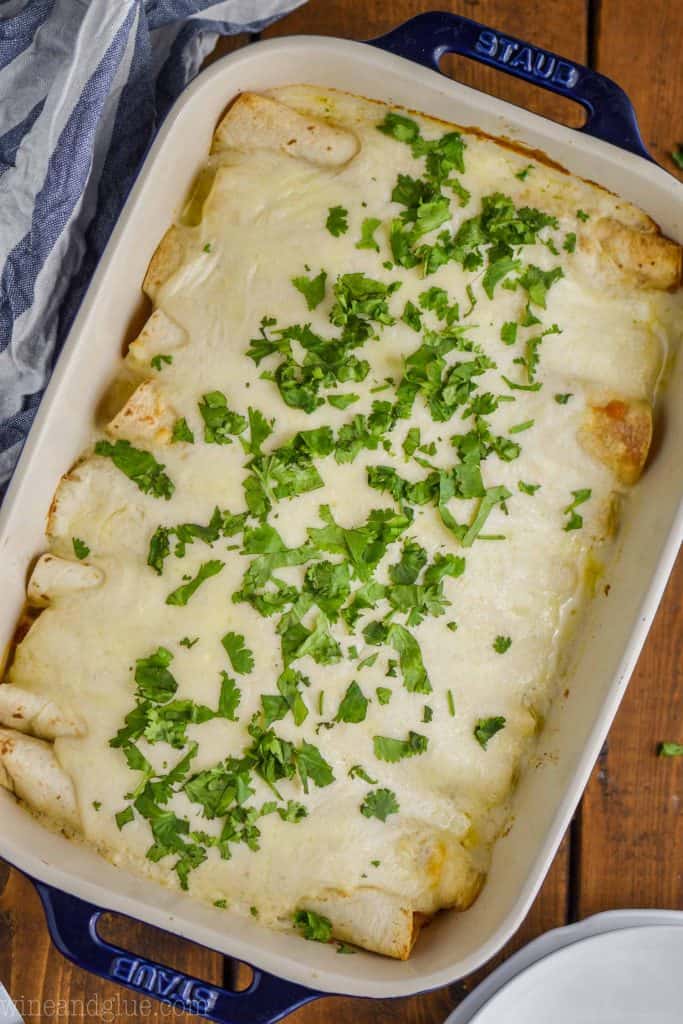 We are on the third day of school and some time between last night and this morning all of my kids had melt downs. Dude. The transition back to the school is R-O-U-G-H. They are all tired from the long days and new schedules, and I am too. My half pot of coffee is not getting the job done these days.
So as I mentioned the other day when I shared my Ground Beef Stroganoff, I am coming at you with lots and lots of dinner recipes over the next several weeks. There will be some other things sprinkled in, but I really want to give you options when it comes to dinner time. Today I have Sour Cream Chicken Enchiladas! I love these for their delicious flavor, but also because they can be frozen!
How to make Sour Cream Enchiladas
Make filling: In a large bowl combine shredded chicken, diced (drained) tomatoes, chiles, and taco seasoning.
Make the sour cream sauce: Start by making a roux and then add in chicken broth. Remove it from the heat and stir in sour cream.
Assemble: Pour a small amount of the sauce in the pan, fill tortillas with the filling and add to a baking dish, top it all with more of the sour cream sauce and cheese.
Bake: Place in the oven and bake until warm and bubbly.
Why These are the Best Sour Cream Chicken Enchiladas
So there are a lot of white chicken enchiladas out there, but I think these are the best for a few reasons:
They are seasoned with my homemade taco seasoning. If you haven't tried that yet, you are missing out. It has great flavor, and it's easy to make and keep on hand.
The ingredients are super simple in this. Nothing difficult to find.
It doesn't have a green sauce. There I said. You can throw things if you like, but I am not in love with green salsas, and while this recipe calls for green chiles (which I love!) they don't over power the dish.
We don't fry the tortillas! Some enchilada recipes call for frying the tortillas before stuffing them. While I am certain that makes for a glorious enchilada, it is calories I don't want, and time doing something I don't have time for. We skip that in this recipe and still end up loving the final sour cream chicken enchilada.
This Sour Cream Chicken Enchilada Recipe is freezable! That's right, friends! So my vote is that you make a double batch (double the ingredients, but not really double the work), make one for tonight, and freeze the other for a busy weeknight!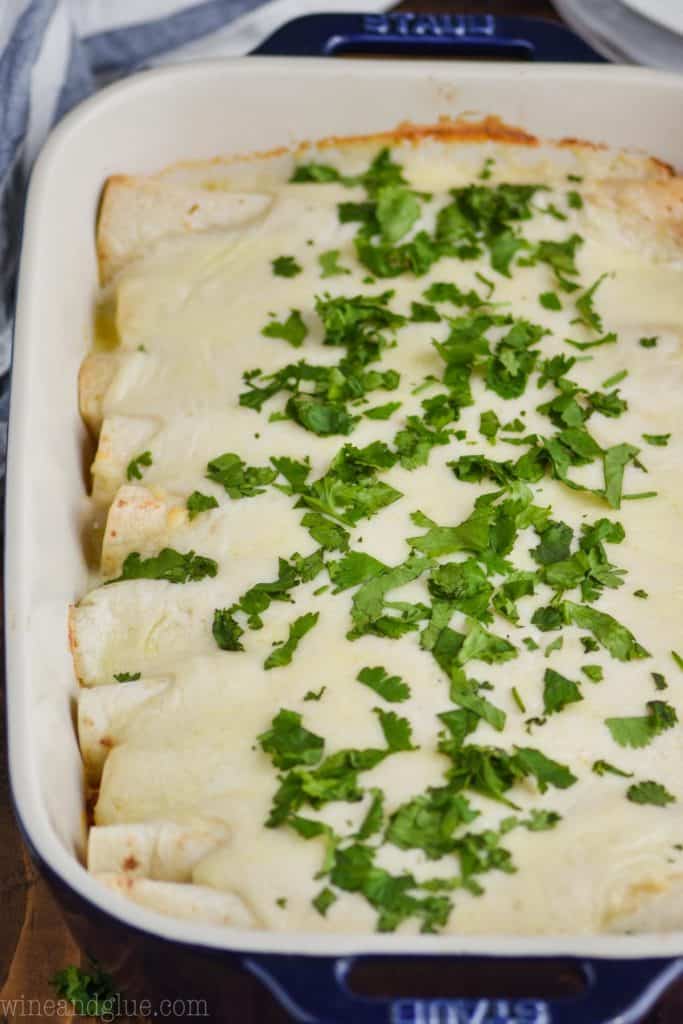 Sour Cream Chicken Enchilada Ingredients
As I mentioned above, the ingredients for this recipe are really simple. I'm going to talk about a few you might have questions on.
Tortilla Shells: I use flour tortillas. You can use corn, but I think they are a lot more difficult to work with.
Diced Green Chiles: Buy these by the small can. They are available in mild and spicy. The other heat in this recipe comes from the taco seasoning, so if you like things with a kick, I would go with spicy. I chose mild because I still have little kids.
Unsalted Butter: I always cook and bake with unsalted butter because that way I can control the salt in my recipes. If you don't have that on hand, use salted. It will be okay.
Monterey Jack Cheese: This is a great white cheese that is perfect for melting. Please resist the urge to buy it pre-shedded. It melts so much better when you buy the brick and shred it yourself.
Keeping Your Enchiladas Soft
One small key to this recipe is pouring the sauce in the pan before you then roll the enchiladas and add them. If you skip this step, the bottom of your enchiladas will become really tough and difficult to cut through with a fork as you are eating them.
A small amount of that delicious white enchilada sauce on the bottom of the pan – no need to even measure it – will totally solve this problem.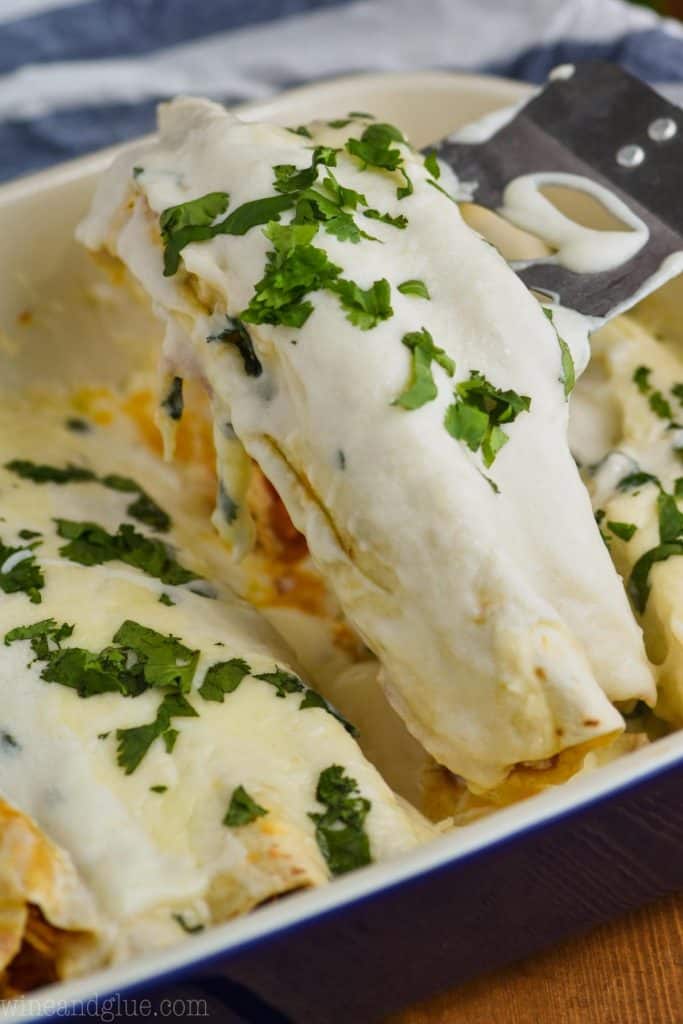 Make a Double Batch and Freeze These Chicken Enchiladas
Yes! These can be frozen! Just wrap the 9 by 13 inch pan after you add the rest of the sauce and cheese. Wrap it very well and freeze for up to a month.
When you are ready to eat your frozen enchiladas, bake at 350 degrees for 45 to 50 minutes, covered, or until the enchiladas are cooked through.
Pro Tip
If you are using a glass pan, put the frozen enchiladas in the cold oven so your pan doesn't crack. Go the safer route and make them in a disposable recyclable pan.
What to Serve with Sour Cream Chicken Enchiladas
If you're wondering what to serve with these delicious enchiladas, here are a few side dish options: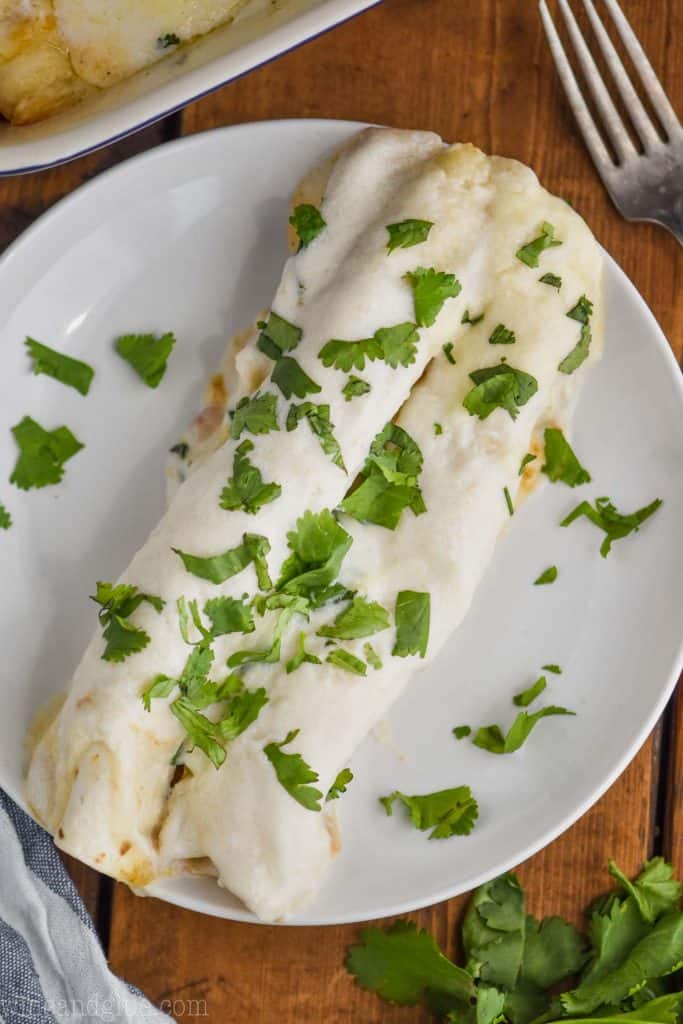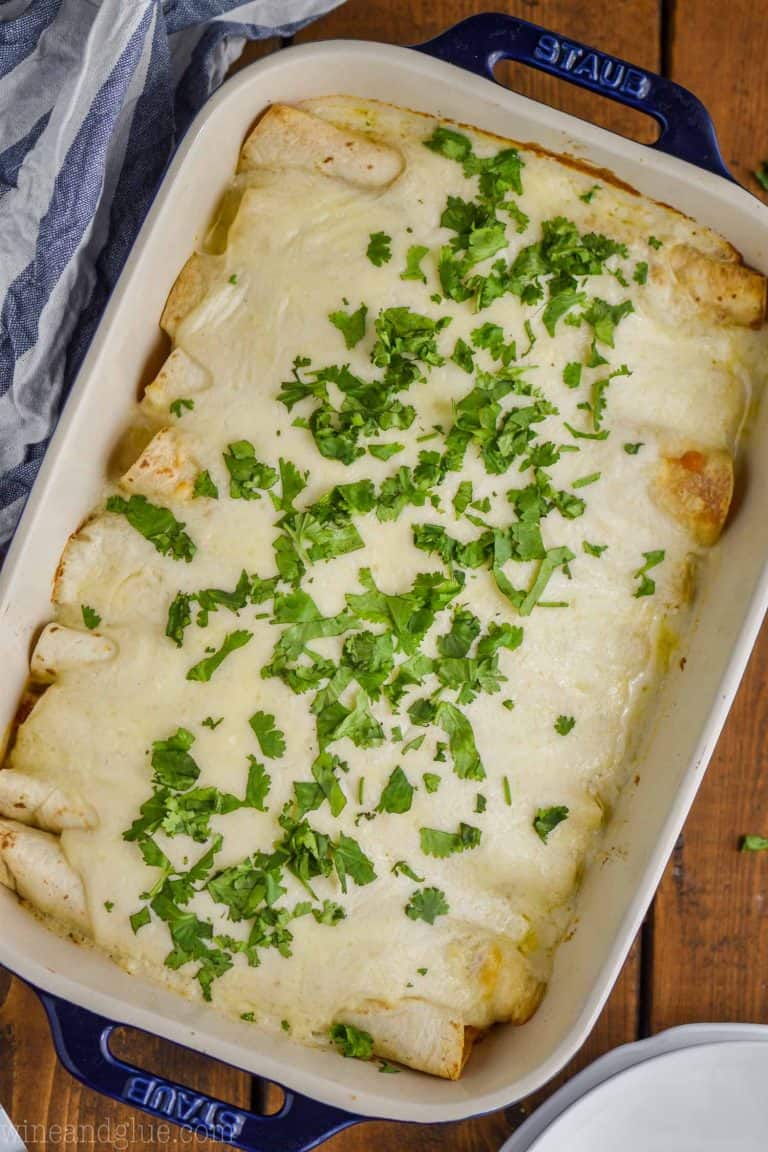 Sour Cream Chicken Enchiladas
These Sour Cream Chicken Enchiladas are good to the very last drop of sauce on your plate.  Your family will love this amazing and delicious dish!
Ingredients
1

pound

chicken

cooked and shredded (see note)

15

ounces

diced tomatoes

drained

5

ounces

diced green chiles

1

tablespoon

taco seasoning

1/4

cup

unsalted butter

1/4

cup

all purpose flour

15

ounces

chicken broth

1

cup

sour cream

10

10 inch flour tortillas

8

ounces

Monterey Jack cheese

shredded
Instructions
Preheat your oven to 400 degrees. Spray a 9 by 13 inch baking dish with cooking spray and set aside.

In a medium bowl, mix together the chicken, drained diced tomatoes, chiles, taco seasoning, and 3/4 a cup of the cheese.

Melt butter in a medium saucepan over medium low heat; stir in flour to make a roux, stirring and cooking the mixture until bubbly. Gradually whisk in the chicken broth. Bring to a boil, stirring frequently. Remove from heat and stir in the sour cream.

Pour a small amount – just enough to coat the bottom – into the 9 by 13 inch pan.

Add 1/2 a cup of the chicken mixture to each tortilla and roll tightly. Place seam side down in the preparred baking dish.

When all 10 tortillas have been added to the baking dish, top with the remaining sauce and then the reamining cheese.

Place in the oven, uncovered, and bake for 20 minutes or until the cheese is fully melted, the sauce has begun to boil near the endges and the visable tortilla shells are just beginning to brown.
Notes
Please note that the cook time for this recipe does not include cooking the chicken. I would suggest buying pre cooked shredded chicken, using a rotisserie chicken, or using my recipe for Instant Pot Shredded Chicken.
Additionally, the nutritional information listed can change dramatically depending on what type of tortilla you use. The tortilla used in this calculation was 210 calories per tortilla.
Serving:
1
enchilada
Calories:
465
kcal
(23%)
Carbohydrates:
43
g
(14%)
Protein:
17
g
(34%)
Fat:
23
g
(35%)
Saturated Fat:
13
g
(81%)
Polyunsaturated Fat:
2
g
Monounsaturated Fat:
2
g
Cholesterol:
48
mg
(16%)
Sodium:
708
mg
(31%)
Potassium:
304
mg
(9%)
Fiber:
2
g
(8%)
Sugar:
2
g
(2%)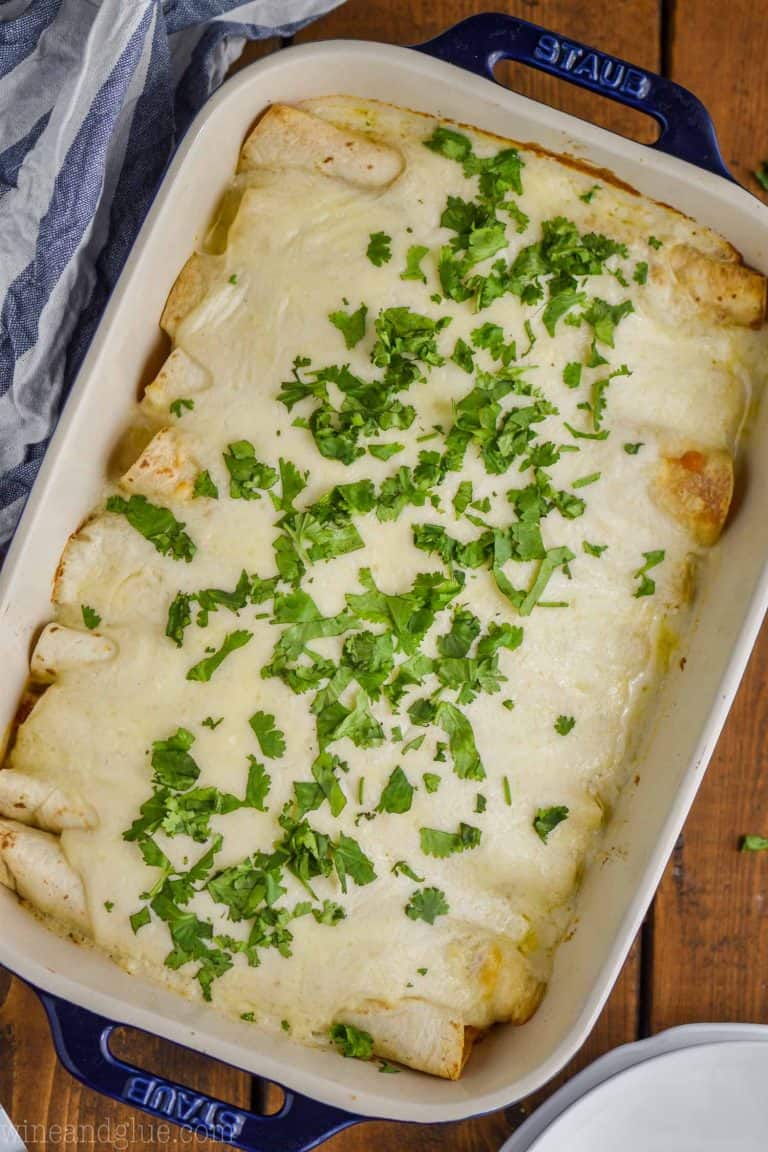 did you make this
Sour Cream Chicken Enchiladas