This Easy Guacamole Recipe is made with easy to find ingredients and it is the perfect combination of flavors. You will fall in love with this easy recipe.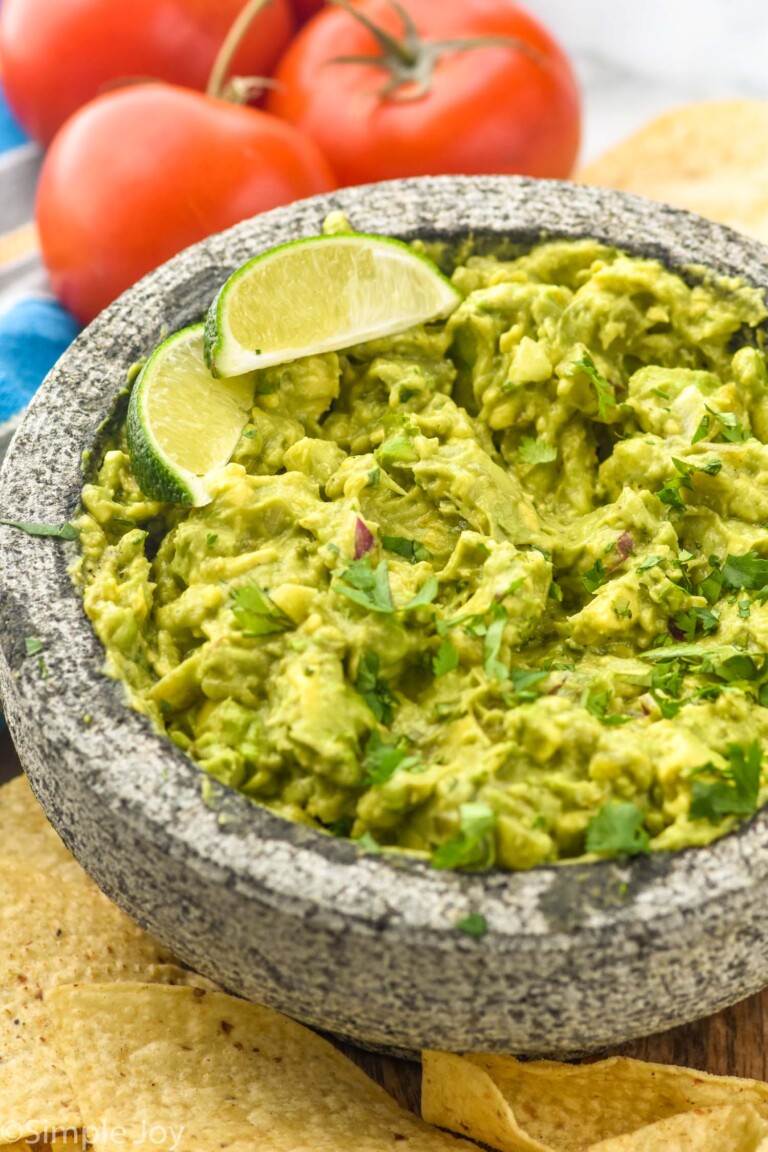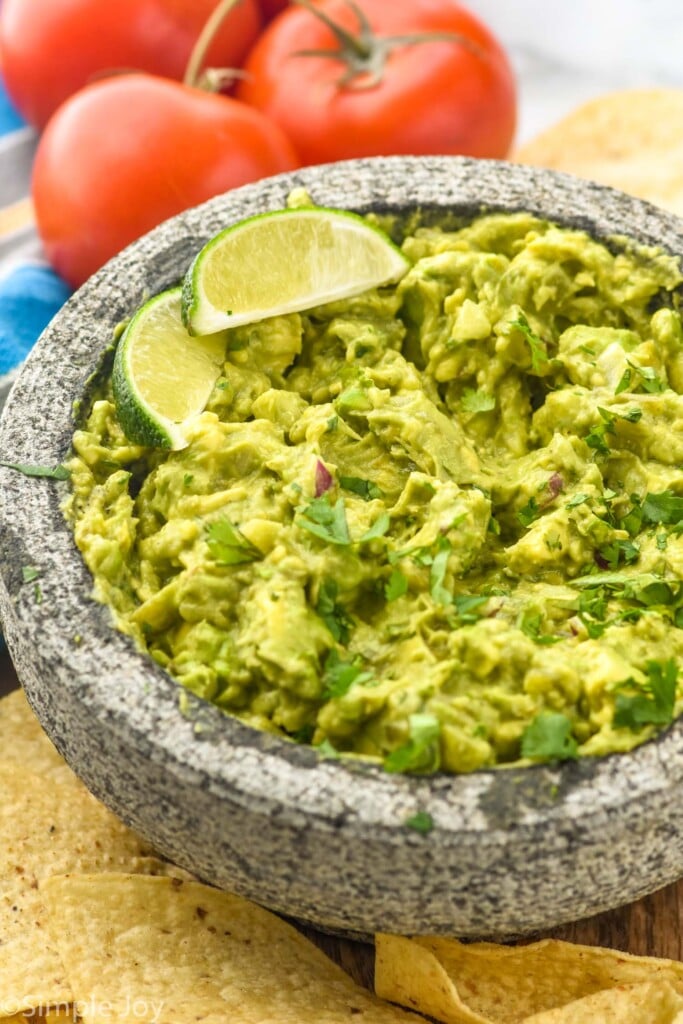 This Easy Guacamole Recipe is near and dear to my heart. My mom came up with a version of this homemade dip years ago; we ate it at nearly every family gathering, game night and picnic. Unfortunately I didn't get her to write down her recipe before she passed away.
The good news is that between my brother and I, I think we finally figured it out. This simple recipe is spicy yet mild enough to eat all night long. Minimal chopping required and only a few easy ingredients. I hope you love this family recipe as much as I do.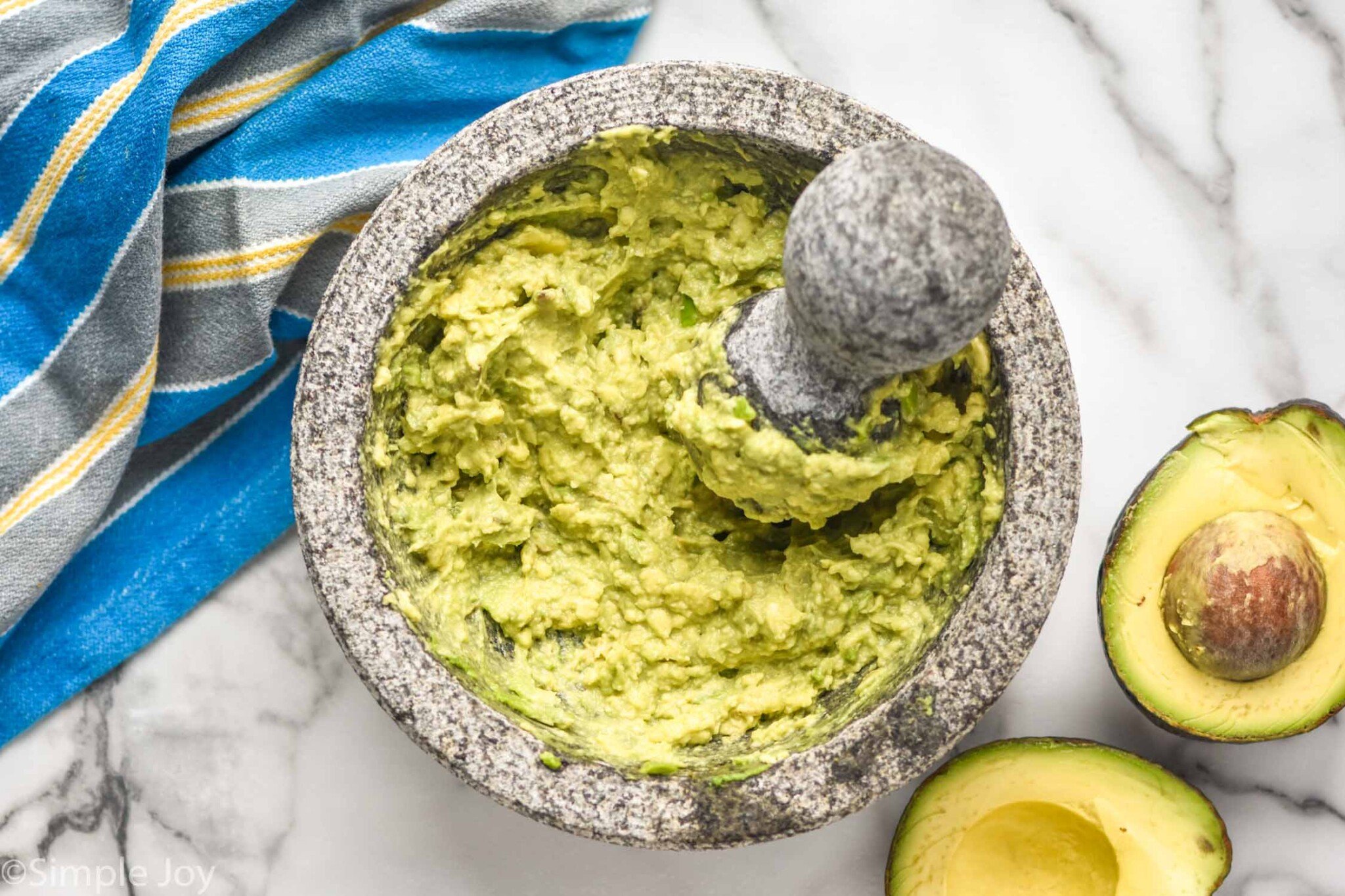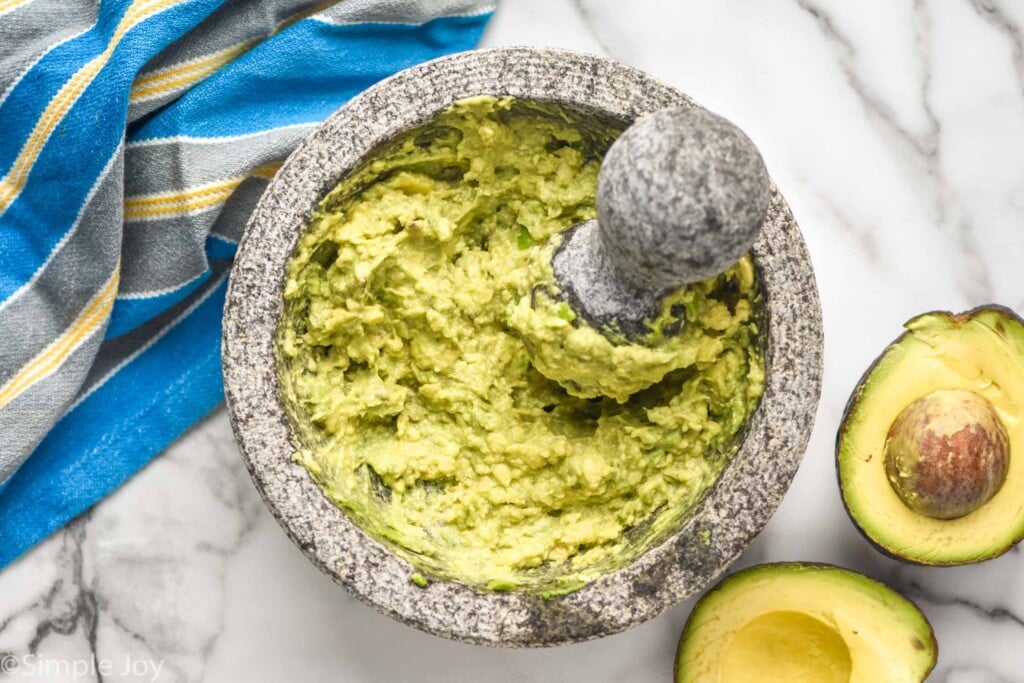 Guacamole Ingredients
You only need a few simple ingredients to make this amazing homemade guacamole. For the full measurements, be sure to see the recipe card at the bottom of the post.
Avocados: Read below on how to pick the perfect avocado
Green chiles: While most recipes use fresh jalapeños in their guacamole, I love the taste that green chiles bring. You can buy them in hot or mild so you can decide for yourself how spicy you would like this great dip. If you would prefer to use jalapeño, use one fresh jalapeño in place of the can of green chiles.
Red onion: This brings a great onion tang, but in a milder form since red onions have a sweetness to them.
Cilantro: Read about storing fresh cilantro below.
Garlic: Just one clove of garlic is needed in this recipe to bring great flavor.
Lime juice: An essential ingredient to guacamole, I suggest that you use fresh limes.
Salt and Pepper
How to Make Guacamole
This is just a brief overview of how to make this easy recipe. For the full recipe with all of the measurements, please see the recipe card at the bottom of the post.
Mash up two avocados. We are going for the perfect texture here. So we are only going to mash two of the three avocados. The third avocado will get a nice dicing and then get tossed in with the rest of the ingredients.
Add in the rest of the ingredients. Toss in the final avocado, onion, chiles, cilantro, garlic, lime juice, salt and pepper.
Taste and adjust seasonings. Taste the recipe and add more salt and pepper if you like. You could also toss in a little more lime juice and another garlic clove if you are feeling it.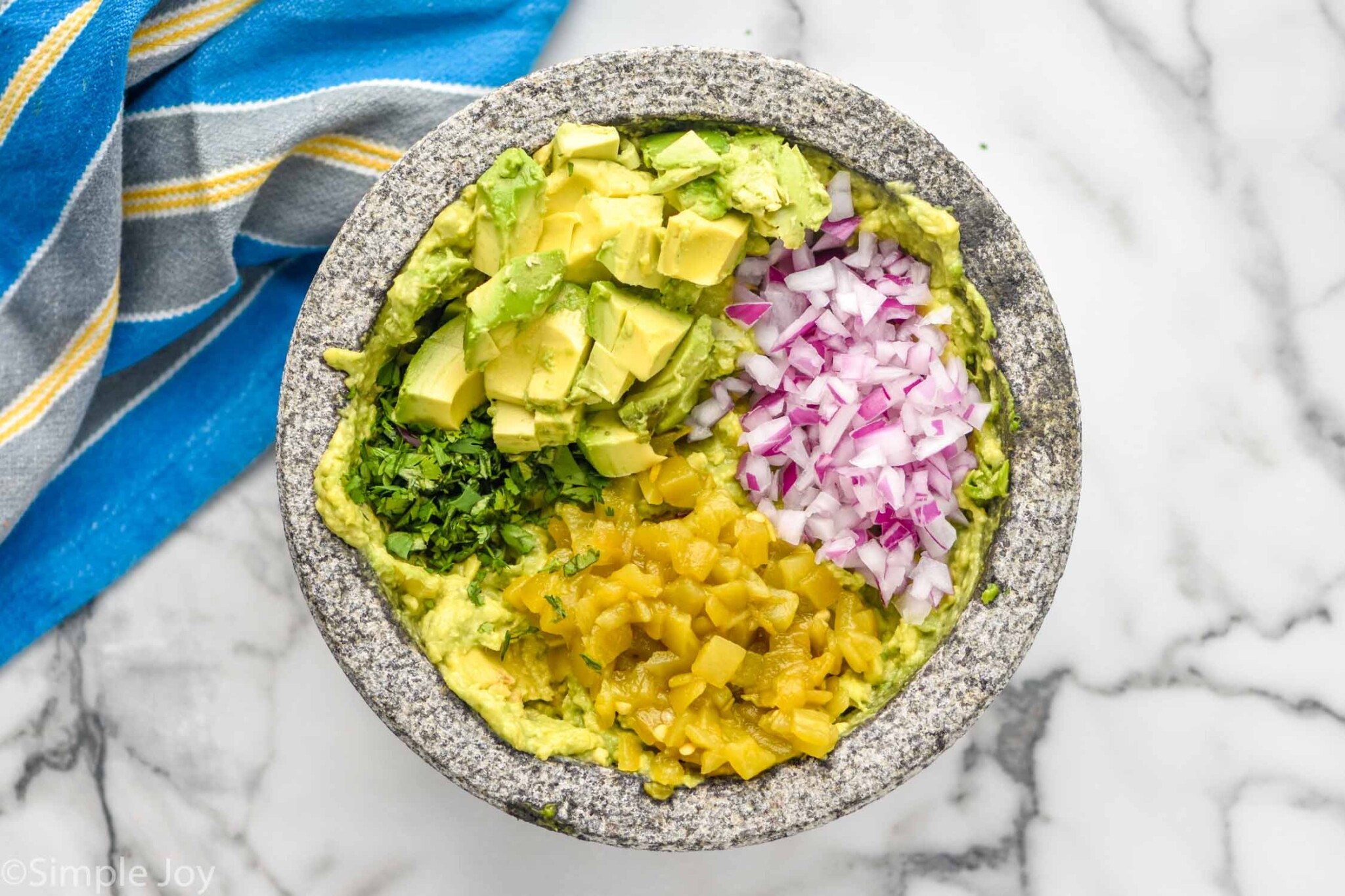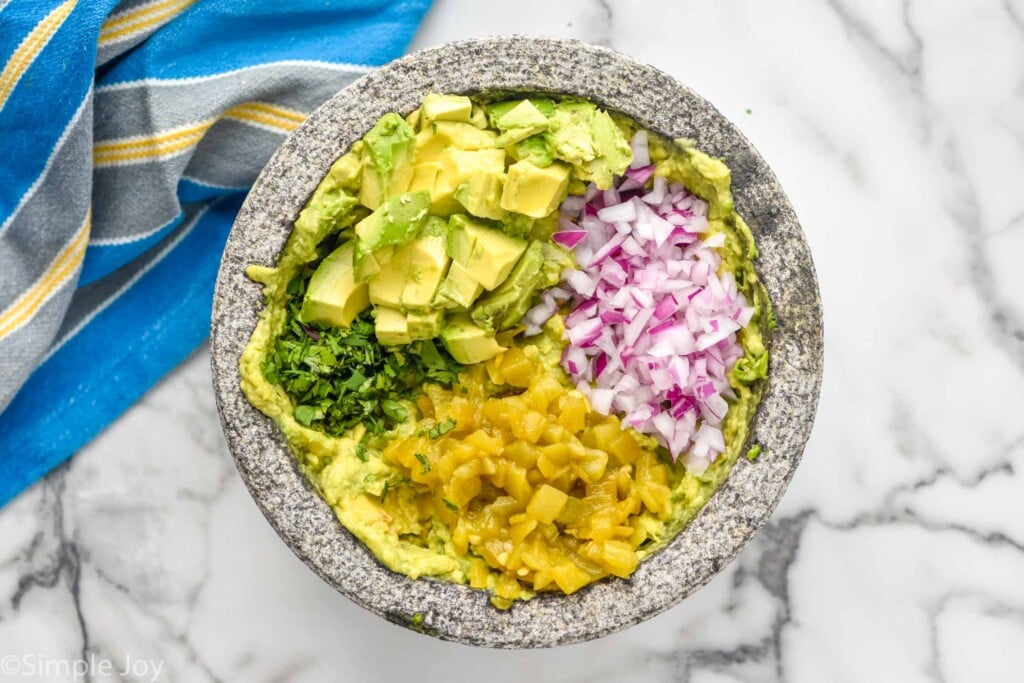 How to Tell if an Avocado is Ripe
The most important ingredient in this easy guacamole recipe is, of course, avocados. Here are a few tips to tell if you are buying a ripe avocado:
Look for a darker shade. Ripe avocados tend to be darker green on the outside. Bright green ones are usually not ripe enough.
Give it a squeeze. Gently press your fingers around the avocado to test for firmness. A perfectly ripe avocado will have a little give to it without feeling too mushy.
Check the stem. Take a look under the stem and check for a green color. That means it's ripe and ready. If it's brown or really dark green, the avocado is too ripe and probably brown throughout.
Buying and Storing Fresh Cilantro
We are using a 1/4 cup of cilantro for this great recipe. You will have a little left over from bunch, so here are a few tips on how to buy it, how to store it, and how to use your leftovers.
Look for perky leaves. Go for a bunch of cilantro that has bright green leaves. Make sure that the overwhelming majority look vibrant rather than wilted.
Avoid cilantro with brown on the stems or leaves. If there is one or two stray leaves, that's not a big deal, but sometimes the inside of the bunch has gone all brown and you want to avoid that.
Clean up the bunch after purchasing. When you get your cilantro home, undo the bundle, take out any brown leaves or stems, and gently pat the leaves dry. If there are any leaves stuck in the stems, remove those.
Cut off the bottom two inches of the stems.
Place the bunch in a cup full of cold water. Again, make sure that there are no leaves that are low in the stems that go in the water.
Place the bag that the cilantro came in over the leaves and put them in the refrigerator for up to about two weeks.
Use your remaining cilantro to make Chicken Street Tacos, Shrimp Ceviche, and Asian Cucumber Salad.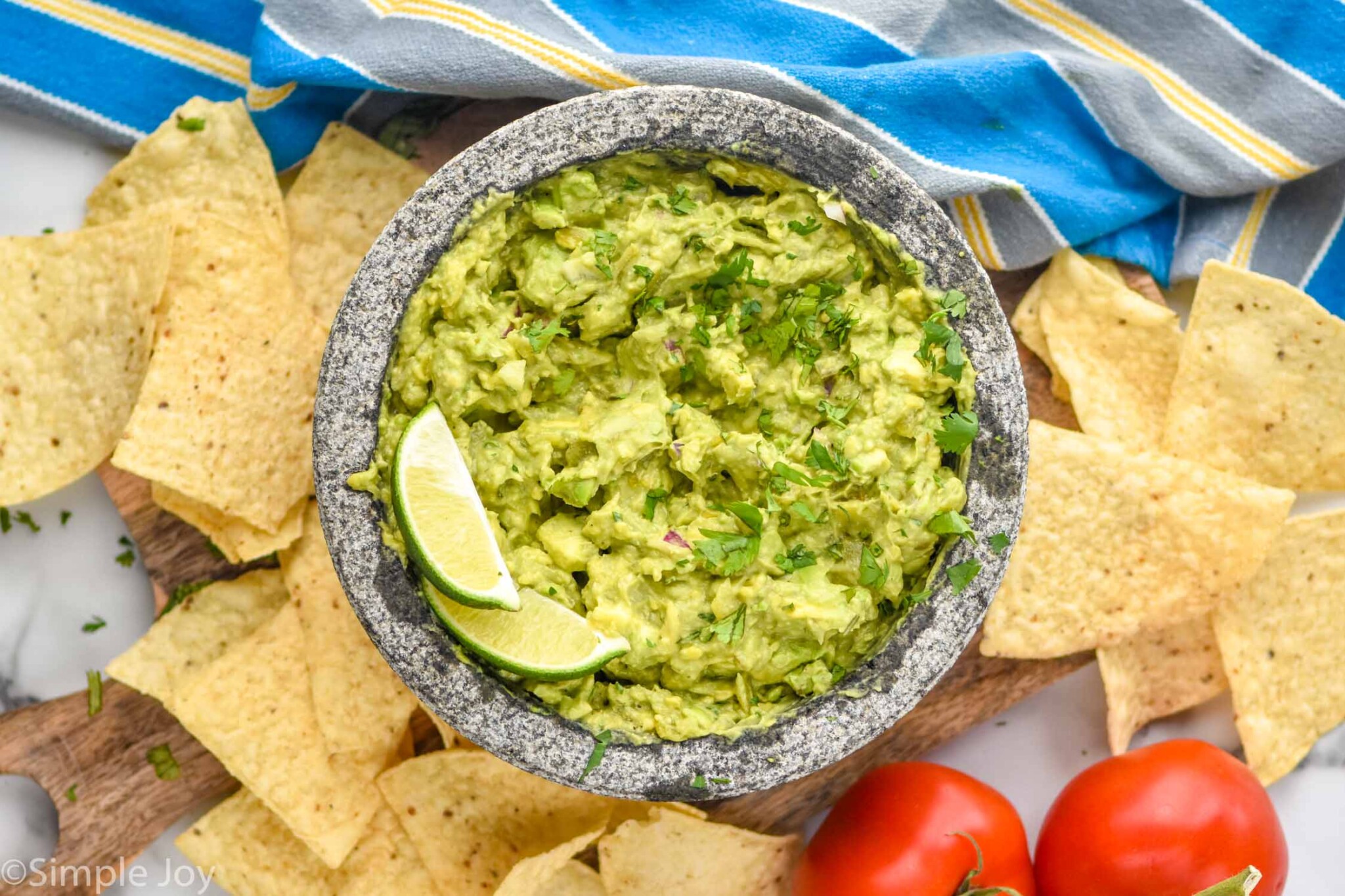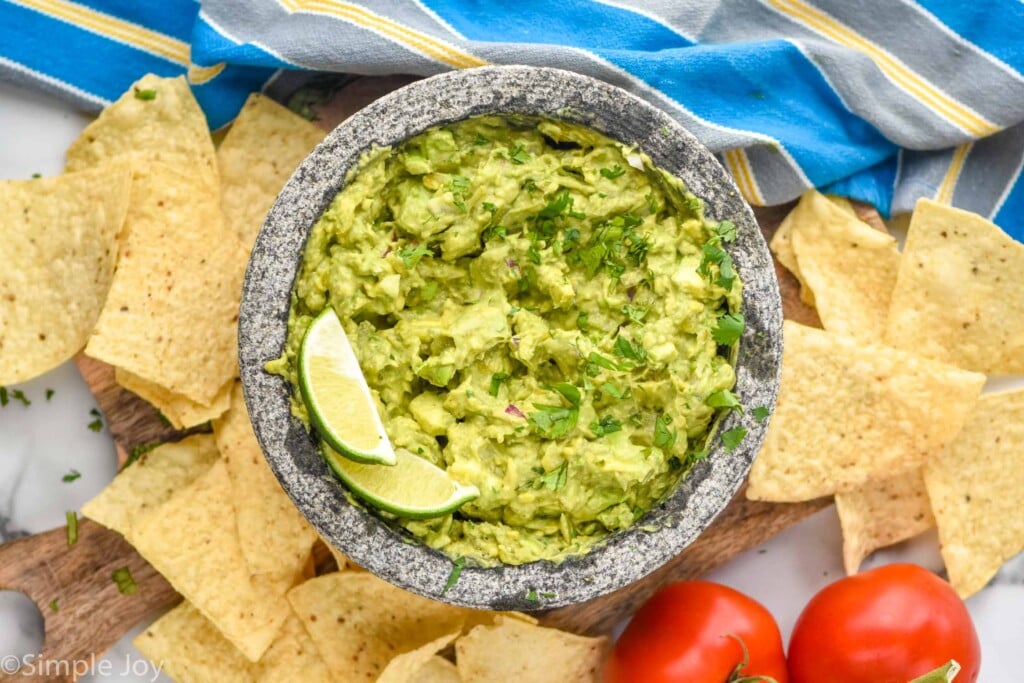 Variations and Substitutions
Though I love this recipe as is, there are a few things you can do to switch this up a little:
Mash all three avocados. If you have guests with texture issues, they might prefer to have all three mashed.
Leave out the cilantro. If you are someone who tastes soap when they have cilantro, just leave it out! You will still love this recipe.
Swap the chilies for jalapeños. As mentioned above, you can easily swap the can of chiles for a single jalapeño if that is what you prefer.
Toss in a tomato or two. I often really enjoy my guacamole with some tomatoes in them. I liked to use 1 Roma tomato with the seeds removed and diced.
Serving Guacamole
While you can throw guacamole in any serving bowl and people will be so busy gobbling it up they will barely notice that your bowl matches the serving napkin, it is very fun to serve it as you see here. My kids, knowing how much I love guacamole got me this mortar and pestle. I'm not going to lie. It makes it more fun.
TOP PICK
Mortar and Pestle
This mortar and pestle is great for mashing avocados and perfect for serving!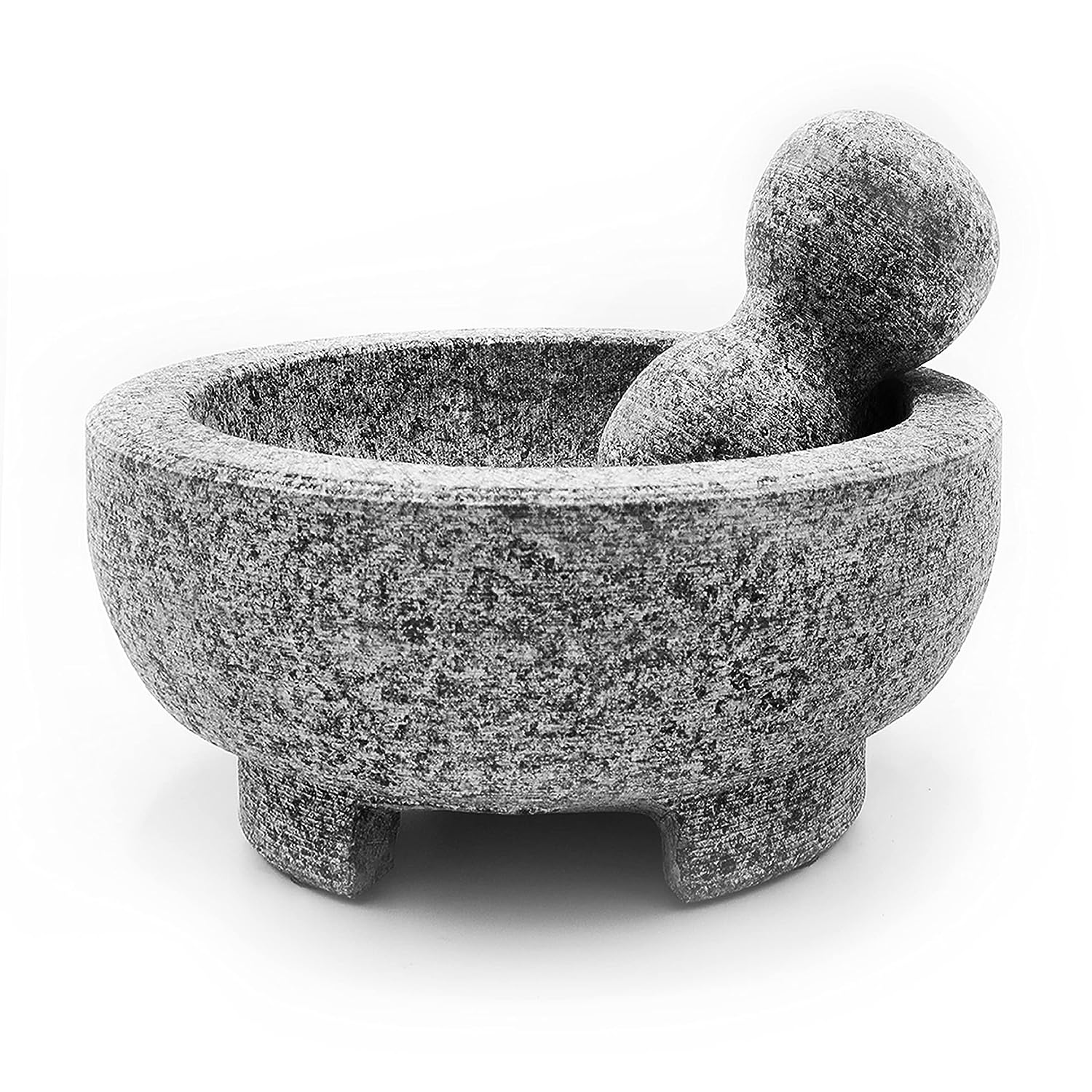 Storing Guacamole
Avocados brown really quickly, and while the lime juice in this recipe will slow that down, it won't stop it completely. My recommendation is to store this in an airtight manner. You can place it in a plastic container and then press plastic wrap into the top. Or you can fill it to the absolutely top of the container and seal it so that the top makes a seal against the guacamole. Store leftovers in the refrigerator for four to five days.
FAQ
Can you freeze guacamole?
The simple answer is yes, but it is a little bit nuanced so that you get the best results. You can read some advice here.
Is guacamole good for you?
Yes! The ingredients in guacamole are all very good for you with the number one ingredient being avocado, a great heart healthy fat. As with all foods, both good and bad, moderation is key.
How long does guacamole last?
For best results, eat your guacamole right after making it. But leftover guacamole can be kept for four to five days. See my recommendations for storing it above.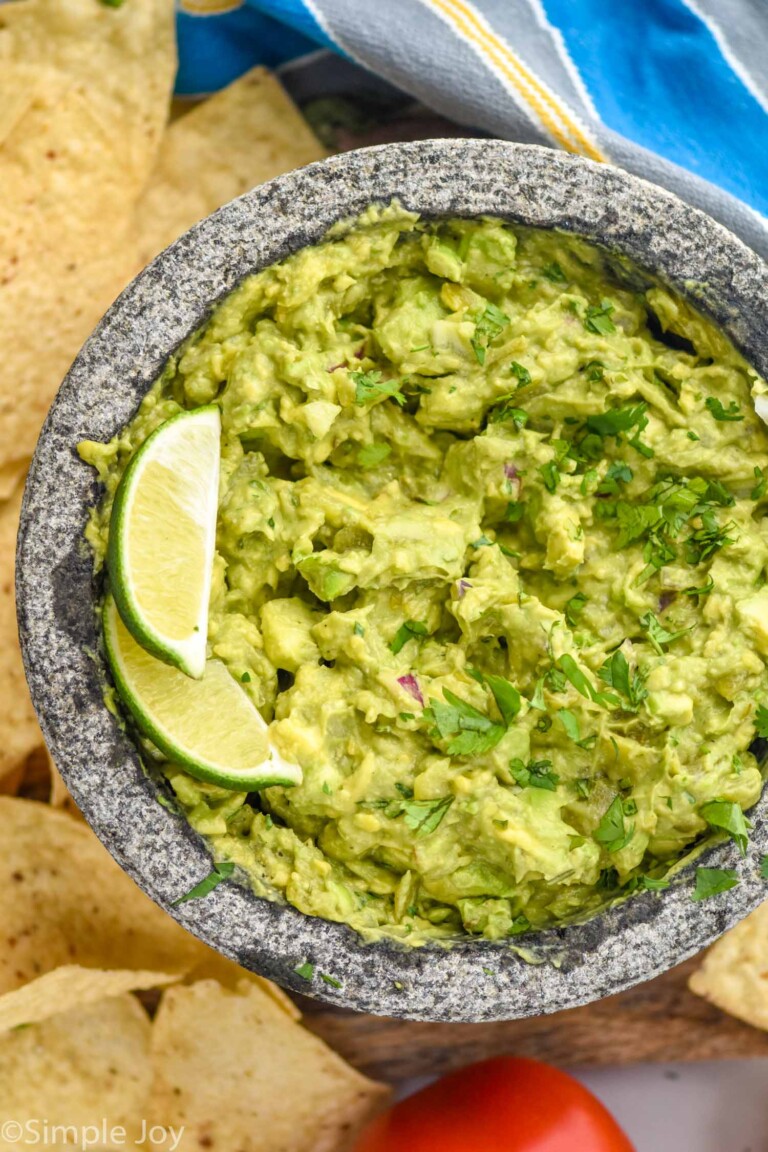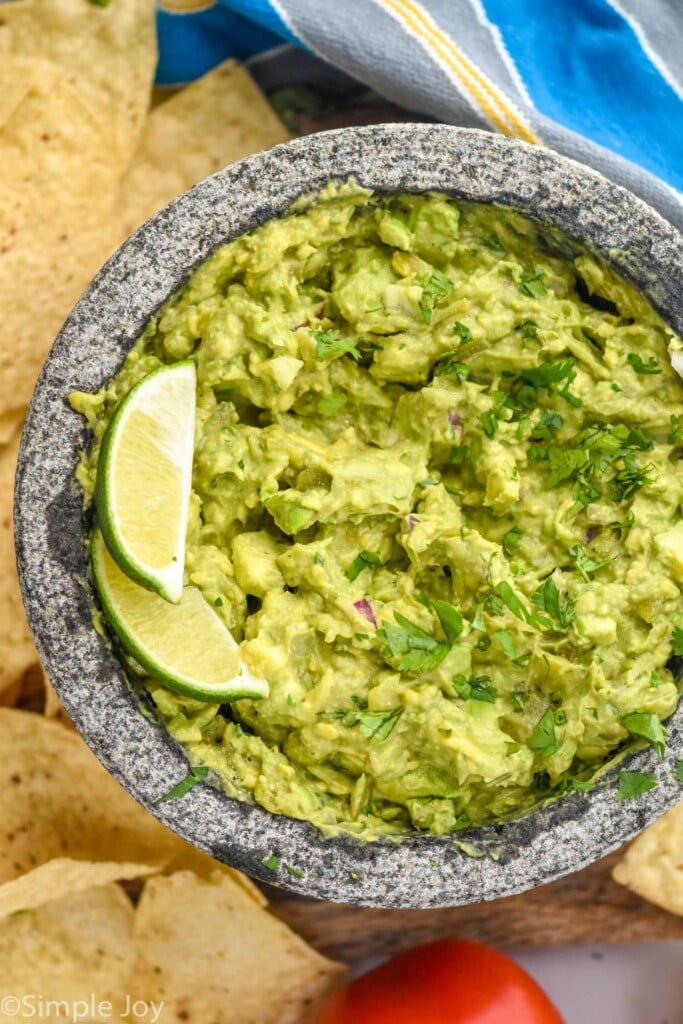 What to Eat with Guacamole
My very favorite way to eat guacamole is in a quiet room with a margarita and a bag of chips. My favorite TV showing doesn't hurt either. But if you are looking for a great recipes to add it to, here are some winners.
If you try this simple guacamole recipe, leave me a comment and let me know what you think! I love hear from you and learning how you incorporate my recipes into your family dinners and celebrations.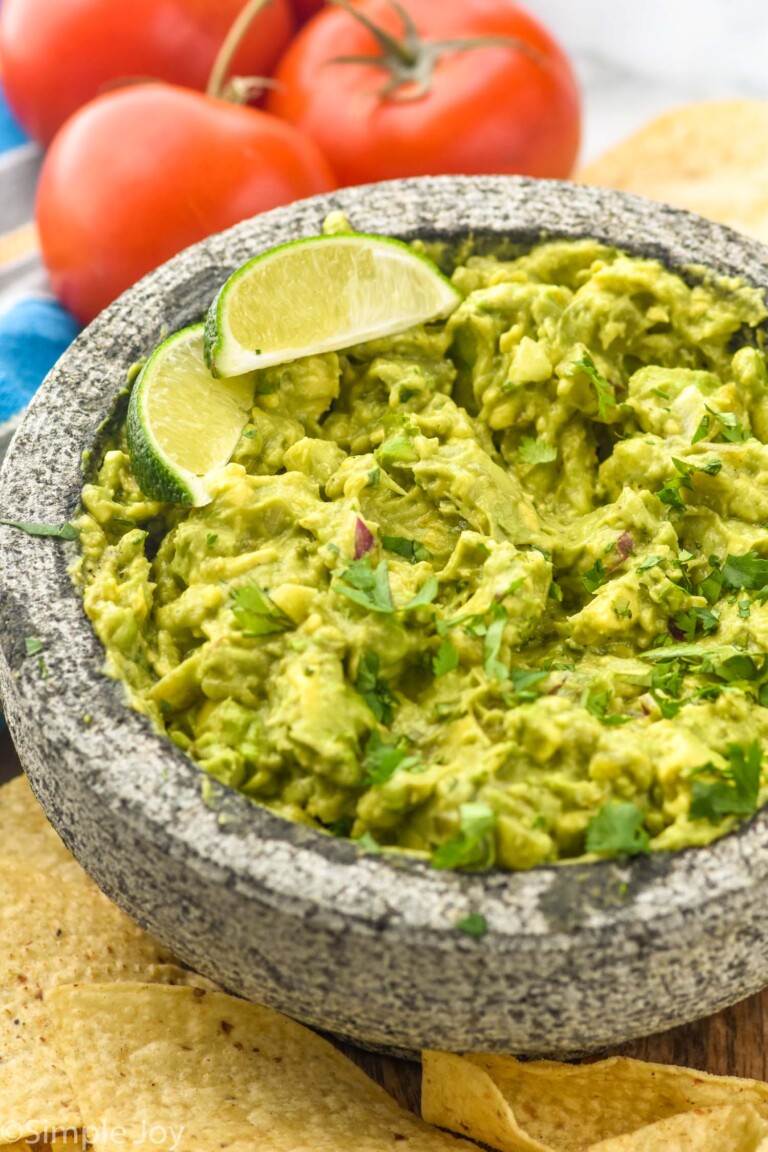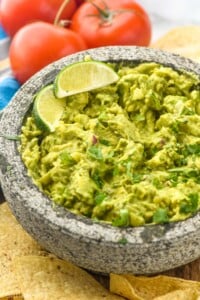 The Best Guacamole
This Easy Guacamole Recipe is made with easy to find ingredients and it is the perfect combination of flavors. You will fall in love with this easy recipe.
Ingredients
3

avocados

(2 mashed, 1 diced)

4.5

ounces

diced green chiles

drained well

1/4

medium red onion

diced small

1/4

cup

cilantro

chopped

1

garlic clove

minced

2

teaspoons

lime juice

1/2

teaspoon

kosher salt

1/4

tsp

black pepper
Instructions
In a large bowl, mash up two avocados. Then mix in the third diced avocado, green chiles, onion, cilantro, garlic, lime juice, salt, and pepper.

Taste the guacamole and add more salt, pepper, or lime juice as needed.
Serving:
0.3
cup
Calories:
126
kcal
(6%)
Carbohydrates:
8
g
(3%)
Protein:
2
g
(4%)
Fat:
11
g
(17%)
Saturated Fat:
2
g
(13%)
Polyunsaturated Fat:
1
g
Monounsaturated Fat:
7
g
Sodium:
153
mg
(7%)
Potassium:
407
mg
(12%)
Fiber:
5
g
(21%)
Sugar:
1
g
(1%)
Vitamin A:
164
IU
(3%)
Vitamin C:
10
mg
(12%)
Calcium:
16
mg
(2%)
Iron:
1
mg
(6%)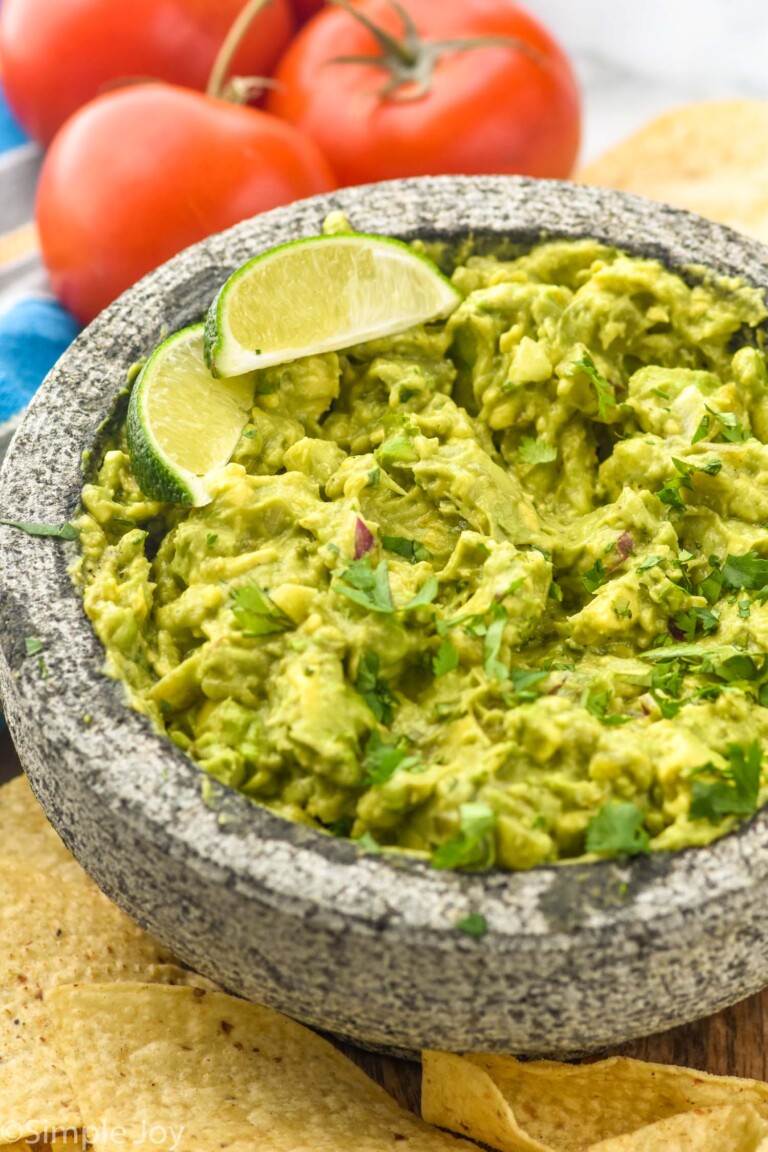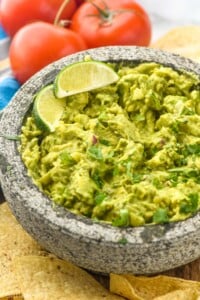 did you make this
The Best Guacamole
SaveSave