Strawberry Pancakes are the perfect breakfast! This easy pancake recipe uses fresh strawberries and is absolutely delicious. Cover these in our amazing amazing strawberry pancake syrup.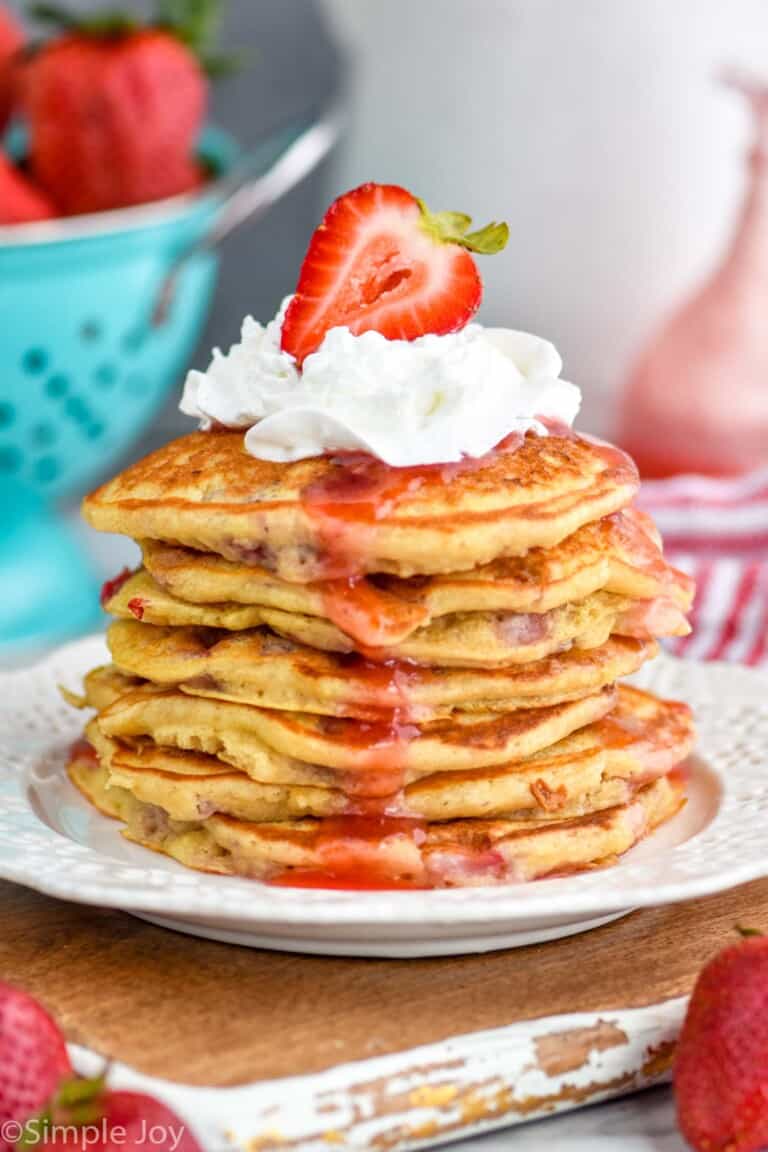 If you are headed out strawberry picking this summer, you need this amazing Strawberry Pancake recipe. Even when your area isn't in the thick of strawberry season, this spin on Buttermilk Pancakes is a great recipe to make year round.
These strawberry pancakes come together easily and have the best strawberry taste inside of a fluffy pancake. These pancakes would be perfect for a holiday brunch alongside lots of our other breakfast recipes.
How to Make Strawberry Pancakes
This is a brief overview of our recipe. For all the measurements and a full printable recipe, be sure to scroll to the bottom of the post.
Whisk together the dry ingredients. In a large bowl combine the flour, sugar, brown sugar, baking soda, and salt.
Whisk together the wet ingredients. In a medium bowl, whisk together the buttermilk, melted butter, eggs, maple syrup, and vanilla extract.
Fold the wet ingredients into the dry ingredients. You want to fold them in until just combined being careful not to over mix.
Fold in the strawberries.
Cook the pancakes. In a skillet or on a griddle, spoon up 1/4 cup of batter. Cook the pancakes for 3 minutes on each side. Flip them when you start to see bubbles forming.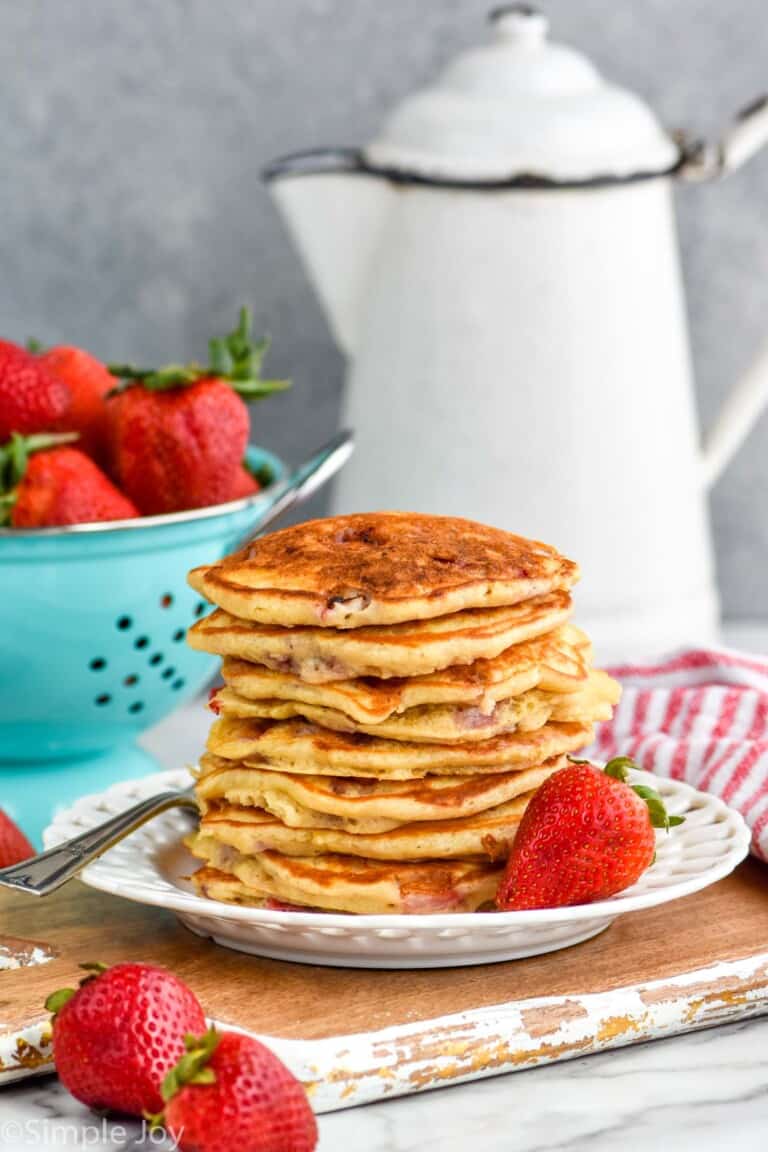 Griddle vs. Skillet
There are a few benefits to cooking pancakes on an electric griddle.
It has a more consistent heat source. Because it is electric, the surface of the griddle stays the same temperature across the whole surface. When you cook with a skillet on the stovetop, the heat doesn't radiate out as evenly across the surface. Additionally, as you cook it gets hotter, meaning you will need to turn your heat down after a few pancakes.
It has a bigger surface area. Using a large electric griddle will let you cook all these strawberry pancakes at once. If you are using a skillet, you will need to cook them in batches.
It frees up space on the stove top. If this pancake recipe is part of a bigger brunch menu, you can save that coveted stove top space for things like bacon and eggs.
All of that said, our family doesn't own an electric griddle, and we cooked up these pancakes perfectly using a large flat skillet. Just be sure to turn down the heat after a few pancakes.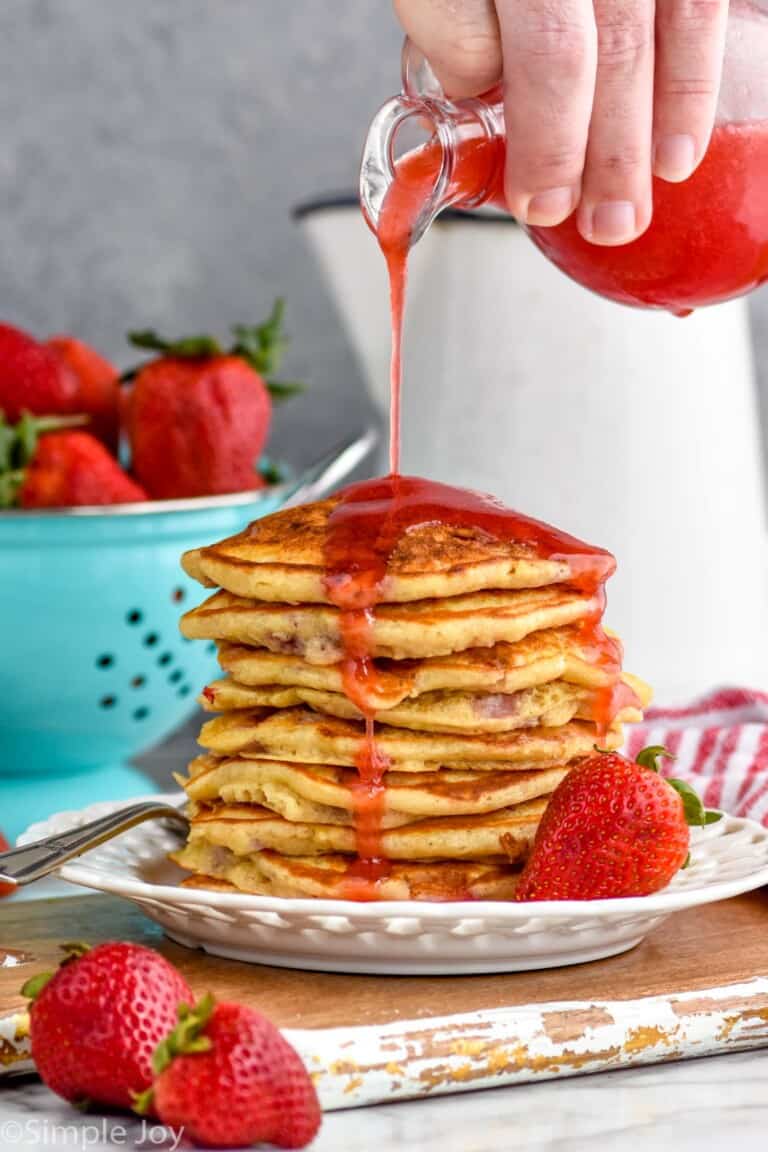 Chopping Strawberries for Strawberry Pancakes
When cutting up strawberries for this recipe, you want to make sure that the strawberry pieces are smaller than a medium sized blueberry. If they are bigger than this the batter won't cook around the strawberries, leaving small pockets of uncooked batter.
Tips and Tricks
Measure your flour properly. Scoop the flour with a spoon from the container it is kept in into a dry measuring cup. Level it off with the flat end of a spatula. Do not scoop the flour right from the container.
Use fresh baking soda. Baking soda needs to be replaced every few months. You can test the reactivity of yours by adding a little to some vinegar. It should bubble vigorously right away.
Let your melted butter cool. If you pull it out of the microwave and add it to the batter right away, it will start cooking the other ingredients.
Storing Leftovers
If you have any pancakes left over, they can be stored in an airtight container in the refrigerator for 2 to 3 days.
You can also freeze left over pancakes. These are great to make ahead and freeze for busy weekday mornings. Freeze the pancakes in a single layer and then transfer to an airtight container. Store in the freezer for up to 3 months.
When you are ready to eat them, pop them in the toaster to warm them.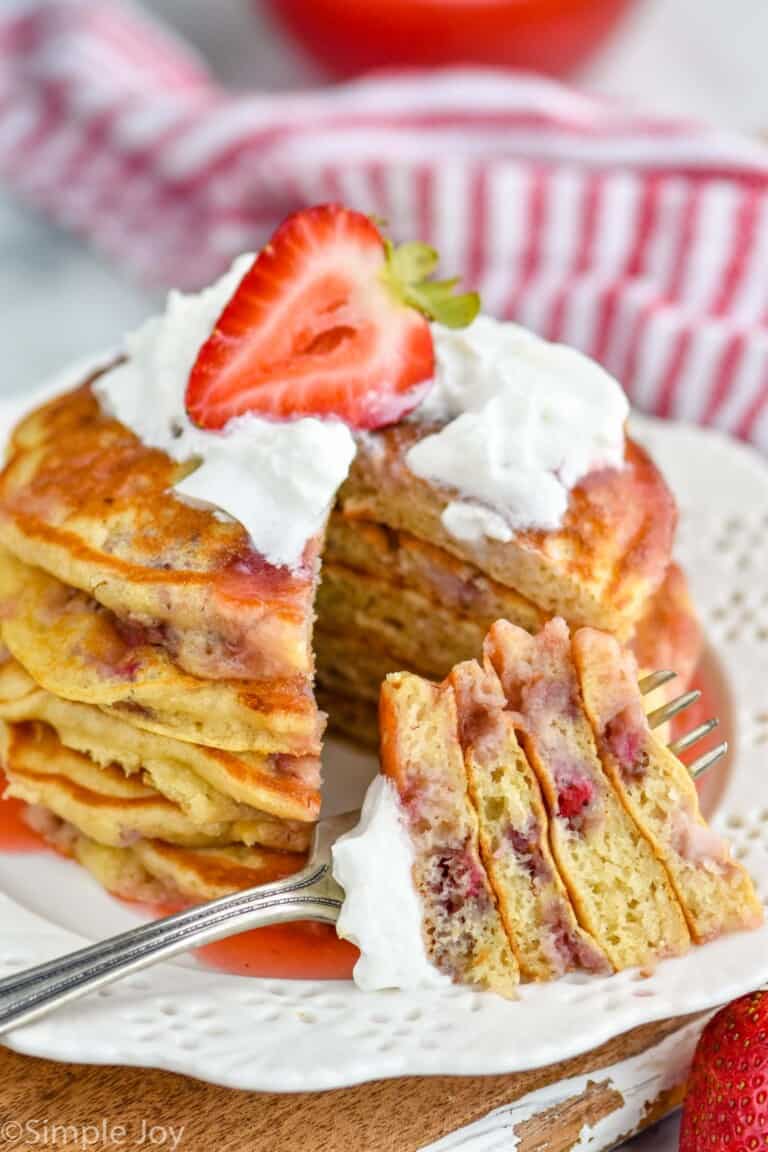 Strawberry Syrup
Strawberry Syrup is so easy to make! With only two ingredients, you can make it all the time and use it to make strawberry milk, top pancakes, or add to cocktails.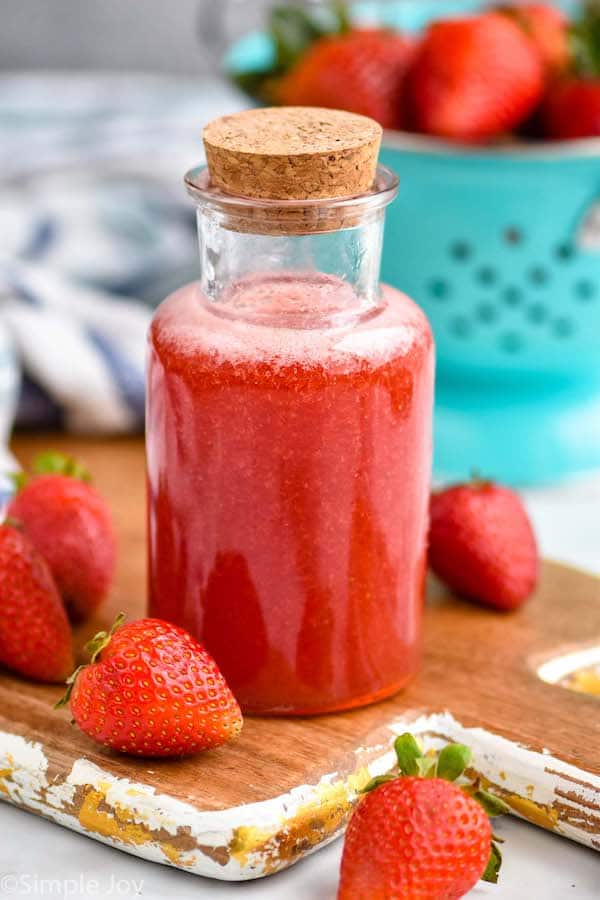 FAQ
How do you make strawberry syrup for pancakes?
These are amazing with strawberry syrup, and we have a full recipe for you that is very easy to make.
What can I use instead of buttermilk?
If you don't keep buttermilk on hand, add 1 tablespoon lemon juice or vinegar to a 2 cup glass measuring cup. Fill it to 1 1/4 cup with milk, stir, and wait a few minutes.
Can I replace the sugar in this recipe?
You can use 3 full tablespoons of just brown sugar or just granulated sugar in this recipe. This recipe has not been tested with a sugar replacement.
Can I use gluten free flour?
Unfortunately, this recipe has not been tested with gluten free flour. If you want to test it at home, I recommend buying a gluten free baking blend that is meant to replace all purpose flour one to one.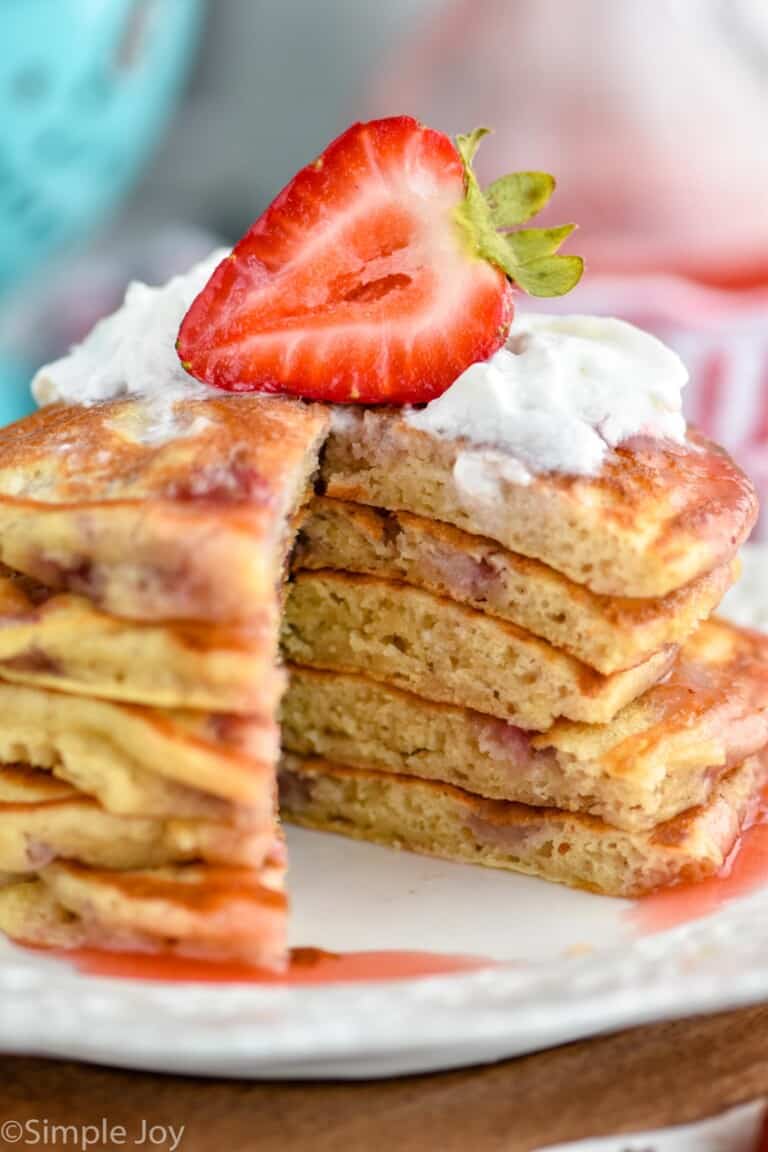 Other Strawberry Recipes
If you are on the hunt for other amazing strawberry recipes, here are my favorites:
If you make this strawberry pancake recipe, leave me a comment and let me know what you think!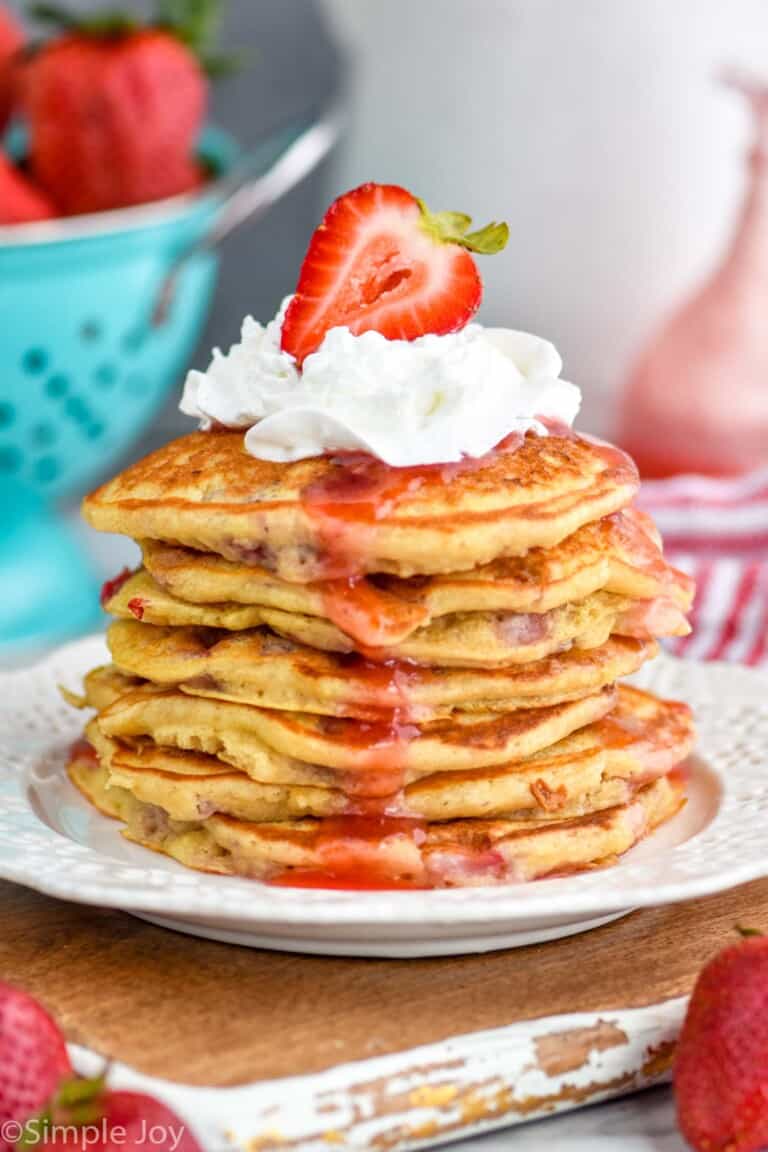 Strawberry Pancakes
Strawberry Pancakes are the perfect breakfast! This easy pancake recipe uses fresh strawberries and is absolutely delicious!
Ingredients
1 1/2

cups

all purpose flour

2

tablespoons

granulated sugar

1

tablespoon

light brown sugar

1 1/4

teaspoons

baking soda

1/4

teaspoon

salt

1 1/4

cups

buttermilk

4

tablespoons

unsalted butter

melted and cooled

2

eggs

2

tablespoons

mayple syrup

1

teaspoon

vanilla extract

8

ounces

fresh strawberries

stems removed, and chopped

strawberry syrup

for serving
Instructions
Whisk together the flour, sugar, brown sugar, baking soda, and salt in a large bowl. Set aside.

In a medium bowl, whisk together buttermilk, butter, eggs, maple syurp, and vanilla extract. Whisk until well combined.

Fold the wet ingredients into the dry ingredients until just combined. Fold in the strawberries.

Heat a skillet over medium heat. Spray lightly with cooking spray. (Or preheat a griddle to 375 degrees).

Using a 1/4 cup measuring cup, scoop the batter onto the skillet. Cook until bubbles begin to form in the middle of the pancake and the bubles on the outer edge of hte pancake have started to harden. Flip, and continue cooking until the pancake is golden brown, about three minutes on each side. Keep in mind that you likely will need to turn the heat down on a skillet over a gas flame after the first few minutes. Read more here.

Serve with whipped cream, fresh strawberries, and strawberry syrup.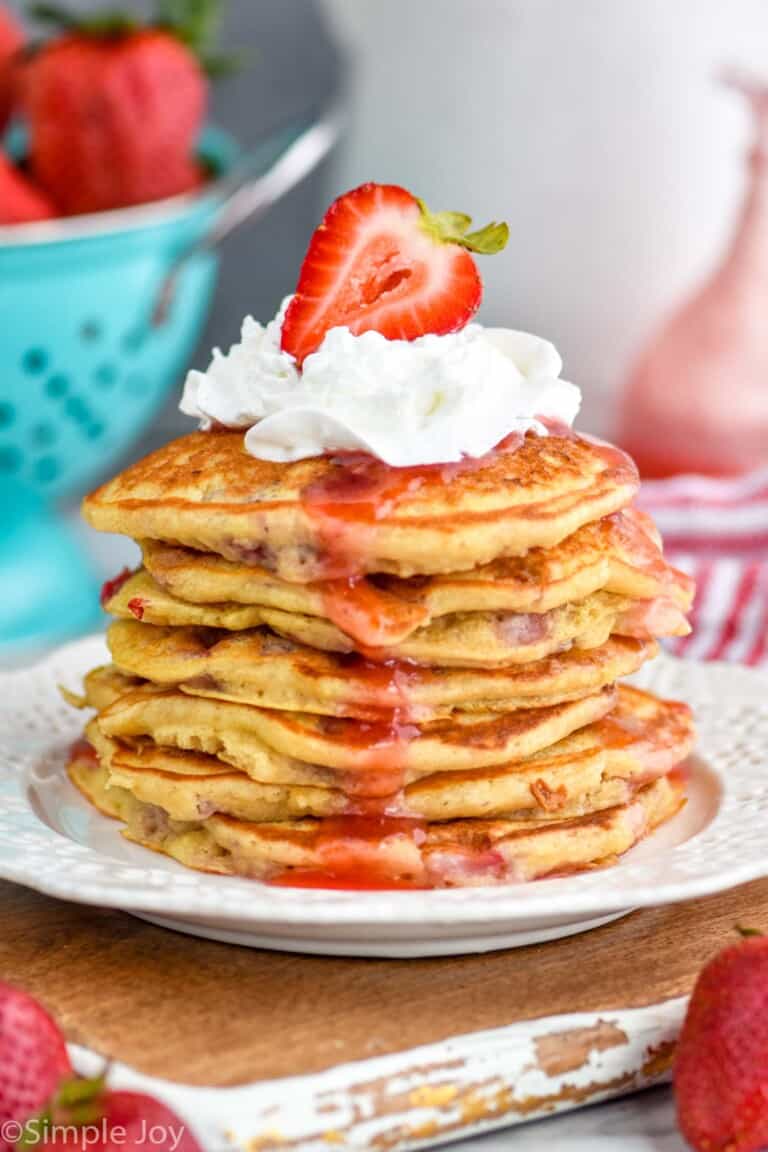 did you make this
Strawberry Pancakes
you might also like . . .