This simple recipe for Buttermilk Pancakes leaves you with delicious, light, and fluffy pancakes. This is a breakfast recipe you will make weekend after weekend.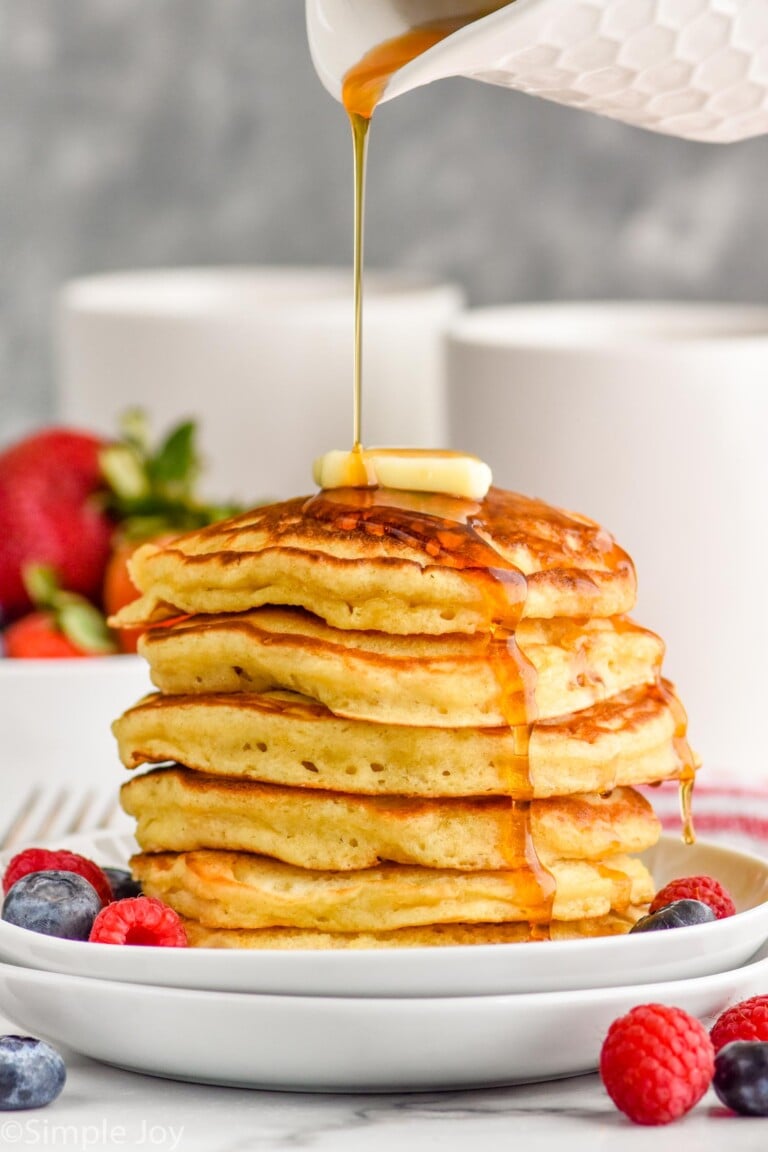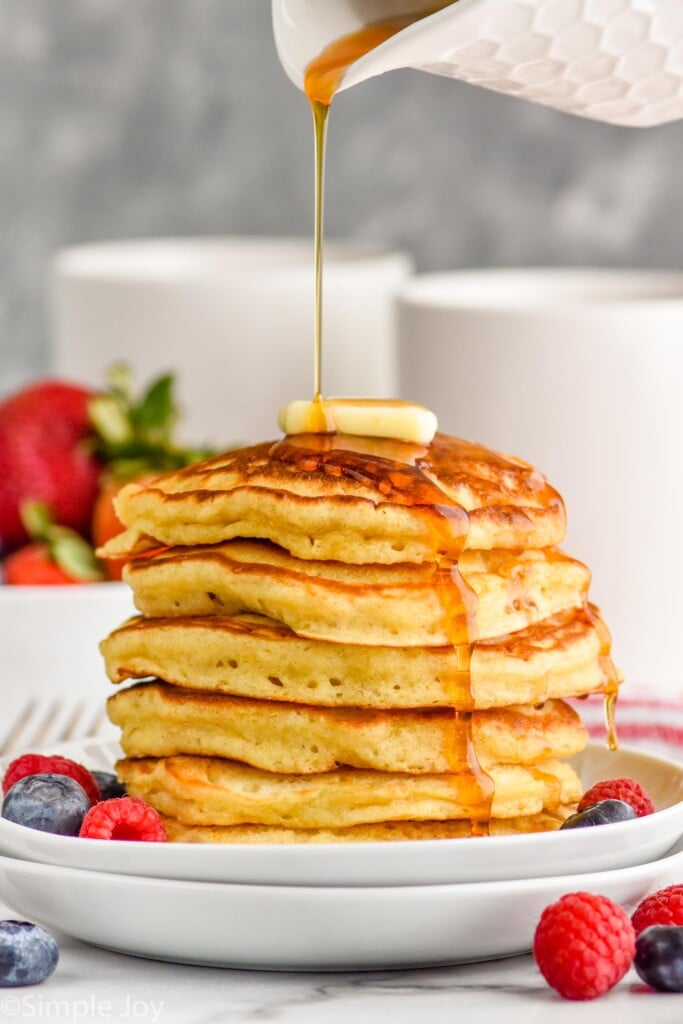 My kids are obsessed with pancakes. Honestly, they are obsessed with breakfast food in general. They could eat pancakes every morning of their ever loving lives and be happy campers. My kids are picky about pancake recipes though, and it should be noted that they give this recipe two giant thumbs up.
There are a few things that make this buttermilk pancake recipe so special. First, this recipe doesn't call for any crazy ingredients. It is fairly simple to keep all of the ingredients you need for this on hand (make sure to read below about my buttermilk swap). Second, it is incredibly fast to make. Finally, and most important of all, it makes for light, fluffy, delicious pancakes that you will come back to over and over.
How to Make Buttermilk Pancakes
Whisk together the dry ingredients. In a large bowl combine the flour, sugar brown sugar, baking soda, and salt.
Combine the wet ingredients. In a smaller bowl, whisk together the buttermilk, butter, eggs, and vanilla.
Fold the wet ingredients into the dry ingredients. Stir only until just combined, being careful not to over mix. If there are a few clumps of flour mixture, it is okay.
Cook the pancakes. On a griddle or in a skillet, add 1/4 cup of pancake batter. Wait for bubbles to form, then flip and cook the other side. The pancakes will need approximately 3 minutes on each side.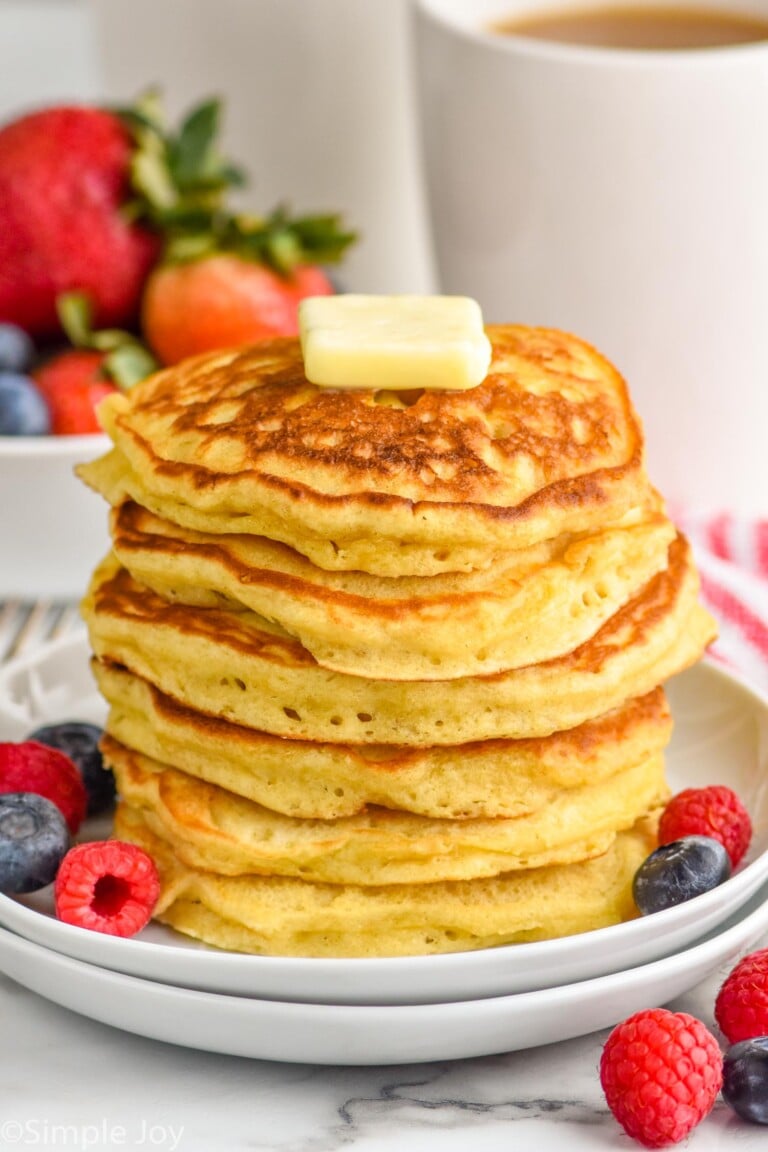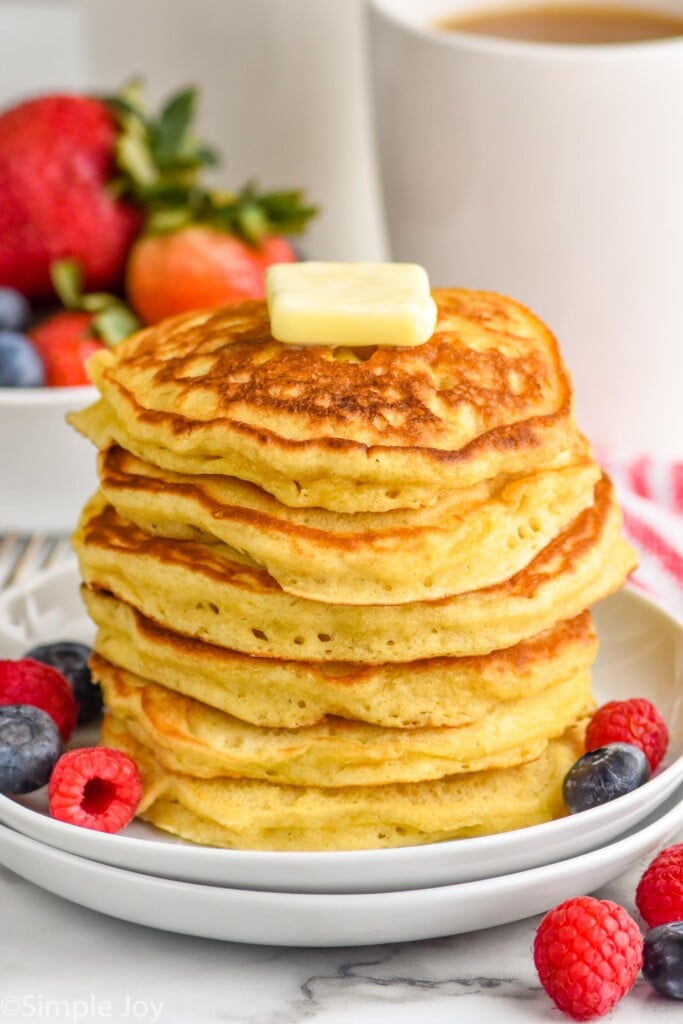 What Does Buttermilk do for Pancakes
Buttermilk provides that signature taste that you don't even know you are looking for when you bite into a pancake. Without it, it feels like something is missing. Additionally, it is the ingredient in a buttermilk pancake recipe that is going to activate the baking soda. When that happens, you get those nice pockets of air in your pancakes that make them so light and fluffy.
Buttermilk Substitute
If you are like me, you don't keep buttermilk on hand. It's just not something I use enough, and we are notorious for letting dairy products go bad before we finish them. But! We always have milk on hand in our house.
Making a buttermilk substitute is really simple.
Add 1 tablespoon plus 1 scant teaspoon of vinegar to a glass measuring cup.
Fill the measuring cup the rest of the way to the one and 1/4 cup mark with milk. (Whole milk works best for this, but I have had great results with skim as well.)
Give it a stir and then let the mixture sit for five minutes before using it in place of the buttermilk in this pancake recipe.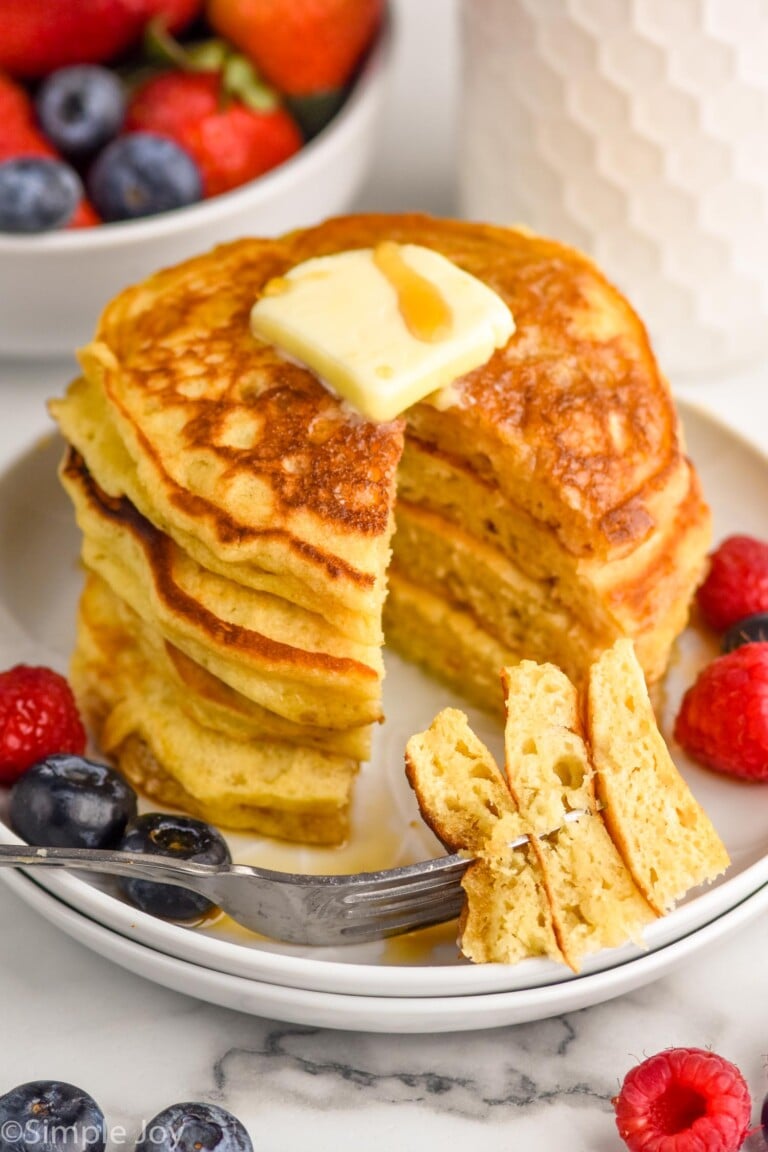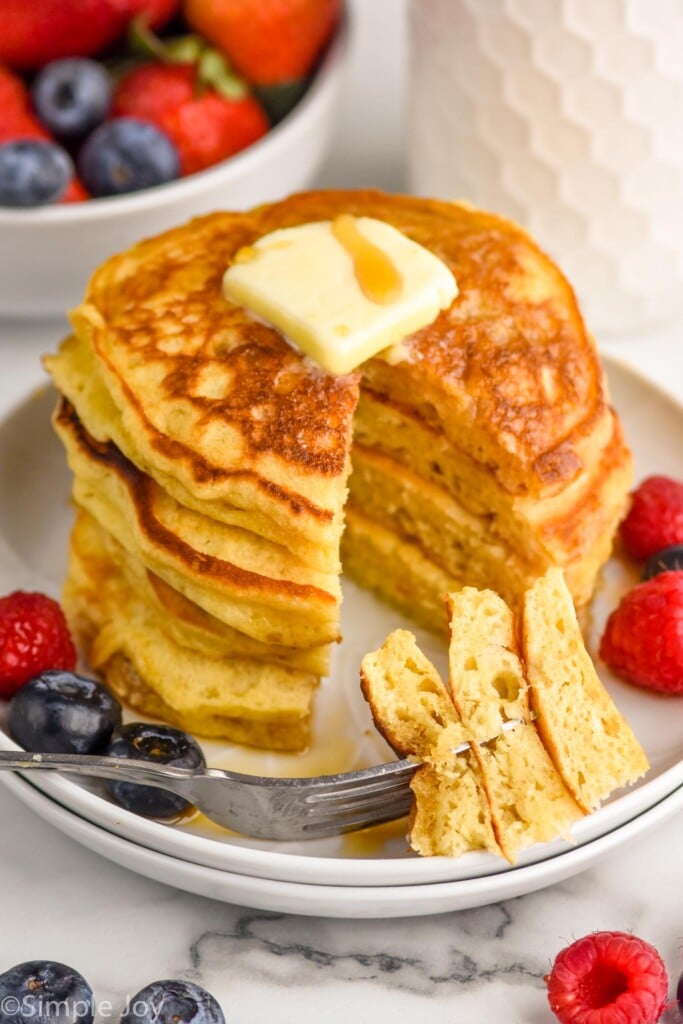 Tips and Tricks for Buttermilk Pancakes
Measure the flour correctly. Make sure to first whisk your flour in the container you store it in. Then scoop it from that container into a dry measuring cup and level it off. Do not use your dry measuring cup for the scooping or the flour will pack and you will end up with too much.
Let your butter cool. We are using melted butter here in place of oil because it provides a much better taste. But, it is important the butter cools a little before adding it to the recipe or it will start cooking the eggs.
Be sure to grab baking soda and not baking powder. They are both used in baking, but they behave differently, so it's important to use the one called for. Baking soda is used here because it will react with the acid in the buttermilk.
Be sure that your baking soda is still active. It does need to be replaced occasionally, and if it is too old, it won't react with the buttermilk. To test it, add a little to some vinegar. It should bubble fast and furious right away. If not, it's time to get a new box.
Preheat your skillet or your griddle over nice medium low heat. The reason people have to toss that first pancake is because they don't let their skillet or griddle heat up enough.
Storing Leftovers and Freezing Pancakes
If you have left over pancakes, they can be stored in the refrigerator for up to four days. My kids actually love cold pancakes right from the refrigerator as a snack when they are running out the door.
Pancakes also freeze really well. Flash freeze them in a single layer for at least an hour. Then transfer them to an airtight container and store in the freezer for up to 3 months. To warm them up, pop them in the toaster until they are warmed through.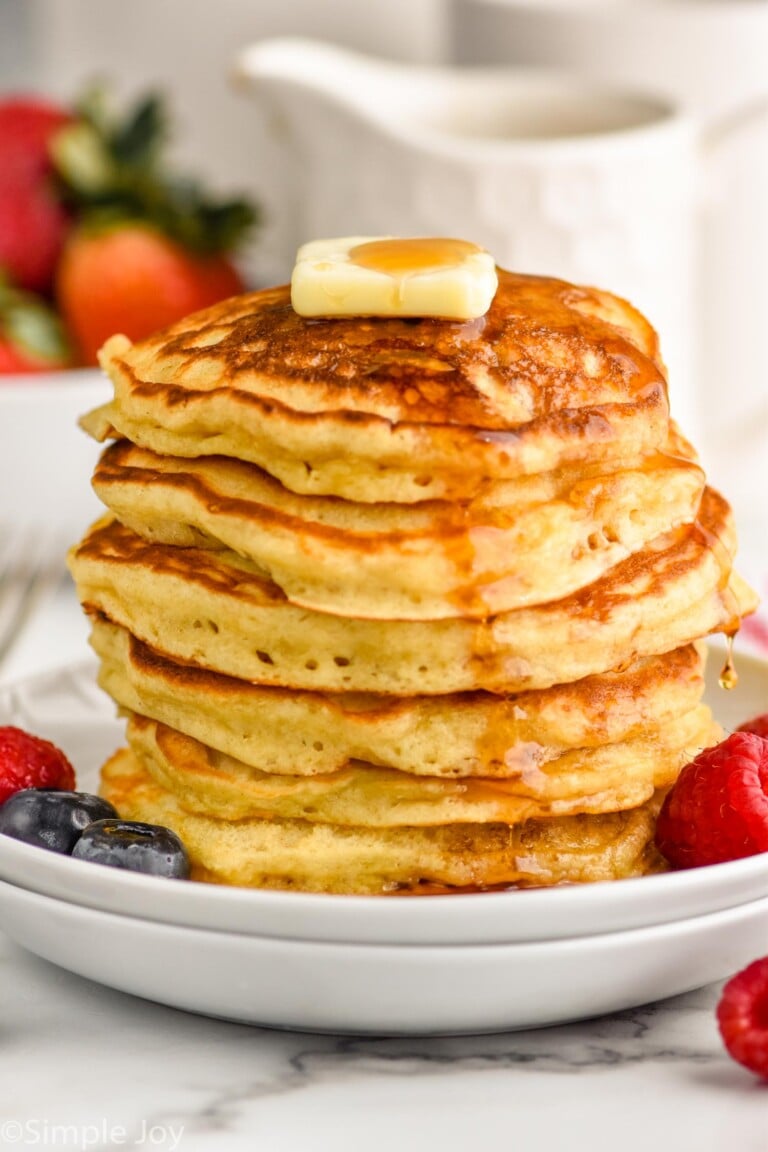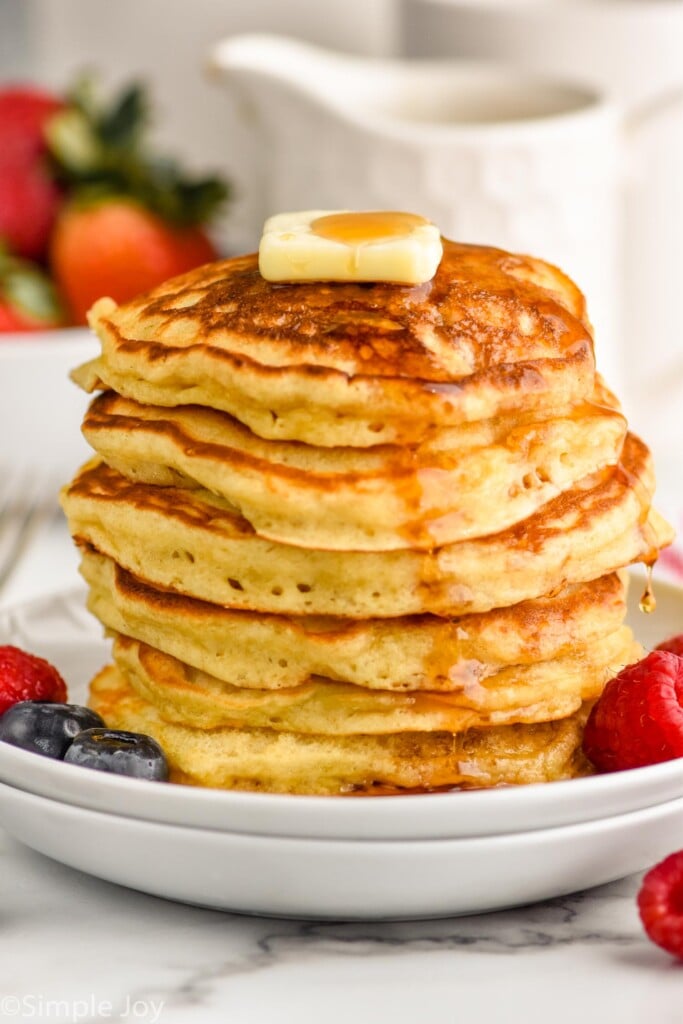 FAQ
Is buttermilk better than milk in pancakes?
Yes. There is a reason buttermilk pancakes are so popular. The buttermilk works to create really light and fluffy pancakes that you just can't get with plain milk.
What can you substitute for 1 1/4 cup of buttermilk?
Even though buttermilk makes the best pancakes, you can make your own in a pinch. As mentioned above, add 1 tablespoon + 1 scant teaspoon of vinegar or lemon juice to a glass measuring cup. Then fill it the rest of the way up with milk. Stir, and then let it sit for 5 minutes.
Can pancakes be frozen?
Yes! Pancakes are a great recipe to make in big batches and freeze to be able to have a quick grab and go breakfast. See our instructions above.
How do I make pancakes gluten free?
I have not tested this recipe with gluten free flour, but if I was going to, I would start with a gluten free baking blend that is meant to replace all purpose flour one for one. A great brand to try this with is Bob's Red Mill.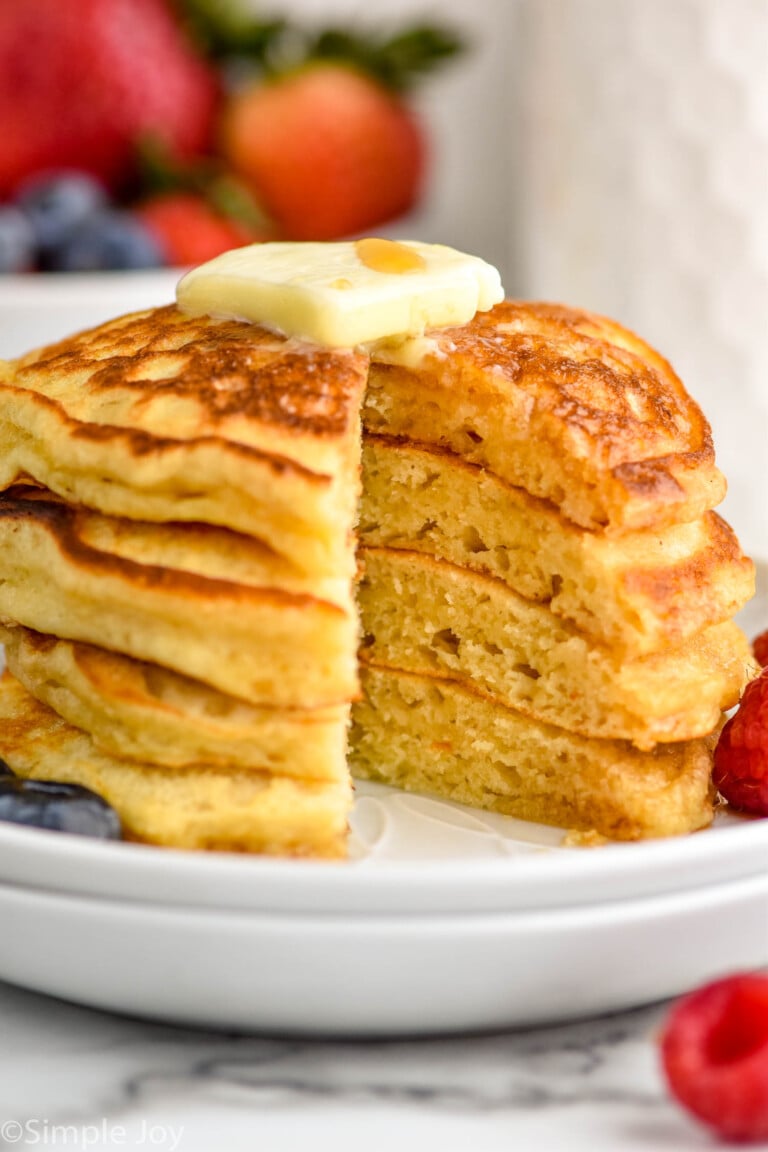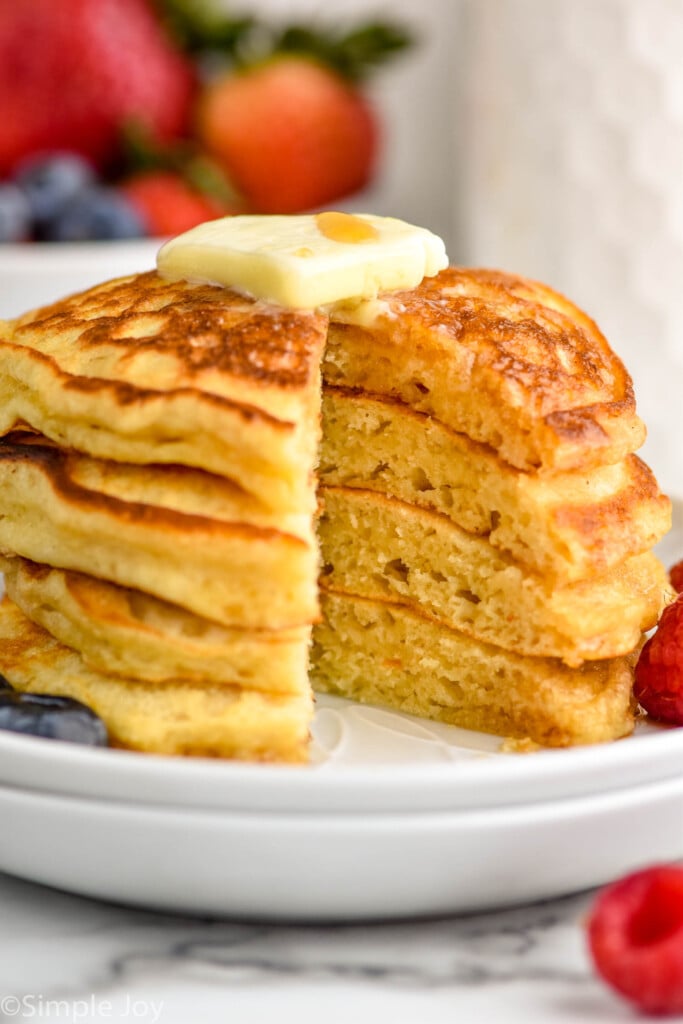 What to Serve with Buttermilk Pancakes
We love these pancakes with some butter and syrup, but if you are putting out a full spread for brunch, here are some other ideas:
If you make this Buttermilk Pancakes recipe or any of my other recipes, leave me a comment and let me know what you think.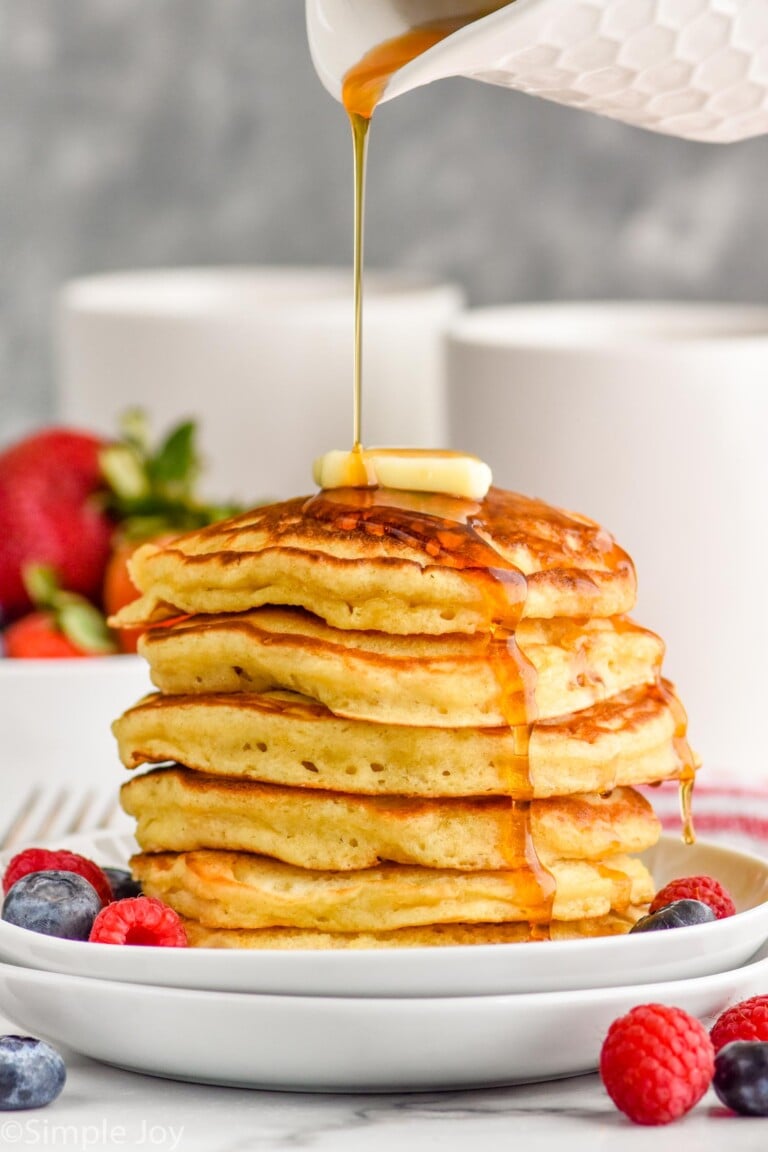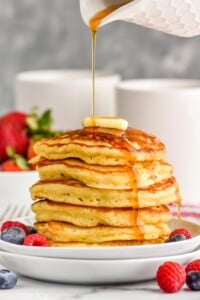 The Best Buttermilk Pancakes
This simple recipe for Buttermilk Pancakes leaves you with delicious, light, and fluffy pancakes. This is a recipe you will make weekend after weekend.
Ingredients
1 1/2

cup

all purpose flour

2

tablespoons

granulated sugar

1

tablespoon

brown sugar

packed

1 1/4

teaspoons

baking soda

1/4

tsp

salt

1 1/4

cup

buttermilk

4

tablespoons

unsalted butter

melted and cooled

2

eggs

1

teaspoon

vanilla extract
Instructions
Whisk together the flour, sugar, brown sugar, baking soda, and salt in a large bowl. Set aside.

In a medium bowl, whisk together buttermilk, butter, eggs, and vanilla extract. Whisk until well combined.

Fold the wet ingredients into the dry ingredients until just combined.

Heat a skillet over medium low heat. Spray lightly with cooking spray. (Or preheat a griddle to 375 degrees).

Using a 1/4 cup measuring cup, scoop the batter onto the skillet. Cook until bubbles begin to form in the middle of the pancake and the bubles on the outer edge of hte pancake have started to harden. Flip, and continue cooking until the pancake is golden brown, about three minutes on each side. Keep in mind that you may need to turn the heat down on a skillet over a gas flame after the first few minutes.
Serving:
1
pancake
Calories:
125
kcal
(6%)
Carbohydrates:
15
g
(5%)
Protein:
3
g
(6%)
Fat:
5
g
(8%)
Saturated Fat:
3
g
(19%)
Polyunsaturated Fat:
1
g
Monounsaturated Fat:
1
g
Trans Fat:
1
g
Cholesterol:
40
mg
(13%)
Sodium:
200
mg
(9%)
Potassium:
62
mg
(2%)
Fiber:
1
g
(4%)
Sugar:
3
g
(3%)
Vitamin A:
197
IU
(4%)
Calcium:
36
mg
(4%)
Iron:
1
mg
(6%)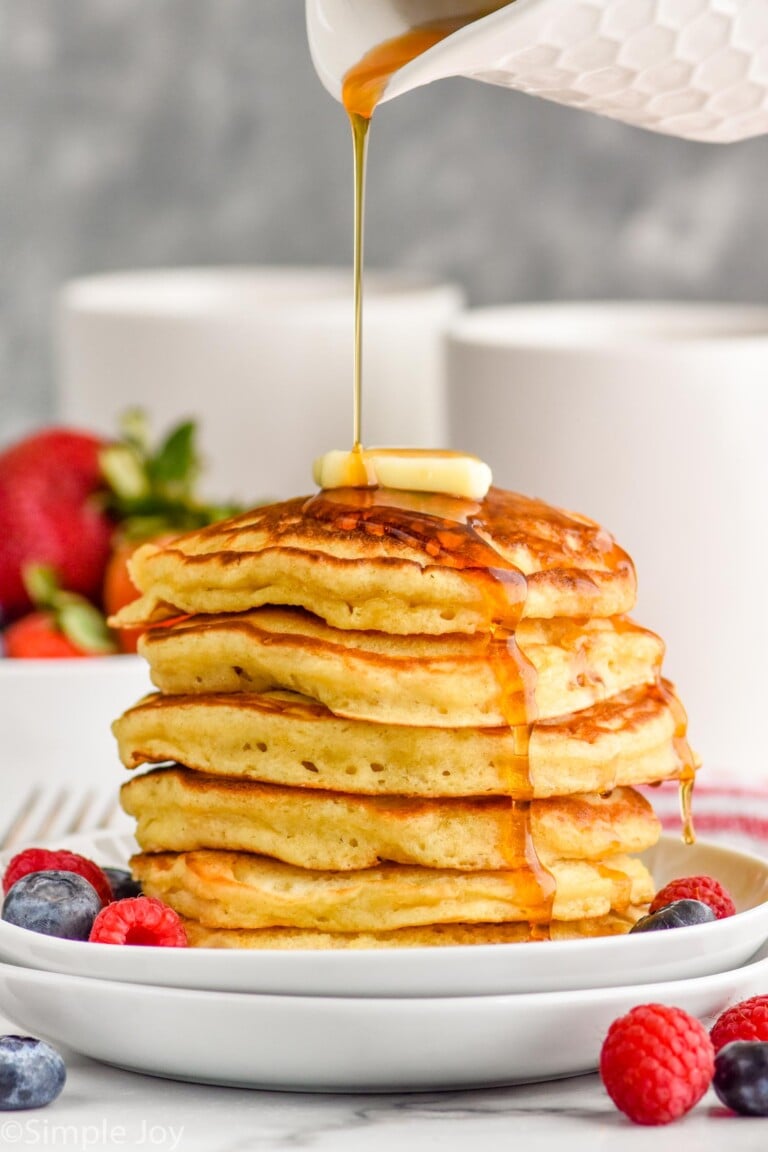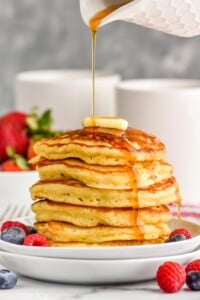 did you make this
The Best Buttermilk Pancakes