These truly are the best Italian Meatballs. My Italian grandmother's recipe, the word perfect doesn't even begin to cover it. Check out the reviews on this recipe, your family will be sure to fall in love.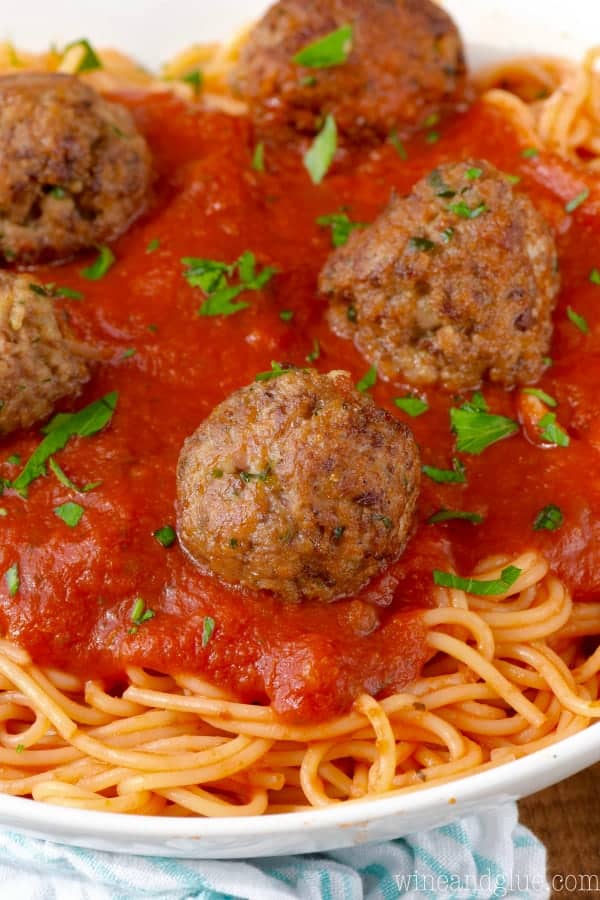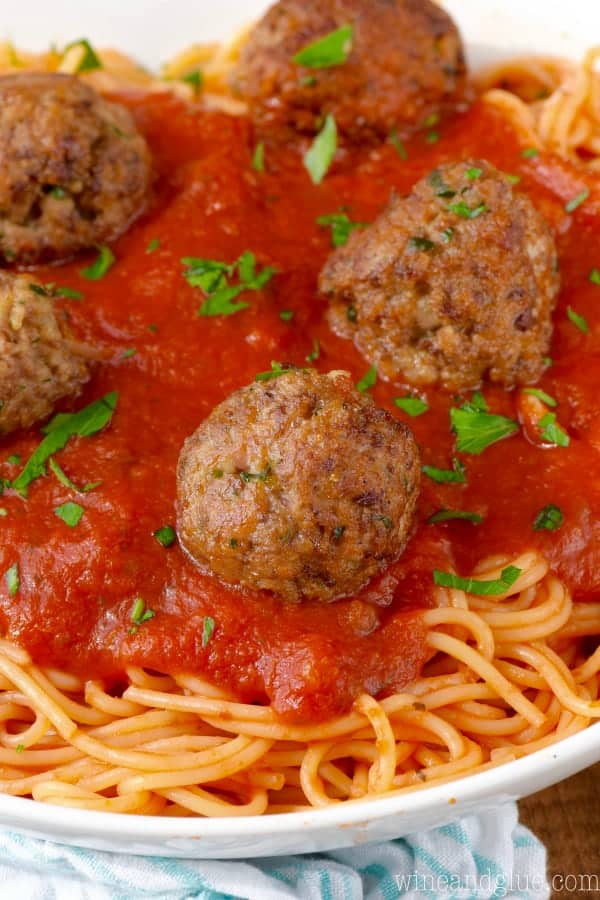 This recipe for classic Italian meatballs is one of my very favorite recipes on Simple Joy. Out of all the recipes I've posted, I am in love with this one perhaps most of all. And so are my kids.
It is my grandmother's recipe and the pictures are enough to conjure up the best memories. We visited my wonderful grandmother, who lived two hours away, a few times a month. She would make a big batch of these and keep them warm in her oven in the basement. The delicious smell alone brings me back to being a small kid, sneaking downstairs to get meatballs before it was time for lunch.
It was equal parts my grandmother and my mother who instilled my love of feeding people in me. This recipe, my grandmother's recipe, is filled with her endless love. It is the absolute best and the reviews on it back that claim up perfectly.
Reader Review
Literally the best meatballs I've ever had! These have been a staple in our home and my kids request them! Thank you.
How to Make Italian Meatballs
This is a brief overview of how to make this amazing recipe. For the full recipe with all of the measurements, please see the recipe card at the bottom of the post.
Soak the bread. Place the bread slices in a bowl of cold water and let it soak for 5 minutes. Then squeeze out as much of the liquid from the bread as you can. (You can read more about making a panade below.) Pull the bread apart.
Combine the ingredients. In a large bowl, combine the meat, eggs, parsley, soaked (and squeezed) bread, bread crumbs, Parmesan, garlic salt, and salt.
Form the mixture into meatballs. I love using a cookie scoop to do that. You can see the one I use linked below.
Decide which method you will use to cook them. My grandmother only fried her meatballs, but I have three methods listed below. You can bake them, fry them, or use a combination of the two.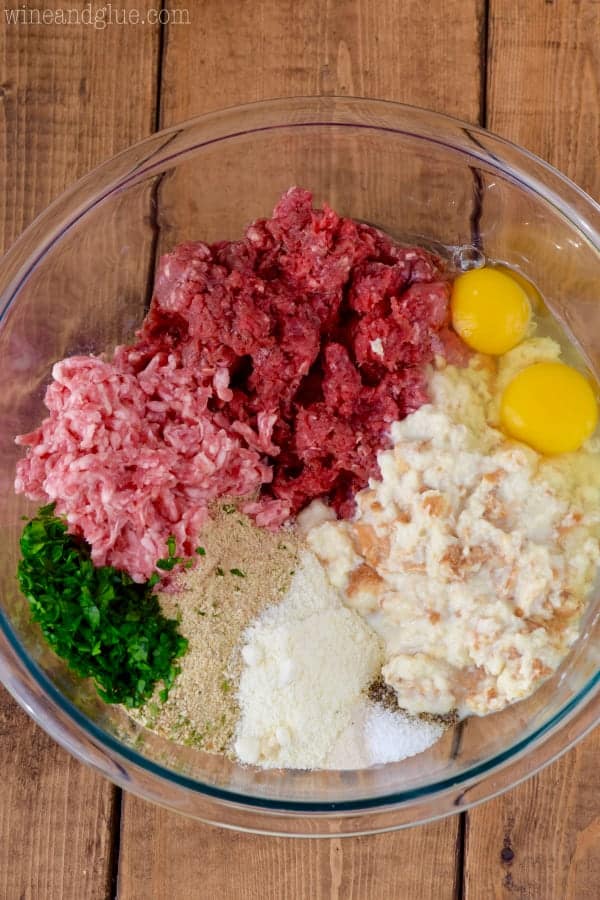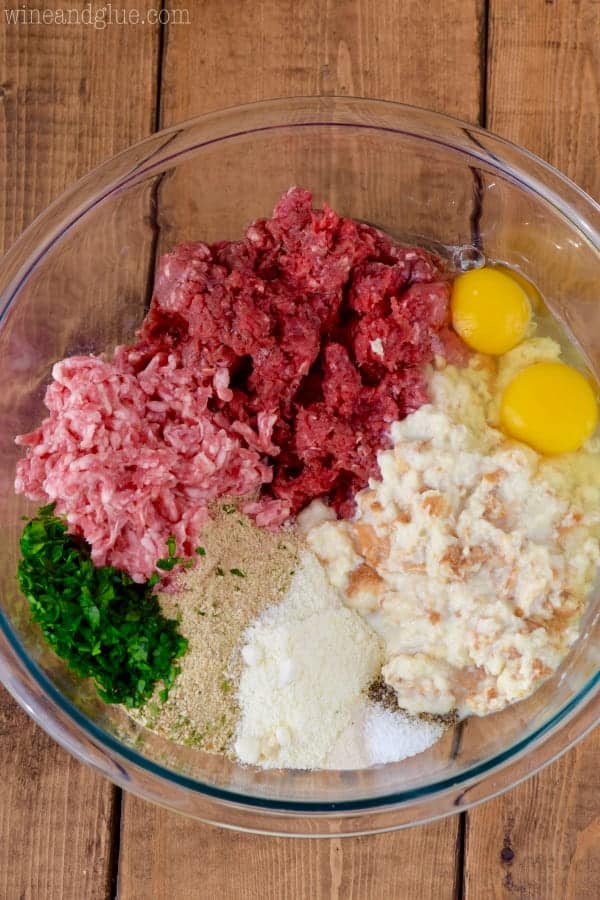 Making a Panade
A panade is bread soaked in milk that helps keep ground meat moist and tender in meatball and meatloaf recipes. It makes a huge difference in this recipe, however, we are going to stick with grandma's method of using water instead of milk. While I'm certain her reasoning was budgetary, I've tried both and water does work better.
It was a few years after posting this that a reader, Shalene, told me why water works better than milk.
When bread is soaked in liquid, it releases gluten. The gluten wants to bond to a protein. When soaked in water the gluten bonds with the protein in the meat, keeping the flavors in the meatball. When soaked in milk, it bonds with the protein in the milk instead, and less of the flavorful proteins and fats are held on to throughout the cooking. This changes the final flavors of the meatball.
If all that was too much, trust grandma and use water and simple Italian bread.
Meat for Meatballs
It is really important to the flavor of the recipe that you use both ground beef and ground pork. If you use just one or the other, you won't get the right taste. Because of everything else we are using, it isn't necessary to use Italian sausage. Plain, unseasoned, ground pork works perfectly.
If you are only able to find a 1 pound package of ground pork, divide it in half and freeze the other half. It will freeze well for up to three months. Though I bet you will make these again sooner than that.
TOP PICK
Cookie Scoop
A 1 1/2 tablespoon cookie scoop makes quick work of making these meatballs!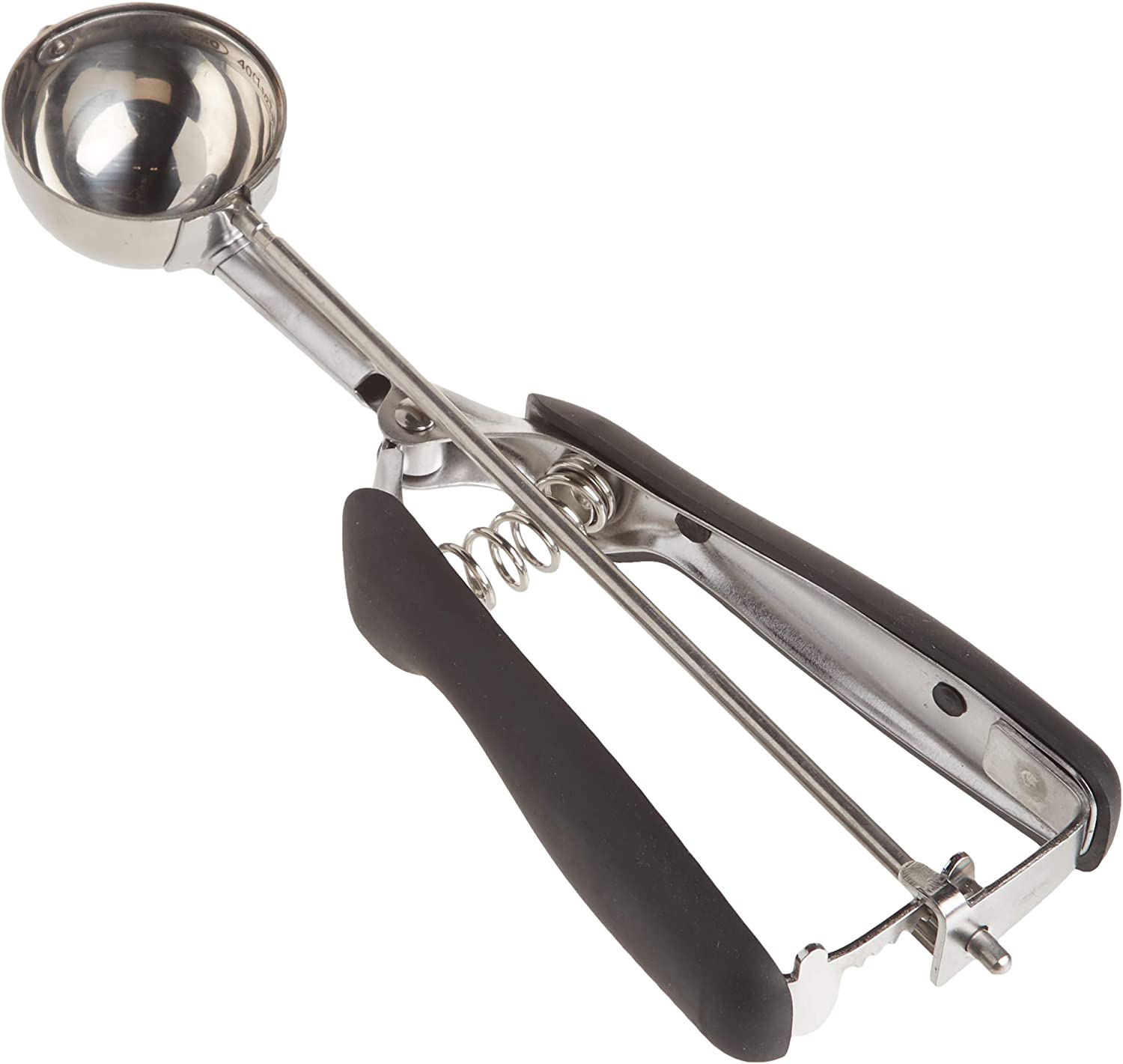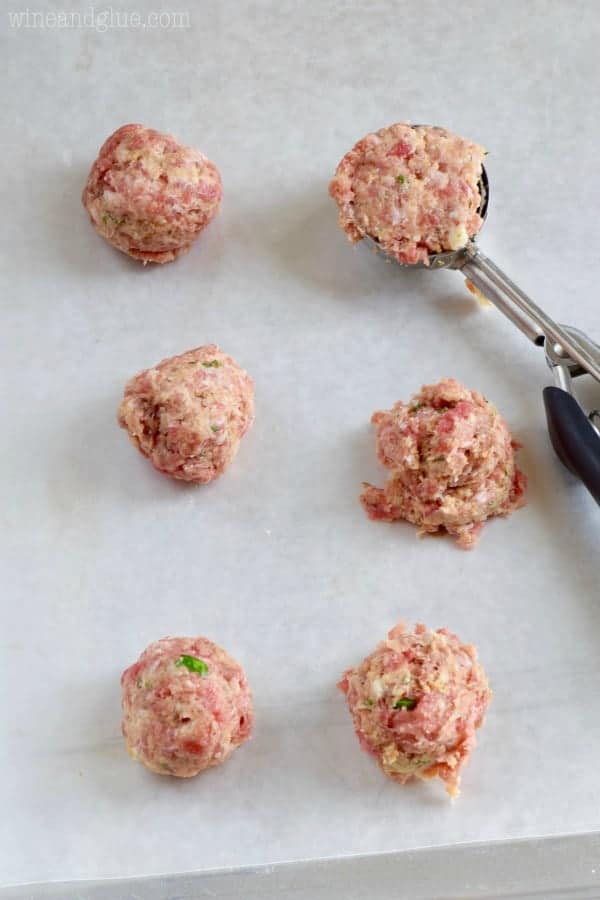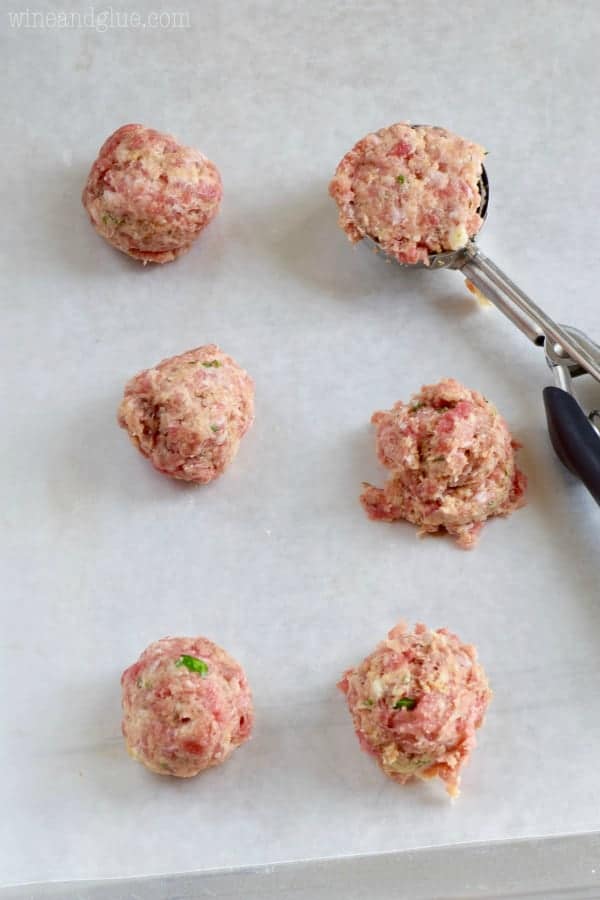 Three Different Ways to Cook Italian Meatballs
There are three different ways you can cook your meatball recipe. They all come with positives and draw backs, so find the one that works for you. My grandmother used method three. I'm going to start with the one that is in the recipe card at the bottom of the post; the method my family always uses.
You can see all of the cooking methods in the video in this post.
Cooking Method One
Put all of the rolled out meatballs on a cookie cooling rack sprayed with cooking spray and put that rack on a baking sheet that is lined with aluminum foil. This will allow air to circulate around the meatballs and fat to drip to the foil.
Bake the meatballs in a 375 degree Fahrenheit oven for 15 to 20 minutes or until a meatball in the middle of the pan registers 160 degrees with an instant read thermometer.
Pro: It is clean, easy, and a little healthier than the other two methods.
Con: You don't get those crispy outside edges and things that are deep fried often taste better.
Cooking Method Two
Preheat the oven to 300 degrees Fahrenheit.
Preheat a skillet over medium heat and then fill it about a half of an inch full of olive oil.
Heat the oil and then brown the meatballs in batches, turning them after about two minutes.
Transfer them to a baking sheet and finish cooking (about 10 minutes) in the oven.
Pro: You get the crispy outside edges without completely deep frying them.
Con: You have a two step process.
Cooking Method Three
Fill your skillet almost an inch full of olive oil and heat.
Cook the meatballs in batches (about 10 around the outer edge).
Cook for three minutes and then flip, cooking the second side for an additional two minutes.
Transfer to a paper towel lined sheet.
Serve them immediately or keep them warm in a covered baking dish in an oven set at very low heat.
Allow the meatballs to rest for 10 minutes as there is some carry over cooking that will occur after they come off of the heat.
Pro: They are ridiculously amazing with their crisp fried outer edge and their soft amazing inside.
Con: It is very easy to over cook the outside while trying to get them cooked enough on the inside.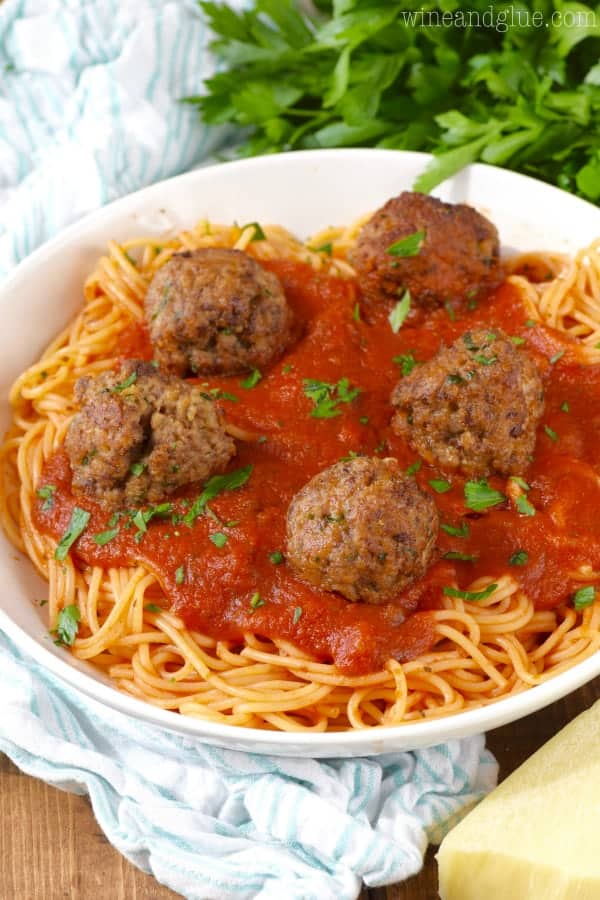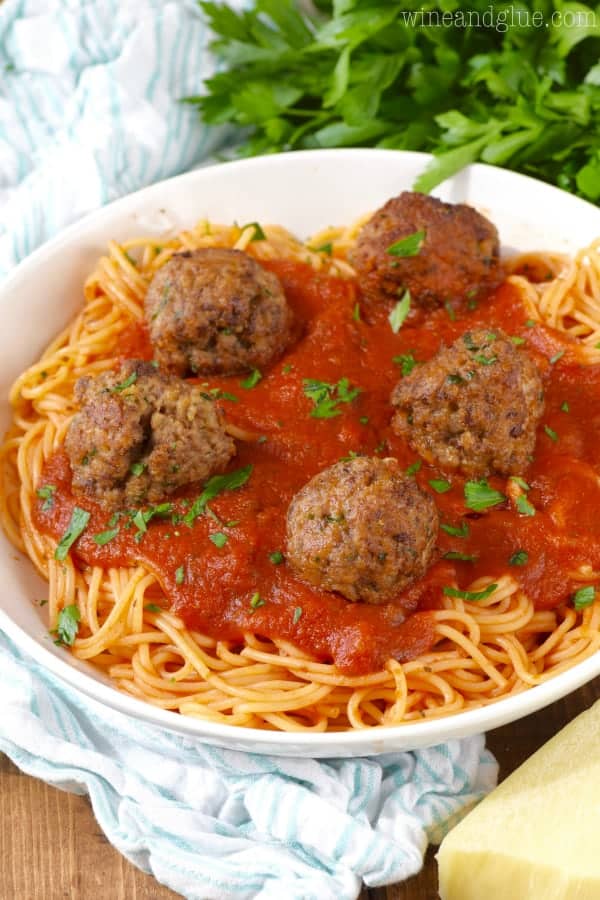 Cooking Temperature
Regardless of which cooking method you use, you want to ensure that your meatballs are cooked all the way through. Because we are using ground pork here, you want to ensure that the meatballs reach an internal temperature of 160 degrees Fahrenheit. I love using this instant read thermometer when cooking on the stovetop (like in method 3) or this instant read thermometer when cooking in the oven (like in method 1).
TOP PICK
Instant Read Thermometer
I love this instant read thermometer because it can be left in meat while it is in the oven. You can also set an alarm so it beeps when it gets close to the temperature you need the meat to be.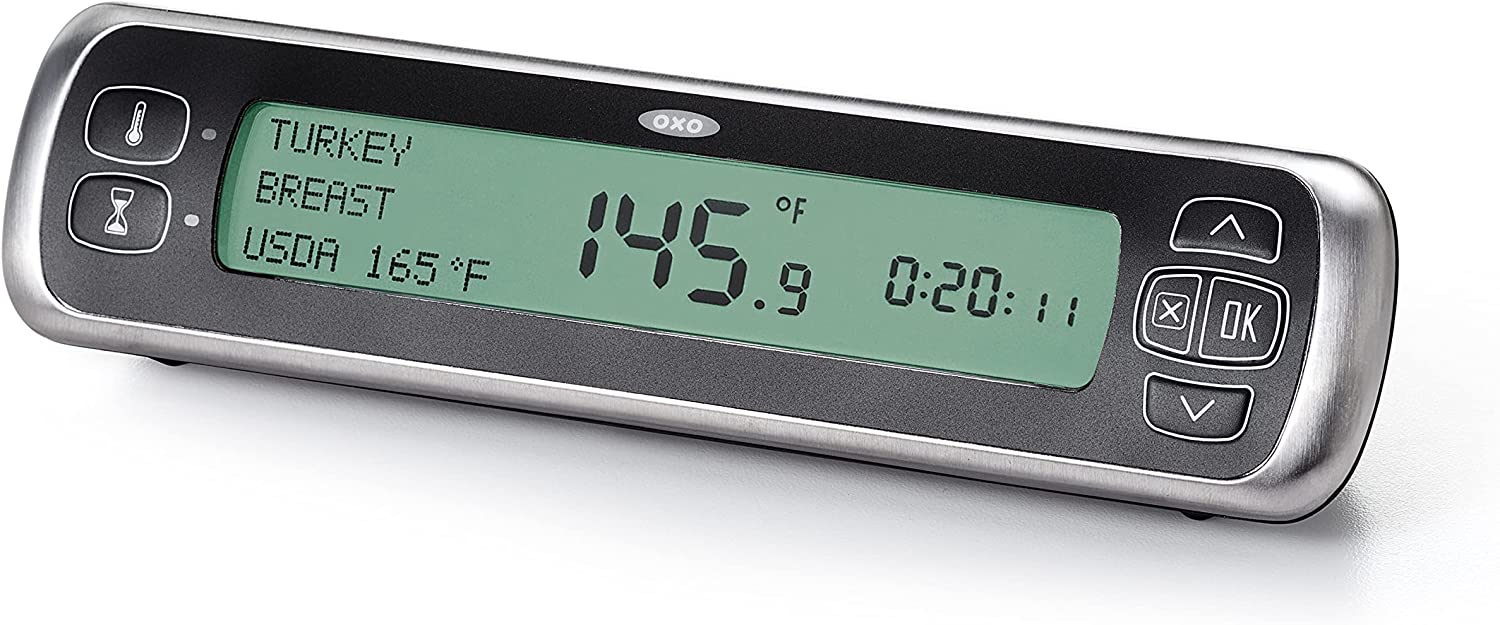 How to Serve Italian Meatballs
Traditionally, Italians do not serve meatballs on top of spaghetti. Grandma put them in a big bowl in the middle of the table next to a bowl of Italian Sausages Even though Grandma served these on their own, you can feel free to top your spaghetti with some homemade spaghetti sauce and then throw on these meatballs.
Homemade Spaghetti Sauce
This Easy Homemade Spaghetti Sauce Recipe from scratch comes together in about 25 minutes!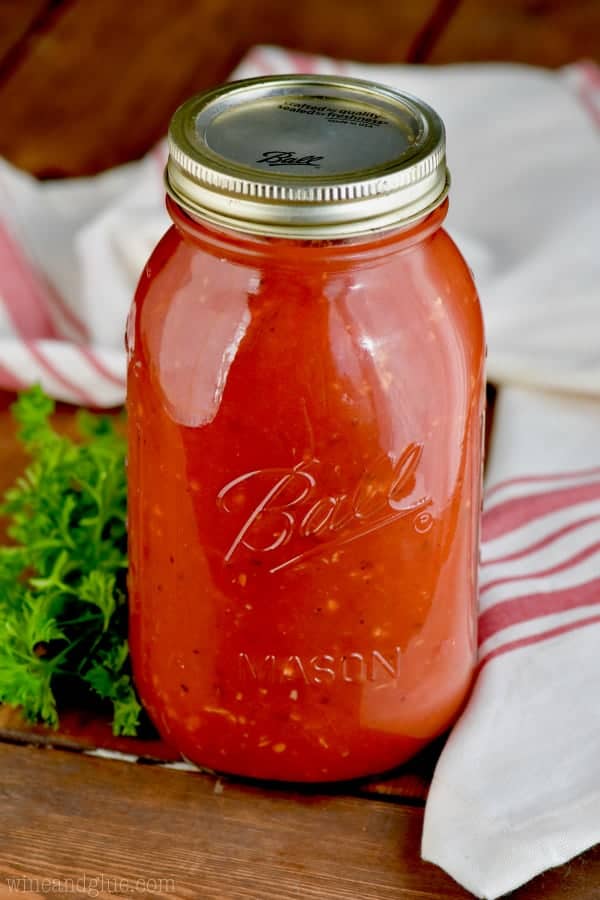 Freezing Meatballs
These meatballs freeze very well. In fact, you may want to make a double batch so you have more to pull out down the road. Cook them completely before freezing them.
After baking and cooling, place on a wax paper lined baking sheet.
Put the baking sheet in the freezer for one hour. This will flash freeze the meatballs.
Transfer the meatballs to an airtight container for up to three months.
When you are ready to eat them put the frozen meatballs on a rimmed baking sheet and bake at 350 degrees for 20 to 25 minutes or until the meatballs are warmed through.
FAQ
Can I freeze these?
Yes! These freeze very well after cooking. You can see more detailed instructions above.
Why didn't you use fresh garlic?
Because my grandma didn't and we love this recipe just as is.
What type of bread do you use?
Realistically any bread will work. However I always use the white sandwich bread labeled "Italian" bread in the grocery store. If you have a bread with a very crusty crust you may want to cut it off.
Can meatballs be made in the air fryer?
Yes! They need roughly 12 to 15 minutes at 375 when cooked in a single layer.
Can I fry these and then cook them in sauce?
Yes! That's a great method as well. Keep in mind that you will want to stick to the methods listed if you are going to freeze leftovers.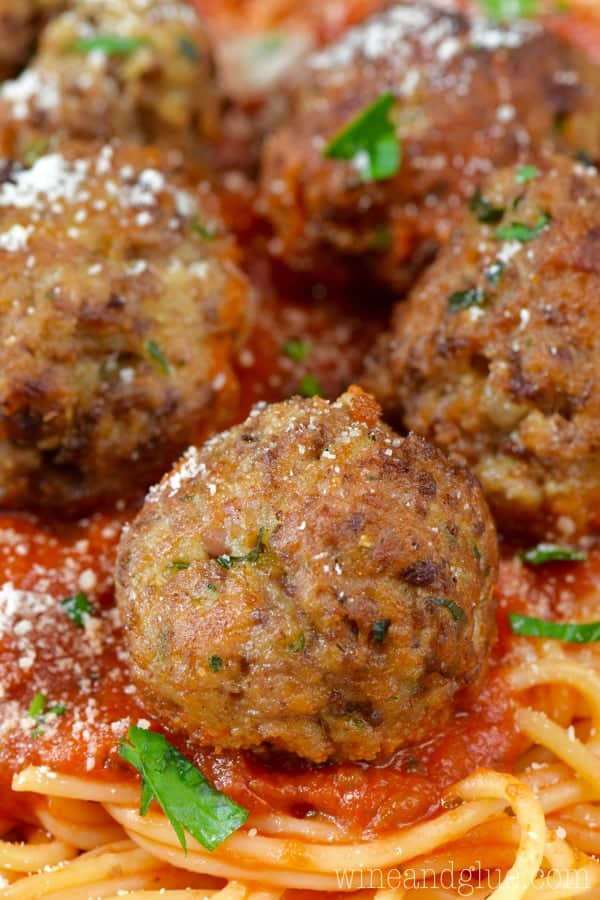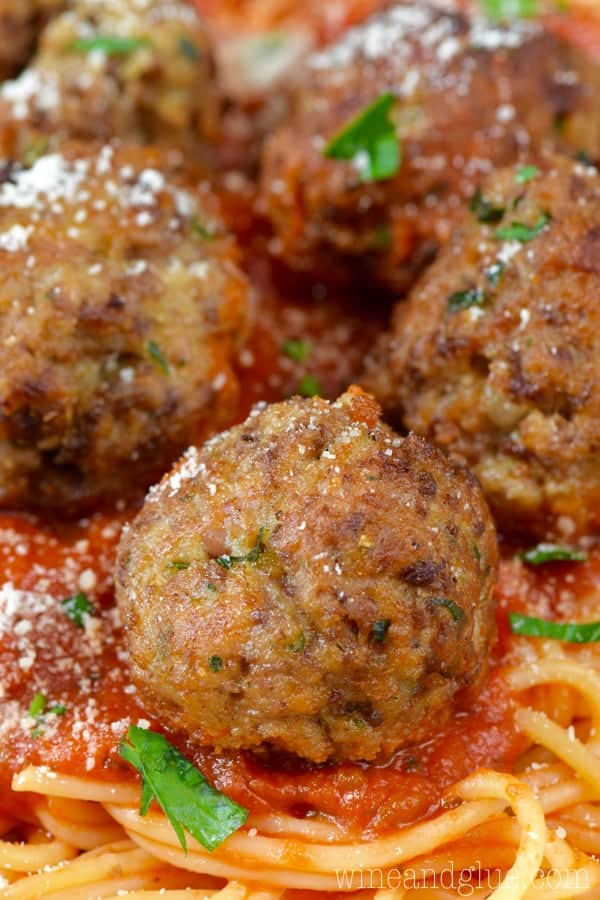 What to Serve with Italian Meatballs
If you are making these for your family, here are some ideas of things that would help round out the meal.
If you make this meatball recipe, I would be honored if you came back and let me know what you think. It's such a treasured recipe.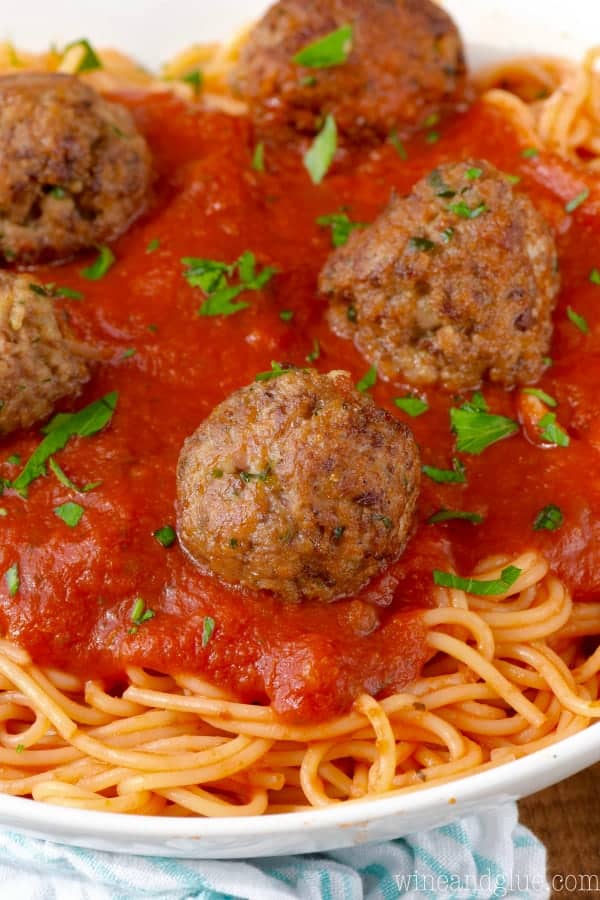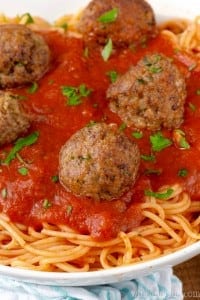 Italian Meatballs
These truly are the best Italian Meatballs. My Italian grandmother's recipe, the word perfect doesn't even begin to cover it. Check out the reviews on this recipe, your family will be sure to fall in love.
Ingredients
4

slices

Italian bread

5 ounces (I usually use sandwich bread that has been labeled "Italian")

1

pound

ground beef

85/15

1/2

pound

ground pork

(unseasoned) If you can only get a pound, save half in the freezer.

2

eggs

whisked

2

tablespoons

fresh parsley

chopped

1

cup

breadcrumbs

I used Italian seasoned (see note)

4

tablespoons

Parmesan

grated

1/2

teaspoon

garlic salt

1

teaspoon

salt

1/8

teaspoon

black pepper
Instructions
Preheat your oven to 375 degrees Fahrenheit. Spray a wire cooking rack (like you would use for cookies) with cooking spray. Place in a rimmed baking sheet that has been rimmed with foil. Set aside.

Soak the bread in cold water for about five minutes (enough to just cover the bread completely, ringing out the excess water and pulling the bread apart with your fingers.

Combine the meat, eggs, and parsley in a large bowl. Add the bread. Then add the dry breadcrumbs, Parmesan, garlic salt, salt, and pepper.

1 pound ground beef,

1/2 pound ground pork,

2 eggs,

2 tablespoons fresh parsley,

1 cup breadcrumbs,

4 tablespoons Parmesan,

1/2 teaspoon garlic salt,

1 teaspoon salt,

1/8 teaspoon black pepper

Using a cookie scoop to make uniform sized meatballs, scoop out the meatballs roll them into balls. Place them on the rack. Bake for 15 to 20 minutes or until the meatballs register 160 degrees with an instant read thermometer. (See my notes in the post for alternative ways to cook Italian Meatballs.)
Notes
If you only have plain breadcrumbs on hand, you can add 1 teaspoon of my Italian Seasoning.
Serving:
1
meatball
Calories:
118
kcal
(6%)
Carbohydrates:
5
g
(2%)
Protein:
6
g
(12%)
Fat:
8
g
(12%)
Saturated Fat:
3
g
(19%)
Polyunsaturated Fat:
1
g
Monounsaturated Fat:
3
g
Trans Fat:
0.2
g
Cholesterol:
34
mg
(11%)
Sodium:
227
mg
(10%)
Potassium:
102
mg
(3%)
Fiber:
0.3
g
(1%)
Sugar:
1
g
(1%)
Vitamin A:
55
IU
(1%)
Vitamin C:
1
mg
(1%)
Calcium:
25
mg
(3%)
Iron:
1
mg
(6%)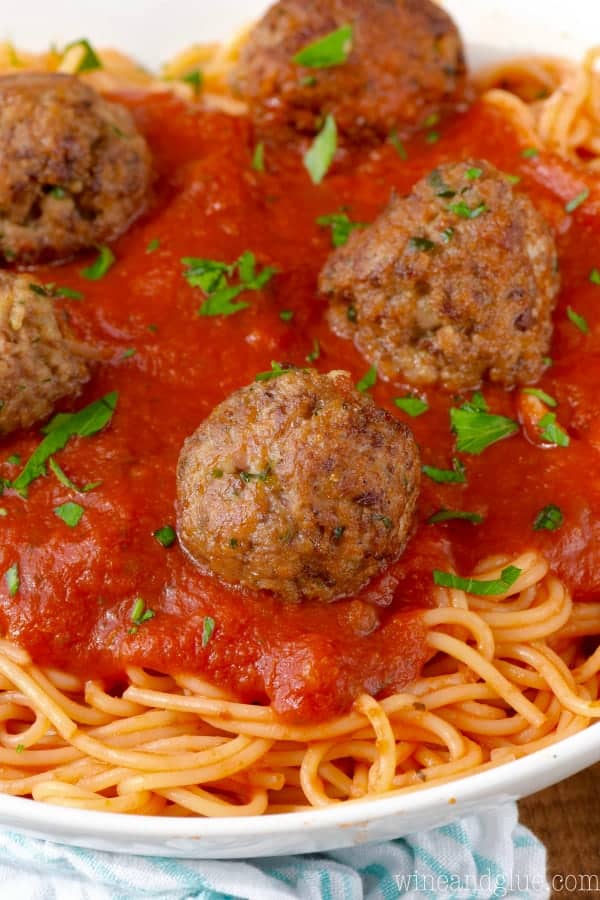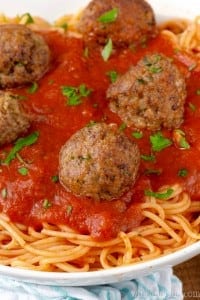 did you make this
Italian Meatballs