Chicken Meatballs are a kid approved healthy dinner recipe. This is perfect for busy weeknight meals and these are freezer friendly!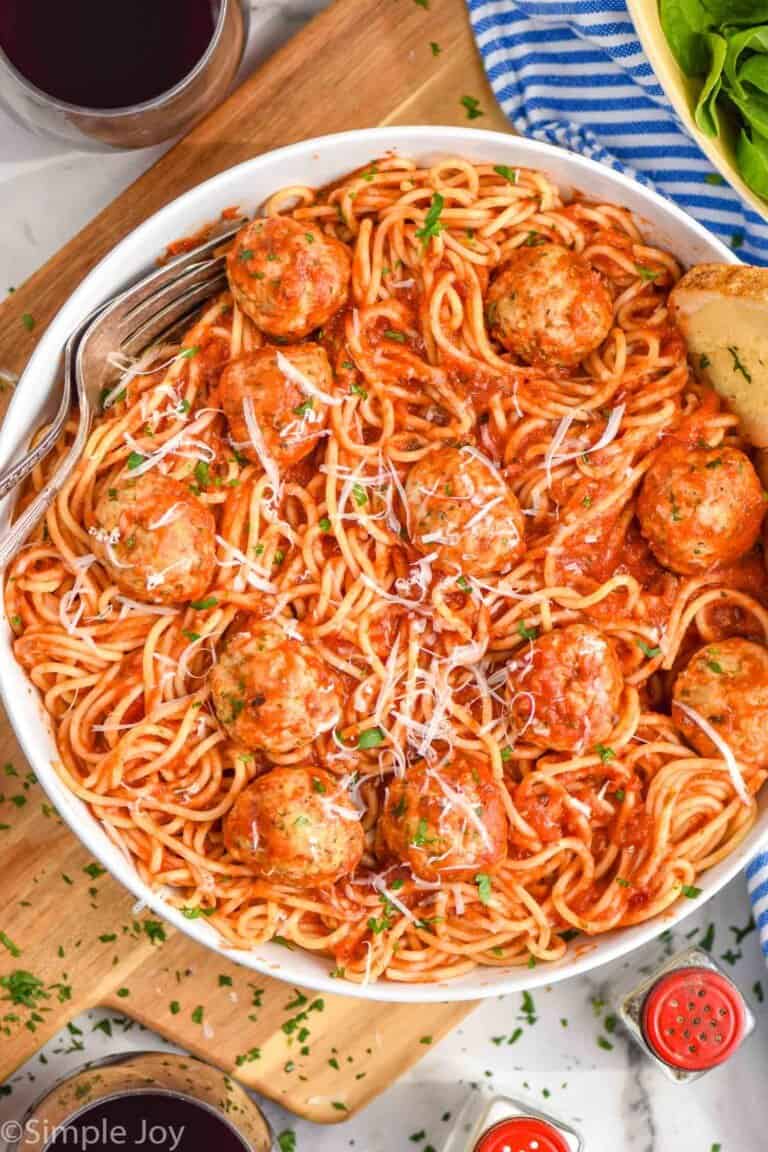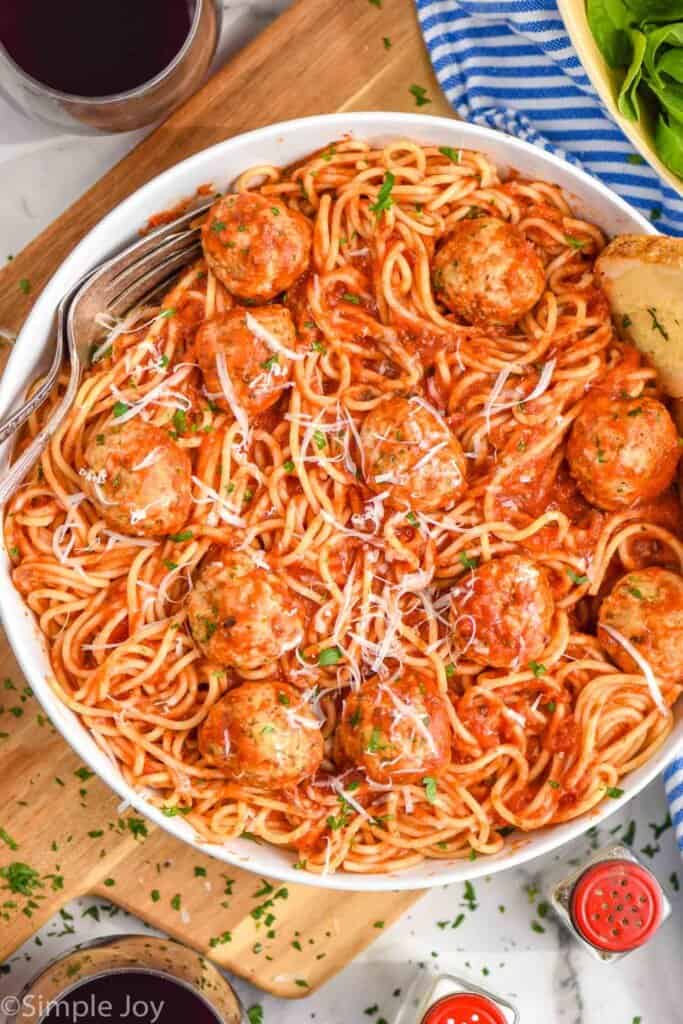 My kids could eat meatballs for dinner every single night and not get tired of them. We have my grandmother's Italian meatballs that were my favorite growing up and a slightly lighter spin with baked turkey meatballs that my kids adore.
Today, I'm sharing with you to an additional meatball recipe that my kids flip out over. When they first had them, they could not stop talking about how much they loved these chicken parm meatballs. This is a very simple recipe to make. From easy to find seasonings to baking them in the oven, this meatball recipe is no fuss.
I'm sure they will become a staple in your house as well.
Reader Review
Be warned: 'simple joy' is an absolute understatement when it comes to describing them, unless referring to the ease in making these! Be prepared to start making this almost every week!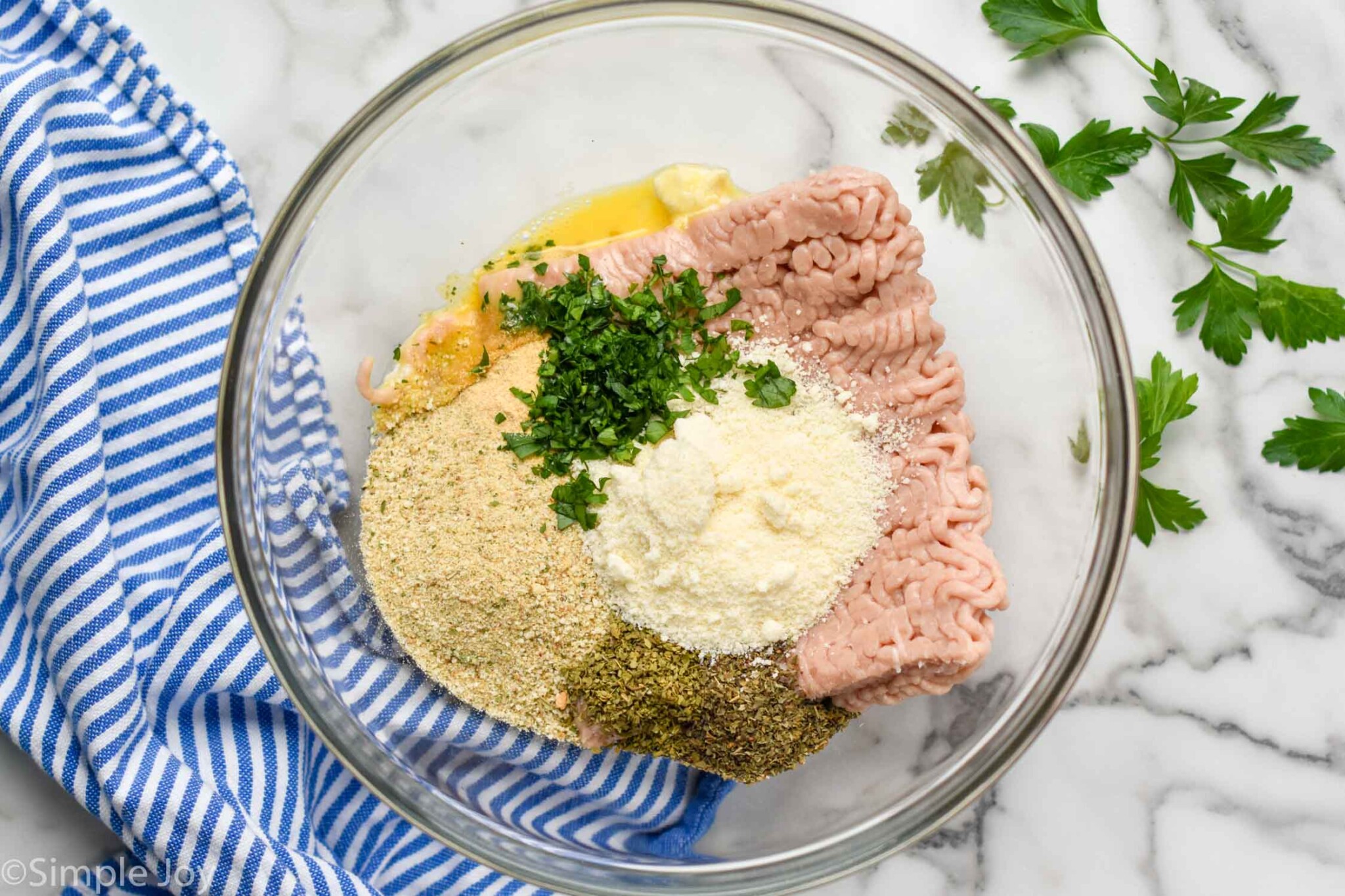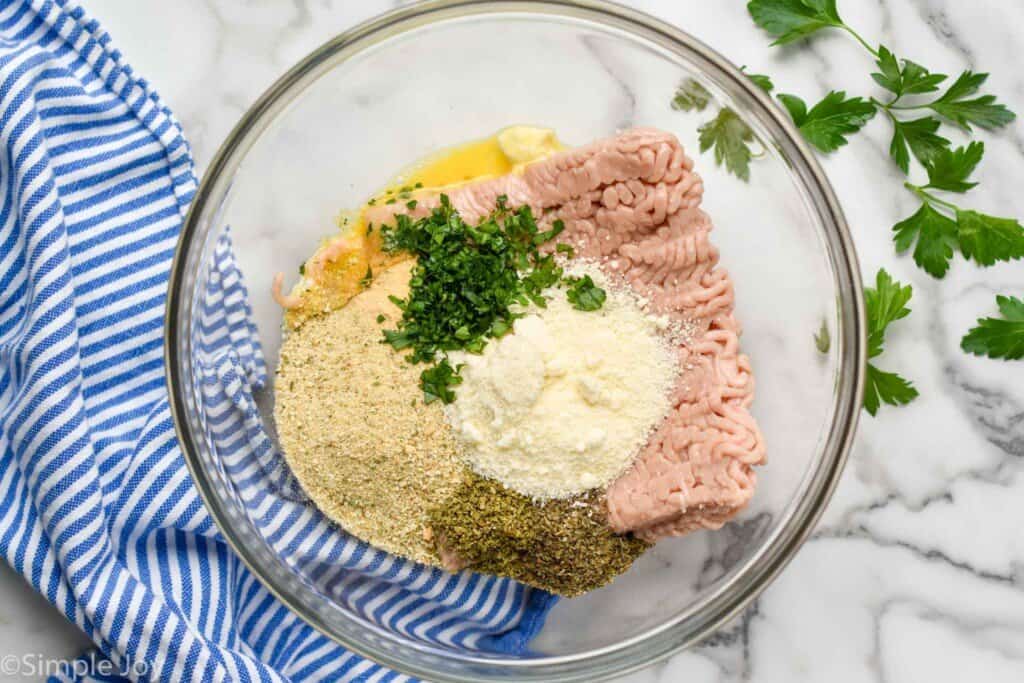 How to Make Chicken Meatballs
This is a brief overview of how to make these healthy meatballs. For the full recipe with all of the measurements, please see the recipe card at the bottom of the post.
Mix the ingredients together. In a large bowl combine the egg, bread crumbs, seasonings, fresh parsley, Parmesan cheese, and ground chicken.
Roll the meatballs. I love using a cookie scoop for this. Not only does it make quick work of the task, but then all of your meatballs are uniform in size and will bake evenly.
Bake the meatballs. I like baking mine on a cooling rack sprayed with cooking spray on an aluminum foil lined baking sheet. This makes for meatballs that are crisp on the outside all the way around.
TOP PICK
Cookie Scoop
This 1 1/2 tablespoon cookie scoop is perfection for making uniform meatballs and pulling them together quickly.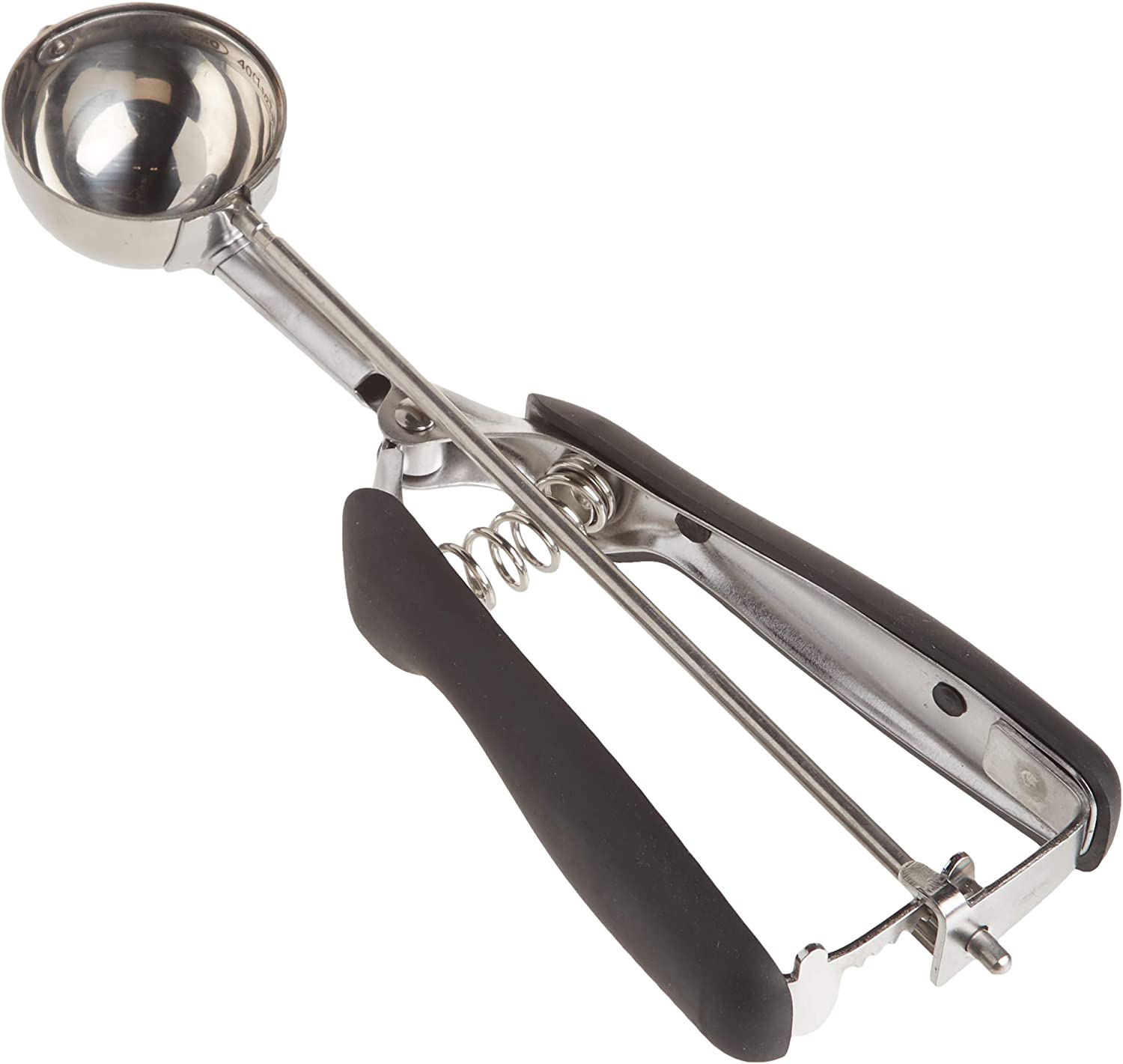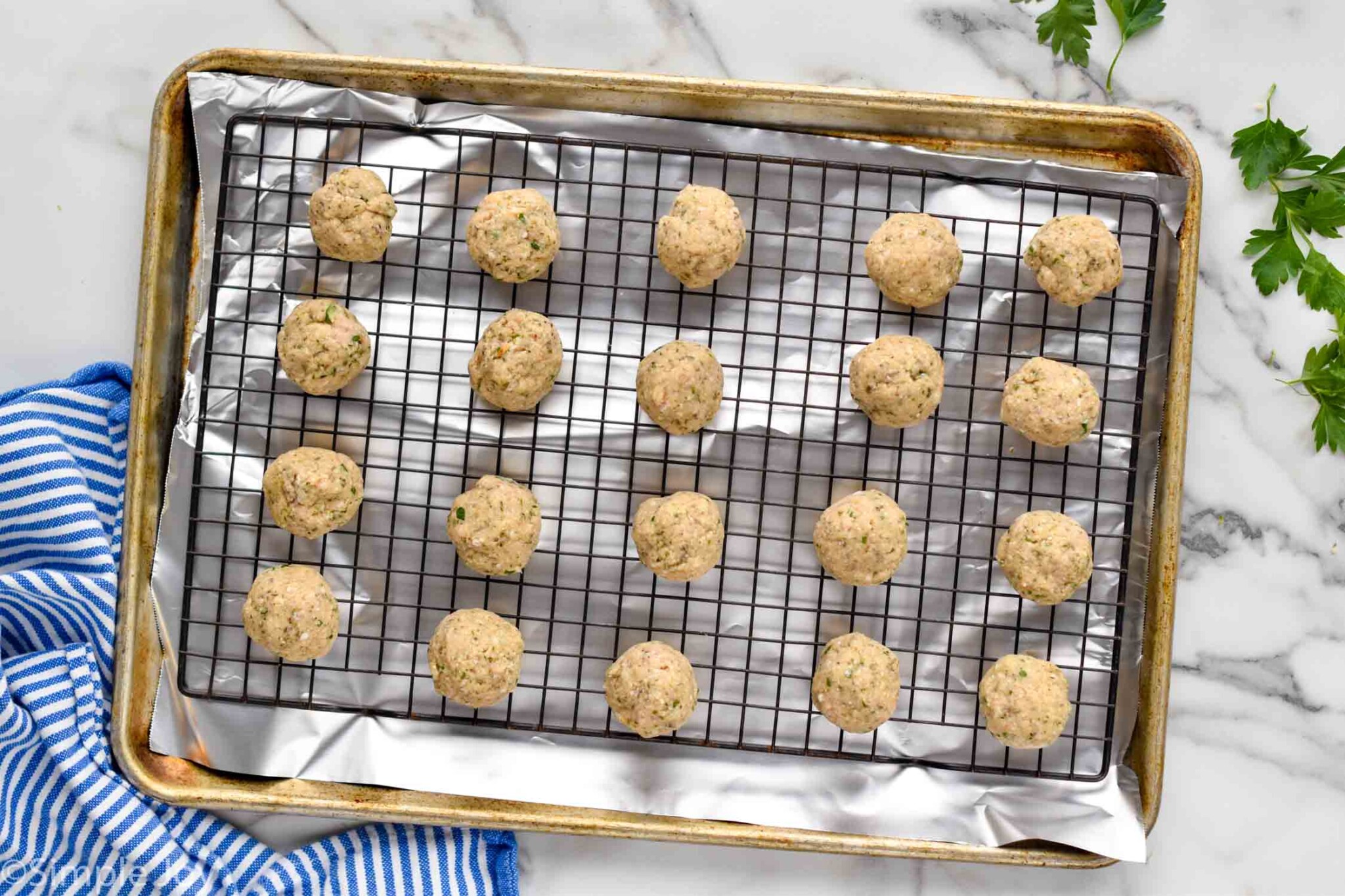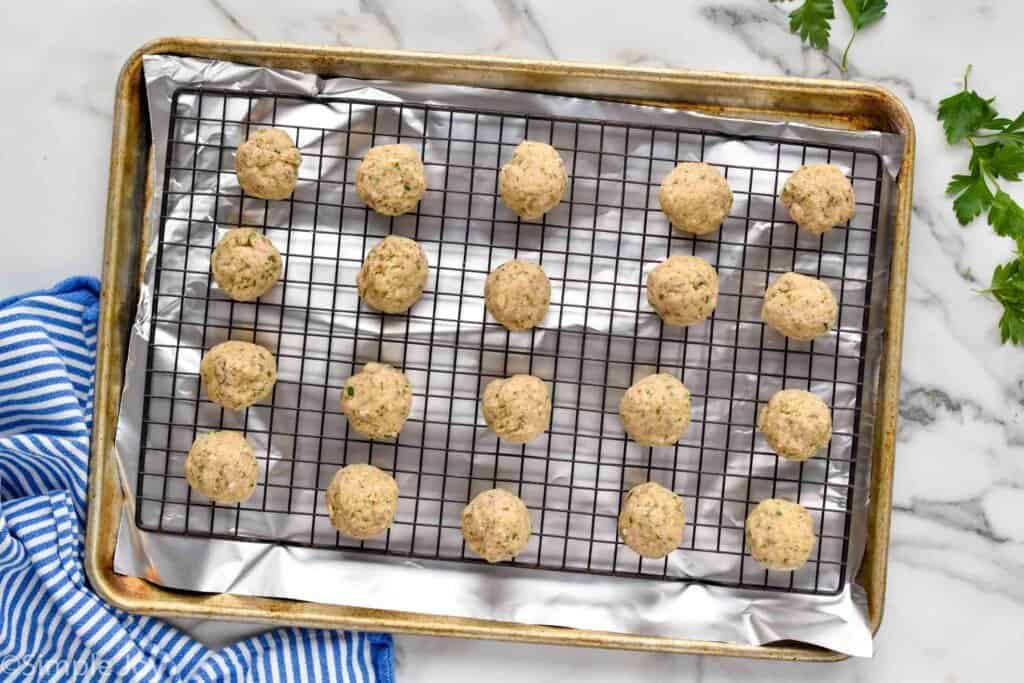 Cooking Meatballs in the Air Fryer
My grandmother always pan fried her meatballs. This created the best crisp outside of the meatball. Of course, this wasn't the healthiest choice as deep frying meat in oil adds a lot of fat.
Meatballs made in the air fryer is a great solution. Add the meatballs to the air fryer in a single layer and cook them at 350 degrees for 8 to 12 minutes or until they register 165 degrees with an instant read thermometer.
How to Make Italian Breadcrumbs
If all you have on hand is plain bread crumbs, I encourage you to add 1/2 a teaspoon of my Homemade Italian Seasoning to them. That will make up for the flavor lost with regular bread crumbs.
Cooking with Fresh Parsley
Normally, I shy away from using fresh herbs unless they are a garnishment or added at the very end. They don't typically hold up in recipes once they get hit with high heat.
That being said, my grandmother always added fresh flat leaf parsley to her meatballs, and I love the pop of color and flavor it adds. Flat leaf parsley holds up better that curly parsley, and I think it works perfectly in this recipe.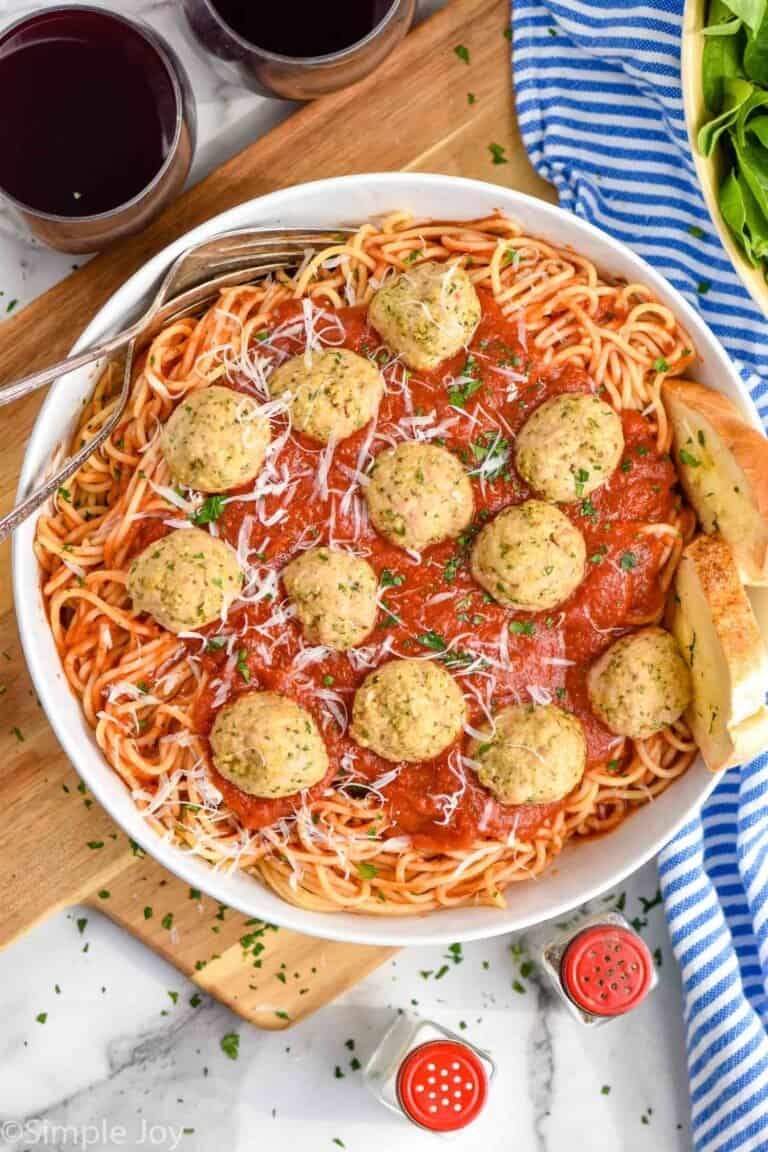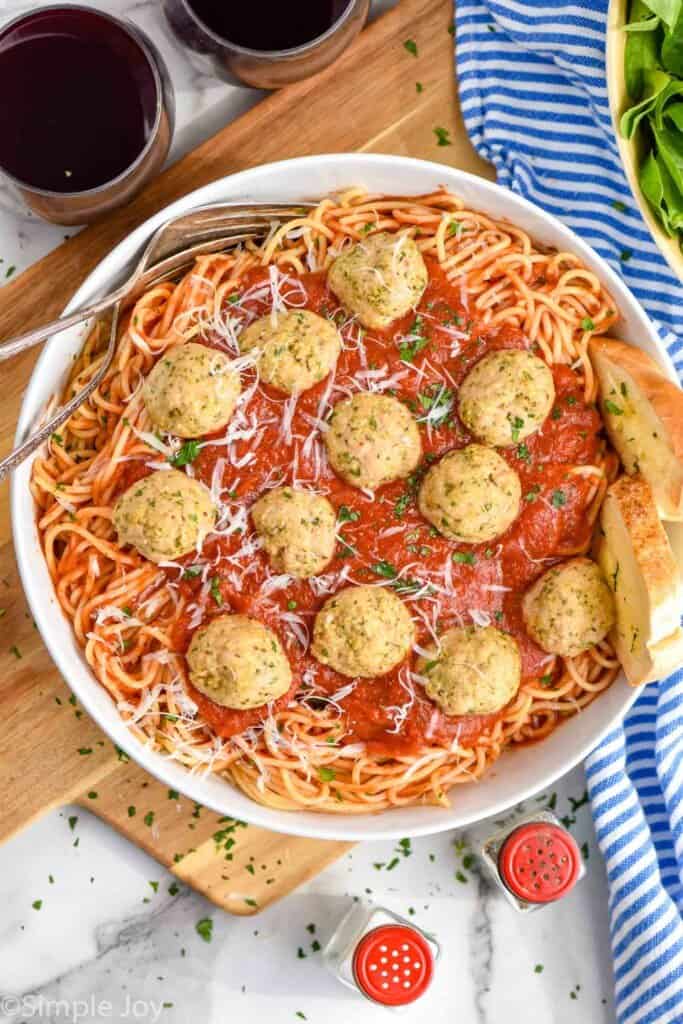 Storing Leftovers
Left over meatballs can be stored in the refrigerator for 4 to 5 days. When reheating, I like to add them to a skillet and cook until they are warmed through, about 15 to 20 minutes.
How to Freeze Chicken Meatballs
This is a great recipe to freeze. In fact, you could double or triple this recipe and freeze them so you always have delicious baked chicken meatballs on hand. This would be a great way to make some fast meatball subs or a quick lunch for the kids on the weekend.
Make the recipe completely, through baking. Allow the meatballs to cool.
Place in a single layer on a parchment or wax lined tray. Freeze for 1 hour.
Transfer the meatballs to an airtight container or bag and store in the freezer for up to three months.
When you are ready to serve you can either bake them at 375 degrees for 20 to 30 minutes on a baking sheet. Or you can add them to a skillet with sauce over low heat and simmer until they reach an internal temperature of 140 degrees, about 25 minutes.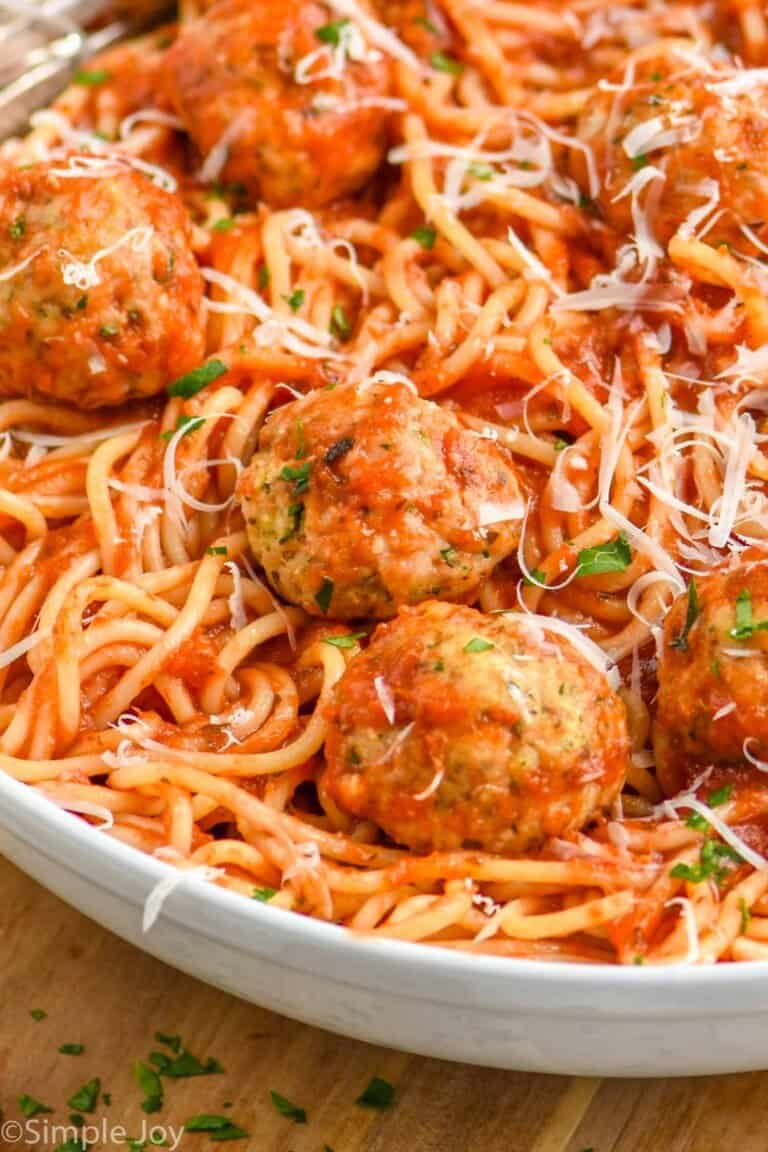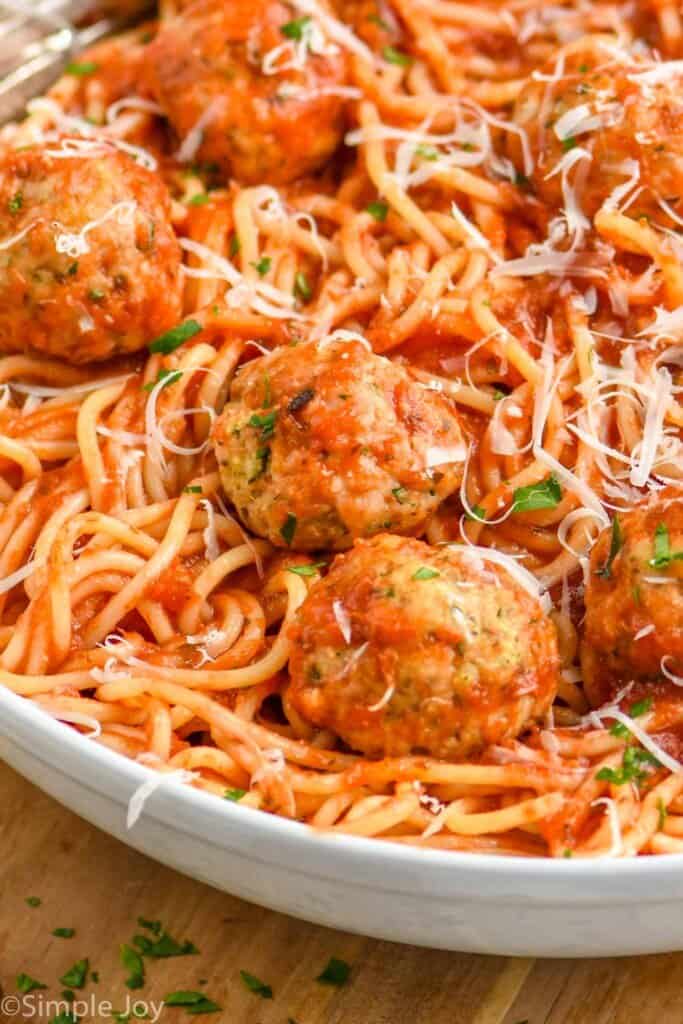 FAQ
Are chicken meatballs healthy?
Yes. In the world of meatballs, these are the healthier kind. If you compare them to my grandmother's meatballs, they have about half the calories and half the fat.
Can chicken meatballs be frozen?
Yes! We have instructions for freezing above.
Can these be made without breadcrumbs?
No. The breadcrumbs are crucial to this recipe to holding them together and keeping their meatball shape.

That being said, you could replace the breadcrumbs with ground pork rinds and 1/2 teaspoon of Italian seasoning. This would make for great keto chicken meatballs.
Can these be made with ground turkey?
Yes, you can make ground chicken meatballs into turkey meatballs by switching out the chicken for turkey. I would encourage you to use 90% lean turkey.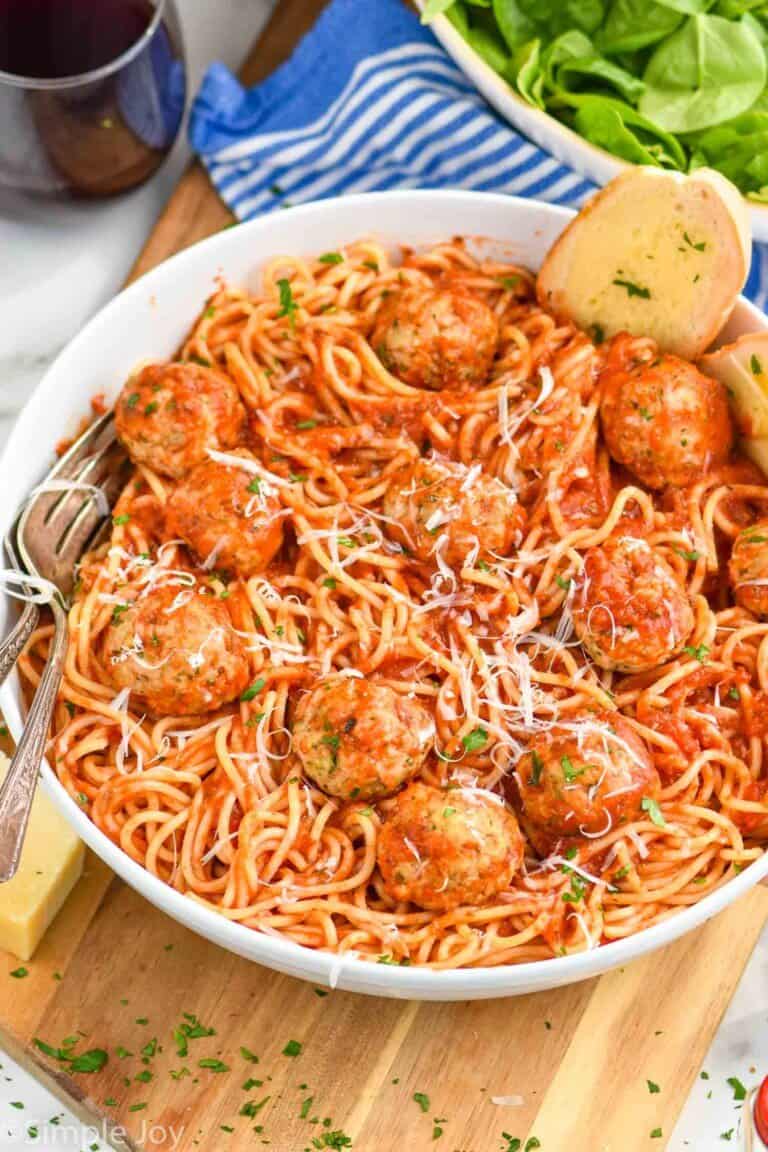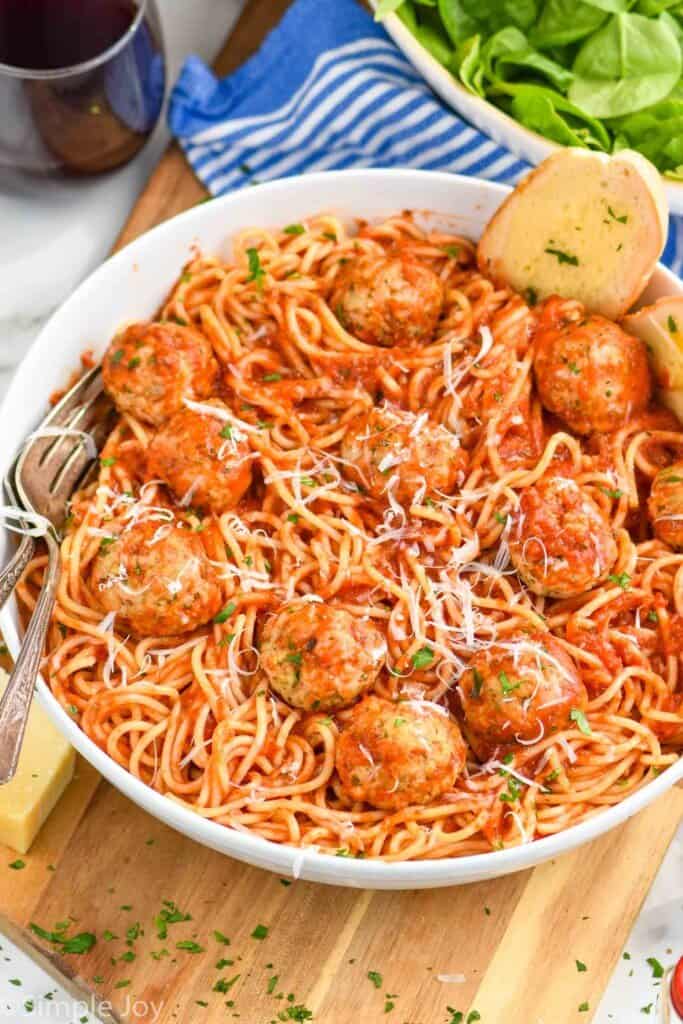 What to Serve with Chicken Meatballs
This recipe is great over spaghetti with my easy homemade spaghetti sauce. If you are looking for side dishes to serve with this recipe, here are some of our favorites:
If you make this chicken meatball recipe or any of my other recipes please leave me a comment and let me know what you think. I always love hearing from you.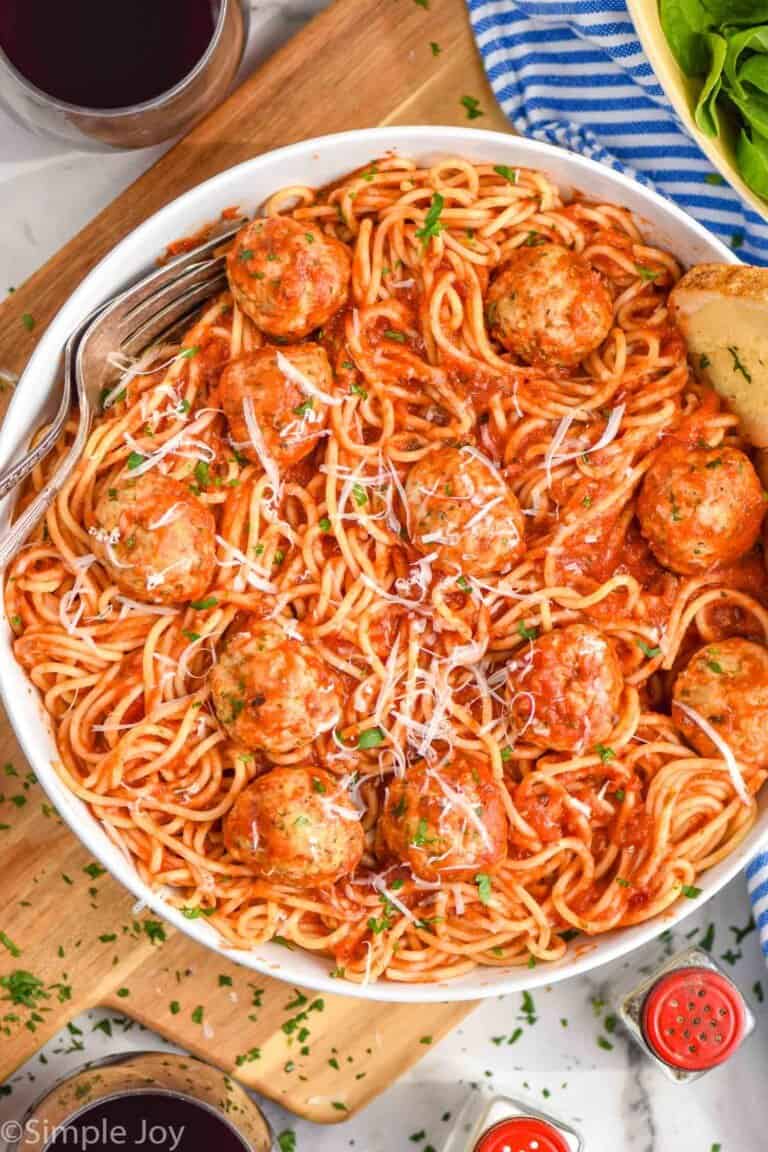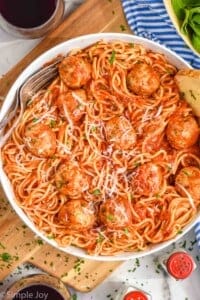 Chicken Meatballs
Chicken Meatballs are a kid approved healthy dinner recipe. This is perfect for busy weeknight meals and these are freezer friendly!
Ingredients
1

egg

beaten

1/2

cup

Italian seasoned bread crumbs

1

tablespoon

fresh parsley

minced

1/2

teaspoon

kosher salt

1/2

teaspoon

garlic powder

not garlic salt

1/2

tablespoon

dried oregano

1/2

tablespoon

dried basil

1/4

cup

grated parmesan cheese

1

pound

ground chicken
Instructions
Preheat your oven to 375. Line a rimmed baking sheet with tin foil and set a cooling rack on top of it. Spray it with cooking spray.

In the bottom of a large bowl, combine the egg, bread crumbs, fresh parsley, salt, garlic powder, oregano, basil, and cheese.

Add the ground chicken. Mix together until throughly combined.

Roll into into 1 to 1 1/2 inch balls and set on the cooling rack (I got about 24 meatballs out of it).

Bake for 20 to 25 minutes or until the meatballs reach 165 degrees. If you don't have an instant read thermometer, cut one of the meatballs that is in the middle of the sheet in half to ensure it is fully cooked through.
Serving:
1
meatball
Calories:
47
kcal
(2%)
Carbohydrates:
2
g
(1%)
Protein:
4
g
(8%)
Fat:
3
g
(5%)
Saturated Fat:
1
g
(6%)
Cholesterol:
23
mg
(8%)
Sodium:
96
mg
(4%)
Potassium:
7
mg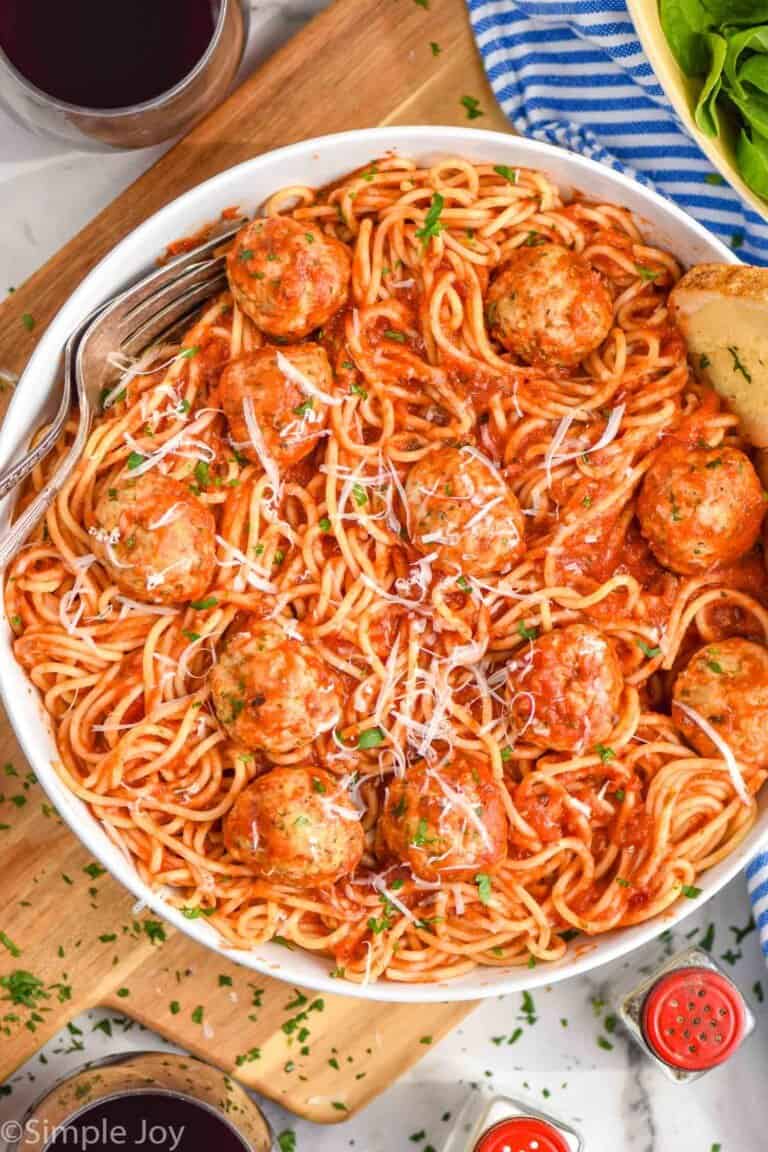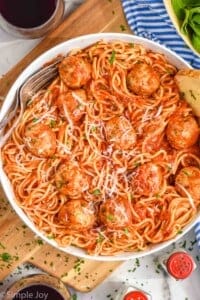 did you make this
Chicken Meatballs