These kitchen supplies and kitchen gadgets are what I use every single day to make the recipes you see here. They are tried and tested, making my life so much easier.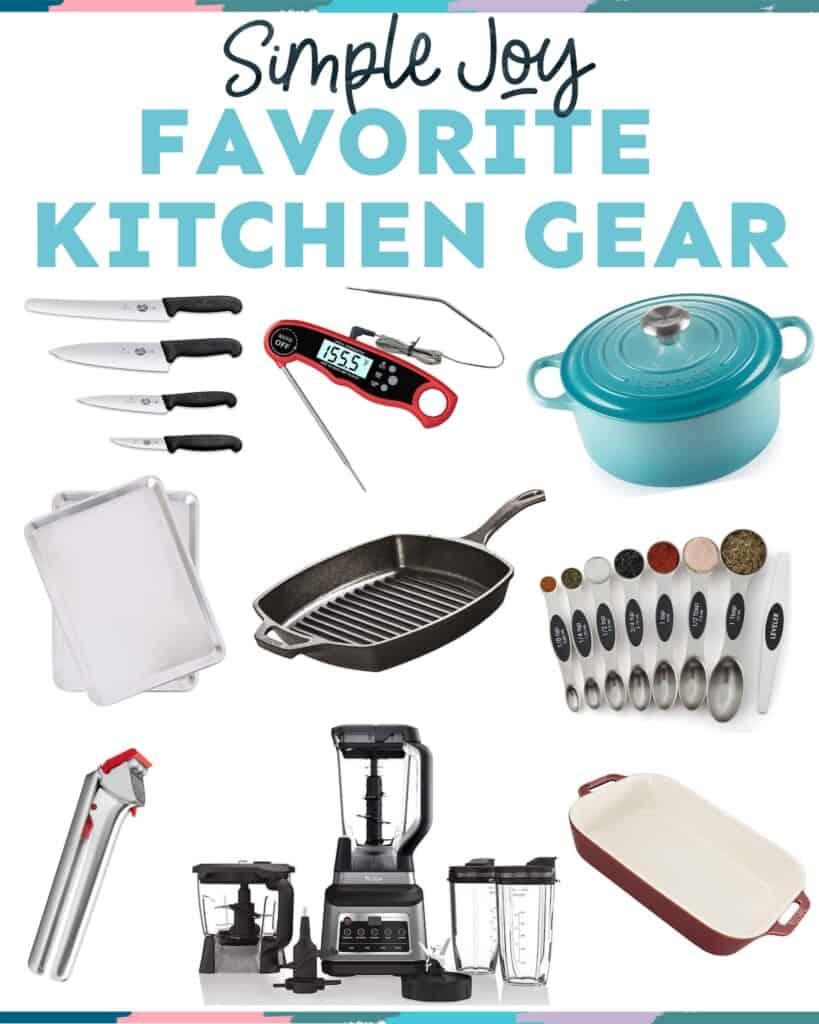 Small Kitchen Appliances
As much as I don't love having a million different kitchen appliances, I truly do use all of these and would be lost without them.
This Crock Pot is so loved in my house that I have three! It has never failed me. It is big enough to serve my family of five easily and cooks food perfectly.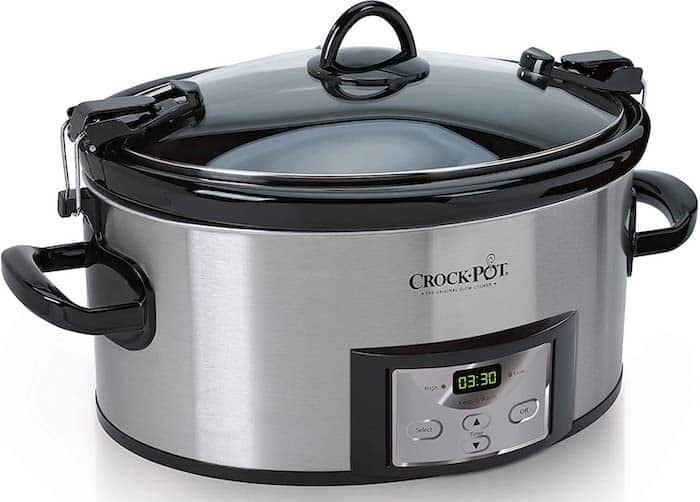 I have absolutely fallen in love with my Instant Pot. I use it several times a week to make rice, all the time to make hard boiled eggs, and I love it to whip up fast chicken tacos.
My Kitchen Aid Mixer is the absolute best for making cookies and frosting. But this version also comes with a dough hook that I love for making my pizza dough.
If a Kitchen Aid Mixer isn't in your budget, I highly recommend the Kitchen Aid Handheld Mixer.
I use my Ninja Blender every single day. I love the blender itself, but I also love that it came with a smaller blender for smoothies (use it literally every day) and a food processor attachment that I use to make my pizza dough and my pie crust.
Finally, my Ninja Coffee Maker is my best friend. Please don't talk to me in the morning before I have a nice long conversation with my best friend. The version I'm linking to is the updated version of the one I have, which I absolutely love.
Knives
These are my very favorite knives. They come extremely sharp, cut perfectly, and are great to sharpen and keep using.
If the above knife set is out of your budget, then I recommend getting just this one knife. It is my favorite of the bunch.
If you have little ones who like to help in the kitchen, you can't beat these kid safe knives. My kiddos love cutting up toppings for tacos and everything else with these. They are surprisingly great – they cut food well and don't cut my kids at all.
Mixing Bowls, Measuring Cups, and Spoons
My very favorite mixing bowls are from Pyrex. I highly recommend buying their full set.
I love their big mixing bowl so much that I actually have two. One from the set and one that I bought individually. I love that this one comes with a lid. Perfect for making my Pink Party Punch.
I also love the glass measuring cups from Pyrex. I love them so much that I have two sets! They have held up incredibly well over the years with the writing on the side staying in tact even though they go through the dishwasher daily.
I'm obsessed with these Measuring Spoons! I love that they are double sided. And the side that is thinner fits perfectly in spice jars.
Pots and Pans
You'll notice that I cook almost all my soups and my delicious pot roast in my dutch oven. It's just the greatest. It is pricey, but it is one of those things you will use forever.
I also love their skillet! You can see how much I love it in my noodle stir fry recipe. But if you want a less expensive option, I highly recommend the skillet from IKEA. You can see it in dozens of my posts.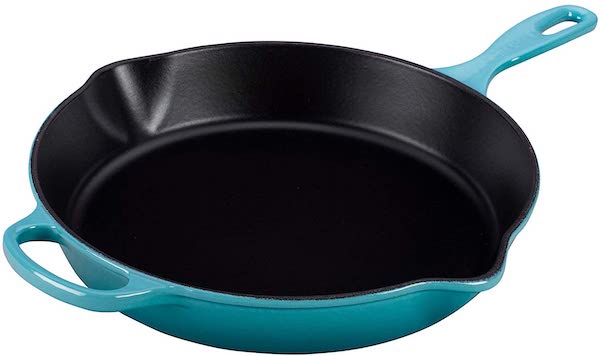 My very favorite 9 by 13 inch baking pan is this USA pan. I love that it has straight edges, so my sugar cookie bars come out with straight edges. You can really trust anything from this brand – they are a huge favorite among food bloggers.
For my casseroles, I love my Staub baking dish so much.
You can't beat these Nordic Ware baking sheets. They cook my oatmeal raisin cookies to perfection.
The only way we cook our pizza is on this Pampered Chef pizza stone. We bought a second one years ago so that we could keep feeding our growing brood. It plus our perfect pizza dough recipe makes pizza night the best.
This grill pan is perfect for grilling indoors all winter long. Now you can make my chicken wraps in the middle of January.
Random Kitchen Gadgets
If there is one thing I really want you to buy, it is this instant read thermometer. You can have the best meat recipe in the world and cook it a few minutes too long and ruin it. An instant read thermometer fixes that perfectly!
I LOVE this cookie scoop. I use it for all of my cookies so that they are all the same size and bake evenly. I even use it to make my meatballs.
This oven thermometer is GREAT. It is the perfect way to tell how hot your oven is running. Many ovens run as much as 25 degrees higher or lower than what you set it for. And this will help you adjust accordingly.
This garlic press is just the best! I love that you flip it around and you can get out all the residual garlic.
I can't tell you how many can openers I went through before I found this. It is the BEST can opener ever. I even randomly send it to friends and family when they tell me how much they hate theirs.
This whisk set is awesome. I love that it is rubber, not metal, so if you have non stick pans, you don't have to worry about scratching them. At the same time, they are very sturdy and hold up to some vigorous whisking.
This teapot makes me so happy. It works with loose tea, and I fill it up and have tea time at my desk in the afternoons. Its absolutely perfect.