This Pot Roast recipe comes with easy to follow directions and leaves you with the most tender roast, soft vegetables, and deep flavorful gravy. This recipe is comfort food at it's finest.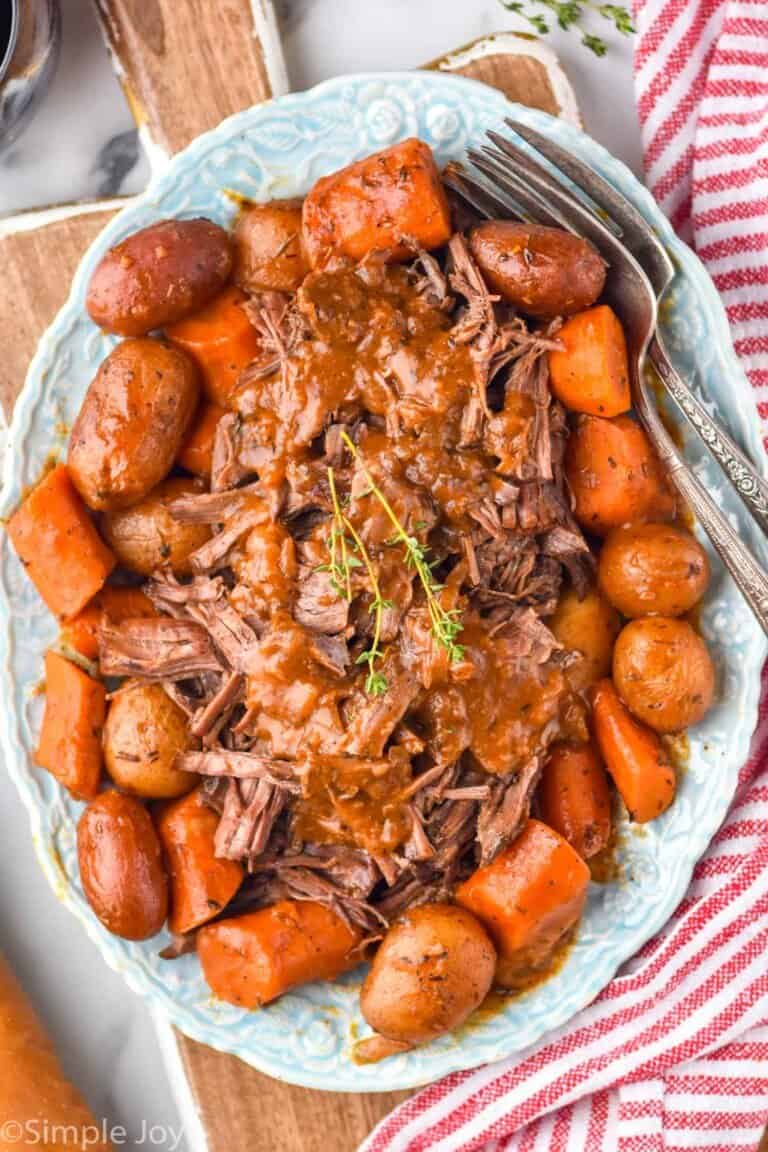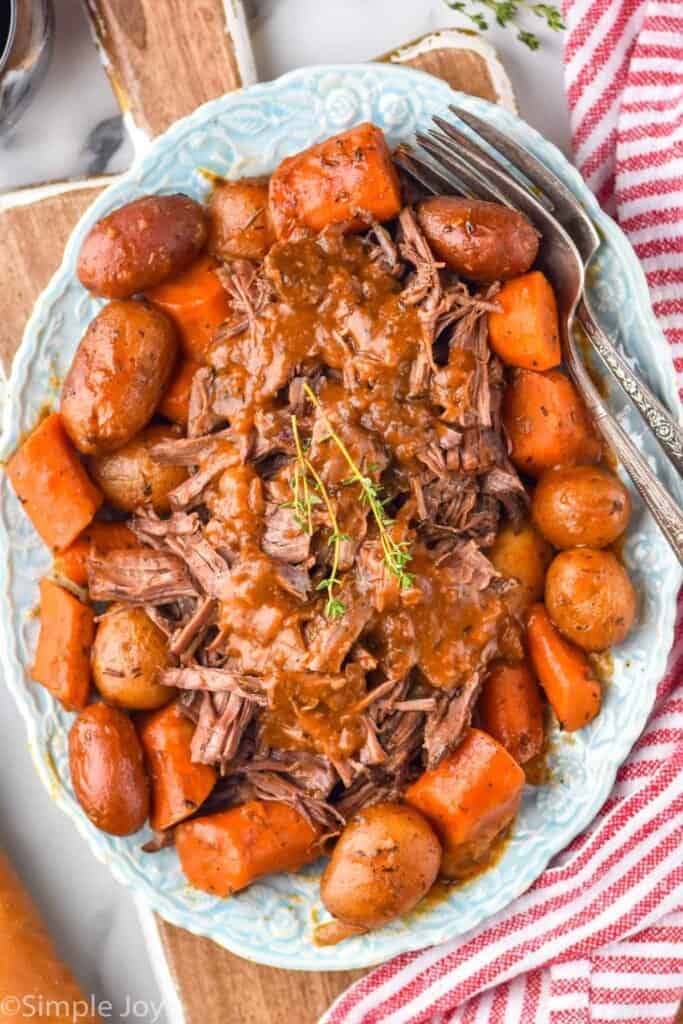 I am so excited to share this labor of love with you. This amazing Pot Roast recipe went through so many trials to get right until it was just perfect. The first recipe, my husband flatly reported, was exactly what he expects a pot roast to taste like.
The problem with that was that I wanted it to be something that knocks your socks off. After a lot of trial and error and even more research, what I have for you is a delicious pot roast recipe that is both decadent with a deep flavor and easy. You won't find any hard to find ingredients or strange cooking methods.
Yet, this straight forward Pot Roast recipe will definitely knock your socks off.
While this recipe is many steps, and I encourage you to read through all of the steps before starting this, this recipe isn't hard. I also believe that once you make this recipe you'll be able to fly through it the second and third time.
Reader Review
Best tasting pot roast recipe I made. Everyone loves it. We finished it all. Love love all your recipes.
How to Make Pot Roast
Sear the roast. Heat olive oil in a heavy bottomed stock pot. Season the roast with salt and pepper on all sides. Brown both the top and the bottom of the roast, for 3 to 5 minutes on each side. Remove the roast and set aside.
Add onions to the pot. Sauté them until they are translucent.
Deglaze the pan with red wine. Scrape up the browned bits from the bottom of the pot.
Stir in the remaining liquid and seasonings. Add tomato sauce, beef stock, thyme, rosemary, bay leaves, and minced garlic to the pot. Return the roast to the pot.
Cover the pot and braise for 1 1/2 hours. After an hour and a half add carrots and potatoes and return the pot to the oven.
Roast for 1 1/2 to 2 1/2 more hours. The roast is ready when it falls apart easily when pulled on with two forks. (You can expect a 3 pound roast to take 4 hours.)
Finish off the gravy. Remove the roast from the pot. Skim fat from the top of the liquid if you are able to. Combine soft butter and flour in a small bowl and stir them into the sauce to make the gravy.
Serve and enjoy!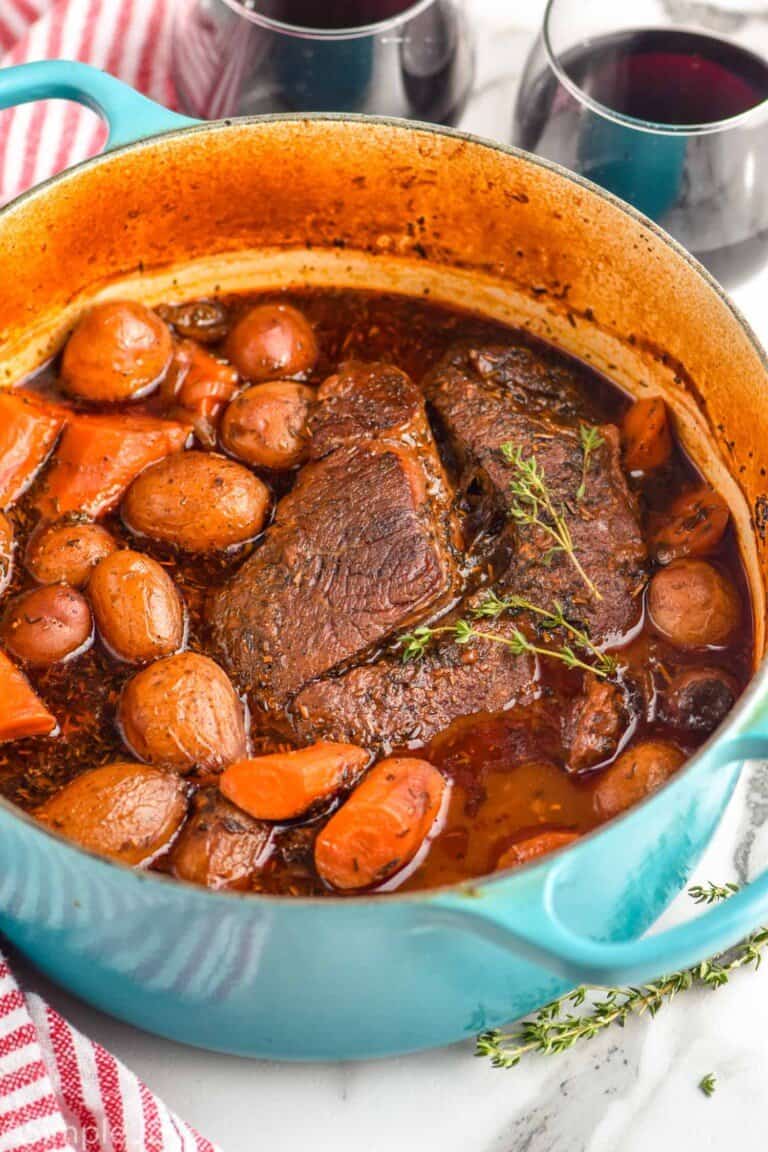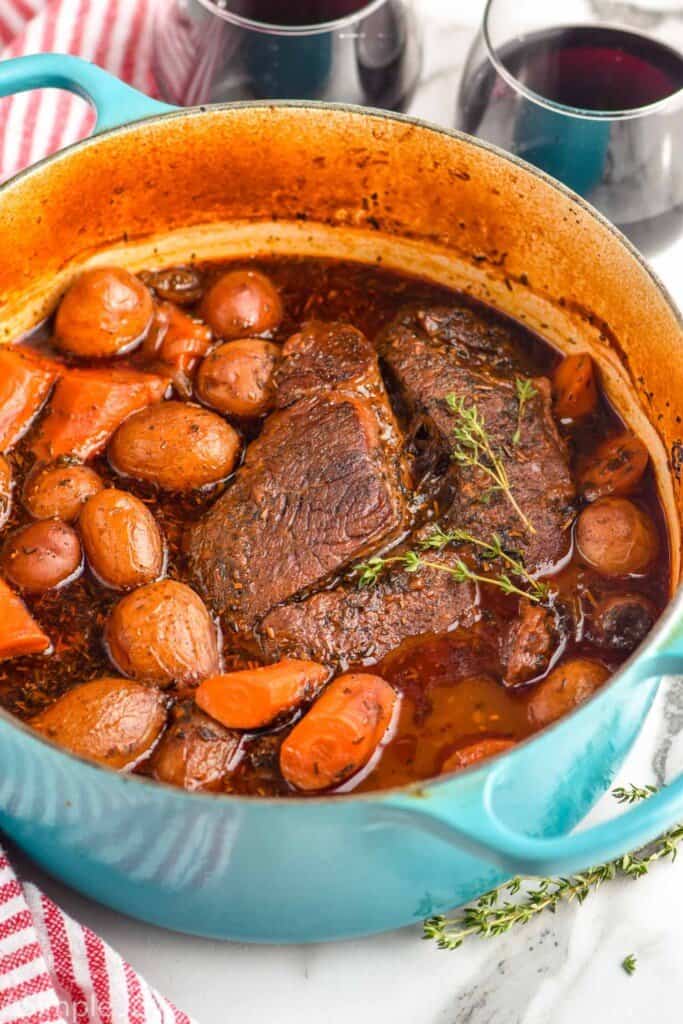 How to Make Pot Roast Gravy
The bulk of this pot roast gravy comes from the cooking of the meat itself. The base of the gravy is wine, tomato sauce, and beef stock. But the gravy gets its true flavor from the time those three liquids spend cooking the meat. They combine and create a deep and hearty sauce you will love.
To thicken the sauce at the end, we are doing something that is like a reverse of the roux we use in my New England Clam Chowder. We are making a beurre manié, which is French for kneaded butter.
In a roux you combine the butter and flour over heat and then add the liquid. In a beurre manié, you combine butter and flour off of heat and add it to hot liquid. It is simple and easy to do, and creates the beautiful gravy you see here.
What Kind of Meat for Pot Roast
For this recipe you want a chuck pot roast. This is a heavily marbled cut of beef. It requires long cooking in a sealed pot with liquid or braising. Over the cooking time the fat breaks down and develops a rich beef flavor, while the meat itself stays tender.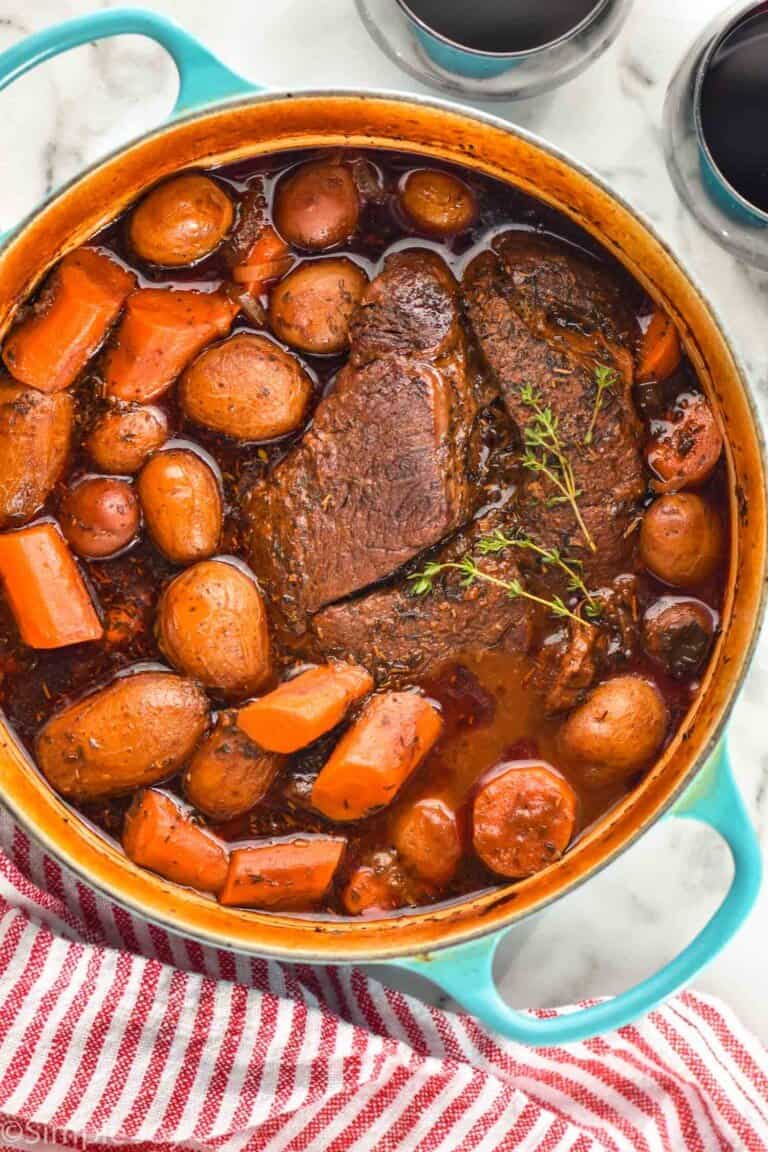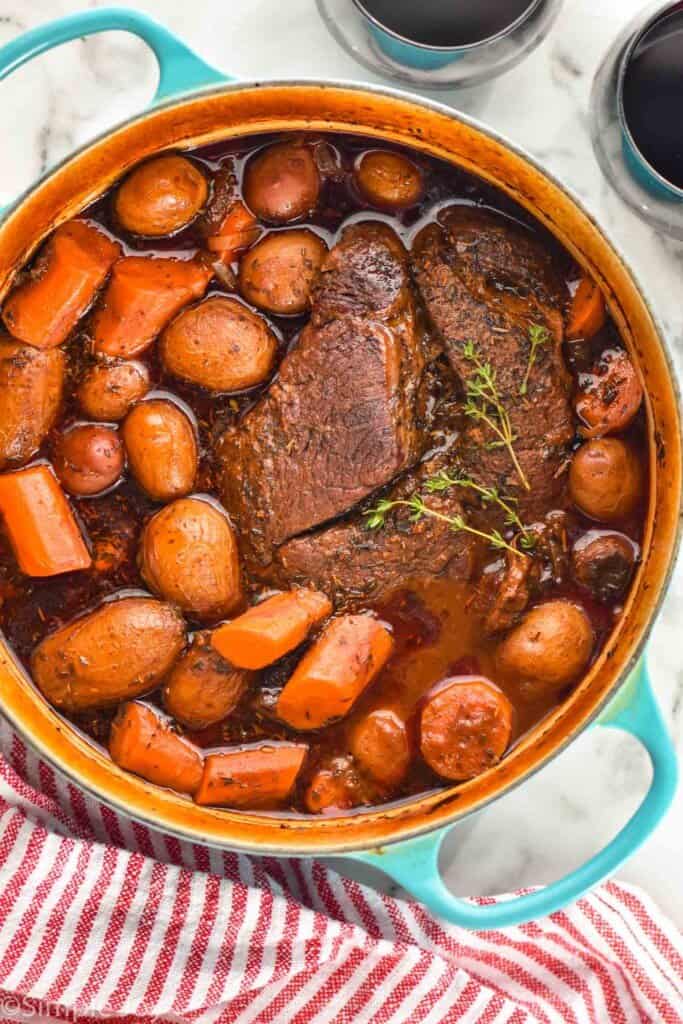 Choosing the Right Red Wine
When picking a wine to make a pot roast, the most important thing is that you pick a wine you would be able to drink. Do not use wine that is labeled "cooking wine" for this recipe. It will bring a lot to the party that you don't want in your final dish, namely, a vinegar taste and more salt.
For this recipe, I recommend a dry red wine. I used a Cabernet Sauvignon and it was perfect. A Malbec or a Pinot Noir would be great in this too. Do not break the bank on this. An inexpensive red wine will work just fine in this recipe, though I do not recommend a red blend.
Does the Alcohol Cook Off
This is a question that comes up a lot in cooking with wine. The general rule of thumb is that something has to cook for three hours in order to cook off all the alcohol. That does happen here.
That being said, if you are serving this to someone who is sober, I recommend that you check with them as to what their preference is.
Cooking Pot Roast without Wine
If you decide to skip the wine in this recipe, replace it with more beef broth. The biggest thing is to use it to deglaze the pan and scrape up those delicious browned bits. Those caramelized pieces add a lot of flavor to this recipe.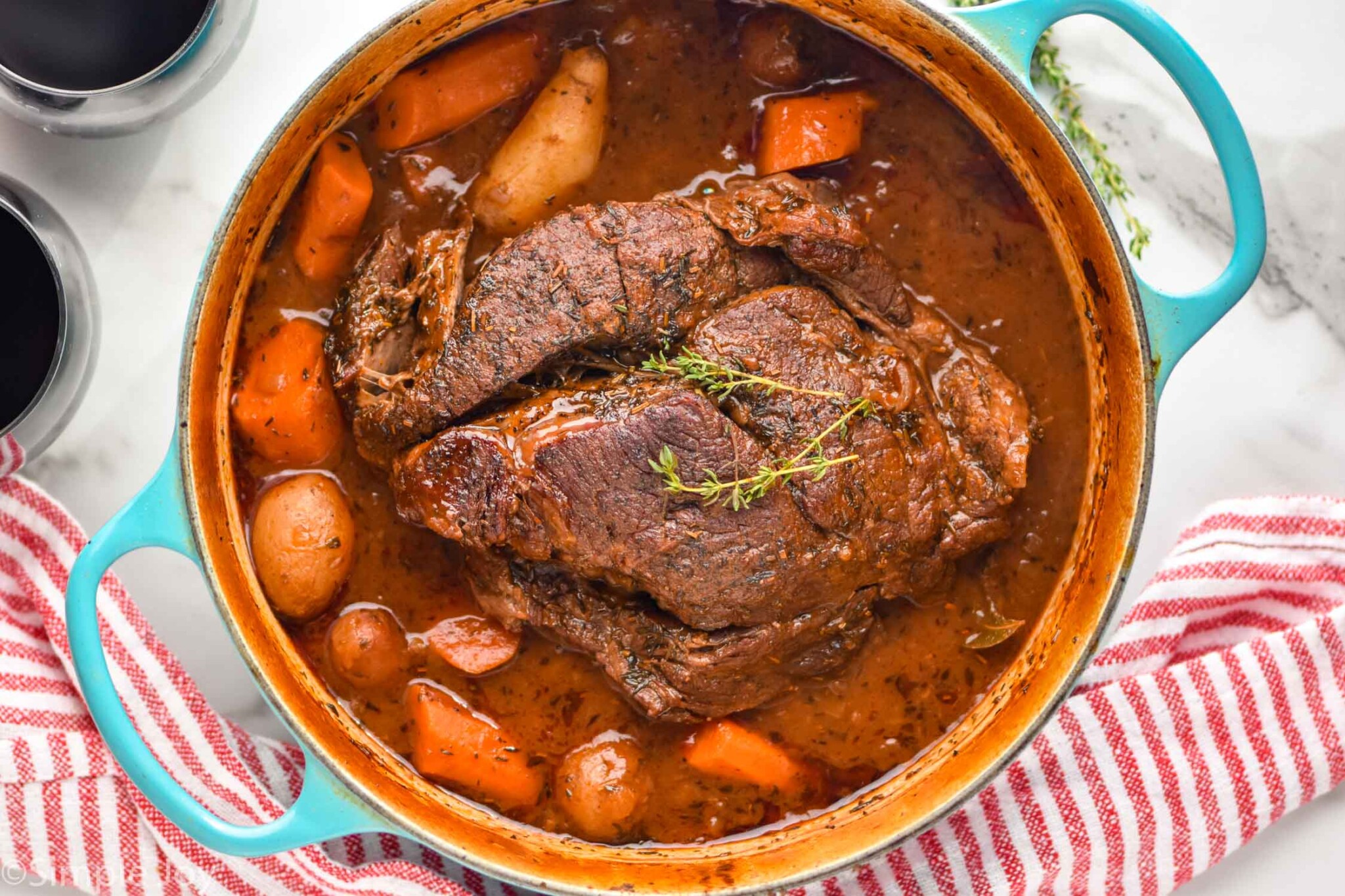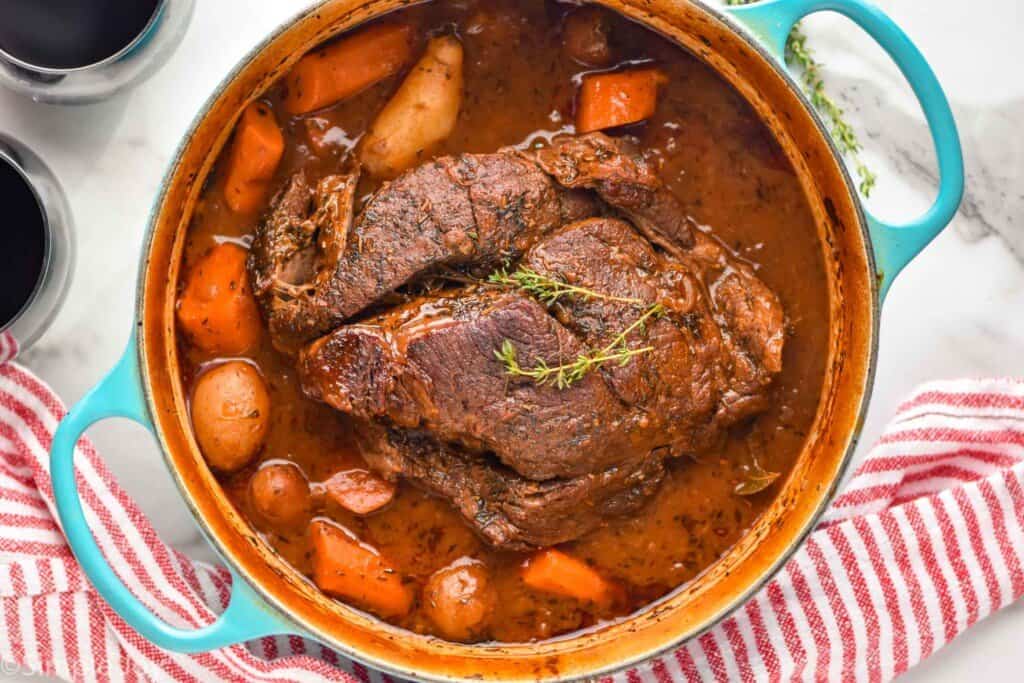 The Purpose of Browning a Chuck Roast
A common misconception when it comes to searing meat before braising is that it is done to "seal in the moisture." That's actually just a myth.
Cook's Illustrated did a test in which they weighed two pieces of meat before and after cooking. One was seared and the other was not. The difference in the amount of moisture lost during cooking between the two was negligible. In other words, searing meat doesn't change how much moisture is lost during cooking.
The real reason that we are searing the chuck roast at the start of this pot roast recipe is for flavor. The flavor that is added to the pan as the meat sears is priceless. This is why we deglaze the pan, so all that caramelized goodness can get into the cooking liquid.
Why We Cook Pot Roast so Long
I'm sure most of you realize that beef doesn't need to be cooked terribly long in order to reach doneness. In fact, it's widely accepted that anything over 165 is going to be way over done. Your oven pot roast will hit about 180 by the time one hour of cooking is up.
In this recipe we are overcooking our meat on purpose. By the time that the four hours is up, every bit of fat and every last piece of connective tissue will have broken down. What you are left with is the most tender and deliciously flavorful pot roast recipe.
Adding Potatoes and Carrots after an Hour
While many pot roast recipes call for adding the carrots and vegetables at the beginning of cooking, I had the best results when I added them in after an hour and a half. Two things happened.
First, when the roast was done, the vegetables weren't mushy. The texture was much better.
Second, they had better flavor. When they cooked for the full length of time, I found that they had a bitter aftertaste.
In my opinion, though it feels like an extra step, adding the vegetables in later is well worth it.
FAQ
How long
do you cook a pot roast?
The length of time needed for a pot roast will vary based on how much it weighs. But you can expect it to take between 3 and 4 1/2 hours at 300 degrees. The pot roast is done when it falls apart easily with two forks shredding it.
How do you cook a pot roast in a crock pot?
This particular recipe has not been tested in the crockpot, but it would be very easy to do. Follow the steps through deglazing the pan with wine. Then add the onions, liquid, seasonings, and seared beef to a crockpot. Cook on low for 8 hours, adding the vegetables after 3 hours. Finish it off just as written below, by adding your flour and butter mixture to make the gravy.
What is the difference between an oven roast and a pot roast?
The big difference is in the cooking method. Roast Beef is seared in the oven with a high temperature and finishes cooking at a lower temperature. It also is a dry cooking method, with the meat on a wire rack. Pot Roast is braised, or in other words, it cooks in liquid in a sealed pot.
Why is my pot roast tough?
The number one reason that a pot roast comes out tough is that it didn't cook long enough. If you need to use much effort at all to shred the meat, it is a sign that it didn't cook long enough. It likely needs another hour.
Is pot roast gluten free?
Many pot roast recipes are gluten free. This recipe is not because of the flour butter combination we use to make the gravy.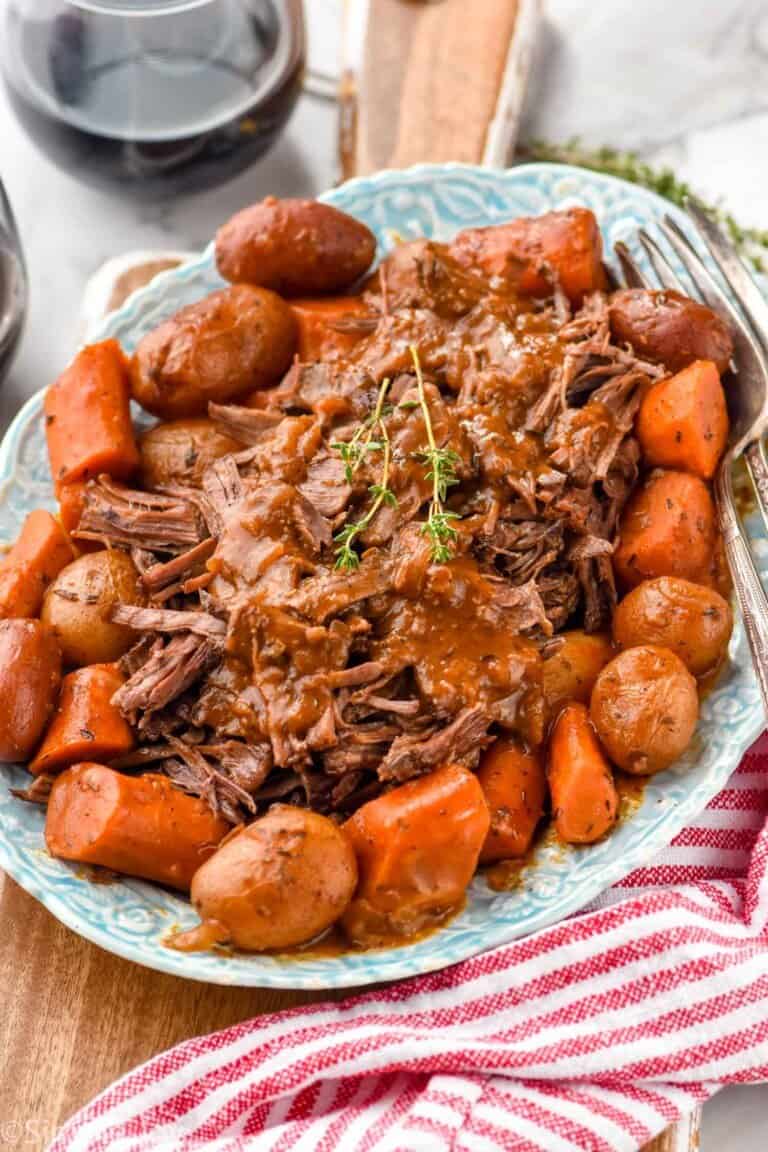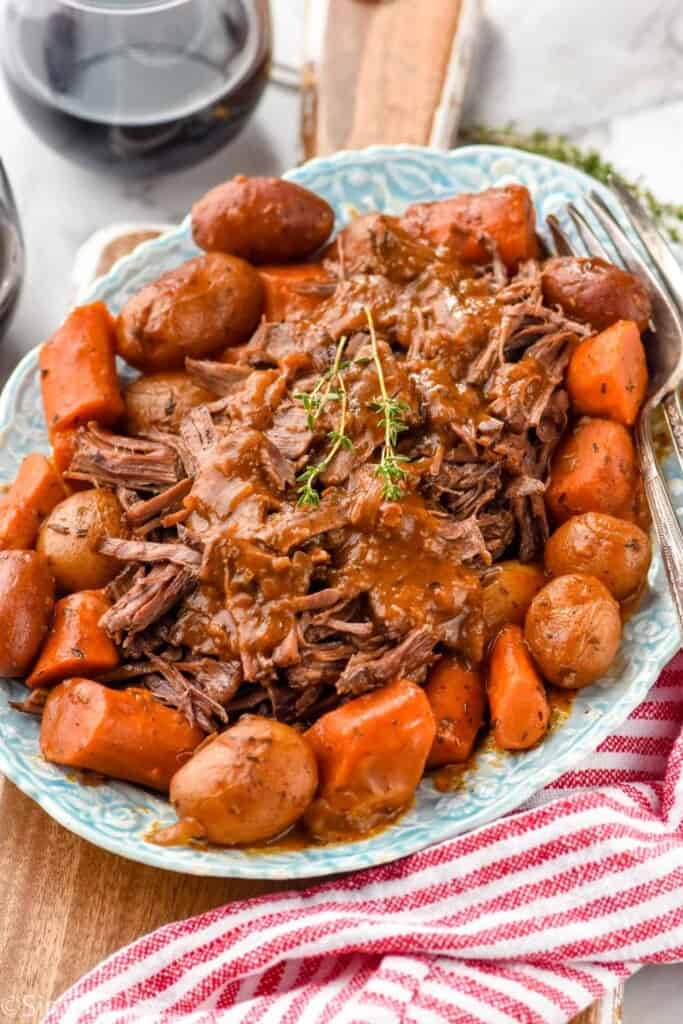 What to Serve with Pot Roast
This dutch oven pot roast is really a meal on it's own, but if you want to round out your table further, these are some great options.
If you make this oven pot roast recipe or any of my other recipes, leave me a comment in the section below and let me know what you think. I love hearing from you!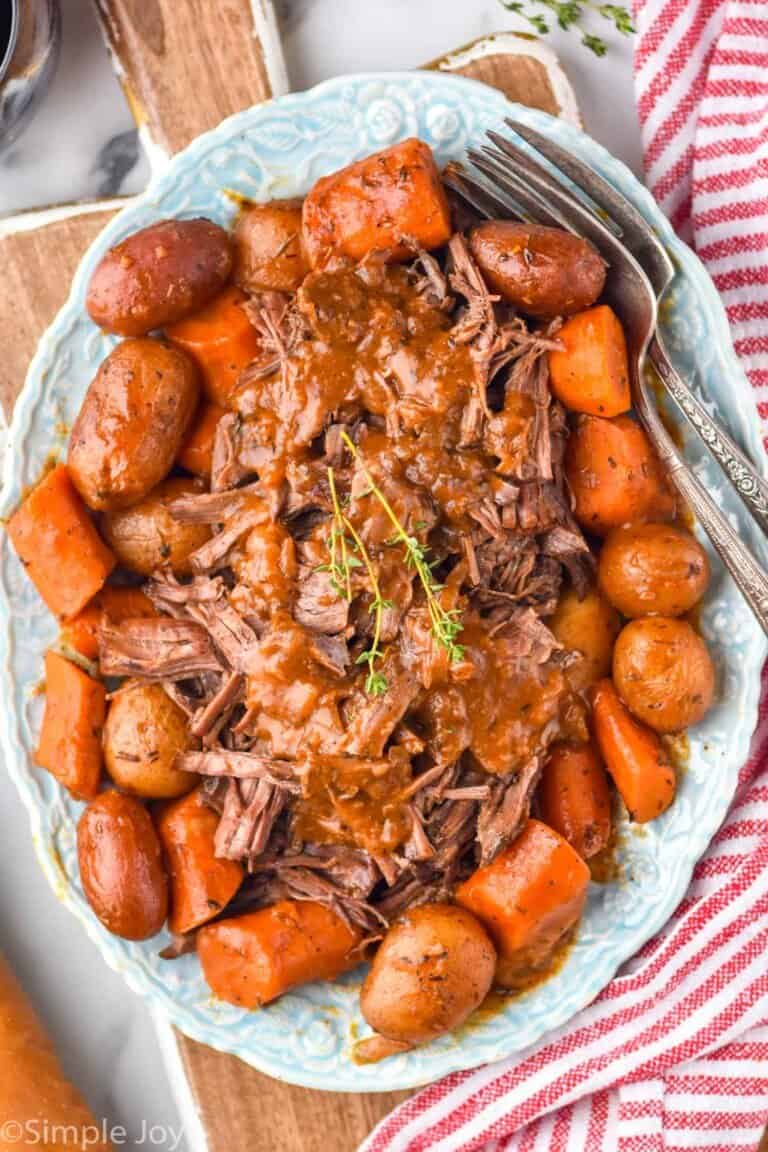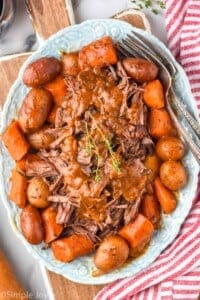 Pot Roast
Total:
4
hours
25
minutes
This Pot Roast recipe comes with easy to follow directions and leaves you with the most tender roast, soft vegetables, and deep flavorful gravy. This recipe is comfort food at it's finest.
Ingredients
3

pounds

chuck roast

1 1/2

tablespoon

kosher salt

1

teaspoon

black pepper

2

tablespoons

olive oil

1

large yellow onion

peeled and sliced

1

cup

red wine

(see note in the post about replacing wine)

8

ounces

tomato sauce

1

cup

beef broth

4

garlic cloves

minced

1

tablespoon

dried rosemary

1

tablespoon

dried thyme

2

bay leaves

3

carrots

peeled and cut into two inch pieces

1

pound

baby Yukon potatoes

2

tablespoons

butter

room temperature

2

tablespoons

flour
Instructions
Preheat your oven to 300 degrees.

Heat the oil in a large dutch oven over medium heat. Season the roast with salt and pepper on all sides. Place the roast in the preheated pot. Brown the roast on the top and bottom until lightly browned, about three to five minutes on each side. Remove from the pot and set aside.

Add the garlic and onions to the pot and sautee until translucent, about five minutes.

Deglaze the pan with red wine, scrapping up the browned bits. (See notes in the post about what wine to use and what to use instead of wine.) Whisk in tomato sauce and beef broth and then add the thyme, rosemarry, and bay leaves. Return the roast to the pot and cover it. Bake for 1 1/2 hours.

After 1 1/2 hours add the carrots and potatoes. Return the pot to the oven for another 1 1/2 to 2 1/2 hours. Your pot roast is ready when you can very easily shread it with a fork. You can expect a 3 pound roast to take 4 hours.

When the roast is fork tender, remove it from the pot. Skim as much fat as possible as you can off the top of the liquid (no need to spend a lot of time on this though). In a small bowl use a fork to combine the flour and the butter. Whisk this into the liquid to make a gravy.

Shred the pot roast and serve with the vegetables and topped with the gravy.
Calories:
534
kcal
(27%)
Carbohydrates:
11
g
(4%)
Protein:
46
g
(92%)
Fat:
31
g
(48%)
Saturated Fat:
12
g
(75%)
Polyunsaturated Fat:
3
g
Monounsaturated Fat:
17
g
Trans Fat:
2
g
Cholesterol:
157
mg
(52%)
Sodium:
2286
mg
(99%)
Potassium:
1093
mg
(31%)
Fiber:
2
g
(8%)
Sugar:
4
g
(4%)
Vitamin A:
5338
IU
(107%)
Vitamin C:
7
mg
(8%)
Calcium:
93
mg
(9%)
Iron:
7
mg
(39%)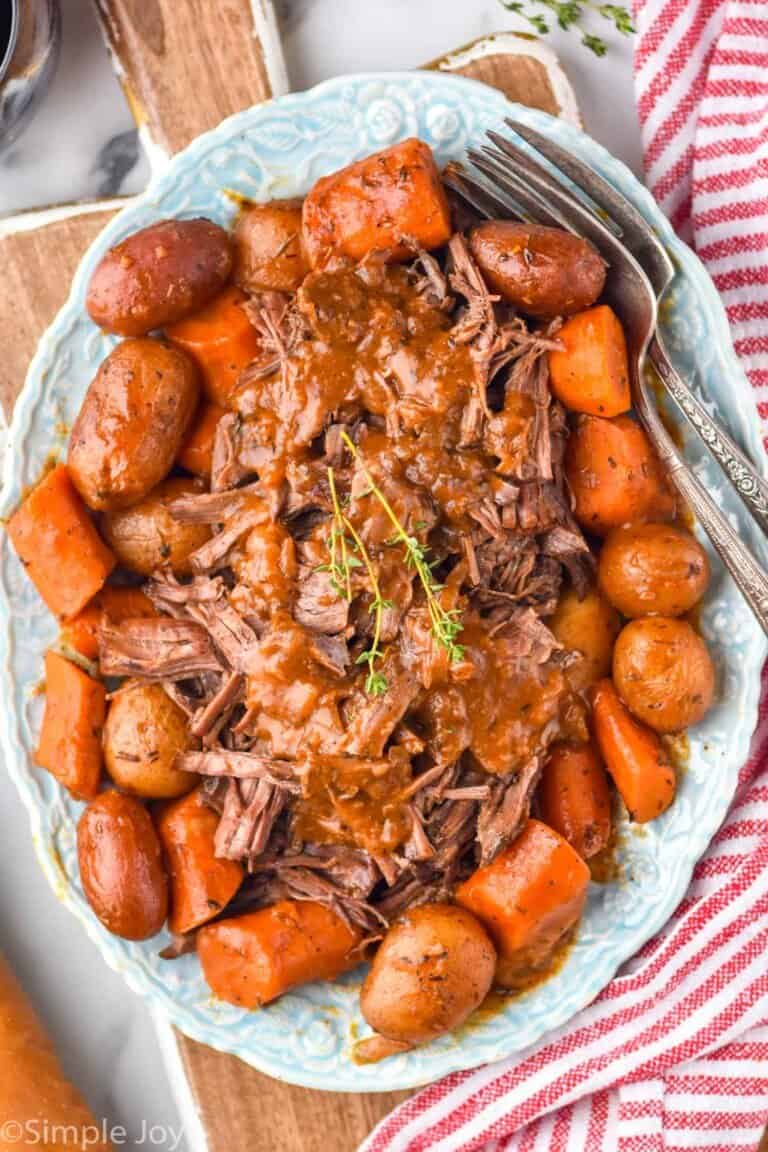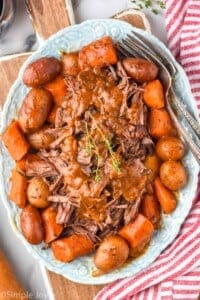 did you make this
Pot Roast
you might also like . . .