Blueberry Banana Bread is an easy twist on our classic banana bread recipe that you will fall in love with. Use fresh or frozen blueberries in this simple delicious recipe!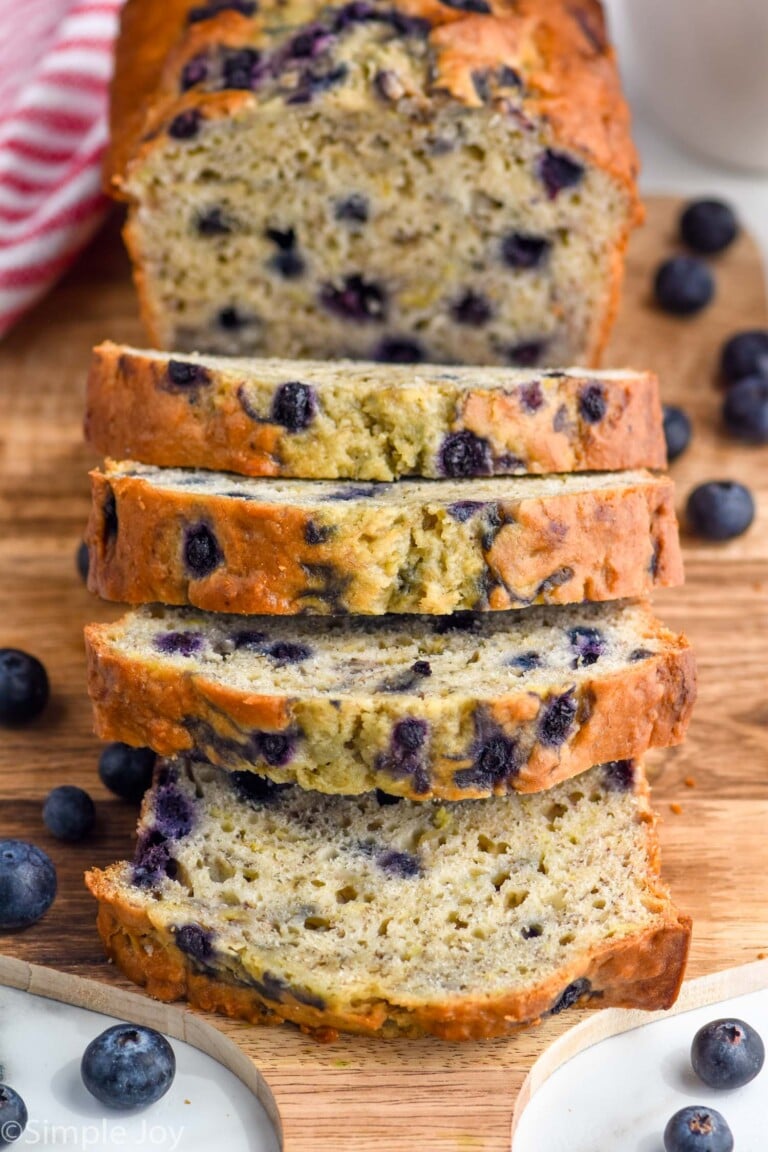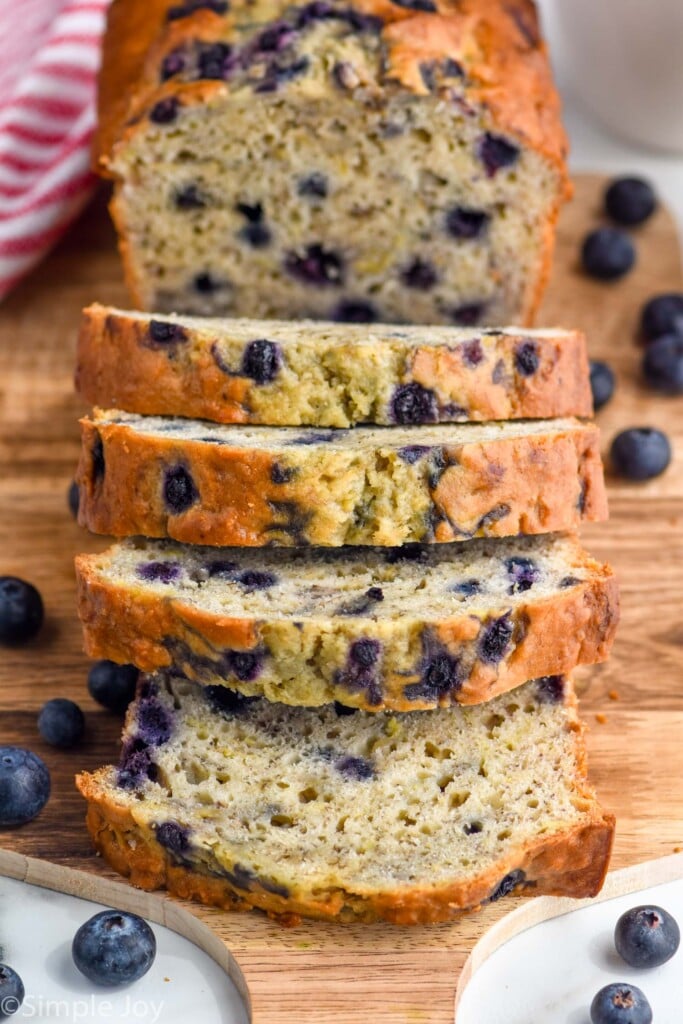 Whenever my kids see bananas on the counter that start to go south, they get excited. They know that banana bread is in their future.
This Blueberry Banana Bread is an easy twist on our Banana Bread recipe. It is quick to make, and perfect to use fresh blueberries this summer. But, it also works perfectly with frozen blueberries, making it a great recipe all year long.
Reader Review
I just made this and you weren't kidding! This is a most delightful and delicious treat! In fact it is so addictive I had to share it immediately – as in, get it out of the house, because I kept going back and snacking again and again. Rest of the family agrees: a winner and they want it at least once a week. That's quite a compliment in our house! Thank you for this wonderful recipe!
How to Make Blueberry Banana Bread
This is just a brief overview so you can see how easy to is to make banana bread with blueberries. For the full recipe and all of the measurements, please see the recipe card at the bottom of the post.
Mix together the dry ingredients. In a large bowl combine the flour, baking soda, and salt.
Mix together the wet ingredients. In a smaller bowl, mix together the melted (and cooled) butter sugar, yogurt, eggs, mashed bananas, and vanilla.
Fold the wet ingredients into the dry ingredients. You want to mix them until they just combine, being careful not to over mix.
Fold in the blueberries. See my tips below.
Bake. The bread is done when a toothpick inserted into the middle of the bread comes out with just a few crumbs. (Please see my tips below about what pan to use). After the bread comes out of the oven allow it to cool in the pan for ten minutes before removing it and letting it cool completely on a wire rack.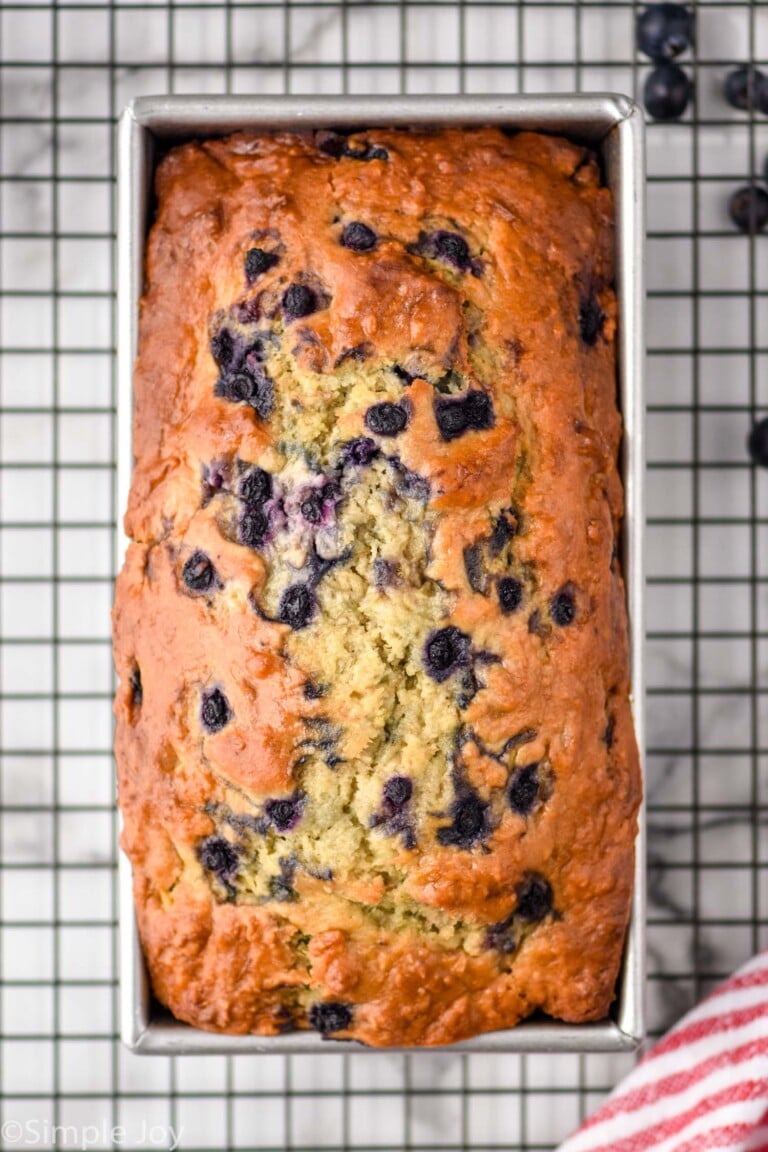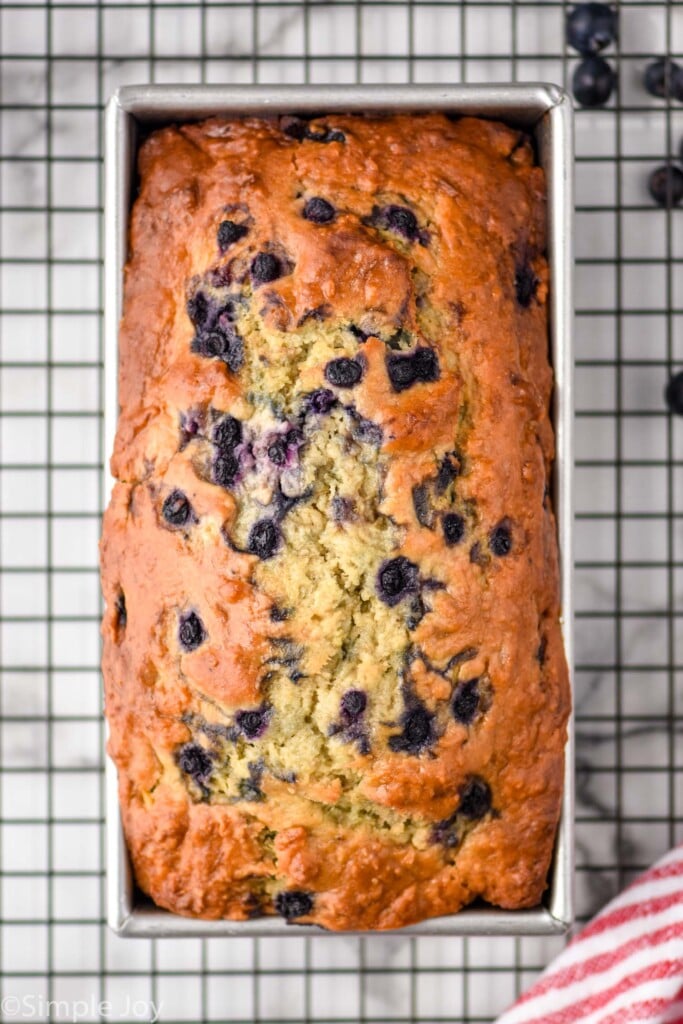 Blueberries for Banana Bread
One of the best things about this bread recipe is that you can use fresh or frozen blueberries in it. Either will work and result in a great loaf of banana bread. If you choose to use frozen blueberries, do not thaw them before adding them to the batter.
The Perfect Bread Pan
Whenever someone tells me that my banana bread recipe didn't work for them, the first thing I want to know is what their pan is like. A bread pan – which for many people is only used for banana bread – is the key to banana bread success. I've made this recipe in many different pans, and I can tell you that this pan from USA Baking is by far the best. The metal conducts heat perfectly, and I can't recommend it enough.
TOP PICK
The Best Bread Pan
I've actually bought a second one of these so that I can double my recipes and make two loaves at once!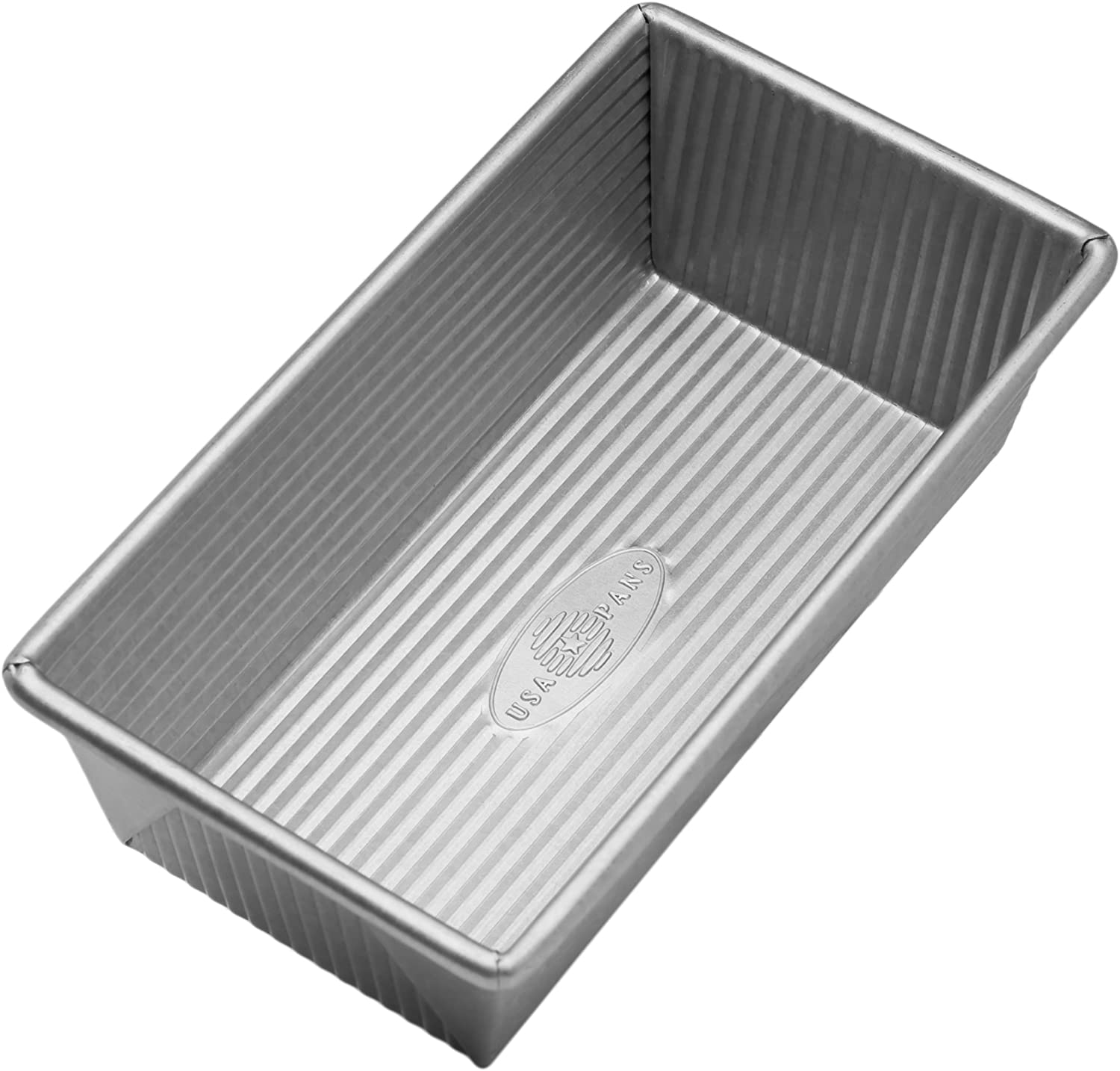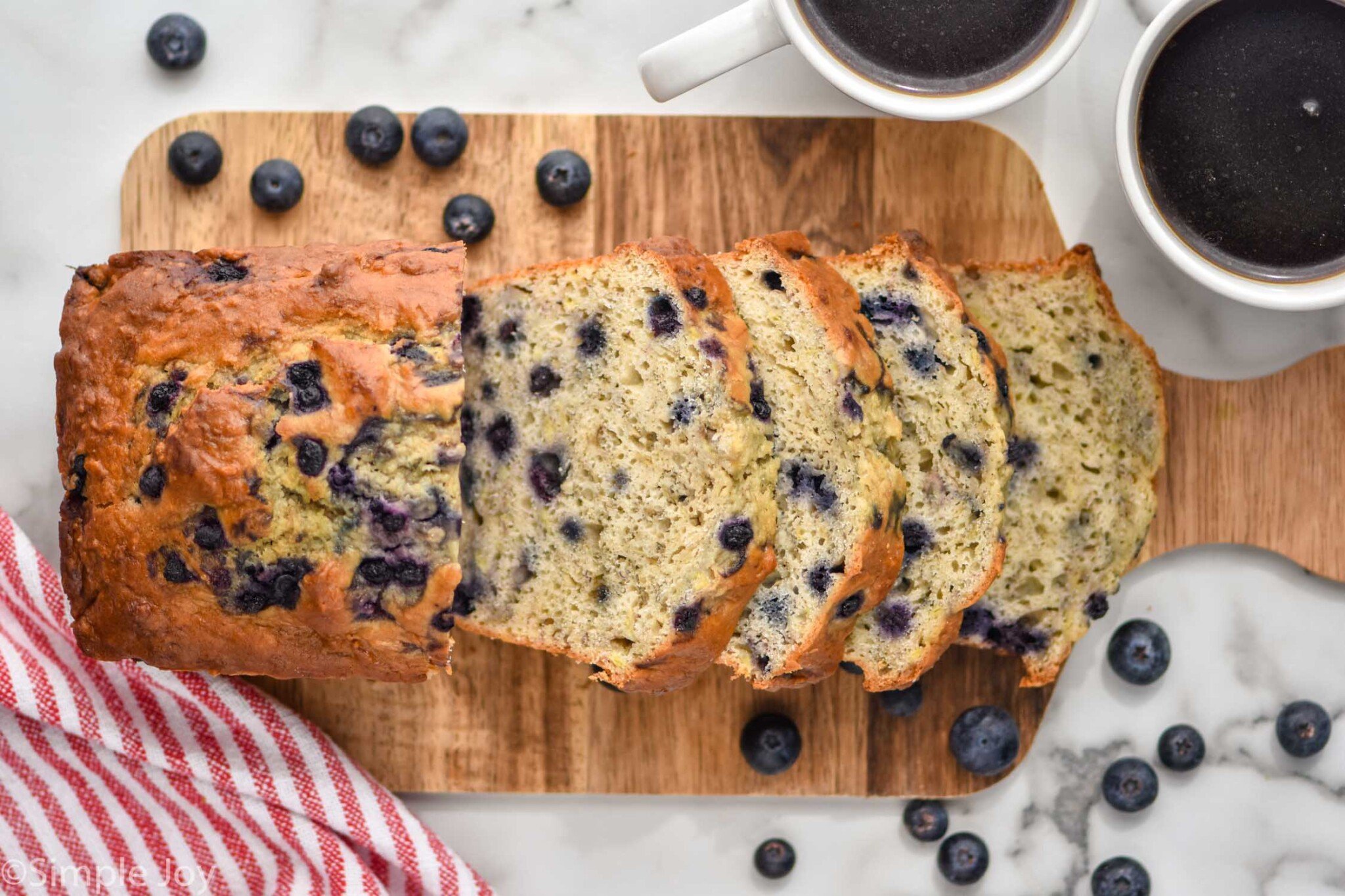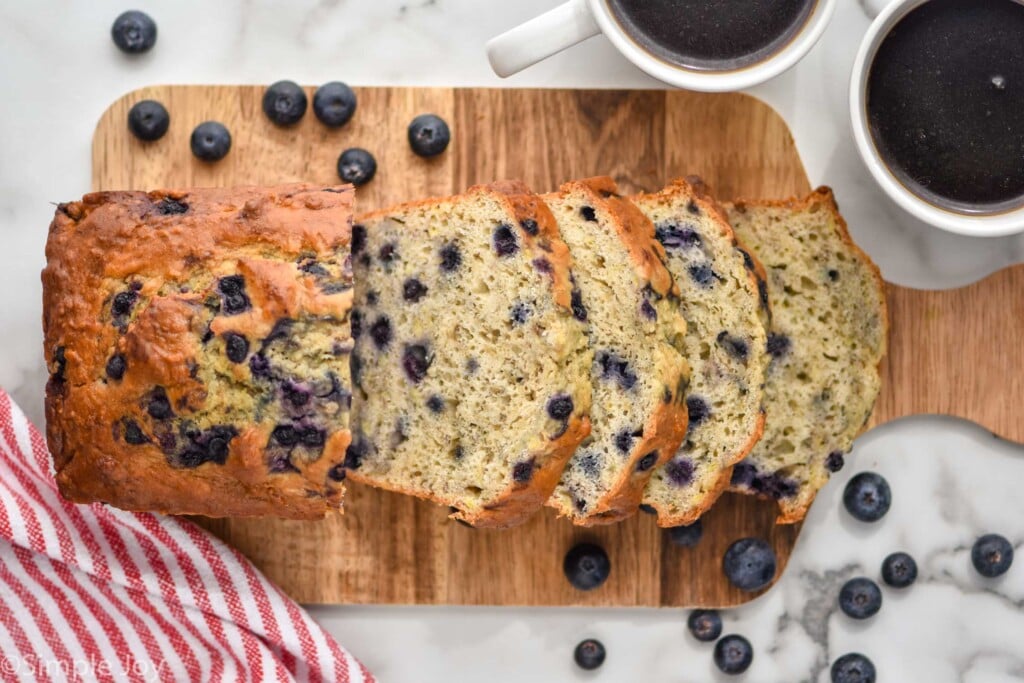 Best Banana Bread
This recipe is a quick riff on my Banana Bread recipe. That recipe has tons of great reviews. Just like this one, it comes together easily and will be one that you can come back to over and over again.
Banana Bread
This simple and easy Banana Bread is going to be your go to recipe from here on out! With 10 minutes hands on time, simple tips and easy instructions, you will love this recipe.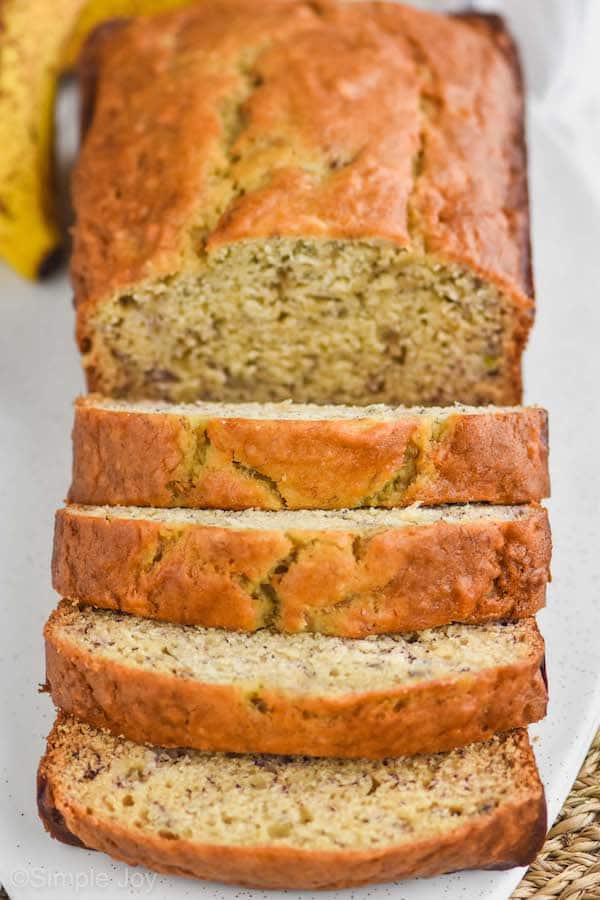 Tips and Tricks for Blueberry Banana Bread
There are a few things that will help to ensure that this banana blueberry bread turns out perfectly. We already talked about the pan above, so let's move on to the actual bread ingredients.
Measure the flour correctly. To do this, whisk your flour in the container (or bag) it is stored in. Then, using a large spoon, scoop it into a dry measuring cup. Finally, level it off with the flat edge of a spatula. Measuring this way will prevent the flour from packing, causing you to use more flour than the recipe calls for.
Double check you are using baking soda, not baking powder. While both are used in recipes, they work very differently. You need baking soda for this recipe.
Ensure that the baking soda is fresh. Baking soda needs to be replaced every six months. To test yours, drop a little in some vinegar. It should bubble right away.
Ensure your melted butter in cooled. If you take steaming hot butter out of the microwave and pour it into your batter, you could actually start the eggs cooking before the recipe hits the oven. We want to avoid that.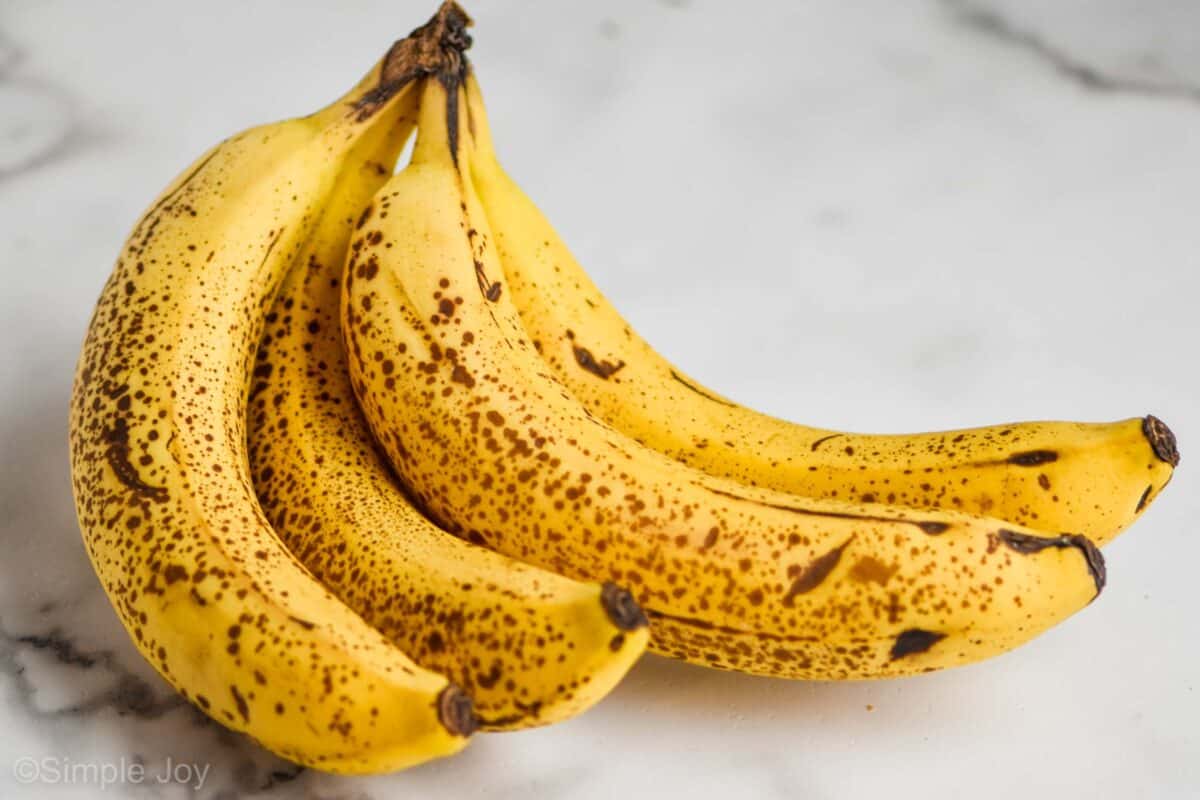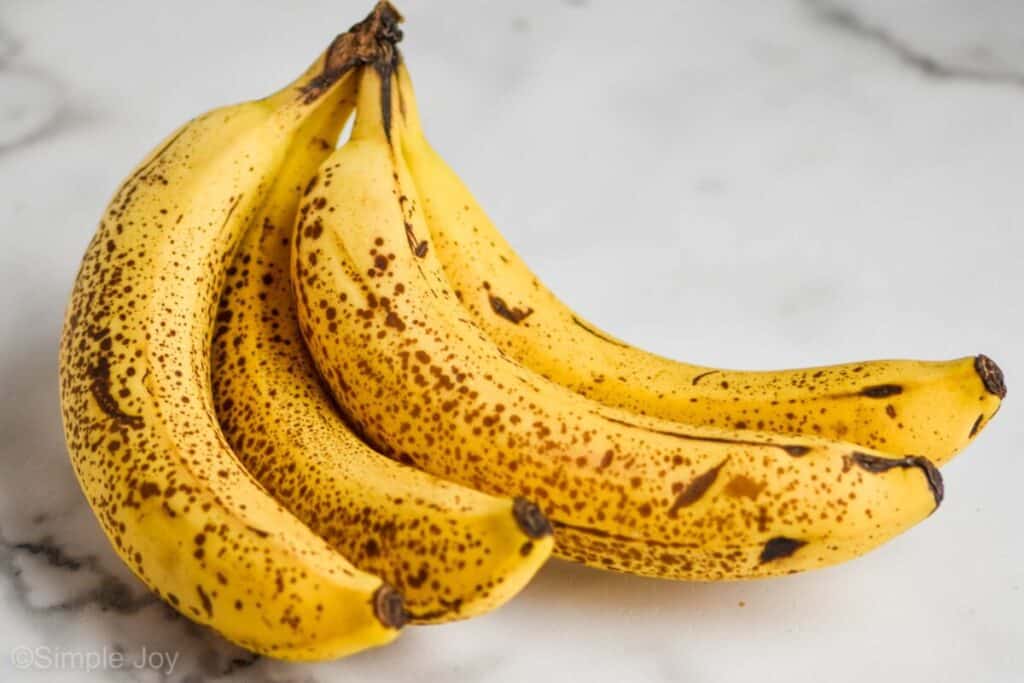 Bananas for Banana Bread
Everyone knows that you need brown bananas to make banana bread. I'm not sure everyone knows why.
The reason for the brown bananas is twofold. First, you want them to be the right texture, nice and mushy so they blend perfectly into the batter. Second, as the banana sits on your counter and ripens, it releases more sugar and actually tastes sweeter, meaning you need less sugar in your recipe.
So, while it is possible to bake your bananas to achieve the first goal – a mushy banana – you will be missing out on that sweetness. It doesn't mean that you can't bake your bananas brown, just know the reasons not to.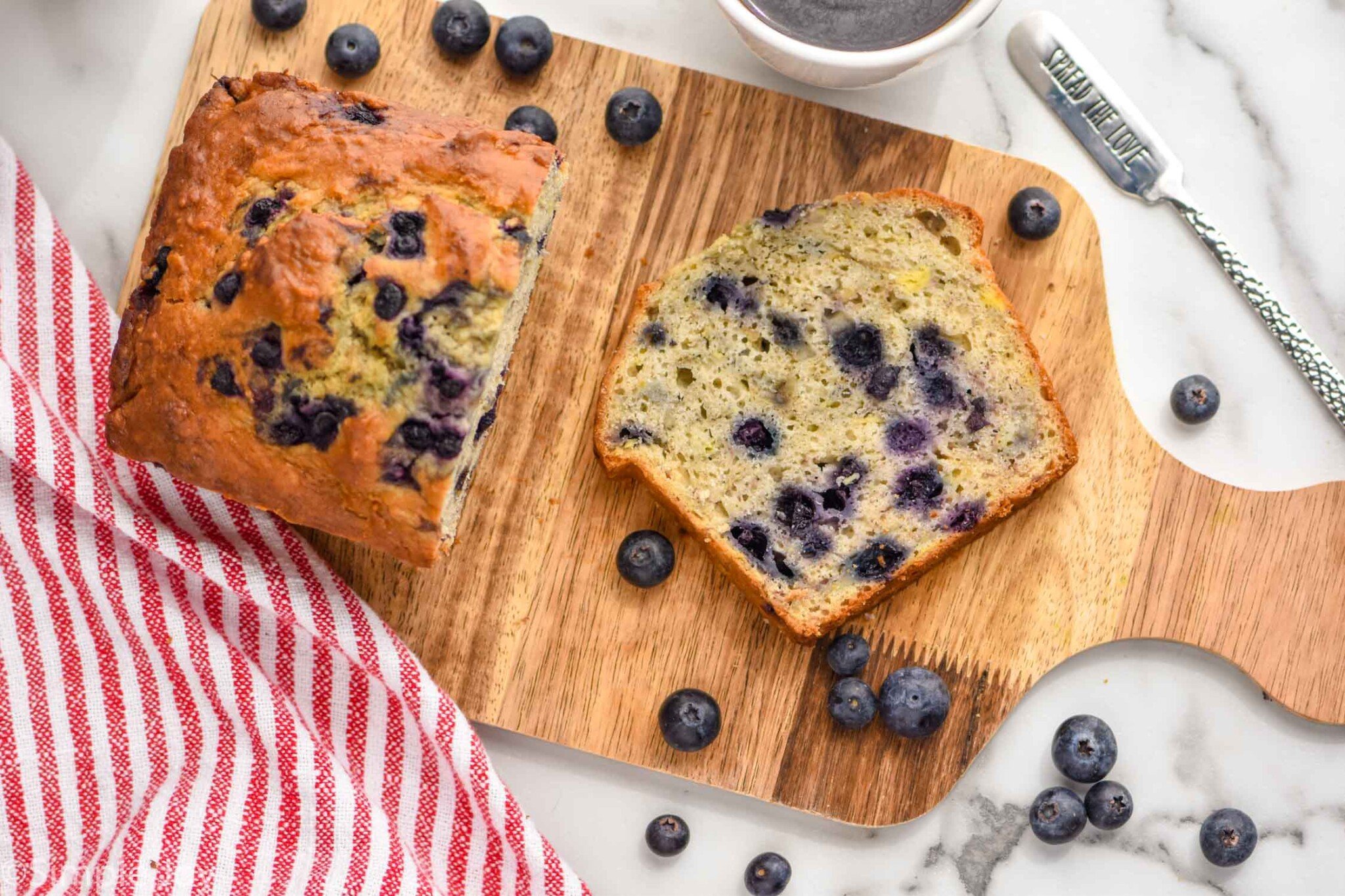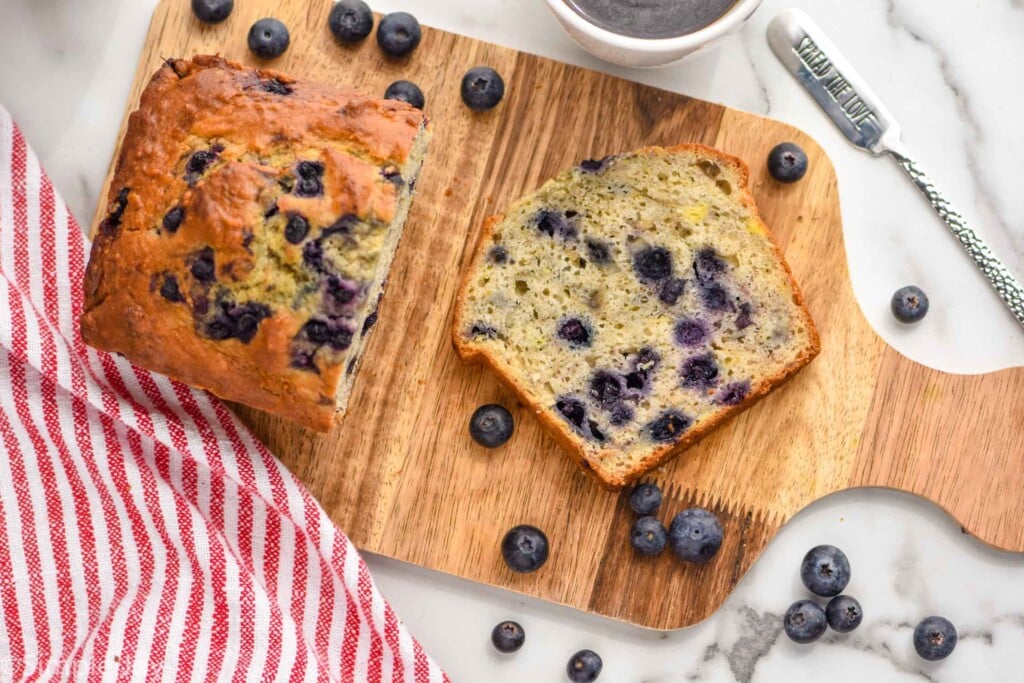 Storing Blueberry Banana Bread
This banana bread with blueberries can be stored in an airtight container for up to four days on the kitchen counter. It does not need to be refrigerated.
Freezing Banana Bread
If you would like to lengthen the life of your banana bread, you can slice and freeze it.
Cut the banana bread into slices.
Lay the slices on a parchment lined baking sheet.
Freeze the slices for 4 to 6 hours.
Transfer the slices to an airtight container and store in the freezer for up to three months.
When you are ready to eat a slice, just let it thaw on the counter for about 30 minutes.
FAQ
Can I use something else instead of yogurt?
Yes! The yogurt in this recipe can be replaced with sour cream.
Can I use frozen blueberries?
Yes! You sure can. Just be sure not to thaw them before adding them to the batter.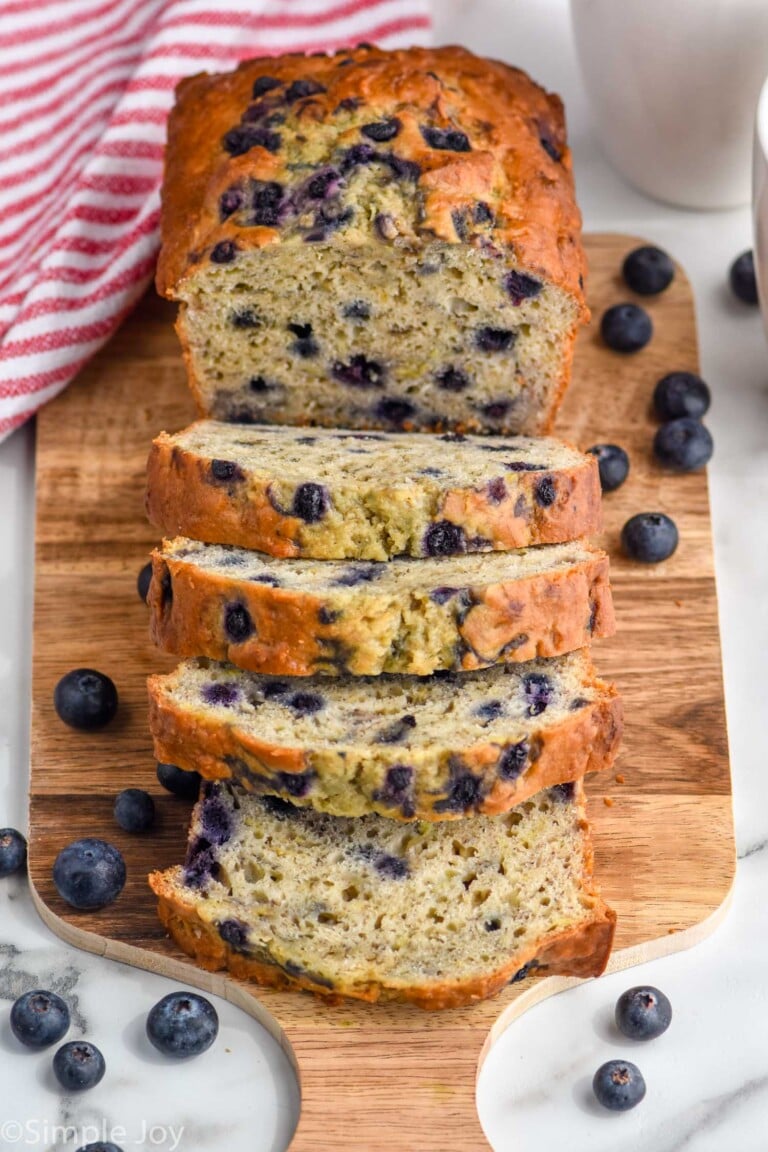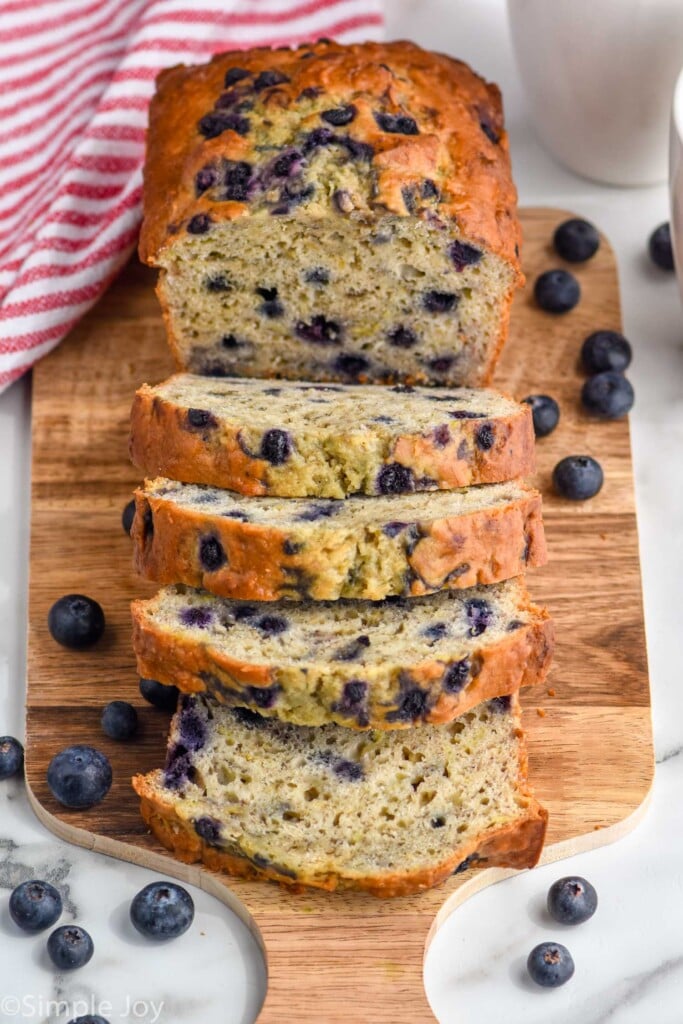 Other Banana Bread Recipes
If you make this blueberry banana bread recipe, or any of my other recipes, leave me a comment and let me know what you think!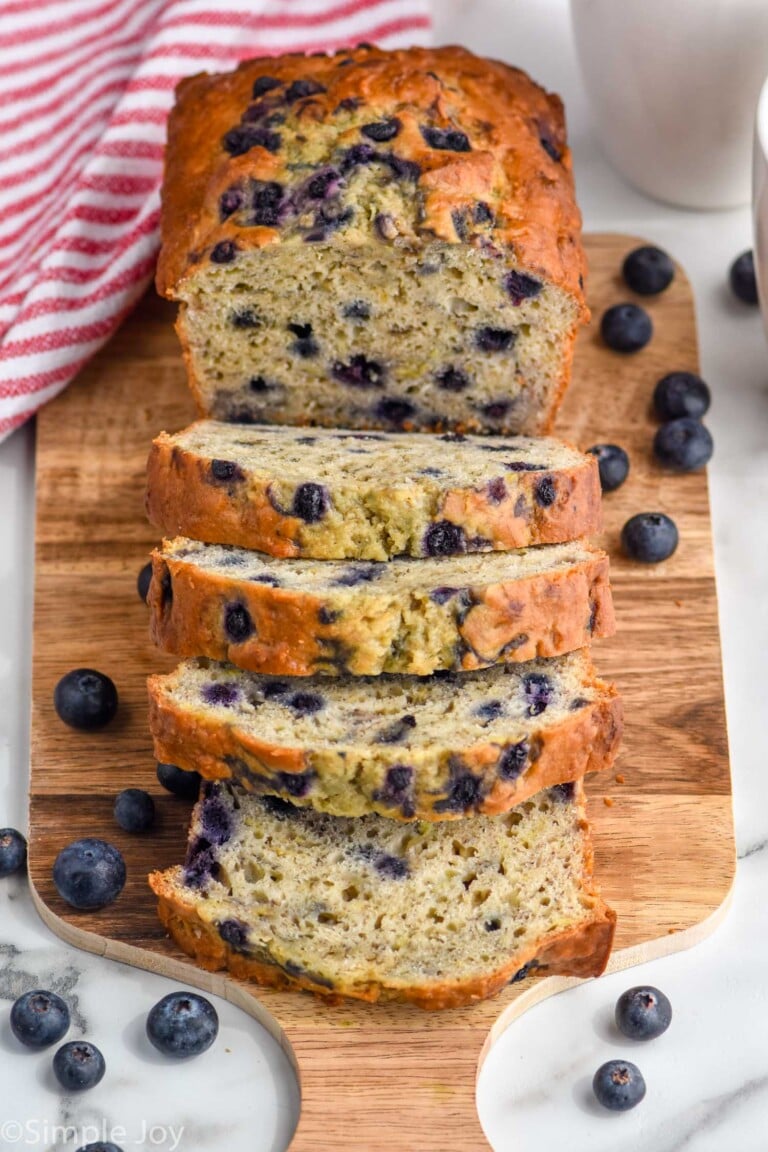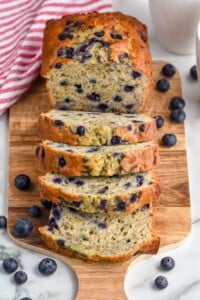 Blueberry Banana Bread
Blueberry Banana Bread is an easy twist on our classic banana bread recipe that you will fall in love with. Use fresh or frozen blueberries in this simple delicious recipe!
Ingredients
2 1/2

cups

all purpose flour

(300 grams)

3/4

teaspoon

baking soda

(4.5 grams)

1/2

teaspoon

table salt

(9 grams)

4

tablespoons

unsalted butter

(56.7 grams) melted and cooled

3/4

cup

sugar

(148.5 grams)

3/4

cup

yogurt

or sour cream (170.25 grams)

2

eggs

beaten

3

very ripe bananas

mashed well

2

teaspoon

vanilla extract

(9.3 grams)

1

cup

blueberries

fresh or frozen but unthawed (155 grams)
Instructions
In a medium bowl, whisk together the flour, baking soda, and salt.

2 1/2 cups all purpose flour,

3/4 teaspoon baking soda,

1/2 teaspoon table salt

In a large bowl whisk together the butter and sugar. Then whisk in the yogurt, eggs, bananas, and vanilla.

4 tablespoons unsalted butter,

3/4 cup sugar,

3/4 cup yogurt,

2 eggs,

3 very ripe bananas,

2 teaspoon vanilla extract

Gently add the flour mixture to the liquid ingredients, folding them together until just combined. Be careful not to over mix.

Gently stir in the blueberries. The batter will be very thick.

Pour the batter into the bread pan and bake for 65 to 70 minutes or until a toothpick inserted in the middle of the bread comes out clean or with a few crumbs.

Let the bread cool for 10 minutes in the pan. Remove and transfer to a cooling rack for an hour before slicing.

Because of the fresh blueberries, this recipe won't last as long as a traditional banana bread. You want to store this in an air tight clear container and eat within two to three days.
Serving:
1
slice
Calories:
278
kcal
(14%)
Carbohydrates:
50
g
(17%)
Protein:
6
g
(12%)
Fat:
6
g
(9%)
Saturated Fat:
3
g
(19%)
Polyunsaturated Fat:
1
g
Monounsaturated Fat:
2
g
Trans Fat:
1
g
Cholesterol:
46
mg
(15%)
Sodium:
226
mg
(10%)
Potassium:
230
mg
(7%)
Fiber:
2
g
(8%)
Sugar:
22
g
(24%)
Vitamin A:
227
IU
(5%)
Vitamin C:
5
mg
(6%)
Calcium:
48
mg
(5%)
Iron:
2
mg
(11%)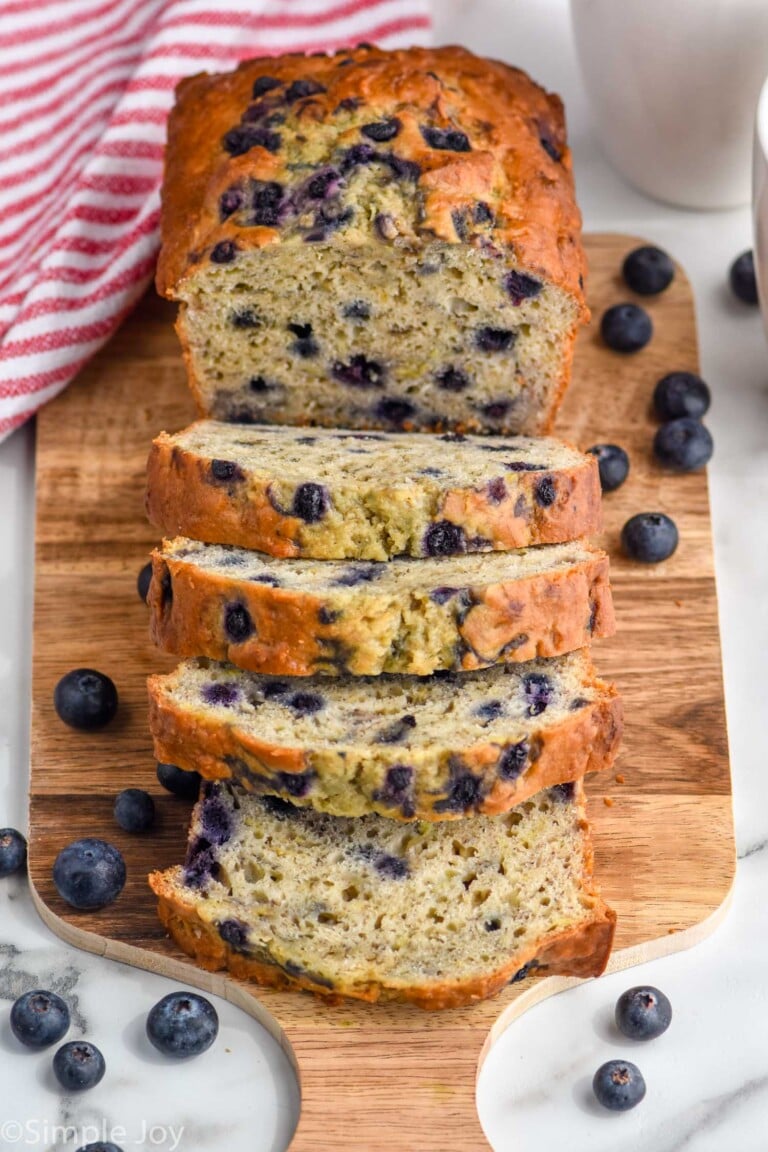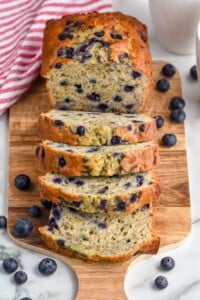 did you make this
Blueberry Banana Bread