Italian Potato Salad is a family recipe I think you are going to fall in love with. Easy to make and packed with flavor, it is perfect for family gatherings.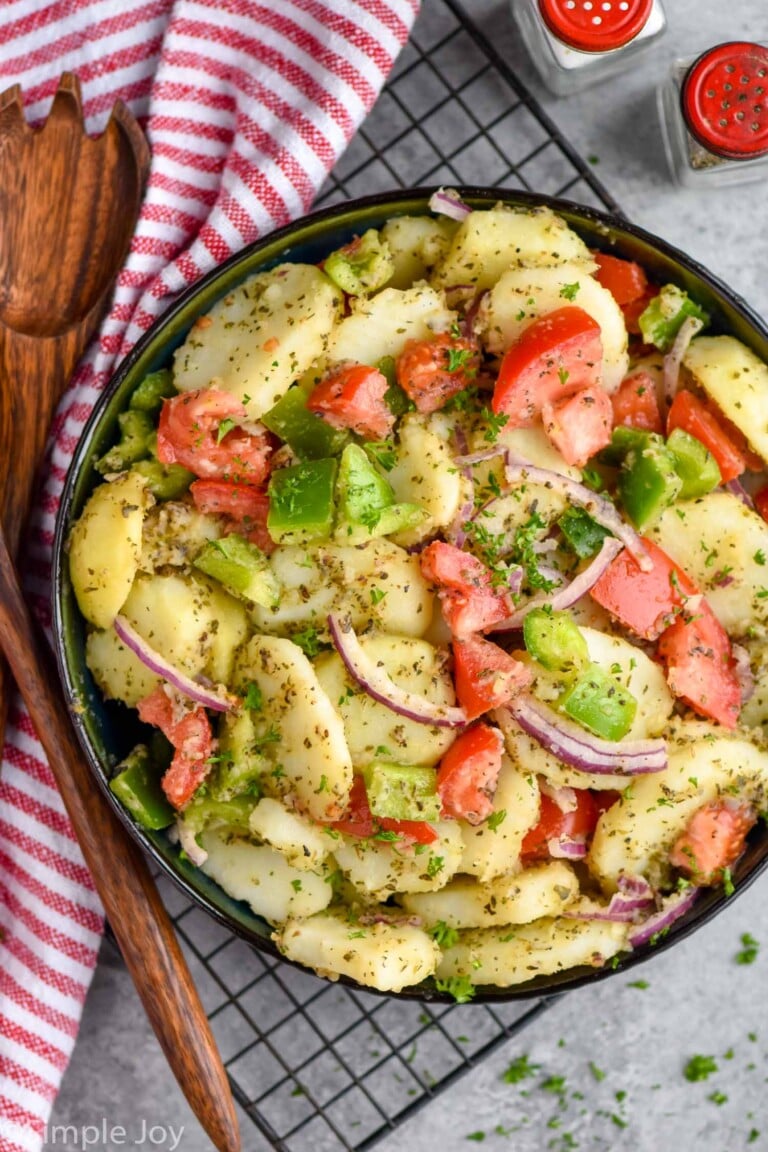 Growing up, there are a few recipes that were passed from my grandmother to my dad, and this amazing no mayo potato salad is one of them. In our house, we refer to it as Italian Potato Salad because of it's flavorful nods to Italian cooking and, of course, because it was created by my beloved grandmother – an amazing cook who was born in Italy.
In addition to being easy to make and full of flavor, I love this recipe because it is a vegan potato salad. That means that you can easily take it with you to BBQs, picnics, and outdoor parties and not worry about it (as much) sitting out in the sun. This is the perfect recipe to make the night before a party.
Reader Review
Realy good! Best ever tasted potato salad. I will do it more often. Thanks for sharing.
How to Make Italian Potato Salad
This is a brief overview of the potato salad recipe. For all the details and measurements please make sure you scroll to the bottom of this post for the printable recipe card.
Prepare the potatoes. We are working with three pounds of red potatoes. You want to peel them and cut them into about 1/4 inch slices.
Boil the potatoes. Place the prepared potatoes in a large pot and cover with water. Bring the water to a boil (with the potatoes in the pot – read more on this below). Once the water is boiling set a timer for 5 minutes. Drain the potatoes when they are fork tender, being very careful not to over cook them.
Make the dressing. While you are waiting for your water to boil (but paying close attention to it), whisk together the ingredients for the dressing.
Dress the potatoes. As soon as the potatoes are done, transfer them to a bowl and cover them in the prepared dressing. (Read more on this below.)
Finish the salad off. Once the potatoes have cooled, mix in the rest of the ingredients. If you are making this the day ahead, wait to add the tomatoes until just before serving.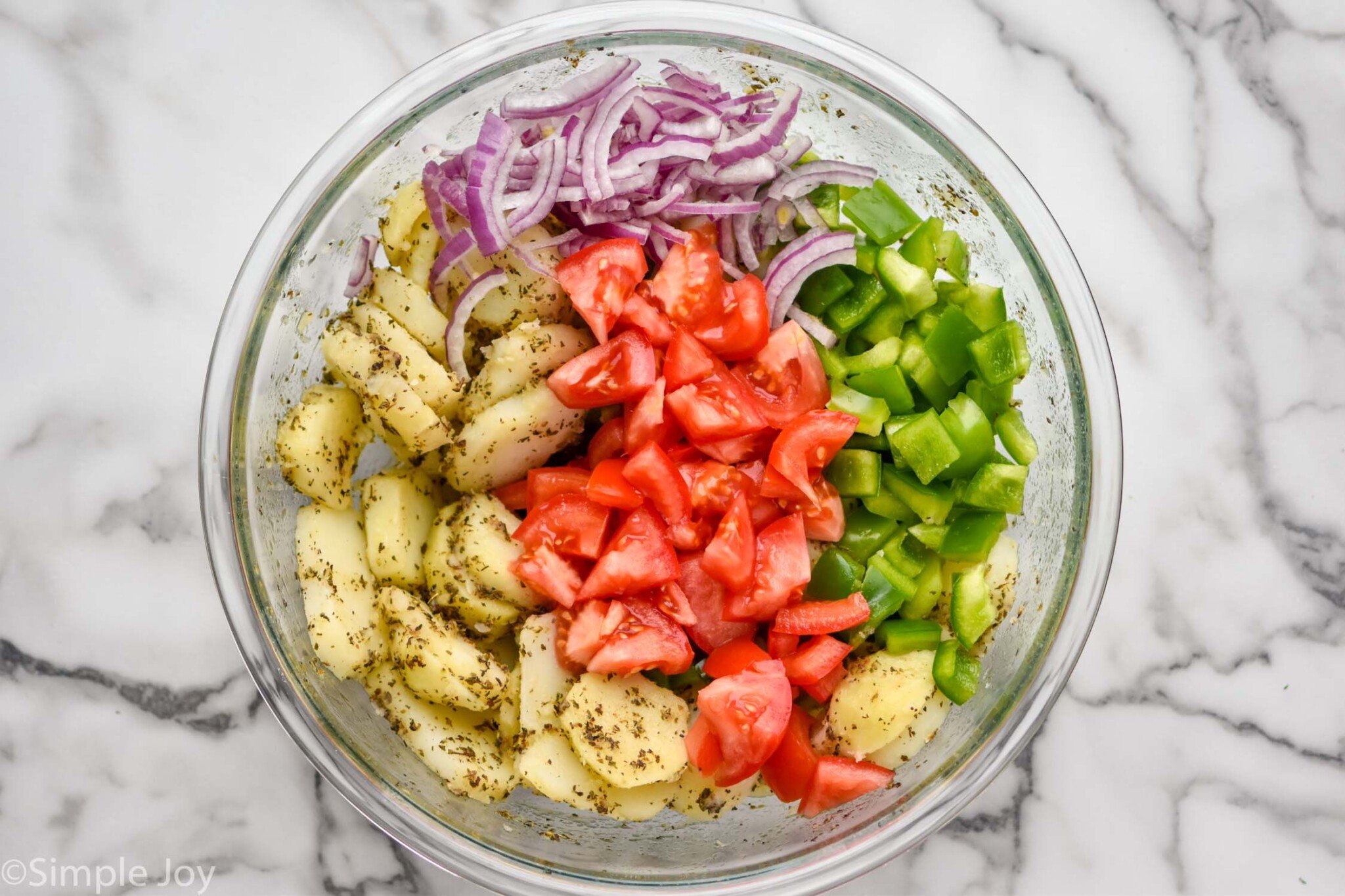 How Long to Cook Potatoes for Potato Salad
There is a tried and true method to cooking potatoes for potato salad that we are going to use in this recipe. In this method, we bring the potatoes and the water to a boil at the same time. Then we reduce the heat to a simmer and cook for just 5 minutes. This process ensures that the potatoes hold their shape in the potato salad.
It is very important to set a timer when you are making this recipe. Watch the water closely and as soon as it is boiling, set a five minute timer. At the end of the five minutes, test the tenderness of the potatoes. All this caution is to prevent you from overcooking your potatoes and creating a mushy salad.
Peeling Before vs. Peeling After Boiling
My dad has always peeled the potatoes for this salad after they are boiled. It's almost painful just imagining him peeling those pipping hot potatoes. The benefit for doing this is that you have less of a risk of the potatoes getting over cooked. You also will lose less potato, and less potato comes off with the skin when they are hot.
Here are the reasons why I think you should peel them before boiling.
They are easier to peel when they are cold. It is truly painful to try to peel a piping hot potato.
If you peel them when they are hot you miss out on that critical window when their heat helps them absorb the flavor of the dressing. (Read more on this below.)
Ultimately, the choice is yours, but I do recommend peeling them ahead of time.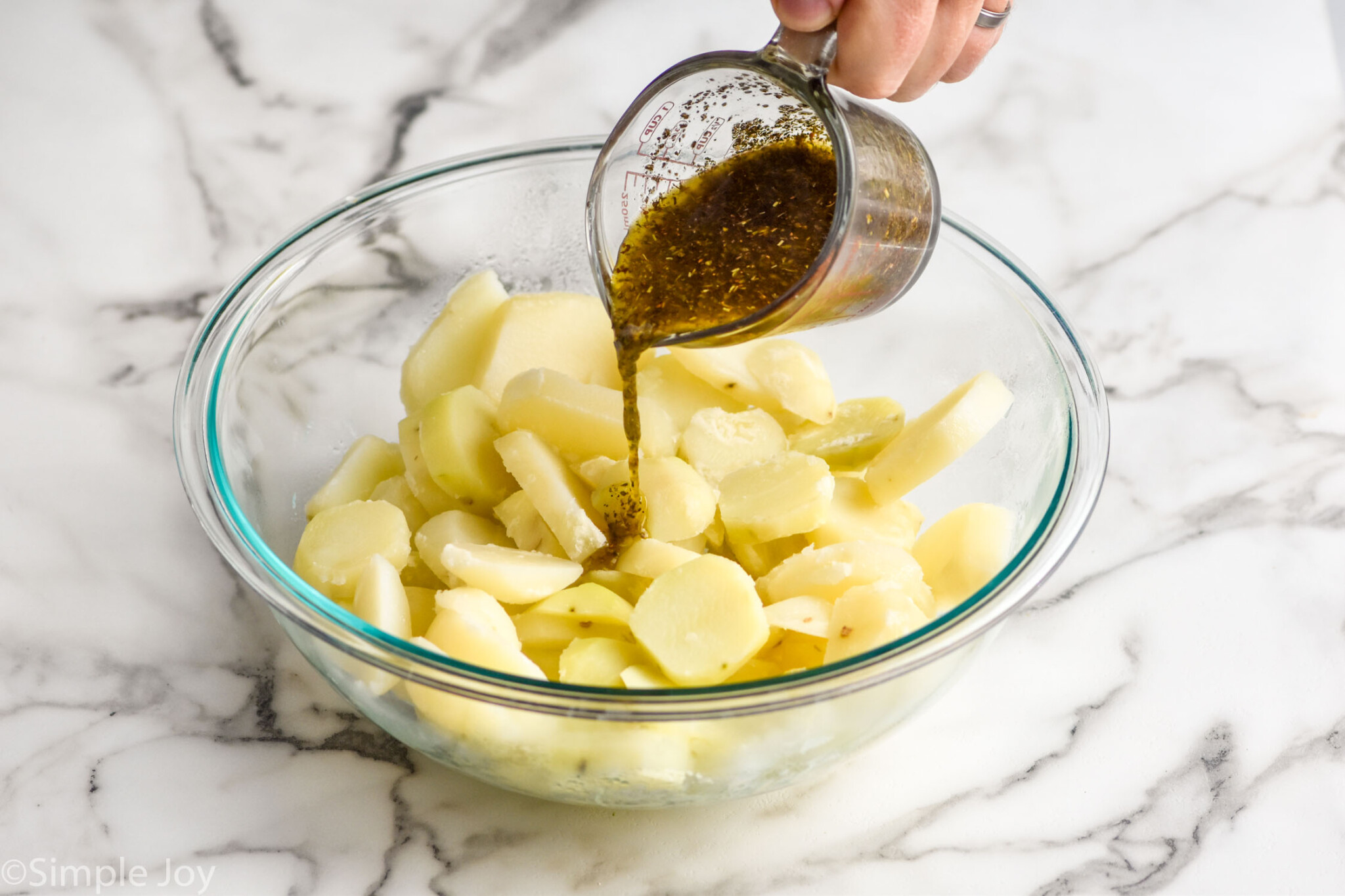 Seasoning Potatoes While Hot
Another great trick to this potato salad is to season the potatoes while they are hot. By adding the dressing just after draining the potatoes, we maximize their ability to absorb and hold on to that dressing.
This potato salad with Italian dressing is seasoned just perfectly. The dressing is made with red wine vinegar, olive oil, dried basil, dried oregano and Italian seasoning. It is very simple, but delicious.
Making Potato Salad Ahead
This potato salad really just gets better the longer it sits. This is a great recipe to make the night before a party. If you do make it the night before, make sure to leave out the tomatoes until just before serving.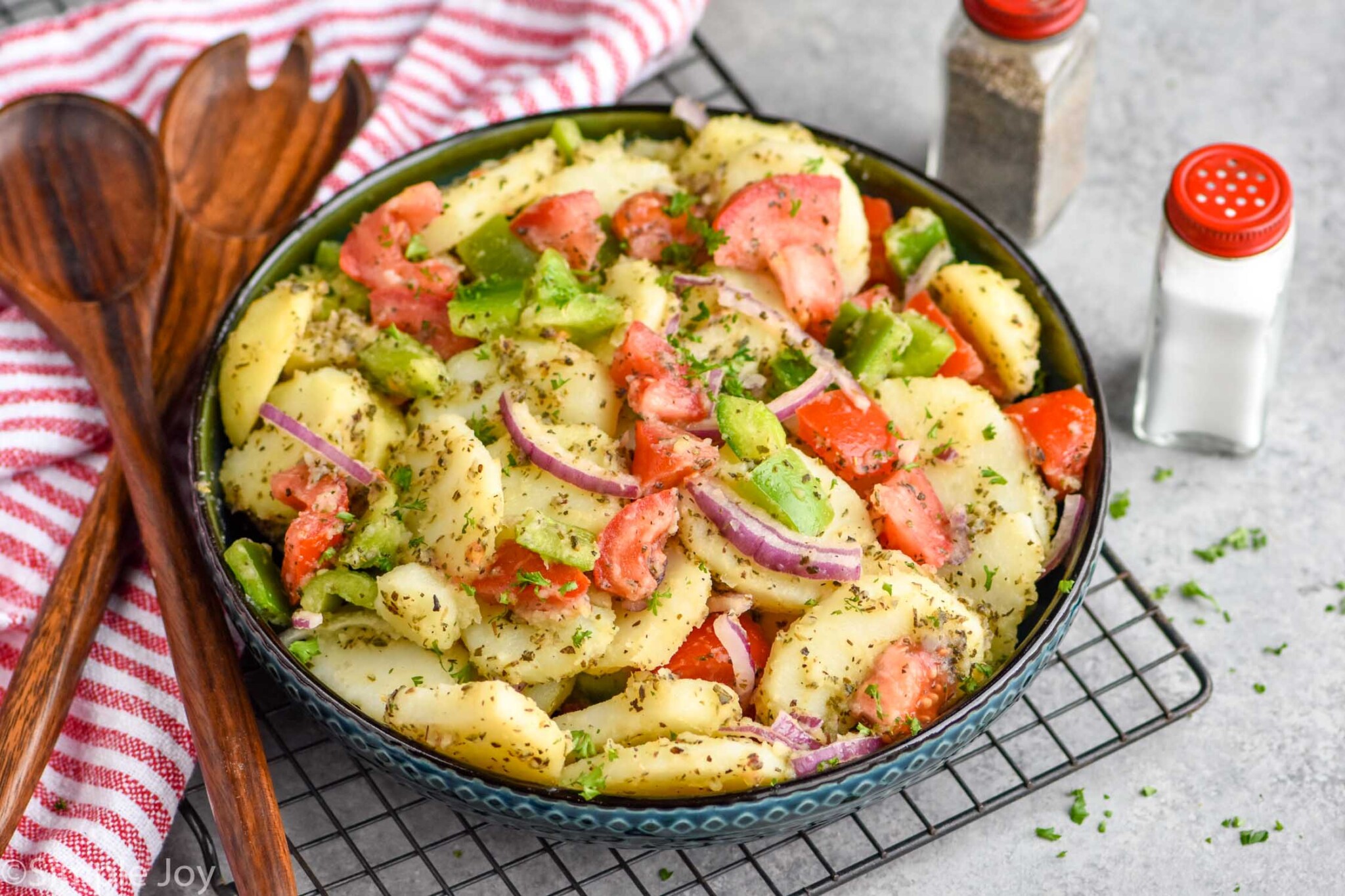 Storing Italian Potato Salad Leftovers
Leftovers of this red potato salad recipe can be stored in the refrigerator for up to five days. As with any recipe, use your best discretion when it comes to leftovers.
FAQ
Can you freeze potato salad?
Because this potato salad is vegan and mayo free, it is a better option for freezing than, for example, our healthy potato salad. That being said, because of the fresh veggies in this, it is not my favorite for freezing.
How long do you boil potatoes for potato salad?
Potatoes should be brought to a boil with the water they are in and then boiled for just 5 minutes or until they are fork tender. Please read more about this above.
How long does potato salad last?
Because this potato salad contains no dairy, it will last a bit longer than a traditional potato salad. Leftovers can be stored in your refrigerator for up to 5 days.
Is potato salad gluten free?
Yes! This potato salad is gluten free. As with any recipe, make sure to check the ingredients you are using before serving it to someone with a gluten allergy or intolerance.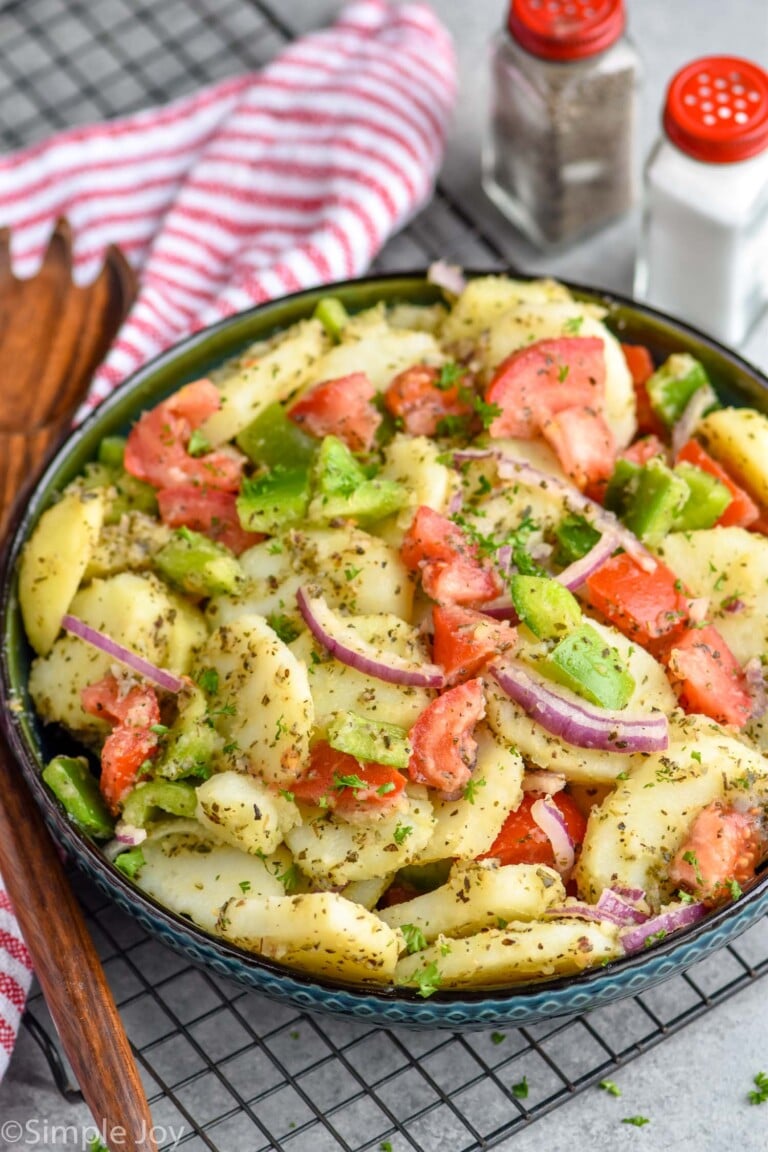 Other Potato Side Dishes
If you can't get enough of the spud, you are not alone. Check out some of our other great potato recipes.
If you make this Potato Salad recipe or any of our other recipes, please leave me a comment and let me know what you think. I love hearing from you!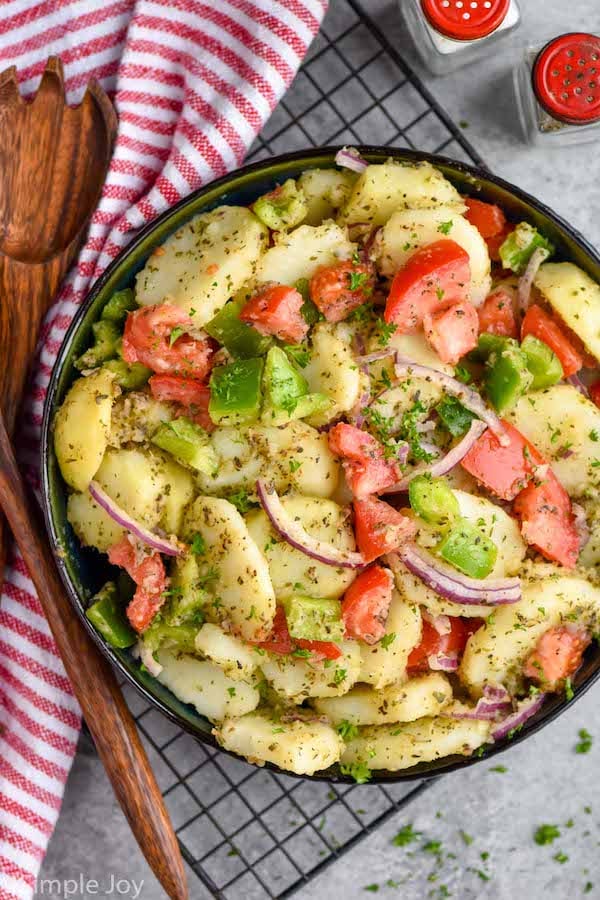 Italian Potato Salad
Italian Potato Salad is a family recipe I think you are going to fall in love with. Easy to make and packed with flavor, it is perfect for family gatherings.
Ingredients
3

pounds

red potatoes

peeled and sliced

1/3

cup

olive oil

3

tablespoons

red wine vinegar

2

teaspoons

dried oregano

2

teaspoons

dried basil

2

teaspoons

Italian Seasoning

1

teaspoon

kosher salt

1/4

teaspoon

black pepper

1

green bell pepper

diced

1/2

red onion

sliced

2

vine ripened tomatoes

diced
Instructions
Add the potatoes to a large pot and cover with water. Bring to a boil then reduce to a simmer and cook for 5 minutes or until the potatoes are fork tender.

While the potatoes are simmering, in a small bowl, whisk together the olive oil, vinegar, and spices. Taste and add more salt or pepper to taste.

Drain the potatoes and place them in a large bowl. Toss them with the dressing ingredients. Let stand for 20 minutes. (Read in the post why we do this.)

Add the bell pepper, red onion, and tomatoes to the potato salad once it has cooled. If you are making this ahead, add the tomatoes right before serving.
Serving:
1
cup
Calories:
171
kcal
(9%)
Carbohydrates:
24
g
(8%)
Protein:
3
g
(6%)
Fat:
8
g
(12%)
Saturated Fat:
1
g
(6%)
Polyunsaturated Fat:
1
g
Monounsaturated Fat:
5
g
Sodium:
260
mg
(11%)
Potassium:
724
mg
(21%)
Fiber:
3
g
(13%)
Sugar:
3
g
(3%)
Vitamin A:
274
IU
(5%)
Vitamin C:
25
mg
(30%)
Calcium:
36
mg
(4%)
Iron:
2
mg
(11%)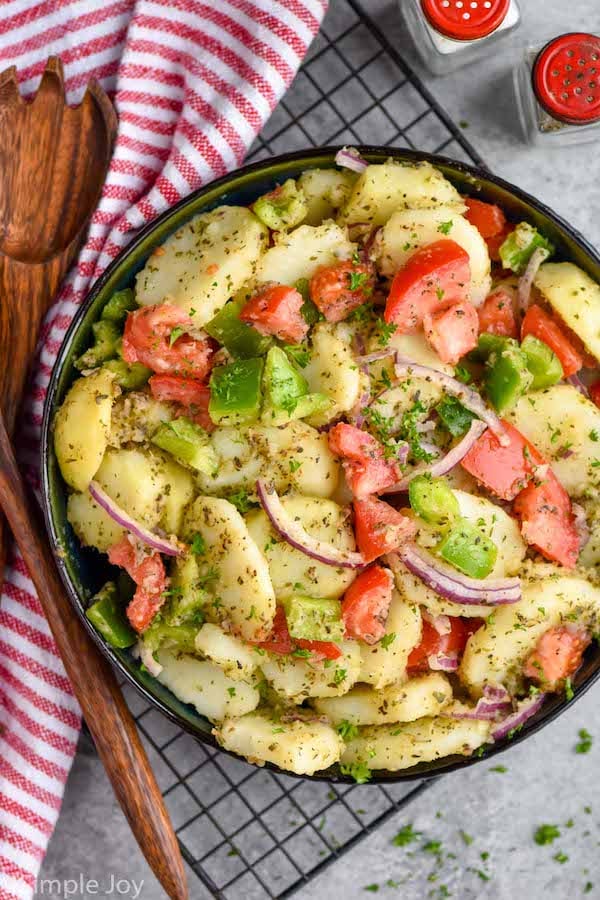 did you make this
Italian Potato Salad