Cheesy Scalloped Potatoes are the perfect side dish recipe. This simple recipe will have everyone coming back for seconds!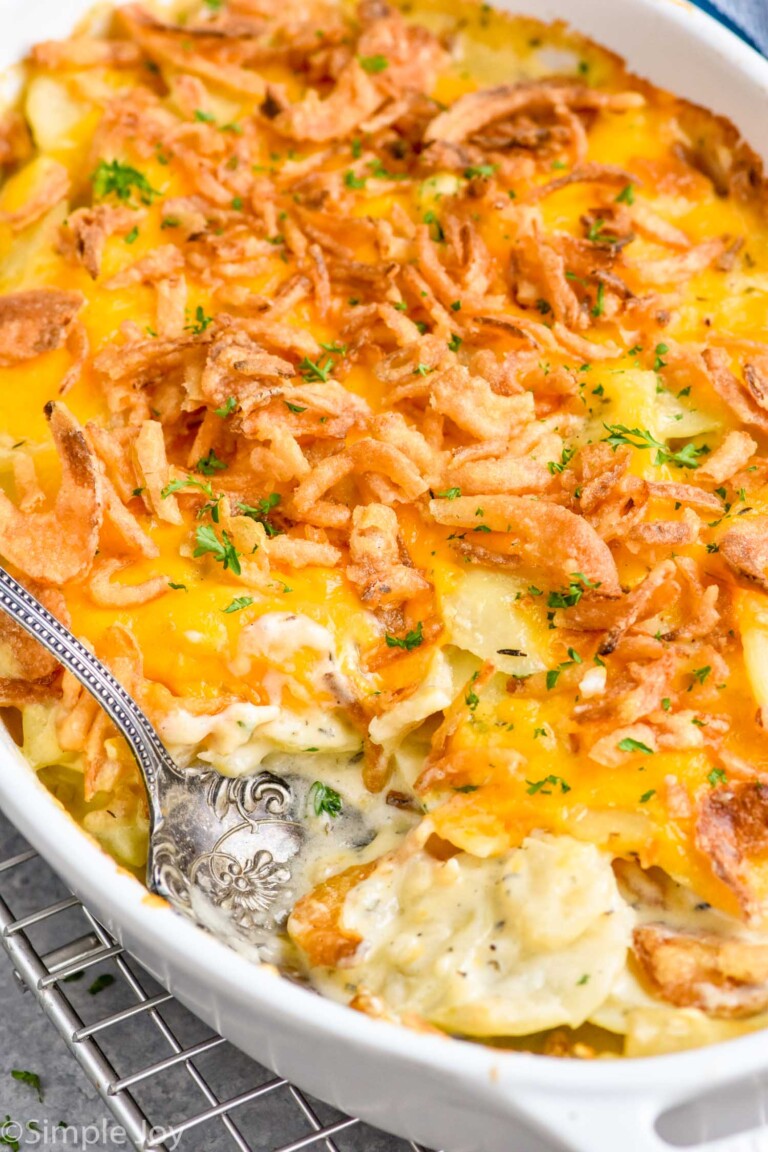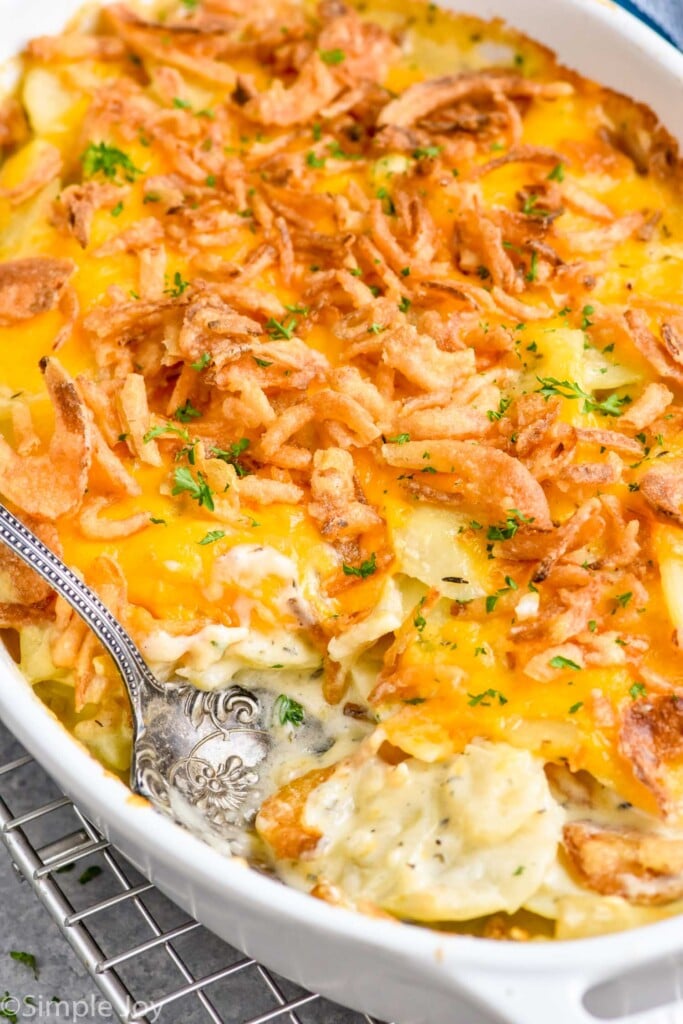 It's always around the holidays that I'm reminded of how much food is tied to memories. Just a smell or a taste can evoke such powerful memories and feelings from the past. A taste of the dough from my mom's Sugar Cookie Recipe and I'm eight years old again at Christmastime. The taste of a fried onion and I'm a teenager snagging one from the can as my mom put together her Green Bean Casserole. Now I have teenagers of my own snagging bits of fried onions as I put together holiday dishes.
These cheesy scalloped potatoes are the perfect recipe for creating more food memories. Made with easy-to-find ingredients and topped with those great fried onions, this is a dish that you can pass down from generation to generation.
How to Make Scalloped Potatoes
This is a brief overview of how to make this delicious holiday side dish recipe. For the full recipe, please see the recipe card at the bottom of the post or hit that jump to the recipe button at the top of the post.
Prepare your potatoes. The best scalloped potatoes recipe come with thinly sliced potatoes. Don't stress over this but keep in mind that you will want to slice them relatively thin. Then top them with the chicken stock and heavy cream while you prepare the rest of the recipe. Read more about this below.
Sauté the onions. While the potatoes sit, sauté onions in butter until they are translucent.
Add in the potato mixture. Pour in the potatoes with the stock and heavy cream and let the whole mixture simmer for about 10 minutes. This will soften the potatoes, making for a short baking time.
Bake the scalloped potatoes. Now top the potatoes with cheese and bake. Remove the potatoes from the oven, top with fried onions, and return to the oven for five more minutes. Let the dish stand for 10 minutes before serving.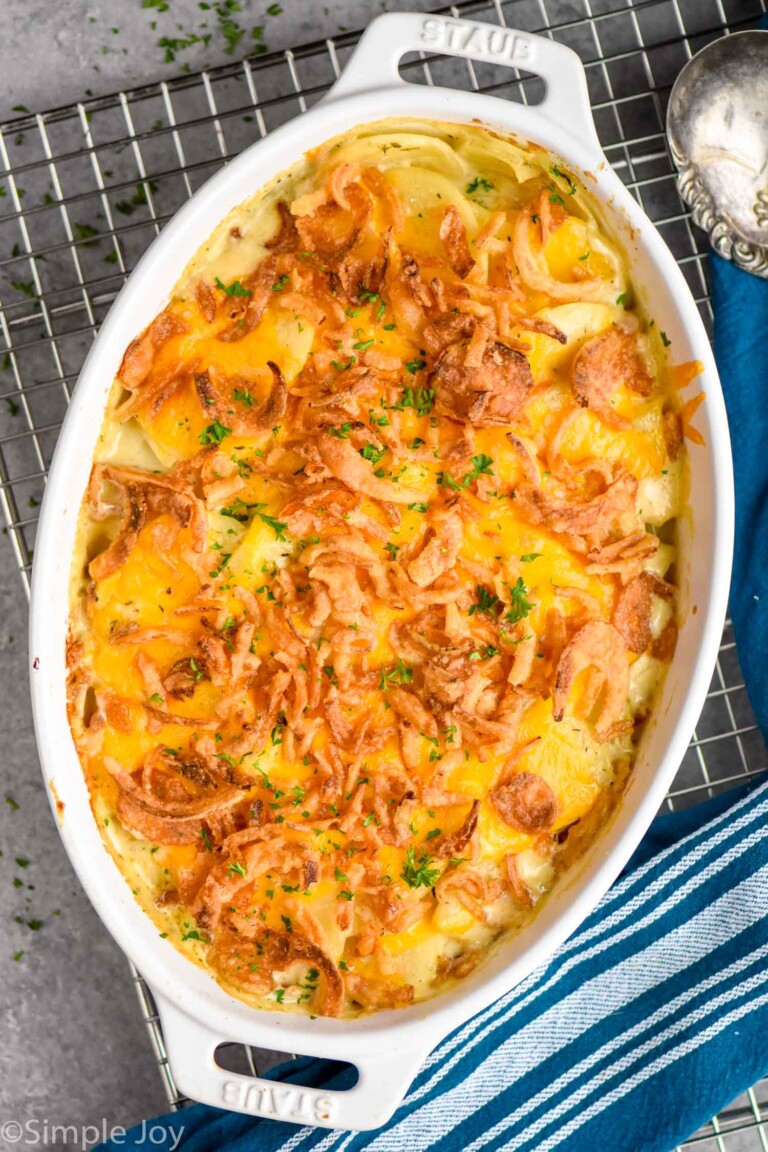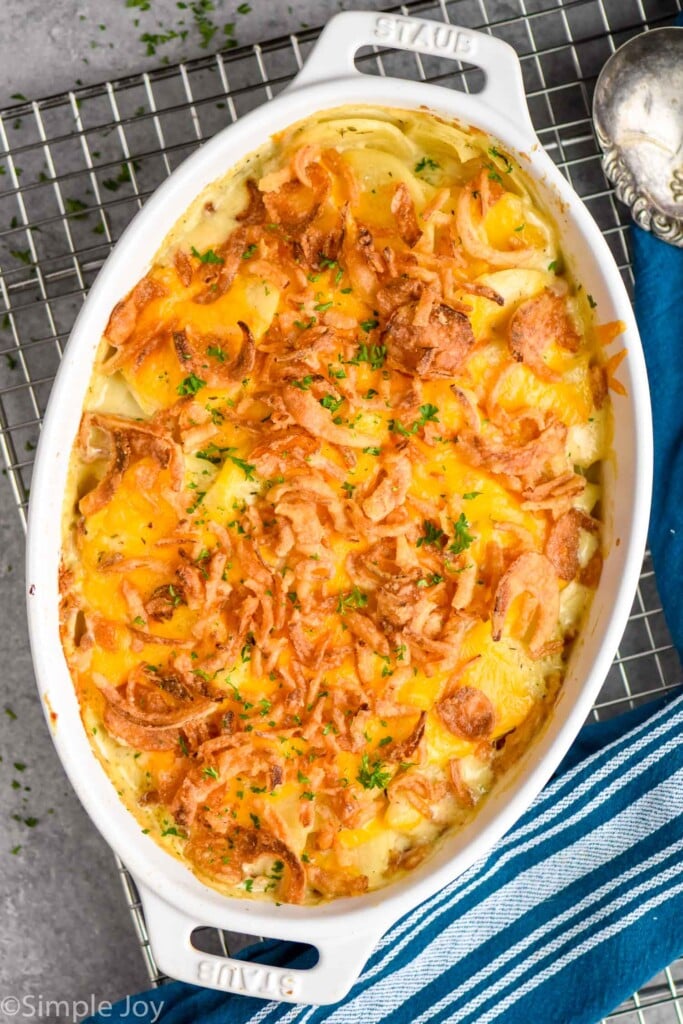 Parboiling Potatoes
You will notice that a key step in this recipe is to simmer the potatoes in heavy cream and chicken stock before baking. This is parboiling. It starts the cooking process so that the whole dish can come together quicker in the oven.
Baking in a Dutch Oven
When it comes to baking this delicious, carb-loving dish, you have two options. As you can see in the photos, I transfer everything to a casserole dish, top it with cheese, and bake it. This is what is referenced in step five in the recipe card below.
It is important to note, however, that if you are simmering the potatoes in an oven-safe Dutch oven, you could just keep the potatoes in that. Top the potatoes with cheese right in that pot, and pop the whole thing in the oven. It won't be the same presentation, but it will save you from washing one more dish. The pot I use in the video is linked below. Please note that with a smaller surface area you will need to increase the baking time by about five minutes before you add the onions.
TOP PICK
Le Cruset 5.5 Quart Dutch Oven
This Dutch oven is a work horse and is perfect for this delicious recipe. Go right from the stovetop to the oven.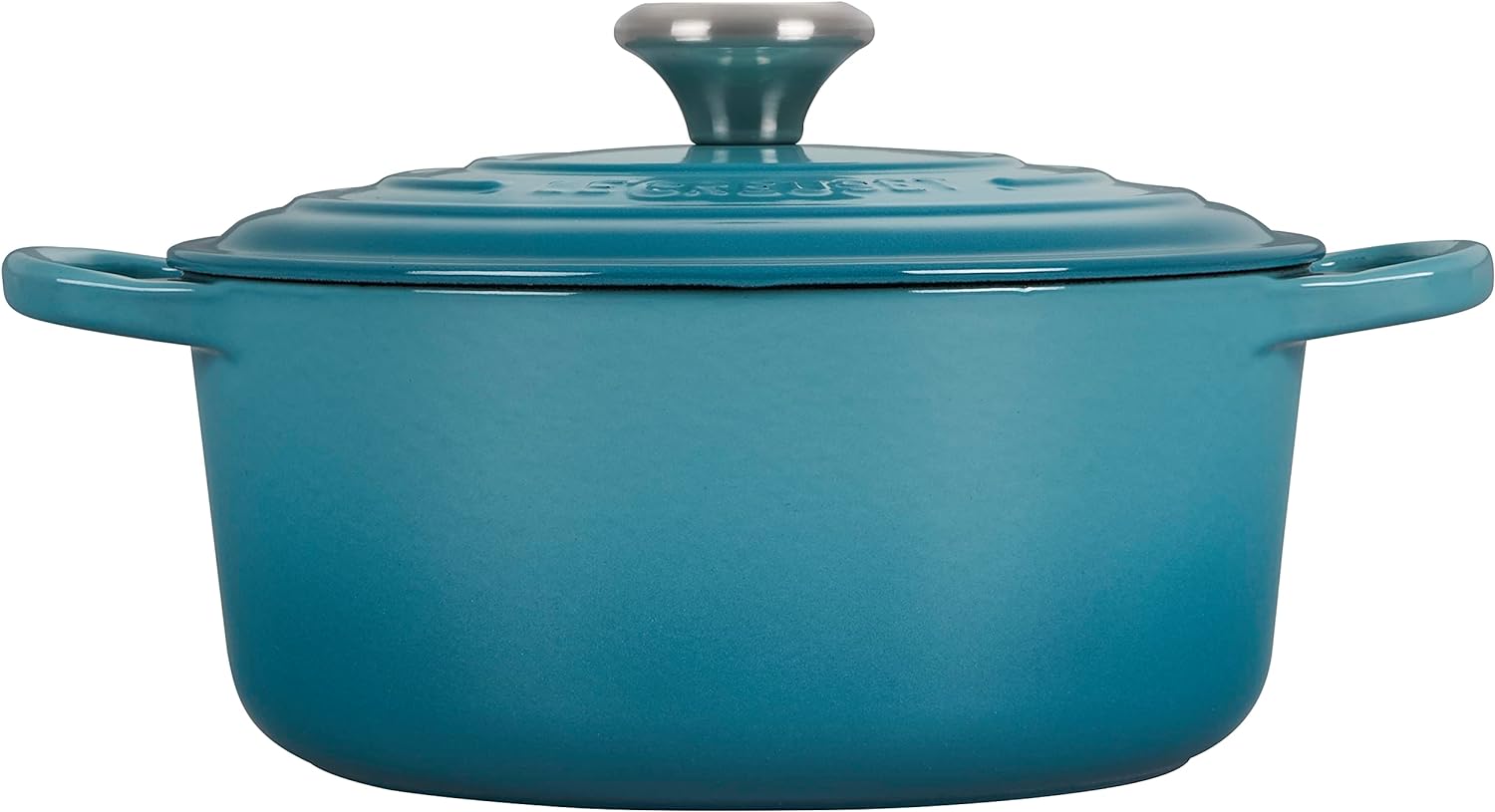 Grating Cheese
Since these are, in fact, cheesy scalloped potatoes, it is important that we get the cheese just right. If you have been around these wonderful Simple Joy parts of town for a bit, you know that I'm adamant about very few things. But one thing I am adamant about is grating your own cheese.
While it can be so tempting to buy a bag of cheddar cheese to save time on shredding, pre-shredded cheese that you find in the grocery store is covered in preservatives that keep it from clumping together in the bag. But those same preservatives also keep it from melting well in recipes. I urge you to take an extra few minutes and grate your cheese from the block.
Best Potatoes for Cheesy Scalloped Potatoes
You will note that we are calling for russet potatoes in this recipe. There are a few reasons for this:
Russet potatoes are more starchy than the average potato. This helps create a really thick and creamy sauce in this recipe without making a roux.
They are low in moisture which helps them bake really well and also allows them to absorb sauces and gravy. This makes them ideal in this recipe.
Russet potatoes have a mild flavor, which means that in this recipe they can take on all the other great flavors we are adding to the dish really well.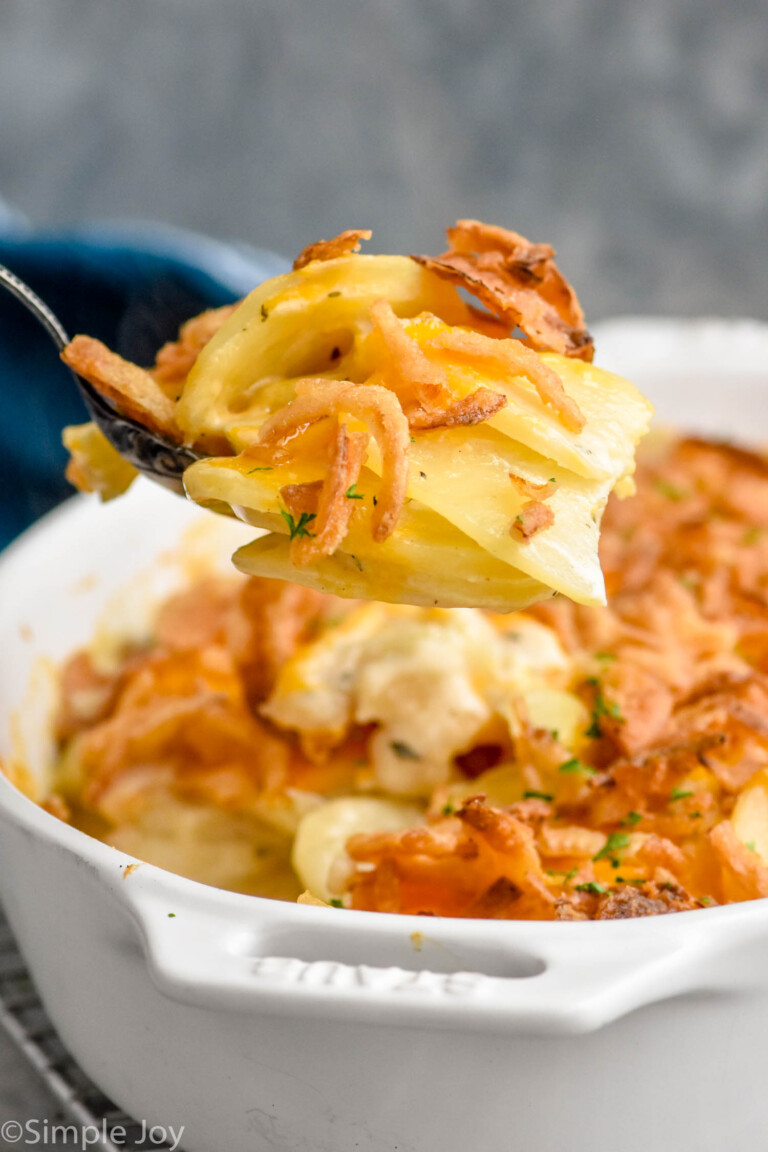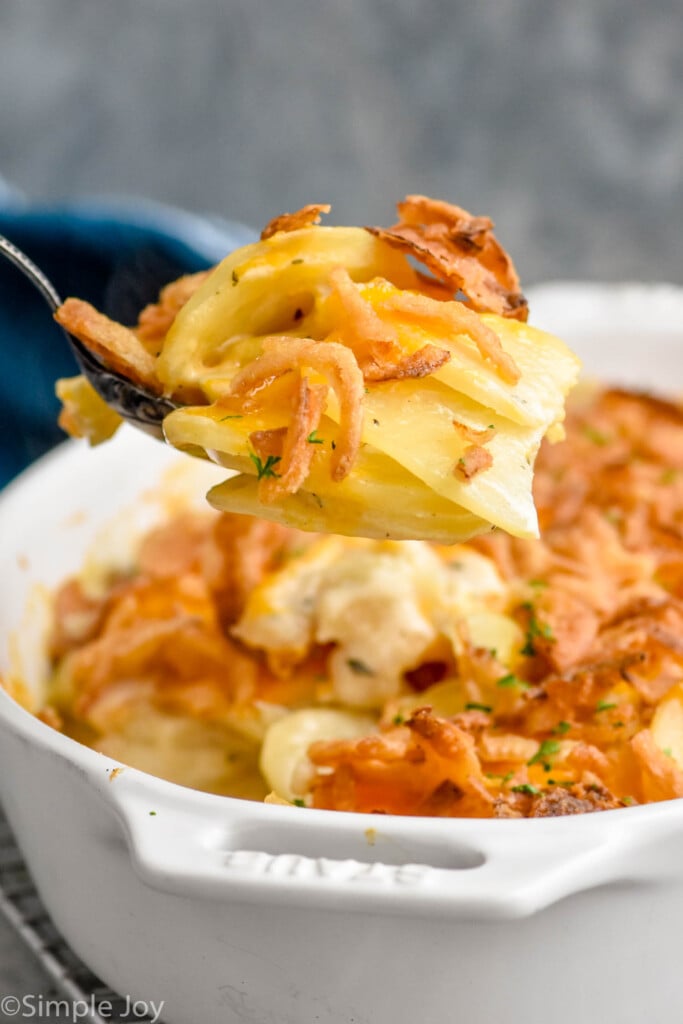 Keeping Potatoes from Browning
You will notice in step two of the recipe card below, we are slicing the potatoes and, as we slice them, we are putting them in a bowl with chicken stock and heavy cream. Since those are both ingredients in the final recipe, this is a great way to prevent your potatoes from browning without immersing them in water.
Tips and Tricks
Using a food processor or a mandoline can help ensure that your potatoes are sliced thin. You want to make sure that they are nice and thin and uniform. It is also totally possible to do this using a knife.
There is no need to make a roux. This recipe doesn't need any flour to thicken it up. The combination of the butter and the starch from the potatoes makes it nice and thick, saving you the trouble of making the roux.
Change up the cheese. I love this with cheddar, as I think it naturally pairs so well with potatoes. That being said, gruyere would be amazing in this or even a smoked provolone.
Add in some ham. This is a great recipe to make after the holidays if you have leftover ham. The ham goes so well with all of the other ingredients to make Scalloped Potatoes and Ham.
Scalloped Potatoes and Ham
Scalloped Potatoes and Ham is the creamiest, most comforting way to use leftover ham. You will want to make extra just so you can make this delicious casserole.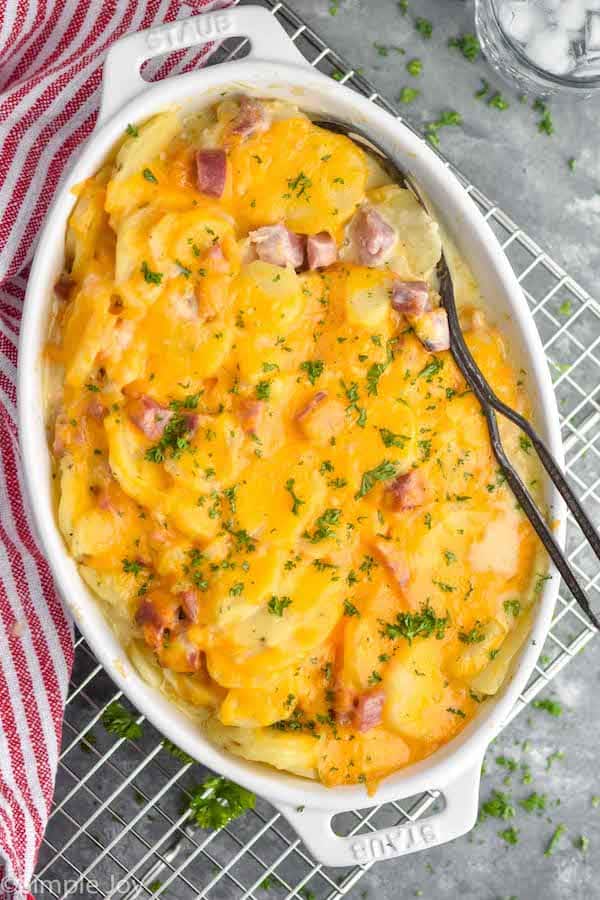 Leftovers
Leftovers of this great scalloped potatoes recipe should be stored in the refrigerator for four to five days. When you want to eat leftovers, only take out the portion you would like to eat, as leftovers shouldn't be reheated more than once. Warm them in the oven or microwave on low heat.
Making Ahead and Freezing Scalloped Potatoes
Making Ahead
This recipe can be made up to 24 hours in advance. Follow the recipe until you reach step five. Do not top the dish with cheese, but transfer it to a baking dish, cover it, and refrigerate it for up to 24 hours. When you are ready to bake, remove it from the refrigerator, top it with cheese, and proceed with the recipe.
Freezing
If you plan on freezing this great side dish, I suggest transferring it to a disposable baking dish. This way you can bake it right from frozen. Do not top it with cheese. Wrap it several times with plastic wrap and store in the freezer for up to three months.
When ready to bake, remove it from the freezer, remove the plastic wrap, and put it in the preheated oven for 20 minutes, covered with foil. Then remove it from the oven, top it with cheese, and return it to the oven, following the recipe as written.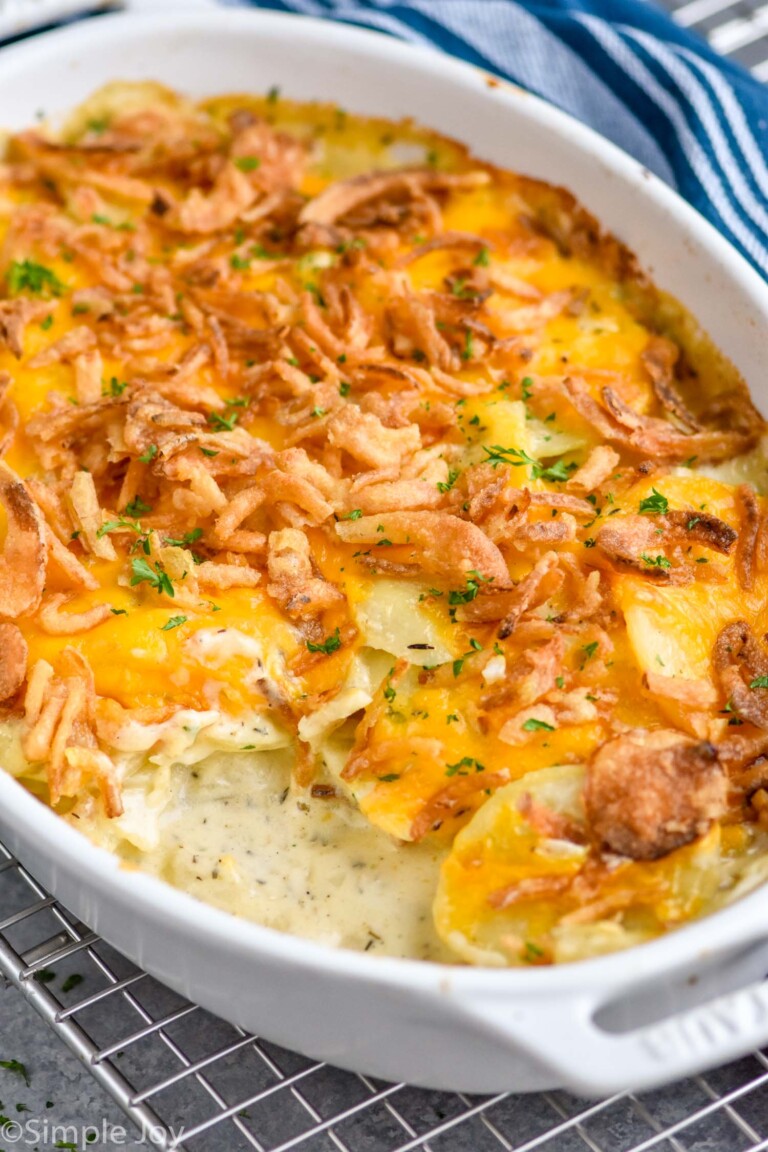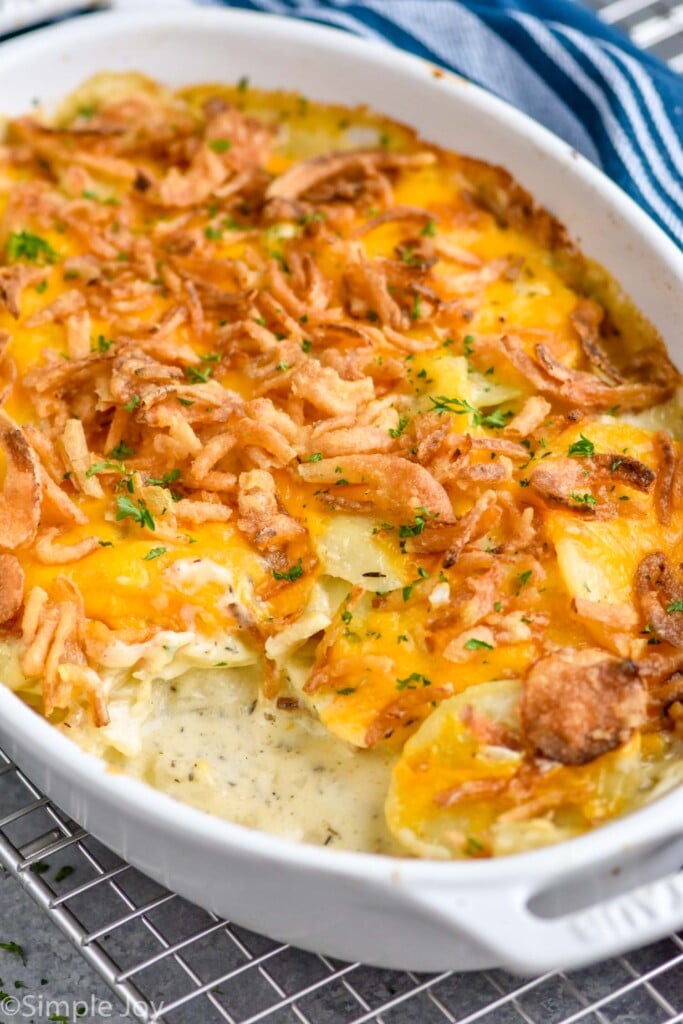 What Goes with Scalloped Potatoes
These homemade scalloped potatoes are the perfect side dish for so many different recipes, but here are a few of my favorites for the holidays. These are great main dishes that require very little time.
If you make my homemade scalloped potatoes or any of my other recipes, please leave me a comment and let me know what you think! This is especially true if you made this for a holiday meal, I love hearing how my recipes become part of your celebrations!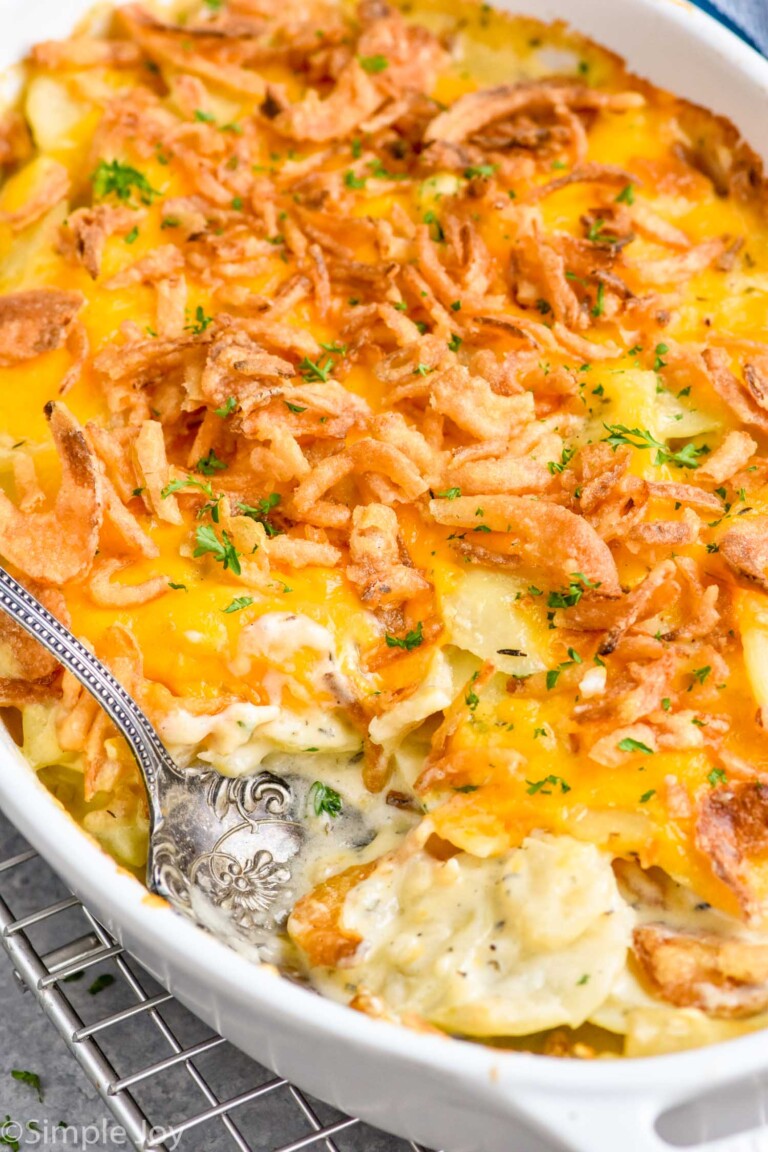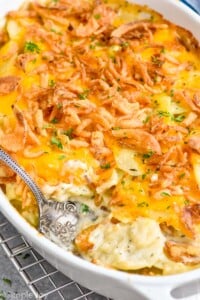 Cheesy Scalloped Potatoes
Cheesy Scalloped Potatoes are the perfect side dish recipe. This simple recipe will have everyone coming back for seconds!
Ingredients
2 1/2

pounds

russet potatoes

peeled and sliced thin, about 1/4 to 1/8 an inch (1133.98 grams)

1

cup

chicken stock

(236.588 ml)

1

cup

heavy cream

(236.588 ml)

1

onion

diced small

2

tablespoons

unsalted butter

(28.25 grams)

1

teaspoon

garlic powder

1

teaspoon

salt

1

teaspoon

dried thyme

1/4

teaspoon

black pepper

1

cup

cheddar cheese

freshly grated (113 grams)

1

cup

crispy fried onions

such as French's (56 grams)
Instructions
Preheat your oven to 425 degrees Fahrenheit. Spray a 1 1/2 quart baking dish with cooking spray.

As you peel and slice your potatoes, put the potatoes in a large bowl filled with the chicken stock and heavy cream. This will prevent them from browning as you prepare the rest of your recipe.

2 1/2 pounds russet potatoes,

1 cup chicken stock,

1 cup heavy cream

Over medium heat in a large Dutch oven, melt the butter. Add in the onion and cook until translucent, about 5 to 7 minutes. Add in the garlic powder, salt, thyme, and black pepper.

1 onion,

2 tablespoons unsalted butter,

1 teaspoon garlic powder,

1 teaspoon salt,

1 teaspoon dried thyme,

1/4 teaspoon black pepper

Add the potatoes, cream, and stock to the Dutch oven and bring to a simmer. Cover and cook for 10 minutes or until the potatoes are tender and can be sliced with a small knife with little resistance.

Transfer the potato mixture to the baking dish and smooth into an even layer. Top with the cheddar cheese and bake for 10 minutes. Remove from the oven, top with the fried onions. Bake for an additional 5 minutes.

1 cup cheddar cheese,

1 cup crispy fried onions

Let stand 10 minutes. Garnish with fresh parsley and serve.
Serving:
0.5
cup
Calories:
238
kcal
(12%)
Carbohydrates:
22
g
(7%)
Protein:
5
g
(10%)
Fat:
15
g
(23%)
Saturated Fat:
9
g
(56%)
Polyunsaturated Fat:
1
g
Monounsaturated Fat:
3
g
Trans Fat:
0.1
g
Cholesterol:
37
mg
(12%)
Sodium:
334
mg
(15%)
Potassium:
459
mg
(13%)
Fiber:
1
g
(4%)
Sugar:
2
g
(2%)
Vitamin A:
449
IU
(9%)
Vitamin C:
6
mg
(7%)
Calcium:
97
mg
(10%)
Iron:
1
mg
(6%)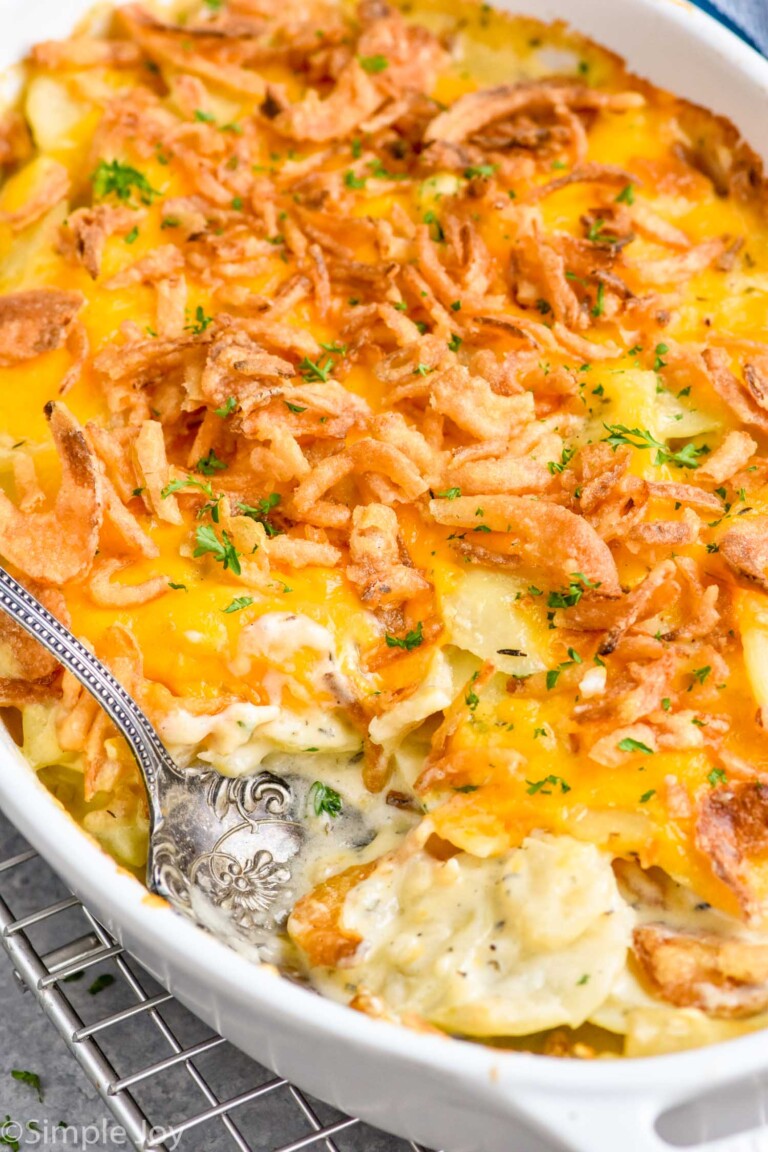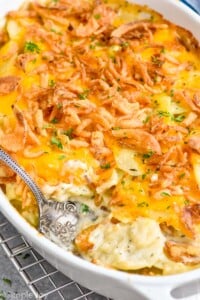 did you make this
Cheesy Scalloped Potatoes
Recipe lightly adapted from America's Test Kitchen