Black Bean Enchiladas are the perfect vegetarian dinner that will even win over meat eaters! The combination of our homemade enchilada sauce with the black bean and sweet potato filling, and simple spices is an absolute winner.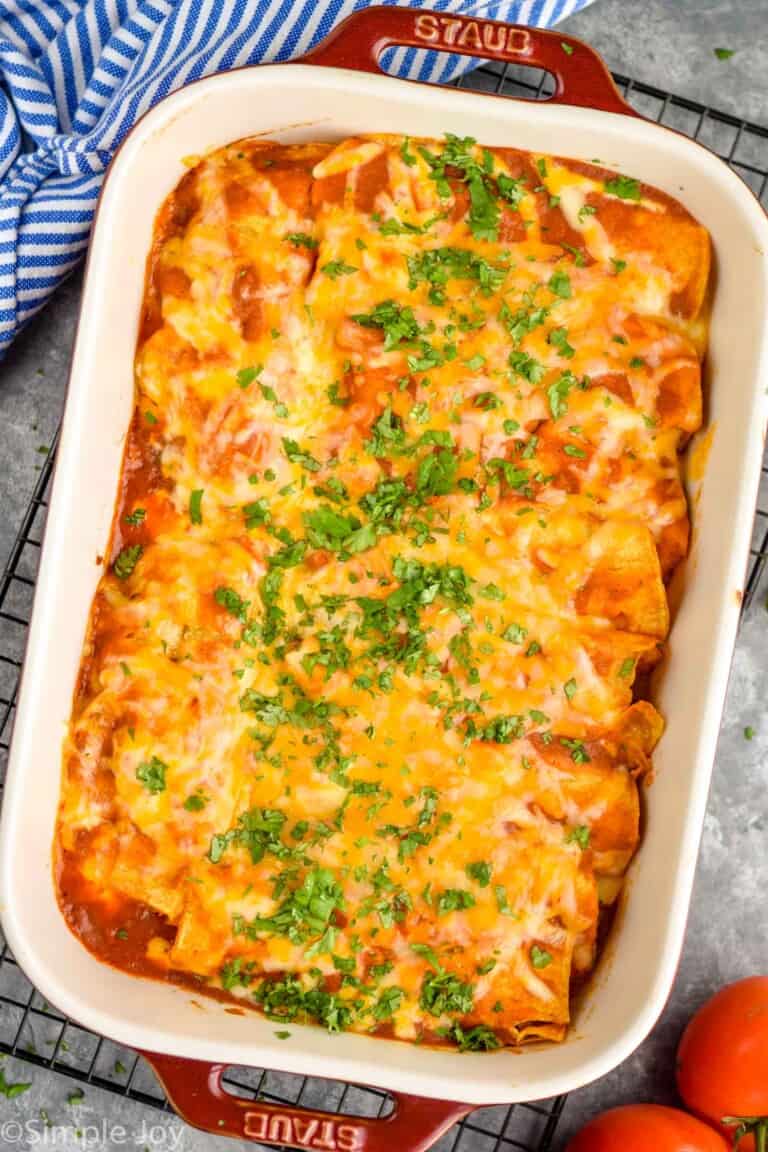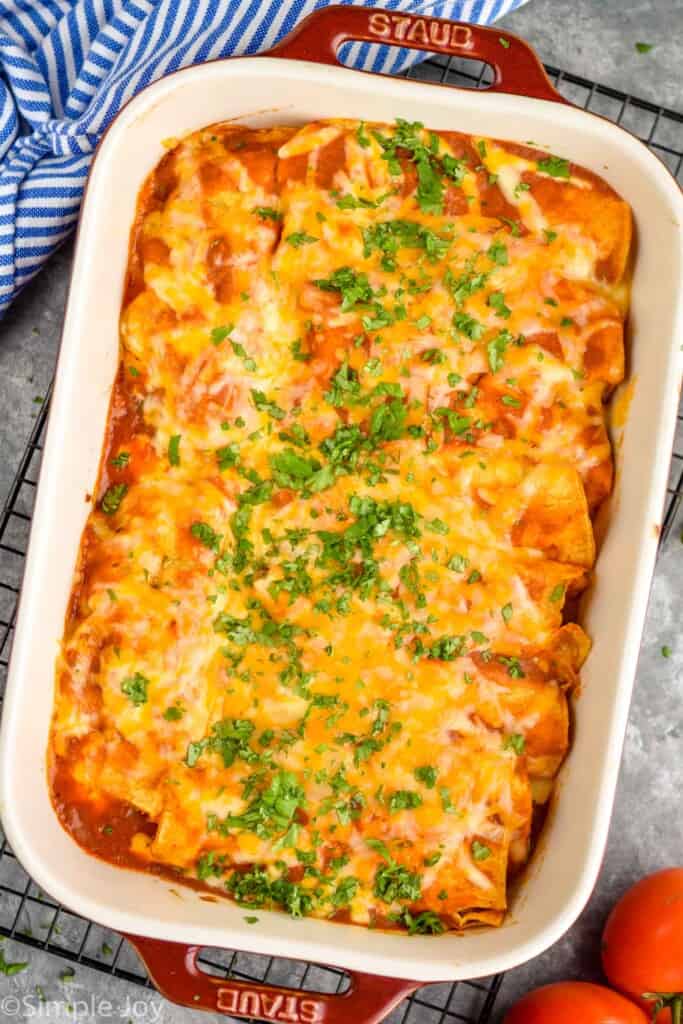 If you have been following me for a while, you may know that a lot of my love for cooking comes from my mom. She is no longer with us, but she raised a family for years on wholesome and delicious vegetarian recipes. She could work magic in the kitchen.
Even if your family doesn't follow a vegetarian diet, there are a lot of benefits of rounding out your diet with one meatless meal a week. This Black Bean Enchilada recipe is the perfect way to do that. They are packed with flavor and nutrients. They will leave even the most committed carnivore satisfied.
Not only that, but this is a very budget friendly dinner!
How to Make Black Bean Enchiladas
The key to this recipe is multi tasking! While your enchilada sauce is simmering, get started on prepping those other ingredients.
Make the Enchilada Sauce. Sauté an onion in a skillet. Stir in spices and flour. Then slowly whisk in chicken stock. Stir in tomato sauce and garlic. Simmer for five minutes. Transfer the enchilada sauce to a blender to make smooth.
Make the black bean filling. While the enchilada sauce is simmering, combine the ingredients for the filling (black beans, cooked sweet potato, chiles, garlic, spices, and 1 cup of cheese) in a large bowl.
Prepare the baking dish. Spray the dish with cooking spray. Add a small amount of enchilada sauce to the bottom of the pan.
Put the enchiladas together. Pour the pureed enchilada sauce back in the skillet you used to make it. Working with one corn tortilla at a time, dip the tortilla in the enchilada sauce and then add 1/4 cup of the black bean filling. Roll the tortilla and add it seam side down to the baking dish.
Finish it off. Top with whatever enchilada sauce is left and the remainder of the cheese. Bake for 20 minutes uncovered.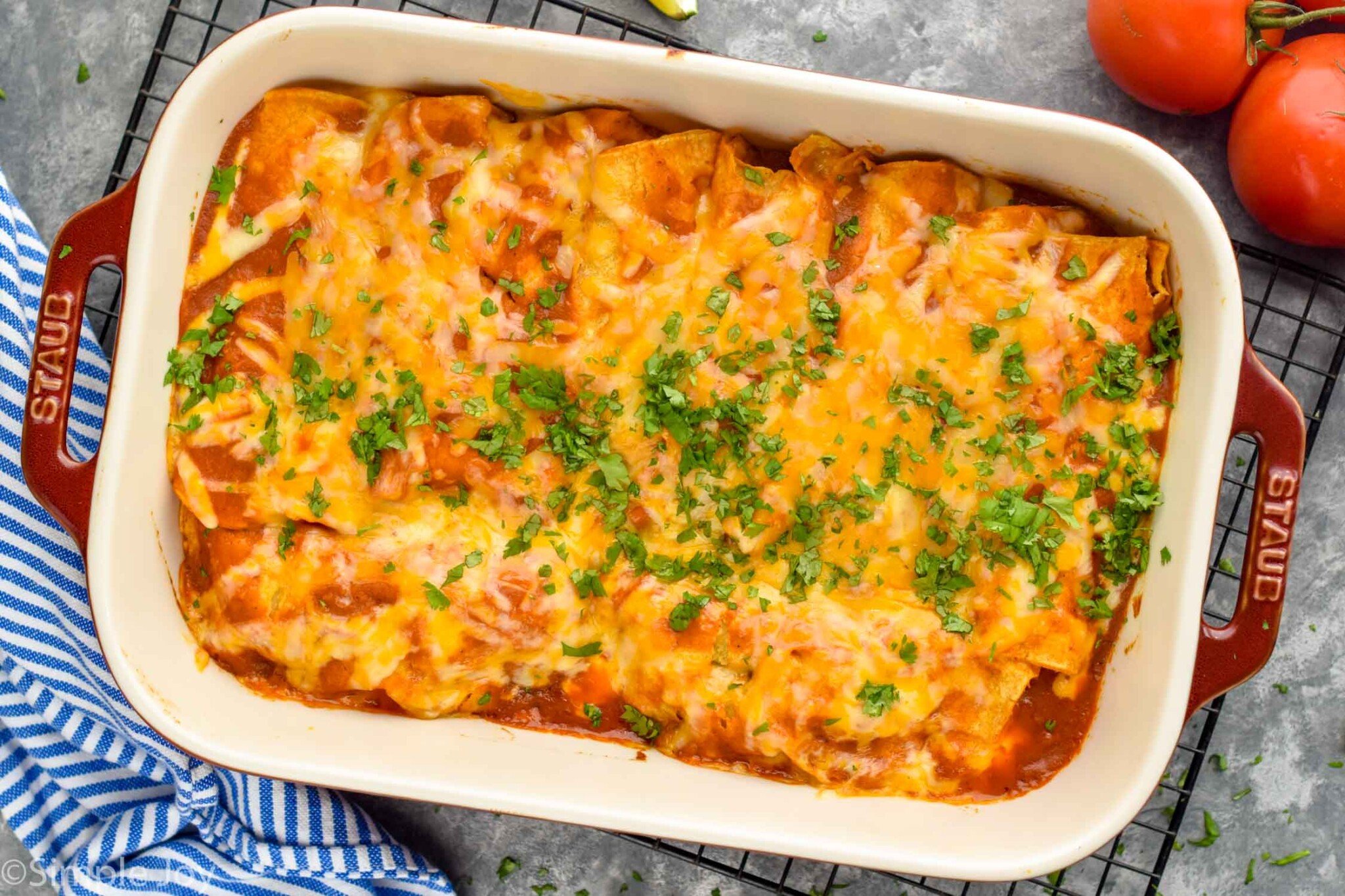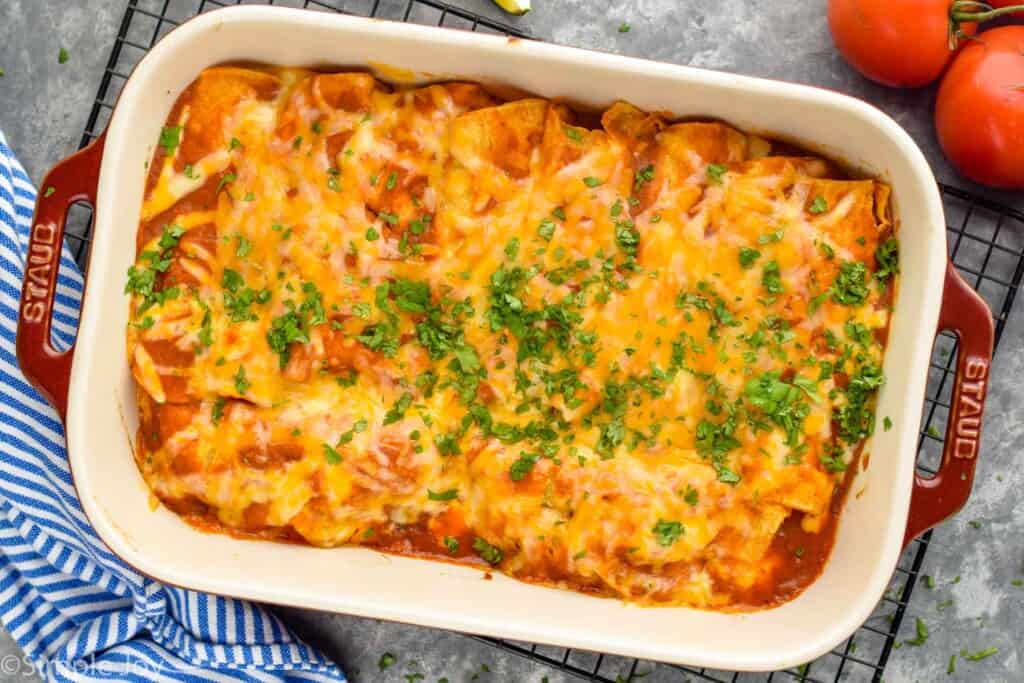 Cooking Sweet Potatoes
This recipe calls for just one cup of cooked sweet potato. That is about one medium sweet potato. This is a great recipe to make the night after having Taco Stuffed Sweet Potatoes – just make an extra sweet potato. Otherwise here are a few options for cooking them.
Cook it in the microwave. The quickest way is to cook the sweet potato in the microwave while prepping the other ingredients. Prick the washed sweet potato several times with a fork. Then microwave for 5 minutes, turning it over half way through. If it isn't fork tender, keep microwaving for 30 second intervals until it is.
Bake it in the oven. Poke the sweet potato several times with a fork. Rub with a little olive oil. Place on a baking sheet. Bake for 50 minutes in a 400 degree oven or until it is easy to pierce it with a skewer.
Make them in the crockpot. Sweet Potatoes in the slow cooker are my favorite. Wash them and without drying them, wrap them in foil and cook on high for 3 to 4 hours.
Canned or Dry Black Beans
I use canned black beans in my recipes because I think they are so convenient. If you also grab a can of black beans to make this recipe, make sure that you do a good job rinsing them. The liquid they are packed in has a lot of sodium and will affect the taste of the final dish if they aren't rinsed.
If you prefer to start with dry black beans, soak them overnight and then drain them and rinse them before making this recipe. You will need 1/2 a heaping cup of dry black beans for this recipe.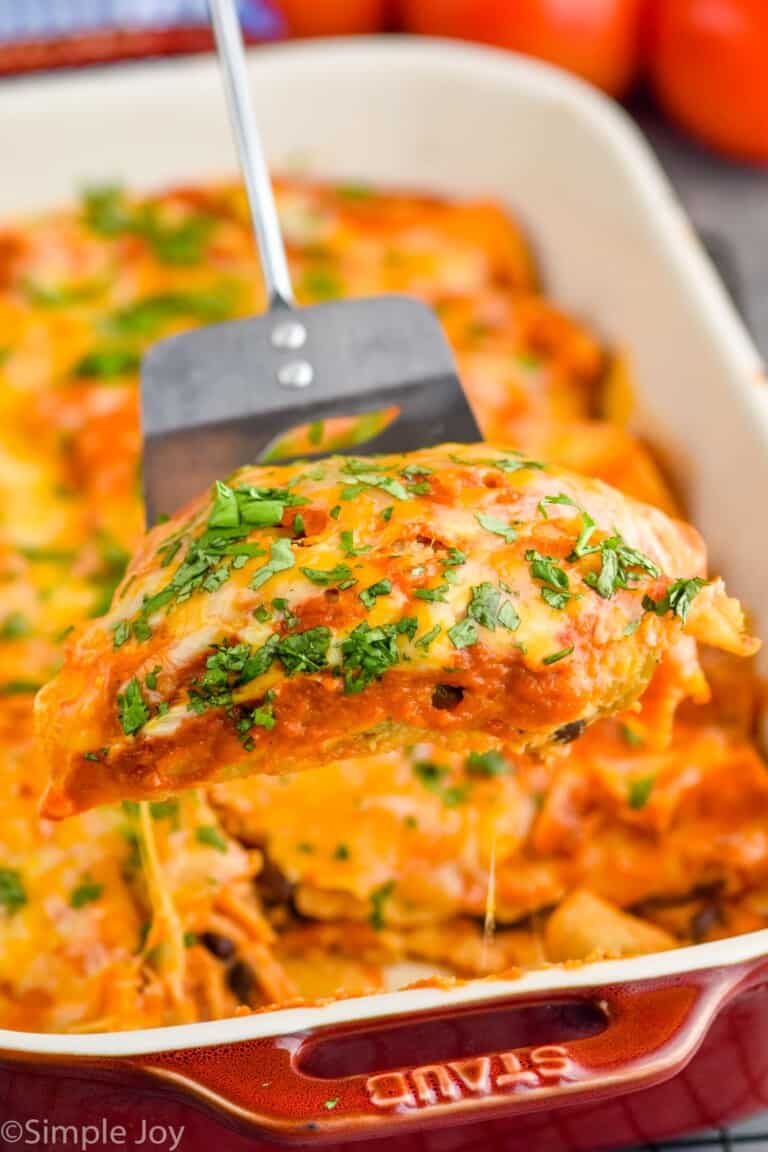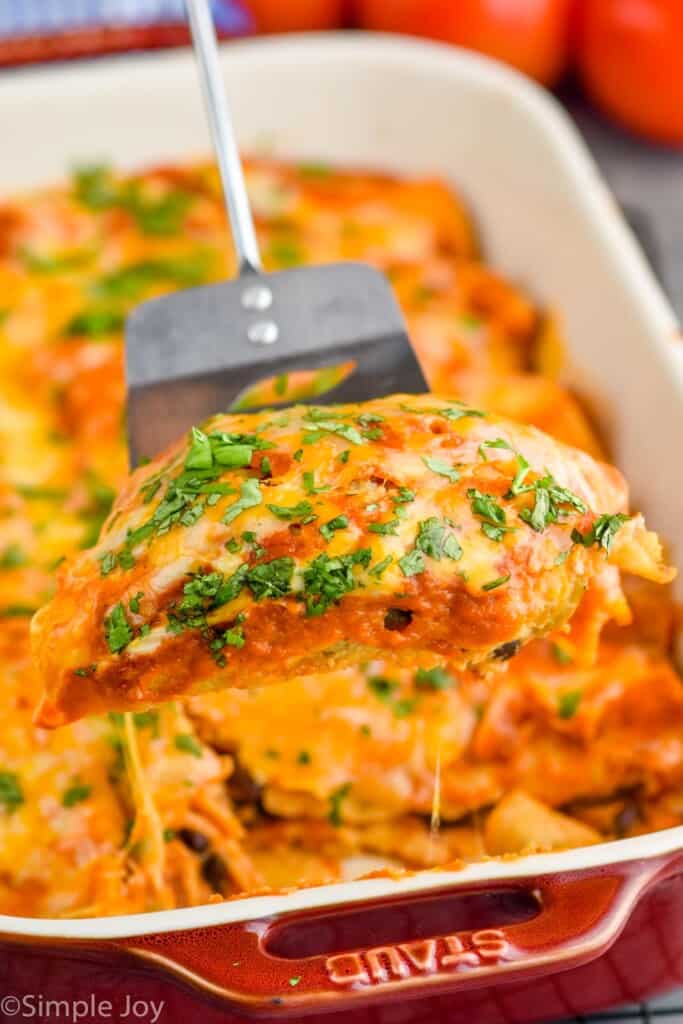 Using Store Bought Enchilada Sauce
This recipe calls for homemade enchilada sauce that is my absolute favorite. I use it in so many recipes. That being said, it does add some time to this recipe. If you want to shave that time off, replace the homemade enchilada sauce with 2 cups of store-bought enchilada sauce and proceed with the recipe as written, dipping the tortilla shells in the store-bought sauce.
Storing Corn Tortillas
Did you know that corn tortillas need to be stored in the refrigerator after purchasing? This helps keep them nice and fresh and also makes them easier to work with for recipes like this.
Making Ahead
This recipe can be made up to 24 hours in advance. Make it up until step 9. Cover and put in the refrigerator. When you are ready to bake them, put the dish (uncovered) in the preheated oven and bake until the cheese is bubbling.
Freezing Black Bean Enchiladas
When making casseroles that you plan on baking from frozen, I highly recommend making them in a disposable baking dish. This way you won't risk cracking the dish when it goes from the freezer to the hot oven.
To freeze these, make them through step 8. Then wrap them in aluminum foil three times. Freeze for up to three months. When you are ready to make them take them right out of the oven and bake them for 35 to 55 minutes or until the cheese is bubbling.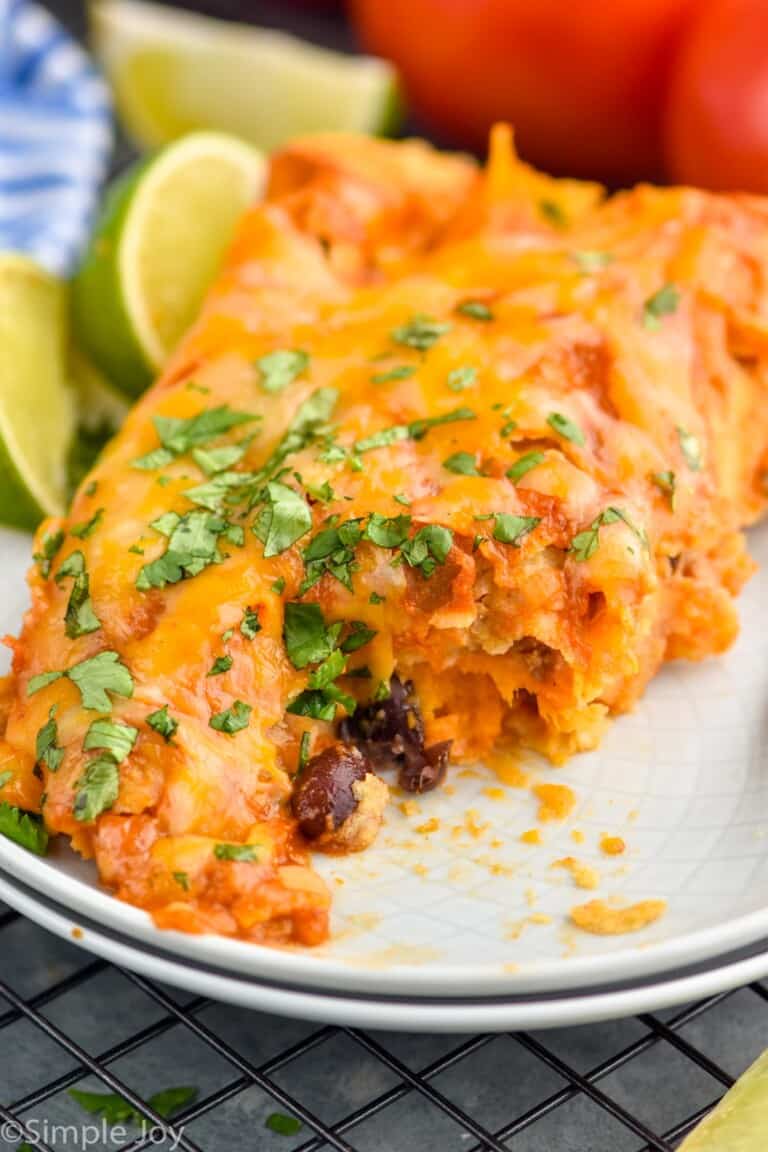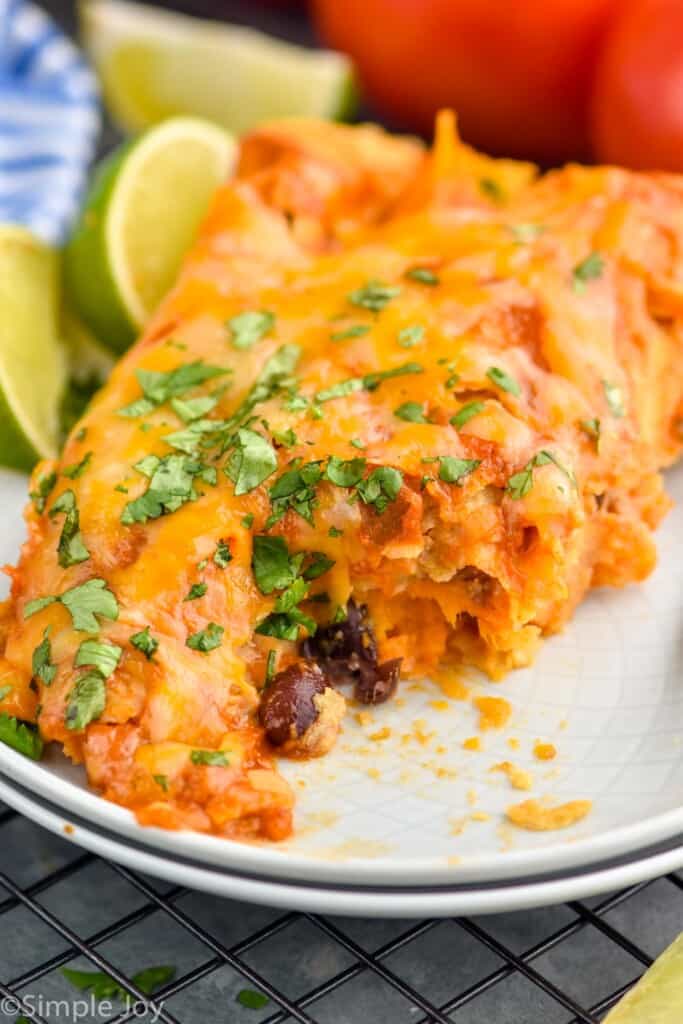 FAQ
Can I make this recipe vegan?
This is a great recipe to make vegan! Just swap the cheese for a vegan cheese. I recommend finding a brand that you trust to melt well.
Can I leave out the sweet potatoes?
Yes! If you do that, I recommend replacing them with another 1 cup of black beans.
Can I make this recipe ahead of time?
Yes! Please see the section above about making this ahead and our instructions for freezing.
Are Black Bean Enchiladas healthy?
This is always such a hard question to answer, because healthy really means different things to different people. I will say that this is a recipe that you can feel really good about eating in moderation. It is full of great nutrients.

If you want more specific information, check out the nutritional information at the bottom of the recipe card.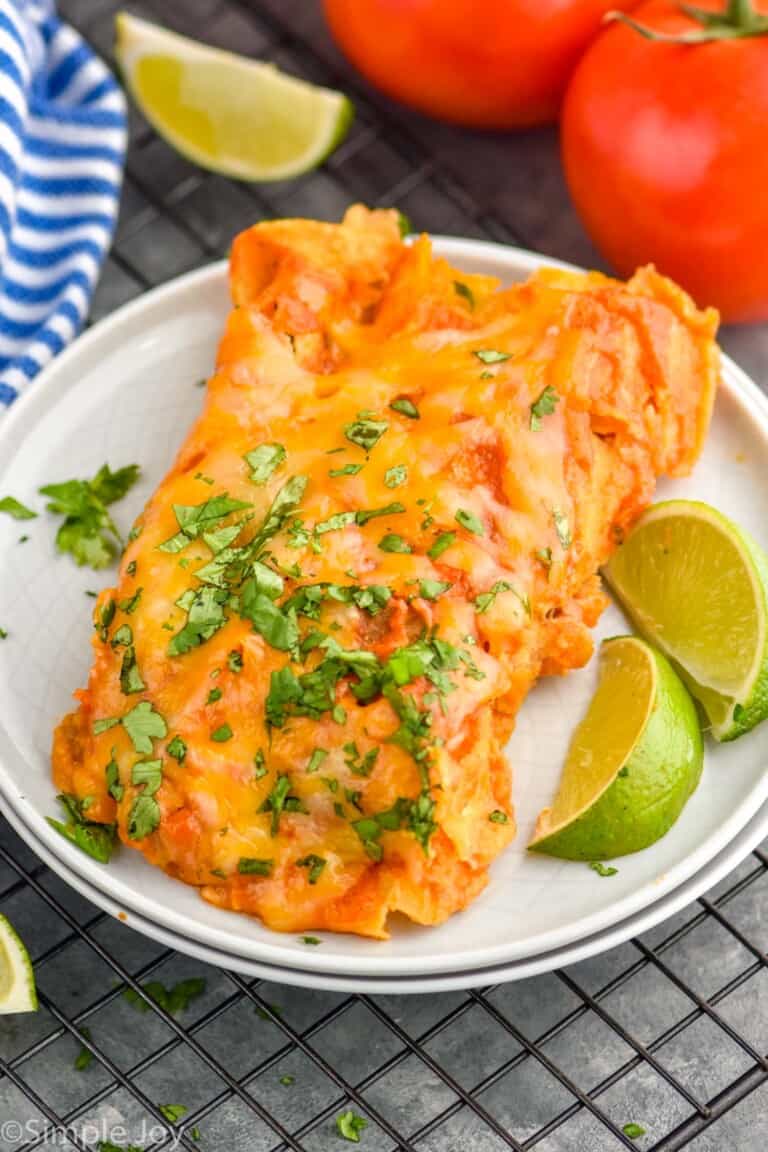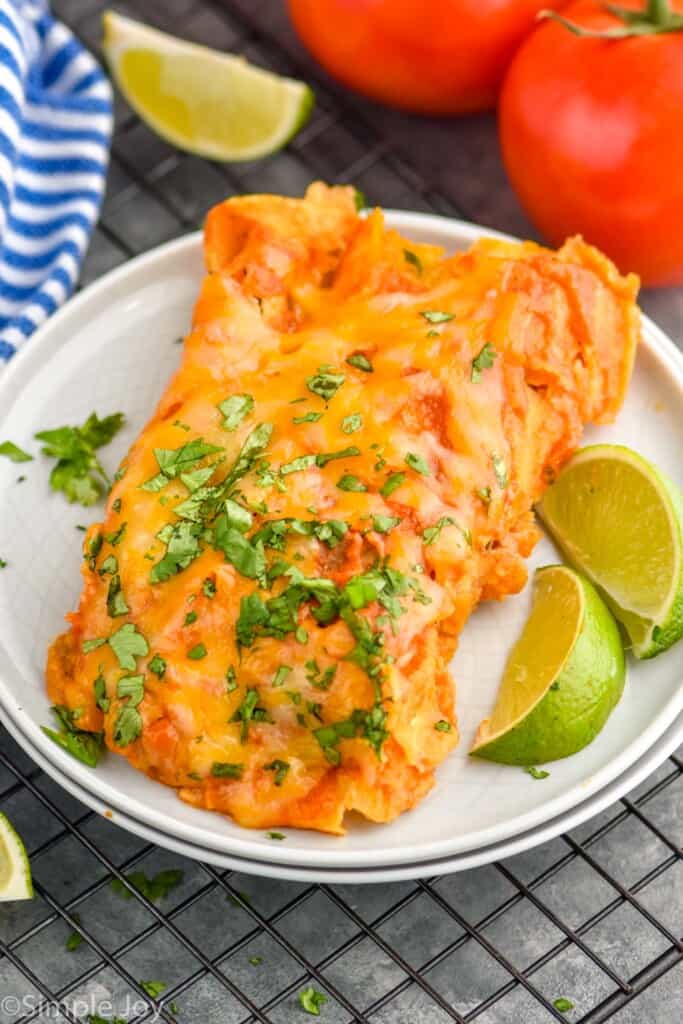 Other Vegetarian Dinners
If you are looking for other great vegetarian dinners, here are a few of my favorites.
If you make these Sweet Potato Black Bean Enchiladas or any of my other recipes, leave me a comment and let me know what you think! I love hearing from you.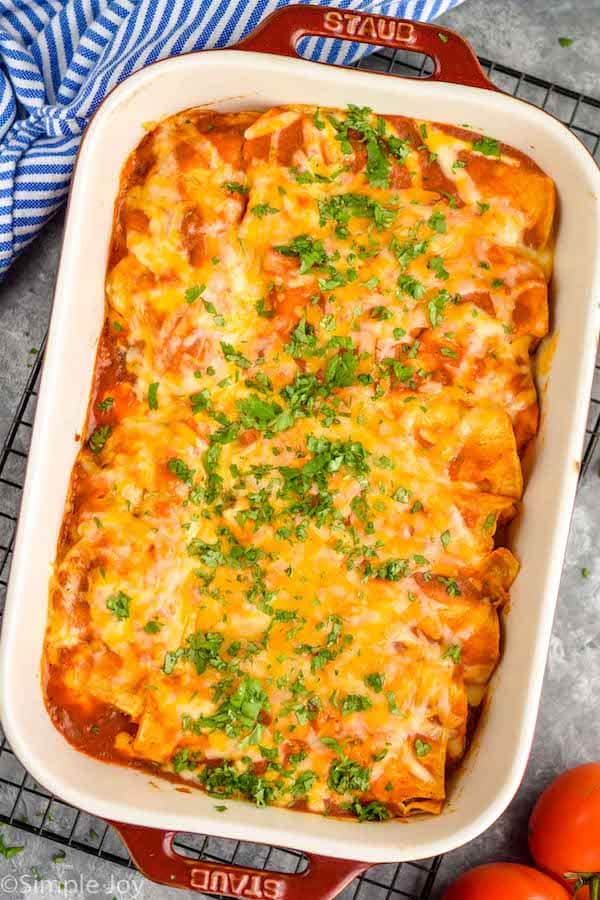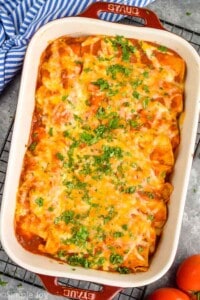 Black Bean Enchiladas
Ingredients
Enchilada Sauce (see note 1)
1

tablespoon

olive oil

1

small yellow onion

diced

1/2

teaspoon

kosher salt

2

teaspoons

chili powder

see note 2

1 1/2

teaspoons

cumin

1

tablespoon

all purpose flour

15

ounces

tomato sauce

1

cup

vegetable stock

2

cloves

garlic

minced
For Enchiladas
15

ounces

black beans

drained and rinsed (read about using dry beans here)

1

sweet potato

cooked and diced (see tips on cooking sweet potatoes)

4.5

ounces

diced green chiles

undrained

2

garlic cloves

minced

1

teaspoon

cumin

1

teaspoon

chili powder

1/2

teaspoon

kosher salt

1/4

teaspoon

black pepper

10

corn tortillas

2

cups

shredded colby jack cheese

see note 3
Instructions
Preheat your oven to 350 degrees. Spray a 9 by 13 inch baking dish with cooking spray and set aside.

In a large skillet for the enchilada sauce, heat 1 tablespoon oil over medium heat. Add 1 diced onion and 1/2 teaspoon kosher salt. Sauté until the onion is translucent, about 5 minutes.

Stir chili powder and cumin into the onion for the enchilada sauce and cook for about thirty seconds. Then stir in 1 tablespoon all purpose flour. Slowly whisk in vegetable stock. Then stir in the tomato sauce and minced garlic. Bring to a simmer and cook, stirring occasionally for 5 minutes.

Transfer the enchilada sauce to a blender and blend to make smooth (optional). Pour 1/2 cup in the bottom of the prepared baking dish. Add the rest of the enchilada sauce back to the skillet you cooked it in.

In a large bowl, combine the black beans, sweet potatoes, salt, pepper, chiles, chili powder, cumin, garlic, and 1 cup of cheese.

Working with one tortilla at a time, dip it in the enchilada sauce. Then add 1/4 cup of the black bean filling. Roll and place seam side down in the prepared baking dish. Continue with all 10 tortillas. Pour the remaining enchilada sauce over the top, and then top with the remaining cheese.

Bake uncovered for 20 minutes or until the cheese is bubbly.
Notes
You can replace this enchilada sauce recipe with two cups of store bought sauce.
This recipe is mild. If you would like to make it spicy, add 1/4 to 1/2 teaspoon of cayenne pepper to the enchilada sauce. You can also buy hot green chiles instead of mild.
The preparation time for this recipe includes shredding Colby Jack cheese from the block. I highly recommend using block cheese and shredding it yourself as it melts significantly better.
Serving:
1
enchilada
Calories:
254
kcal
(13%)
Carbohydrates:
29
g
(10%)
Protein:
6
g
(12%)
Fat:
10
g
(15%)
Saturated Fat:
5
g
(31%)
Polyunsaturated Fat:
1
g
Monounsaturated Fat:
1
g
Sodium:
541
mg
(24%)
Potassium:
210
mg
(6%)
Fiber:
3
g
(13%)
Sugar:
3
g
(3%)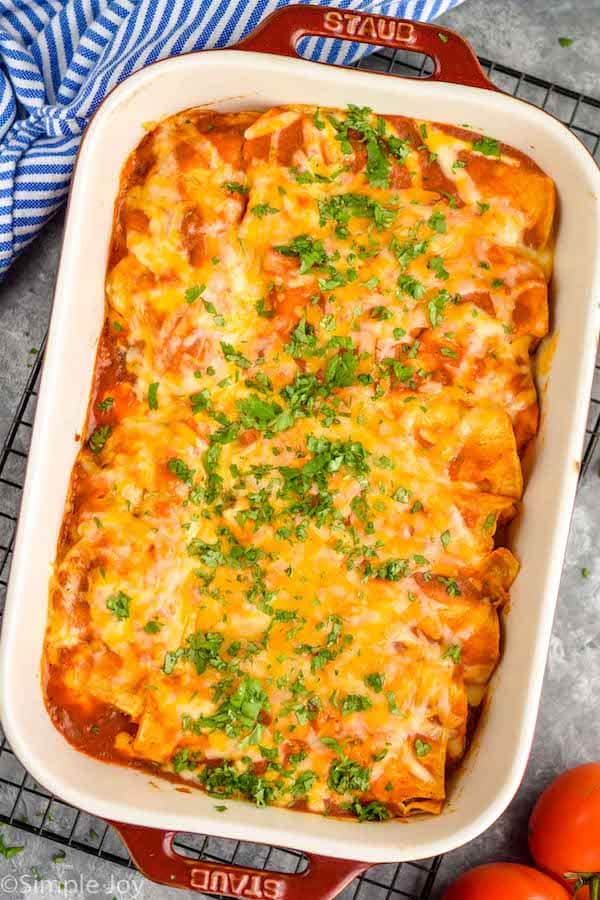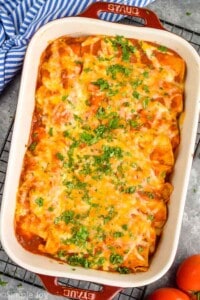 did you make this
Black Bean Enchiladas
you might also like . . .