This Caesar Dressing recipe is so easy to make at home! It is restaurant quality good but made quickly in your own kitchen. This is a must if you are hosting.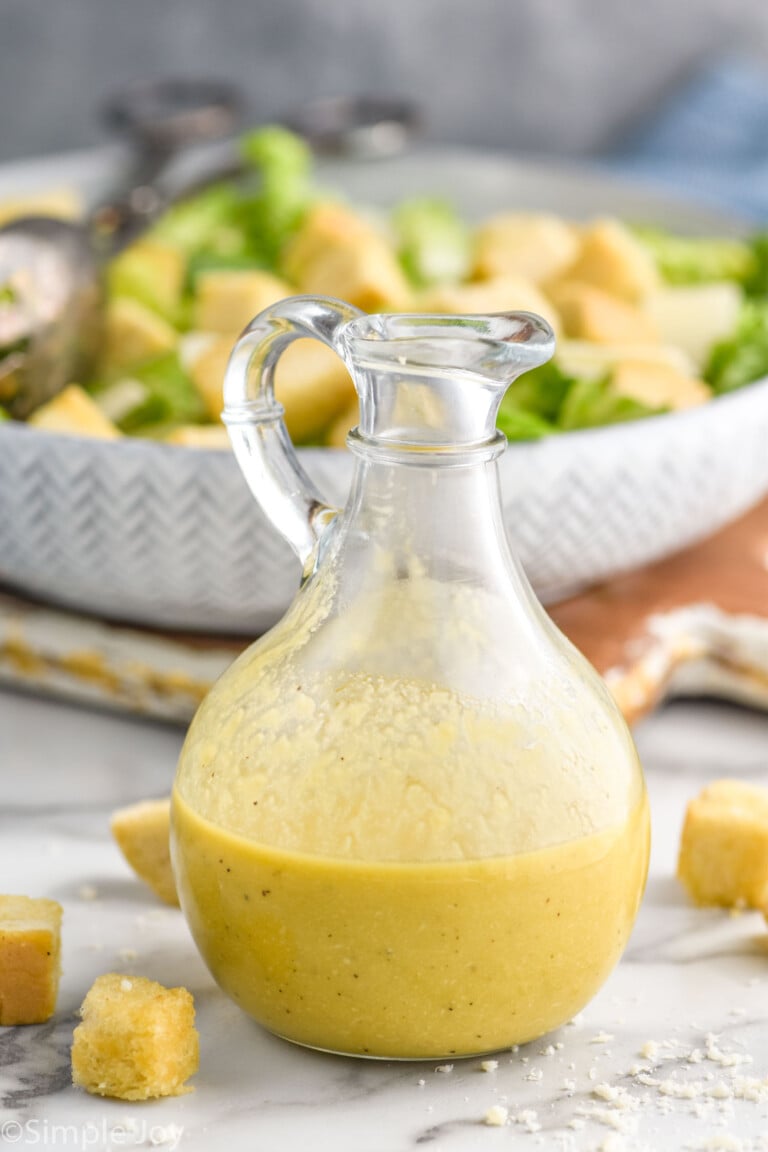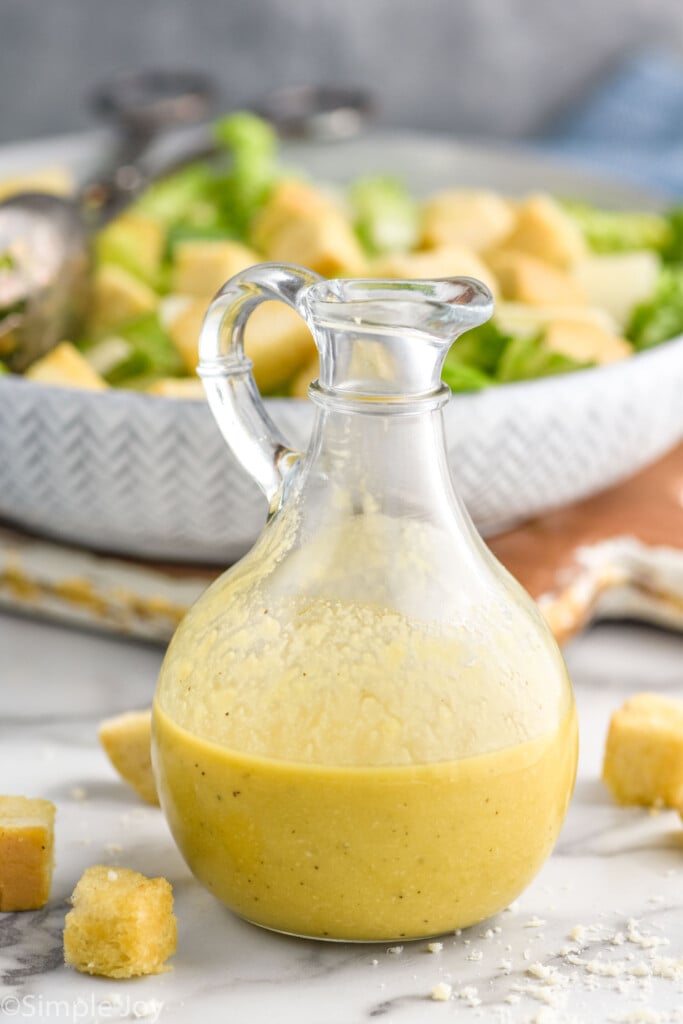 Homemade salad dressings are the best! They typically come together with ingredients that you already have on hand and because they are freshly made, they are bursting with a flavor you just can't get from a store-bought dressing.
This homemade caesar dressing is no exception. With just a few simple ingredients you can make this classic dressing recipe. Use it to impress guests, or just make a comfort food salad for yourself!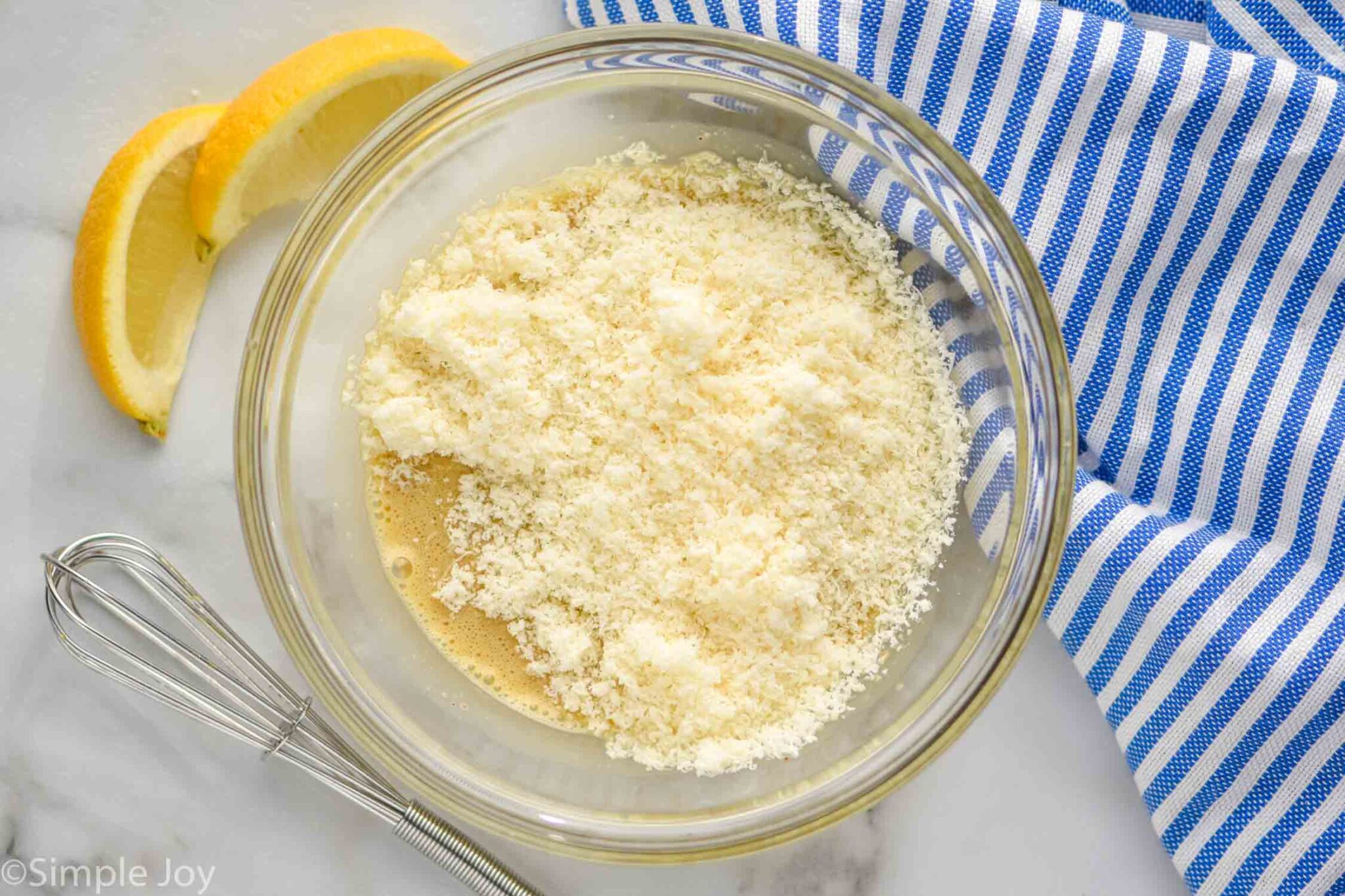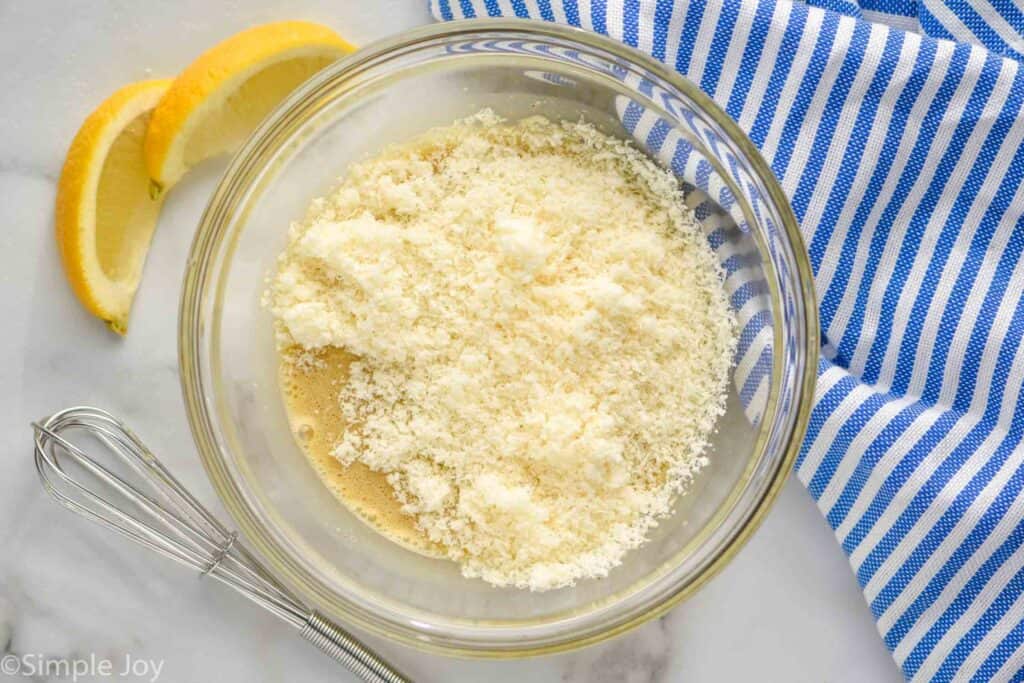 Caesar Dressing Ingredients
This is the best caesar dressing recipe because it's made with simple ingredients that combine to create a tangy and creamy salad dressing. See the recipe card at the bottom of the post for the measurements of each ingredient.
Fresh garlic: Provides a savory flavor.
Anchovy paste: These little fish provide a key part of the signature savory flavor. Don't worry, it won't make your dressing taste fishy, but will provide a great umami flavor.
Egg yolks: Brings a creaminess to the dressing and acts as an emulsifier to help bind the ingredients together. If you are worried about using raw eggs, see more information below.
Salt and black pepper
Lemon juice: Adds some acidity and flavor to the dressing.
Olive oil: See more on this below.
Parmesan cheese: I recommend that you buy a block of parmesan and grate it. Freshly grated parmesan tastes better and works best for consistency.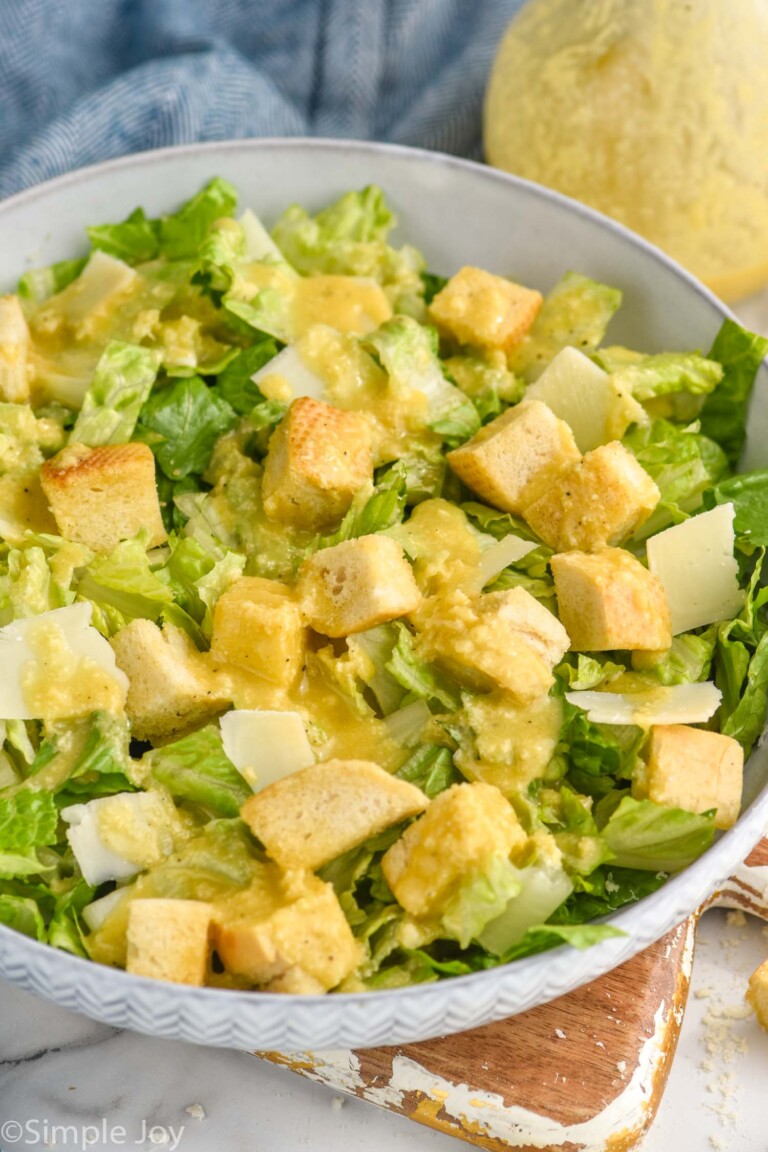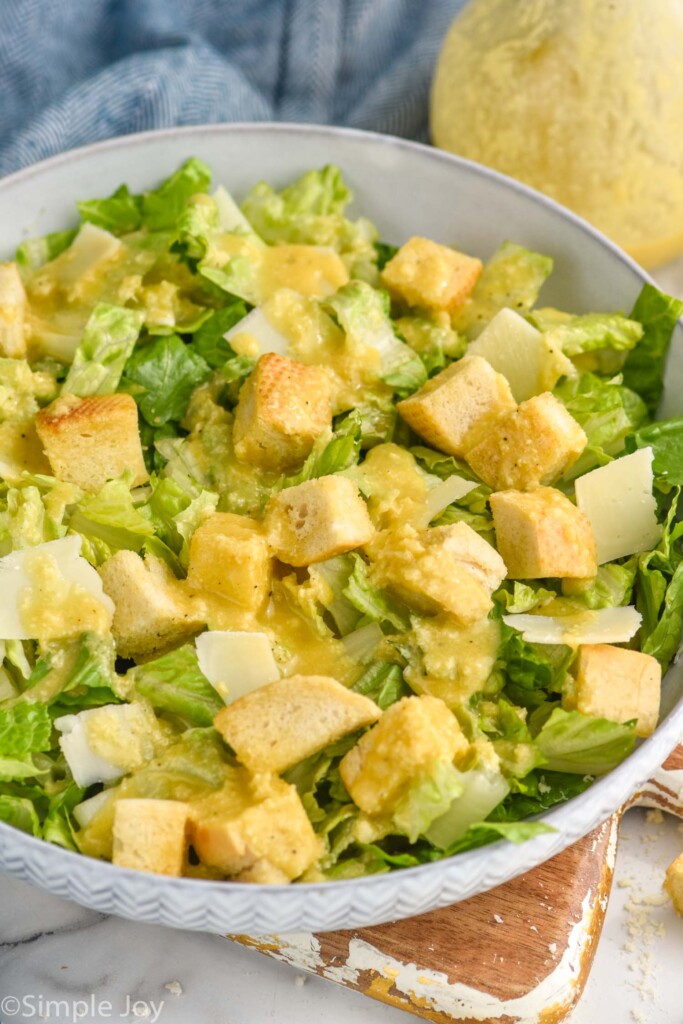 How to Make Caesar Dressing
While this recipe is simple, it is important to follow the steps closely as written. For the full recipe including all measurements, please scroll to the recipe card at the bottom of the post.
Whisk together ingredients. Combine the garlic and anchovy paste. Then whisk in egg yolks, salt, black pepper, and lemon juice.
Add olive oil. It is really important to do this slowly. Adding just a little at a time, whisk in the olive oil until it is fully incorporated.
Add in the parmesan cheese.
Using Olive Oil
It is important to use a good quality oil since it makes up a good part of this caesar dressing recipe. You want to use extra virgin olive oil because it is less processed and more pure than regular olive oil. It is better for you and also has a better taste, making it perfect for a salad dressing.
With that being said, I recommend keeping both extra virgin olive oil and regular olive oil on hand. Extra virgin olive oil is better for salad dressings and sauces that aren't cooked, but for cooking you want to use regular olive oil as it has a higher smoke point and won't burn as easily.
Adding Olive Oil Slowly
A key part of this recipe is adding the olive oil very slowly. The other ingredients can only absorb so much olive oil at a time. By going slowly, it incorporates evenly and creates a smooth dressing. Add just a little at time and whisk in the olive oil until it is fully incorporated.
Using Raw Eggs Yolks
This recipe does call for raw egg yolks. I recommend using pasteurized eggs. Pasteurization is the process of treating eggs so that Salmonella is destroyed. Salmonella is the bacteria that causes food poisoning and is the reason why you grew up being told not to eat raw eggs. Pasteurized eggs are eggs that have been briefly heated to kill bacteria.
Using pasteurized eggs in caesar dressing makes this dressing completely safe to consume.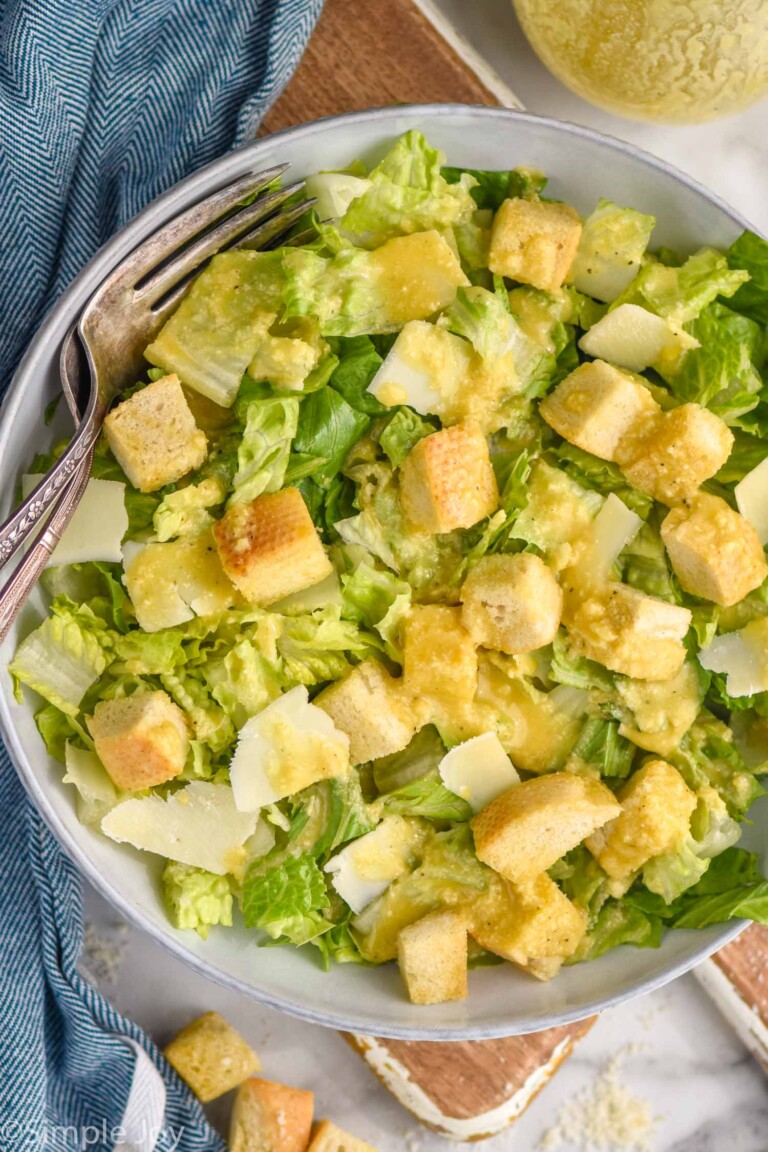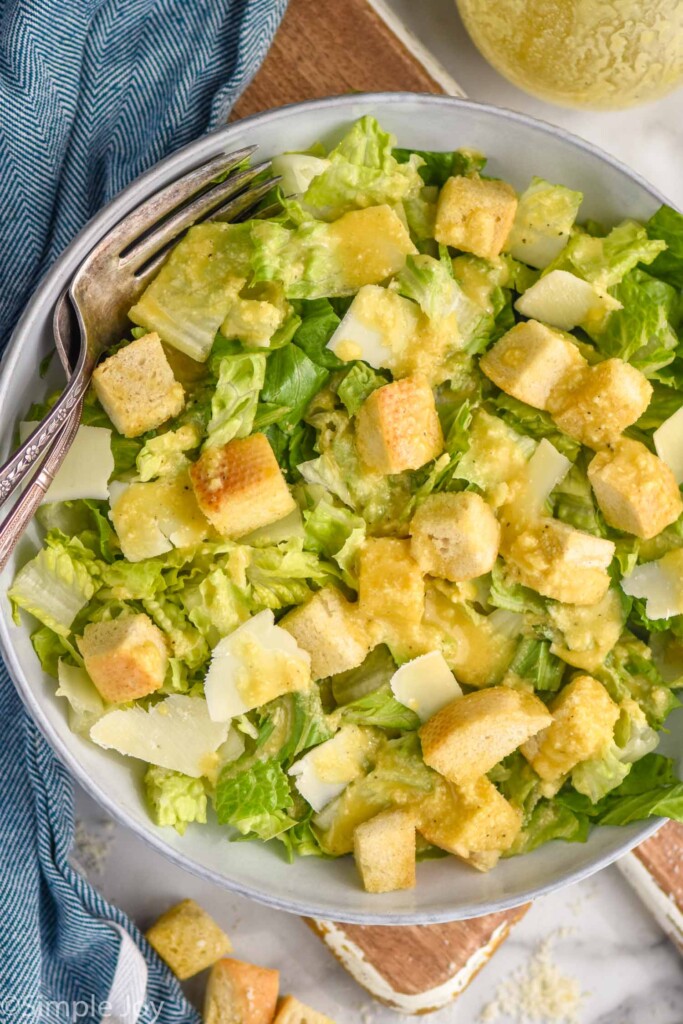 Anchovies vs. Anchovy Paste
Many caesar salad recipes call for canned anchovies. Since this recipe calls for those to be worked into a paste with garlic, we are skipping the middle step and going right to paste.
Additionally, buying a paste instead of a can allows us to easily keep the leftovers and use them two weeks from now when we make this recipe again. It is a totally acceptable replacement in thin sauces and salad dressings where the texture of the anchovies isn't needed.
If you would like to go the traditional route, please note that a half tablespoon of anchovy paste is equal to three anchovies.
Using Caesar Dressing
Most commonly, caesar dressing is used with fresh parmesan and buttery Croutons in a Caesar Salad. Top the salad with grilled chicken or shrimp to enjoy it as a meal, or serve it as a side salad with Homemade Lasagna or your favorite pasta.
Caesar Salad
A Caesar Salad makes a great side or entree with its homemade croutons and creamy dressing. It comes together quickly for a delicious salad!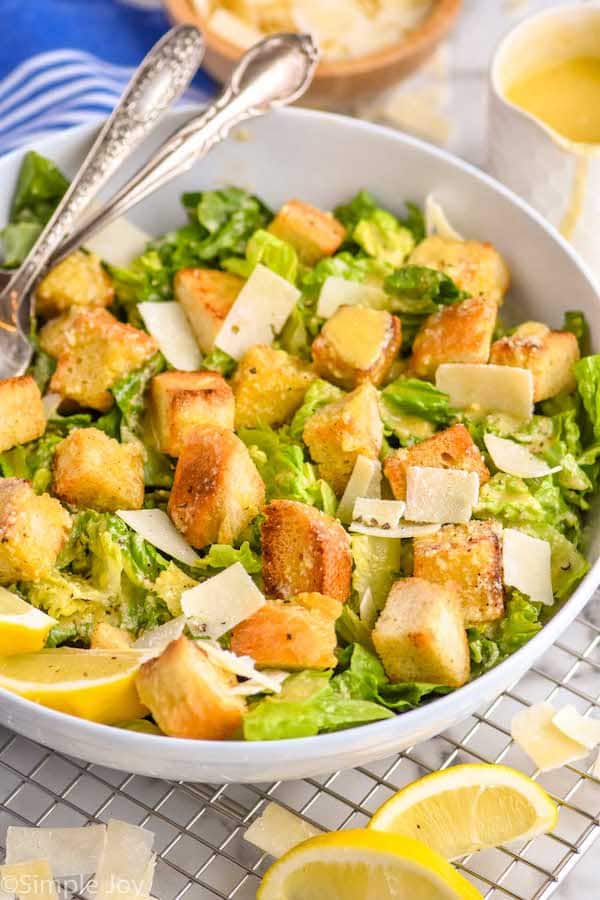 FAQ
Does caesar dressing have dairy?
Yes, the parmesan cheese contains dairy.
Is caesar dressing gluten free?
Yes, this salad dressing is gluten-free. As with all recipes, make sure to check the specific ingredients you are using if you are serving someone with a gluten allergy.
Can caesar salad dressing be made in advance?
Yes! A great time saver is to make the caesar salad dressing recipe ahead of time. It can be made up to one week in advance.
Storing Caesar Dressing
This homemade caesar dressing recipe should be stored in the refrigerator and can be used for up to two weeks. I do not recommend freezing caesar dressing as it will separate when thawed.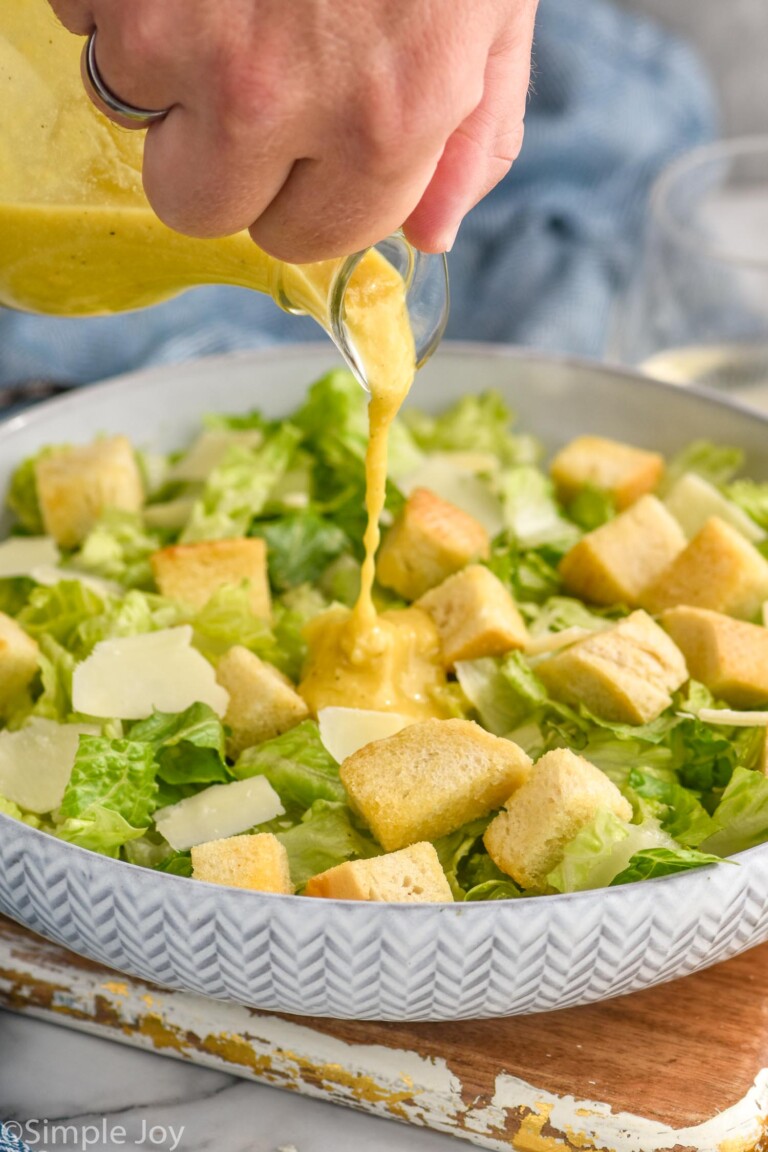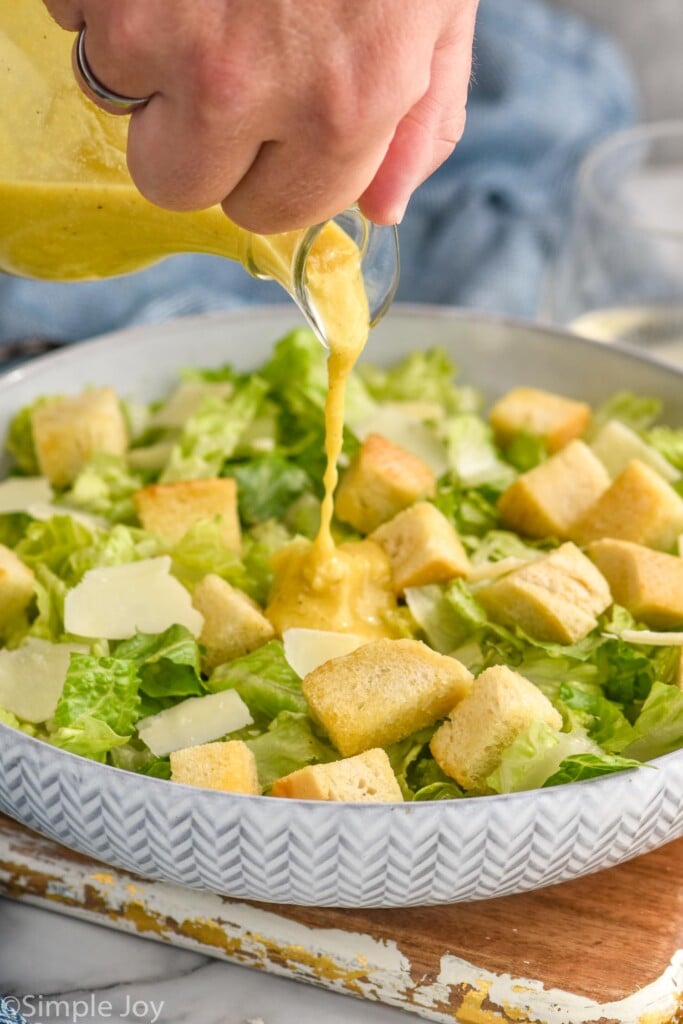 Other Homemade Salad Dressing Recipes
If you make this Caesar Dressing recipe or any of my others, please leave a comment and let me know what you think.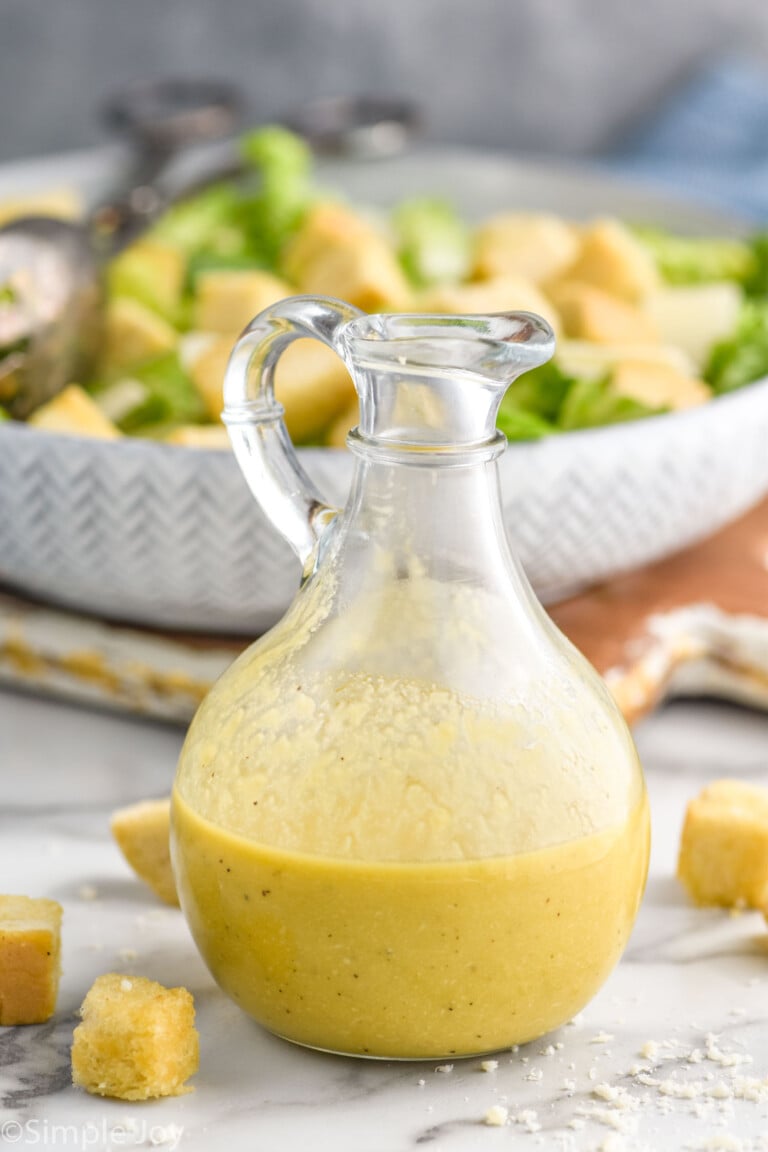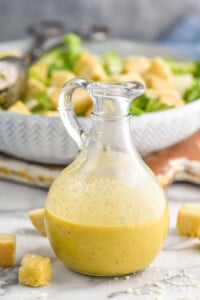 Ceasar Dressing
Ingredients
2

cloves garlic

finely minced

1/2

tablespoon

anchovy paste

2

egg yolks

read about raw eggs in caesar dressing here

1/2

teaspoon

kosher salt

1/8

teaspoon

black pepper

2 1/2

tablespoons

lemon juice

1/4

cup

olive oil

1/2

cup

parmesan cheese

finely grated
Instructions
In a small bowl, combine the garlic and anchovy paste. Whisk in egg yolks, salt, black pepper, and lemon juice. Starting a little at a time, whisk in the olive oil. Please see my notes in the post about why adding the olive oil slowly is important. Finally, whisk in the grated parmesan cheese.

Taste the dressing and add more salt, pepper, or lemon juice to taste.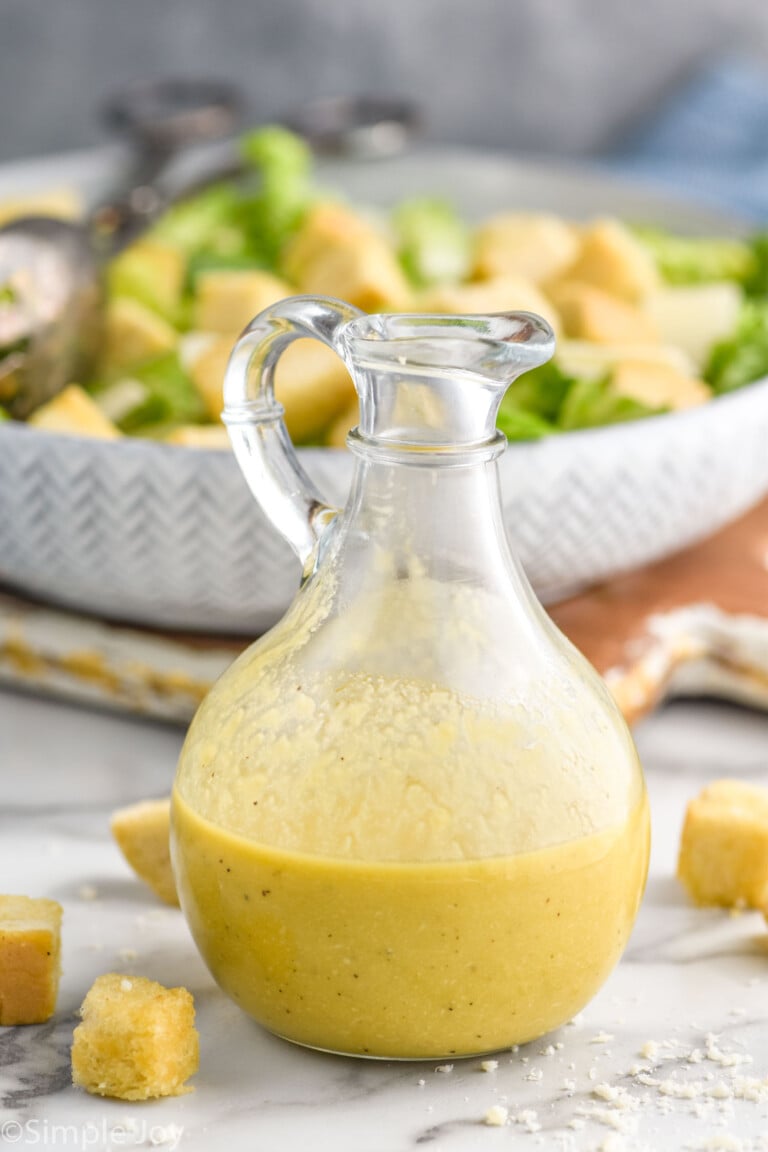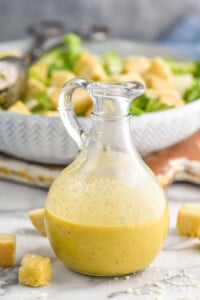 did you make this
Ceasar Dressing