Chicken Tetrazzini is an easy make ahead dinner that is full of comfort. Made with a creamy delicious sauce and baked with spaghetti and chicken, your family will devour this classic dinner.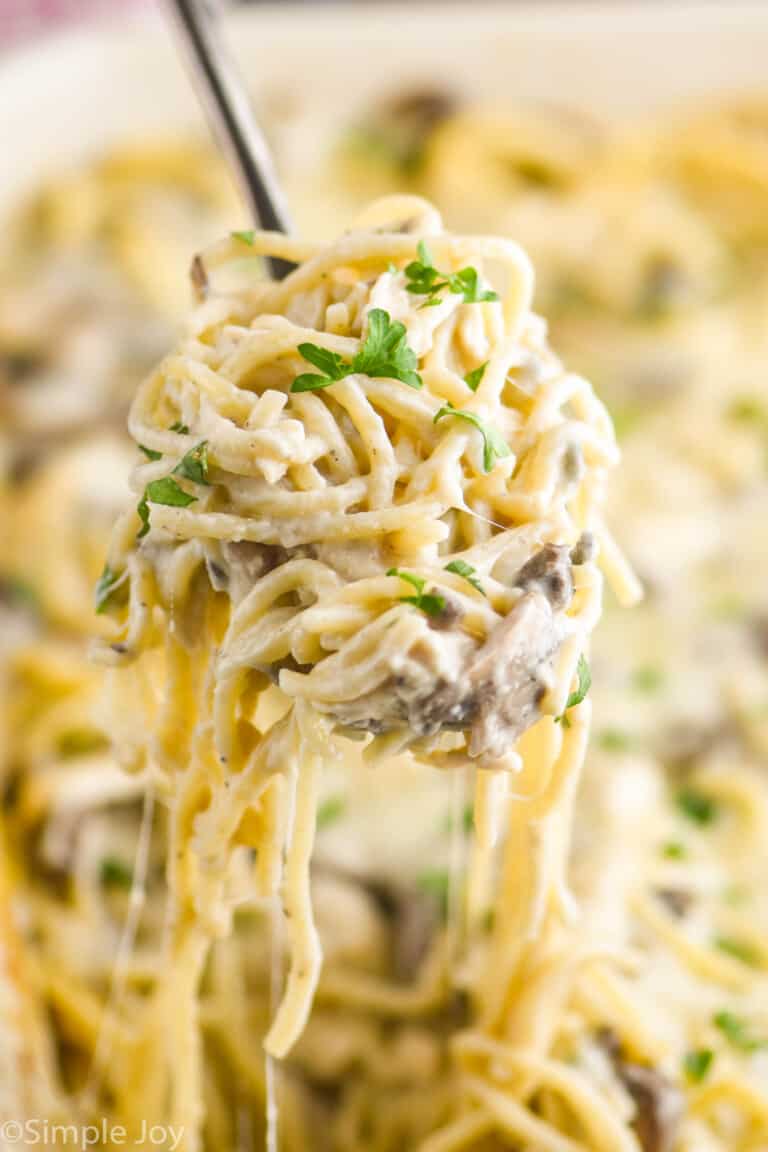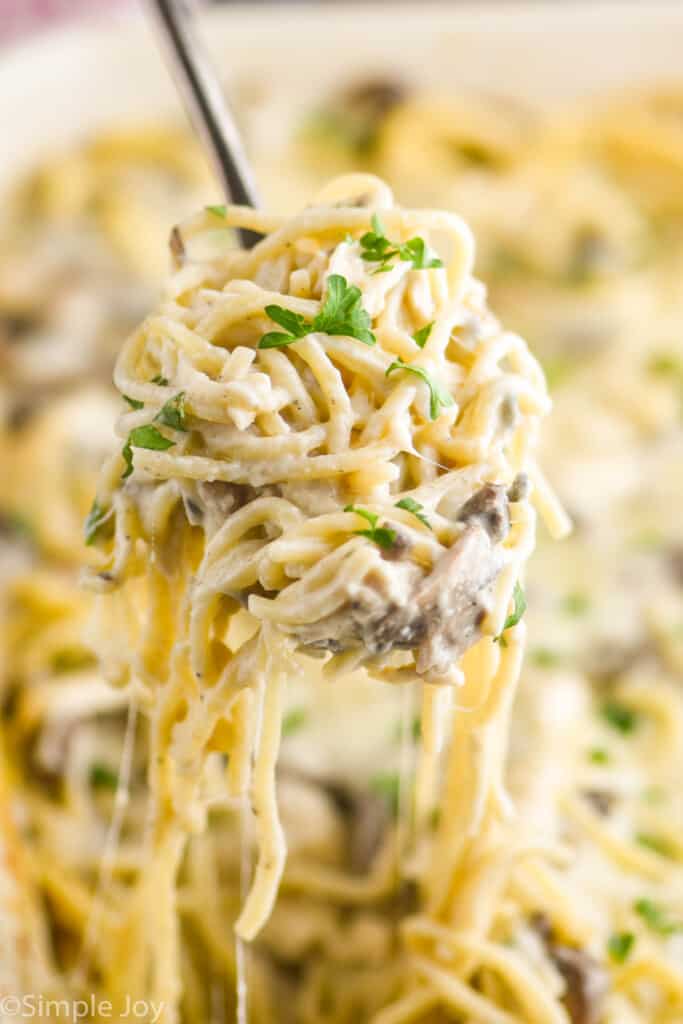 In the never ending quest to find recipes that my family can come together around the table and enjoy, I have a new one for you. This Chicken Tetrazzini was a big hit with my whole family.
This recipe is easy to follow, and results in a creamy noodle casserole. Big warm bowls of this Chicken Tetrazzini are bite after bite of comfort.
One of my favorite things about this recipe is that you can prepare the whole thing the night before and then put it in the oven when you get home from work. You could even freeze this noodle dish and pull it out during the middle of a busy week.
Reader Review
I made this last week for dinner and it was INCREDIBLE!!! Thank you for this recipe, it will be made again and again at our house!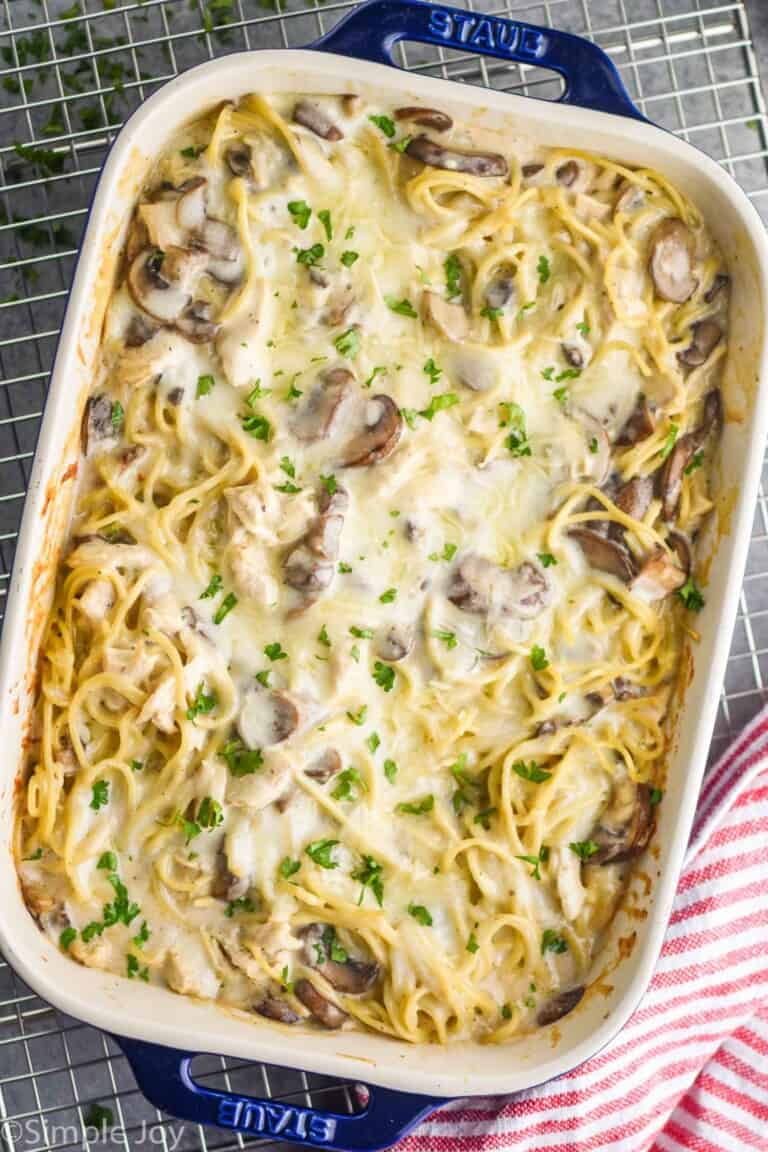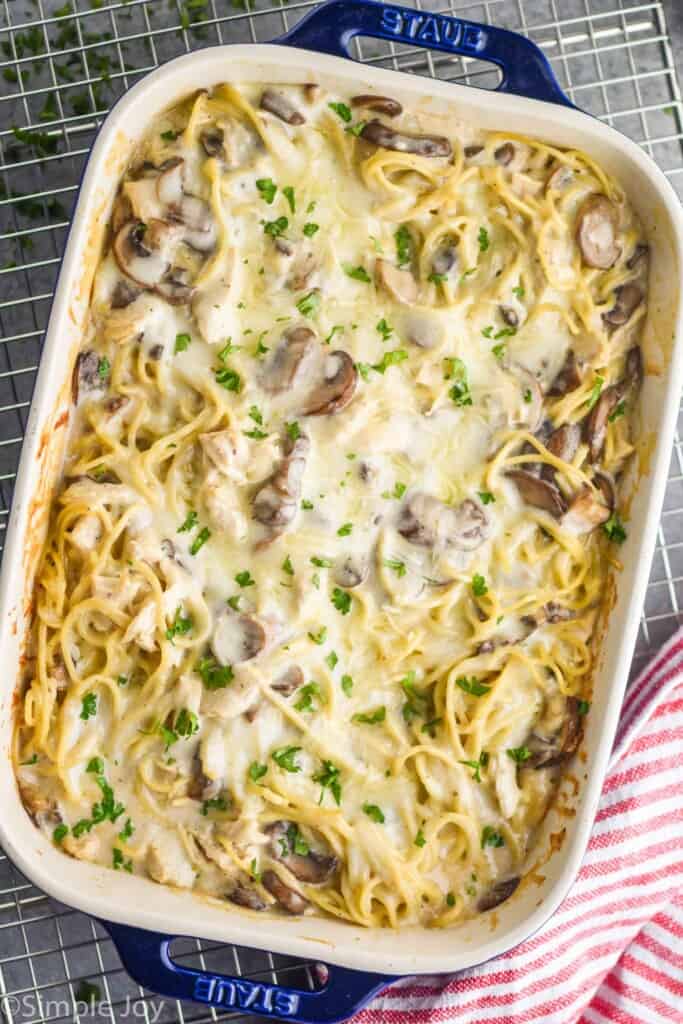 How to Make Chicken Tetrazzini
While this is an easy recipe, it does involve a few moving pieces, so I suggest reading this brief overview. Get the full ingredients and instructions at the bottom of the post.
Boil the spaghetti: Bring a large pot of water to a roaring boil and add salt. Add the pasta, and drain it 2 minutes earlier than is suggested on the box.
Sauté mushrooms in butter.
Make a roux: Using the butter we cooked the mushrooms, add flour and make a roux.
Cream sauce: Slowly add chicken stock and then milk and seasonings. After cooking down for 5 minutes add cheese and sour cream.
Combine: Mix everything together in the casserole dish, top with more cheese and then bake.
What is a Roux
I use rouxs in a lot of my recipes. It is such a handy little technique to have nailed down. A roux is a thickening agent made from flour and fat that is the back bone of cream sauces.
In this recipe we combine the butter we used to sauté the mushrooms with flour. then adding in chicken stock and milk makes for a really creamy sauce. It is the same technique used in my Homemade Condensed Cream of Mushroom Soup, which can be used as a substitute here.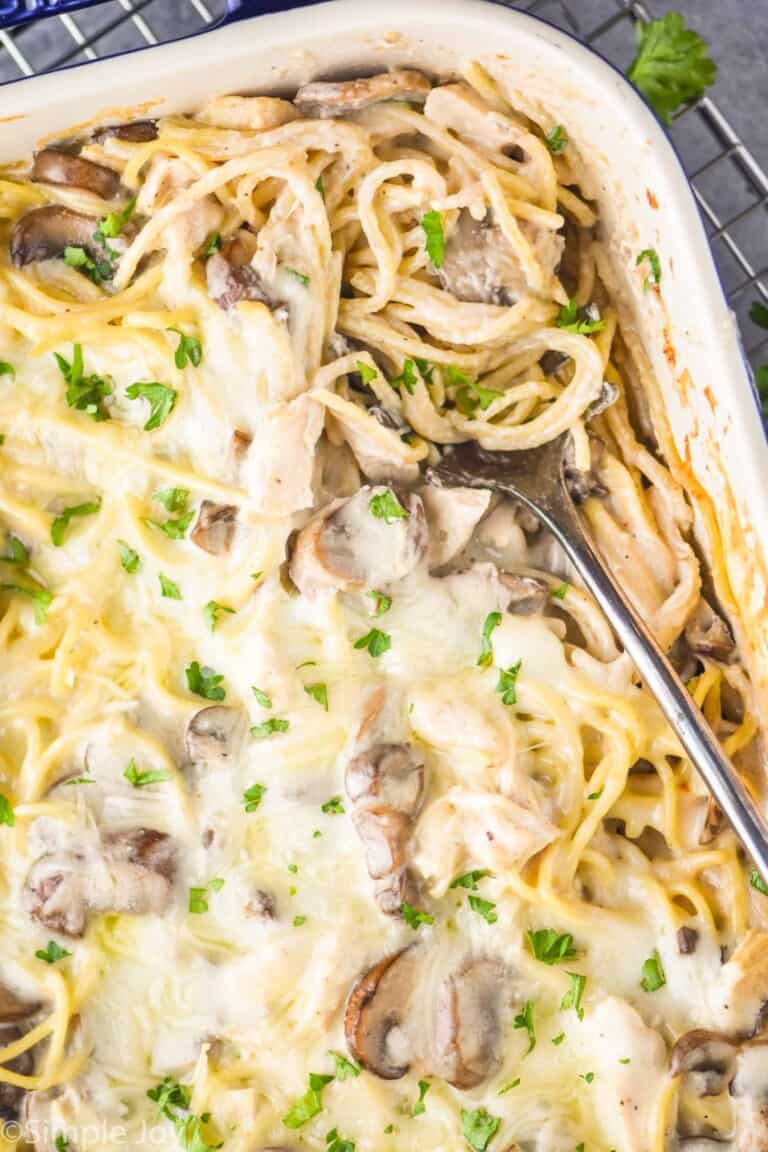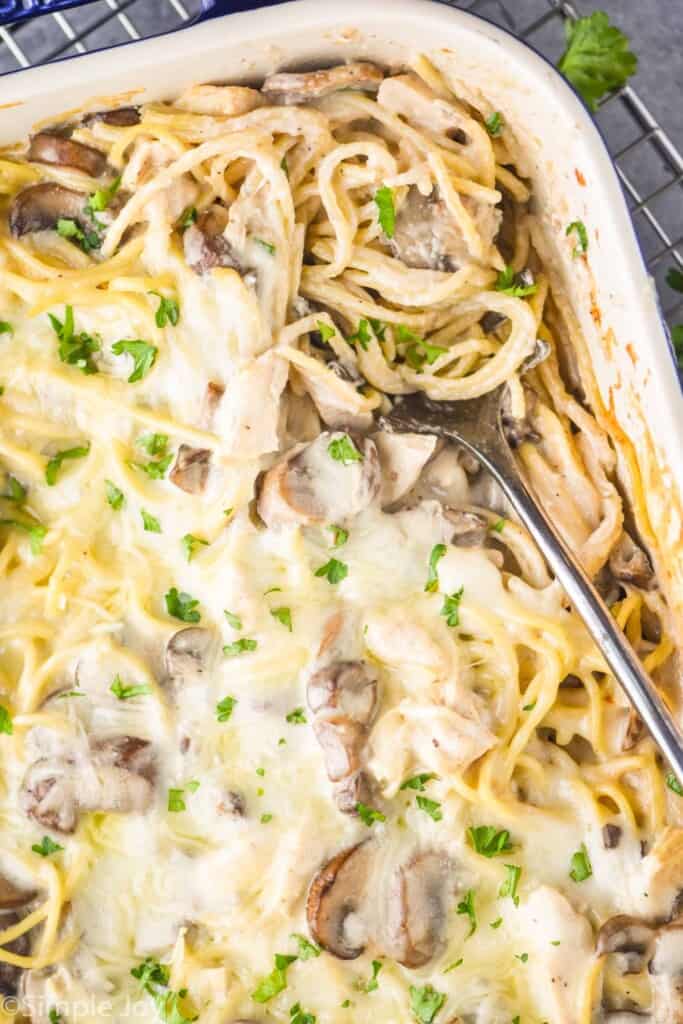 Keeping Cooked Chicken on Hand
One of my favorite hacks is to keep cooked shredded chicken in my freezer. It is a lifesaver for dishes like this or my Chicken Noodle Casserole. Follow the steps below and you can always have chicken on hand.
How to Cook Chicken
Place boneless skinless chicken breasts in a saucepan and cover with water.
Bring to a boil and cook for 4 to 7 minutes or until the chicken registers 165.
Freezing Shredded Chicken
You can always have chicken on hand by freezing it after cooking it. This works great with the above method, and also store bought rotisserie chickens.
Line a baking sheet with wax paper.
Add the shredded chicken in a single layer and freeze for one hour.
Break up and put in a ziplock bag, putting it back in the freezer for up to 3 months.
Using this method, it will be easy to pull out just a few cups of chicken at a time. The chicken thaws in the refrigerator overnight before using, or quickly on the counter top. I have even thrown it into soups straight from the freezer.
Using Other Noodles
You will notice that in my Turkey Tetrazzini we use egg noodles. For this one I decided to go with spaghetti. You really can use any noodle you like.
Just make sure that you cook for 2 minutes less than is listed on the package, as the noodles will continue cooking in the casserole.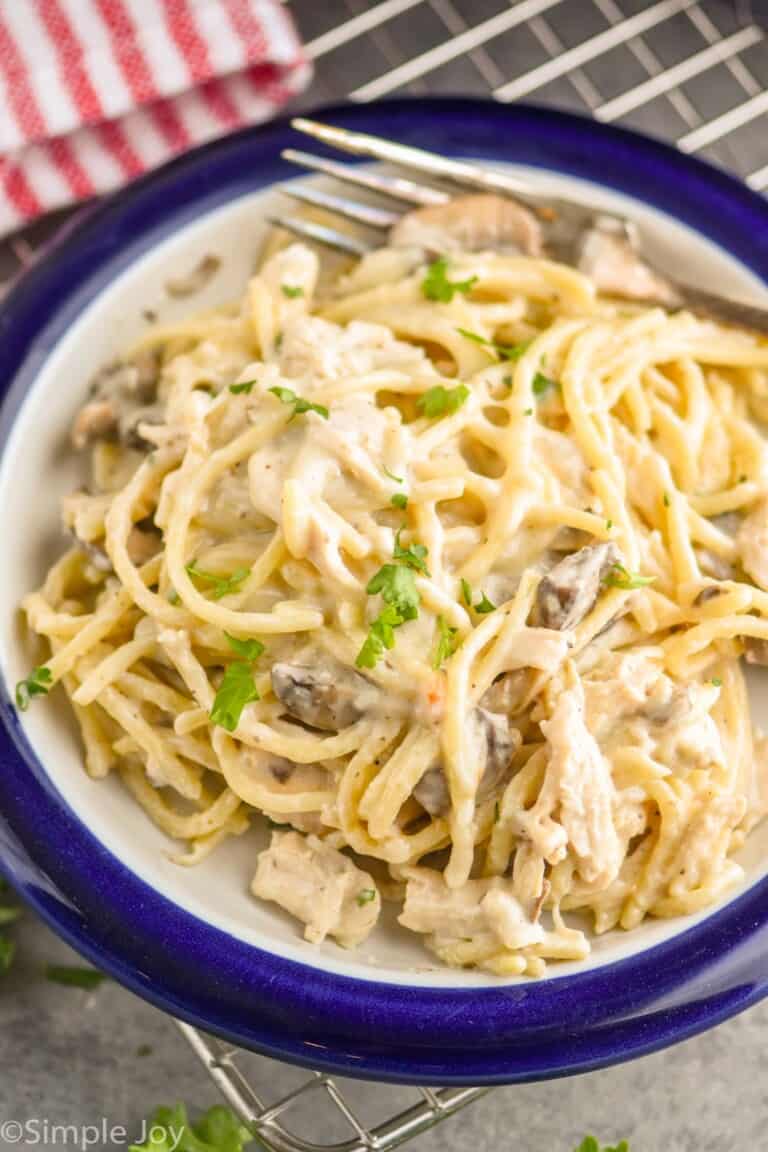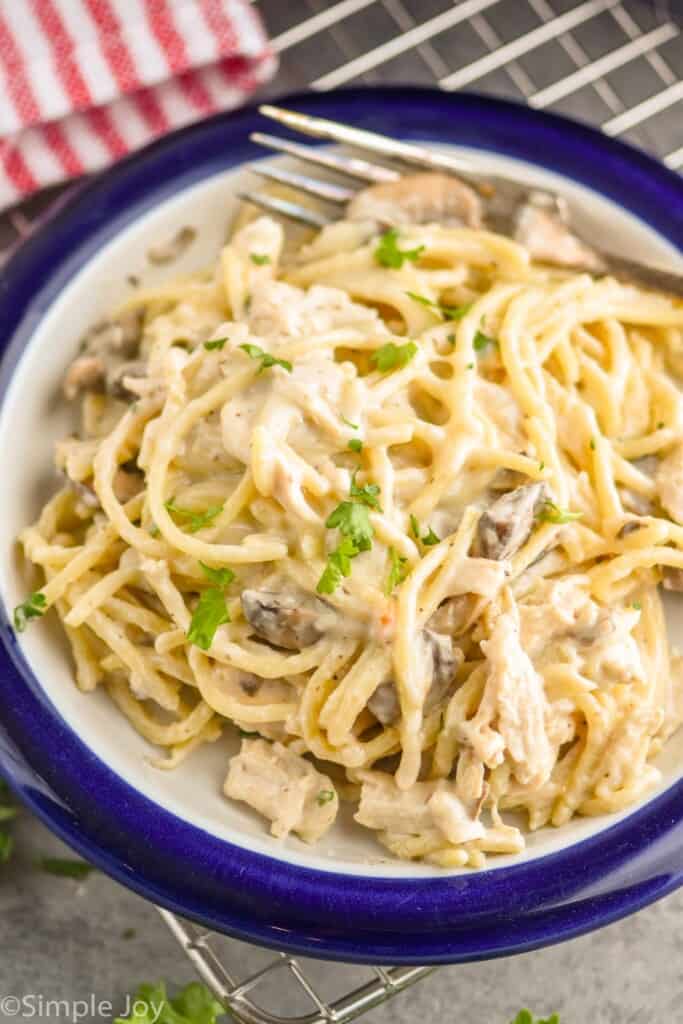 Making Ahead
My Chicken Tetrazzini is a great recipe to prepare the night before. Just wrap it in aluminum foil and put it right in the preheated oven when you are ready to eat. It will likely take a few extra minutes to cook, but will be delicious. Store the uncooked recipe in the refrigerator for up to 24 hours before baking.
Freezing Turkey Tetrazzini
This is also a great recipe to make and stick in your freezer for a busy day. Here are a few tips:
Make the recipe in a disposable casserole dish to avoid it breaking when it goes from the freezer to the hot oven.
Make the recipe as directed, stopping before you put it in the oven.
Wrap it three times with aluminum foil or plastic wrap.
Store it in the freezer for up to three months.
Unwrap before baking.
Bake right from frozen at 350 degrees for 45 minutes or until the casserole is bubbly and golden brown.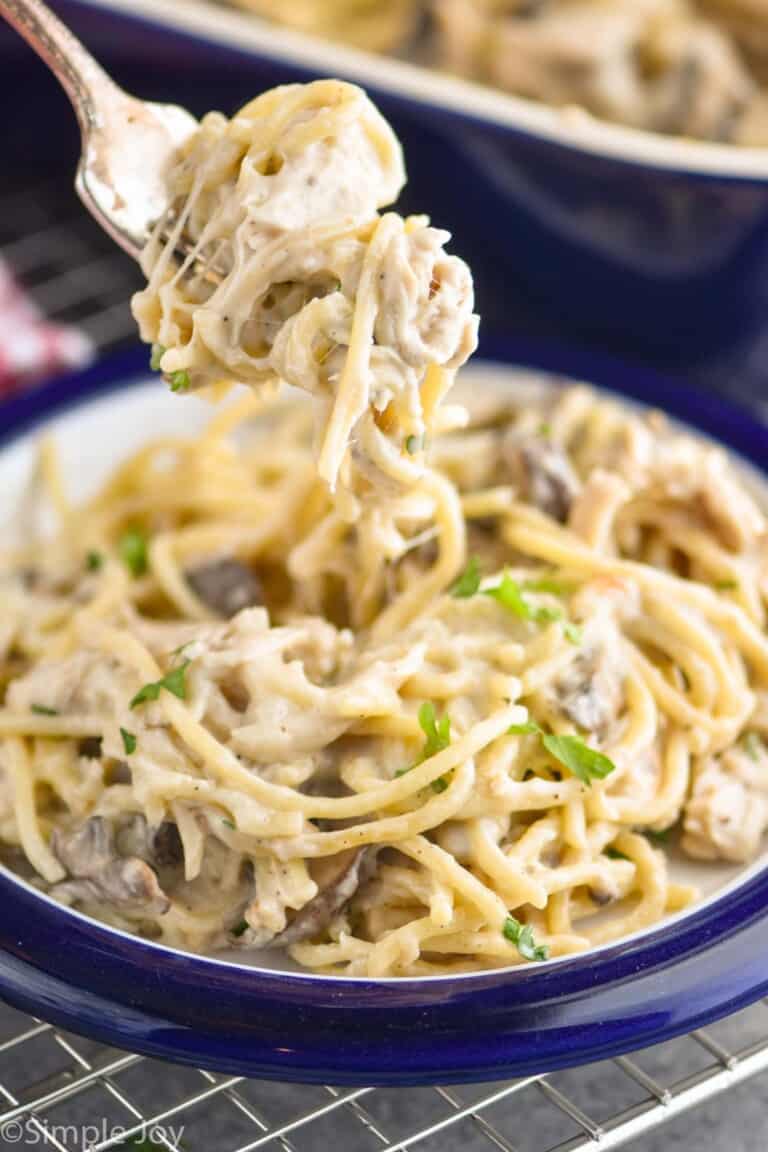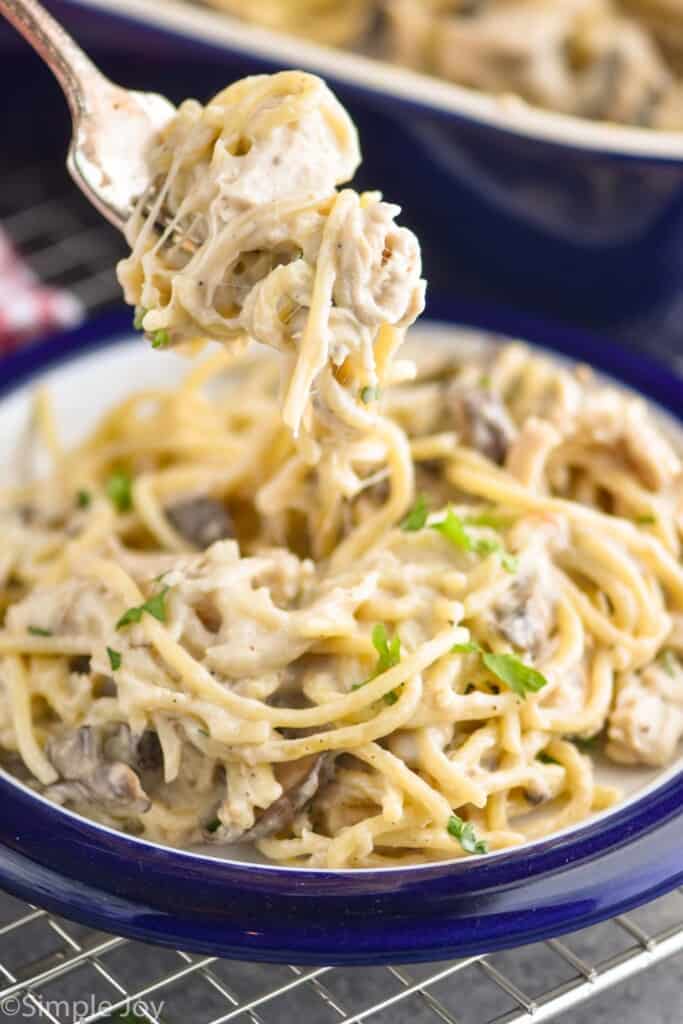 What to Serve with Chicken Tetrazzini
Here are a few recipes that would go great with this:
If you make this Chicken Tetrazzini or any of my other recipes, please leave me a comment and let me know what you think.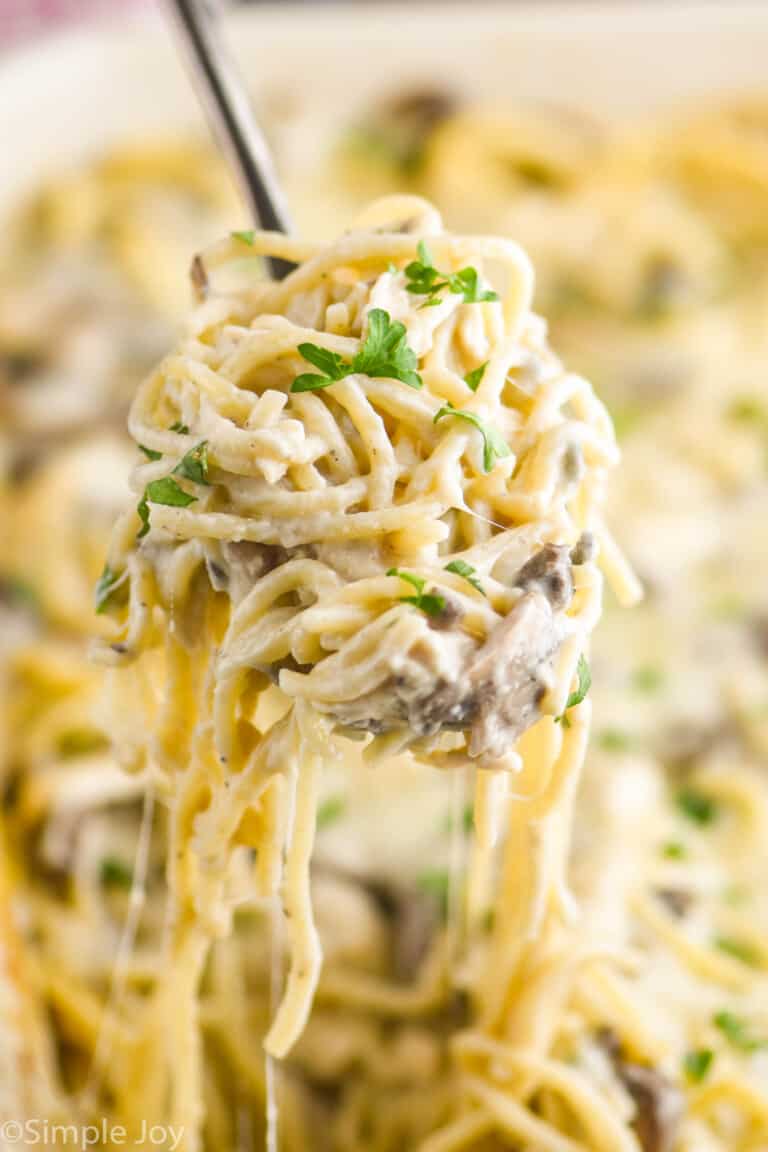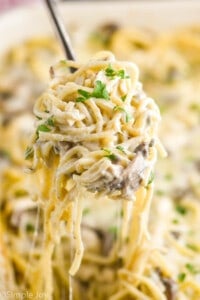 Chicken Tetrazzini
Chicken Tetrazzini is an easy make ahead dinner that is full of comfort. Made with a creamy delicious sauce and baked with spaghetti and chicken, your family will devour this classic dinner.
Ingredients
16

ounces

uncooked spaghetti

8

tablespoons

unsalted butter

16

ounces

mushrooms

chopped small

1/3

cup

all purpose flour

2

cups

chicken stock

1 1/4

cup

milk

1

teaspoon

garlic powder

2

teaspoon

onion powder

1

teaspoon

kosher salt

1/2

teaspoon

black pepper

1

cups

sour cream

2

cups

mozzarella cheese

divided

2

cups

cooked chicken shredded and cut into bite sized pieces (read all my tips and tricks for keeping chicken on hand)

1/4

cup

Parmesan

shredded
Instructions
Preheat the oven to 350 degrees. Spray a 9 by 13 inch baking dish with cooking spray and set aside.

Bring a large pot of water to a boil. Season the water with 1 teaspoon of salt. Add the spaghetti and cook according to package instrucitons.

While the noodles are cooking, melt butter in a large skillet. Add the mushrooms and saute until they are soft, about 4 to 6 minutes.

Whisk in the flour and then very slowly whisk in the chicken stock. Add just a few tablespoons at a time, whisking to combine it, until it is completely added.

Whisk in the milk, garlic powder, onion powder, salt and pepper.

Bring to a simmer, and then cook, stirring often, over low heat for 5 minutes. Stir in the sour cream and 1 cup mozzarella, taste and add more salt and pepper if needed.

Add noodles and chicken to the prepared baking dish. Stir in the sauce. Top with remaining mozzarella and Parmesan cheese. Cover and bake for 30 minutes.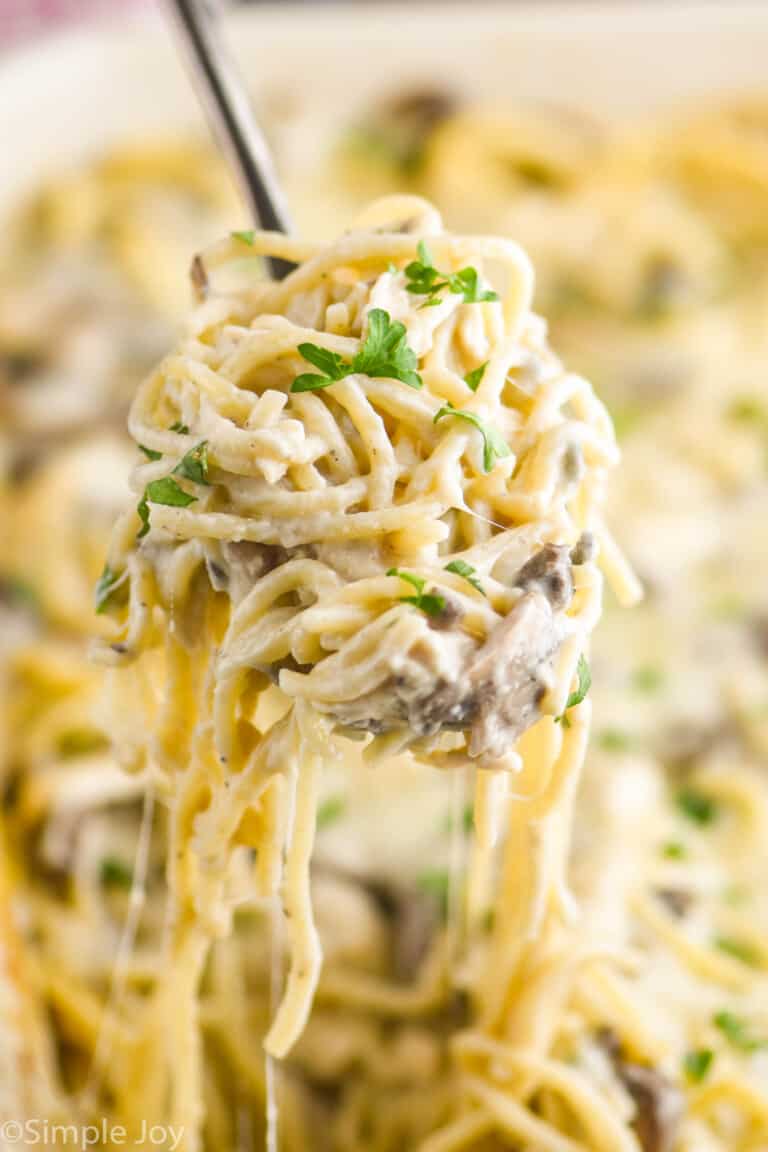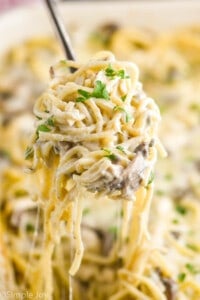 did you make this
Chicken Tetrazzini