Creamy Turkey Tetrazzini is the the ultimate way to follow up a turkey dinner. Use your turkey left overs to make this delicious and easy noodle casserole.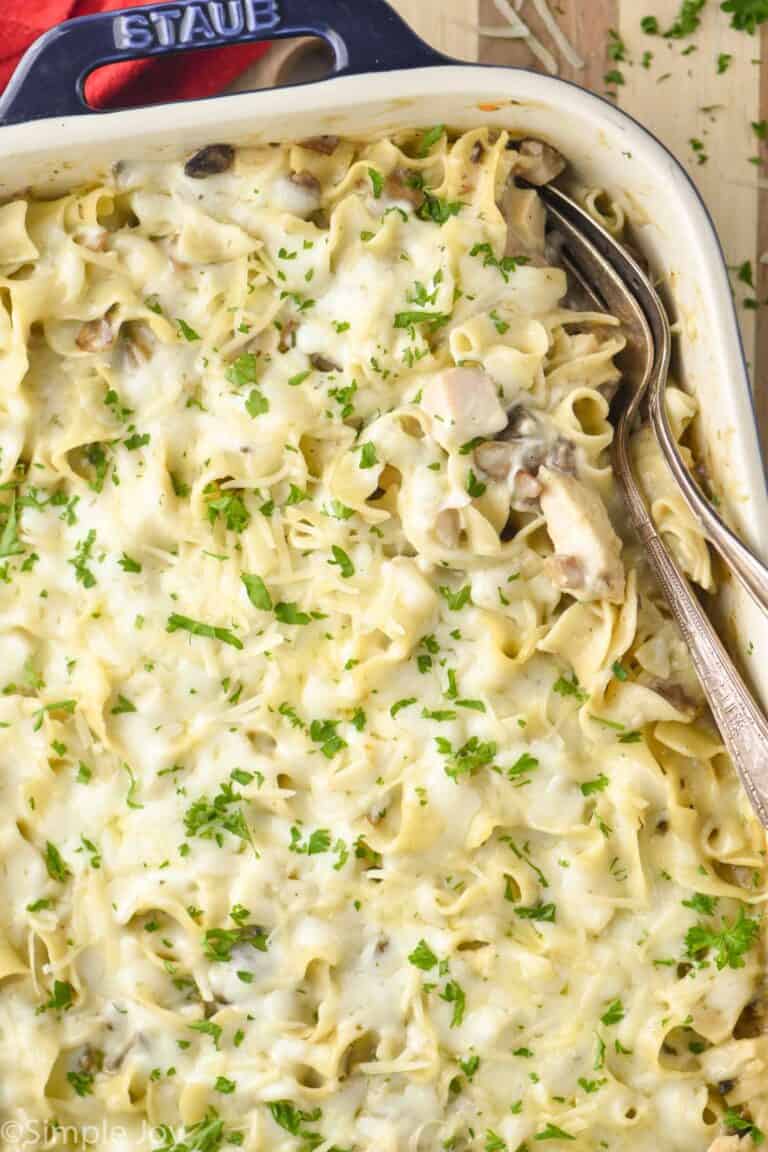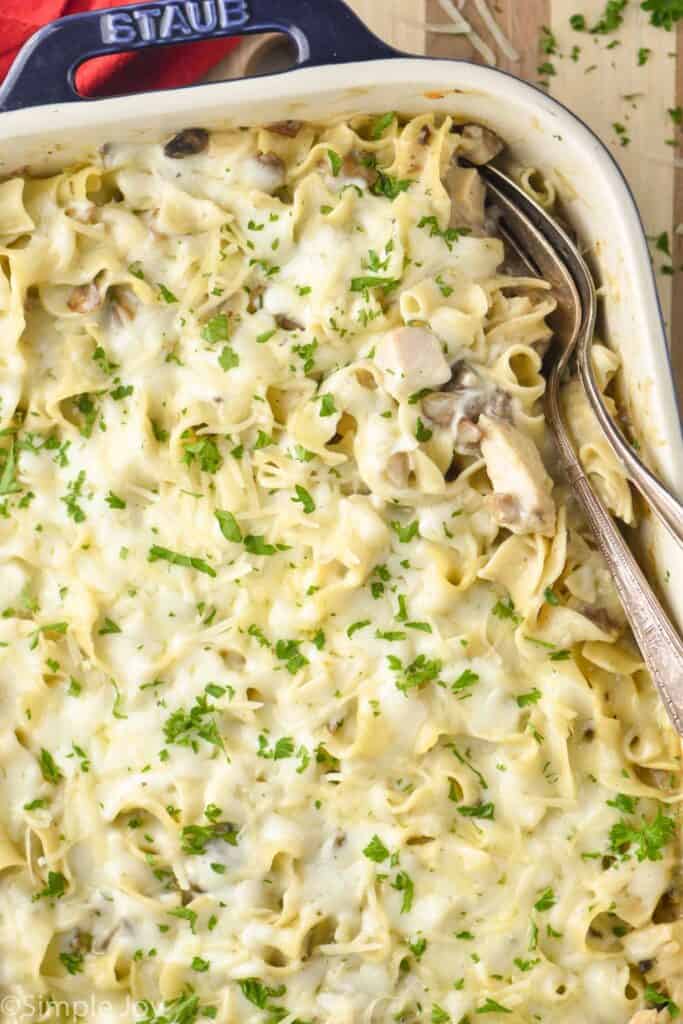 Our family is planning a really low key Thanksgiving this year. Every time I feel sad about that, I think about my brother – an ER doctor – and all that health care workers have done for us this year. This feels like the least my family can do in return. I think about losing my mom, and what a simple choice it is to keep that from happening to someone else.
We are counting our blessings, and feeling extremely grateful for being able to spend this Thanksgiving in good health.
My husband and I keep going back on forth on whether we will make this delicious Turkey Breast recipe or a FULL Roast Turkey. Truthfully, I am in team full roast turkey. Because I LOVE having turkey left overs. They freeze so beautifully and make for great easy dinners like this Turkey Tetrazzini recipe.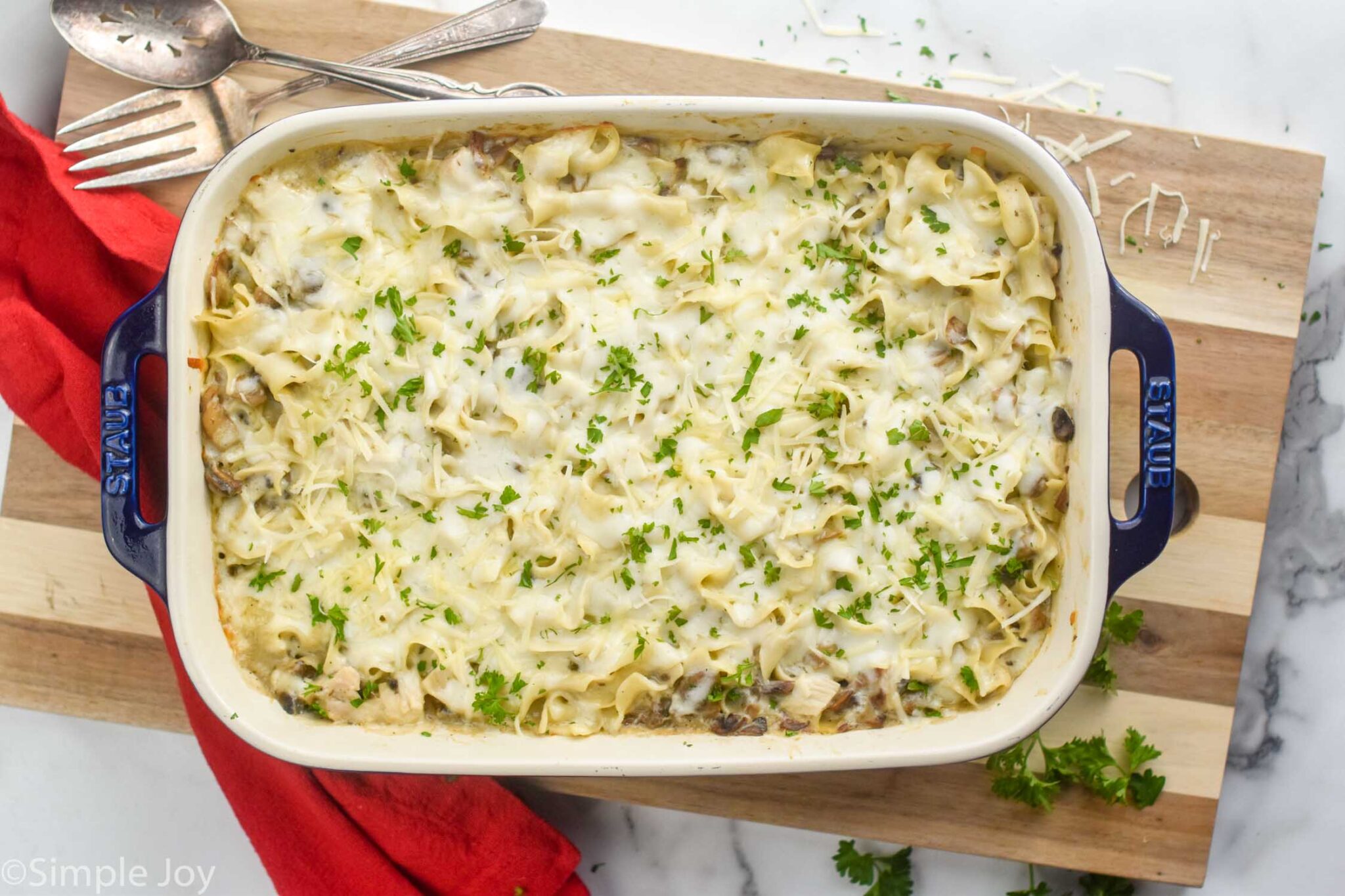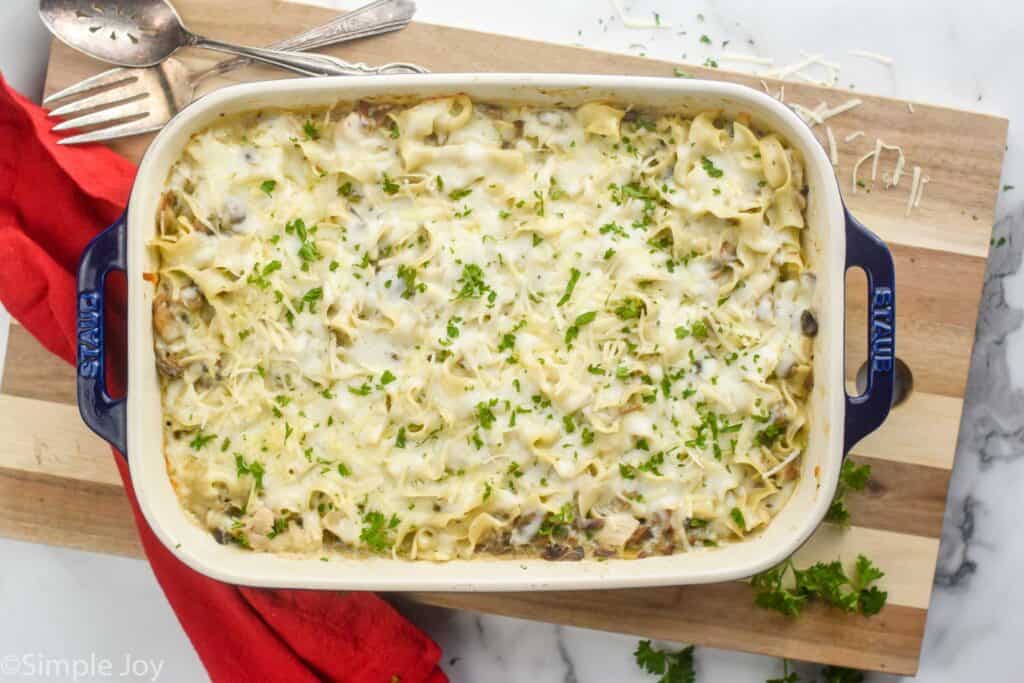 How to Make Turkey Tetrazzini
You'll be amazed how quickly this recipe transforms boring old turkey leftovers. Tender noodles, lots of cheese, mushrooms and spices, yum! And it comes together in just a few simple steps. Check out the recipe card below for complete ingredient measurements and instructions.
First, cook your pasta noodles to al dente, drain and set aside.
While the pasta is cooking sauté some diced mushrooms in with some butter in a heavy skillet.
You'll add some flour, chicken stock, milk and spices to make a creamy roux for your sauce.
Take the soup over the top with some sour cream and mozzarella cheese.
Finally, add the noodles, diced turkey and the creamy sauce to a greased baking dish, mix it all together and bake. YUM!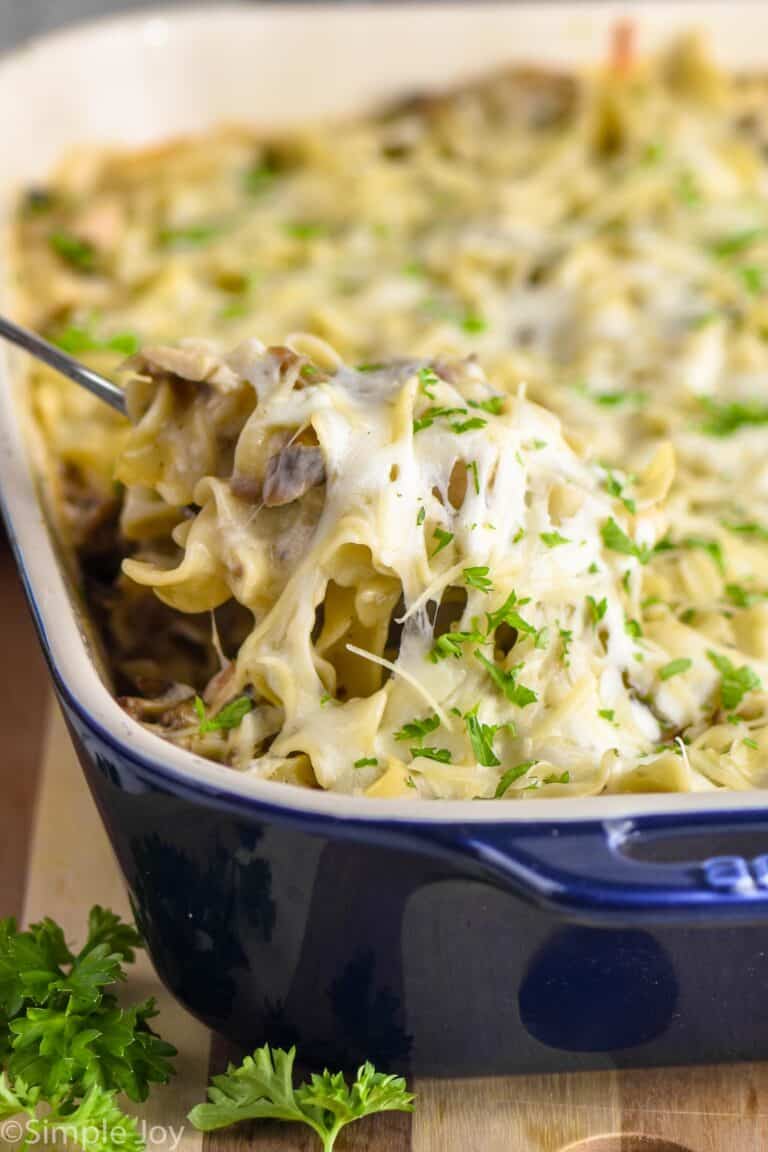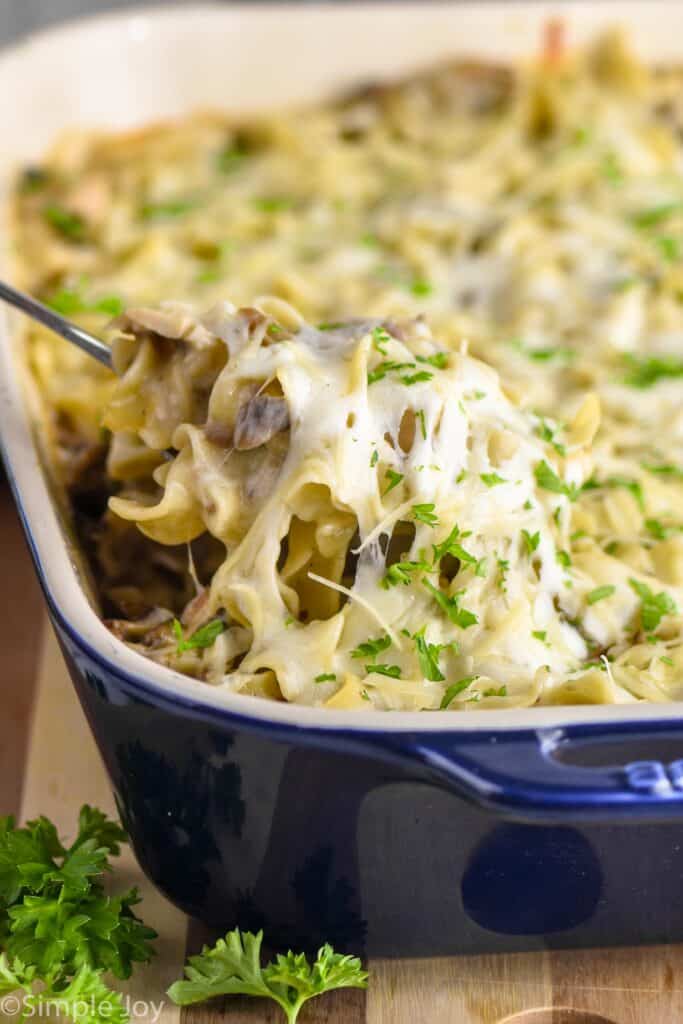 Keeping Turkey Leftovers on Hand
If you have lots of turkey leftover from Thanksgiving, and you're sick of turkey sandwiches, you can keep all that meat fresh and ready for lots of recipes.
A good rule of thumb is to remember that turkey stays good in the refrigerator for about three to five days, but it'll keep in the freezer for up to three months! Check out this post on Freezing Turkey Leftovers for everything you need to know about freezing the remainder of your bird.
Make This Recipe Easier
This Turkey Tetrazzini is so delicious because it's made with a creamy homemade mushroom sauce. It is basically a Homemade Condensed Cream of Mushroom Soup. However, if you are really pushed for time, you can opt for two cans of cream of mushroom soup and skip steps 3 to 6 in the recipe card below.
If you would like to go with the homemade mushroom soup, you have all you need need to know in the recipe card below. That being said, it involves making a roux. If that feels tricky to you, check out this post. It walks you through it and you will become a pro.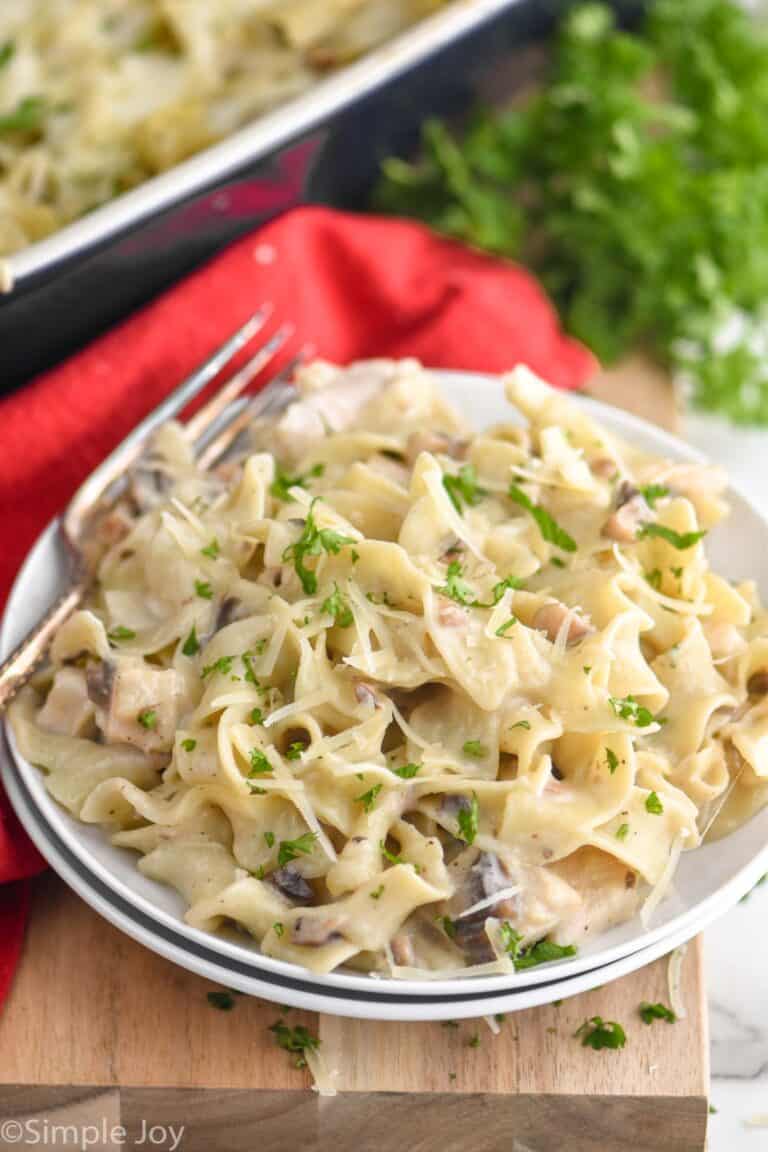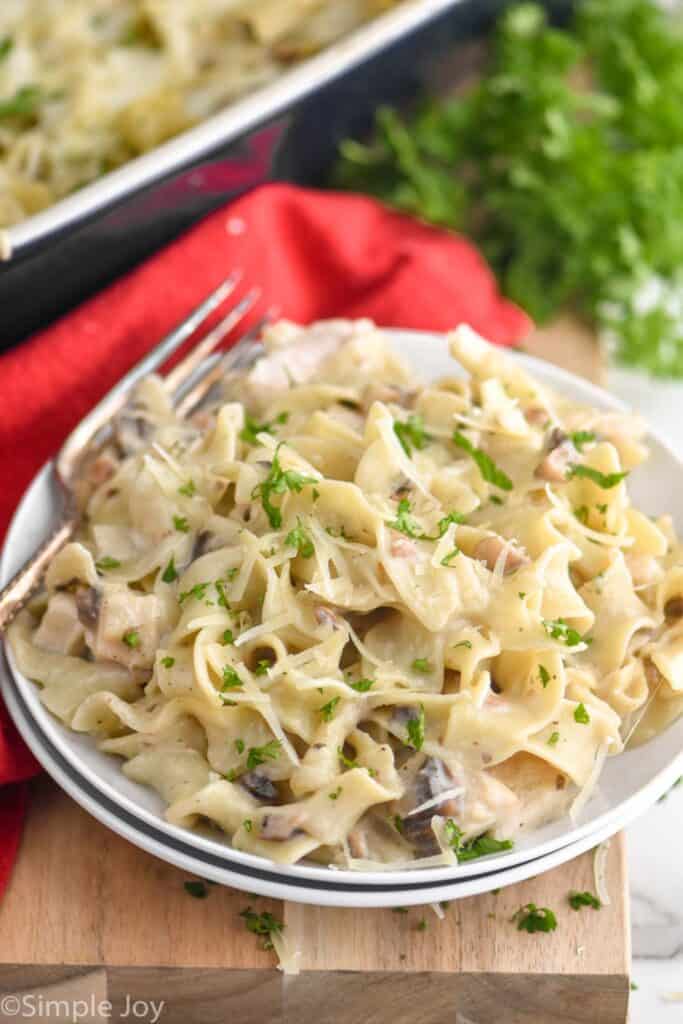 Cooking Noodles
When cooking noodles for this recipe, make sure to cook them on the lower end of the window given on the package. In other words, you want them al dente, or with a slight bite to the pasta. They'll cook more as they bake with the other ingredients.
Using Other Noodles
No egg noodles on hand? Not a fan of egg noodles? No worries! Grab any pasta in your pantry for this delicious tetrazzini. Here are some ideas:
Spaghetti noodles
Penne
Fettuccini
Linguini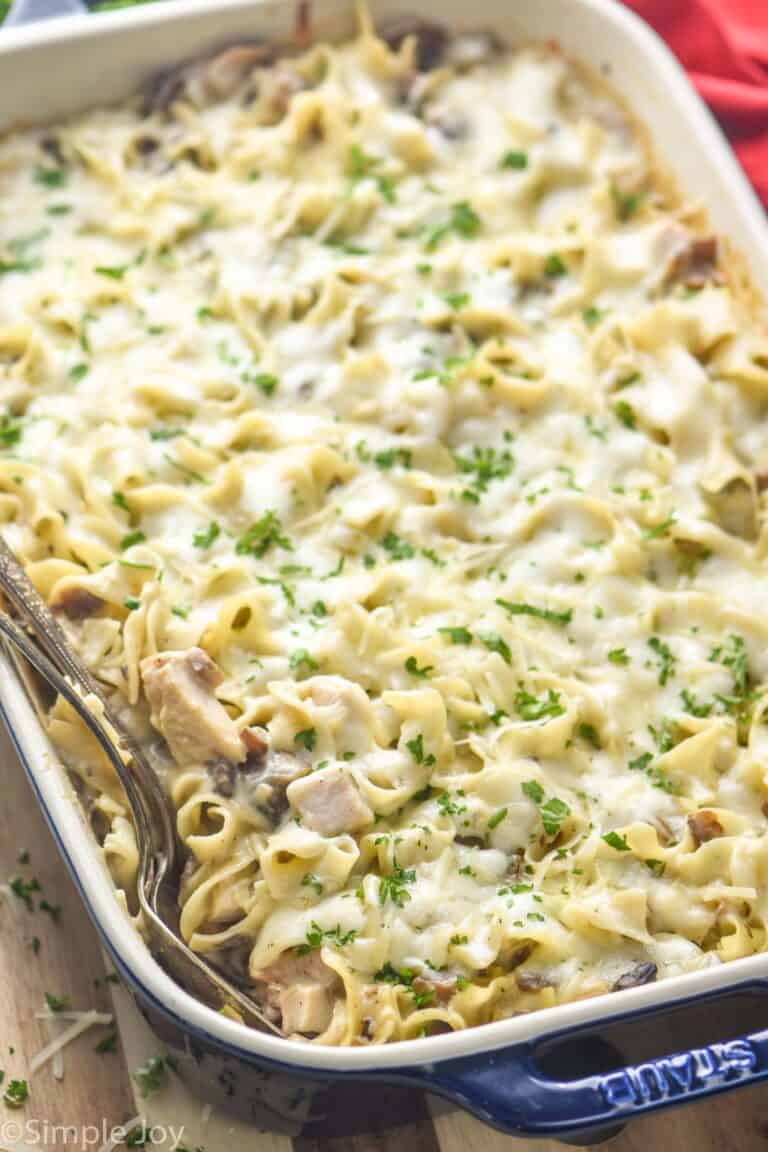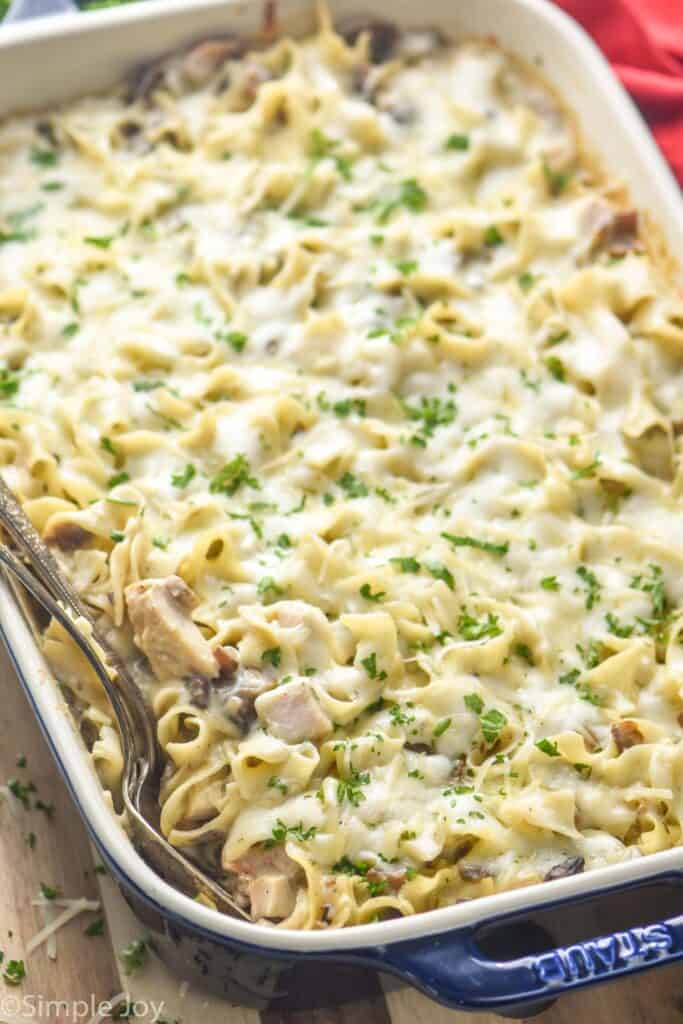 other great ways to use turkey leftovers
Please feel free to leave me a comment with your thoughts on this or other leftover turkey recipes you love. I absolutely love hearing from you! Enjoy every leftover turkey meal; they're so yummy!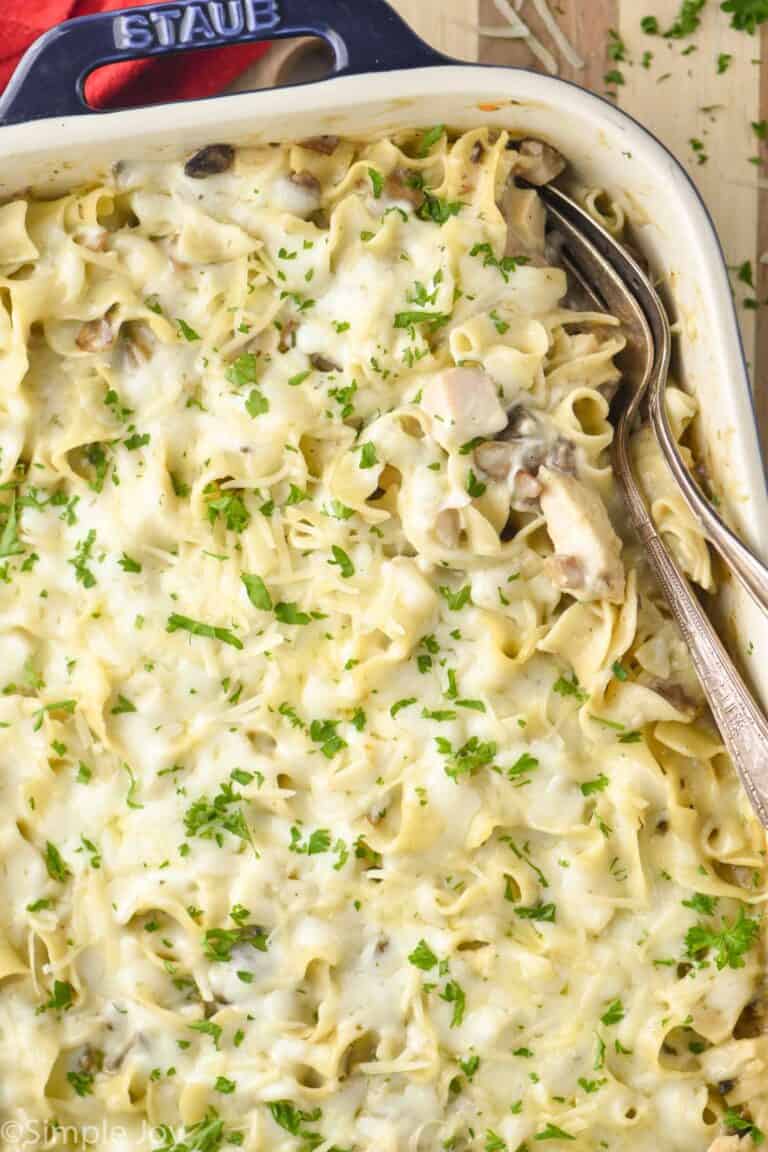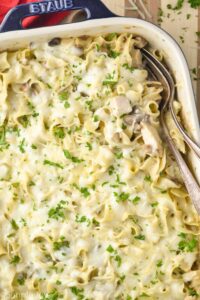 Turkey Tetrazzini
Creamy Turkey Tetrazzini is the the ultimate way to follow up a turkey dinner. Use your turkey left overs to make this delicious and easy noodle casserole.
Ingredients
12

ounces

uncooked egg noodles

8

tablespoons

unsalted butter

16

ounces

mushrooms

chopped small

1/3

cup

all purpose flour

2

cups

chicken stock

1

cup

milk

1

teaspoon

garlic powder

2

teaspoon

onion powder

1

teaspoon

kosher salt

1/2

teaspoon

black pepper

1

cup

sour cream

2

cups

mozzarella cheese

divided

2

cups

cooked turkey

1/4

cup

Parmesan

shredded
Instructions
Preheat the oven to 350 degrees. Spray a 9 by 13 inch baking dish with cooking spray and set aside.

Bring a large pot of water to a boil. Season the water with 1 teaspoon of salt. Add the egg noodles and cook according to package instrucitons.

While the noodles are cooking, melt butter in a large skillet. Add the mushrooms and saute until they are soft, about 4 to 6 minutes.

Whisk in the flour and then very slowly whisk in the chicken stock. Add just a few tablespoons at a time, whisking to combine it, until it is completely added.

Whisk in the milk, garlic powder, onion powder, salt and pepper.

Bring to a simmer, and then cook, stirring often, over low heat for 5 minutes. Stir in the sour cream and 1 cup mozzarella, taste and add more salt and pepper if needed.

Add noodles and diced turkey to the prepared baking dish. Stir in the sauce. Top with remaining mozzarella and Parmesan cheese. Cover and bake for 30 minutes.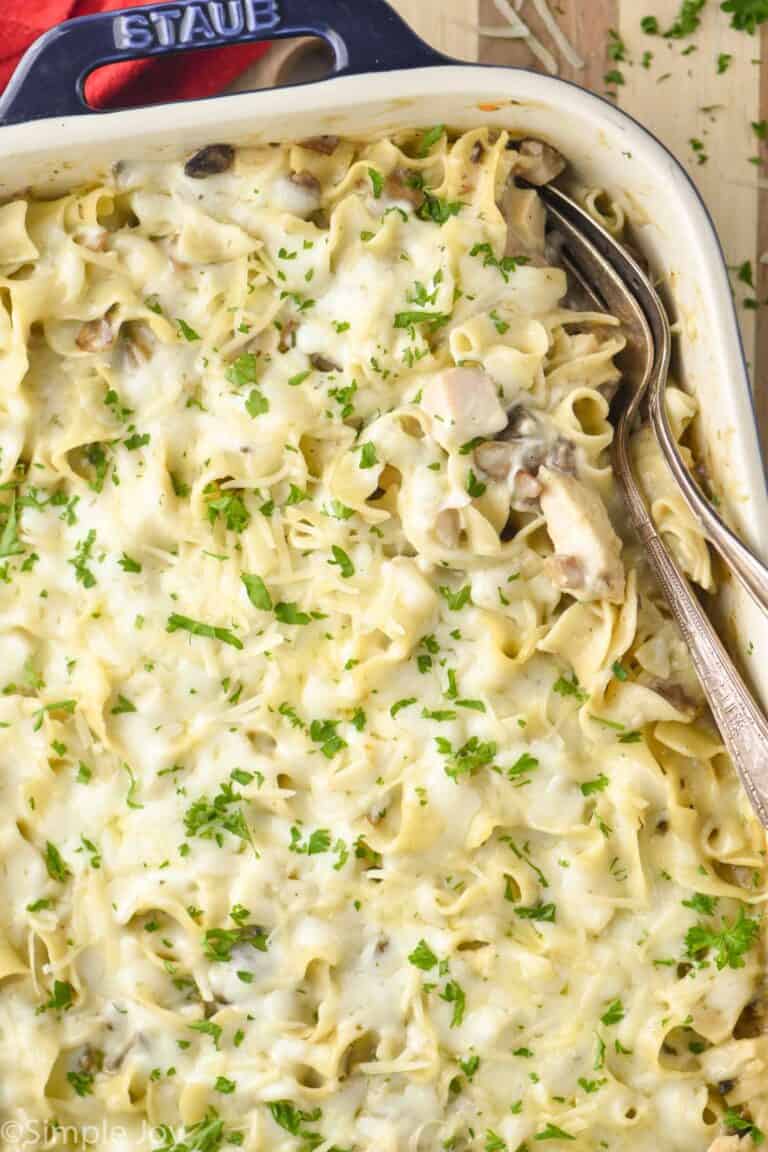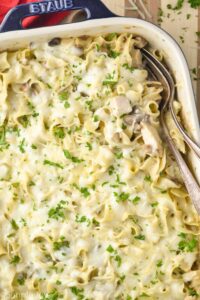 did you make this
Turkey Tetrazzini