Homemade Condensed Cream of Mushroom Soup is an easy homemade swap for a grocery staple. Use this to replace the can when you want a from scratch dinner!
This is perfect in my Cream of Mushroom Chicken.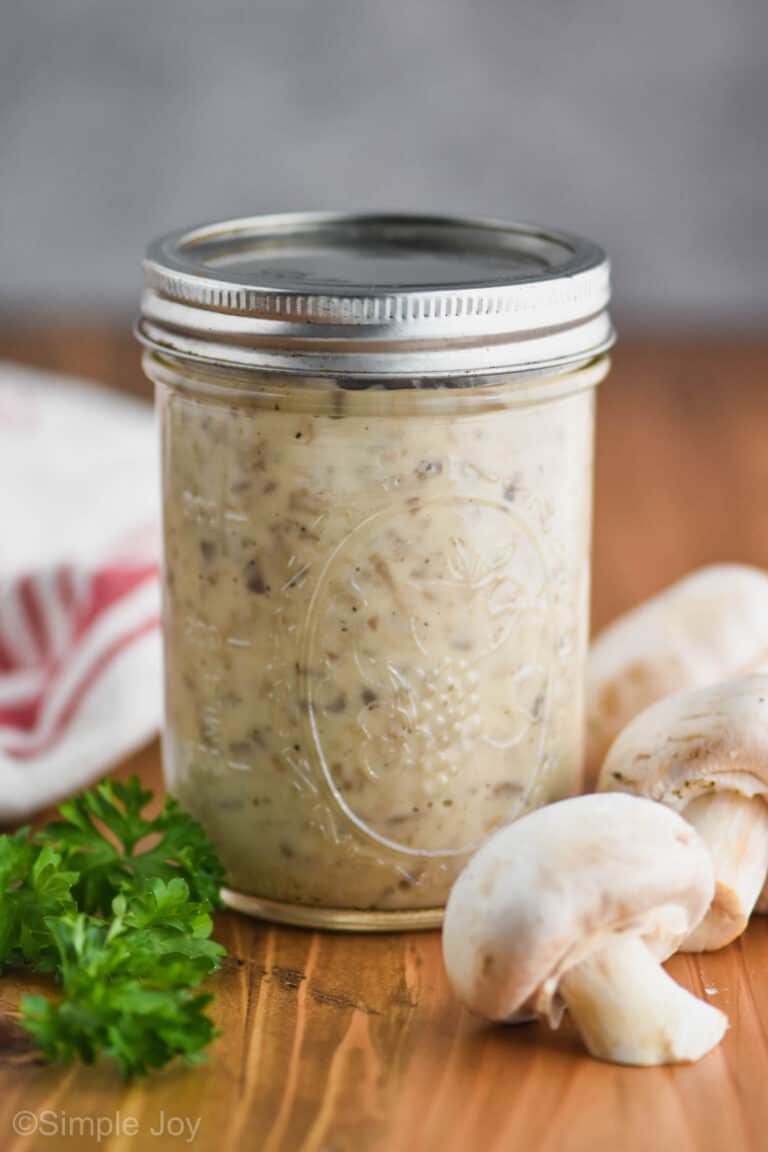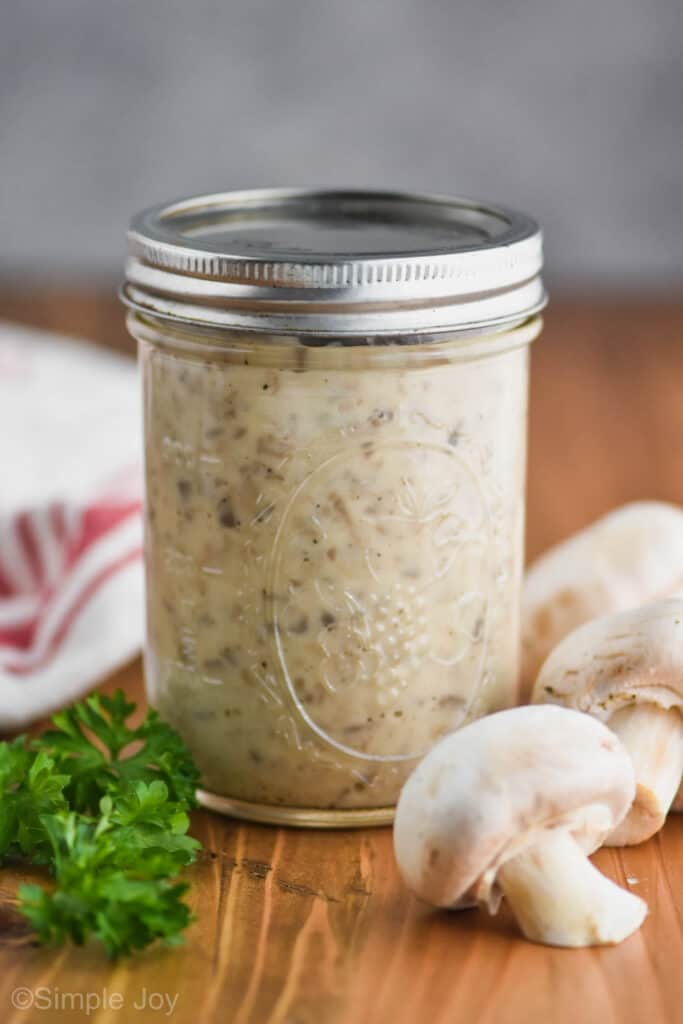 I had an interesting conversation with some close friends about making dinner recently. They are all working moms and my go-tos for bouncing ideas off. They are beautifully kind and honest, and I'm damn lucky to have them.
I asked them if they prefer recipes that are all from scratch or if they like to have short cuts – like seasoning mixes, condensed soups, frozen vegetables, etc.
The response sort of surprised me. They told me that they like a mixture. They like to be able to cook from scratch, but also have a recipe that gives them the option of short cuts.
So since then that has been my goal. I want to provide you with recipes that allow for short cuts when you want them. But also let you know how to cook them totally from scratch if that is your goal.
My Crockpot Chicken Tacos that use either homemade seasoning or a packet is a perfect example. My Chicken Spaghetti calls for spaghetti seasoning mix, but also gives instructions so you can make your own. Another great example is my Instant Pot Chicken and Rice Casserole. In that one you can either use homemade condensed cream of chicken soup, or the can.
No judgement either way, guys. You do you.
So. I'm working to build out my pantry swaps. The next one up is Homemade Condensed Cream of Mushroom Soup. In my humble opinion, it is way better than the can. But as I move forward giving you recipes using this, you'll be able to use either.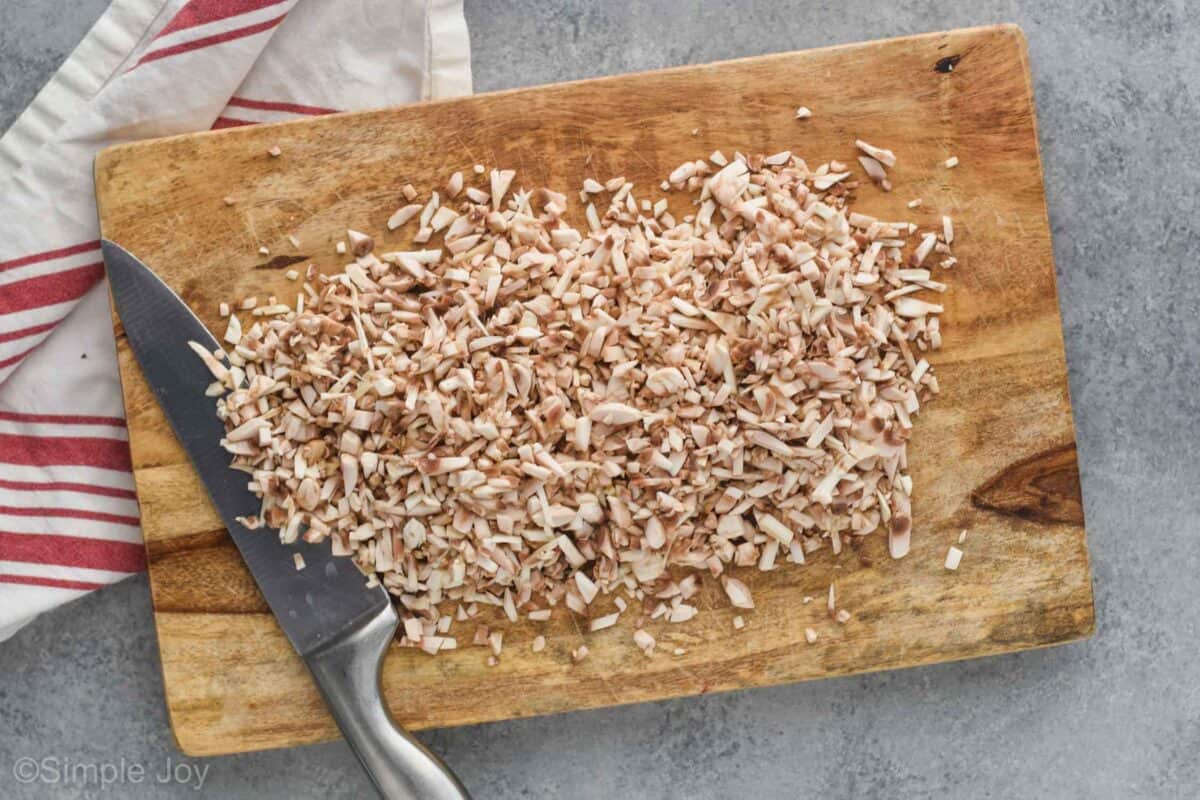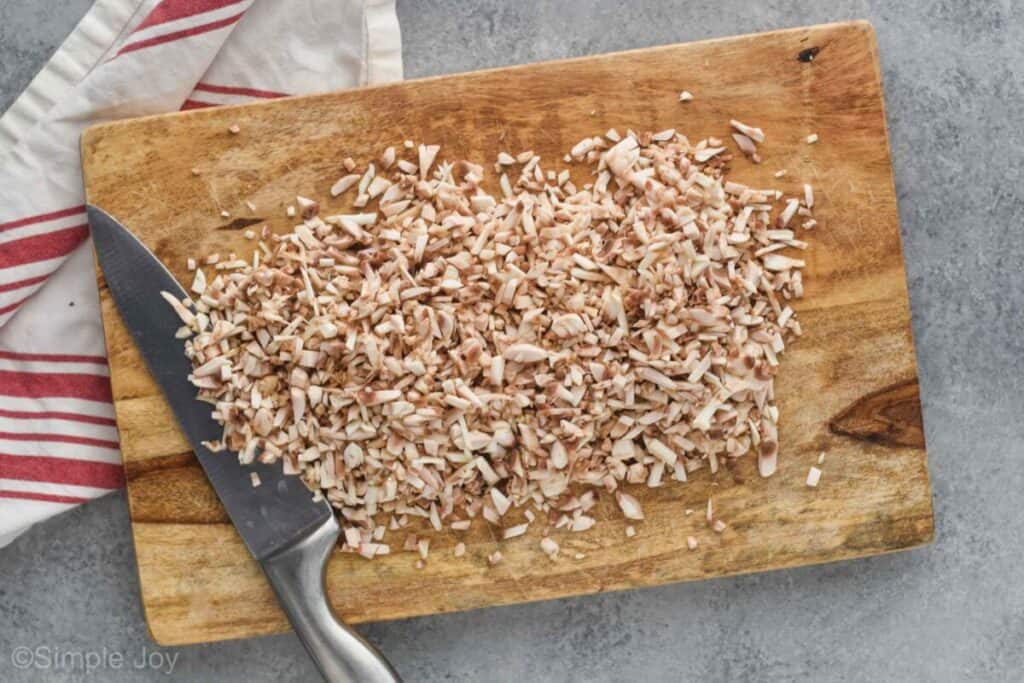 INGREDIENTS FOR CONDENSED CREAM OF MUSHROOM SOUP
Mushrooms, diced very small
Butter
Flour
Milk
Chicken or Vegetable Stock
Garlic Powder
Onion Powder
Kosher Salt
Black Pepper
I'm willing to bet, that the only things you won't have on hand are the stock and the mushrooms. So this is a recipe that will take some planning ahead.
But if you are someone who gets turned off from recipes that include canned ingredients, you will love having this recipe on hand.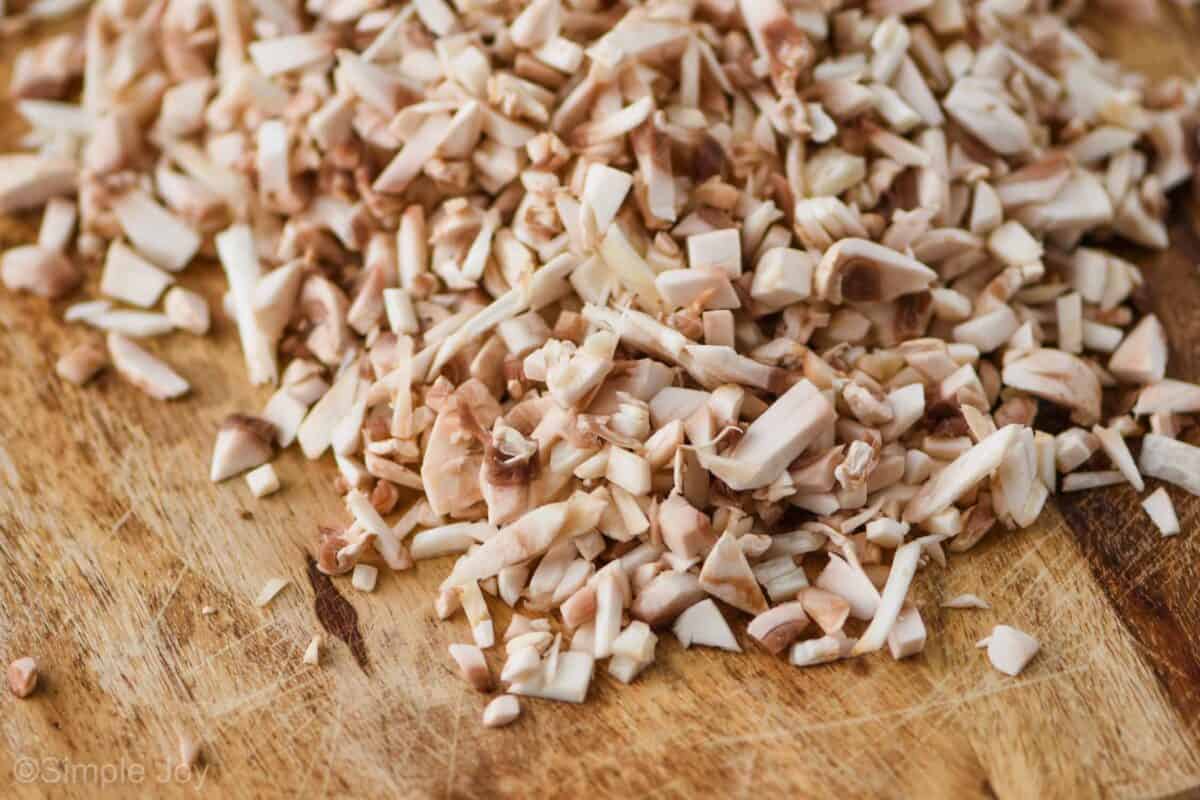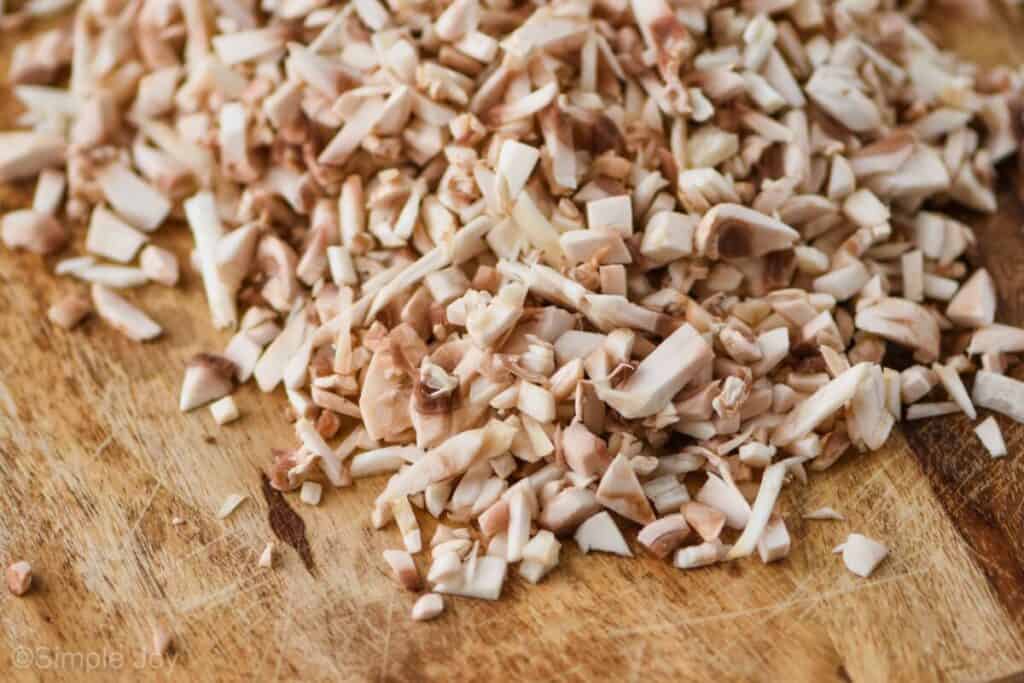 A NOTE ABOUT THE MUSHROOMS
So obviously we need mushrooms for this recipe, right? It is what gives the condensed soup that deep, rich, earthy taste.
A big key to this recipe though is to dice the mushrooms really fine. Cut them thin one way, turn them, and cut them thin the other way. You will end up with a large pile of matchstick like mushroom pieces. Then dice the whole pile very fine.
HOW TO MAKE A ROUX
The most important step of this recipe is making the roux.
A roux is when you mix a fat (in this case butter) with flour. In this recipe we are using the butter to sauté the mushrooms before we add in the flour.
After you add the flour in, it's really important to whisk the stock in slowly. I'm a control freak about this and go just a tiny bit at a time – about a tablespoon – before gradually adding more and then all of it.
The roux is what makes this condensed soup thick and creamy.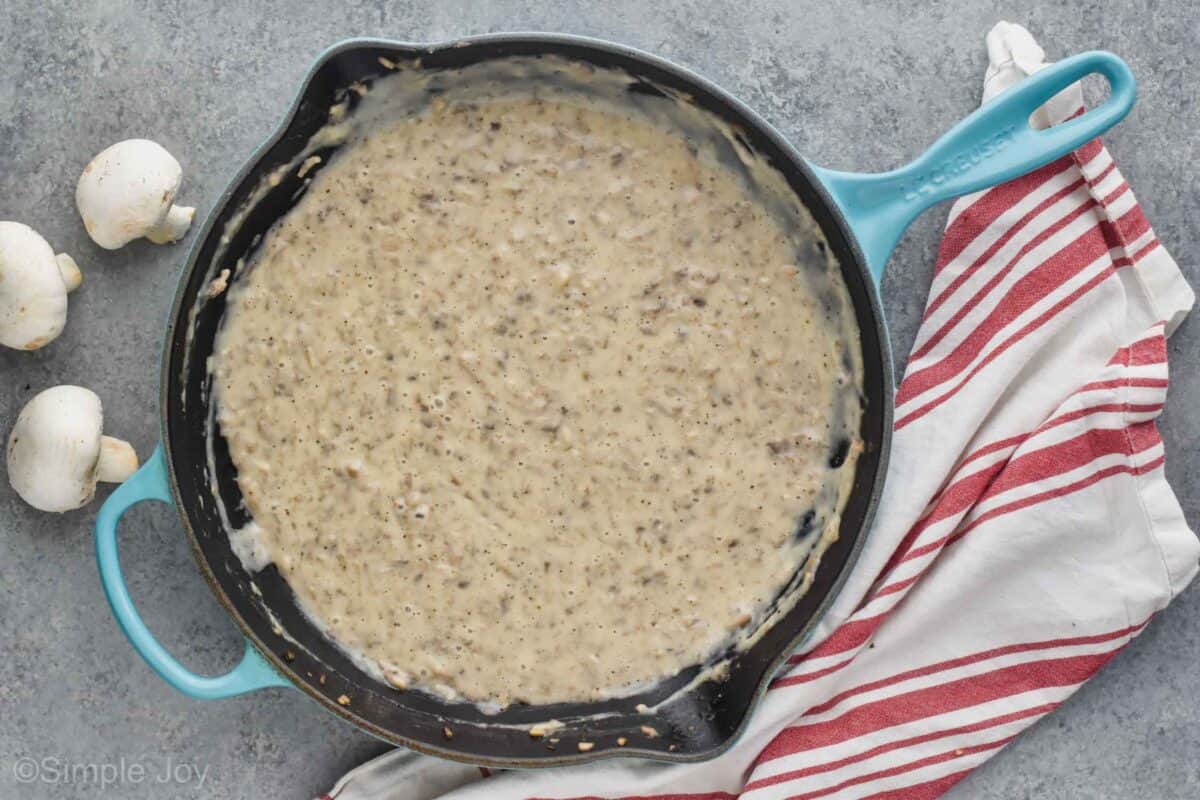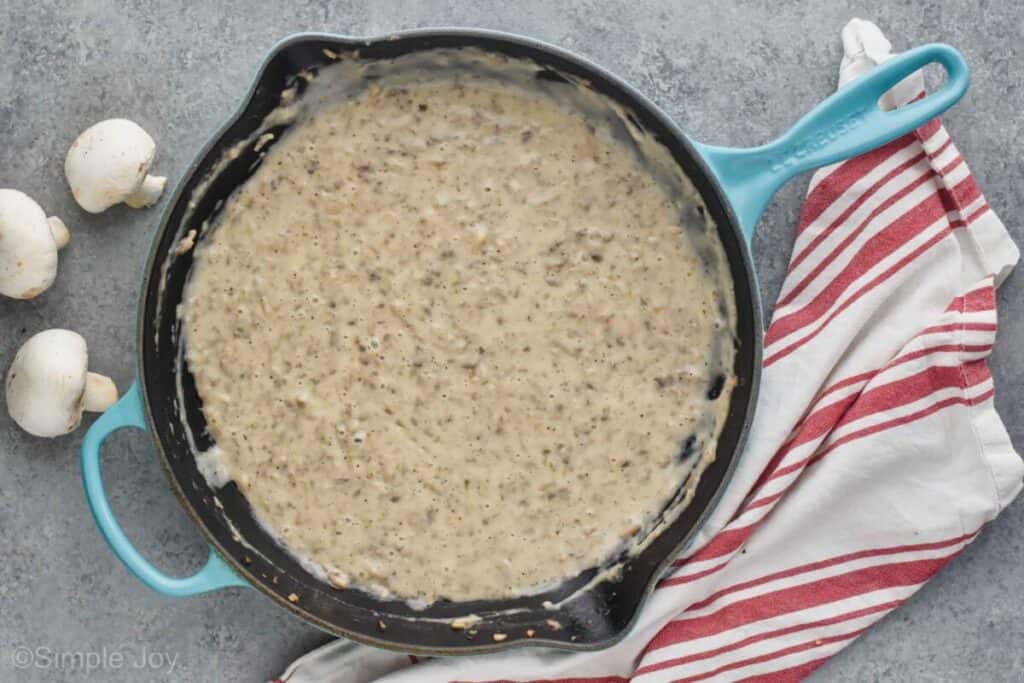 CONSISTENCY
Right after you make this it will be thin-ish. It won't have the consistency of the canned stuff at all. If you let it sit and if you make it ahead of time, it will be more what you are used to buying.
STORING THIS CONDENSED SOUP
One thing I love about this recipe is that you can make it ahead of time. It can be stored in the refrigerator for up to three days.
To store it, allow it to cool. After it is no longer steaming, transfer it to a food safe container. Store in the refrigerator.
Everything I have read does not recommend canning dairy. So, unfortunately, I'm not going to give instructions for that as I want to keep this recipe risk free for you.
OTHER GREAT GROCERY STORE SWAPS
If you are like my friends and want to sometimes make things from scratch and other times not, here are some of my other great grocery store replacement recipes.
If you make this recipe please leave me a comment and let me know how it worked for you! I love hearing from you.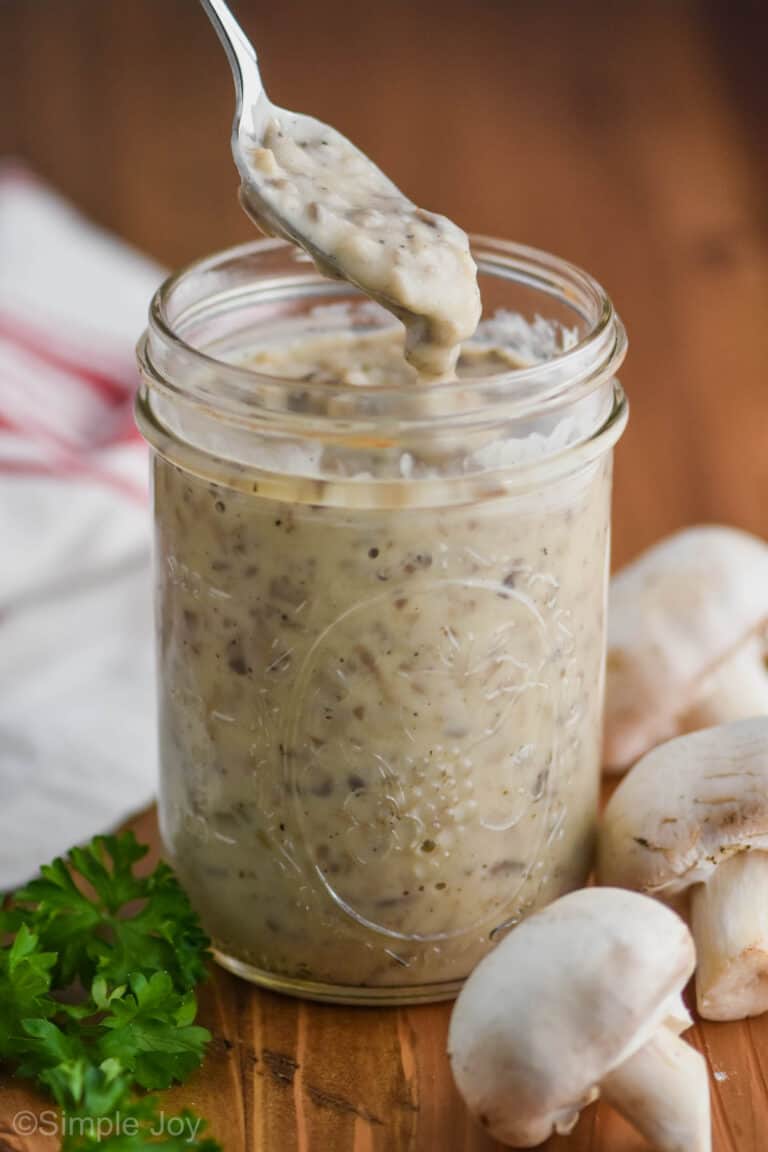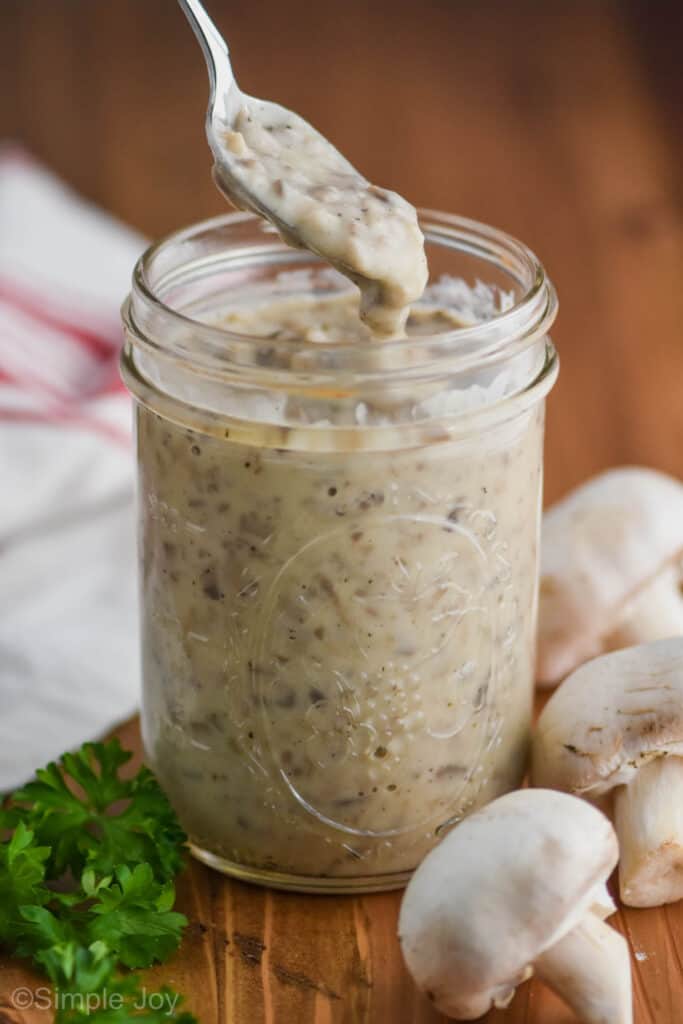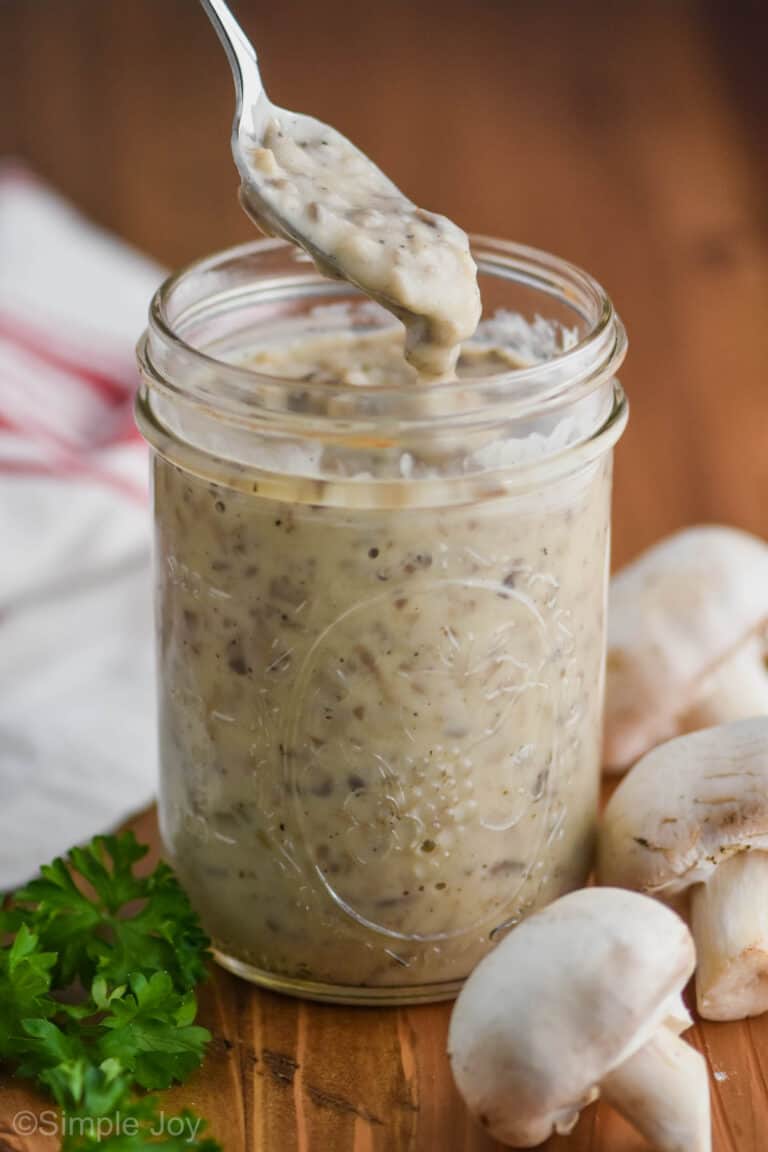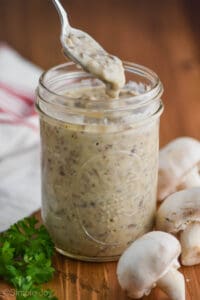 Homemade Condensed Cream of Mushroom Soup
Homemade Condensed Cream of Mushroom Soup is an easy homemade swap for a grocery staple. Use this to replace the can when you want a from scratch dinner!
Ingredients
4

tablespoons

unsalted butter

8

ounces

mushrooms

chopped small

3

tablespoons

all purpose flour

1

cup

chicken stock

1/2

cup

milk

1/2

teaspoon

garlic powder

1/2

teaspoon

onion powder

1/2

teaspoon

kosher salt

1/4

teaspoon

black pepper
Instructions
In a large skillet melt the butter. Add the mushrooms and saute until they are soft, about 4 to 6 minutes.

Whisk in the flour and then very slowly whisk in the chicken stock. Add just a few tablespoons at a time, whisking to combine it, until it is completely added.

Whisk in the milk, garlic powder, onion powder, salt and pepper.

Bring to a simmer, and then cook, stirring often, over low heat for 5 minutes.

Remove from the heat and use in a recipe right away. Or allow to cool and then store in the refrigerator in an airt tight container for up to three days.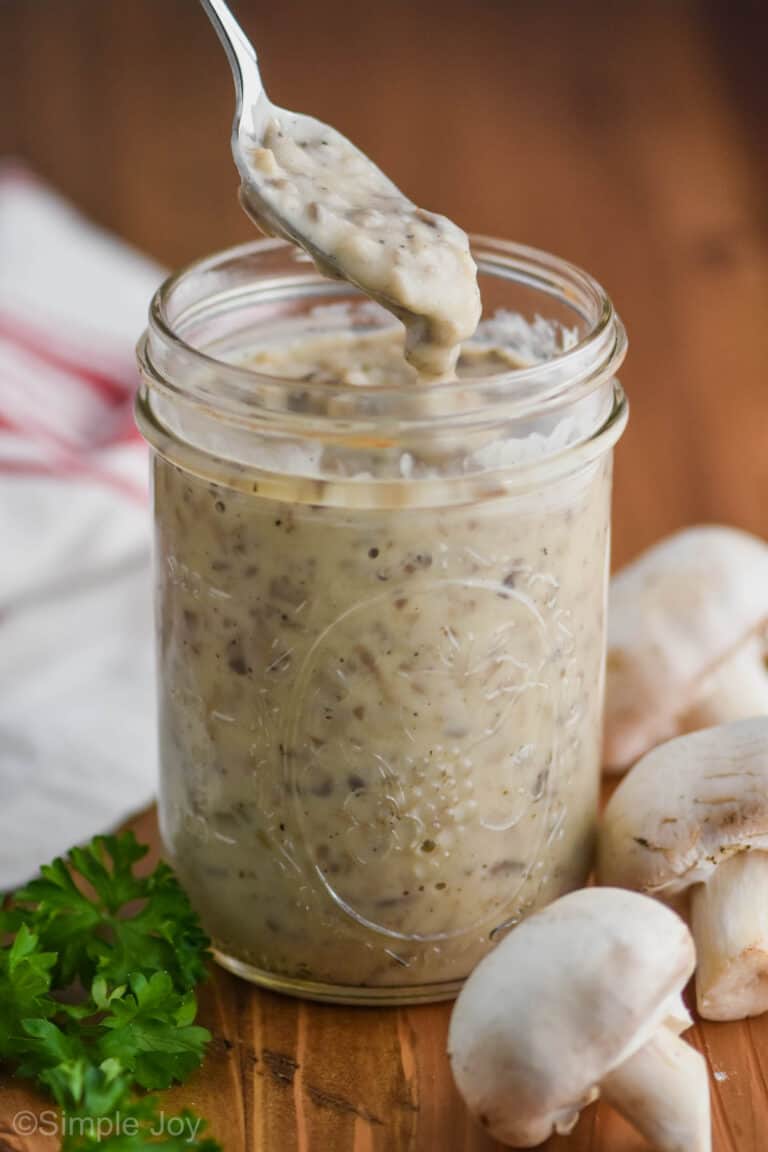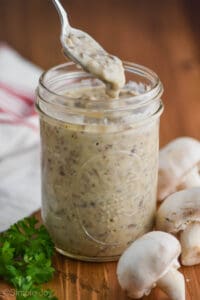 did you make this
Homemade Condensed Cream of Mushroom Soup