These Chocolate Raspberry Brownies are deliciously easy and such a perfect flavor combo!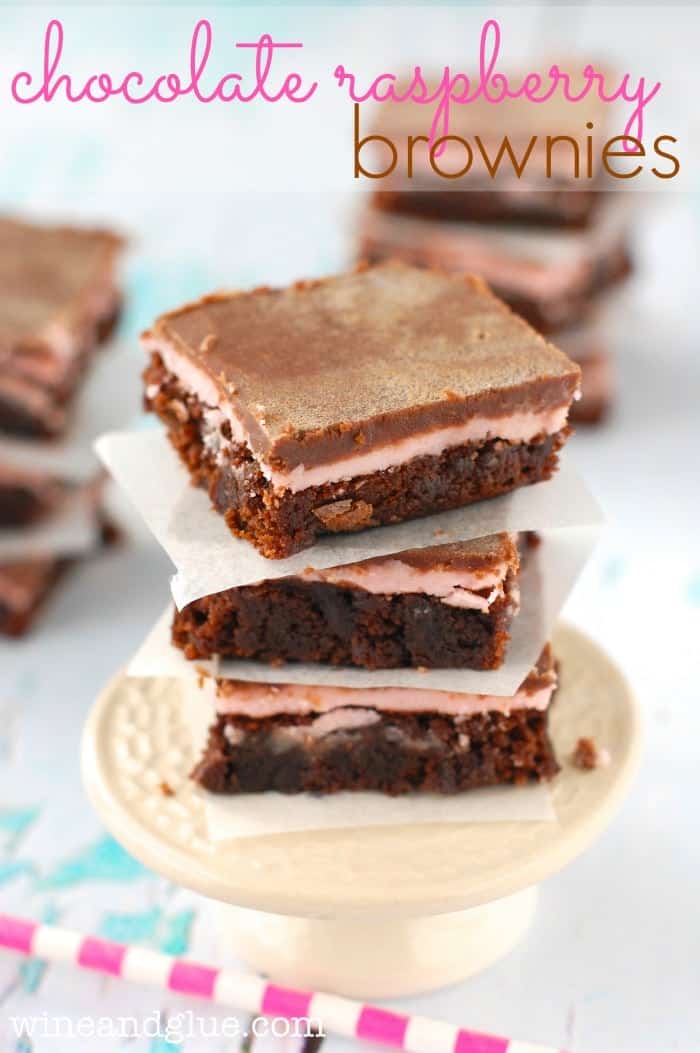 Beware. In this post I'm going to drone on about being pregnant, so if that isn't your thing, but chocolate and raspberries are (and who can blame you?), just skip to the recipe.
As of this Sunday I will be 28 weeks pregnant. So that means that I will officially be in my third trimester. And I'm not going to lie, that really freaks me out. On a superficial level, it freaks me out because I honestly feel, physically, like I'm about 38 weeks pregnant, not 28. I feel huge, it is getting harder and harder to do things (I mean, how much longer can I really perch acrobatically on a stool over a plate of food??), and I just can't imagine this going on for three more months, with my belly growing exponentially.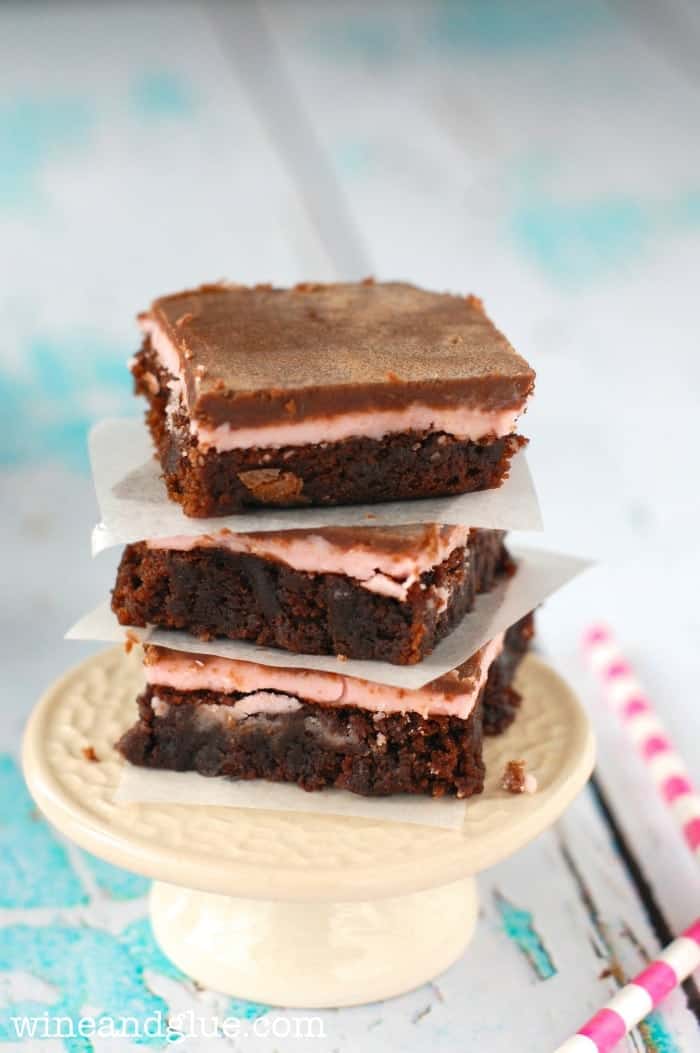 On an only slightly less superficially level, EEEEEEKKKKKKK! There is SO. MUCH. TO. DO. before I give birth! There are things to do with the blog (like work ahead, set up guest posts, etc.) and there are things to do with our house! Like . . . oh, I don't know, set up the nursery!!! I don't sleep well with a baby in my room, and I really need things to be in place before kiddo is born, so that means we have T-minus twelve weeks to get our game faces on. Did I mention that I stupidly decided to make the nursery bedding?? Include a quilt. #idontknowhowtoquilt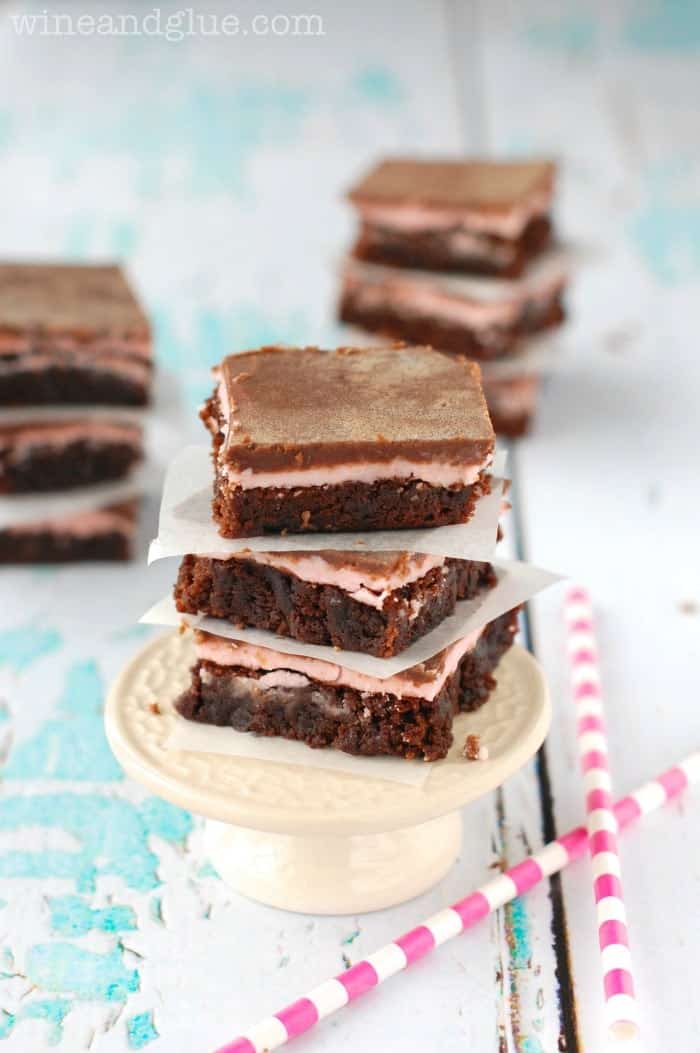 And lastly, and most importantly, I feel like I'm in this very weird limbo state. I feel like we are just on the precipice of being a family of five. And it feels very strange. I am totally looking forward to meeting this little girl, and given all the grace and blessings that have come my way in life, I know that she will be the perfect little soul for our family.
And yet, part of me is mourning the loss of our sweet little family of four. For so long it was the three of us, Nathan, Gavin, and I. And we felt like a family. And after we lost Elliot, we definitely felt defeated and like we were a man down. Quinn came along and again, I felt like we were such a family. That is even more the case now. We all play our roles, we all have such different personalities, with such striking similarities and we know each other so well. It's just hard to even imagine another person coming in.
Someone please tell me I'm not the first mom to feel this way! So torn between excitement and a little tinge of loss.
I am trying to prepare Gavin and Quinn as best as I can, and I also know that it will play out the way it will play out. And we will all adjust.
In the meantime, I am going to quell my fears about our changing family, my anxiety about my guest-room-in-shambles-almost-nursery, and my sweet little blog with these Chocolate Raspberry Brownies.
Ummmm, these are awesome guys. I really had to exhibit some serious self control while cutting into these to photograph them. They are the recipe I used to make my mom's Chocolate Mint Brownies, and they are just as good, though very different. Ha! Kind of like our changing family.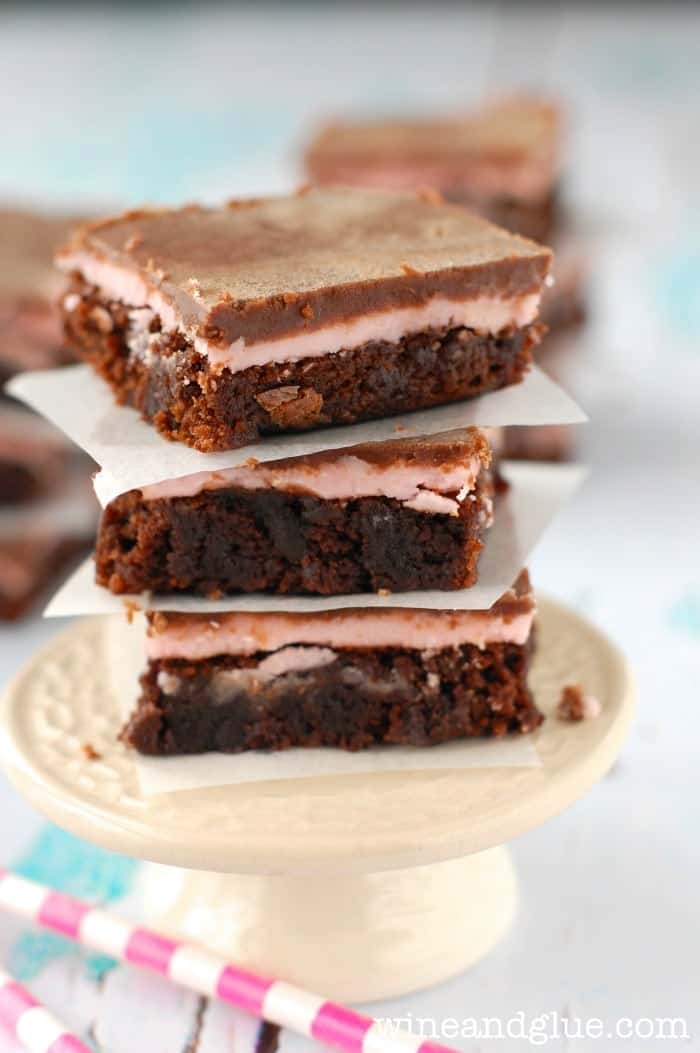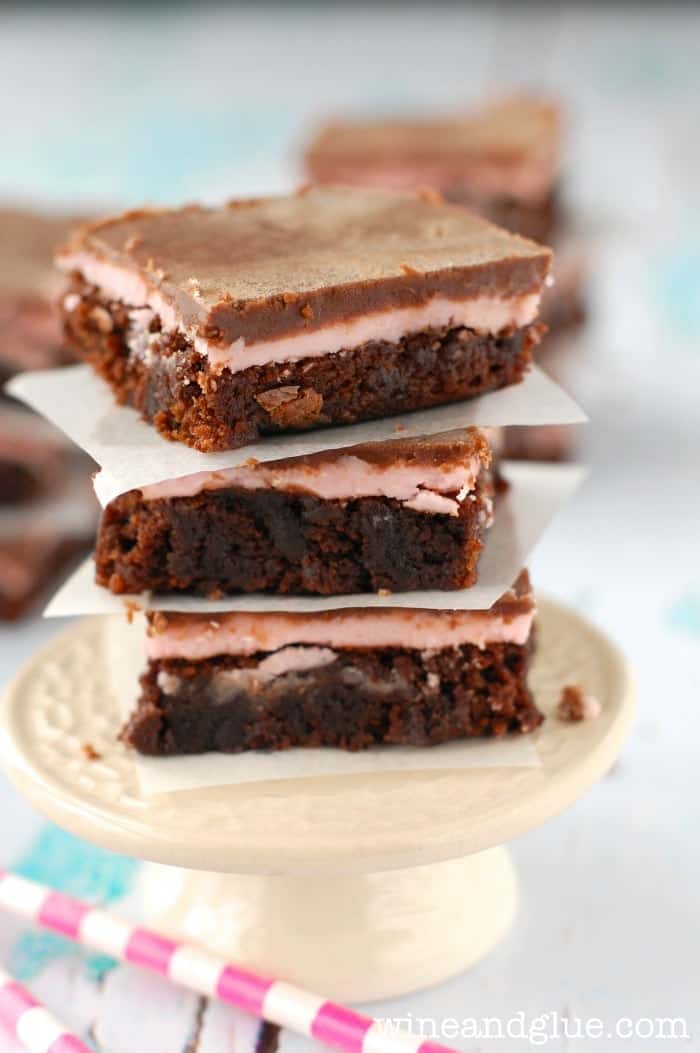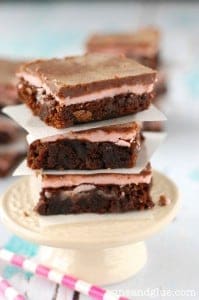 Chocolate Raspberry Brownies
Ingredients
Brownie Mix

I used Betty Crocker

2 1/4

cups

powdered sugar

1/2

cup

butter

almost melted

2

TBSPs

milk

2

tsps

raspberry extract

red food coloring

1

cup

chocolate chips

1/2

cup

butter
Instructions
Bake brownies as directed (the 9x13 size). Let cool for at least an hour on the counter, or a half hour in the refrigerator.

Mix together 1/2 cup of almost melted butter (you don't want it liquid, but you want it extremely soft), powdered sugar, milk, and raspberry extract. Add as much red food coloring as is necessary to get it a nice pink color. Pour the mixture over the cooled brownies, spreading to make a nice even layer. Refrigerate for another half hour.

Melt the chocolate chips and the remaining 1/2 cup butter over medium low heat, stirring until smooth. Pour over the brownies, tilting the pan so it smooths out. Refrigerate for an hour or until chocolate has completely set and is hard.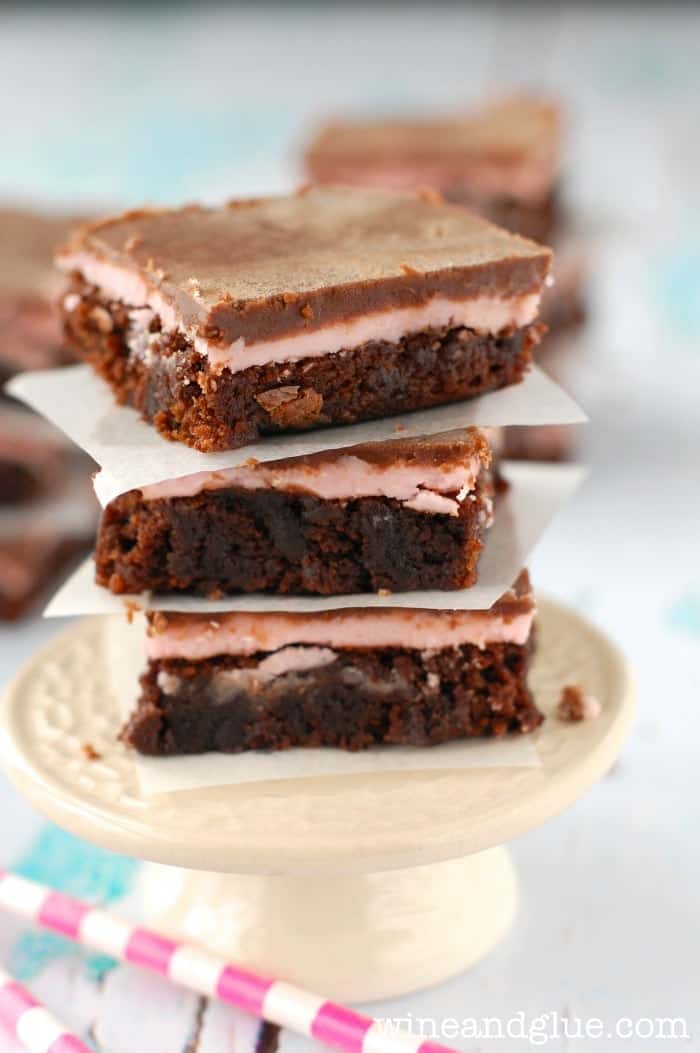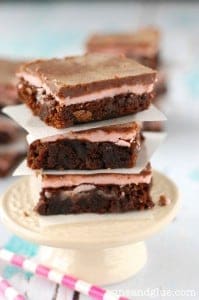 did you make this
Chocolate Raspberry Brownies
You might also like:
Mint Chocolate Brownies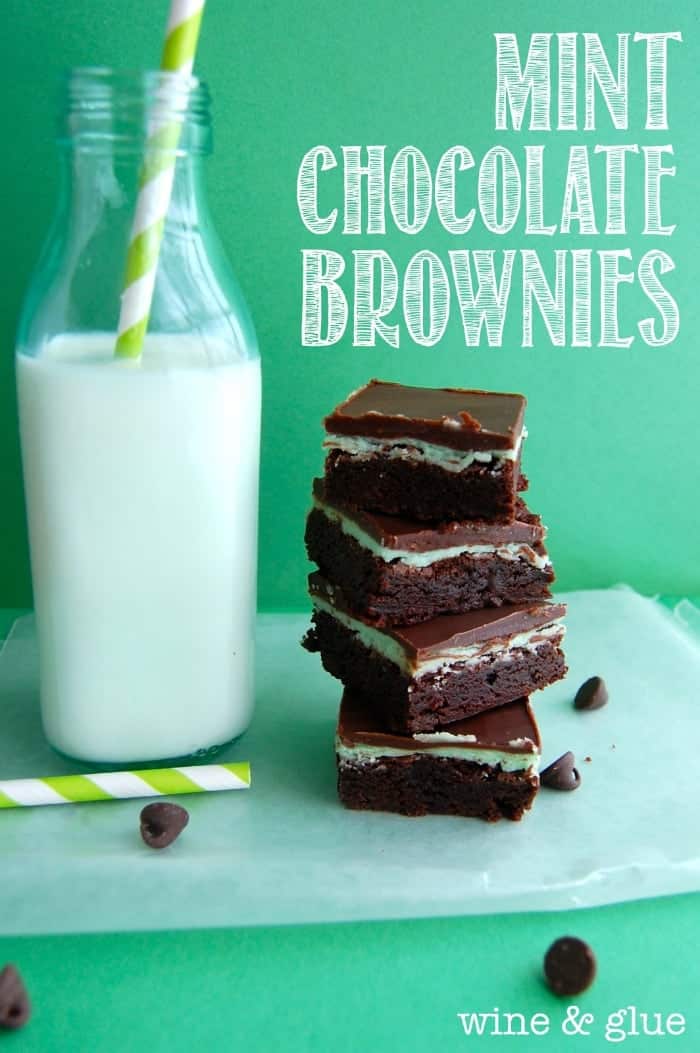 Skinny Chocolate Raspberry Tartlets