Cookie Butter Bread Pudding, bread soaked in an eggy cookie butter mixture and then baked with white chocolate chips, making for an indulgent and amazing dessert.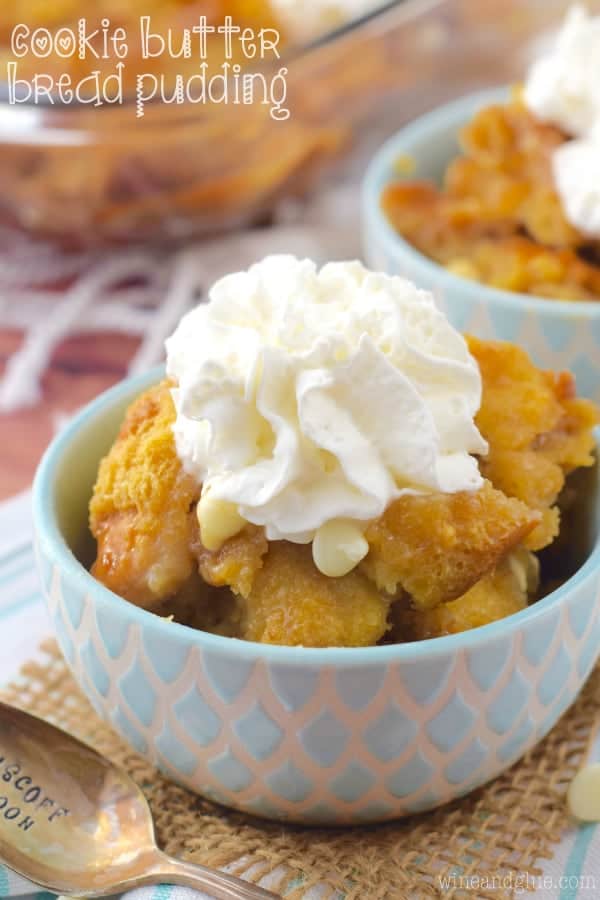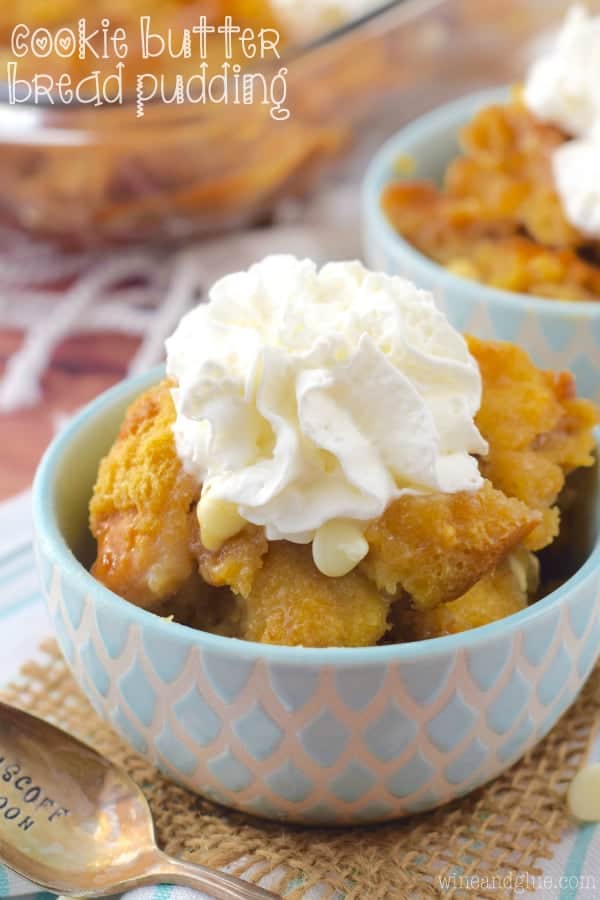 Don't know what Cookie Butter is? Read THIS post.
Whenever I post a recipe that contains Cookie Butter, I inevitably get the question: "What is Cookie Butter??" (Hence the bold and the red.) Recently my friend Joan posted this explanation of what it is:
"It is a jar full of unicorn tears and ground up deliciousness that tastes like it was made in Narnia"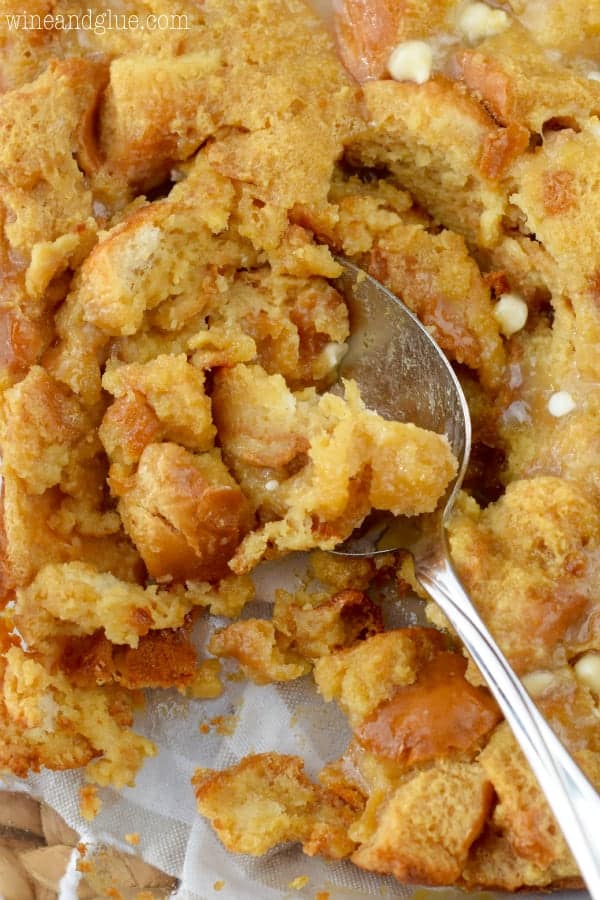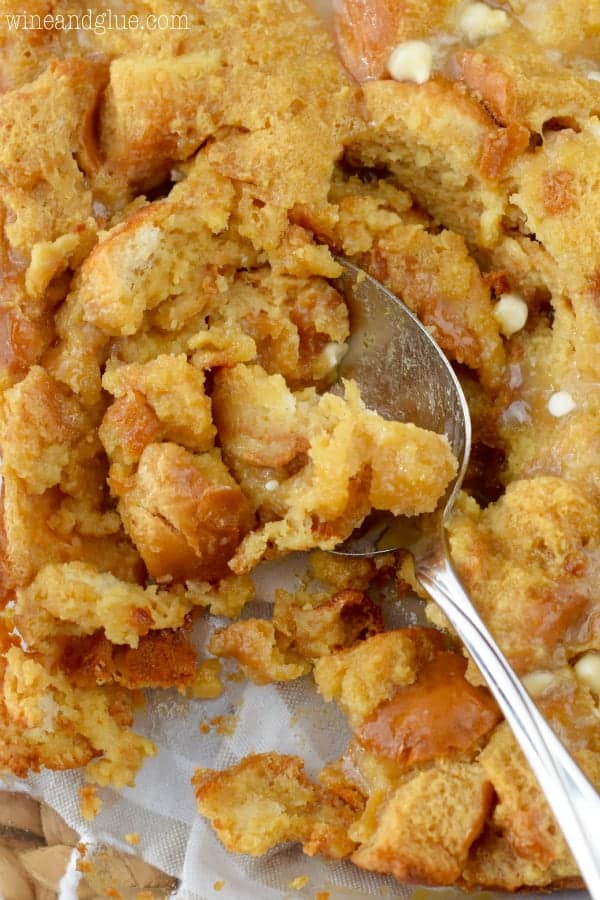 That's just a far better explanation than anything I could come up with.
My love for Cookie Butter runs deep people.
Guess what else my love runs deep for? Really any sort of recipe that involves soaking bread in an eggy mixture and baking it. I don't know what it is, but I loooooove it. French toast is just okay, but I could eat a whole pan of stuffing. What is that about??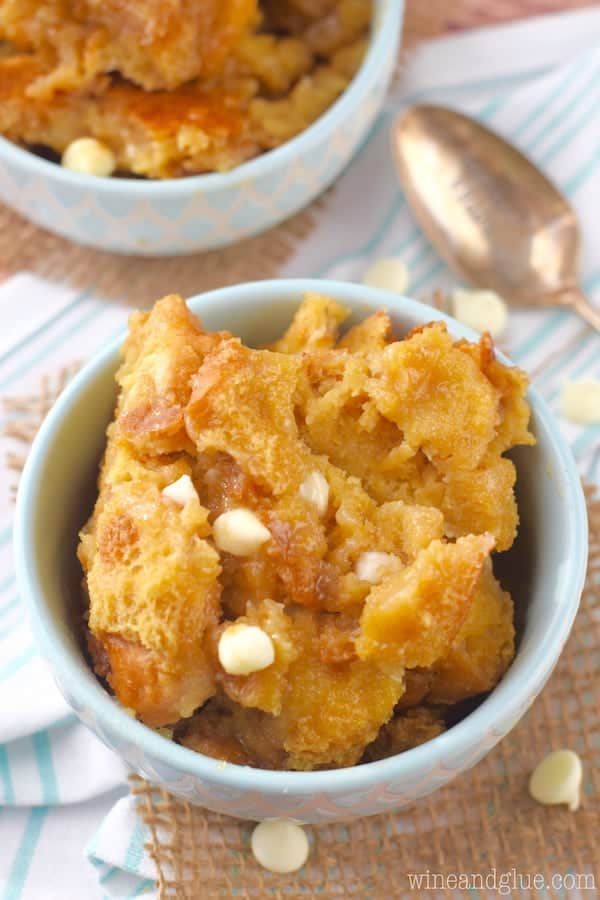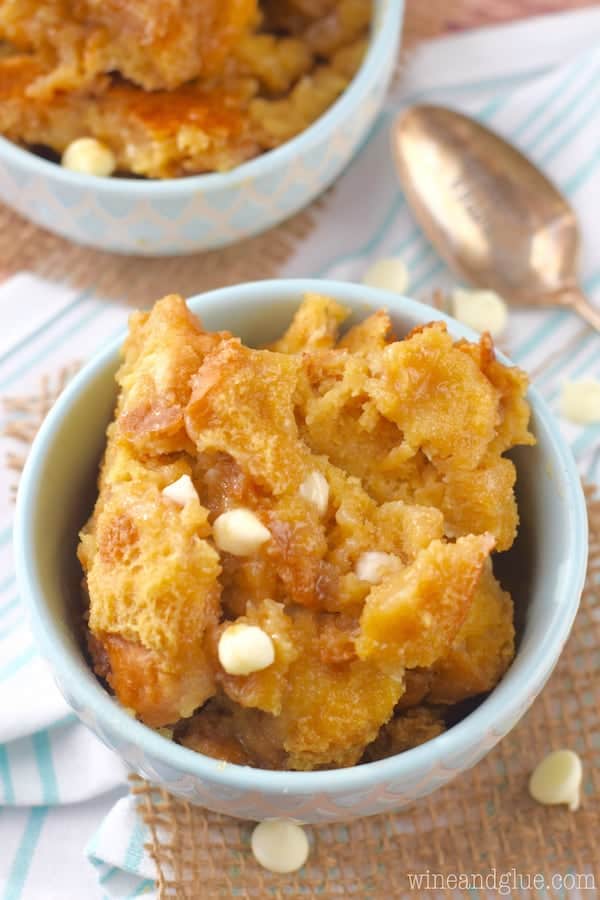 So a few weeks ago when I was doing recipe development for stuffing, I had all the bread dried out and ready to go but I was missing one of the other ingredients, I can't remember what it was, I think an onion. (We so rarely have onions in my house, since my husband is convinced they are the fruit of the devil.) Then while searching my pantry for something else, maybe something silly like dinner for the kids, who knows, I stumbled upon my jar of cookie butter! (Yes I keep an extra jar or five in my house at all times #dontjudge). And at that very moment the heavens parted, an angel descended into my pantry and spoke to me while harps played in the background, "Go forth and make Cookie Butter Bread Pudding!"
Okay, that didn't really happen.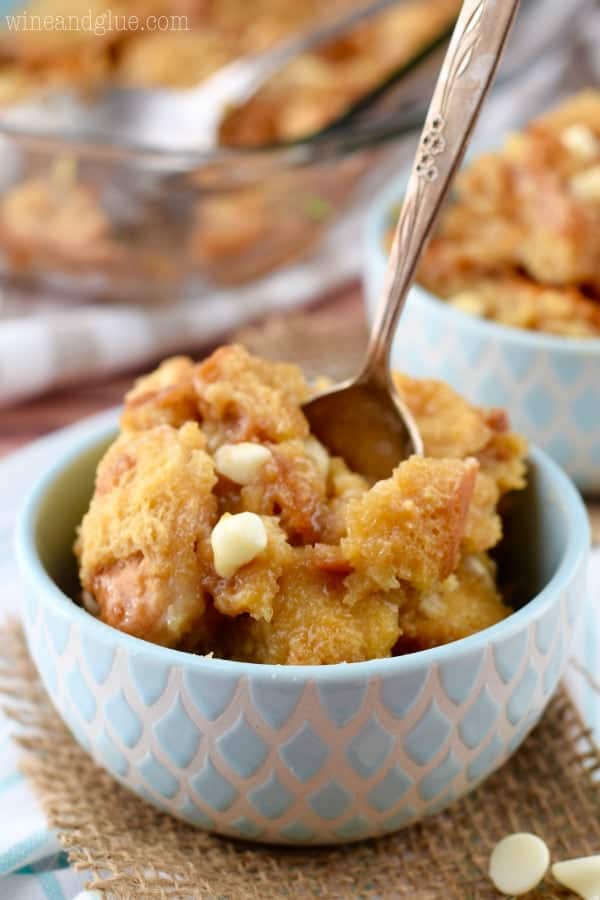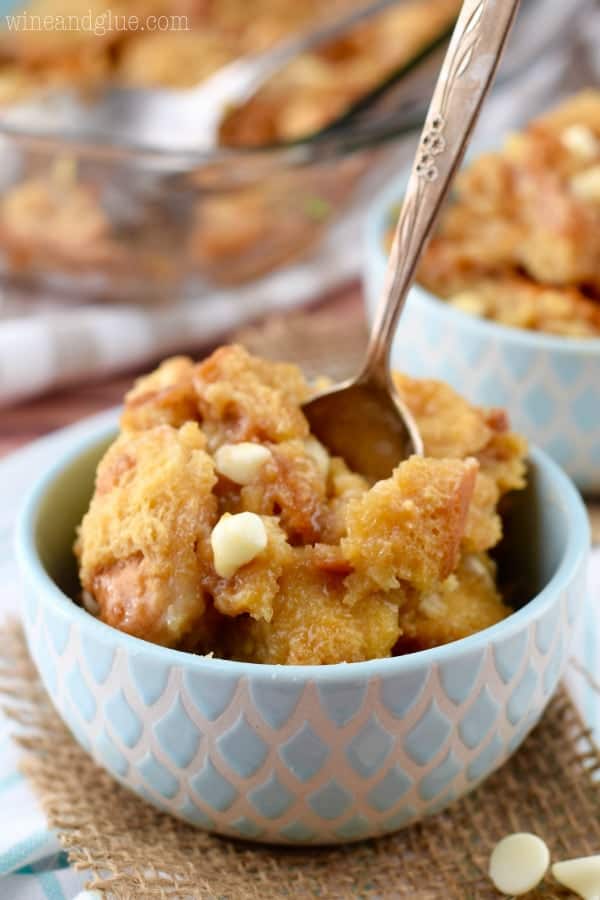 But it might as well have, because this bread pudding is THAT good. Also, can we come up with a different name for this dish than bread pudding? Doesn't that sound disgusting? It's a total slap in the face to everything amazing about this. Do you see that white chocolate chip baked to perfection. It pairs so perfectly with the cookie butter taste of this dish. Sigh. This is amazing warm, but, ironically, also delicious when snuck straight from the refrigerator one cube at a time.
Edited to Add: I revamped this recipe about a year after originally posting because I decided that bread pudding turns out just a little bit better when instead of using dry bread that soaks up liquid quickly you use fresh bread but let it all sit for about 20 minutes.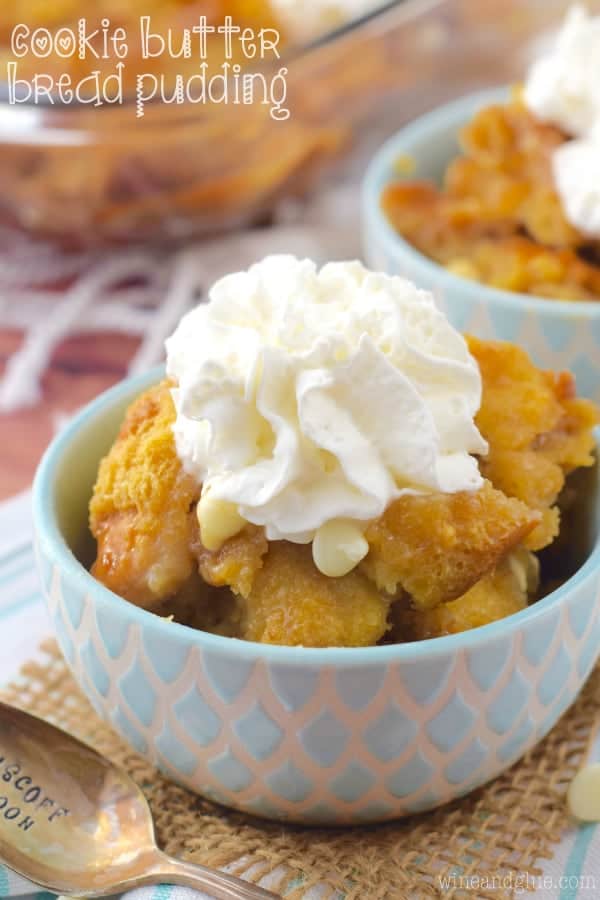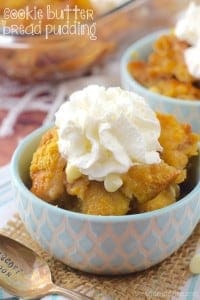 Cookie Butter Bread Pudding
Ingredients
5

eggs

1

cup

whole milk

1/2

cup

heavy cream

2

tsps

vanilla extract

1/2

cup

cookie butter

softened

1/4

cup

sugar

5

cups

cut up bun bread

roughly 10 3 inch slider buns

1

cup

white chocolate chips
Instructions
Whisk together the eggs, heavy cream, whole milk and vanilla.

Whisk in the softened cookie butter and sugar.

Spray a 9 by 13 inch glass baking dish with cooking spray and preheat your oven to 350.

Mix in the bread into the egg mixture, making sure that it get completely coated and let it sit for 20 minutes.

Then mix in the white chocolate chips.

Pour the entire mixture into the baking dish. Bake for 25 minutes or until it is completely cooked through.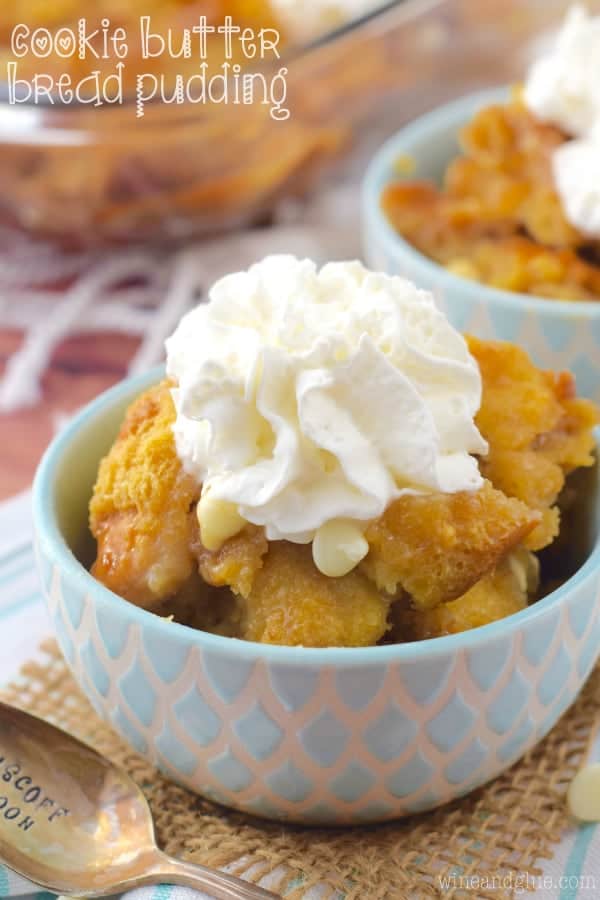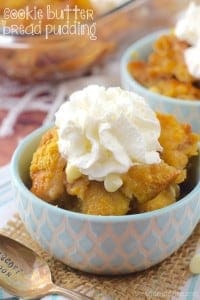 did you make this
Cookie Butter Bread Pudding
You might also like
Cookie Butter Butterscotch Fudge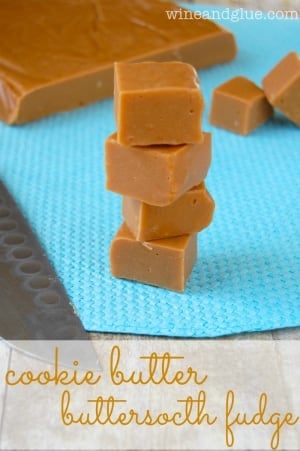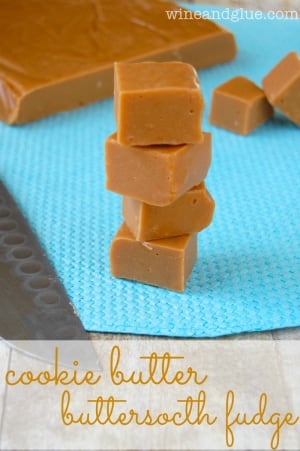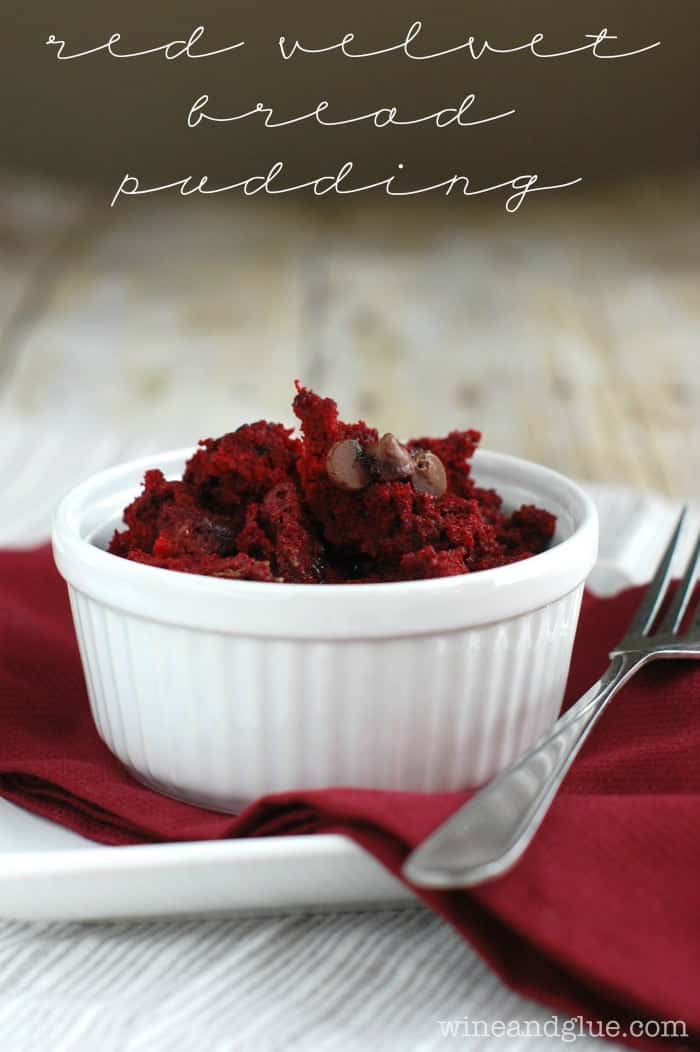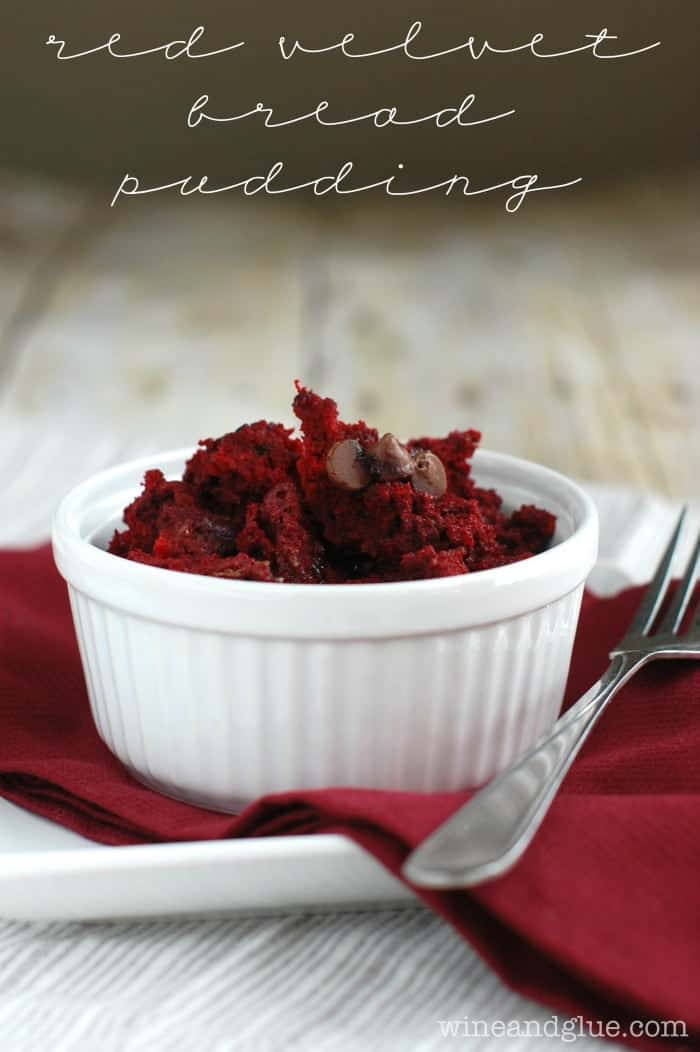 This post contains affiliate links, thank you in advance for supporting Wine & Glue