It doesn't get a whole lot better than combining the amazingness of cookies and cream, cake batter, and krispie treats!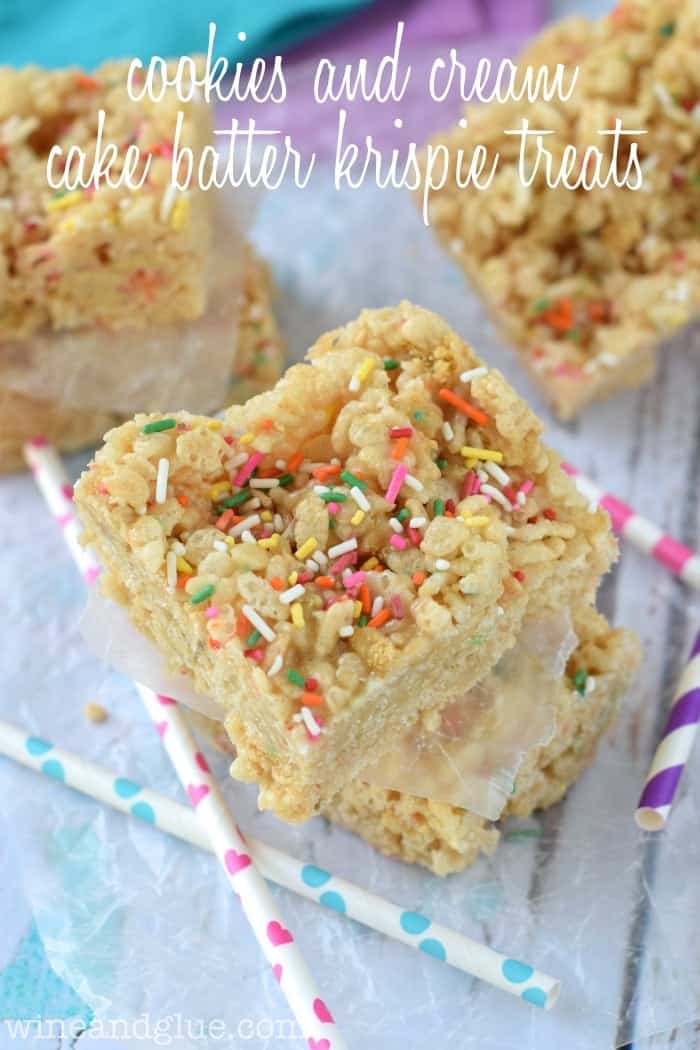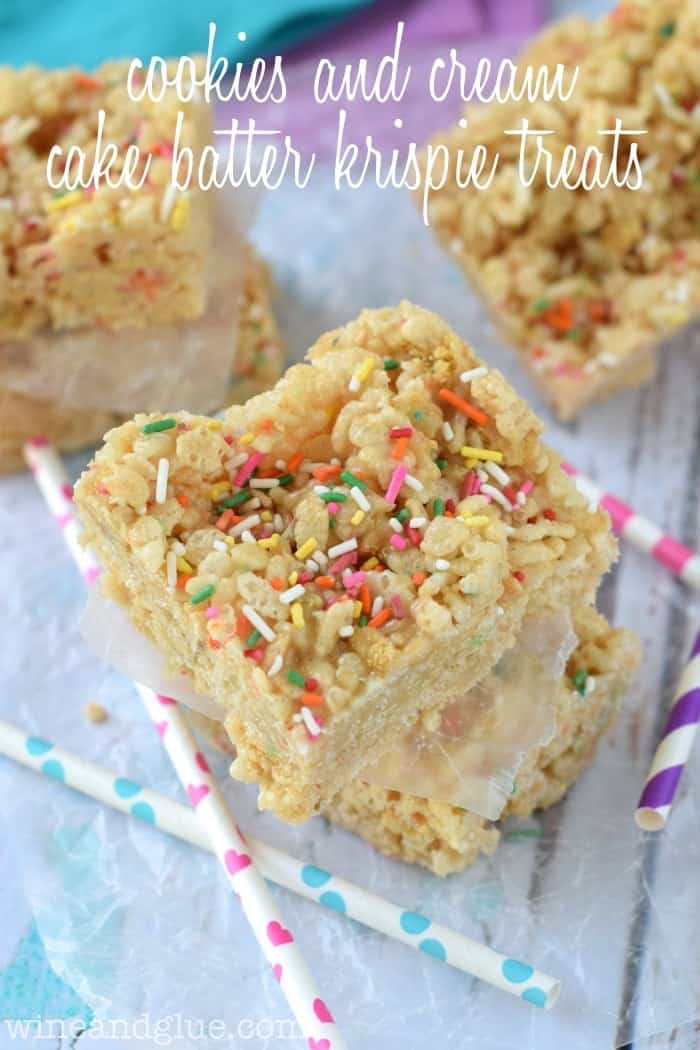 You'll have to bare with me for a minute before I get to these delicious little treats.
Can we talk about Elliot for a minute?
I know that I don't really mention him in blog posts too often, especially when I'm talking sprinkles and not pregnancy insomnia. But we are quickly approaching what would have been his fourth birthday, and it is hitting me all over again, maybe more so this year than it has in the past, that a HUGE piece of our family is just missing. I won't ask you to imagine what your family would look like without one of your children, but maybe I will . . . . just for a fraction of a second, because longer than that is too much.
I think it is really hitting me this year because he would be FOUR. I love four. Apart from baby giggles and fat baby thighs that fill your life with joy from like age six months to eighteen months, four is probably my favorite age. At four they are just starting to become independent enough to not need you for each. and. every. little. thing. And they are also still cuddly and sweet and adorable.
And they are smart at four. They start to understand the world around them and they can really talk to you about it, sometimes making observations that your cold adult heart has missed for years and years.
I love four.
And this year, my sweet, amazing little wonderful Elliot would have been four. He would be having sword fights with Gavin and out running Quinn. He would be fawning over Piper and giving me the most wonderful good morning hugs.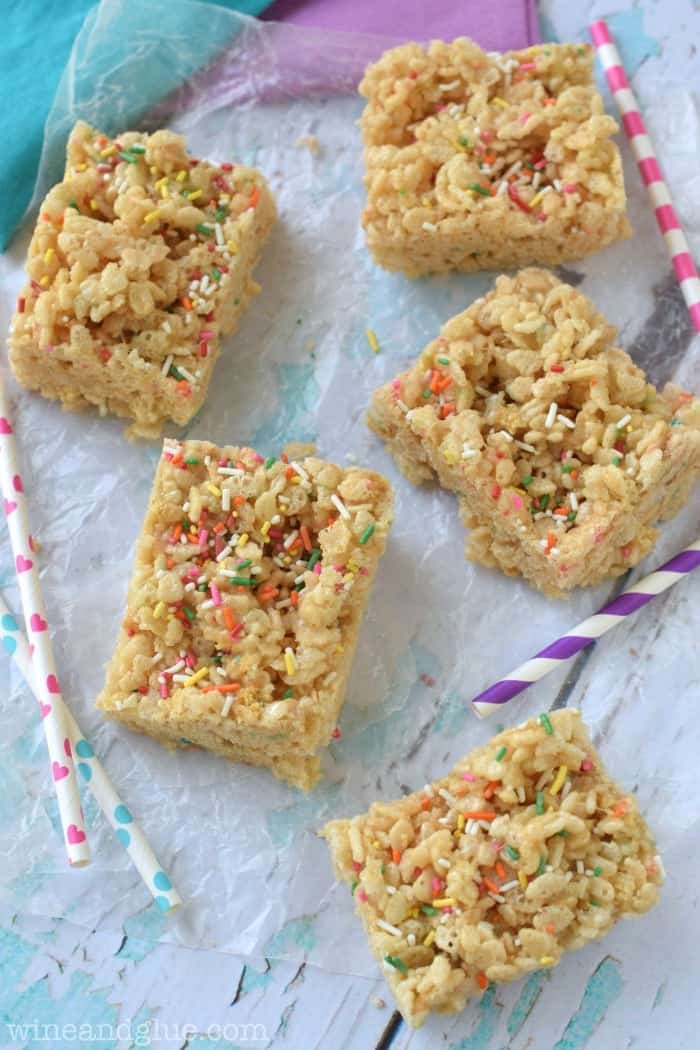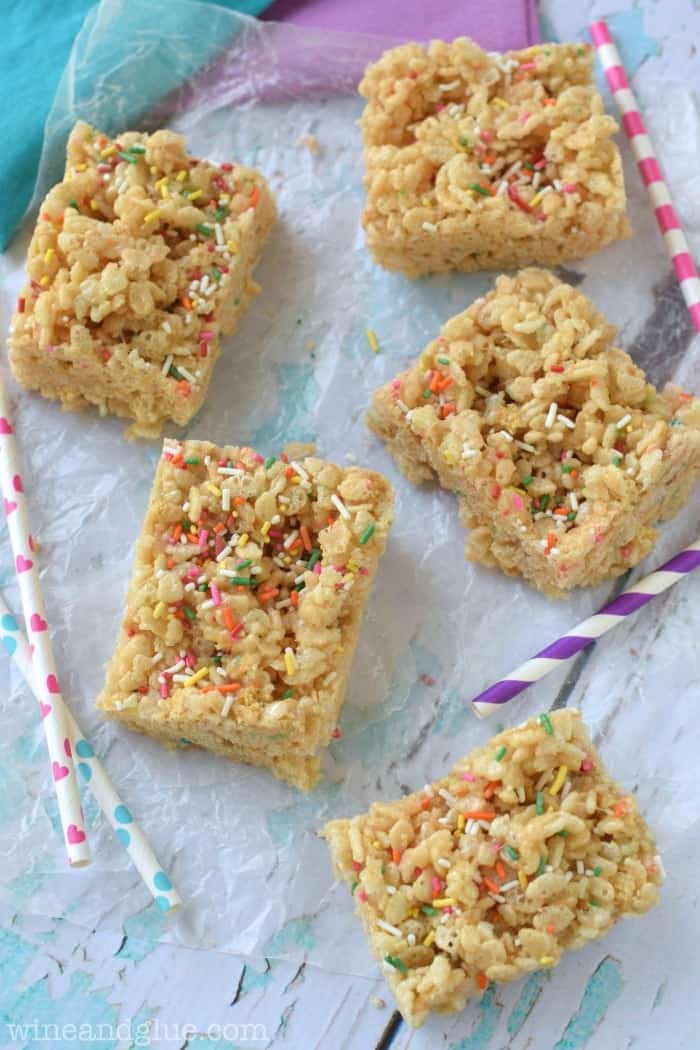 In past years, I've asked people to do Acts of Kindness for Elliot, and I've arranged for family and friends to come together to raise money for the NICU where he spent his life. But this year I just . . . . didn't. And it feels awful to not do those things in his memory, but spending the time thinking about him not turning four on September 1st felt worse. I know there isn't a right and wrong way to grieve. It's all so complicated and difficult.
So, maybe that's why these delicious little bites of Birthday Cake wonder reminded me of Elliot. Because even though I'm trying to ignore the fact that his birthday is coming, it's still on my mind.
Okay, thanks for reading. Putting it all down in words helps.
Now go make some Cookies and Cream Cake Batter Krispie Treats. I'm a firm believer that sprinkles make everything better, even if it's just a tiny bit.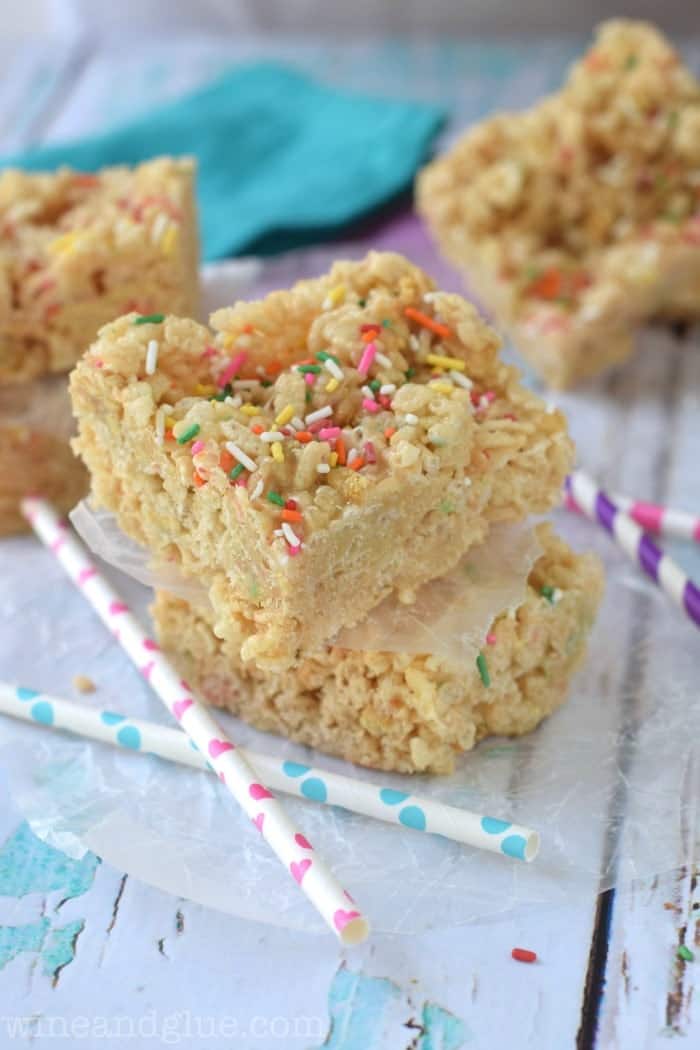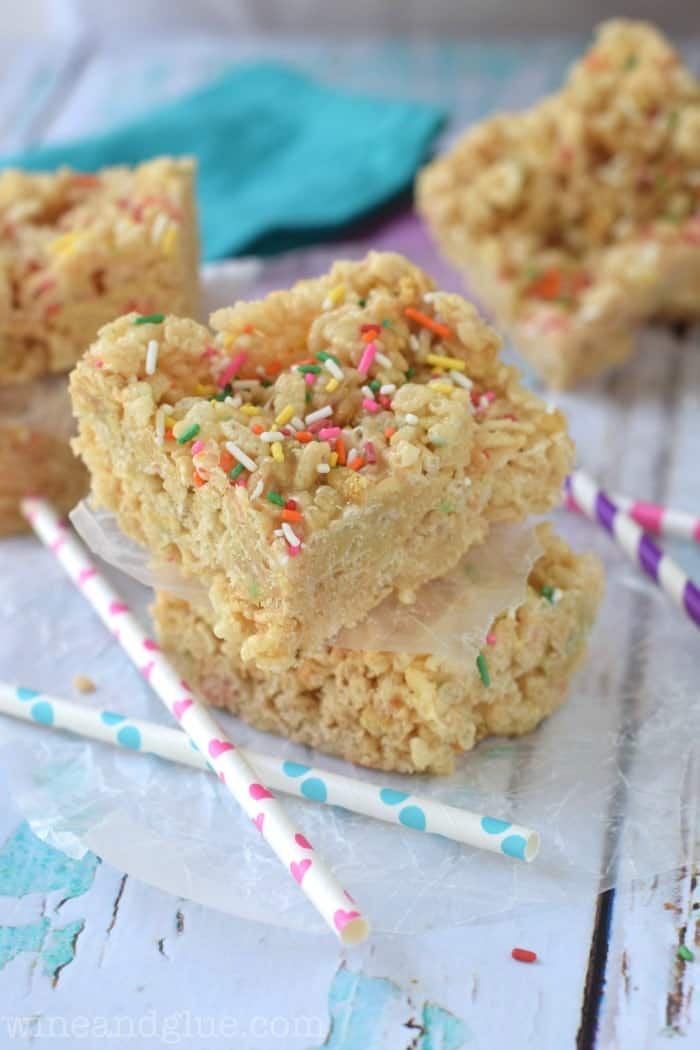 I will never tire of Birthday Cake Golden Oreos. Remember when I made a whole pie out of them? Or used them as a crust? And then there was the time I froze them. They are pretty much the best packaged cookie I have ever eaten. They barely last in my house, which is why these bad boys only have EIGHT Oreos in them. I wold have added more, but that was all that was left, lol! So when recreating these, feel free to double that number. I will.
These are packed with cake mix, Birthday Cake Oreos (okay, maybe not packed with those . . . ), and a vanilla punch! And then they are sprinkled with rainbow sprinkles to make everything just a little happier.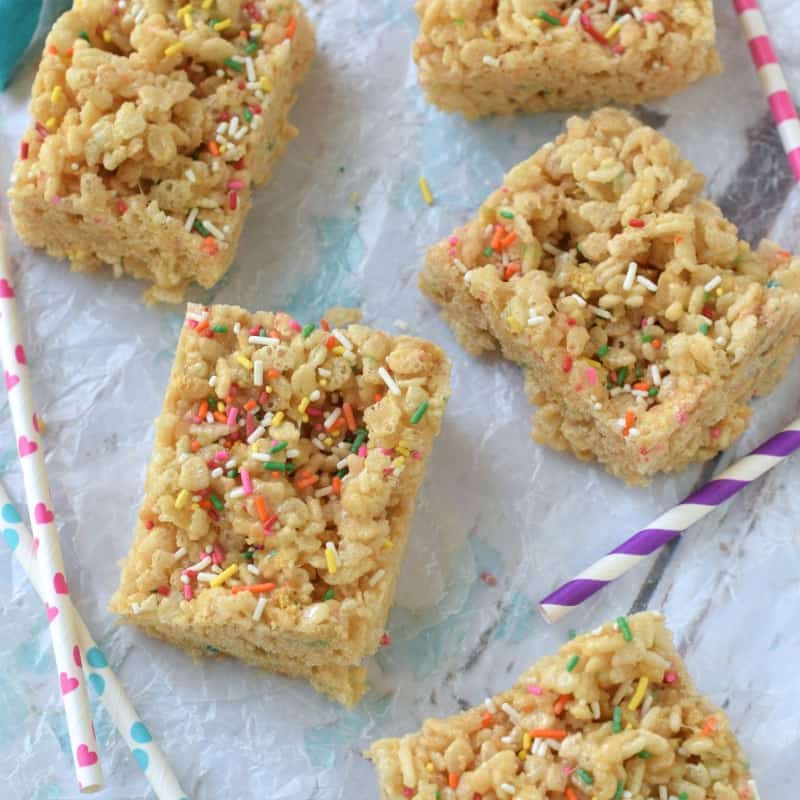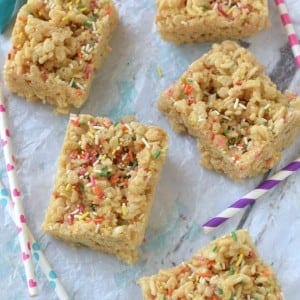 Cookies and Cream Cake Batter Krispie Treats
Ingredients
8

Birthday Cake Oreos

crushed

1/4

cup

butter

10

oz

of marshmallows

6

cups

of rice cereal

1

cup

cake mix

2

tsps

vanilla extract

1

TBSP

sprinkles
Instructions
Spray a 9 by 13 inch pan with cooking spray.

In a large pot over medium low heat, melt the butter and the marshmallows together. Once melted, stir in the vanilla.

Then quickly stir in the cake mix, then the Oreos, then the rice cereal. Once combined, quickly pour into the pan.

While still hot, top with the sprinkles. Let set, and then slice and serve.
Notes
Krispie Treats taste best when eaten within one or two days of making. Make sure to store in an air tight container once cooled.
For easier mixing, spray a spatula with cooking spray.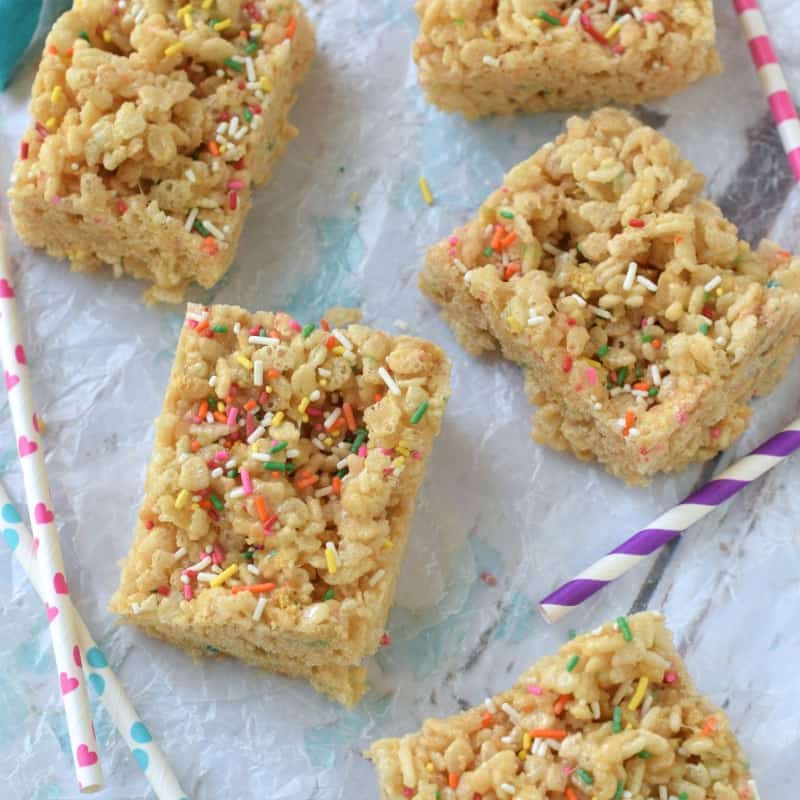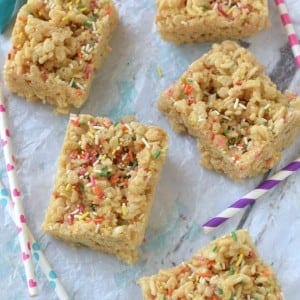 did you make this
Cookies and Cream Cake Batter Krispie Treats
You might also like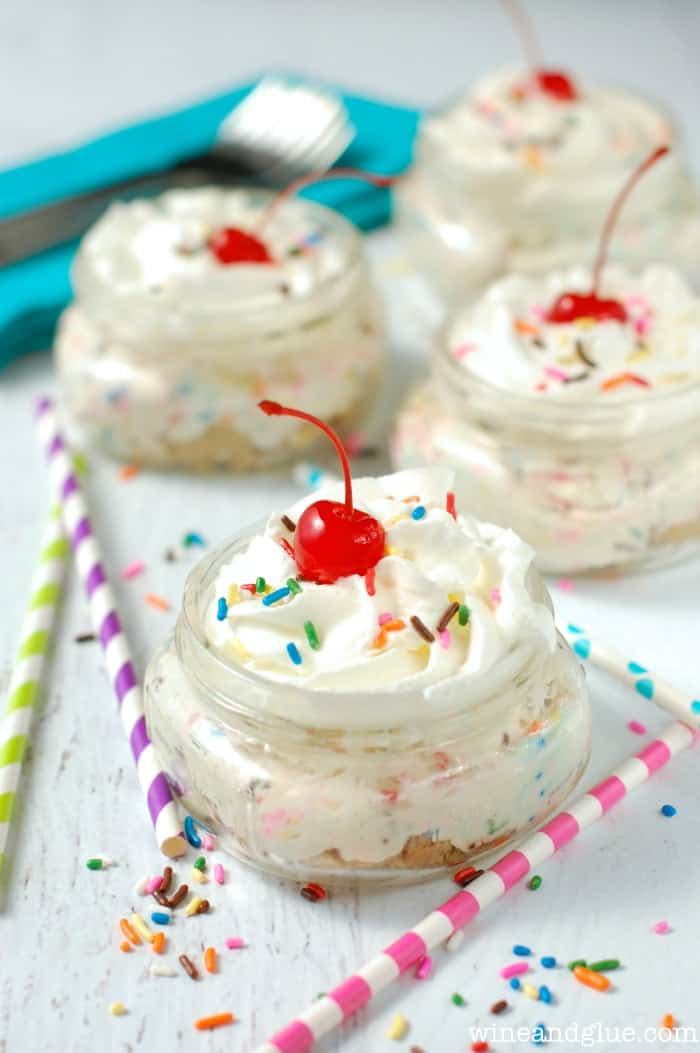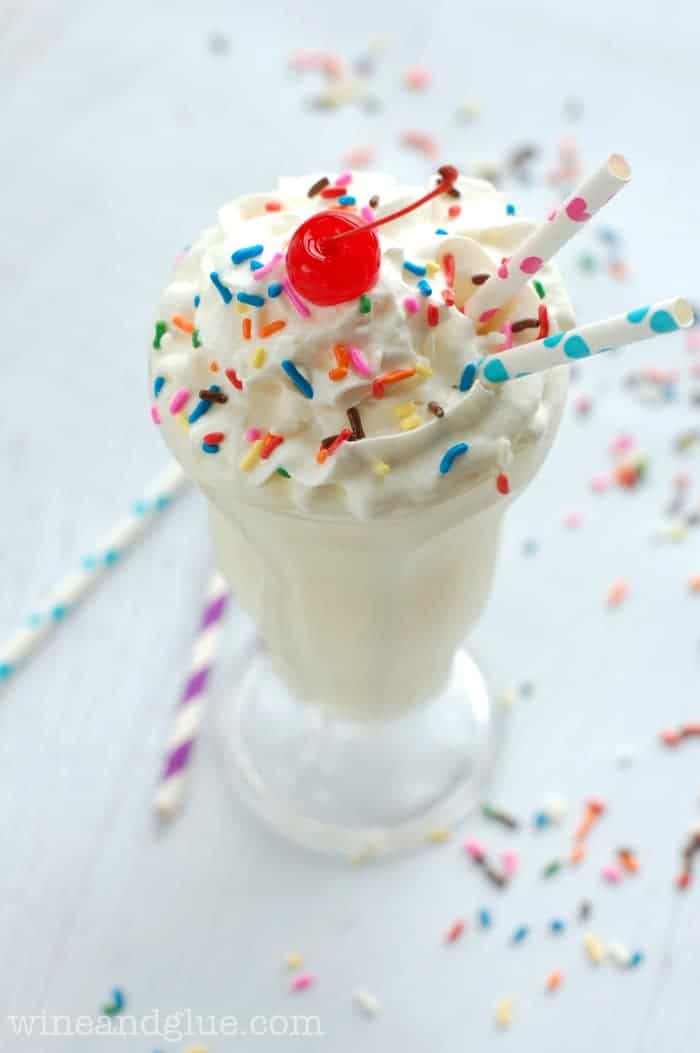 Kripsies from Friends
Banana Cream Pie Rice Krispie Treats from Crazy for Crust
Cappuccino Rice Krispie Treats from The First Year Blog
Apple Streusel Rice Krispie Treats from Beyond Frosting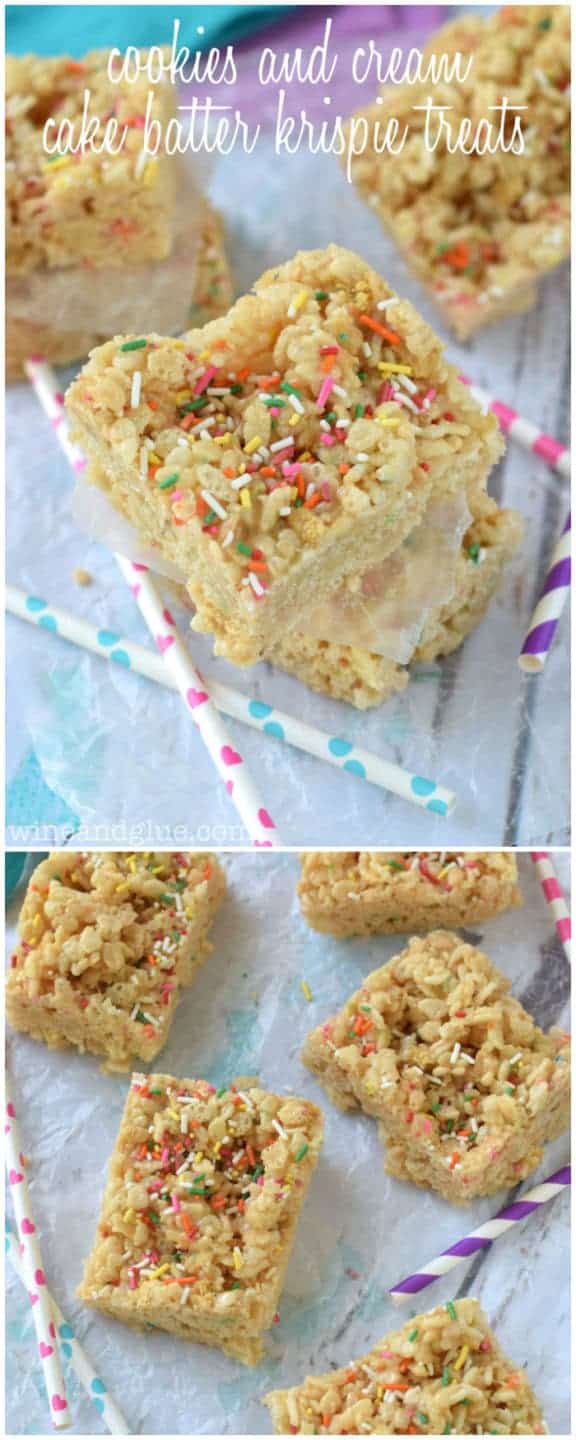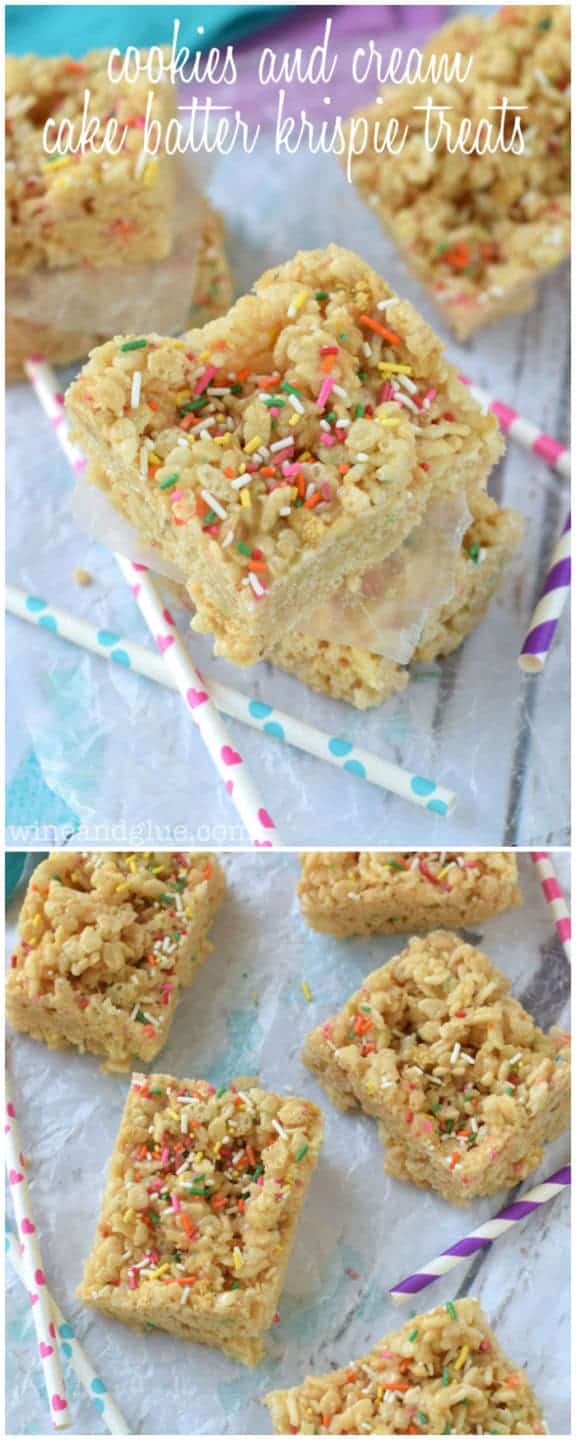 This post contains affiliate links, thank you in advance for supporting Wine & Glue.