Corn Chowder is a delicious creamy soup recipe made from scratch that you will fall in love with. This recipe makes a great side dish, but is perfect as the star of your dinner show.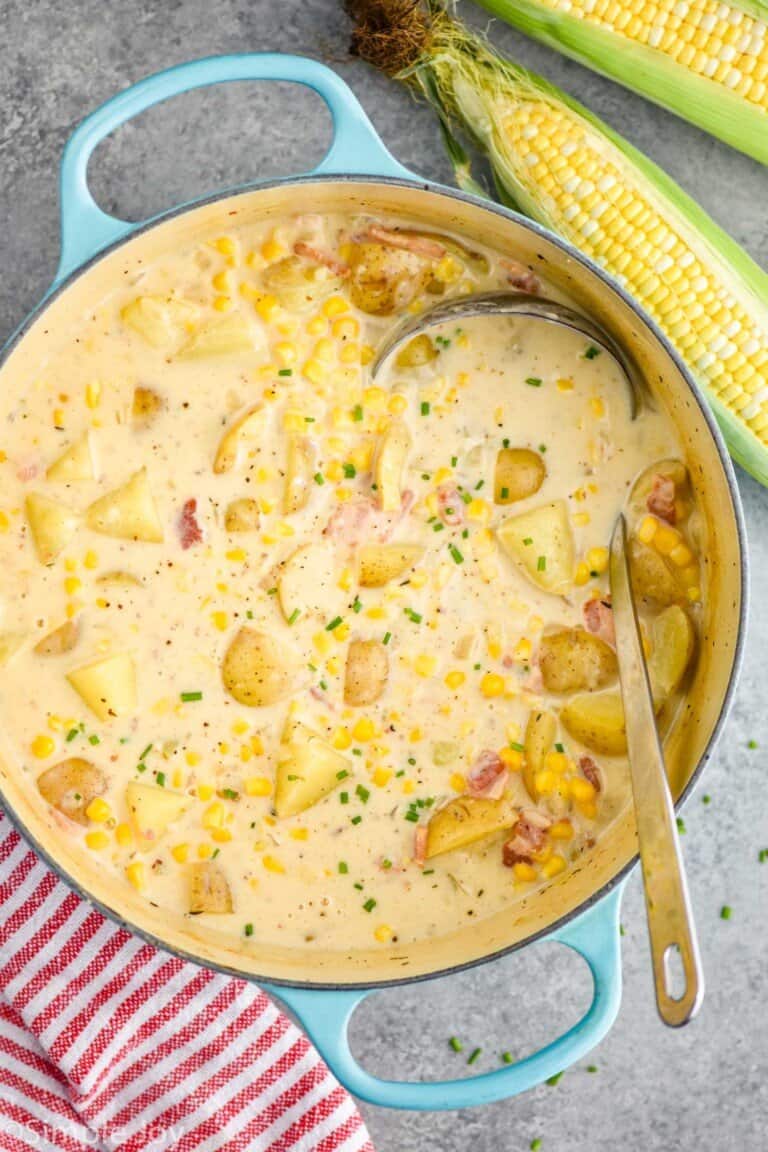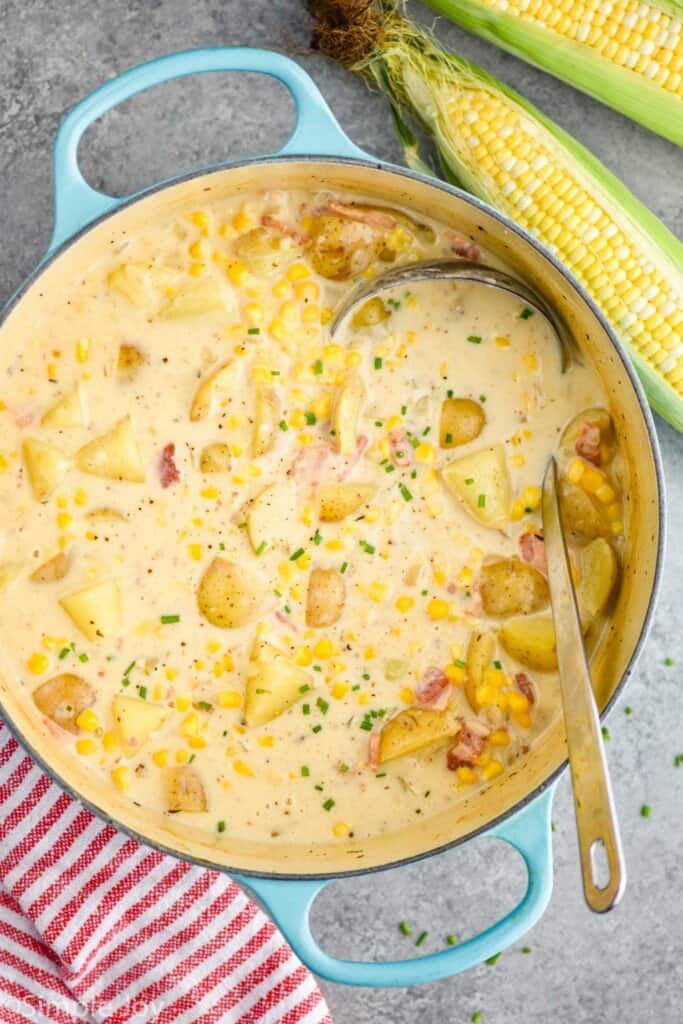 If you have been hanging around Simple Joy for a bit, you know I have an intense love for soup. I could eat soup once a week all year long. It is easy to make, feels like comfort in a bowl, and fills up our whole family with just one pot.
This Corn Chowder recipe is the perfect soup for transitioning from summer into cooler fall weather. Made with fresh corn, potatoes, bacon, and a deep and rich creamy base, this is the perfect soup to fill you up.
Reader Review
I made this chowder for football Sunday and my husband and three boys LOVED it. It's very hearty and is great for fall days. It paired well with a slice of buttered beer bread. I will definitely be making this again!
How to Make Corn Chowder
Cook the bacon. In a large stock pot, cook four slices of thick cut bacon. Cook the bacon until it is nice and crisp.
Add in the onion. The onion will take over the heat from the pot, sautéing nicely in the bacon fat and keeping the bacon from burning.
Add in garlic. Once the onion is translucent, add in some minced garlic. We are adding it in after the onion is already cooked to keep it from burning.
Make a roux. Stir in all purpose flour. This will be the beginning of our roux (learn more about this in the section below). Now slowly stir in chicken stock.
Add in the potatoes and corn. Stir in some dried thyme and two bay leaves. Bring everything to a simmer and cook over low heat for twenty minutes or until the potatoes are fork tender.
Finish the soup off with seasoning and cream. Stir in some heavy cream and leave over the heat for just under a minute or until the cream heats through. Taste the soup and add kosher salt and black pepper. The amount you add will vary based on your stock and bacon, but we added about 1 teaspoon of kosher salt and 1/4 teaspoon freshly ground black pepper.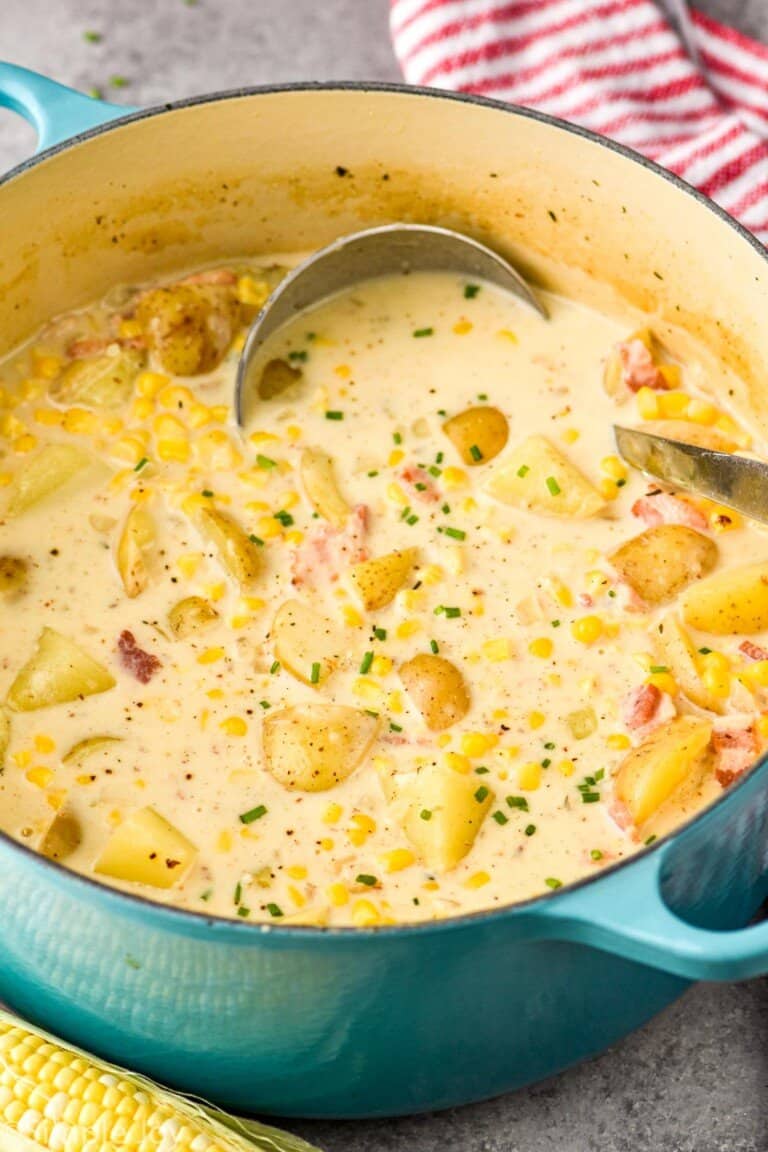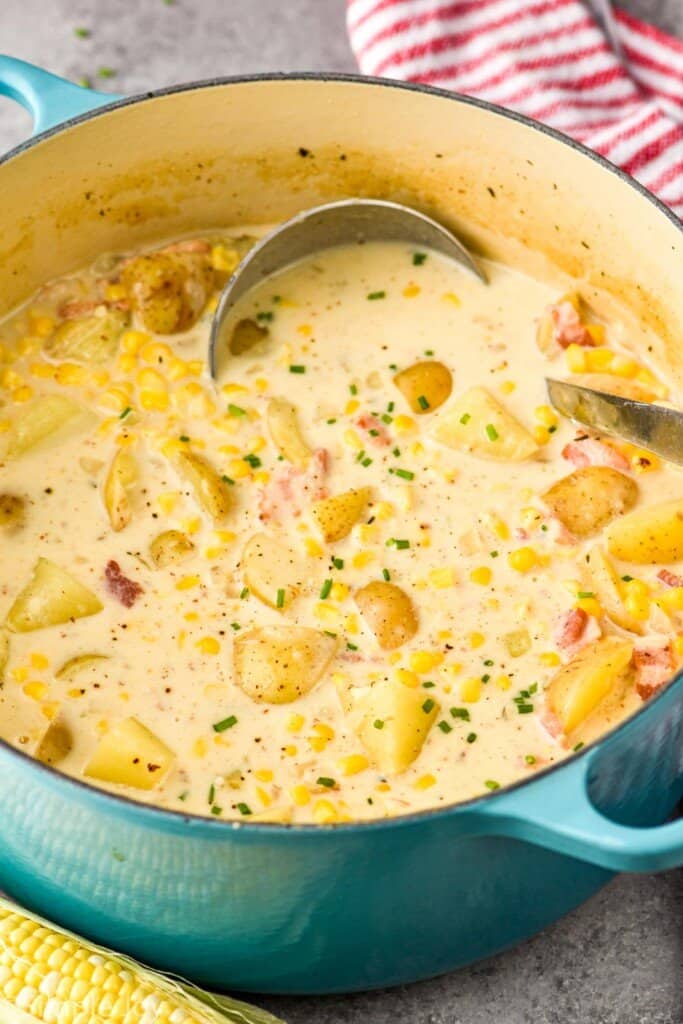 How to Make a Roux for Corn Chowder
A roux is the combination of fat and flour. It is used as a thickening agent. In this recipe we are using the fat from the bacon to make the roux. When you first add the flour it will coat the onions and bacon and seem like a gummy mess. This is fine!
You will notice in the recipe card below that we suggest starting off by adding the stock very slowly. If you pour it in all at once after adding the flour, you aren't going to end up with the creamy base you are looking for. Start by adding just a little at a time and add it more quickly as you go. The whole process should take less than a minute.
This soup recipe is based off of our New England Clam Chowder. If you want more guidance in how to make the roux, you can watch the process in a video in that post.
Fresh Corn or Frozen Corn
We tested this recipe with both fresh and frozen corn. Hands down, the fresh corn made for a better corn and potato chowder. When you use fresh corn, you are simmering the corn with the potatoes in the stock base, and that infuses the soup with the corn taste.
When you use frozen corn, you are adding the corn in at the end. It still tastes delicious and makes for a great chowder, but you are missing that sweet corn taste throughout the soup. That being said, if it is the middle of winter and fresh corn is cost prohibitive, make this with frozen corn! You will still love it.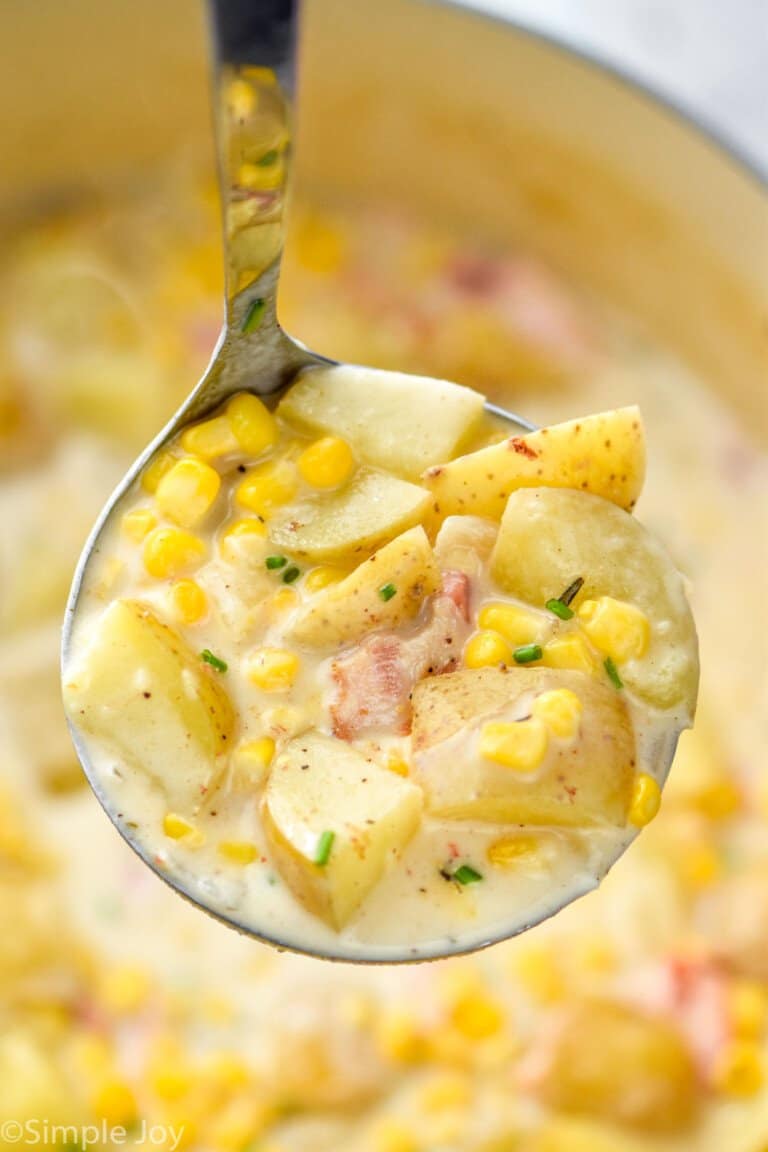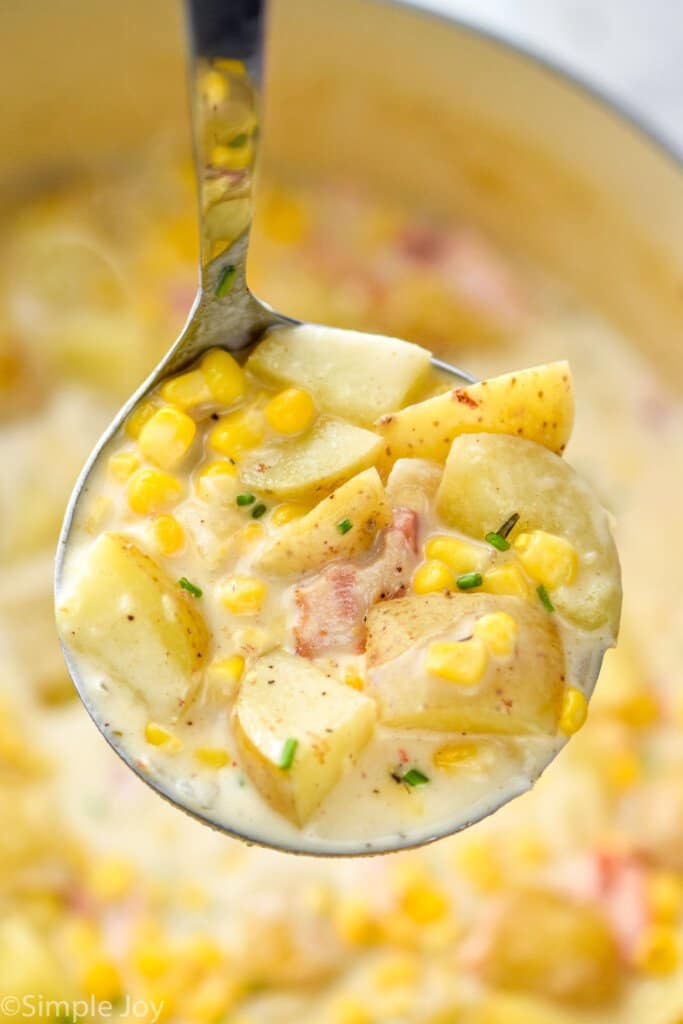 How to Freeze Corn on the Cob
A great solution to having that fresh corn taste in this soup in the middle of winter is freezing fresh corn! To do that, just remove the husks and silk from the corn. Then place it in an air tight container (vacuum sealing is even better) and store it in your freezer for up to three months.
Cutting Corn off the Cob
To cut fresh corn off the cob, I like to use the bundt pan trick. This works especially well if there is still some stalk left to your corn. Place the stock in the hole in the middle of a bundt pan, and using a sharp knife, cut down the sides of the corn. The corn kernels will fall into the bundt pan. Don't worry about cutting it perfectly, just slice down each side until all the corn is off the cob.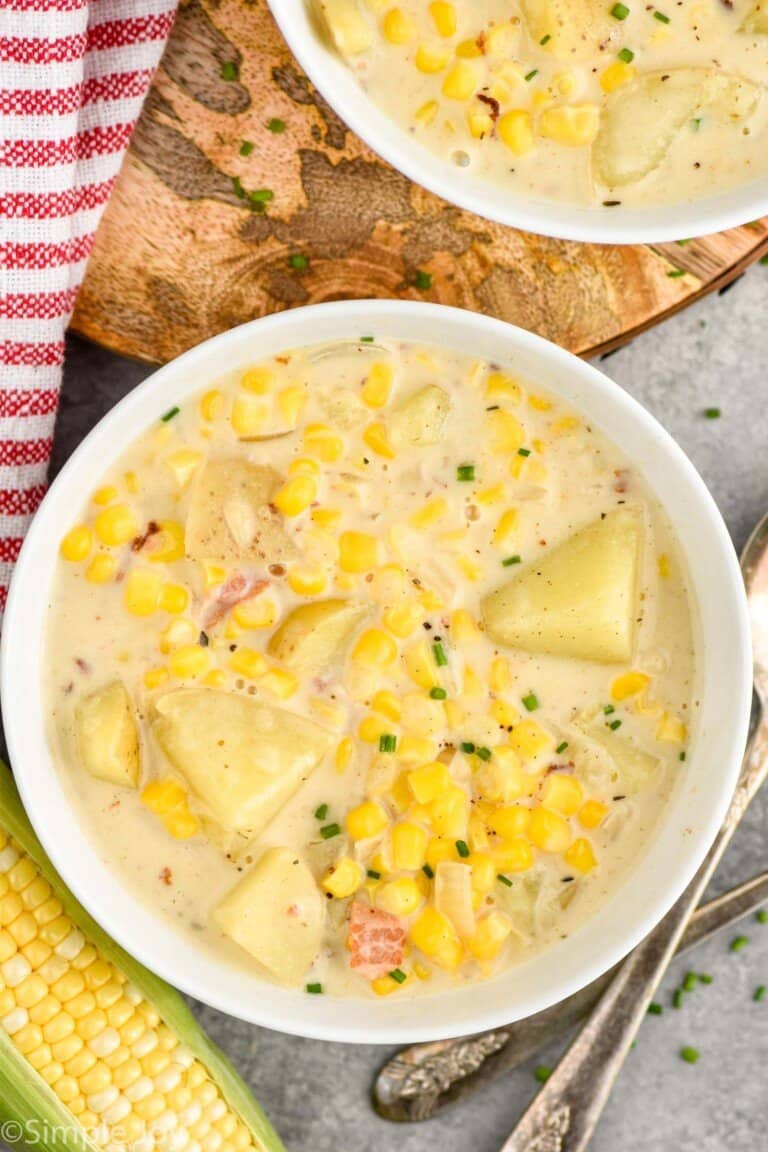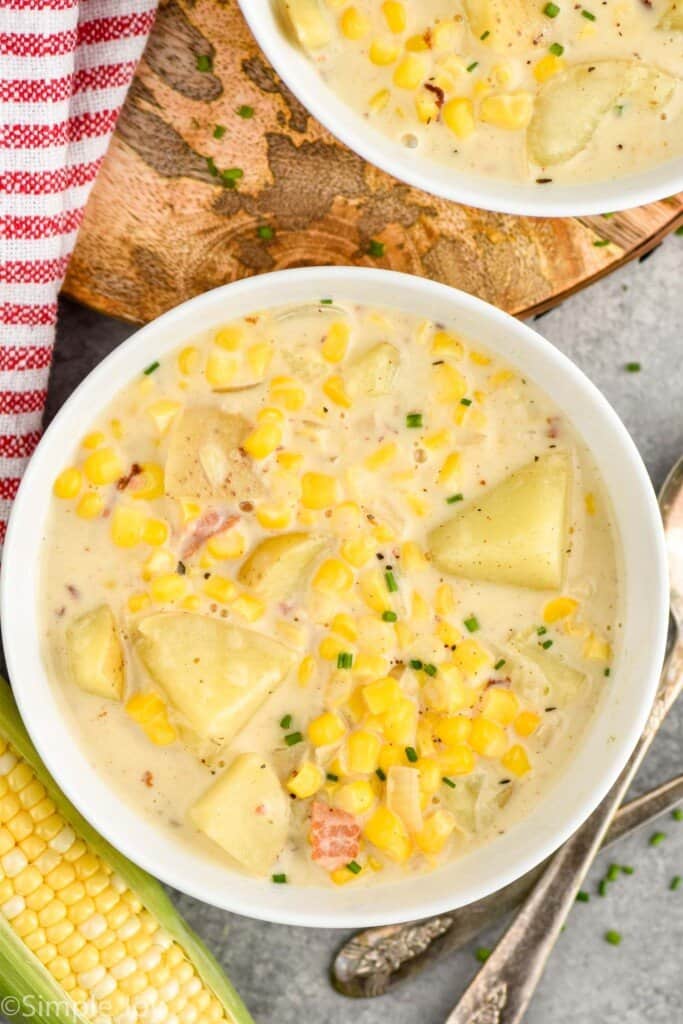 What Potatoes to Use
In this corn chowder soup recipe we call for Yukon Gold potatoes. I think that their buttery soft texture lends itself perfectly to this recipe. That being said, if you wanted to try a different potato, I would go with red. They would also work great in this soup.
Reheating Left Overs
This corn and potato chowder can be stored in the refrigerator for up to four days. When you are reheating left overs, you want to reheat just the portion you plan on eating. Leftovers should only be reheated once, so pull out what you plan on eating.
Reheat your leftover soup in a small saucepan over low heat. Stir frequently. I do not recommend microwaving left overs as it is easy for the cream base to separate. If you want to microwave, make sure to cook on half power and stir once or twice during reheating.
FAQ
Can corn chowder be frozen?
Because of the cream base in this soup, it is not my favorite to freeze. If you chose to freeze it, store it in an airtight container with room for expansion. Freeze for up to three months and when you are ready to eat, let it thaw in the refrigerator overnight. Follow our reheating instructions above.
Can this soup be made without the bacon?
We haven't tested this recipe without the bacon. If you want to make it without bacon, I would start by sautéing the onions in 3 tablespoons of butter and proceeding with the instructions from there.
Can corn chowder be made gluten free?
Yes! Replace the flour in this recipe with almond flour. It will be just slightly less creamy, but it will still work.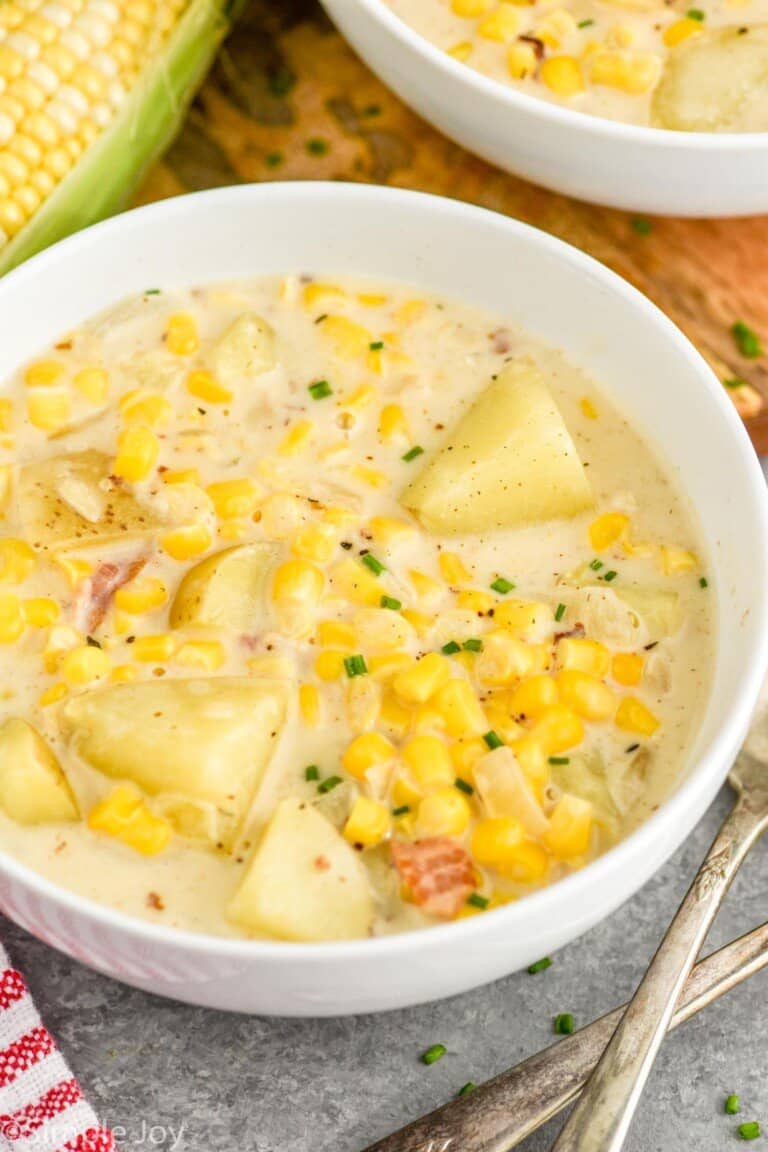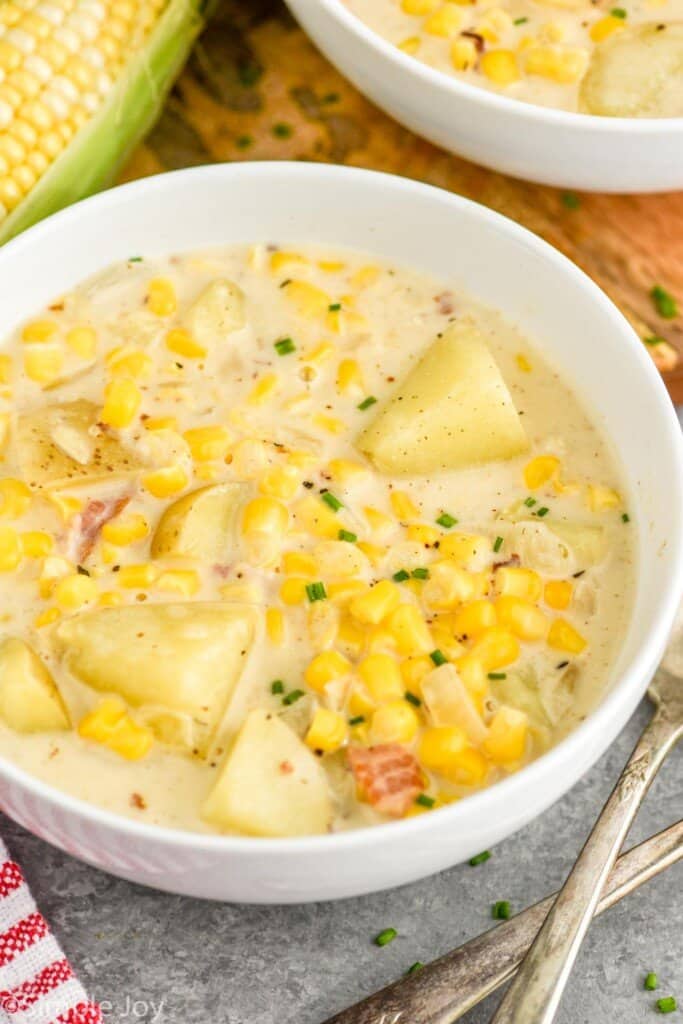 What to Serve with Corn Chowder
As mentioned above, I love this recipe because it is a stand alone meal. If you want a few things to go on the side, here are my suggestions:
If you loved this corn chowder with bacon, please leave me a comment and let me know what you think!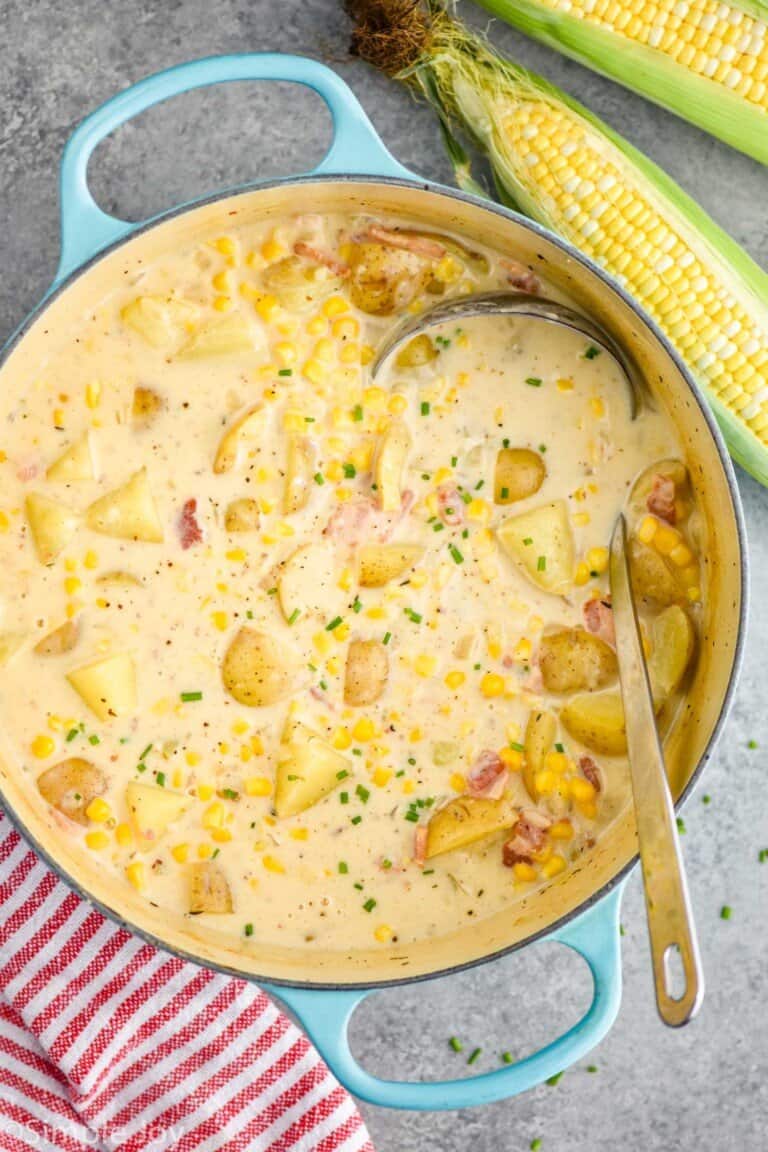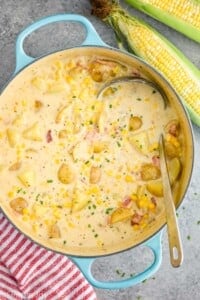 Corn Chowder
Corn Chowder is a delicious creamy soup recipe made from scratch that you will fall in love with. This recipe makes a great side dish, but is perfect as the star of your dinner show.
Ingredients
4

slices

of thick cut bacon

diced into small pieces

5

cups

chicken stock

1

small onion

diced

2

cloves

of garlic

minced

8

cobs of corn

husks and silk removed and kernals cut off (see our note in the post about using frozen corn and read below in the note section how use it)

1/3

cup

all purpose flour

1 1/2

pounds

Yukon Gold potatoes

diced into 1/2 inch pieces

1/4

teaspoon

dried thyme

2

bay leaves

1

cup

heavy cream

salt and pepper
Instructions
In a large stew pot, cook the bacon over medium heat until crisp, stirring often.

Add the onions, cooking until they are translucent and very soft, about 5 minutes.

Add the minced garlic and cook, stirring, until fragrant, about 30 seconds, being careful that the garlic doesn't burn.

Stir in the flour, coating all the onions and the bacon. Continue cooking about a minute until the flour begins to brown, it will be very thick and gummy.

Very gradually, pour in the chicken stock. Pour about two tablespoons at a time (no need to measure, this is just an estimate), whisking it into the flour mixture. There should be no visible liquid between each pour. Continue this way until you use all the liquid, pouring more quickly at the end. This should take no more than about a minute or two.

Add the potatoes, corn, thyme, and bay leaves and increase the heat to high and bring to a boil (you are looking for big bubbles at the surface). Then reduce to a simmer (the lowest you can go heat wise and still see bubbles) and continue cooking for 20 minutes or until the potatoes are soft.

Stir in the cream, and let heat through for a minute. Season with salt and pepper to taste. The amount of salt you add will vary depending on your bacon and chicken stock. We added 1 teaspoon kosher salt and 1/4 teaspoon freshly ground black pepper at the end.
Notes
If you would like to use frozen corn, you will need 32 ounces. Stir it in after the potatoes are just about cooked through and bring the whole pot back to a simmer. Then add in the heavy cream and season with salt and pepper.
Serving:
1.8
cups
Calories:
452
kcal
(23%)
Carbohydrates:
59
g
(20%)
Protein:
10
g
(20%)
Fat:
22
g
(34%)
Saturated Fat:
11
g
(69%)
Cholesterol:
63
mg
(21%)
Sodium:
694
mg
(30%)
Potassium:
671
mg
(19%)
Fiber:
2
g
(8%)
Sugar:
2
g
(2%)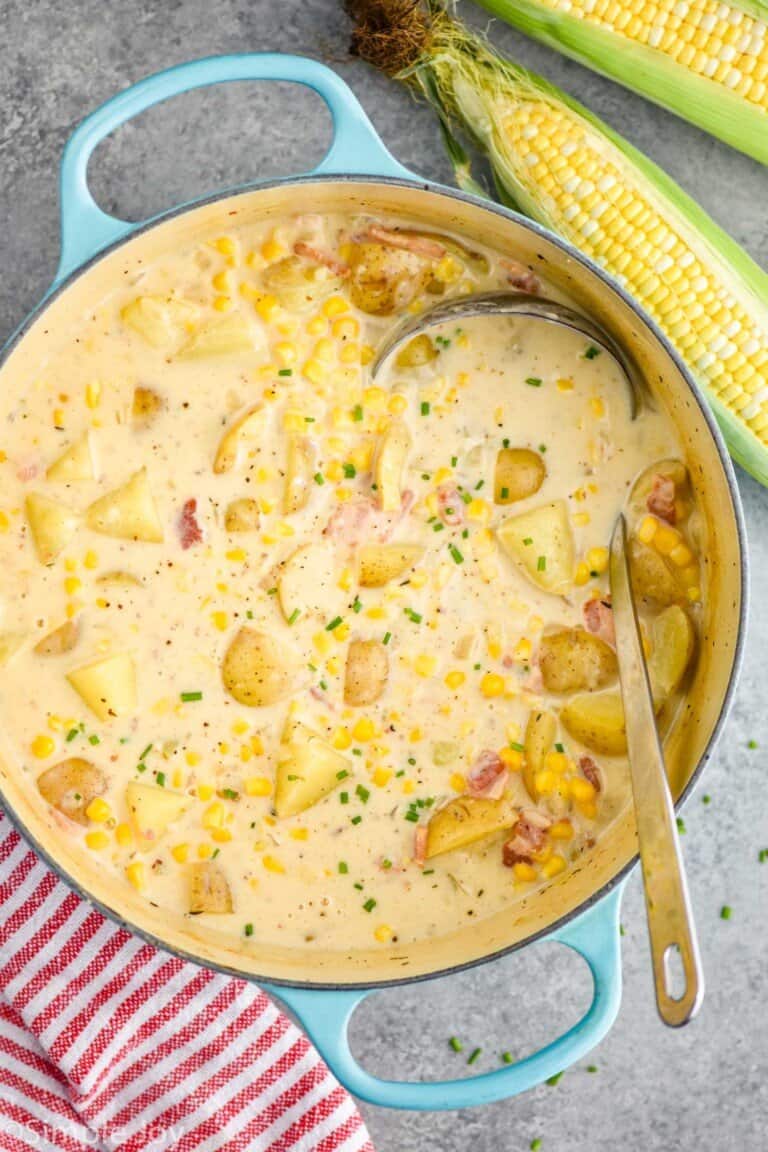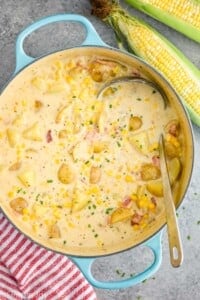 did you make this
Corn Chowder
you might also like . . .