Cornbread Croutons are the perfect addition to any fall salad. Grab my amazing Cornbread recipe and save the leftovers for these amazing croutons.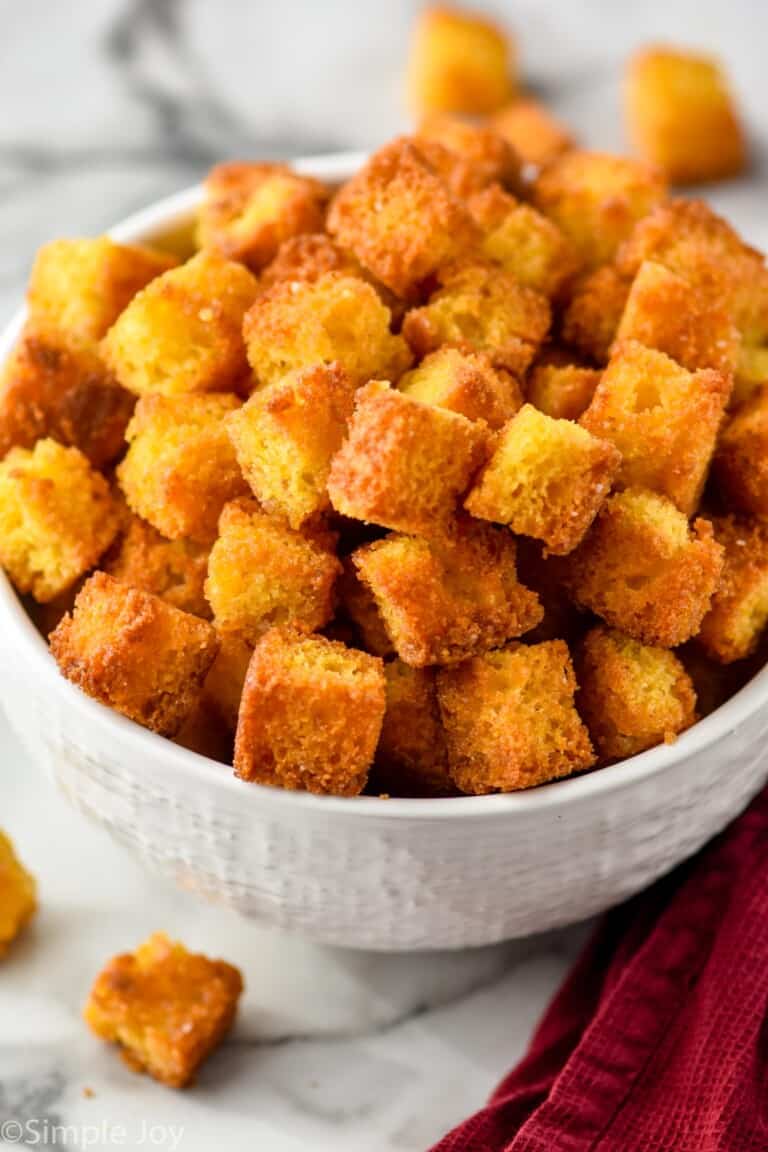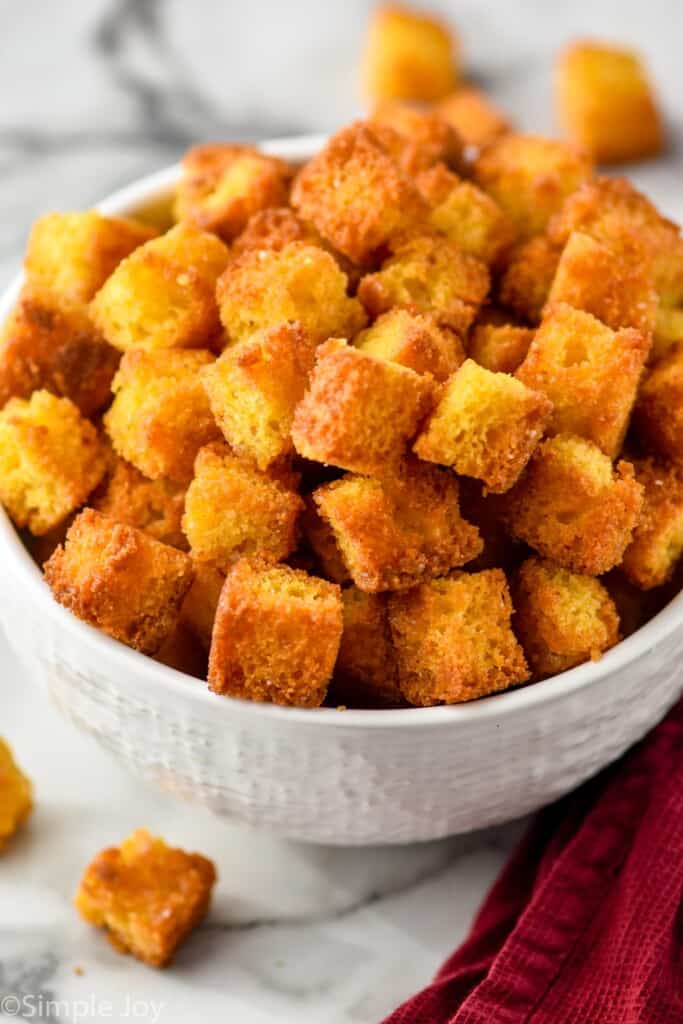 When you are someone who both loves croutons and cornbread, the natural thing to do is make Cornbread Croutons.
Homemade croutons are incredibly easy to make and so much better than store bought. This crouton recipe is no exception, and I think you will find the cornbread flavor is so great in fall salads.
(Though I won't tell anyone if you switch these to be your crouton of choice all year.)
Reader Review
These are delicious. I added a little garlic powder. My husband ate them like candy.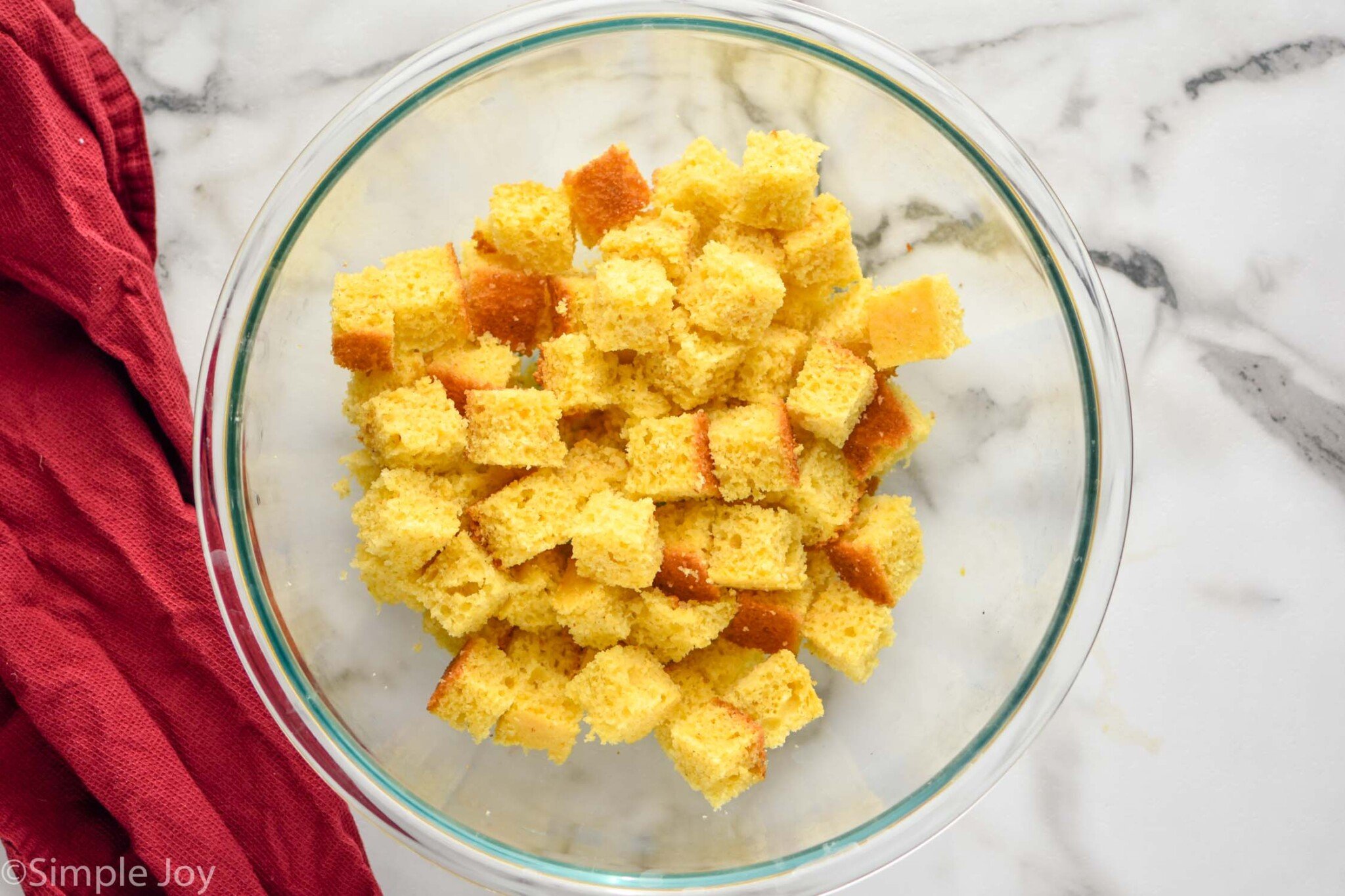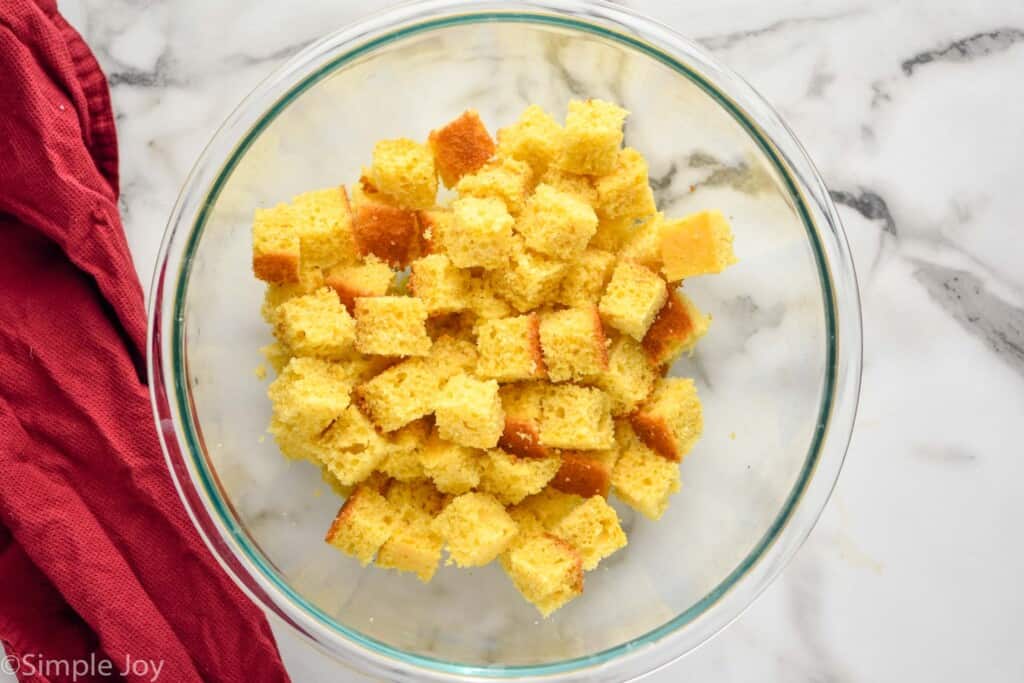 How to Make Cornbread Croutons
This is a brief overview of how to make these delicious croutons. Please see the full recipe in the recipe card at the bottom of the post.
Cut up the cornbread into 1 inch cubes.
Let the cornbread dry out. If you have a particularly moist recipe (like mine!) you will want to let the cubes sit out for a few hours. If they are still moist, cover them and make the croutons the following day.
Toss the cornbread cubes with olive oil and sprinkle with kosher salt.
Bake the croutons. These should bake in a single layer for about 20 to 25 minutes, with you tossing them halfway through. Since ovens vary, keep an eye on them after 20 minutes.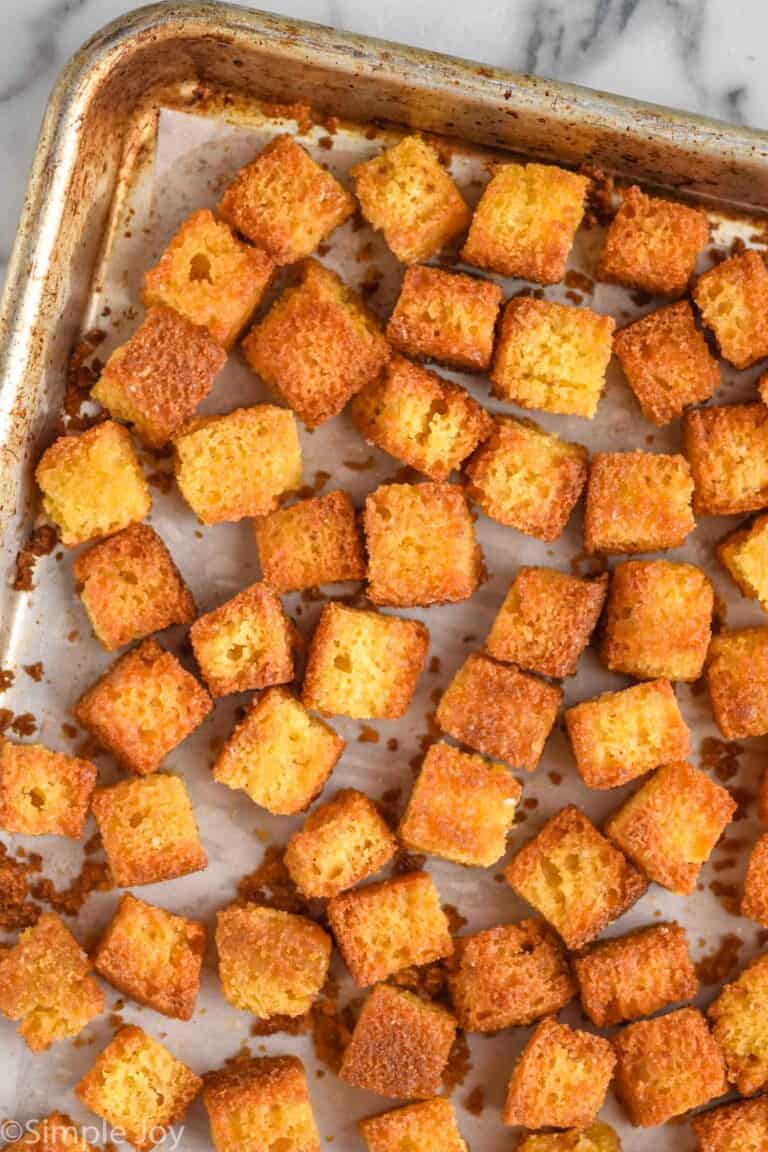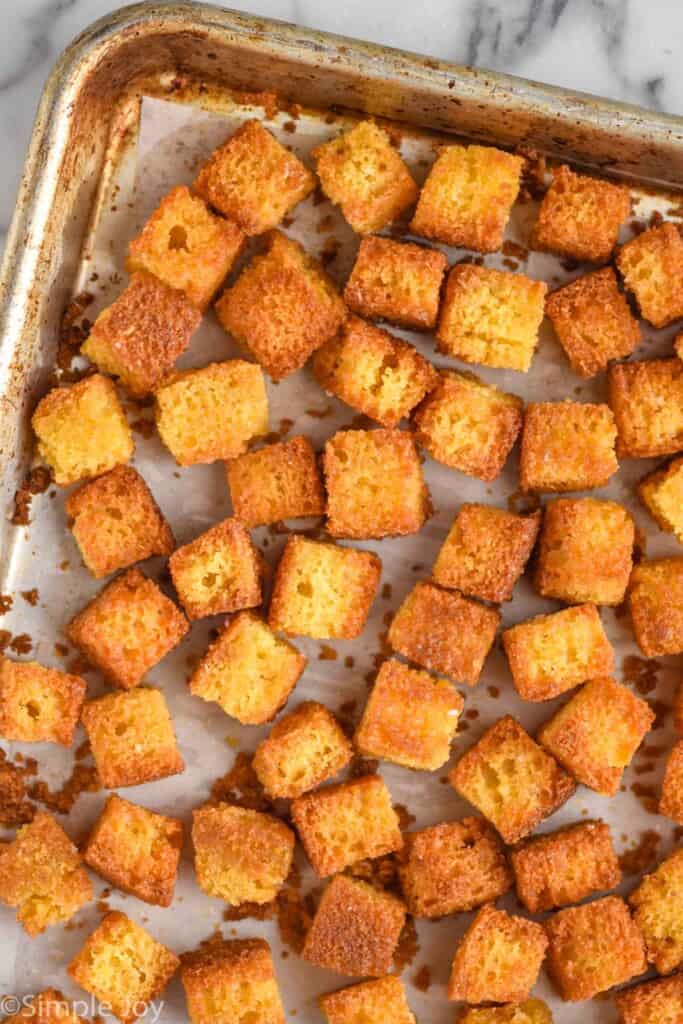 What to Use to Make Cornbread Croutons
When you are thinking about what cornbread recipe to use to make these croutons, naturally I think you should use mine. It is moist, not dry, holds together beautifully, is easy to make, and has the perfect level of sweetness.
That being said, any cornbread recipe, even the kind from the box, will work for this recipe. The biggest thing you want to consider is how moist it is. Recipes that are more moist will require some time drying out before you can turn them into croutons.
Homemade Cornbread
This Cornbread recipe is absolute perfection! It has the best taste of corn while still being slightly sweet and moist. Best of all, it is very easy to make!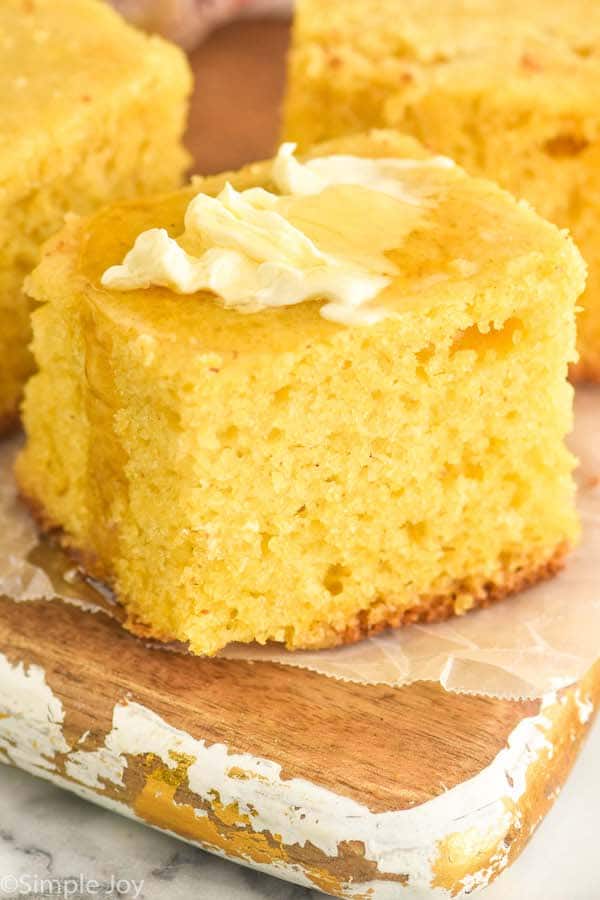 Storing
These croutons will be good for up to a week when stored in an airtight container. Please keep in mind that they are best when they are eaten the day they are made, but are still delicious as leftovers.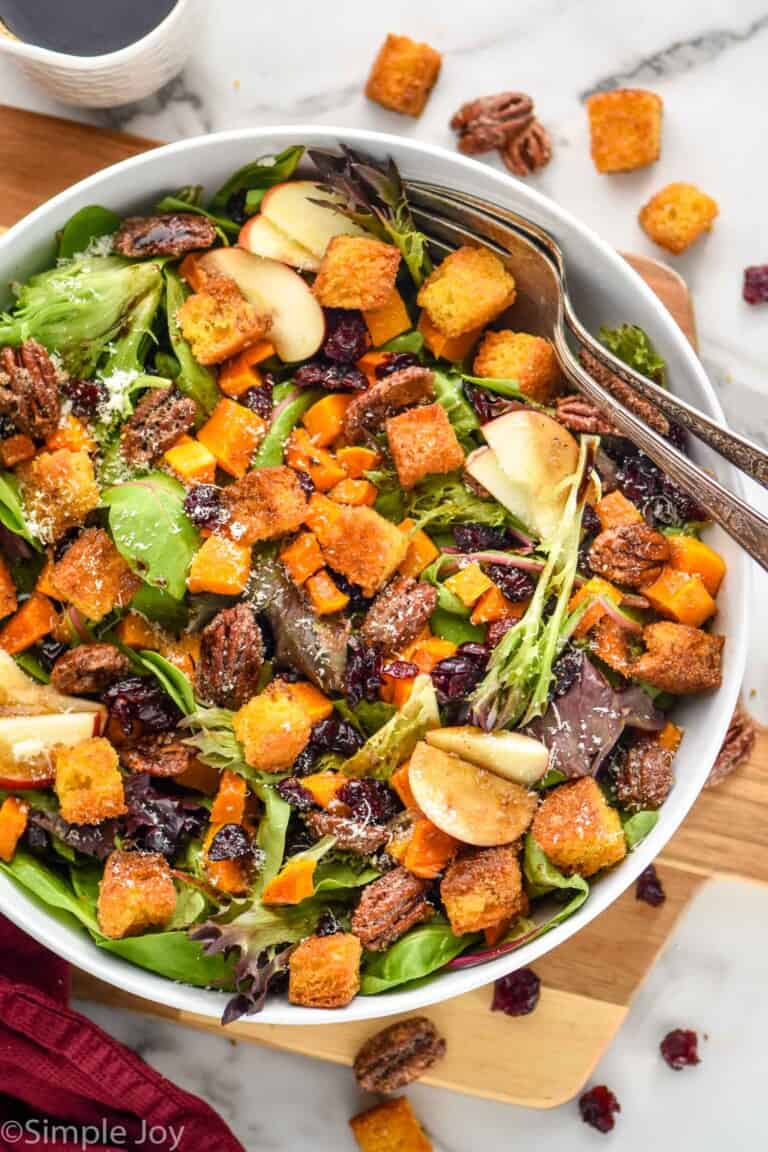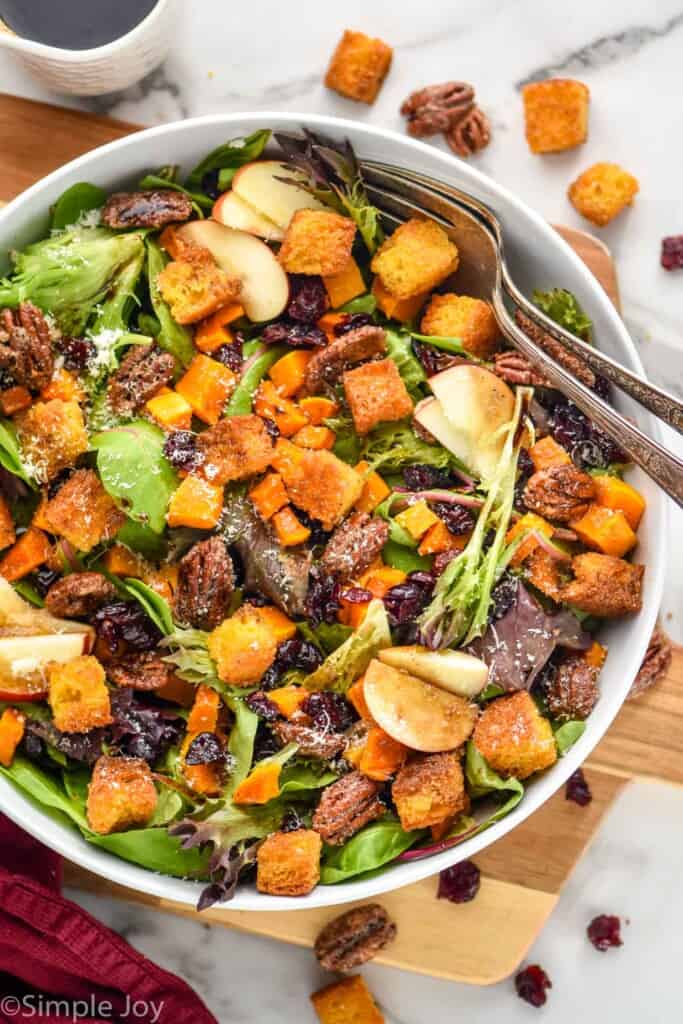 What to Use Cornbread Croutons On
I have a great Fall Harvest Salad coming, but while you are waiting here are some other amazing options.
Salad Recipes
Soup Recipes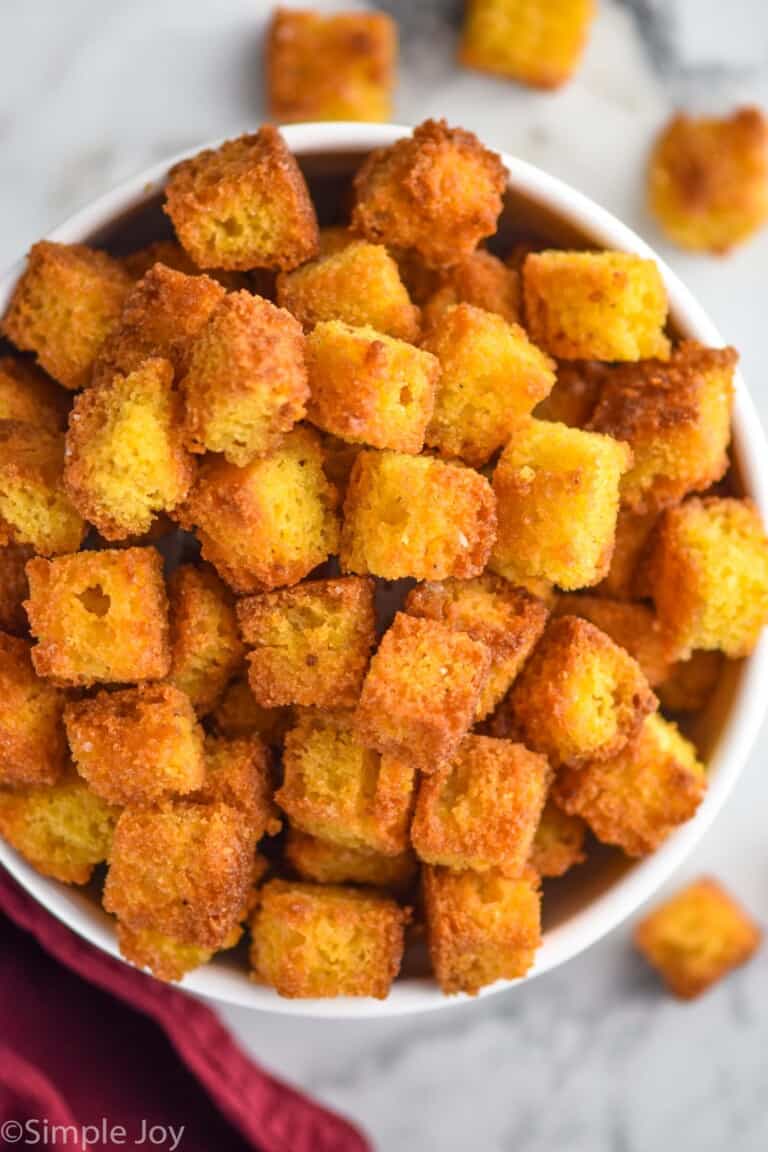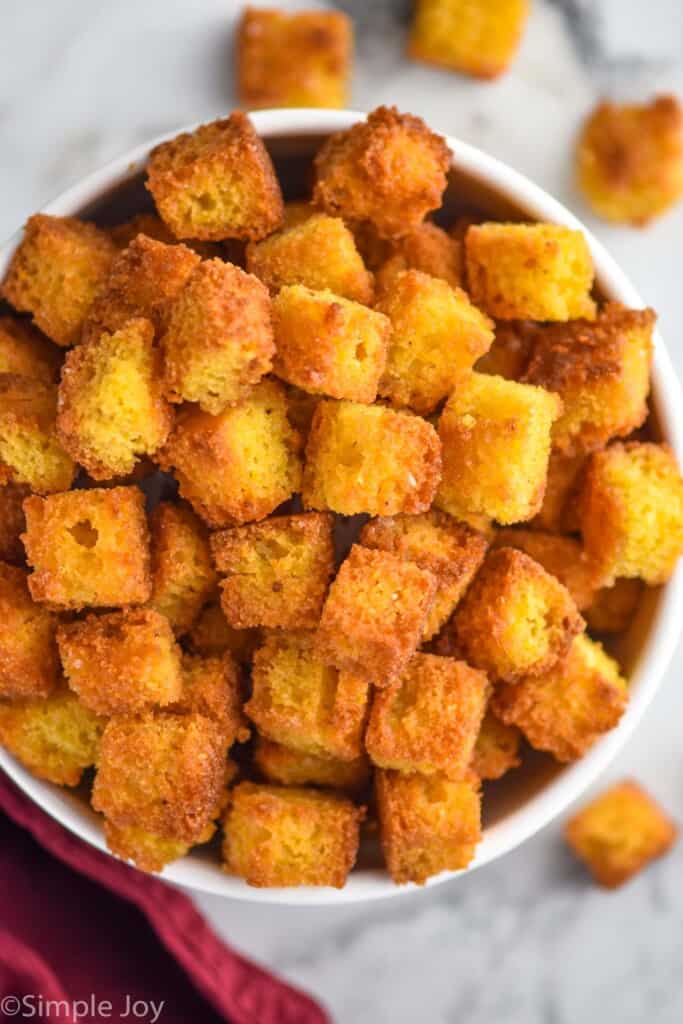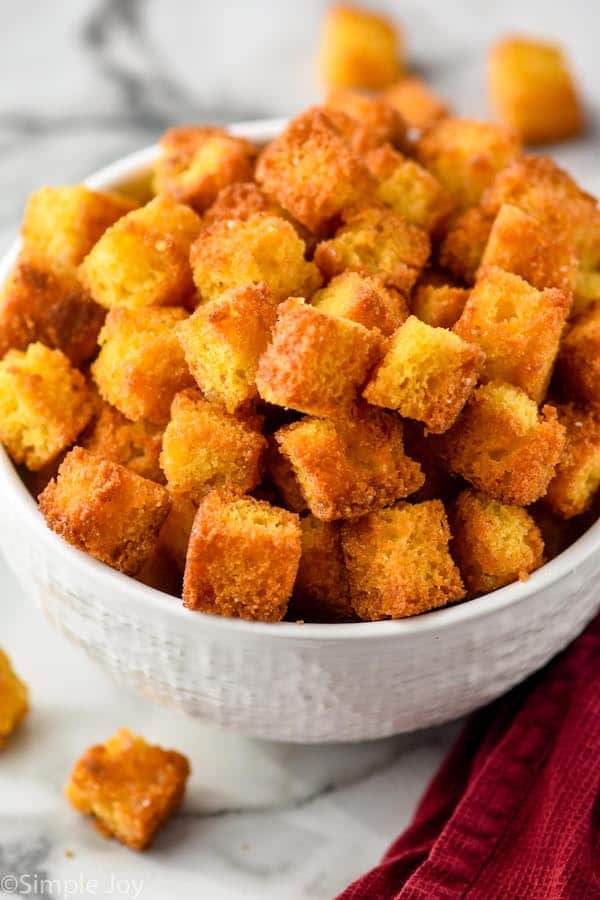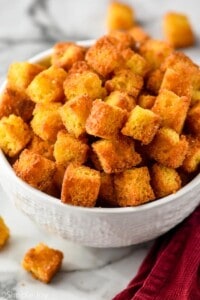 Cornbread Croutons Recipe
Cornbread Croutons are the perfect addition to any fall salad. Grab my amazing Cornbread recipe and save the leftovers for these amazing croutons.
Ingredients
5

cups

cubed corn bread

see note

3

tablespoons

extra virgin olive oil

1/2

tsp

kosher salt
Instructions
Preheat the oven to 375 degrees.  Line a baking sheet with parchment paper and set aside.

In a large bowl, combine all of the ingredients and toss to combine.

Pour the coated pieces of cornbread onto the prepared baking sheet.  Bake for 20 to 25 minutes, tossing them once during baking and rotating the sheet once. (Keep a close eye on them starting at 20 minutes.) Bake until golden brown. The croutons may seem soft still, but as they cool they will crisp up.

Store in an airtight container for up to one week.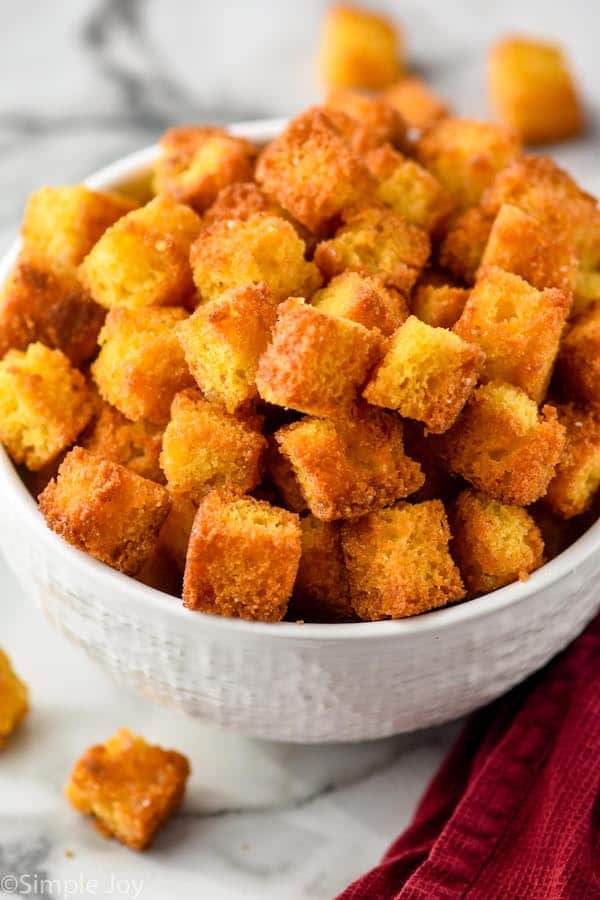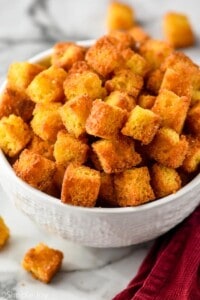 did you make this
Cornbread Croutons Recipe
you might also like . . .