Homemade Egg Noodles are incredibly easy to make, and so delicious. You can't beat this two ingredient foolproof recipe.
Add these great noodles to your favorite soups or just eat them with butter and a little seasoning. They are the ultimate comfort food.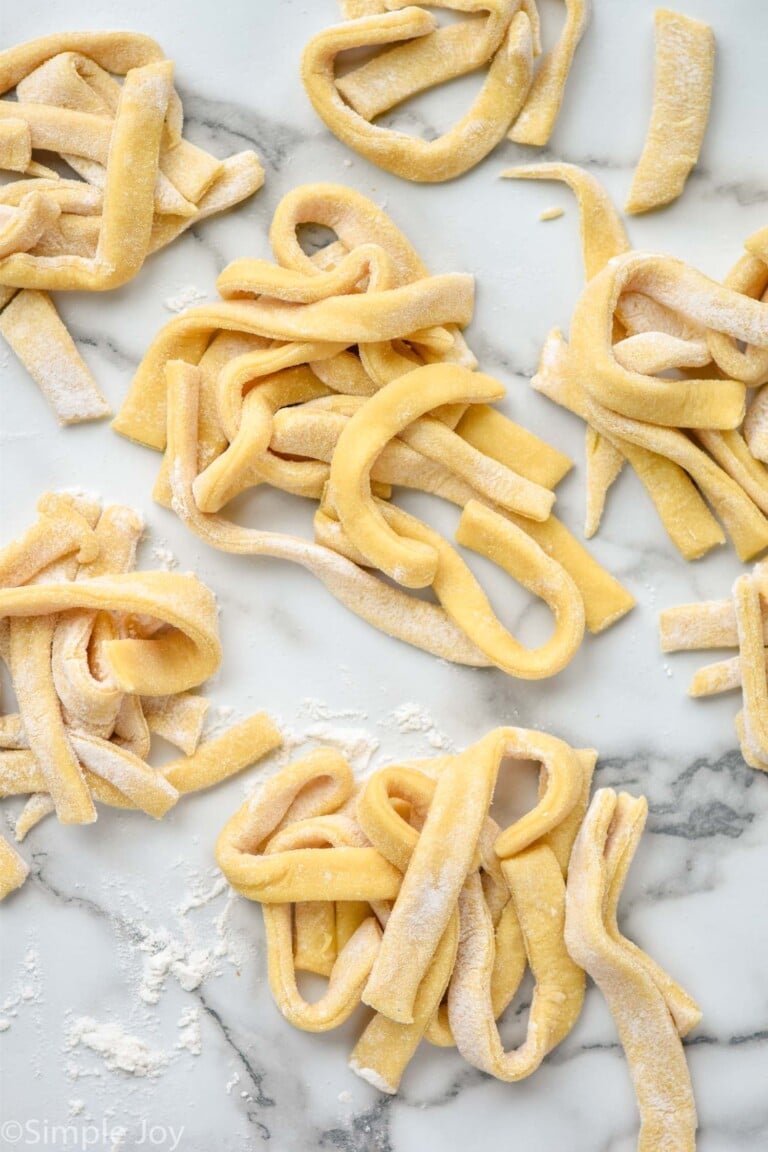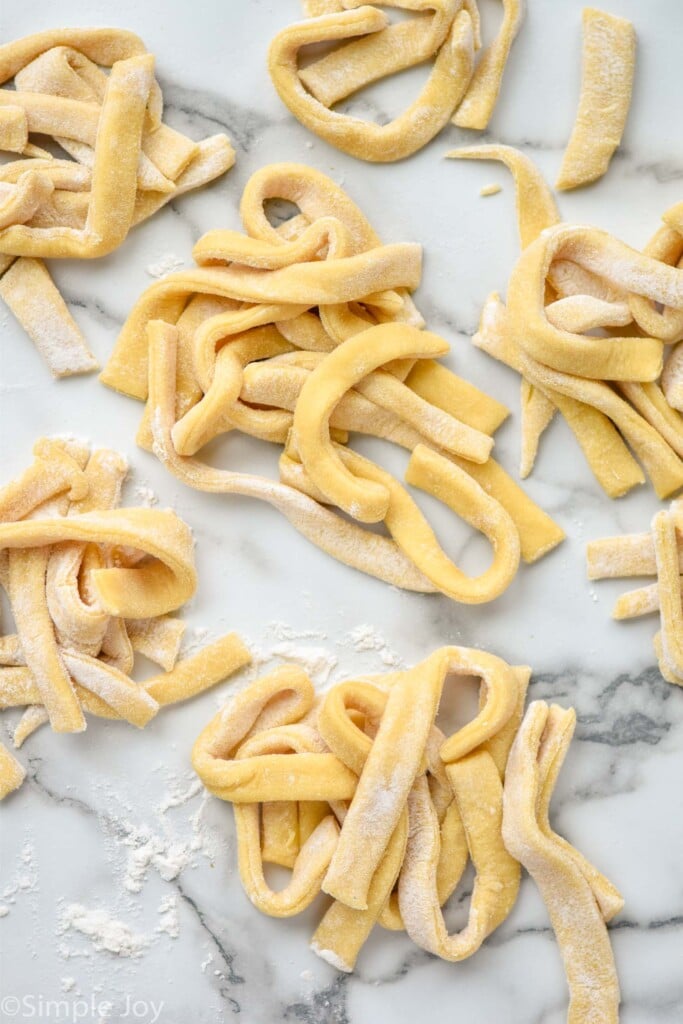 For years, one of my most popular recipes has been my Chicken Noodle Soup. It is a delicious recipe that is perfect for when you are sick or anytime you crave that comfort that only a great home-cooked meal can bring.
Whenever I share it on social media, I inevitably get questions asking me if I have a recipe for homemade egg noodles to go with it. Today I'm going to share with you America's Test Kitchen's simple answer to the longing for homemade egg noodles.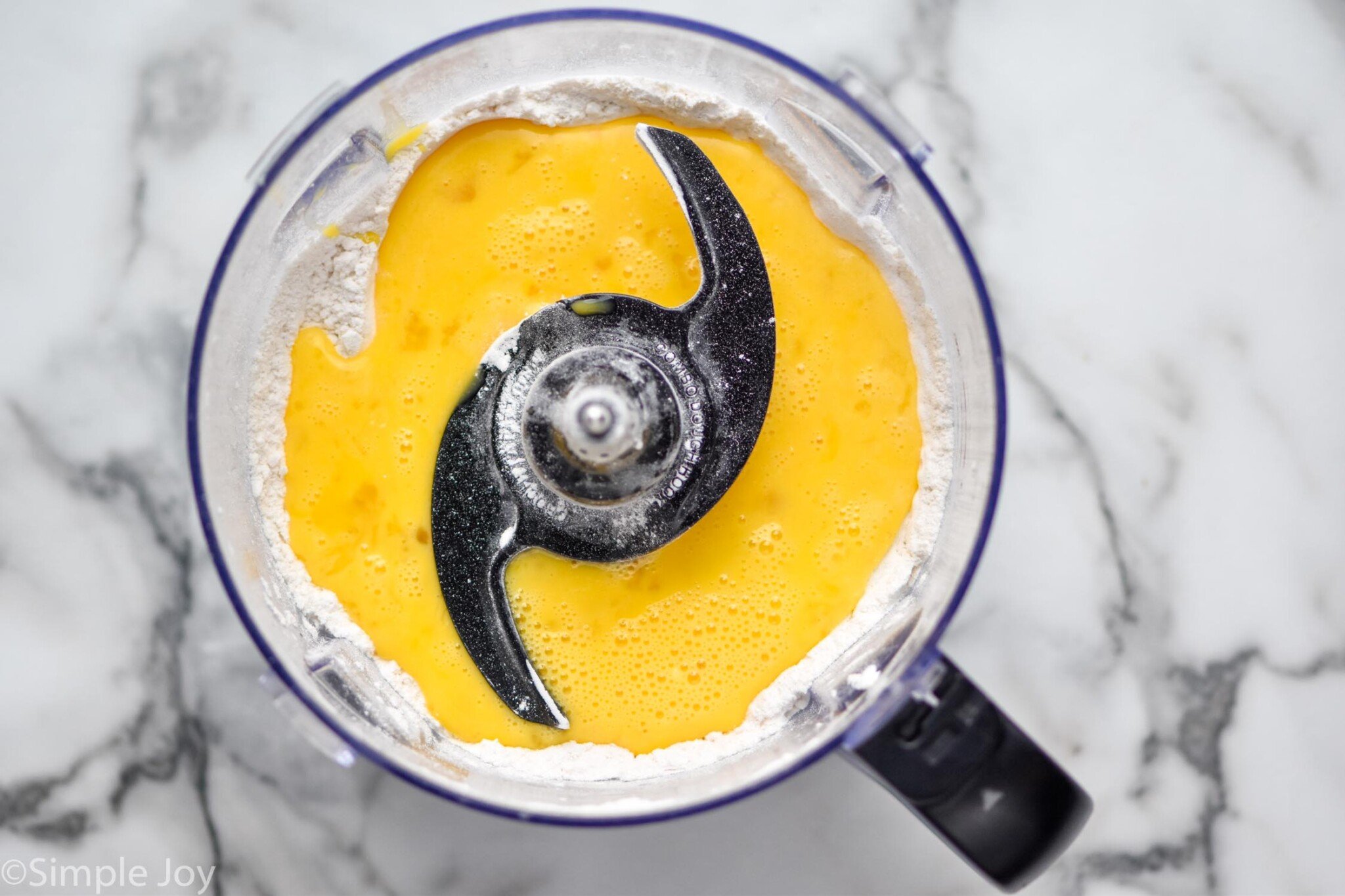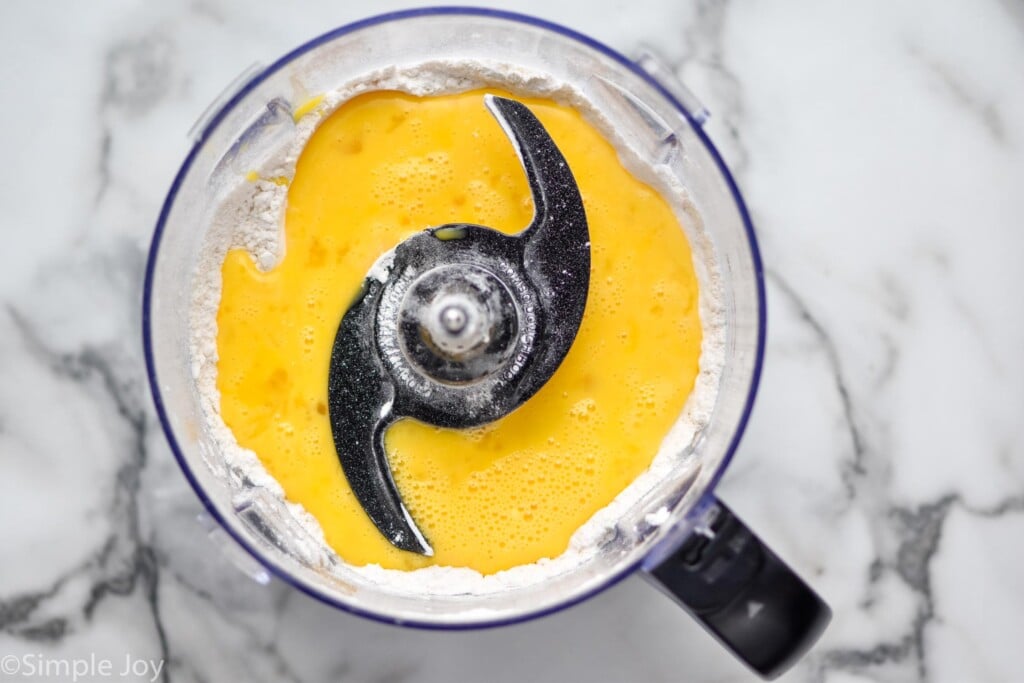 How to Make Egg Noodles
Aerate the flour. Add the flour to a food processor and pulse it a few times to add some air to it.
Add in the eggs. Pulse the eggs and the flour together until a ball forms.
Adjust the ingredients. If the dough ball doesn't come together, you may need to add a little bit of water. If the ball is too sticky and wet, you may need to add a little bit of flour. Read more on this below.
Knead the dough by hand. This isn't a long process, just knead it enough that it comes together in a smooth ball.
Let the dough rest. After rolling the dough into a ball, place it in a bowl you can cover with plastic wrap. Let it rest for at least 15 minutes, but not longer than 2 hours.
Roll out and cut the dough. On a surface covered with flour, roll out the dough. Make a large rectangular(ish) shape. Then, using a pizza cutter, cut the dough into strips.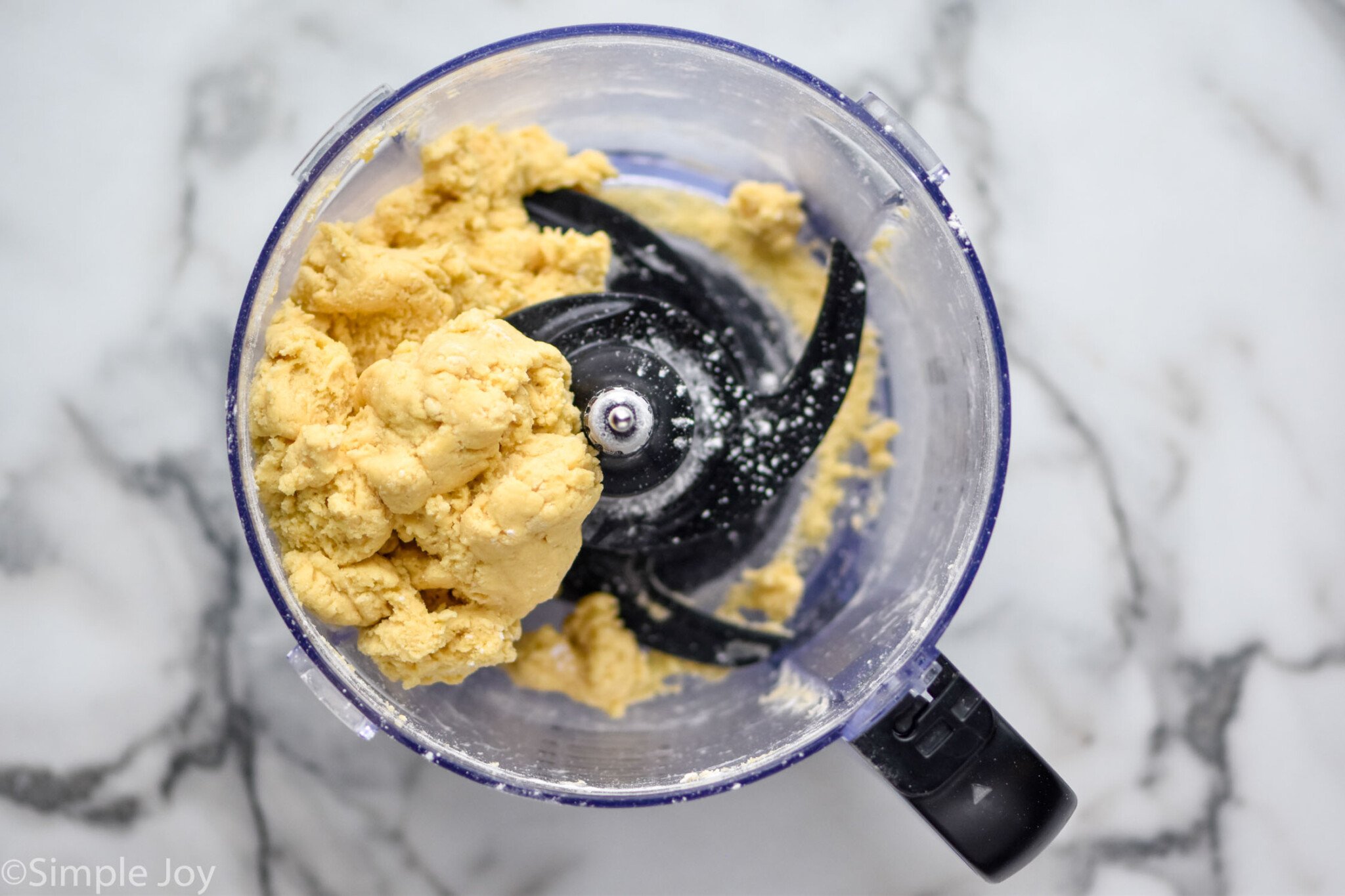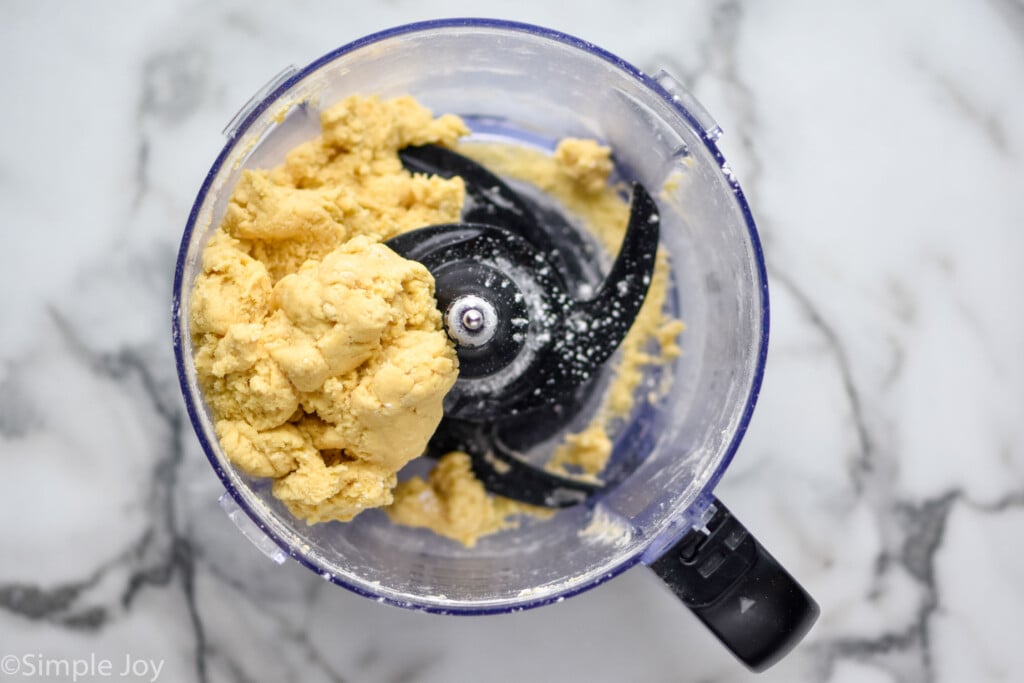 Measuring Flour
Since flour is one of only two ingredients in this recipe, we want to make sure we measure it right. Scratch that, you want to make sure you always measure flour correctly.
Whisk the flour in the container it is stored in. This will loosen it up and ensure you don't measure too much.
Using a spoon, scoop the flour from the container into a dry measuring cup.
Using the flat end of a spatula, level off the flour.
All of this will prevent the flour from packing, which will ensure that you don't have too much in your recipe.
Troubleshooting Noodle Dough
If after adding the eggs the dough is crumbly and won't come together, add 1/2 teaspoon of water at a time until it comes together.
If after adding the eggs, the dough is so sticky it won't come together, add 1 tablespoon of all purpose flour at a time until it comes together.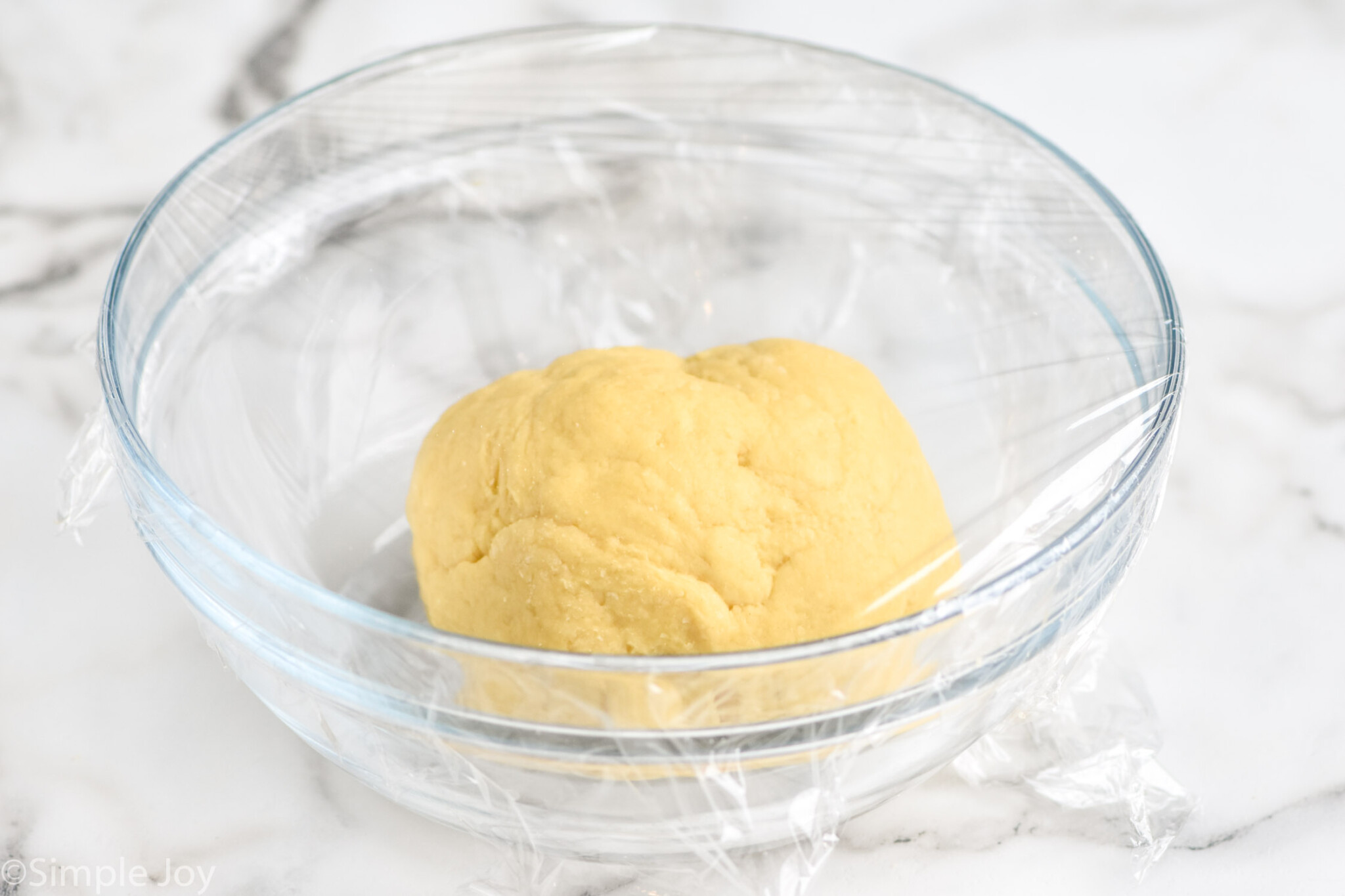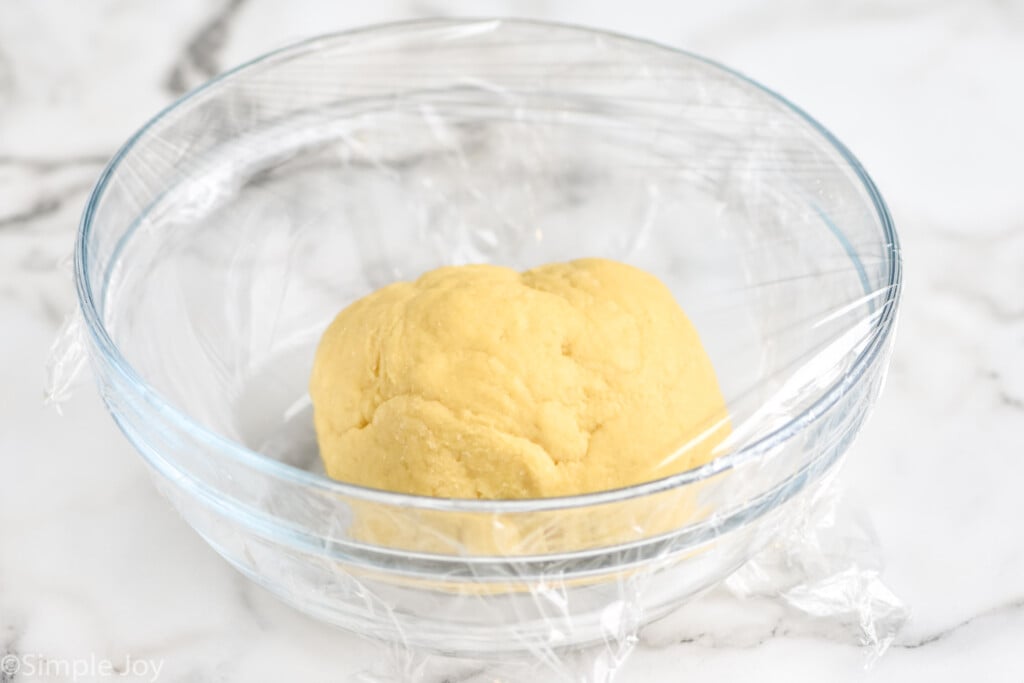 Letting Dough Rest
Letting the dough rest is a key step to this recipe for egg noodles. During the resting time, the flour is able to absorb some of the liquid from the eggs, and the gluten is able to relax. The relaxed gluten is what helps it stretch and roll well.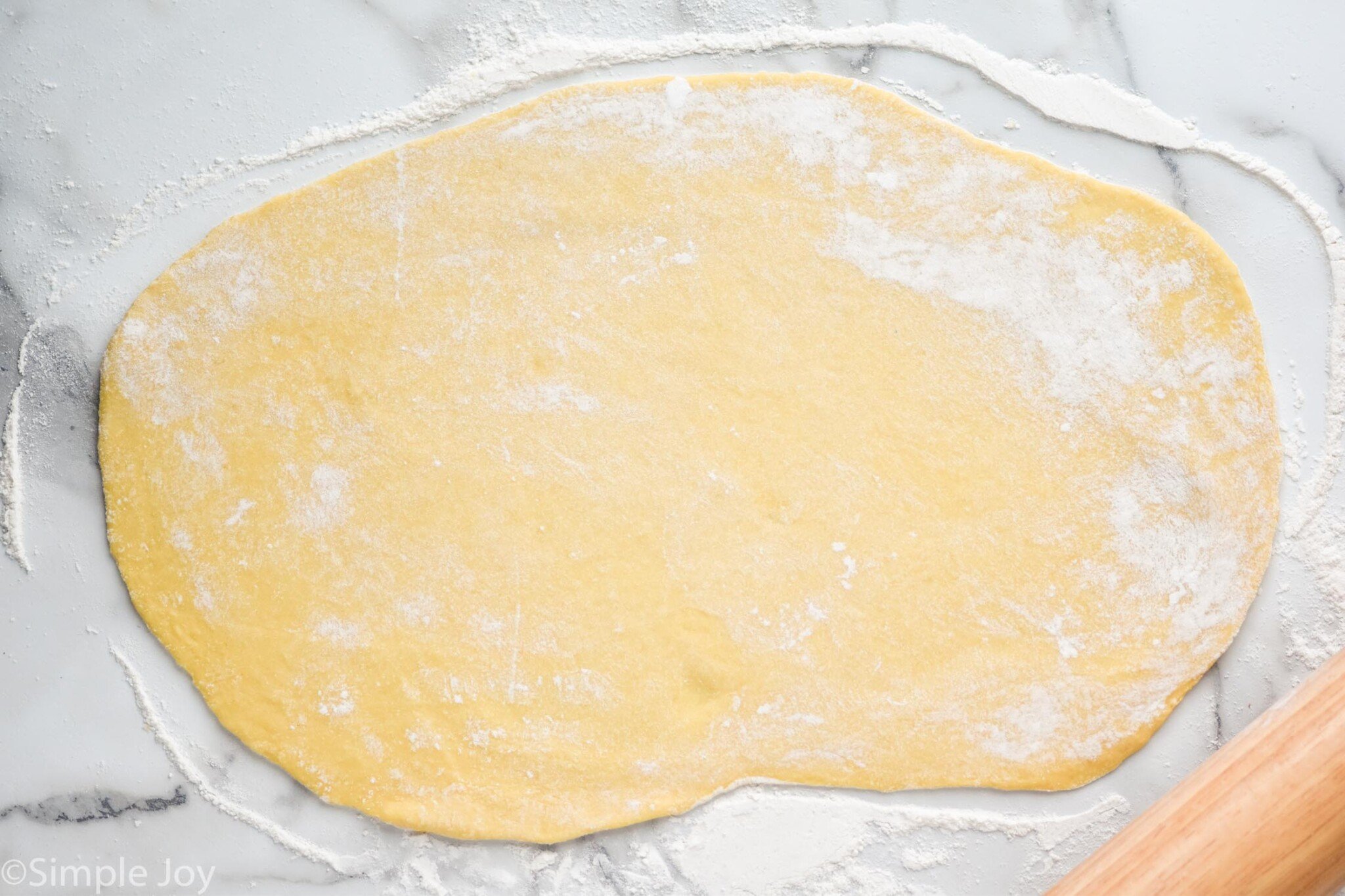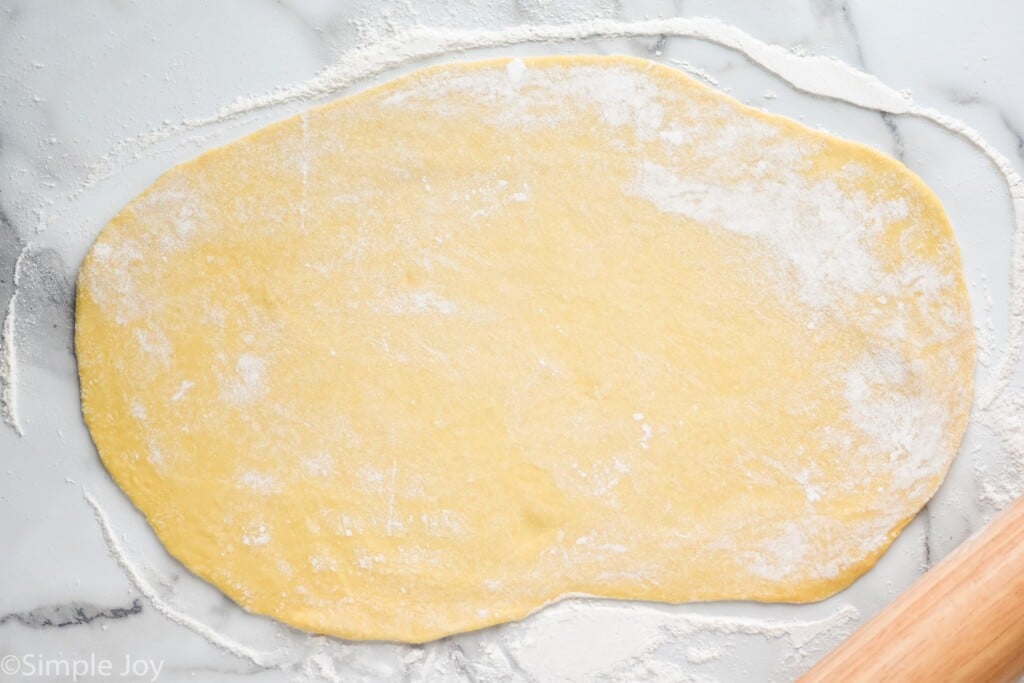 Rolling and Cutting Egg Noodles
I have tested both thin and thick egg noodles, and I tell you with confidence, you want them about as thick as you see here. The thinner noodles are more like store bought pasta, but they don't cook as well in a soup.
Roll out the dough into as much of a rectangle shape as you can manage, and then cut it into thin strips. From there, cut the the other direction, to make smaller more bite sized noodles, like in the first image you see here.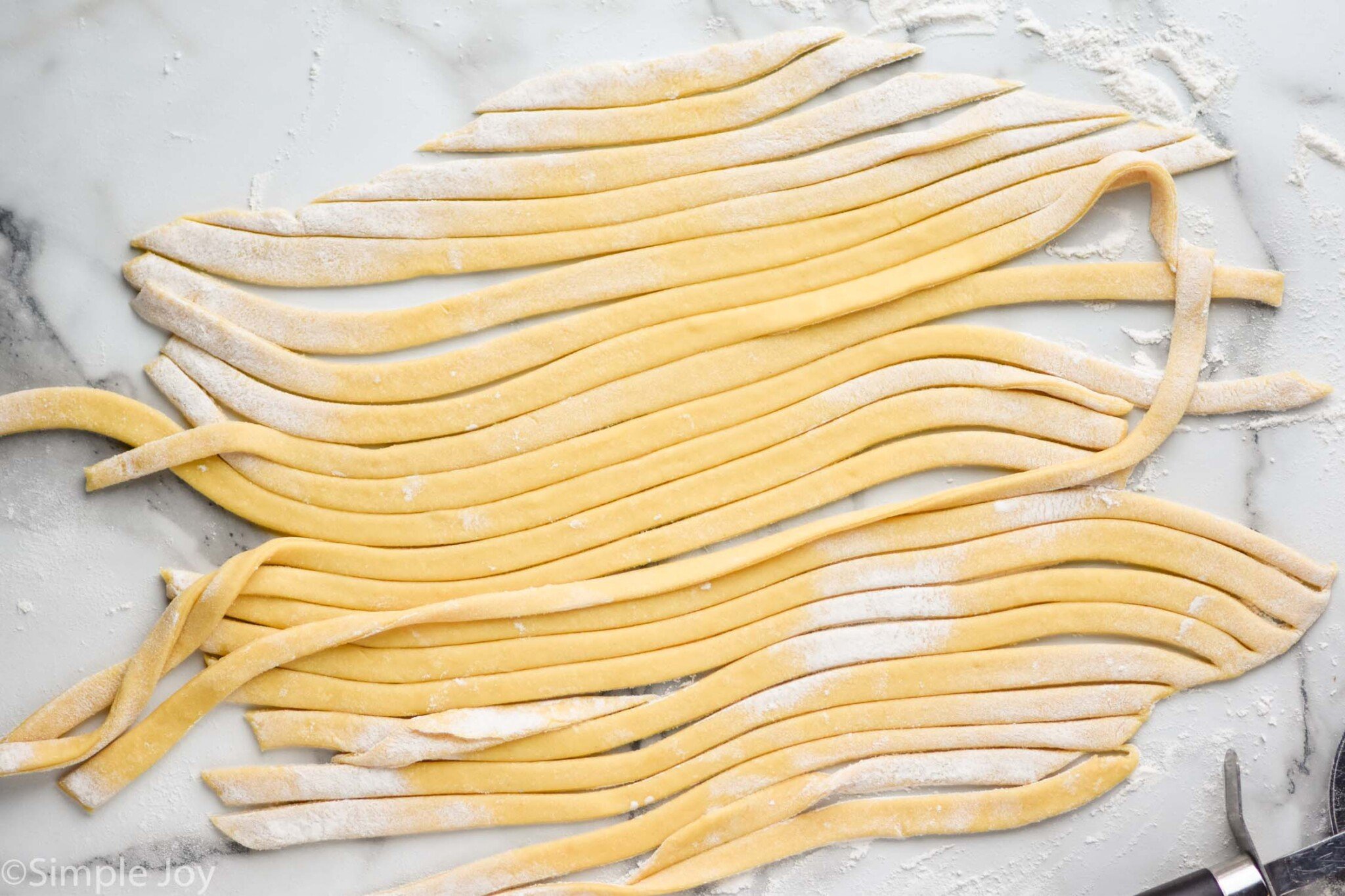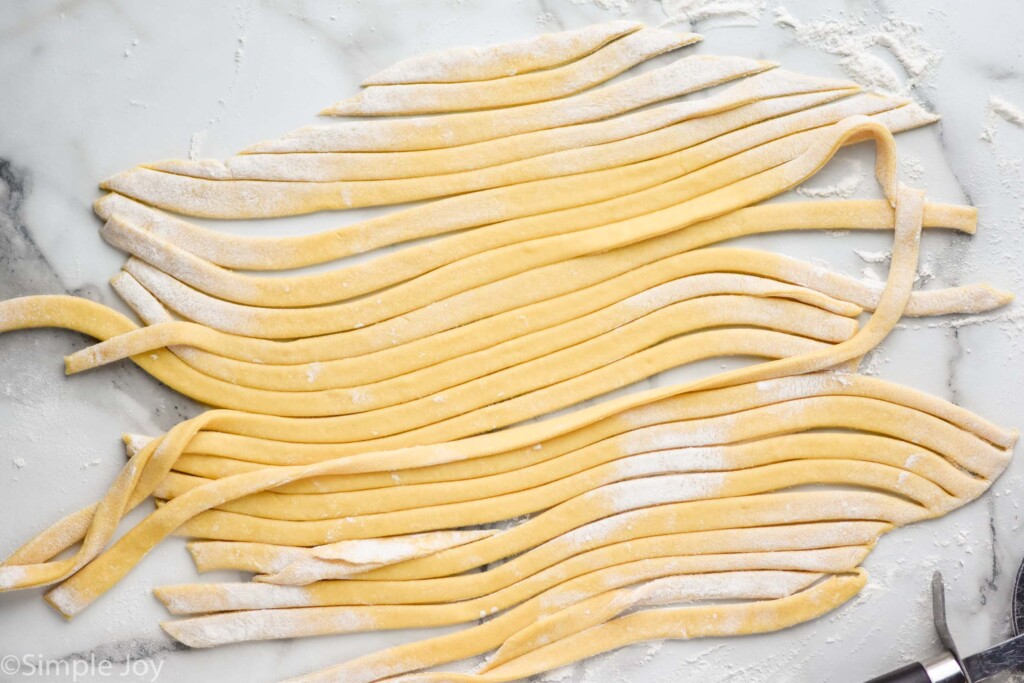 Making Egg Noodles Ahead
While I recommend making these fresh each time because the total time is so little, you can make egg noodles ahead of time. To do that, you will want to freeze the noodles.
After making and cutting the noodles, lightly coat them with flour to prevent them from sticking to each other and lay them out in a single layer on a baking sheet.
Freeze the noodles for at least four hours.
Transfer the noodles to an air tight container. Place them back in the freeze for up to three months. (Or as little as 24 hours.)
When ready to cook with the noodles, do not thaw them. Add them to the boiling water from frozen.
Adding Homemade Egg Noodles to Soup
If you want to add these great noodles to homemade soup, there are a few things to consider.
If the recipe calls for frozen egg noodles, you can use fresh; just consider that they will need to be added to the recipe just before serving. The fresh noodles will cut a lot of time off of the soup as they cook quickly. The amount of stock/broth used can be kept the same as fresh egg noodles absorb a lot of stock.
Consider keeping a batch of these noodles in the freezer for making soup in the future. It will cut some time off of your soup making.
Homemade Chicken Noodle Soup
This Homemade Chicken Noodle Soup is made from scratch. It is rich, delicious, and comforting.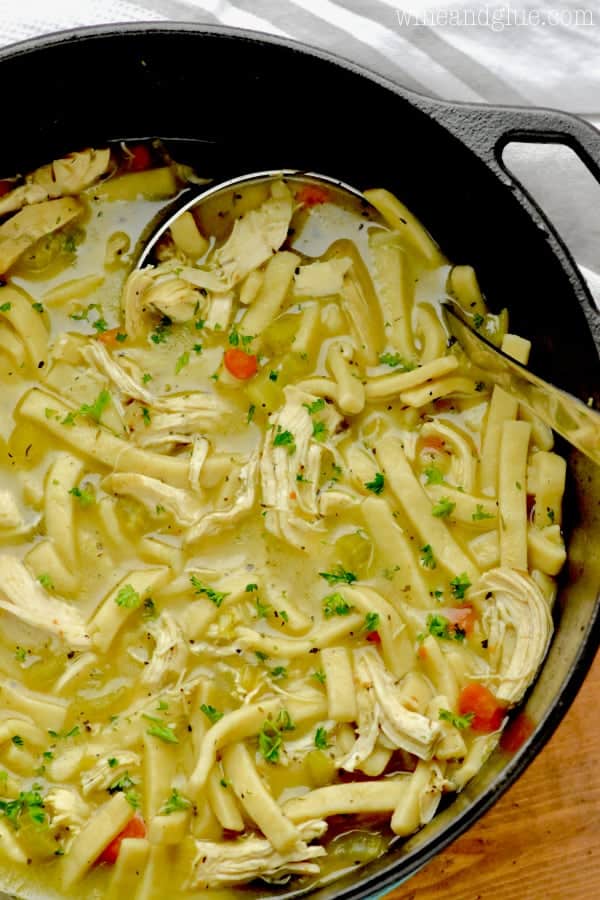 FAQ
Are egg noodles gluten free?
Egg noodles are not gluten free. They have a significant amount of flour in them to hold them together. If you want to make this recipe gluten free, I suggest testing it using a one to one gluten free flour (like this one).
How are egg noodles different from pasta?
Not all recipes for fresh pasta contain egg, but all egg noodles contain egg.
Can egg noodles be frozen?
Yes! In fact, if you want to make egg noodles ahead of time, I only recommend freezing them. See my instructions above under "Making Egg Noodles Ahead."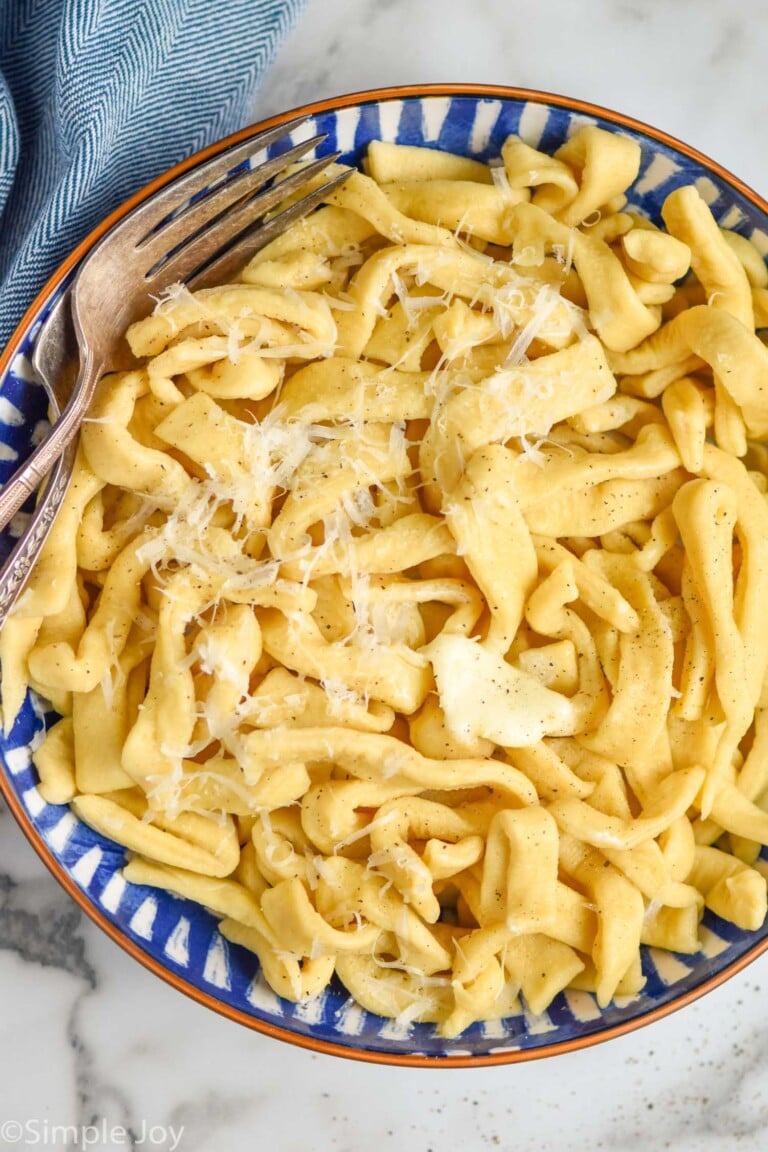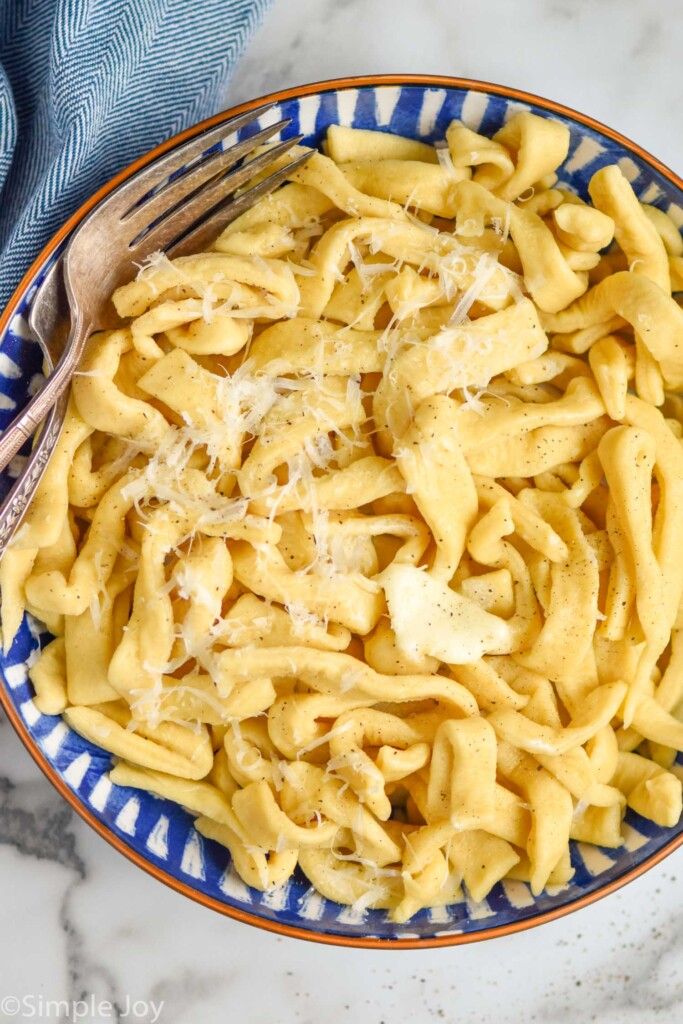 Recipes with Egg Noodles
If you make this egg noodle recipe (or any of the great recipes to use it in), please leave me a comment and let me know what you think.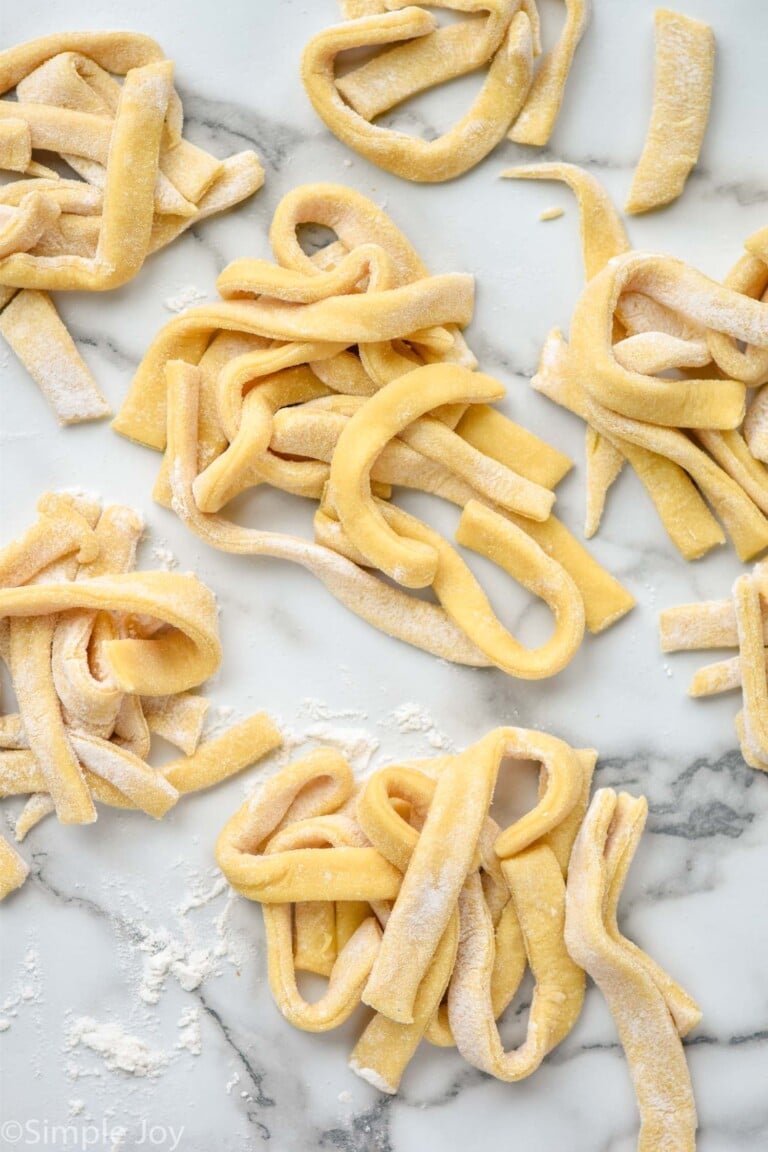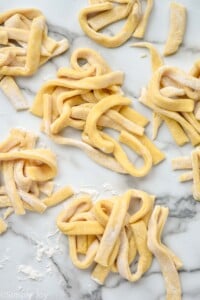 Egg Noodles
Homemade Egg Noodles are incredibly easy to make, and so delicious. You can't beat this two ingredient fool proof recipe. 
Ingredients
2

cups

all purpose flour

3

large eggs

beaten
Instructions
Add the flour to a food processor and pulse a few times to add air.

Add the eggs to the food processor and mix until the dough starts to form into a ball, about 30 seconds. (See notes in the post for how to trouble shoot a ball that won't form.)

Take the dough ball out of the food processor and knead it by hand on a clean countertop until it forms a smooth ball.

Transfer to a bowl and cover with plastic wrap. Let rest for 15 minutes to 2 hours.

Roll the dough so it is approximately 1/4 inch thick. Using a pizza cutter, slice into 1/2 inch wide noodles. Use right away in a soup, or cook and use in a casserole.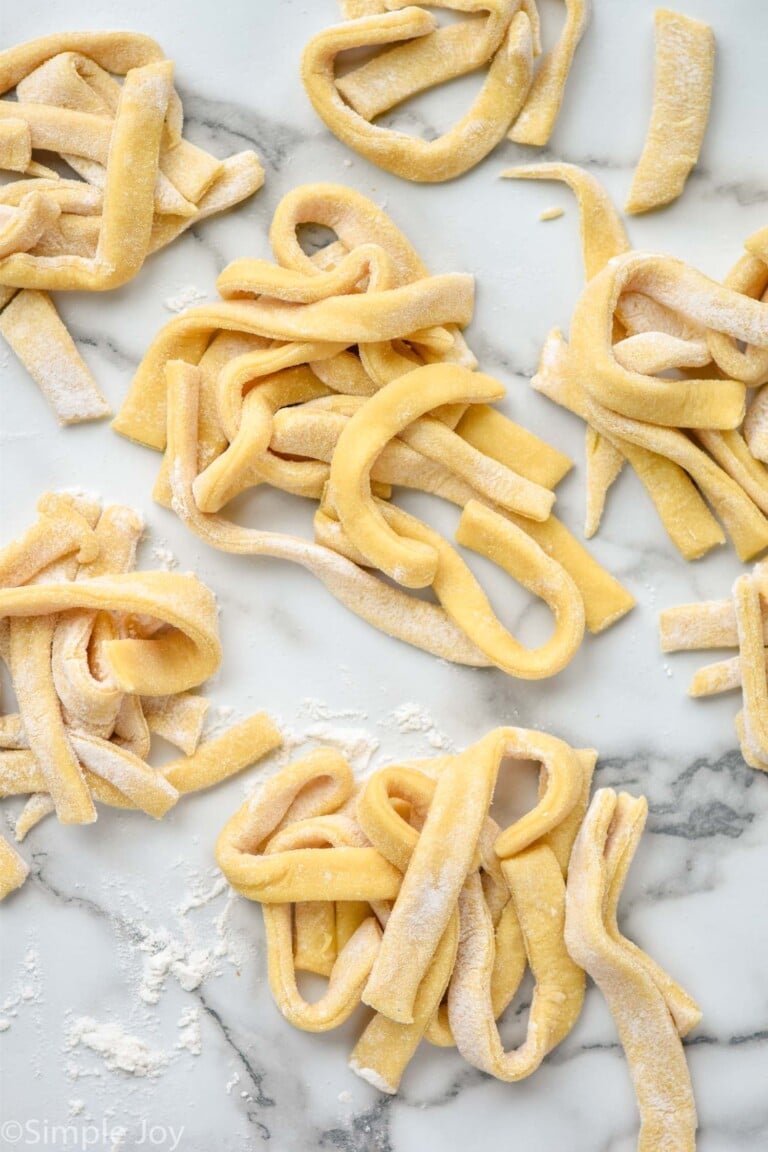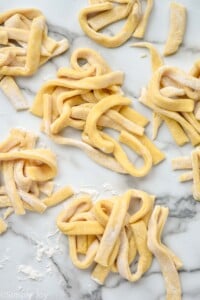 did you make this
Egg Noodles