Steak Fajitas are the perfect dinner to make this week! You can easily make this steak fajita recipe ahead of time and come home to a dinner recipe the whole family loves!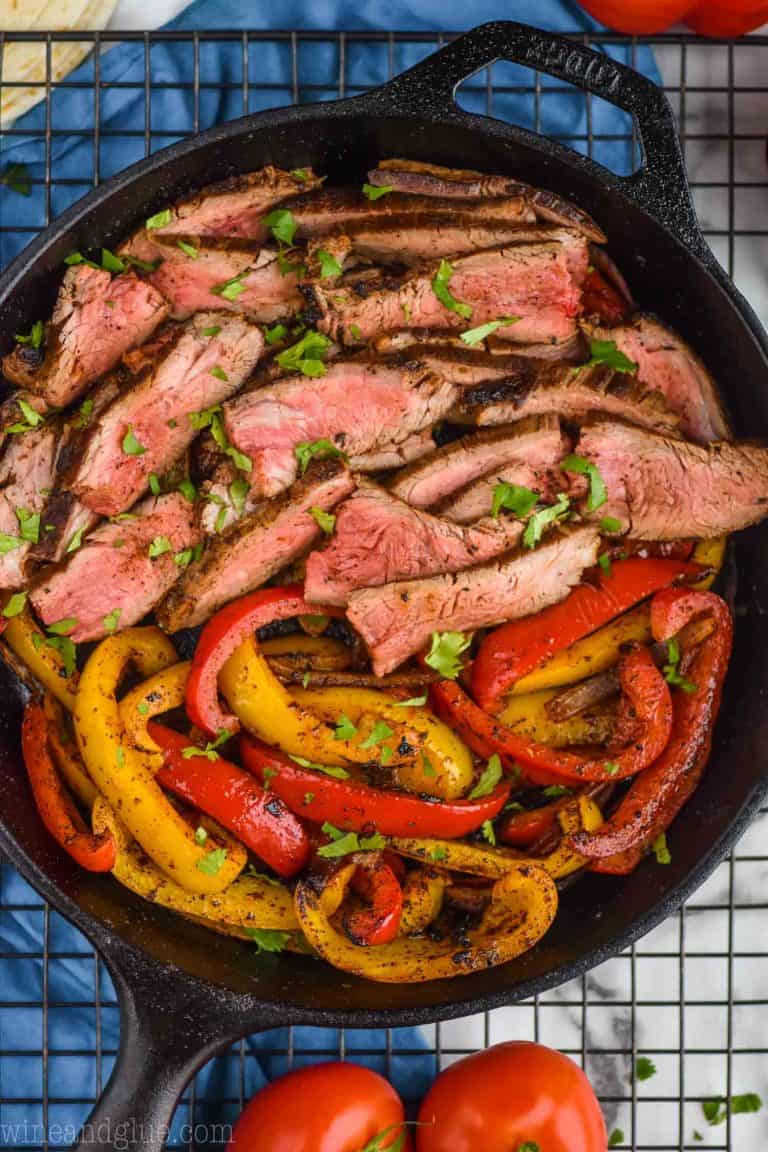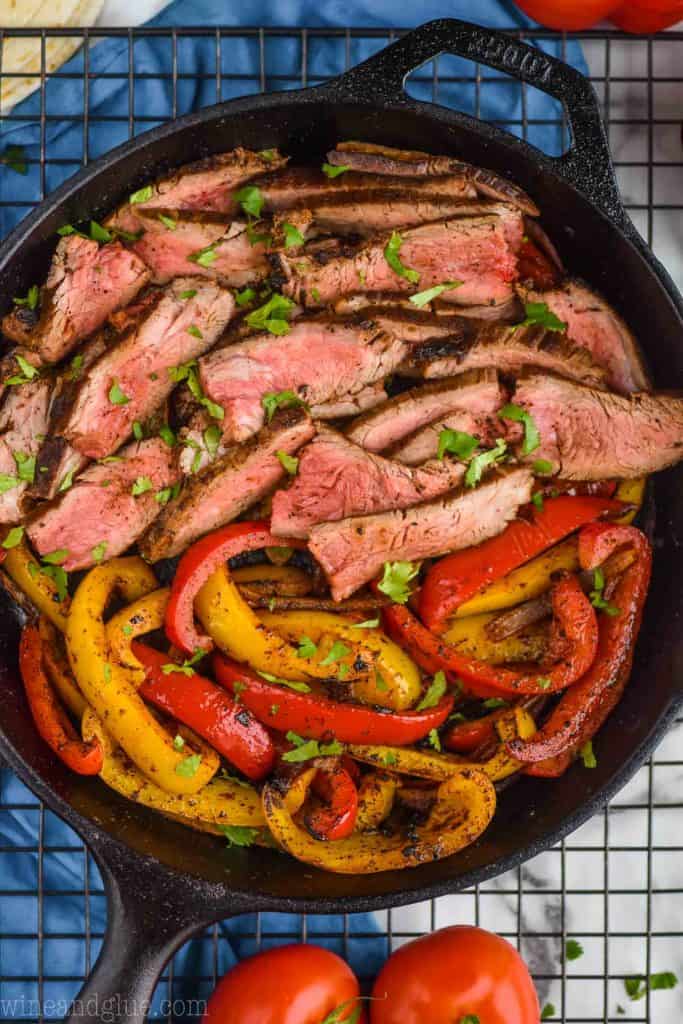 This Steak Fajita Recipe is one that I developed several months ago. With a few tweaks, I got it perfect . . . but then the holidays came and I needed to give you the best green bean casserole for Thanksgiving. And then I needed to give you the perfect Holiday Sangria before Christmas.
In the mean time, I have made it regularly for my family. It has become a staple in our house. It is Quinn's favorite dinner and the last time we had it . . . you guys, she ate SEVEN fajitas.
I think we can agree these are amazing.
HOW TO MAKE STEAK FAJITAS
The key to this recipe is marinating flank steak (or skirt steak) in a nice fajita marinade. This recipe is really similar to my Steak Fajita Kabobs, but we are making it indoors.
Marinate your steak with your vegetables for at least 6 hours, but no longer than 24 hours. When meat is marinated too long, it starts to break down the fibers in the meat and you end up with mushy meat.
When ready to eat, cook the steak in a preheated cast iron skillet. Then let it rest, tented with foil, and cook the vegetables in the same skillet. Slice your meat really thin, and serve it all in tortilla shells.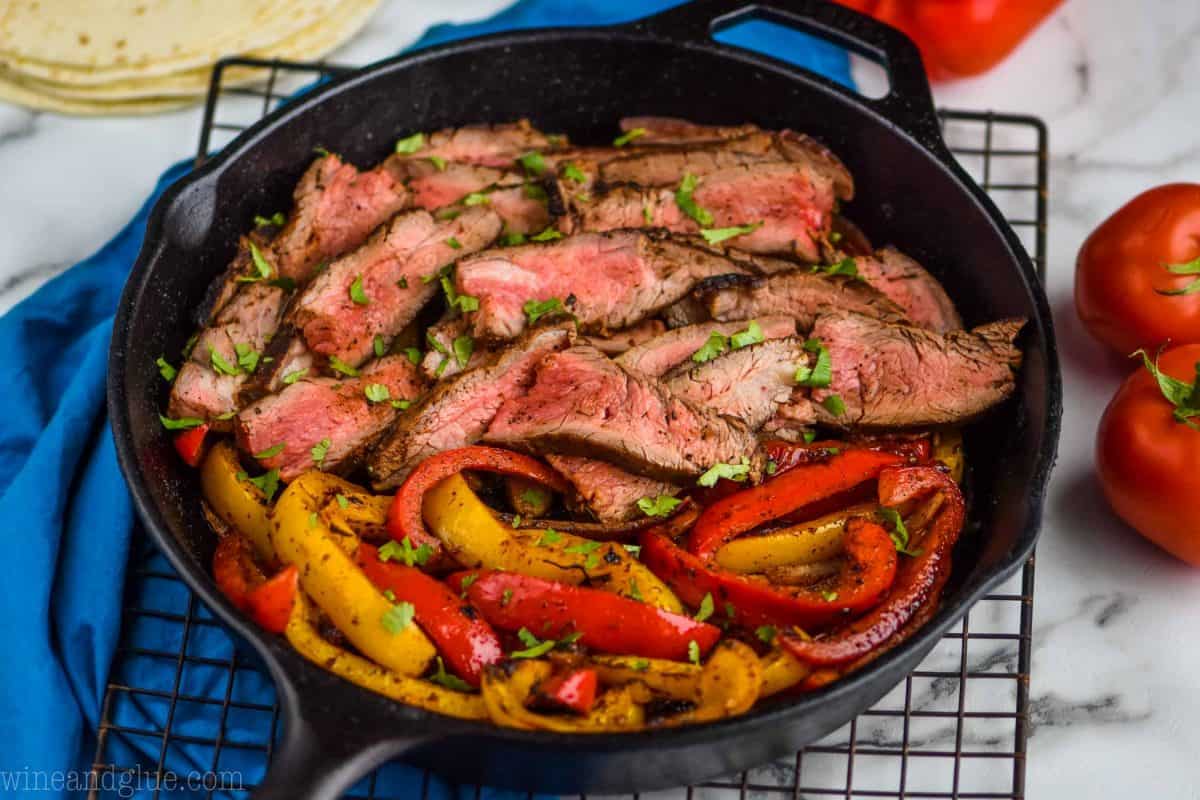 WHAT CUT OF MEAT FOR STEAK FAJITAS
You can get either flank steak or skirt steak to make this recipe. Both are great cuts of meat for marinating and grilling.
Worth noting, flank steak and skirt steak are not the same thing. They both come from a similar area of the cow, but they are different cuts. Either, however, can be used in this recipe.
STEAK FAJITA MARINADE
These steak fajitas are so amazing because of the marinade. It is made from:
olive oil
lime juice
chili powder
salt
paprika
oregano
garlic powder
onion powder
Given how much my family loves this recipe as is, I'm really reluctant to tell you the following.
In a pinch you can substitute the seasoning in this with a store bought fajita package.
That said, I would stick to this recipe whenever possible. It's just the perfect balance of flavors.
As mentioned above, we marinate the steak with the vegetables for between 6 and 24 hours. Marinating for between 6 hours and 24 hours will add flavor and tenderize the meat.
This is a great recipe to make the night before and throw in the skillet when you get home from work.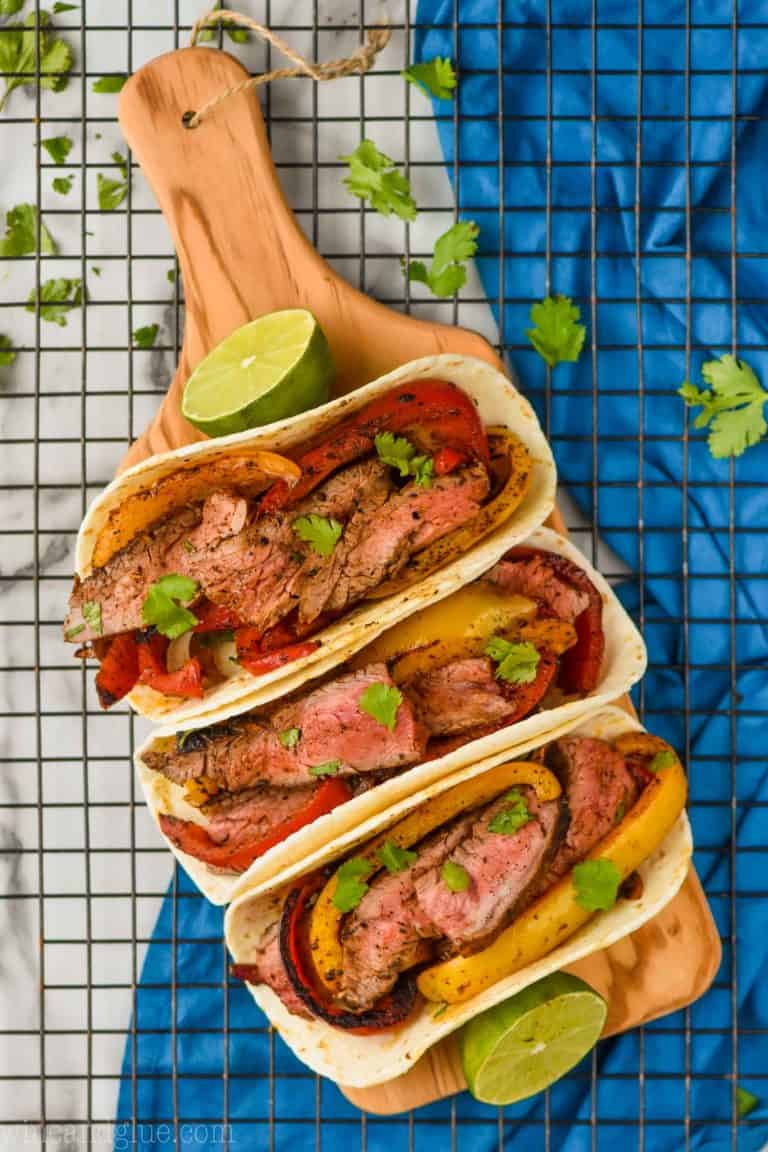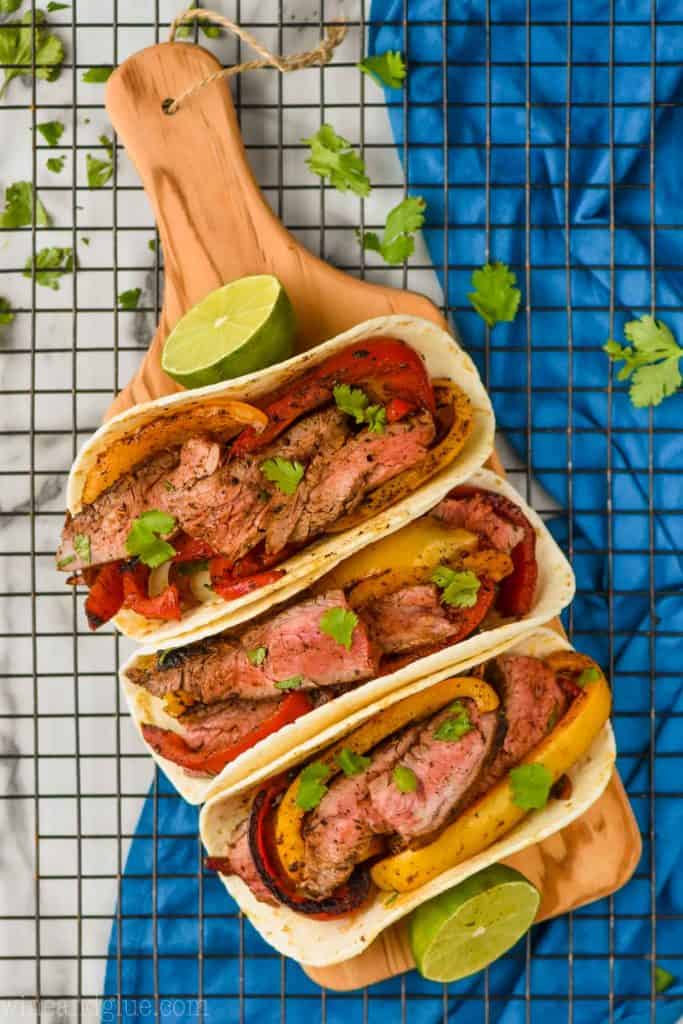 COOKING THE STEAK AND THE VEGETABLES AT THE SAME TIME
The recipe is written assuming that you have one skillet to work with.
I am lucky enough to have an indoor cast iron stove top grill. Though I have made it every way under the sun, my preference is to grill my steak on that while cooking my vegetables in the cast iron skillet.
DOUBLE THE MEAT
If you are eating with meat lovers like me, you may want to double the meat in this recipe.
If you do that, also double the marinade. You can still marinate it all together in one giant zip lock bag. I usually keep the amount of vegetables the same when I double the meat. Again, I live with a family of t-rex's.
SERVING
We love eating this family style.
We bring the vegetables over to the table in the hot cast iron skillet. We slice the meat on a big cutting board right on the table, and then every makes their fajitas at the table.
My kids like their fajitas with a little cheese on top. My husband prefers his with some sour cream. I like mine with a little fresh cilantro.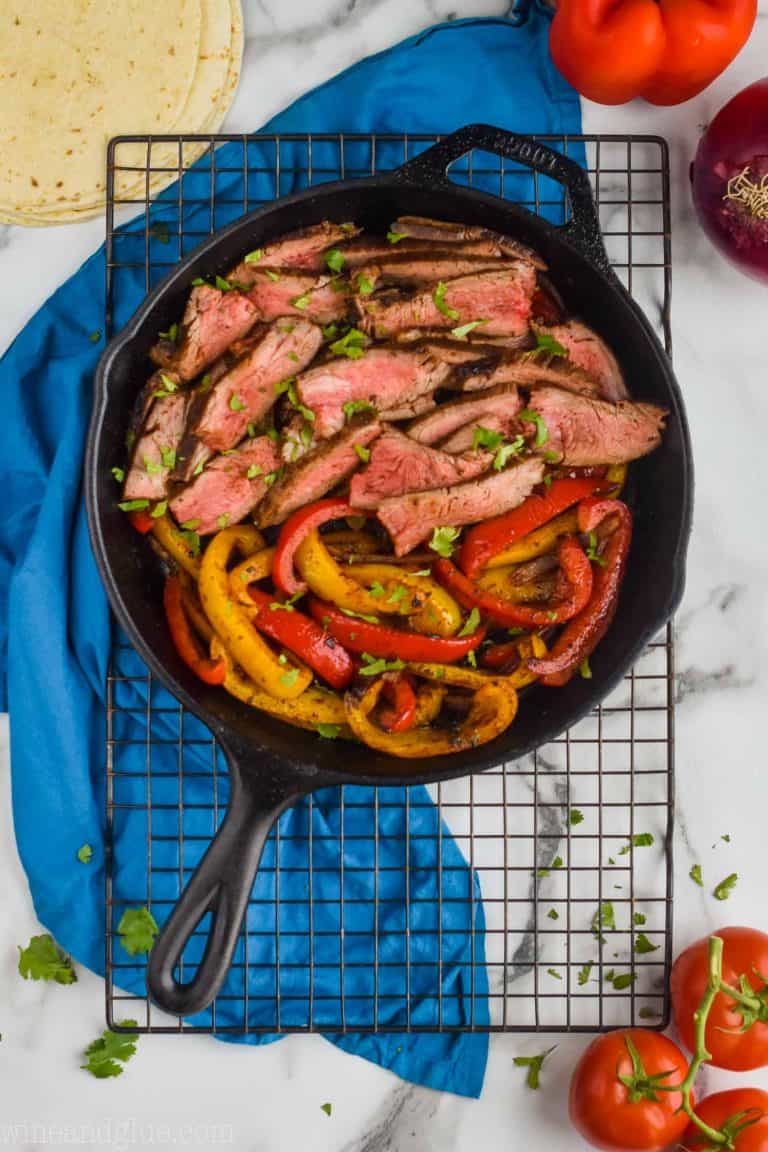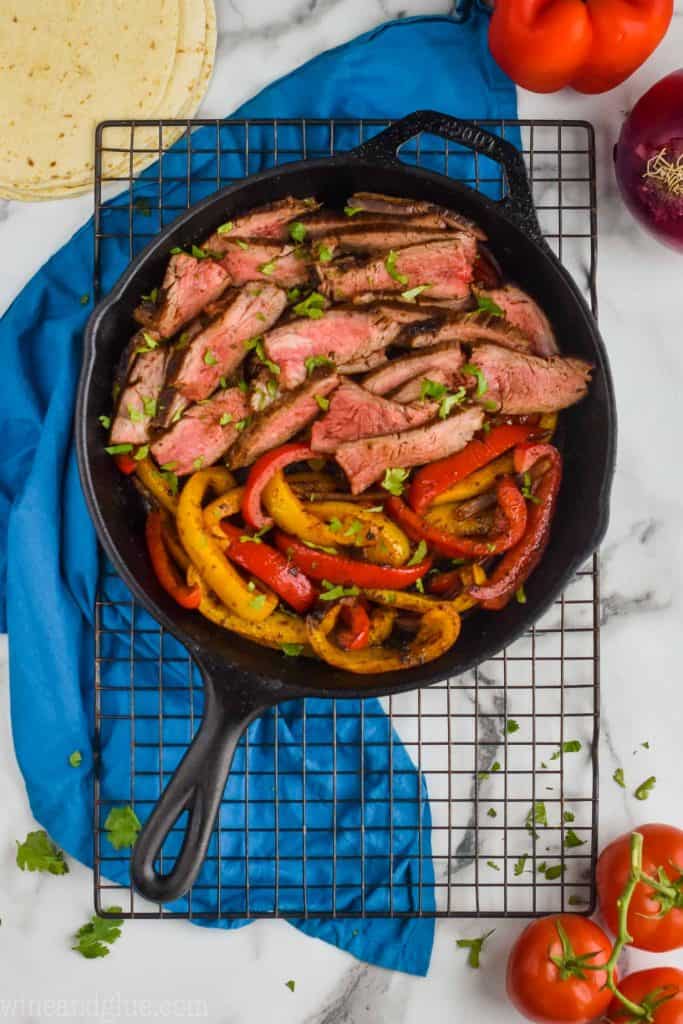 OTHER GREAT DINNER RECIPES
If you are like us and can't subsist on fudge alone, here are some other great easy dinners during this holiday season:
If you make these great Steak Fajitas or any of my other recipes, please leave me a comment and let me know.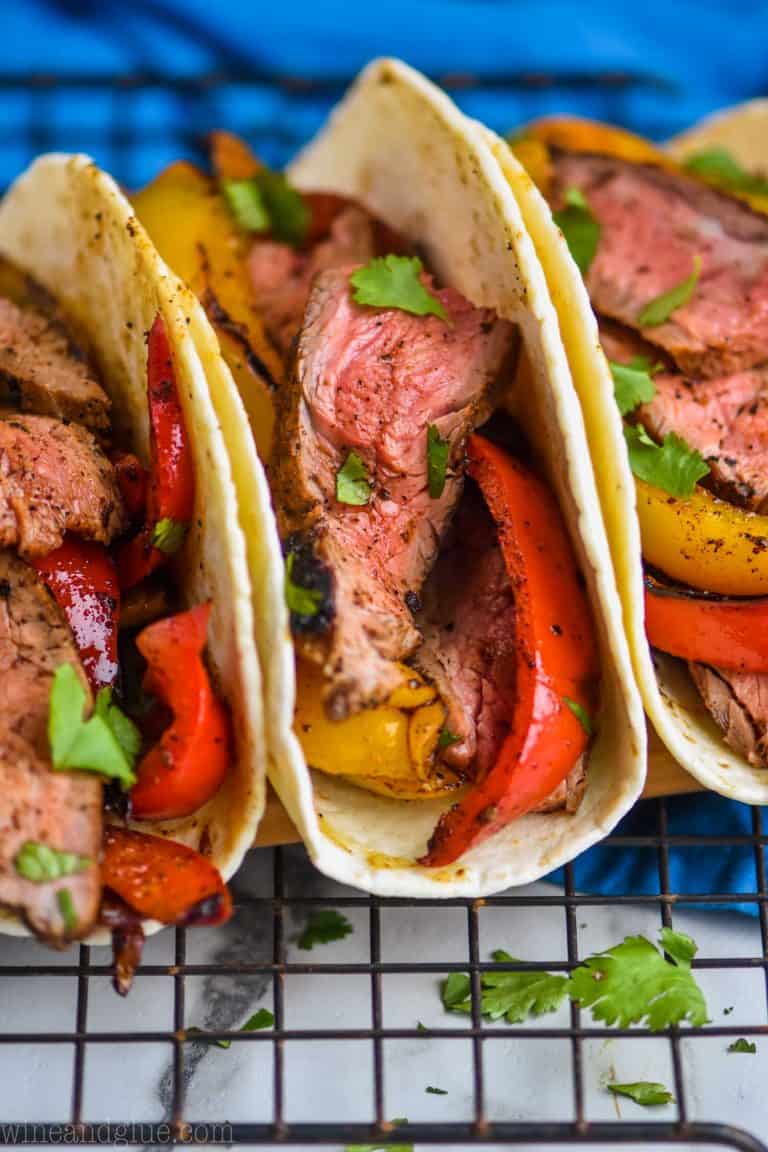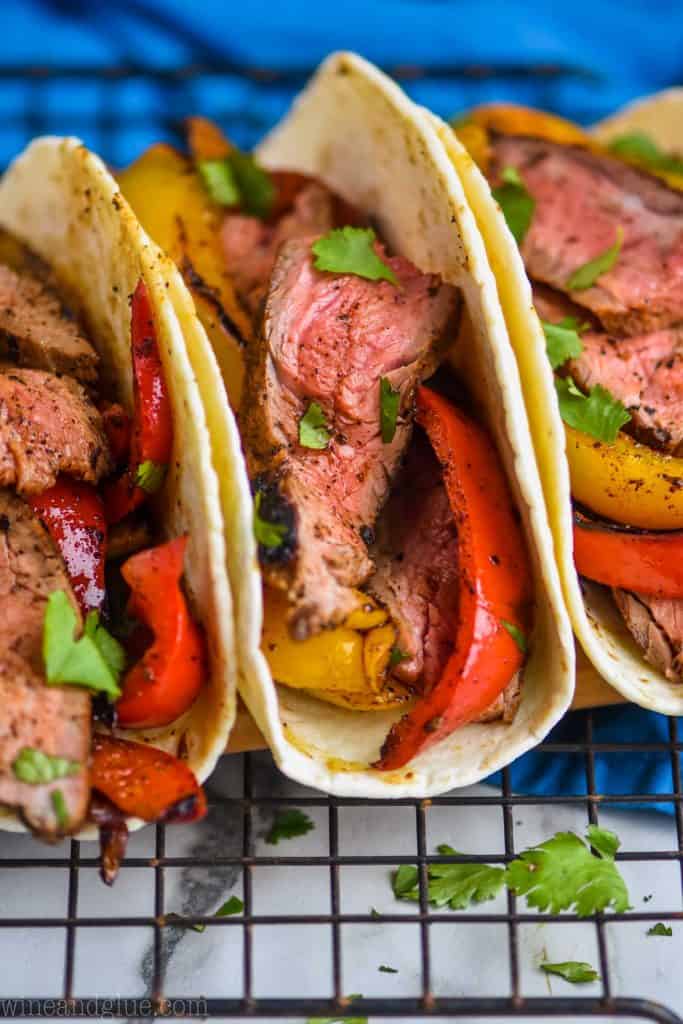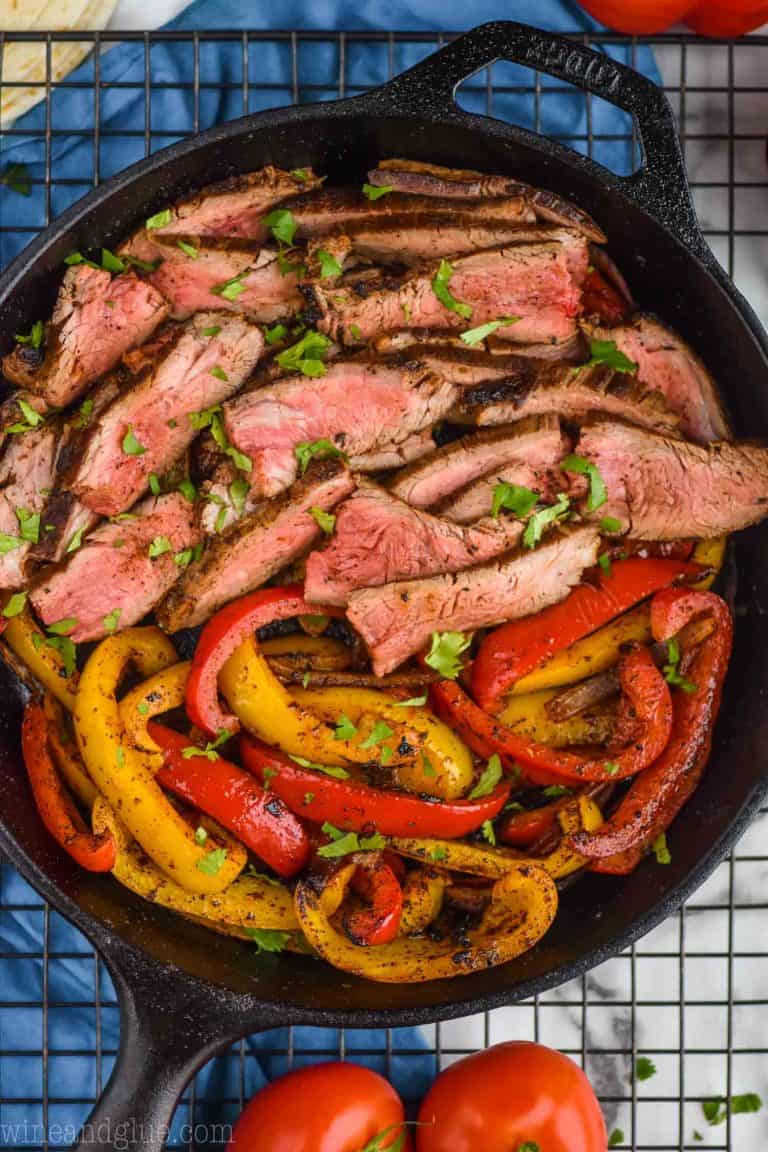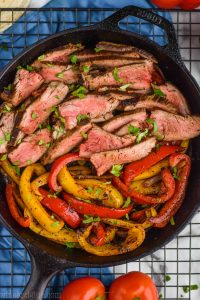 Steak Fajitas
Steak Fajitas are the perfect dinner to make this week! You can easily make this steak fajita recipe ahead of time and come home to a dinner recipe the whole family loves!
Ingredients
1/4

cup

extra virgin olive oil

1

tablespoon

lime juice

2

teaspoons

chilli powder

1

teaspoon

salt

1

teaspoon

paprika

1

teaspoon

oregano

1/2

teaspoon

garlic powder

1/2

teaspoon

onion powder

1

pound

flank steak (skirt steak)

1

red bell pepper

cut into strips

1

yellow bell pepper

cut into strips

1

small red onion

cut into strips

tortillas for serving
Instructions
In a measuring cup mix together the oil, lime juice, chili powder, salt, paprika, oregano, garlic powder, and onion powder.

Add the steak and the cut up vegetables to a plastic bag. Pour the above mixture over the steak and vegetables and seal the bag mixing it up. Put in the refrigerator for at least 6 hours, but no longer than 24 hours.

Heat a cast iron skillet over medium heat. Add 1/2 a tablespoon of olive oil. Remove the flank steak from the plastic bag (leaving the vegetables to sit longer in the marinade) and cook for 5 minutes on each side or until the steak registers 135 on an instant read thermometer.

Remove the steak from the skillet and cover with foil, letting it rest while you cook the vegetables.

Add half the vegetables to the skillet and cook for 6 minutes or until the vegetables are tender, stirring occasoinally. Repeat with the other half of the vegetables. (Be sure to pull the vegetables out of the marinade, do not dump into the frying pan.)

Slice the skirt steak very thin. Combine pieces of steak and slices of cooked vegtables in tortilla shells and enjoy!
Notes
Please note that the nutritional information is for 1/4 of the total dish and does not include tortillas or sour cream.
Calories:
354
kcal
(18%)
Carbohydrates:
9
g
(3%)
Protein:
25
g
(50%)
Fat:
24
g
(37%)
Saturated Fat:
6
g
(38%)
Polyunsaturated Fat:
2
g
Monounsaturated Fat:
10
g
Cholesterol:
75
mg
(25%)
Sodium:
646
mg
(28%)
Potassium:
240
mg
(7%)
Fiber:
2
g
(8%)
Sugar:
2
g
(2%)
Vitamin A:
72
IU
(1%)
Vitamin C:
202
mg
(245%)
Calcium:
7
mg
(1%)
Iron:
13
mg
(72%)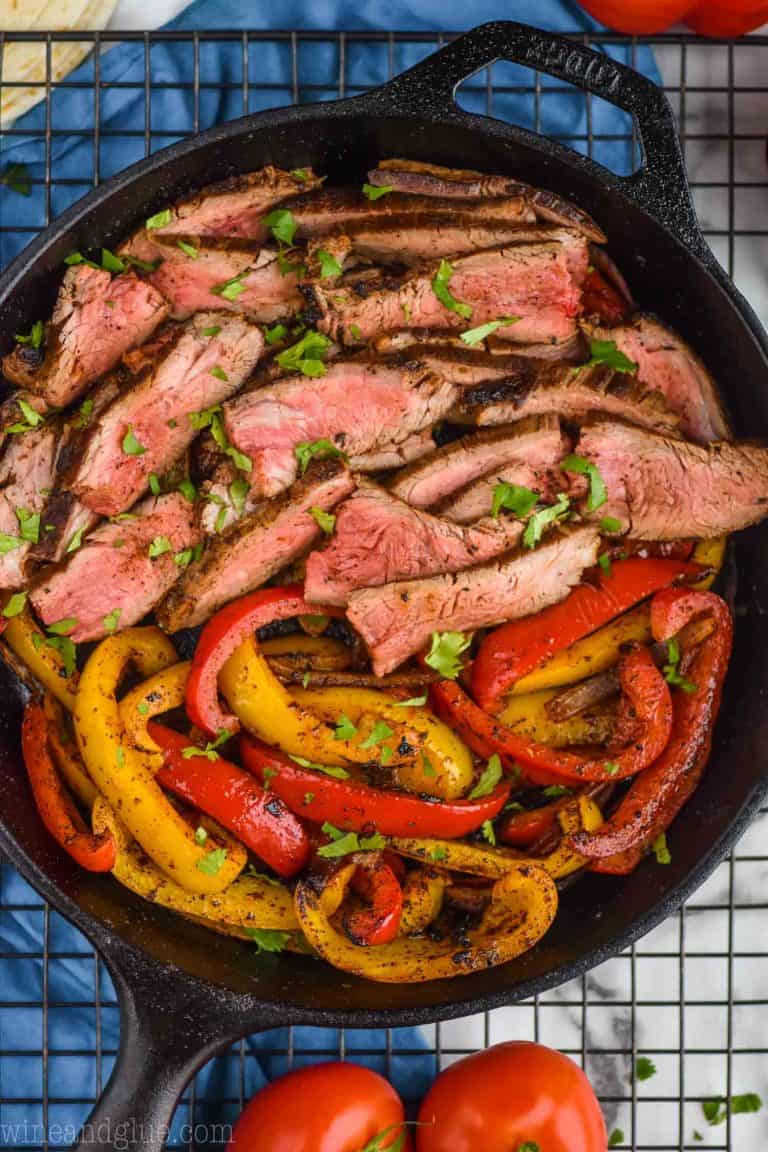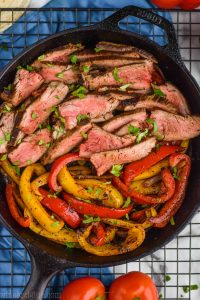 did you make this
Steak Fajitas