Steak fajitas are the ideal dinner to make this week. Made with the perfect steak fajita marinade, whip this up the night before for a quick dinner the next day.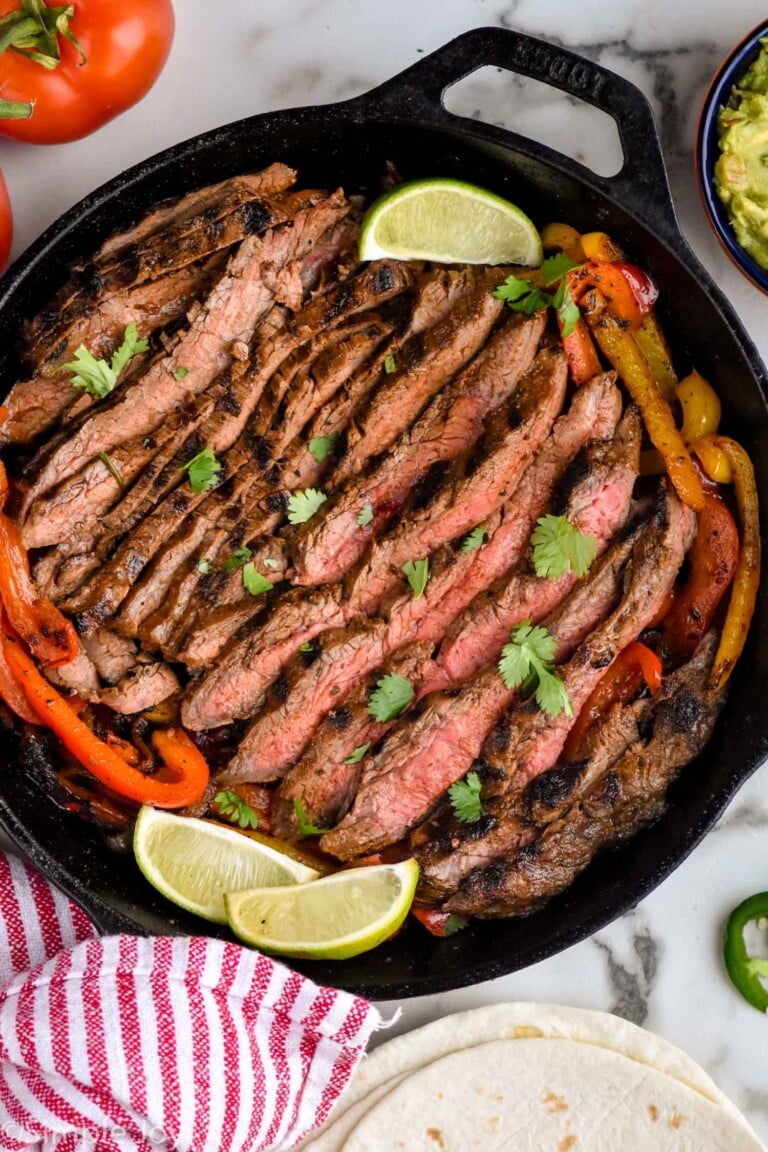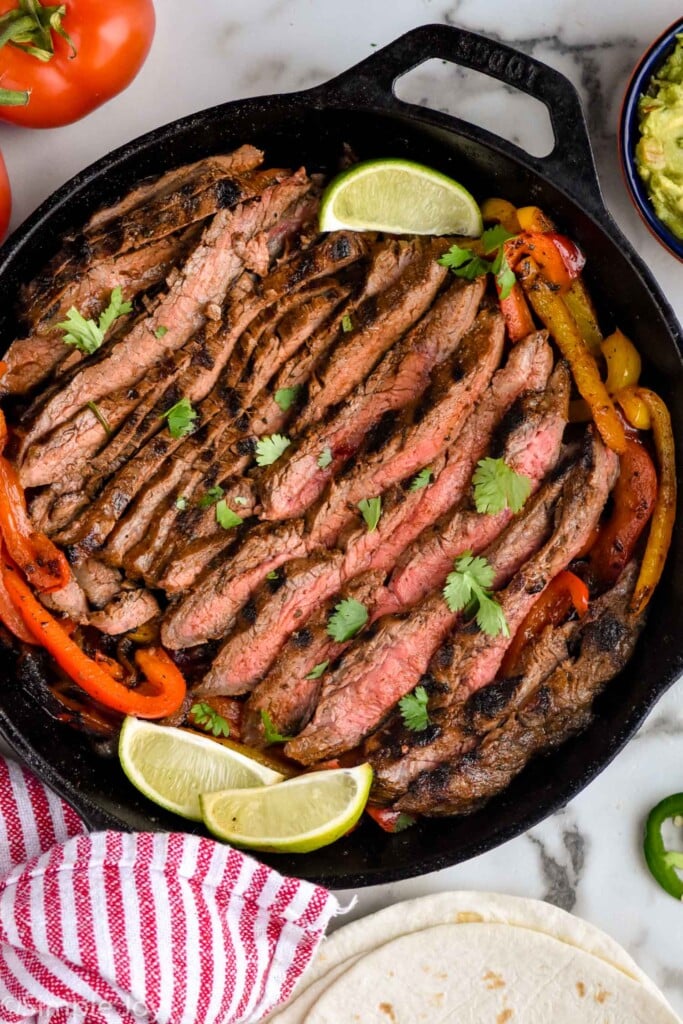 This steak fajita recipe is a huge hit with my whole family. It starts with my fajita seasoning that we turn into a delicious marinade. By marinating the meat the night before with the vegetables, we ensure that the meat is tender and the vegetables are packed with flavor.
My favorite part about this recipe is that once the marinade is done and the vegetables are cut, there is so little time to this recipe. That means that you can do most of the heavy lifting the night before and have a quick meal ready right after you get home from work.
Reader Review
EXCELLENT!!! Really incredible flavor, so tender as well. Most definitely will be making this again and again.
How to Make Steak Fajitas
This is a brief overview of how easy this fajita recipe is to make. For the full recipe with all of the measurements, see the recipe card at the bottom of the post.
Make the steak fajita marinade. Combine the olive oil, lime juice, and seasonings in a measuring cup and mix until well combined.
Add the marinade to the meat and vegetables. In a reusable container or a plastic bag that seals well, combine the meat and vegetables. Then pour the marinade over it.
Marinate the mixture. Marinate the meat for at least 6 hours but no longer than 24 hours. Read more about marinating meat below.
Cook the meat and the vegetables. In preheated cast iron skillet with oil, cook the meat until it is 135 degrees Fahrenheit, approximately five minutes on each side. Remove the meat to let it rest, and then cook the vegetables in the same skillet in batches.
Slice the meat and make the fajitas. Be sure to slice the meat thin and against the grain. Combine the meat slices with the cooked vegetables in tortillas for serving.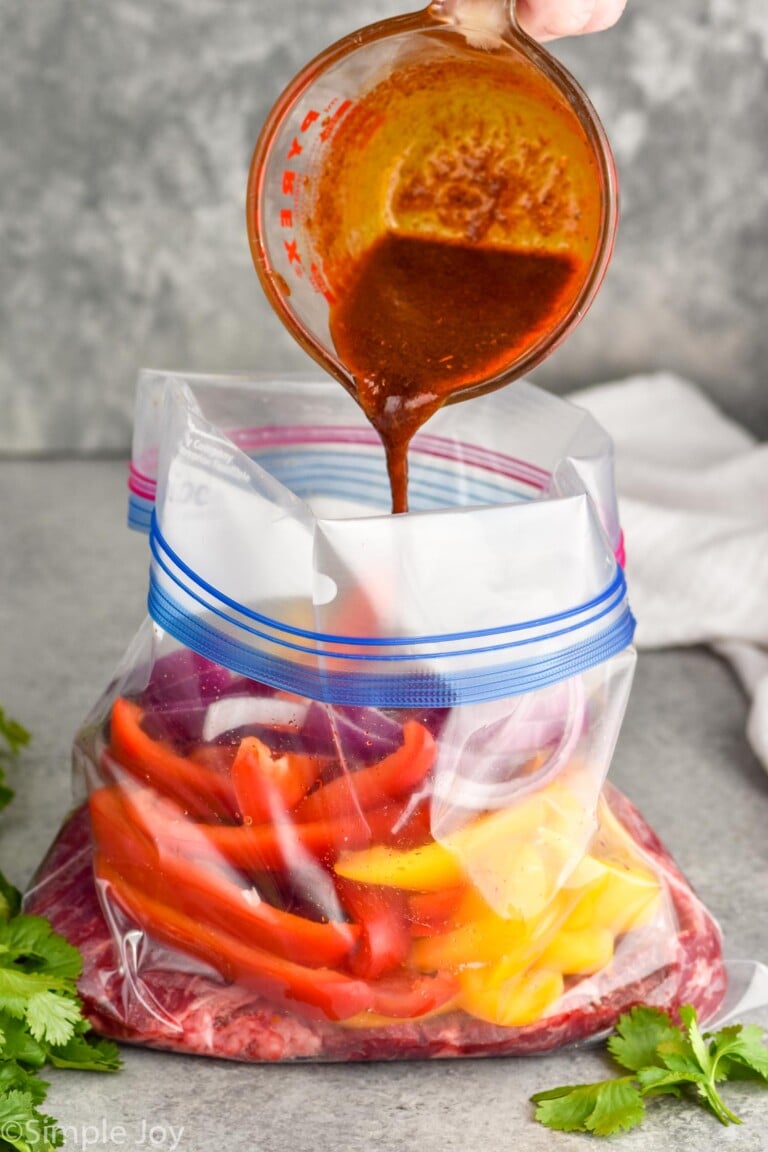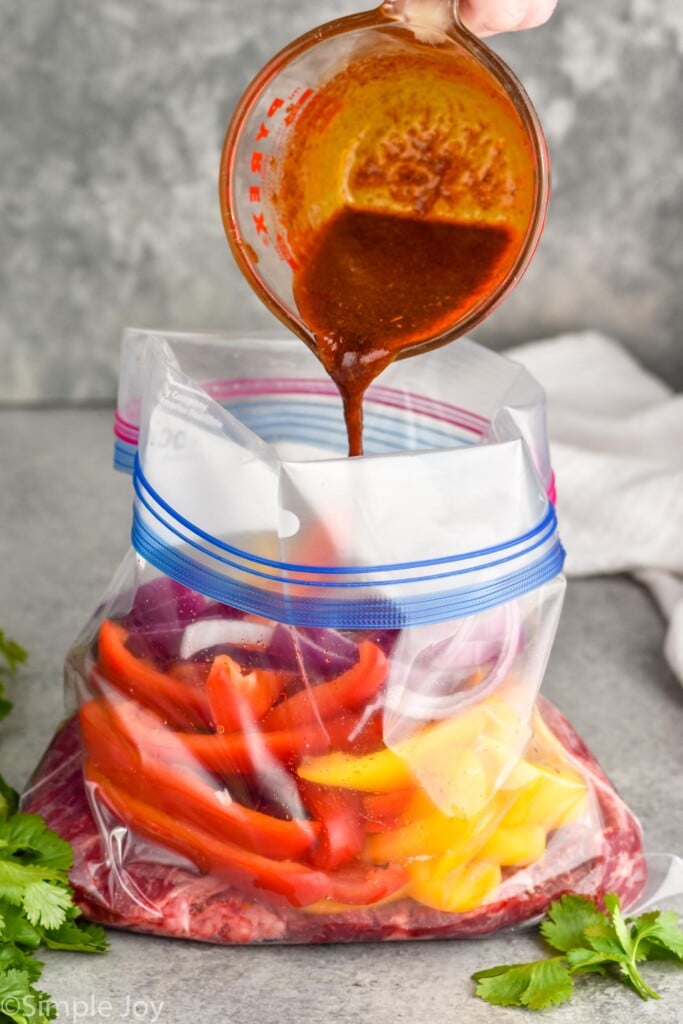 Steak Fajita Marinade
These steak fajitas get their amazing flavor from the marinade. It is based on my fajita seasoning. You could make a big batch of that and replace the chili powder, salt, paprika, oregano, garlic powder, and onion powder with two tablespoons of fajita seasoning.
Olive Oil: I like to use olive oil for marinades because of its delicate and delicious flavor. When you cook the meat, we will use vegetable oil to tolerate the heat.
Lime Juice: Every good marinade needs an acid in it. This helps break down the meat a little so that the flavor of the marinade can get into the steak.
Chili Powder: This is made from ground chili peppers. Although, it actually brings very little heat to the recipe and primarily brings a great flavor.
Salt: I like to use kosher salt in my marinades, but if you only have table salt, you should cut the amount in half.
Paprika: I typically keep regular paprika on hand, but I have so many readers who swear by smoked paprika. Both will work well in this recipe.
Oregano: This might not be the first spice you think of when you think of fajitas, but I love the flavor it brings to the party.
Garlic Powder: This is a must in this recipe. I like using the powder in this because we don't risk burning the garlic in the high heat when we cook the meat.
Onion Powder: Though we are serving our fajitas with red onions, the onion powder is perfect for the flavor profile here.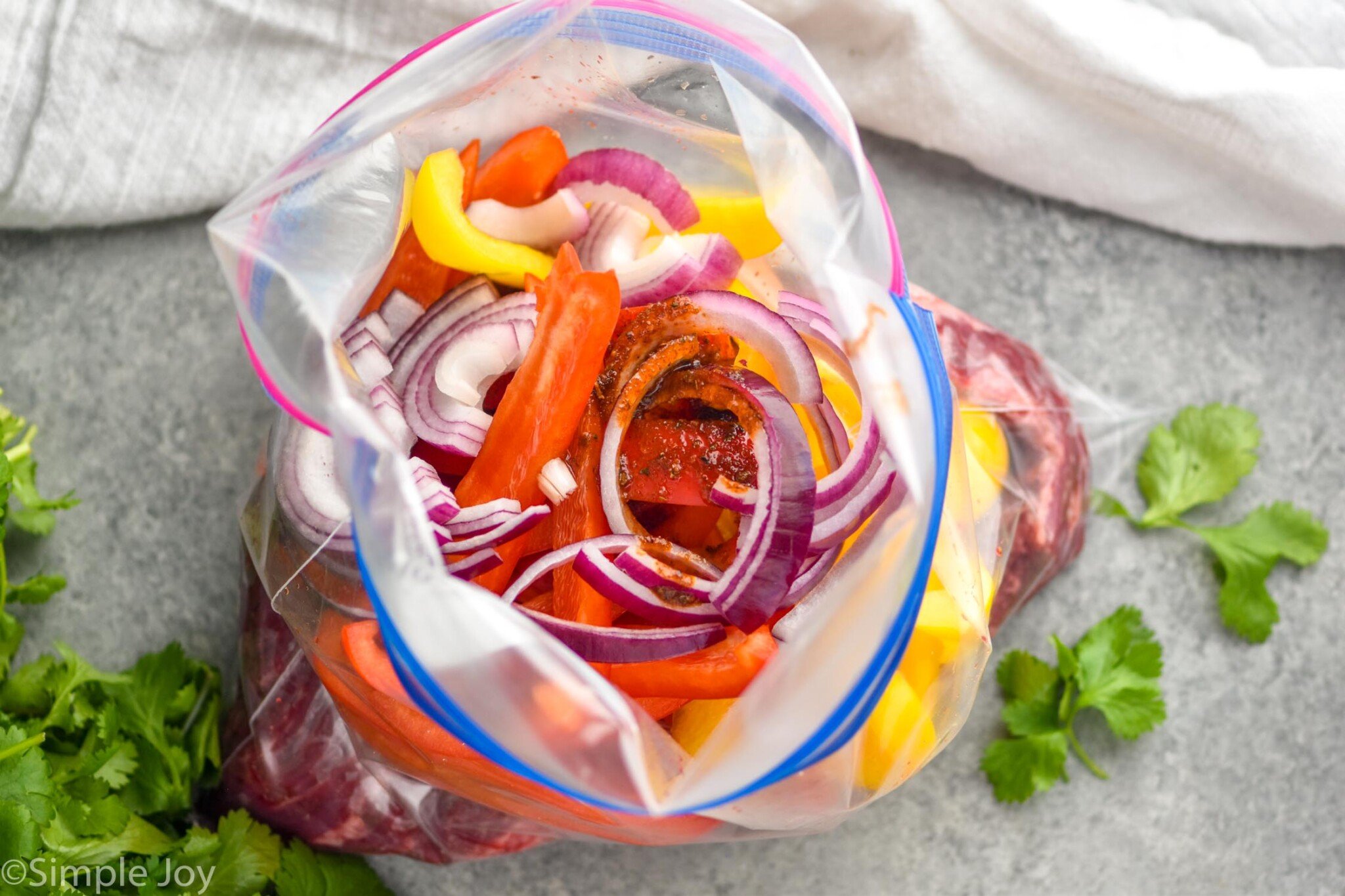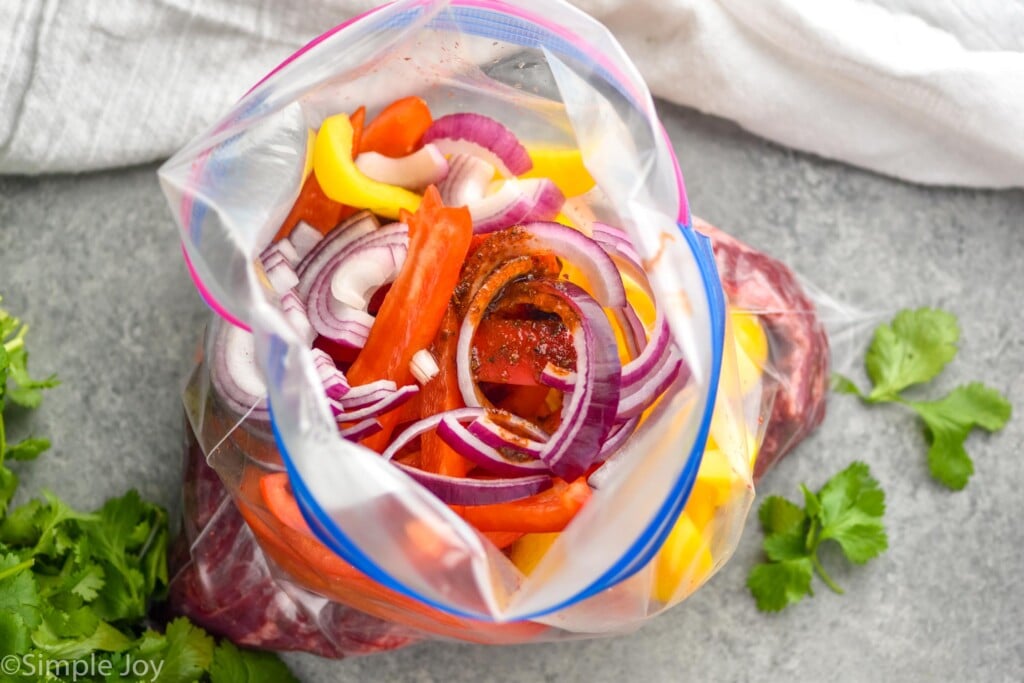 Fajita Seasoning Recipe
This Fajita Seasoning Recipe is quick to make and perfect for easy dinners! With this recipe you can make enough for one dish, or make a big batch to keep in your pantry!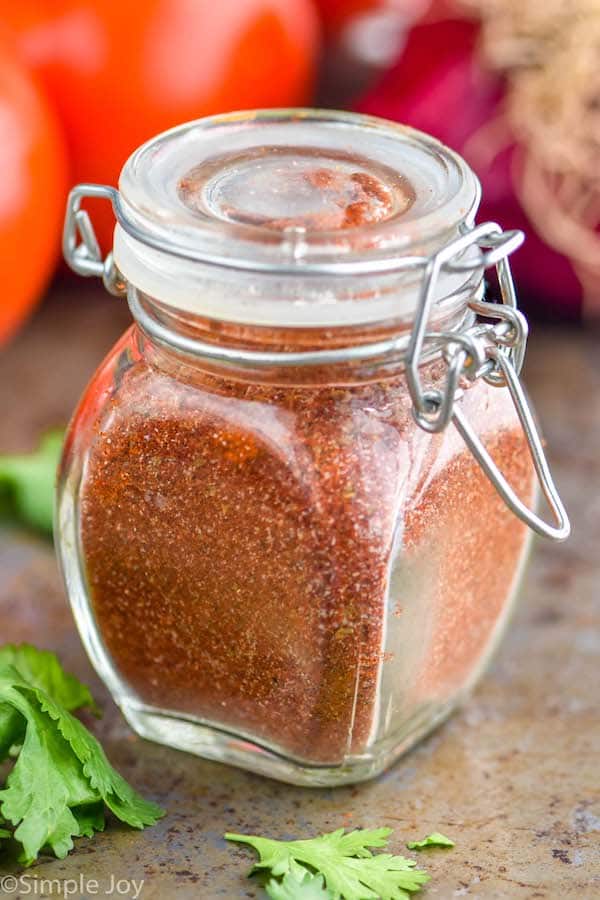 Marinating Flank Steak
As mentioned above, we marinate the steak with the vegetables for between 6 and 24 hours. Marinating for between 6 hours and 24 hours will add flavor and tenderize the meat. It is key to this recipe.
You may have heard people mention, boastfully, how many days they've spent marinating a piece of meat. Contrary to popular belief, there really is no meat that should be marinated for more than 24 hours. When meat is marinated too long, it starts to break down the fibers in the meat and you end up with mushy meat.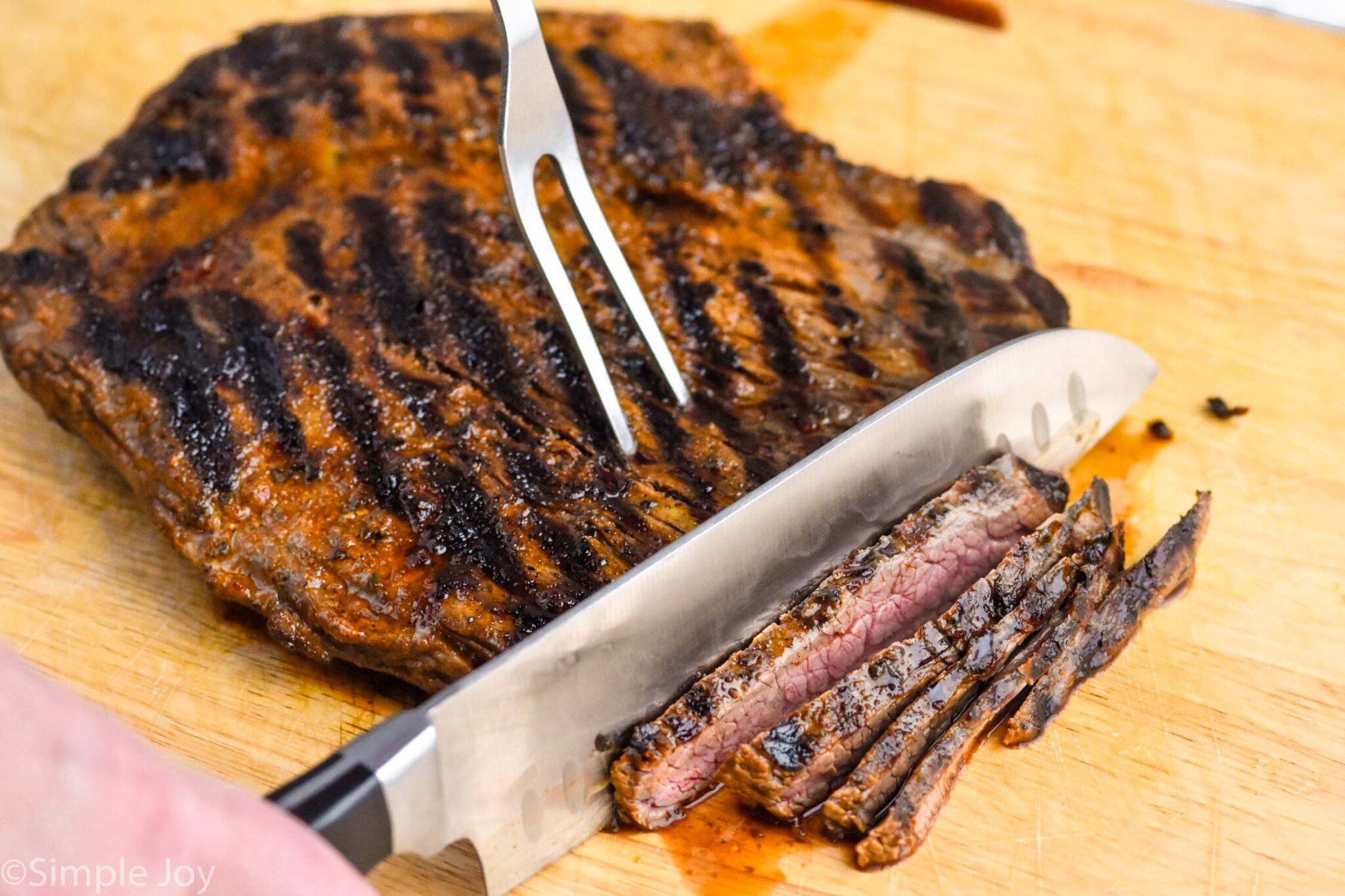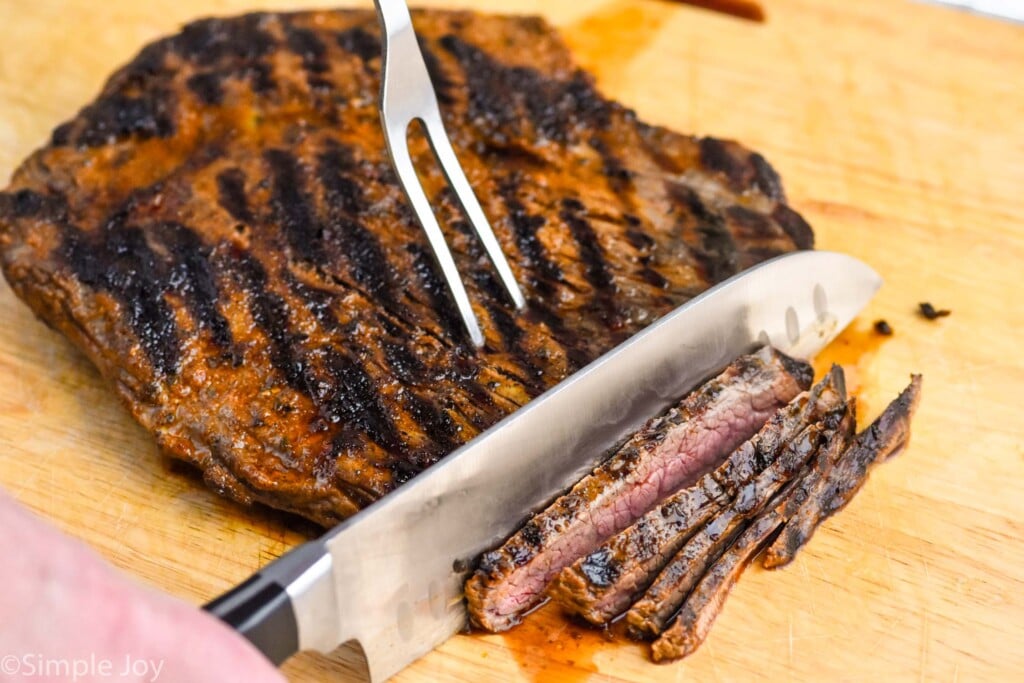 Best Steak for Fajitas
You can get either flank steak or skirt steak to make this recipe. Both are great cuts of meat for marinating and grilling. Worth noting, flank steak and skirt steak are not the same things. They both come from a similar area of the cow, but they are different cuts. Either, however, can be used in this recipe.
Regardless of which you use in this recipe, you absolutely need to marinate it. This is a cut of meat that is tough when it is not marinated. Additionally, for optimal tenderness, slice the meat thin and against the grain. To determine the grain of the meat, look at the lines in it. You want to slice perpendicular to those lines.
Cooking Steak and Vegetables at Once
The recipe is written assuming that you have one skillet to work with. I am lucky enough to have an indoor cast iron stove top grill. Though I have made it every way under the sun, my preference is to grill my steak on that while cooking my vegetables in the cast iron skillet.
TOP PICK
Reversible Grill & Griddle
This indoor grill helps us make all of our favorite grilling recipes all year long.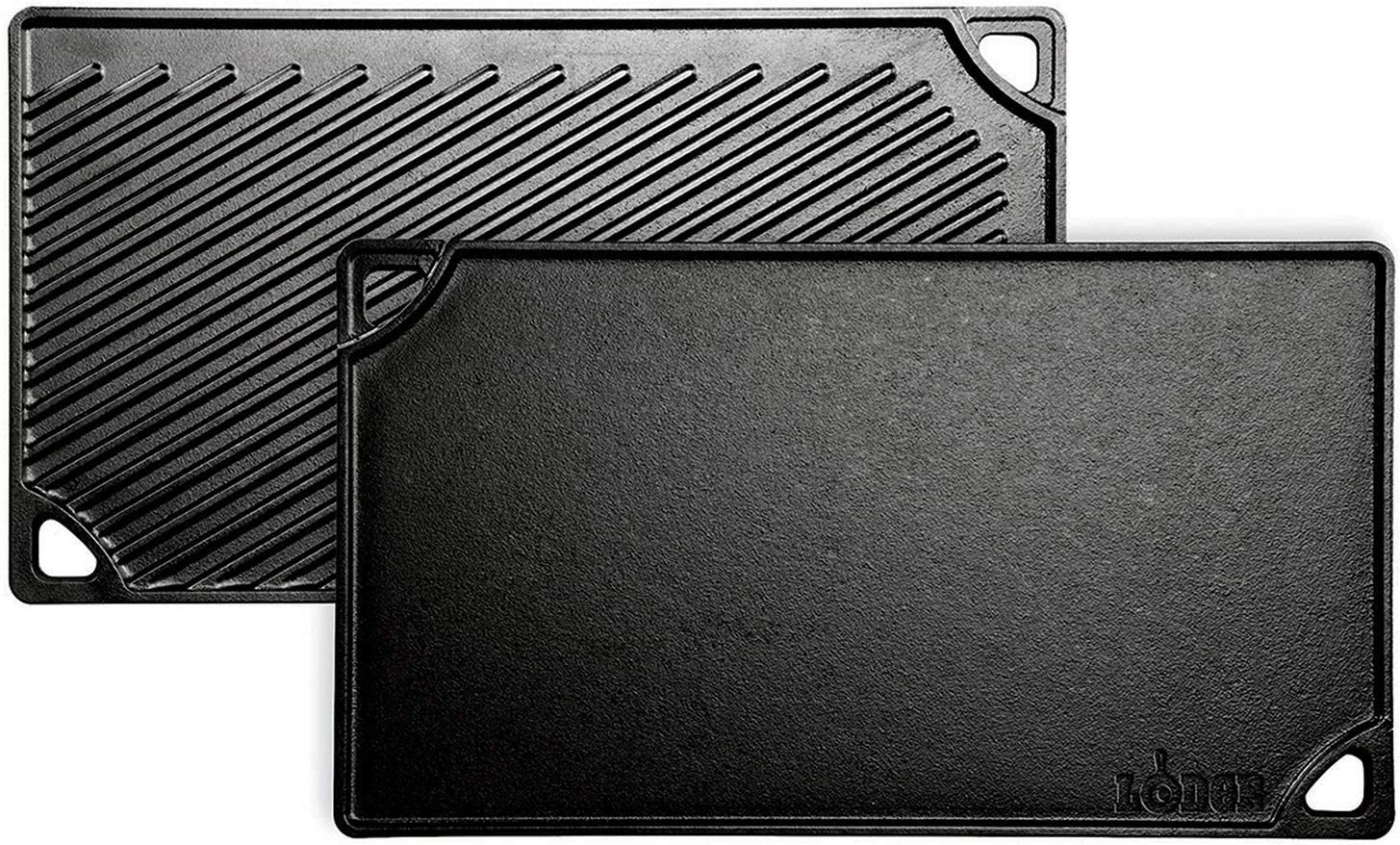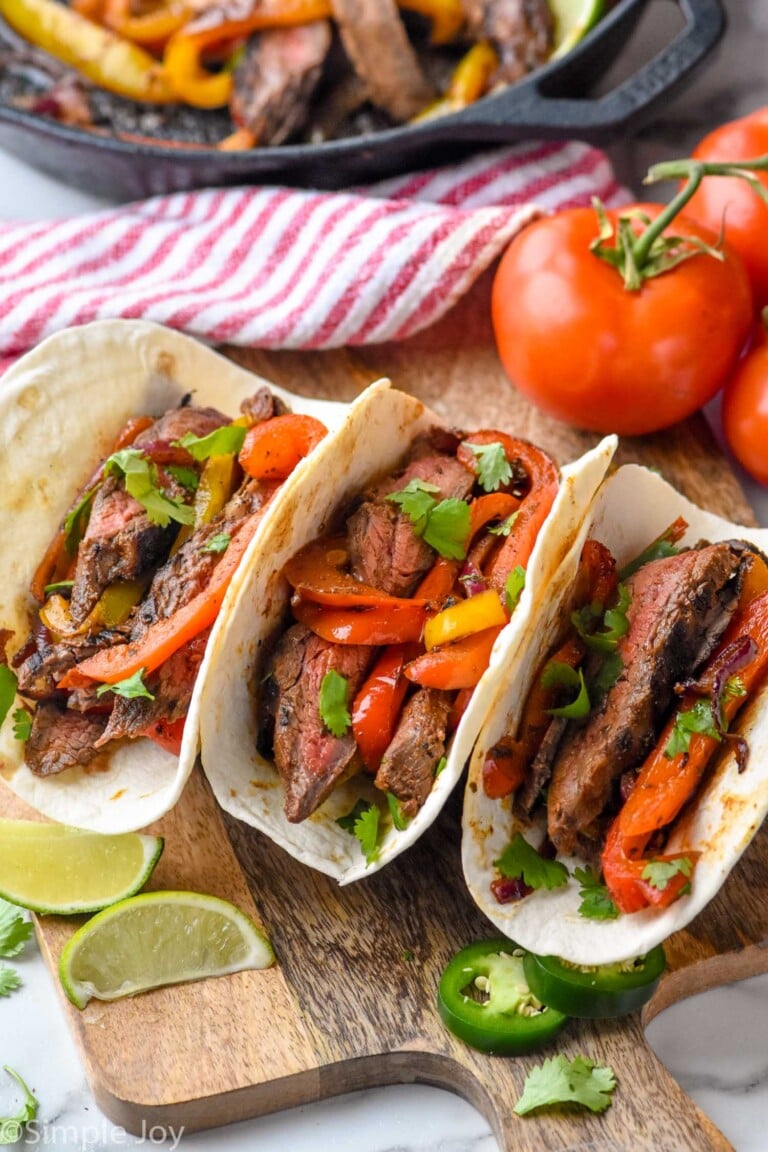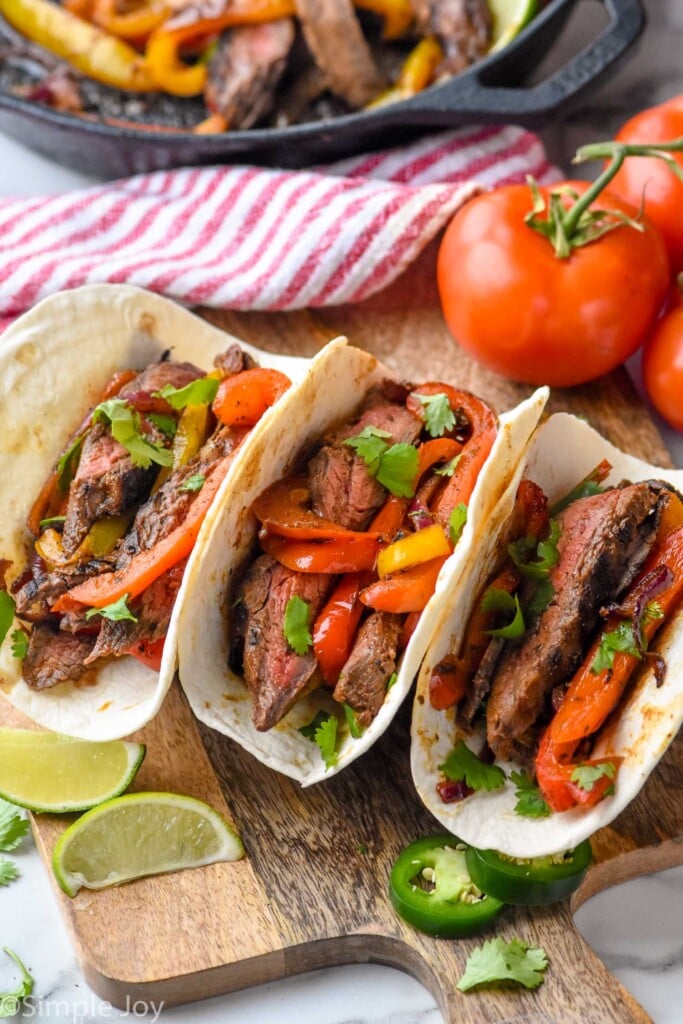 Double the Meat
If you are eating with meat lovers like me, you may want to double the meat in this recipe. If you do that, also double the marinade. You can still marinate it all together in one giant zip-lock bag. I usually keep the amount of vegetables the same when I double the meat. Again, I live with a family of T. Rexes.
Serving Steak Fajitas
We love eating this family style. We bring the vegetables over to the table in the hot cast iron skillet. We slice the meat on a big cutting board right on the table, and then everyone makes their fajitas at the table.
My kids like their fajitas with a little cheese on top. My husband prefers his with some sour cream. I like mine with a little fresh cilantro.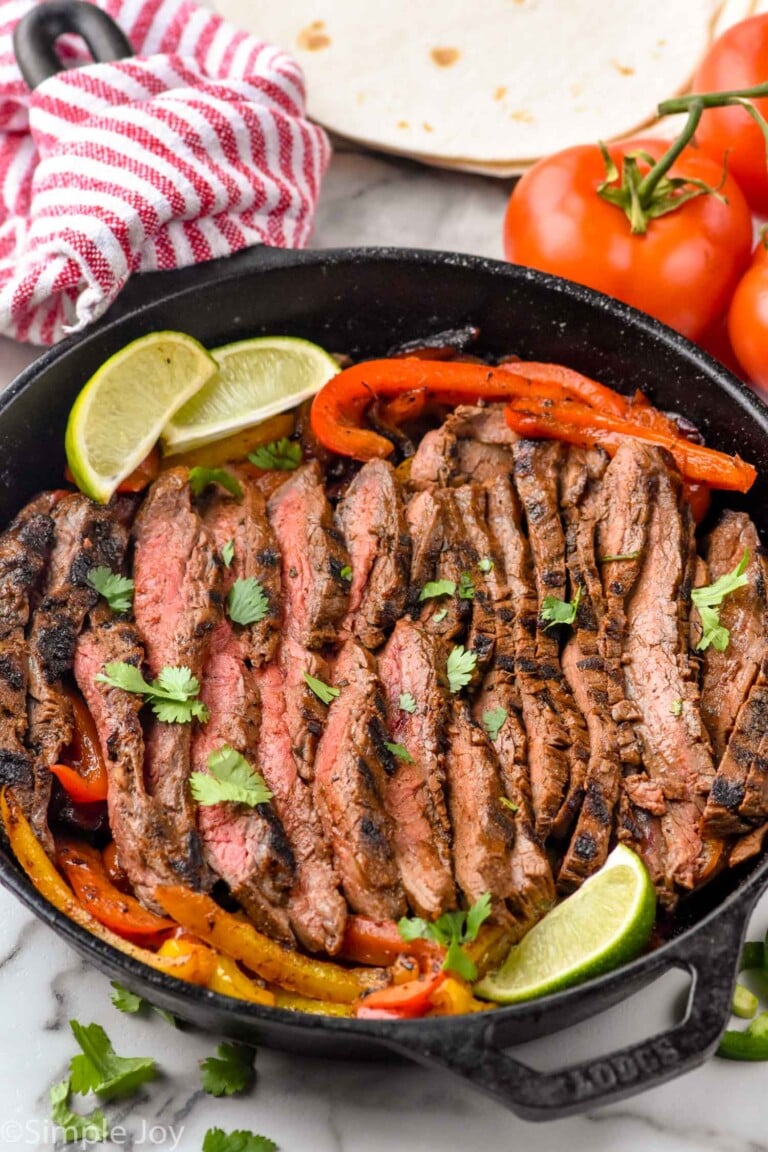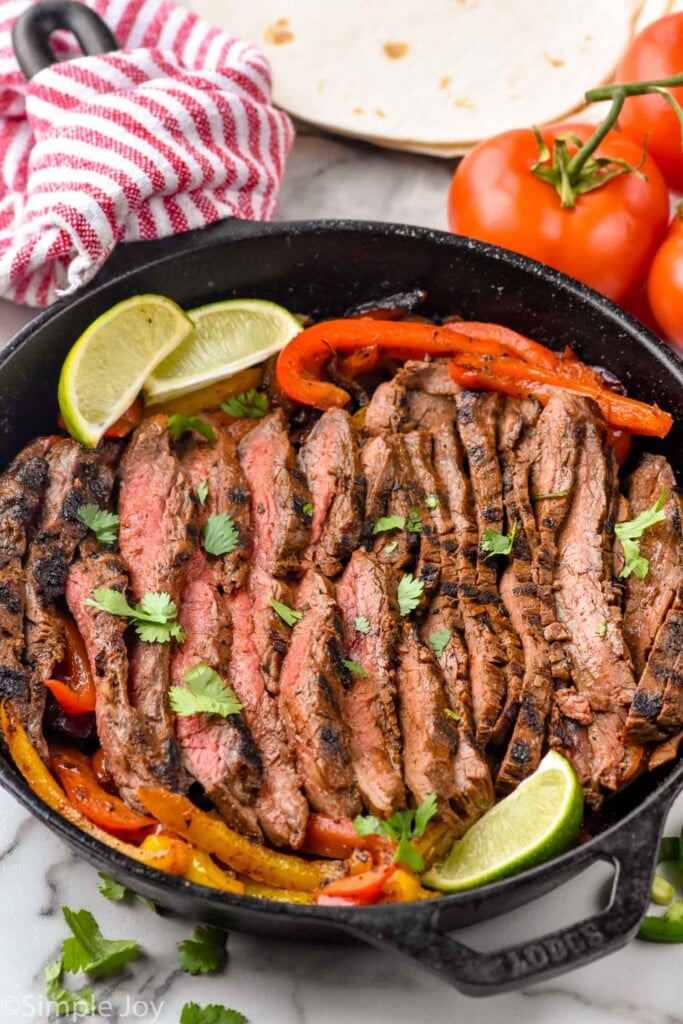 FAQ
What type of steak is best for fajitas?
Flank steak (or skirt steak) is perfect for this recipe. Read more about this above.
How to cut flank steak for fajitas?
It is important to cut flank steak thin and against the grain when cooking it for fajitas.
How do you cook fajita meat so it's not tough?
It's important to both marinate the meat and cut the meat against the grain thinly. Both of these together will keep the meat from being too tough.
Should you cut steak before cooking fajitas?
No, first cook the meat, and then slice it for the fajitas.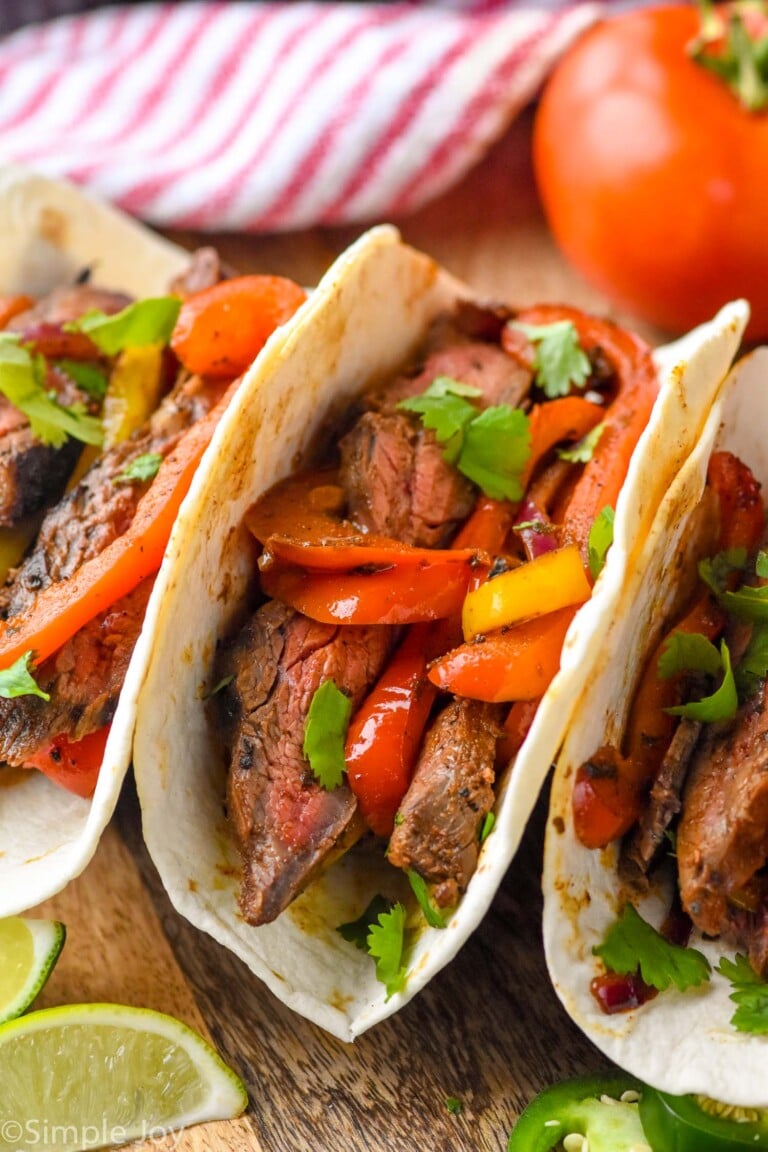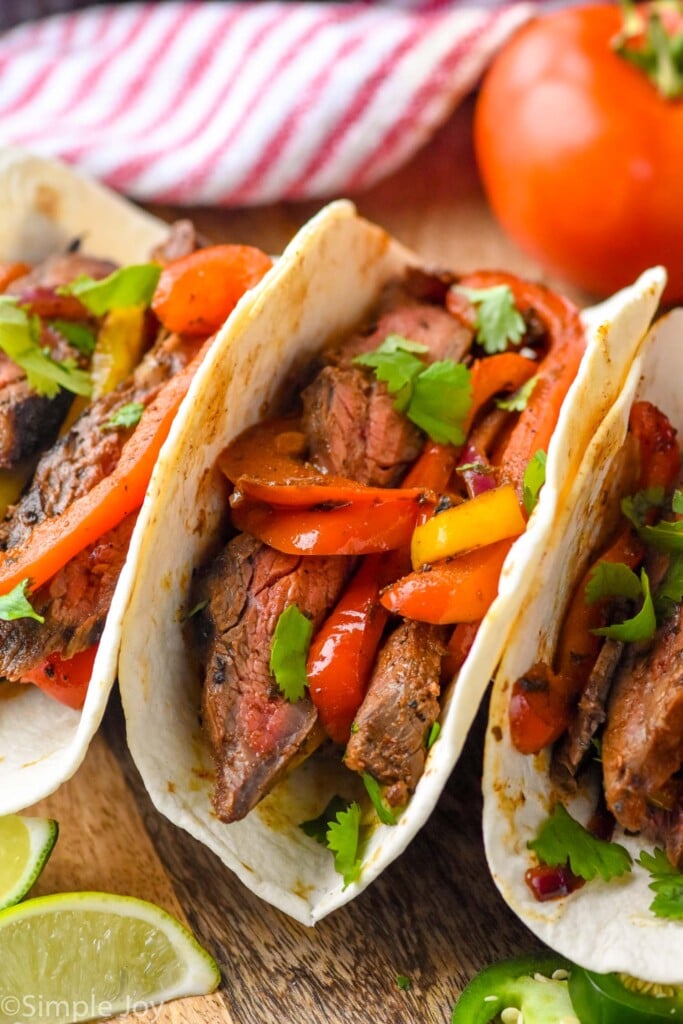 What to Serve with Steak Fajitas
If you want to round out your dinner table, here are a few recipes that would go great with these.
Crock Pot Pinto Beans: Made with simple and easy-to-find ingredients, this is a fantastic side dish (or filling for burritos!).
Spanish Rice: Similar to what you would get from restaurants in the U.S., this rice dish comes together fast and is delicious.
Cucumber Avocado Salad: This is a great way to add more vegetables to your dinner and the flavors pair perfectly with these fajitas.
If you make this Steak Fajita recipe or any of my other recipes, please leave me a comment and let me know.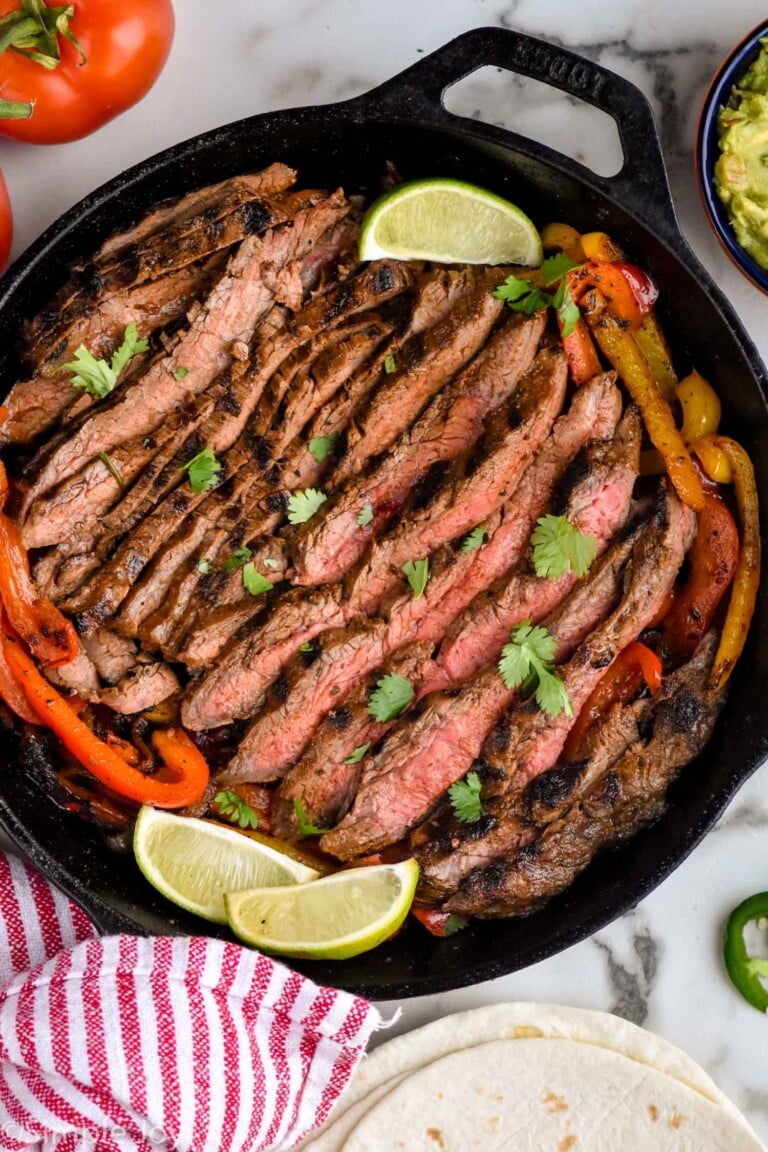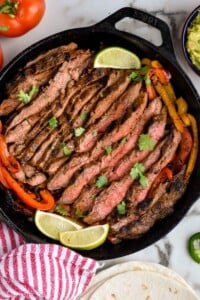 Steak Fajitas
Steak Fajitas are the perfect dinner to make this week. You can easily make this steak fajita recipe ahead of time and come home to a dinner recipe the whole family loves.
Ingredients
1/4

cup

extra virgin olive oil

1

tablespoon

lime juice

2

teaspoons

chili powder

1

teaspoon

salt

1

teaspoon

paprika

1

teaspoon

oregano

1/2

teaspoon

garlic powder

1/2

teaspoon

onion powder

1

pound

flank steak (skirt steak)

(read more about the best steak for fajitas)

1

red bell pepper

cut into strips

1

yellow bell pepper

cut into strips

1

small red onion

cut into strips

tortillas

for serving
Instructions
In a measuring cup mix together the oil, lime juice, chili powder, salt, paprika, oregano, garlic powder, and onion powder.

1/4 cup extra virgin olive oil,

1 tablespoon lime juice,

2 teaspoons chili powder,

1 teaspoon salt,

1 teaspoon paprika,

1 teaspoon oregano,

1/2 teaspoon garlic powder,

1/2 teaspoon onion powder

Add the steak and the cut up vegetables to a plastic bag. Pour the above mixture over the steak and vegetables and seal the bag mixing it up. Put in the refrigerator for at least 6 hours, but no longer than 24 hours.

1 pound flank steak (skirt steak),

1 red bell pepper,

1 yellow bell pepper,

1 small red onion

Heat a cast iron skillet over medium heat. Add 1/2 tablespoon of vegetable oil. Remove the flank steak from the plastic bag (leaving the vegetables to sit longer in the marinade) and cook for 5 minutes on each side or until the steak registers 135 degrees Fahrenheit on an instant read thermometer.

Remove the steak from the skillet and cover with foil, letting it rest while you cook the vegetables.

Add half the vegetables to the skillet and cook for 6 minutes or until the vegetables are tender, stirring occasoinally. Repeat with the other half of the vegetables. (Be sure to pull the vegetables out of the marinade, do not dump into the frying pan.)

Slice the steak very thin and against the grain. Combine pieces of steak and slices of cooked vegtables in tortilla shells and enjoy!
Notes
Please note that the nutritional information is for 1/4 of the total dish and does not include tortillas.
To make this recipe gluten free, serve the fajitas on corn tortillas.
To keep this recipe low carb, serve without tortillas or on a bed of cauliflower rice.
Calories:
354
kcal
(18%)
Carbohydrates:
9
g
(3%)
Protein:
25
g
(50%)
Fat:
24
g
(37%)
Saturated Fat:
6
g
(38%)
Polyunsaturated Fat:
2
g
Monounsaturated Fat:
10
g
Cholesterol:
75
mg
(25%)
Sodium:
646
mg
(28%)
Potassium:
240
mg
(7%)
Fiber:
2
g
(8%)
Sugar:
2
g
(2%)
Vitamin A:
72
IU
(1%)
Vitamin C:
202
mg
(245%)
Calcium:
7
mg
(1%)
Iron:
13
mg
(72%)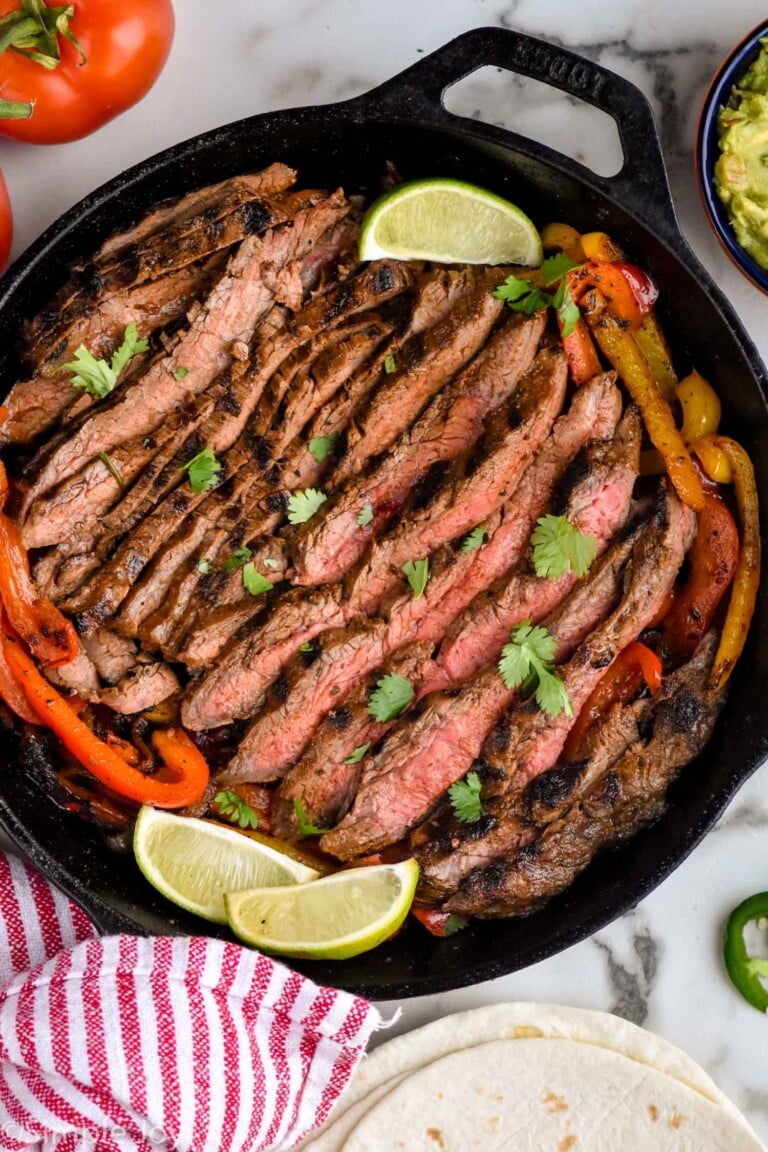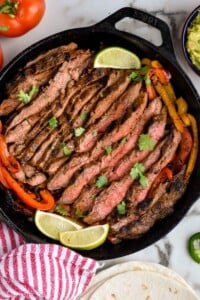 did you make this
Steak Fajitas